You're the Best, Lee Soon-shin: Episode 12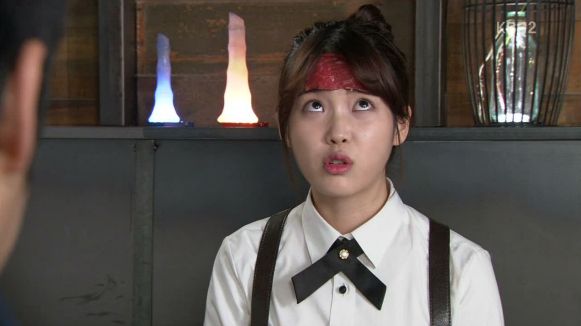 It's an episode with some happy advancements for some, and life-altering realizations for others. There's a little too much time spent on the birth secret for my liking, but then the cute is SO cute that it starts to tip the scales. Ratings continue to tick upward, with this episode bringing in 28.0%.

EPISODE 12 RECAP
Mom finally gets one big bomb dropped on her, when Chan-woo's dad confirms that the actress Song Mi-ryung and her husband's first love Kyung-sook are indeed the same person.
She immediately asks what she's been fearing all this time—is Soon-shin her father's biological daughter? But Chan-woo's dad can only say that he thinks she isn't, in defense of his friend. Not exactly comforting, given her suspicions.
Mom comes home reeling and convinces herself that she'd be crazy to suspect that. But the one thing she knows for sure now is that Soon-shin is Mi-ryung's daughter. It keeps her up all night, and she can't bring herself to face Soon-shin in the morning.
Soon-shin just leaves for work thinking that Mom is still mad about her pursuing acting. She's so glum at work that Young-hoon prods her to tell him what's wrong, and she tells him about Mom not approving of her career choice.
He advises her to give it some time as long as acting is what makes her happy. Jun-ho comes by to see the pair of them smiling at each other and gets immediately pissy, wanting to know what they're whispering to each other.
Young-hoon and Soon-shin don't waste the opportunity to tease him, and both answer that it's none of his beeswax. Jun-ho stammers: "I didn't even want to know! Hee.
He stomps back to his office in a funk, and then starts searching the internet for ways to change your disapproving parents' minds. Aw. He asks his assistant In-sung the same question, which of course has him jumping to the obvious conclusion that the boss has a new girlfriend.
He says he's an expert in this arena, and tells him to buy a big present and show up at the girl's house, and then get on his knees. Jun-ho wonders if knees are really necessary, but In-sun insists on it.
"And then you SLAM your head down to the ground—it has to make this sound—and say: Give me your daughter's hand!" Hahahaha. That's just plain insane. Jun-ho gives him the most deadpan expression: "Why do I even bother…"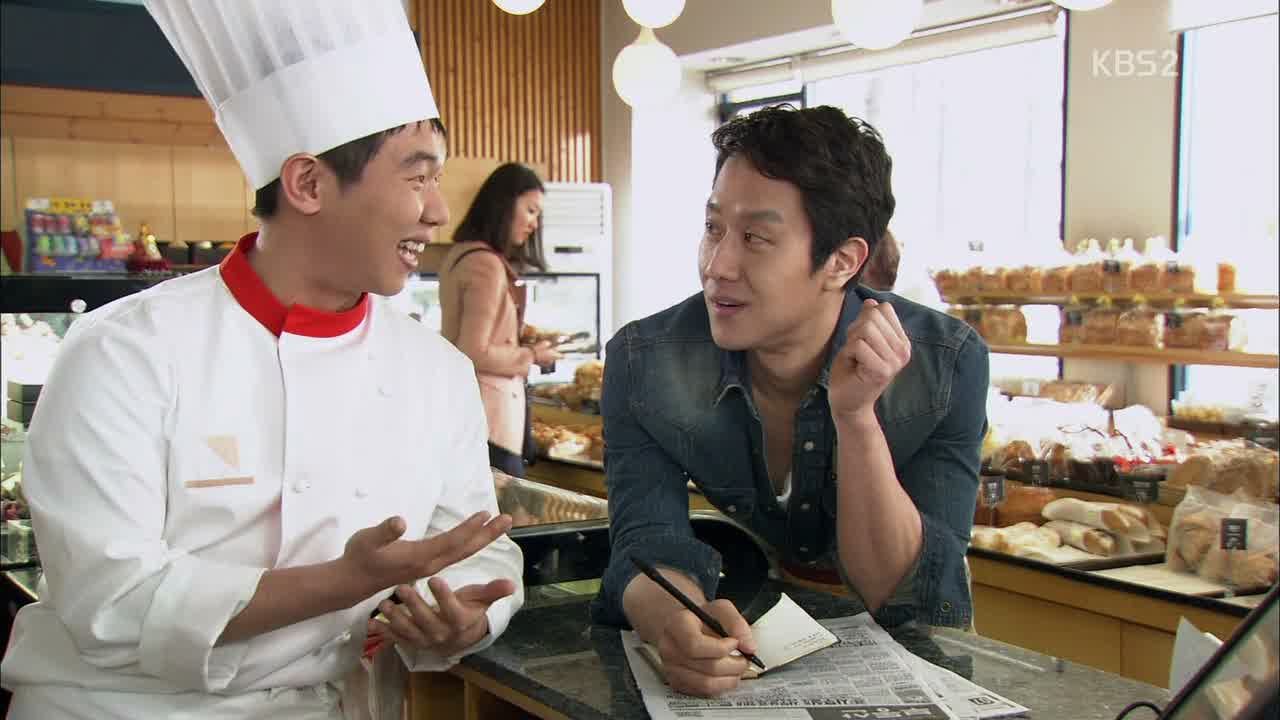 And then we cut to Bread Man Jin-wook, who has the exact same dynamic with his assistant (we'll call him Bread Boy). Bread Boy catches Jin-wook scouring the real estate listings again and wonders how long he's going to go from gosiwon to gosiwon, suggesting a more permanent place this time.
He asks what Jin-wook plans to do with all his saved money anyway, and Jin-wook says it's to open his own bakery someday. Ah, I assumed this one was his, but I guess not. He's just Head Bread.
When the kid suggests he just sleep in the back hugging a bag of flour, he nearly loses an eye. Ooh, ooh, I know who has a room for rent!
Sure enough, he goes to the neighborhood realtor, and overhears her trying to sell the Lee Family's room to a young lady. She tells him he can't have it because they have a rule against men, but he suggests they at least go meet the family, because maybe he can convince them that he'll be useful for chasing away robbers and stuff. Like a dog?
He likes the house instantly and then goes inside… only to come face-to-face with Hye-shin and Grandma. And then he just bolts. LOL. Did he really just run away? Hahaha. I luff him.
He literally stands in the street with his awkward hands, muttering, "What do I do? Why did it have to be this house? What do I do? What do I do?" Woo-joo passes him on her way home and he stops to wave, which she squarely ignores.
Mom gets berated yet again by her ass of a boss, and this time he strikes a nerve with a snide comment that she's just the type of woman to be fooled by her husband. It feels really shoehorned in, but in any case, she finally stops apologizing to the bastard and grabs him by the collar. He fires her on the spot. Glad we don't have to see that guy again.
Yi-jung comes back to daddy's clinic, this time with an appointment to see Chan-woo. She fawns all over him while he treats her for an elbow scrape, and then has to chase him down when he does the bare minimum and leaves the nurse to do the rest.
Yoo-shin arrives just in time to see him talking to Yi-jung, who thanks him for "the other night" and asks him for another date. She wonders if this is the blind date, and looks Yi-jung up and down.
Chan-woo manages to burn both girls and run off, leaving Yoo-shin standing there mid-wave and slack-jawed. She returns to work and finds herself distracted all day with complaints that it wasn't so long ago that Chan-woo said he liked HER.
In acting class that night, Mi-ryung continues her routine of praising Soon-shin and cutting Yi-jung down, and this time Soon-shin stops to compare their two essays and stays behind to ask why Mi-ryung praised hers when it was clearly worse.
Mi-ryung doesn't confirm or deny it, but Soon-shin just offers that she'll do better, so that she'll be deserving of that praise. Aw, you can't help but love her. It leaves Mi-ryung smiling after her in surprise.
But Yi-jung has had enough, and today she waits outside to pick a fight with Soon-shin, asking who she's got behind her, pulling all these strings. Ha, if you only knew it was your own brother.
They go from shoving to hair-pulling to all-out dogfight, rolling around on the lawn like a couple of crazies.
And then of course Jun-ho happens by, and breaks up the fight. Yi-jung cries to Oppa… only to have him turn to Soon-shin in a panic and worry that something happened to her face.
Yeon-ah arrives right behind him, and they gape as Jun-ho grabs Soon-shin by the wrist and hurries her away in concern. Yi-jung is left crying petulantly, and Yeon-ah asks about her relation to Jun-ho. It's worrying me, all this collecting of information about him.
She asks Mi-ryung how Soon-shin is doing, and is a little shocked to hear that she has potential. She muses aloud that it keeps the game fun.
Jun-ho runs to buy ointment for Soon-shin's scar and prattles on about how she's injuring a face that's already an uphill battle, all the while tending to her so sweetly. He finally can't stand to see her futz with it herself and starts to treat the wound for her, moving closer and closer and closer…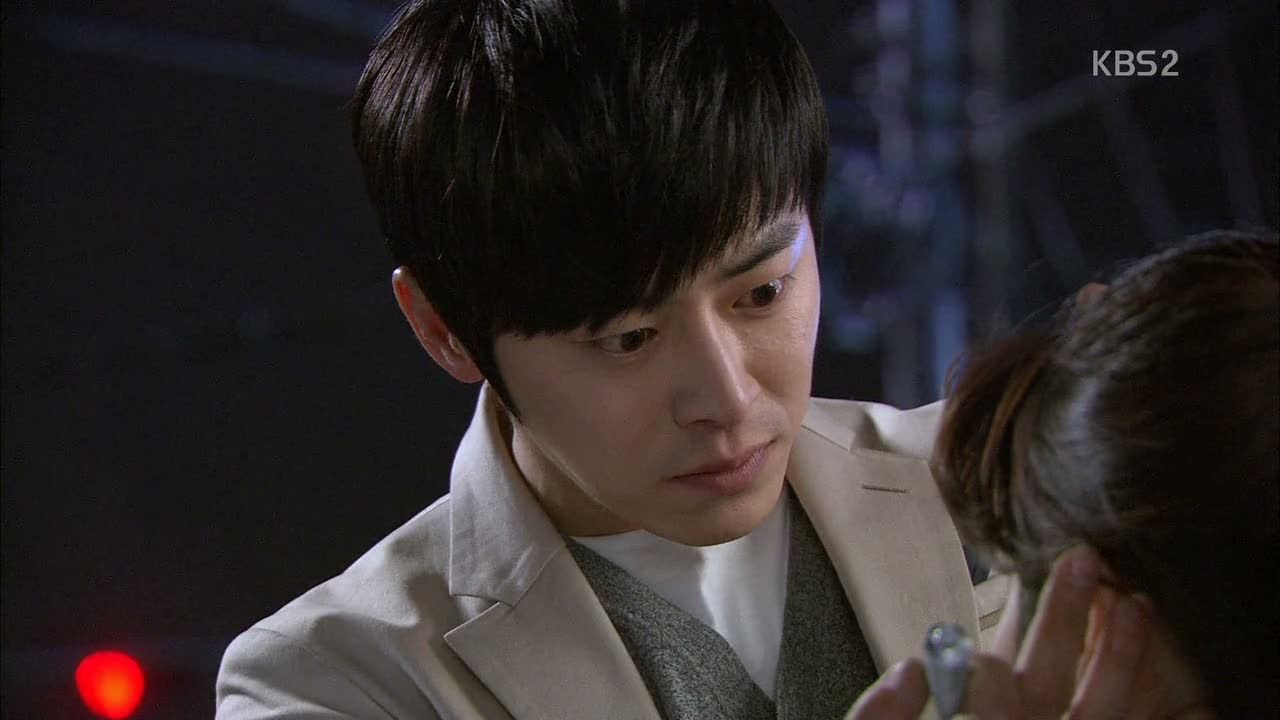 They start to feel the awkwardness and he finally breaks free and covers it up with more chatter, only to come right back and check on her again. So cute.
He sits down next to her and asks how she's holding up with classes, knowing how prickly Mi-ryung can be. But Soon-shin says she's nothing but nice to her, which Jun-ho can't comprehend.
Mom drinks alone at the pojangmacha that night, wondering just how many times Dad lied to her—he clearly lied about just finding Soon-shin in the street and not knowing where she came from, and she thinks back to how he refused to let Soon-shin pursue acting without a reason.
She comes stumbling home drunk, and cries to Grandma, "It can't be, can it? It can't be! He wouldn't do that to me!" Aw, poor Mom. She fumes in her room to see Dad's picture smiling back at her, and hurls a pillow at it.
Hye-shin and Soon-shin hurry inside to ask what happened, and Mom just asks Soon-shin to come closer. She looks up at her with pained eyes, and then raises her hands to her face: "My beautiful child. My beautiful maknae…"
Awwwwww. Soon-shin just sits there stunned, as Mom hugs her and cries, and then drops off to sleep.
Yoo-shin sees Chan-woo on her way home that night, and runs up to say that his blind date was pretty (I love that this is being a big person in her eyes, like conceding that fact makes her a saint). She guesses that things are moving along quickly if she's already visiting him at work.
But before Chan-woo can correct her, she launches into this warning about how she can tell the girl is a golddigger and he ought to stay away—just a friendly warning, from a friend. Uh-huh.
Chan-woo tells her not to judge people she doesn't know, and that Yi-jung isn't that kind of person, which sends Yoo-shin reeling. "Are you… defending her? You're taking her side!" It's adorable how offended she is at that. Suddenly she's twelve years old, all pouty lip and flabbergasted that he'd take someone else's side, when he supposedly liked her so recently.
But the outburst is telling, and he suddenly turns to her with this realization gleaming in his eye: "Are you… jealous?" Eeee. He just stands there silently, watching her dig herself a grave: "Wha? Me? Why would I be jealous? I…just… just… yunno… was worried about you… Yeah, worried! It was just because I was worried, okay!"
He asks with a smile why she should be worried about him, and she stammers that it's because they're friends, duh. Friends! At that, he swoops in for a kiss.
He forces the first one (Sigh, Show) but then pulls away and tells her to stop him if she doesn't want to, and then kisses her again. She doesn't protest the second time. In the morning, she wakes up berating her lips and hiding under the covers in embarrassment, wondering what she's done.
Grandma is surprisingly lenient with Mom in the morning. I totally expected a rant about her drunken behavior, but she's more concerned because it's clearly not within the realm of normal for her, and asks what's going on.
Mom says it's nothing, and then asks Grandma why she was so against her raising Soon-shin the day they took her in. Grandma says they already had two daughters, so it was just going to be more hardship for them—nothing more, nothing less.
Mom asks again to be sure, but I do believe that Grandma knows nothing of Soon-shin's origins. Grandma asks if Mom regrets raising her, and Mom cries, "No! I don't regret it! I don't regret it!"
Jun-ho lights up at the breakfast table when Soon-shin sends her daily gym photo, and it gets Dad wondering if he's dating. Mom coos over Yi-jung's bruise and puts raw meat on it, swearing this is the fastest remedy.
Yi-jung doesn't tell her parents how she got the bruise, though when Mom says it looks like someone hit her, Jun-ho reminds them that she's not the type to be the victim: "If she looks that way, how badly must the other person be hurt?" Oh, you.
And then after breakfast he sneaks into his family's fridge to take the rest of the meat to Soon-shin. Hee.
He goes straight to the restaurant to stick a slice on her forehead, and when he brags that it's a super expensive cut, she yanks it off to say they have to eat it. Ha, and ew. He quickly promises to buy her more meat than she can eat later, and sticks it back on her forehead.
Yeon-ah arrives just in time to see Jun-ho fawning over her, and her smile quickly fades. She suggests to Young-hoon that the three of them sit down for some tea like the old days, which has no one smiling but her.
She confronts Jun-ho about lying to her all this time that he had no family and grew up poor, and he smirks, "Why, do you have regrets now?" Burn. That was kind of awesome. He gets up to go, and stops to check on Soon-shin one more time on his way out.
You can practically see the claws come out as Yeon-ah asks Young-hoon about what he thinks of Soon-shin, and he totally deflates her by saying that she's great. He suggests that she stop the bet now, but she just laughs it off with no intention of backing down.
Mom visits Dad's grave to vent her anger, and asks how he could do this to her, crying that she worked so hard to live a good life. She demands answers, but of course gets none.
Jun-ho tells Soon-shin to entrust him with getting her mom's permission to act, and gets defensive at her lack of confidence in him. He does at least speak from experience when he says all parents are like this, though he sees the motivation as selfish, while Soon-shin thinks that her parents are just looking out for her.
He warns her not to fight at class today. "And if you do fight… don't get hit. You hit her." Lol. That's your sister you're talking about.
Yi-jung gets a call from some friends who want to go clubbing, so she feigns sick to get out of class today. So Soon-shin is all alone at her lesson, and Mi-ryung has her do a line reading of one of her old movies.
It's a project she had described to Yeon-ah as her most pathetic, because she didn't listen to her instincts to laugh in the big emotional scene, and instead cried, as the director called for.
Soon-shin does the line reading now, and to Mi-ryung's utter surprise, she laughs instead of crying. She stops to ask why she didn't follow the stage direction, and Soon-shin says laughing here just feels sadder to her somehow. It's definitely their first moment of true connection, and Mi-ryung offers her a drink.
Meanwhile, Mom comes down from visiting Dad's grave when she remembers that day that she ran into Song Mi-ryung. She realizes now that it means Dad was still seeing her up until he died, and she demands to know from Chan-woo's dad where Mi-ryung lives. Uh-oh.
She goes over there right away, and while Mi-ryung sets the table, the doorbell rings and she asks Soon-shin to answer it.
Soon-shin goes to the intercom and looks up at the screen… to see Mom looking right back.

COMMENTS
Eep. Well at least it was Soon-shin who got to the door first—she'll do something to keep this confrontation from happening so soon, right? Part of me wants all the secrets to just hurry up and come out, but I have to remind myself that Soon-shin doesn't even know that she was adopted, so there's probably a lot more of these fakeouts headed our way.
More than the mom drama, the first sign that Soon-shin has a natural talent for acting was really a big turning point for the story, because up until now we've had no indication that she really should pursue this career. But I found myself caring about her mentor relationship with Mi-ryung for the first time, and it delivered that perfect flicker of hope that we've been dying to see. Of course we're to assume she's a diamond in the rough, but it's much more exciting to see those traits coming out one by one before our eyes.
Already the way Jun-ho looks after her has my heart aflutter, and it tickles me to no end that he's so petty about it (the way he talked about Chan-woo in the last episode just Made. My. Day.) and so blatantly awkward because he's such a spazz. But the little boy glee is so endearing I can't stand it. This is one relationship that I'm glad will take its sweet sweet time to develop.
I was surprised at how quickly Yoo-shin came around (or maybe how quickly she got caught by Chan-woo is more like it), but I think they'll continue to be cute and bickering no matter the stage of their relationship. It certainly hasn't solved their mountain of issues, so it should be fun to watch them try work those things out while dating. Now Bread Man Jin-wook, on the other hand, needs to move into the house yesterday. I can't wait for that hilarity to ensue.

RELATED POSTS
Tags: featured, IU, Jo Jung-seok, Lee Mi-sook, Sohn Tae-young, Yoo Inna, You're the Best Lee Soon-shin