You're the Best, Lee Soon-shin: Episode 13
Placing Jun-ho at the mercy of the Lee women is one conflict that can play out forever, as far as I'm concerned, because it produces some hilarious misunderstandings. With a hapless heo-dang hero on one hand and the bumbling Bread Man on the other, courtship was never funnier. If only the show would actually drag out the funny longer! I know, I know, dragging out punchlines can kill them altogether, but in these two cases I think we could stand to savor their ignominy just a bit longer.
SONG OF THE DAY
Oneway – "모르죠 (She'll Never Know)" [ Download ]
Audio clip: Adobe Flash Player (version 9 or above) is required to play this audio clip. Download the latest version here. You also need to have JavaScript enabled in your browser.

EPISODE 13 RECAP
Mom decides to investigate her suspicions by dropping in on Song Mi-ryung unannounced. Thankfully for a shocked Soon-shin watching from inside the door, getting to an A-list celeb takes a lot more than knocking on her doorstep. Manager Hwang turns Mom away, and when Mom gets pushy and insists she must see Mi-ryung despite the late hour and the lack of appointment, he gets aggressive right back and pushes her down. Granted Manager Hwang is kind of an ass about many things, but I find Mom's thickheadedness a bit annoying as well.
Soon-shin watches the whole thing on the door camera, and hurries out with an excuse. She catches up to her mother to ask after her in concern, only to have Mom brush her off with a casual dismissal.
There's no clear explanation for Mom's visit, so Soon-shin wonders if Mom found out about her lessons. Thus when Jun-ho informs her to prepare to start training for auditions, she tells him she won't be able to stay out late for a while. What makes Jun-ho a great hero is that for all his nagging, he dos actually listen to Soon-shin and pick up on her concern, even if his methods of addressing the concern leave a little something to be desired in the finesse department.
So Jun-ho asks In-sung to prepare some herbal medicine—yunno, the kind of stuff that parents like—and In-sung assumes that he's going to tackle his woman's troubles head-in. "Don't forget to kneel! I need this woman!"
Grandma finds more time to nag Mom about how lucky she was to have such a good husband, and today Mom bursts out at Grandma to stop talking about a dead person. Yes, it's a pretty disrespectful thing for her to yell at Grandma, but lordy does Granny need to shut it with her constant nagging.
When Jun-ho drops by and tells Granny he's here to request "permission," Granny remembers him from his last visit and starts asking about his parents and siblings, haha. When she starts going on about getting their fortunes read for compatibility, he realizes she still think she's here on a romantic mission and assures her that no, he has no intention of marrying Soon-shin. Which does nothing to clear up her confusion, naturally.
Mom and Hye-shin come out and join them, and Jun-ho then kneels before Mom to beg her permission. Heh. She does understand his real purpose but is in no mood to entertain it, and orders him to leave. Grandma, assuming that he's playing around with Soon-shin with his declaration of not-marriage, attacks him with a broom. Muahaha.
Hye-shin follows him out to apologize, at least, and tries to soothe ruffled feathers with Mom as well. She says that Jun-ho's not really a bad sort, but Mom just snaps that she doesn't know what she's talking about and that she'd better not encourage Soon-shin with her actor aspirations.
By now everybody's wondering at Mom's short temper and Hye-shin asks what's going on. Mom bursts out that the "patience" she used to have was really just foolishness, adding bitterly that everybody was probably snickering behind her back over it.
And then when Grandma asks for some water, Mom snaps at her, "Get it yourself." Eek! Harsh. I'll admit I gasped a bit at that.
In her room, Mom tosses family photos in the trash and starts packing a bag.
Jun-ho's parents have lunch at a fancy restaurant with Mi-ryung, and for once Dr. Shin is in a good mood, now that Yi-jung is skipping acting classes and seems much less devoted to that path. So when Mom steps aside, he actually has a pleasant conversation with Mi-ryung, who assures him that Yi-jung is likely to quit soon. She adds that this short stint with suffering might even benefit her, which I'd agree with if Yi-jung had much character to be building in the first place. Mom gets a glimpse of the two laughing together, finding the sudden change curious.
Pouting, Yi-jung asks her brother if Soon-shin has an important father or something. Why else is Mi-ryung fawning over her like she's some acting genius? Jun-ho retorts that it's because Soon-shin must be doing well, though I'd say he doesn't fully understand it either.
So Jun-ho mulls it over, trying to make sense of why the famously difficult actress is being so uncharacteristically warm to Soon-shin. His mother further confuses him by mentioning how well his father and Mi-ryung got along today. Ha, how sad that Dad being nice is a legitimate cause for alarm.
At the chicken shop (I know, bear with the Chicken Couple just for a minute while we get some plot out), ajumma continues to press her husband about her suspicions. She asks if Mi-ryung was seeing Soon-shin's father, and his terrrrrible reaction shot all but confirms that it's true. Chicken Ajumma tsk-tsks about her poor friend, so in the dark while her husband was cheating on her. I'd say having you for a best friend is the bigger cause for sympathy, lady.
Chicken Ajusshi frantically insists that it's not true. Yeah, I'm thinking that won't stop her from running her mouth off at horribly inconsiderate moments. It's her one life talent. Okay, maybe one of two talents, since birthing a sweetie like Chan-woo should count for something. Maybe proof of miracles?
Mom takes her packed bag and gets on a bus, not leaving till it hits the end of the line late that night. She ignores her calls from Soon-shin and settles down for the night in a jjimjilbang. It's such uncharacteristic behavior from her that when she's still gone in the morning, the daughters suppose that she just got up really early. But Soon-shin finds the discarded photos in the trash and wonders at it.
Jun-ho takes a meeting with Manager Hwang to go over Mi-ryung's schedule, and chides the manager for being lazy in picking her roles—they're too similar, unchallenging, and ignorant of the latest trends. Ha, that's Jun-ho's argument for anything when he's got no better argument: "It's the trend!" Is he a closet hipster?
But Manager Hwang fires back that it's Jun-ho's fault that Mi-ryung is so occupied these days with acting lessons. He cites the real motive of getting his sister to quit her actor's dreams and points out that it's rather unprofessional of him to use his star actress for a personal errand.
Ah, now the other shoe drops and Jun-ho realizes that his father's been behind this. He heads over to the clinic straightaway, interrupting a meeting between Dr. Shin and his protégé Chan-woo, whom he recognizes as Soon-shin's crush. Ha, and then he sniffs at Dad's description of him: "He's skilled, good-looking, has a good personality, and he's tall. Unlike someone."
Dad doesn't care that Jun-ho knows his plan and points out that he doesn't have to get his permission. Jun-ho warns that both Soon-shin and Mi-ryung are his actors, and that Dad ought not mess with either of them.
Then on his way out, Jun-ho sneers in truly petty fashion at Chan-woo, whom he finds totally not good-looking, whatever, and pointedly pushes past him passive-aggressively. He has to look up at Chan-woo to shoot him a stare, and then puffs himself up like he's willing himself to be taller. HA.
At the restaurant, huffy waiter Jae-bum is nicer to Soon-shin now, which is frankly unnerving for her. But his reasons are pretty transparent as he starts asking after her sisters, particularly the middle one, and whether she has a boyfriend. That's all we get for now, but expect this bit to come back at a later date, whether tomorrow or twenty episodes from now. (That does tend to be the thing about family dramas; plot threads often dangle for a while before picking back up. And sometimes they just dangle there forever.)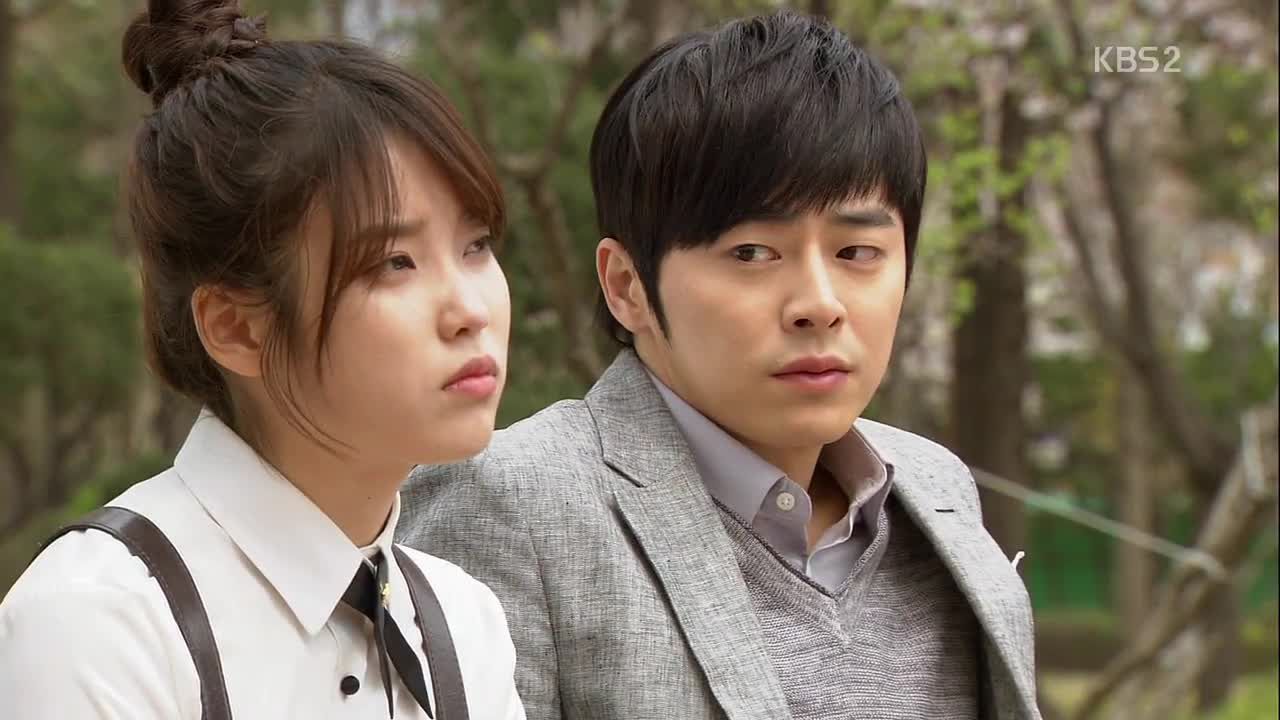 Jun-ho drops by the restaurant on his way back and takes Soon-shin on a walk, which is when she apologizes for grandma's whole broom-beating incident. She tells him not to worry about her family's opposition to her acting; her plan is to do the best she can and show Mom that she's succeeded. Soon-shin is confident that since Mom loves her, eventually she'll come around.
Now that he knows Mi-ryung's reasons for being so nice, he cautions Soon-shin not to take her praise too much to heart. He wants to find her a new teacher, but now Soon-shin refuses to switch—she likes Mi-ryung, and she's gonna stay with her. End of story. And Jun-ho, hilariously impotent CEO that he is, can have nothing to say to that. I love how he's the best worst boss ever. Or is it worst best boss?
Still upset about Mom's outburst, Grandma heads out for a walk and ends up dropping by the bakery (yay!) where she asks Bread Man why he just ran out on them the other day. Thankfully for Jin-wook she doesn't find his excuse suspicious (he left the stove on at home) and urges him to take their room after all.
Yoo-shin catches herself daydreaming about The Kiss, though she plays it cool when Chan-woo drops in during her rock-climbing session. The joke's on her, though, when he takes to the wall and she has to watch all the other ladies swooning over him while she tells herself that there's nothing to be impressed about, nope.
Bolstered by The Kiss, Chan-woo's a lot cheerier around Yoo-shin now, which is adorable to see since he's got that confidence adding to his general all-around awesomeness. So when she pointedly refers to their relationship as "friends," he smiles to himself, like he's thinking, Okay, let's play your game.
He asks her to a movie later, and when she starts to protest he says that friends can totally go to see movies with friends. And now hearing those words from his mouth makes her look disturbed, like maybe it's not exactly what she meant, but also maybe she doesn't know how to back out of it without conceding her pride, and maybe this is Very Conflicting. Heh. She doesn't really get to be upset about him calling her just-friends, which makes it a good learning experience.
After spending the night at that sauna, Mom whiles away her time in the park, still in her funk. But she sighs to herself that there's no point in leaving home when you've got nowhere to go, and she trudges back to the house.
Her feelings take an immediate hit, though, to realize that nobody even knew she was gone. They act like she's just been out on a really long walk, and grandma chides (as she always does) that Mom isn't the only one whose life is hard.
Feeling worn down, Mom angrily throws down her bag and makes up her mind. Reaching for nicer clothes, she dons a neat suit, puts on her makeup, and heads out again.
Mom arrives outside Mi-ryung's house, determined to get her meeting with her, and watches the star pulling up to her front gate. But the moment she sees Mi-ryung with her glamorous star glow, Mom looks down at herself glumly and can't bring herself to approach.
Instead, she heads to her friend's chicken shop for a drink and a cry. She shares everything, still incredulous as she says that Soon-shin is Mi-ryung's daughter, and that she couldn't bring herself to confront the star—what would she say? She still has no confirmation that her husband is the father, but she's all but sure that's the case, which adds to her misery and resentment.
Sinking into self-loathing, Mom cries that she lived like such a fool, and how pitiful she is to have nowhere to run to or nobody to realize she'd even left.
Mi-ryung chuckles to Yeon-ah about how remarkable it is that her acting student had exactly the same reaction to that script reading that Mi-ryung had. Yeon-ah hasn't seemed very threatened by Jun-ho's wager all along, but upon hearing that the student was Soon-shin—and clocking Mi-ryung's curious enthusiasm when talking about her—Yeon-ah grows uneasy. Especially when she invites Mi-ryung to attend a fashion show with her and gets turned down because of more acting lessons.
When Soon-shin arrives, Yeon-ah greets her coolly and makes it a point to be extra-chummy with "Mom," as if staking her claim.
Soon-shin comments on Mi-ryung's closeness with Yeon-ah, a little wistful today since her own relationship with her mother is strained these days. She asks hopefully that her mother ought to be happy if she were to become successful like Yeon-ah, wouldn't she? She confides that Mom isn't exactly thrilled about her aspirations, but she wants to prove that she can do it and make Mom happy.
Yi-jung cries off again on today's lesson, so Mi-ryung suggests heading outdoors for a tour of the neighborhood. Soon-shin takes her up the hill and shows her the familiar hiking trail, and when Mi-ryung admits to having weak respiration Soon-shin wraps a scarf around her neck to keep her warm. It's something her father used to do for her, since Soon-shin has the same weakness. Mi-ryung is touched at the gesture, and muses under her breath that it's just like someone she used to know…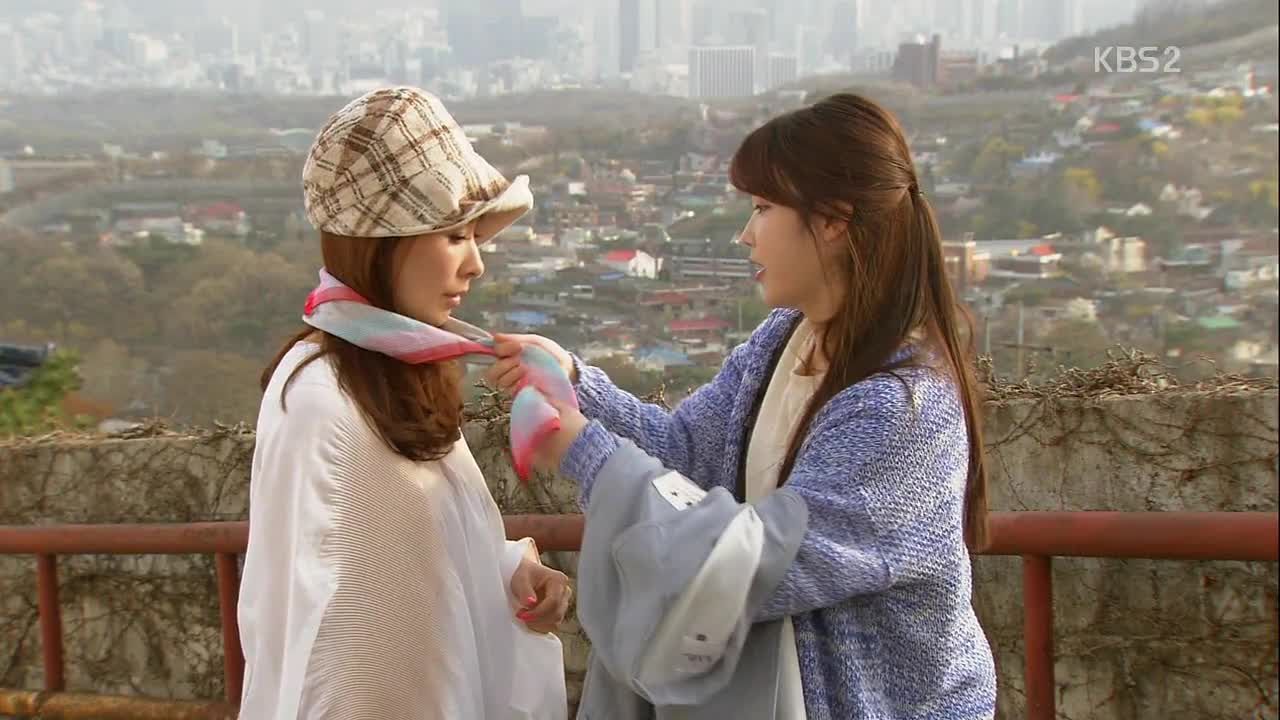 Jun-ho heads over to the restaurant, where Young-hoon's words of greeting are a dry, "Soon-shin's not here." Jun-ho pretends that's totally not why he's here, which is convincing to no one.
Young-hoon is frustrated with him and his bet with Yeon-ah; he can see Soon-shin working her butt off with her acting lessons and fears that she'll end up used and discarded. And no, he's not buying Jun-ho's excuse that she's just doing it for the contract money, not about to let him off the hook.
Young-hoon reminds Jun-ho of his own musician days, and how receiving recognition from people had made him work even harder. He sees the change in Soon-shin after working with Mi-ryung, and worries about what happens after the bet is off. "Do you want to see her hurt, like you? Were you such a cruel jerk?"
It's enough to discomfit Jun-ho, who mulls over those words at home, not able to shake them off. So when he calls Soon-shin later that night and hears that she's out to dinner with Mi-ryung, he heads right over to talk to her.
He sits with Mi-ryung while Soon-shin steps aside for a moment and tells her warningly not to hurt Soon-shin—they both know this nice act is just a ploy to manipulate Yi-jung. What'll happen to Soon-shin when Yi-jung does quit and the ruse is over?
Mi-ryung notes that he's got no leg to stand on in this argument, given how he's up to something with Yeon-ah. She's perceptive enough to sense some of their wager, and also something else: His concern is excessive and suspicious. "Do you like her?"
He denies it, of course, though much less smoothly than he would've liked. But Mi-ryung assures him not to worry about Soon-shin, because she's decided to work with her for real.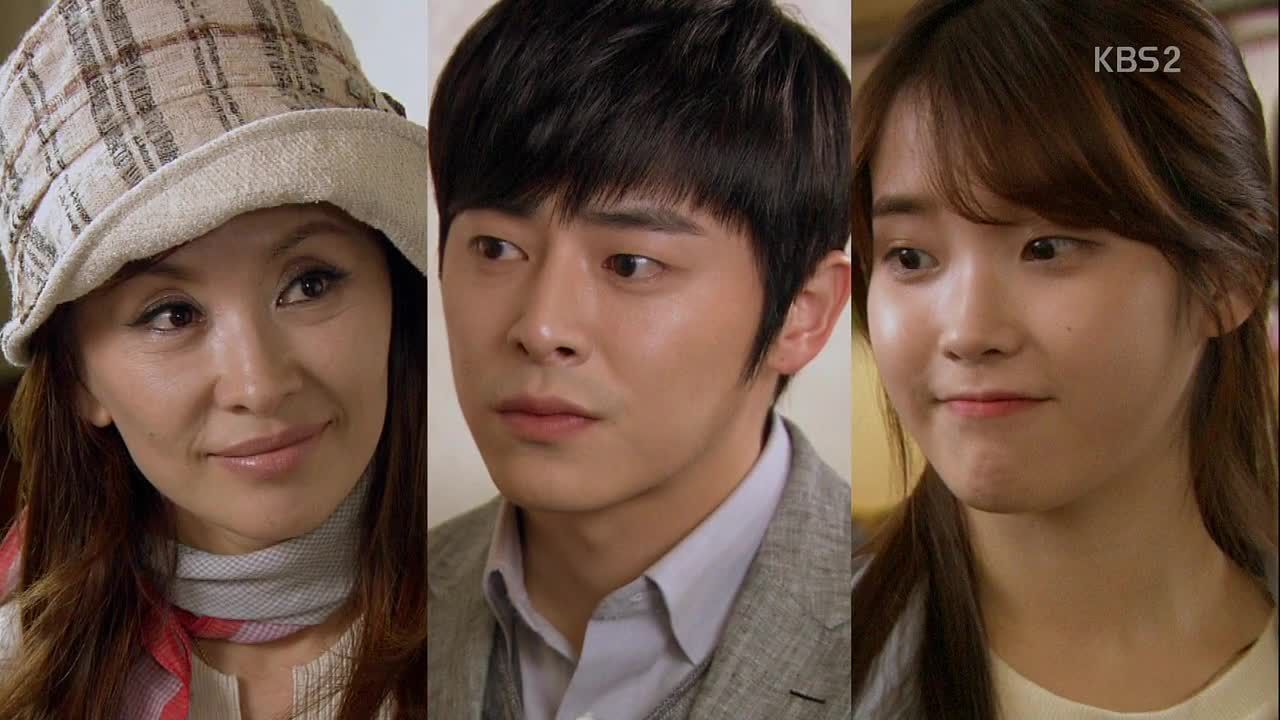 COMMENTS
There was less Soon-shin and Jun-ho in this episode than I would've liked, though it does make sense to spend some time on the question of motherhood since that is one of the backbones of the show. The birth secret itself is less interesting, but I do like the question of motherhood as we're starting to see unfold with Soon-shin. There's the mother who raised her, who's the only mother that Soon-shin knows. Then we've got the mother she never knew she had, who would be a nonfactor except for the fact that she has her own maternal longings and has decided to take an active role in helping Soon-shin's career—a career that Mom strongly opposes, to boot.
Complicating the matter further is the fact that Mom is undergoing her own personal crisis just as Birth Mom is engaging the relationship in earnest. How apt that the word used to mean you're "developing" a new actor is the same one used to "raise" a child.
We need that tension built up now to set us up for the moment finds out the truth of her birth, because it's the thing that could potentially kill the relationship between her and her mentor. So I see what they're doing with Mom's storyline, and I think her reactions are realistic and necessary. However, as with the aftermath of Dad's death, I do feel they bring us down, and the tone overall, because lordy if she didn't try my patience. I'm not upset at her for feeling betrayed by her husband or ashamed of herself for thinking she was so blind and foolish, but I do think the show is putting to much of that front and center. Not every excruciating detail of her disillusionment has to be put onscreen, does it? Because wallowing in self-pity doesn't make for the most compelling storyline.
There is a compulsion to dissect everything about shows we're enjoying, but I think it's worth noting that sometimes simple weekend family shows don't require complex layers of analysis. Here's where I sometimes think I'm giving the show too much credit for building in depth, because with this drama we're mostly dealing with "what you see is what you get." Such as with Dr. Shin and Mi-ryung; the actors have so much chemistry and I've seen them playing romantic interests before that it's hard not to read into their interactions a lot more than what may be on the page.
One aspect I want to see developed further is the Yeon-ah angle, because she's been hanging around far too long doing nothing very interesting, but is positioned to take an active hand in the story. Perhaps we're just building up to it and I'm getting ahead of myself, but I feel like the story gets more interesting if she takes on Yi-jung as her own protégé, especially now that she's starting to feel threatened by Soon-shin. It throws a wrench into multiple relationships, and that kind of shaking up can be a good think in keeping our plot wheels turning. Her mother-daughter relationship with Mi-ryung, for example, would be directly affected by her taking on a rival, as well as her professional wager with Jun-ho and her personal interest in him as a romantic partner. Plus, it's a way to both make something of two annoying characters while also neutralizing their annoying traits by making them deal with each other. Ha.
I like that Jun-ho's motivations are becoming blurred, and that other people are calling him out on his interest in Soon-shin. For a bigshot CEO, you sure spend a lot of time lurking around empty restaurants, I'm just sayin'. And his jealousy of Chan-woo is just a hoot to watch; that's one misunderstand I really hope doesn't get cleared up too son. If they play that one out for all its comic potential, I'll forgive you for cutting Bread Man's misunderstanding humiliation so short!
RELATED POSTS
Tags: featured, IU, Jo Jung-seok, Lee Mi-sook, Sohn Tae-young, Yoo Inna, You're the Best Lee Soon-shin