You're the Best, Lee Soon-shin: Episode 14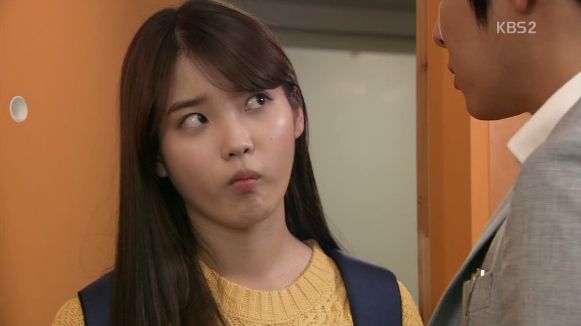 Someone moves in, someone moves out, someone gets spit on, and someone gets slapped, not necessarily in that order. Strangely the episode isn't as eventful as that makes it sound, but Soon-shin's relationship with her mentor takes a turn upward, just as things with Mom take a sharp turn downward. If only she knew just how linked those two events were.

EPISODE 14 RECAP
Mi-ryung tells Jun-ho not to worry because she really plans to be a mentor to Soon-shin, and help make her a star. She chuckles to see them bickering as soon as they see each other, after he swore he didn't like her.
Mom downs a bottle of soju and stumbles home, just in time to watch as Jun-ho drops Soon-shin off. That makes her mad enough, but then Mi-ryung gets out of the very same car to return Soon-shin's scarf.
They say goodbye to each other pleasantly, and Mom watches in horror. This is bad. Very bad.
Either because she's drunk or just that angry, she confronts Soon-shin right away and demands to know what's going on, dragging her inside.
Jun-ho asks Mi-ryung why she changed her mind about Soon-shin, and she says there's something about her she's just drawn to, calling her pretty and cute. Jun-ho scoffs that she's hardly either of those things. Says the guy who spends his day following her around.
Mom drags Soon-shin inside and asks for an explanation, and Soon-shin says she couldn't tell her because she was so opposed to her acting, but begs for another chance. She adds that she's learning from "someone as great as Song Mi-ryung," which is so not the thing to be saying right now.
Mom slaps her across the face, and they both stand there in shock. Mom: "How could you do this? How? Let's just cut our ties then. Get out of our house. I'm not going to see your face anymore. I'm not going to be your mother anymore." Dayum.
She storms upstairs to pack a bag for Soon-shin and hurls it at her feet. By now everyone in the family is trying to stop her, but Mom won't listen to reason, and kicks Soon-shin to the curb. You know you're being harsh when even Granny's like, whoa there.
The unnis try to convince Mom, to no avail. They fill Grandma in on Soon-shin's acting endeavor, and the thing that trips up granny is that Jun-ho is some hotshot CEO, ha. They wonder if there's something else going on with Mom for her to react this way.
Poor Soon-shin stands outside clutching her bag with this stricken look, not knowing what to do. She starts wandering the streets when Hye-shin calls to say that she should spend the night at a friend's house tonight, and they'll do their best to talk Mom down.
Soon-shin puts on a brave tone and tells them not to worry about her, and then sits at the bus stop with nowhere to go. After a while she fishes something out of her pocket—the key to the practice studio that Jun-ho gave her—and decides to go there.
She puts her stuff down in the empty room and gives herself a little pep talk in the mirror: "Be strong, Soon-shin-ah. It's okay. It'll be okay."
In-sung arrives the next morning and gasps to see that Soon-shin is basically squatting there, and runs to tattle on her to Jun-ho. He leaps to his feet in concern at the news, only to act like he doesn't care.
He saunters over to check on her, and she just says she came early to get some practice time in. He hands her a script for her first audition, a melodrama about a heroine who tries to kill herself and then falls in love with the guy who saves her, and Soon-shin scoffs, "Not really my taste. Don't you have some action or anything?"
He growls that what he gives her IS her taste from now on, and she just sneers back. He tells her to do a good job, for her mother's sake.
Yoo-shin heads out for lunch with her co-workers, and discovers Chan-woo waiting outside with lunch and a goofy grin. I love the things he gets away with now, using her "we're just friends" line. "I'm just here to have lunch with my friend!"
He sets up a giant spread on a park bench and reminds her about the movies this weekend "as friends" and ignores all her "What are we doing?" questions. I like this dynamic. All he has to do is insist they're just friends, and he basically gets to do whatever he wants.
He tells her that he ran into Jun-ho the other day, and discovered that he's Dr. Shin's son. Yoo-shin gapes, impressed that he's so successful and comes from an important family too. That just raises Chan-woo's hackles and he quickly adds that Jun-ho seemed rude. Hee, now the Jun-ho/Chan-woo jealousy goes both ways! I love it.
Now that Yeon-ah knows who Jun-ho's father is too, she goes to the clinic to meet him in person, though to what end we don't know.
Soon-shin is so distracted by thoughts of Mom that she drops a tray of plates at work, and cuts her finger trying to clean up. Jae-bum runs over to help her and insist she rest, and then in the same breath asks when her sister is coming for a visit.
Young-hoon notices Soon-shin's dampened mood and she admits that she wonders sometimes if she's doing the right thing in pursuing acting.
Yi-jung shows up to acting class today and presents Mi-ryung with an expensive cake, which of course backfires on her like everything else. Mi-ryung cuts her down to size and Yi-jung whines that all this is because she's only nice to Soon-shin.
Mi-ryung tells her to stop blaming other people for her weaknesses, and says that Soon-shin really is better than her. It's enough to finally make Yi-jung snap, and just as Soon-shin arrives, she stands up and declares that she's quitting. She throws her cake at Soon-shin, who dodges out of the way, and then Yi-jung stomps out crying, just to slip and fall on her own cake. Ha, well, that's karma for ya.
Mi-ryung tells Soon-shin to just let her go, and they turn their attention to her audition script. Mi-ryung is surprised to see that it's one of the projects she's considering, and says that they'll have to work hard so that they can act in a project together.
Woo-joo comes home from school to find her worst nightmare on her front doorstep: Bread Man Jin-wook unpacking his things to move into the basement room. Muahaha. He waves at her and she has a pint-sized freakout, only to be followed right away by Yoo-shin's reaction, which is pretty much the same.
This actor cracks my shit up with his I-don't-know-what-to-do-with-my-hands thing whenever he's flustered. It's just perfect. He stands out in the yard with his hands folded meekly, wondering if he did the right thing in coming here.
Yoo-shin and Woo-joo kick up a fuss with Grandma and Hye-shin, but Grandma insists she's done her homework, and every shopkeeper in the whole neighborhood has nothing but nice things to say about what an upright young man Jin-wook is. She goes to invite him to dinner, and their jaws drop to the ground.
Yoo-shin tries to talk to Mom, who squarely ignores her. She finally asks if she's really going to make Soon-shin sleep elsewhere again, and Mom just answers coldly, "Who's that?" Yikes.
Hye-shin comes down to invite Jin-wook to dinner, and he lies that he already ate a bunch of delicious takeout…even though she can plainly see the pot of ramyun sitting on his table.
Cut to: Jin-wook sitting awkwardly at the dinner table, with Woo-joo and Yoo-shin taking turns trying to deathglare him into oblivion. Every time he reaches for a side dish, one of them gets to it first, which is hilariously petty, and he just ends up shoveling plain rice.
Mom leaves the table early because of her sour mood over Soon-shin, and Yoo-shin follows her to her room. Jin-wook gets so flustered trying to answer politely when his mouth is full that he starts coughing, and ends up spitting rice and water all over Woo-joo. Ha, he's a walking disaster.
Soon-shin lies to her sister that she's staying with a friend and eating well, when of course she's eating instant ramyun in the studio. Jun-ho can't help peeking in on her and sighs to see her camping out there.
He resolutely tells himself not to care and makes it as far as his car, before turning back. He finds her running her lines, and asks if she's never dated before because she's talking about love and rejection without any emotion.
She hasn't, so he tells her to get up. He takes her to some sort of meeting with an acronym where they wear nametags, and it turns out to be a support group for overcoming rejection. Ha.
He brought her here so she could try out her lines, but then gets caught in his own trap when the group leader asks for his rejection story. Jun-ho tries to play it off like he's never been rejected his whole life, but the group eggs him on.
So then he finally admits there was one person he couldn't forget even when he tried because her face was everywhere—the tv, the streets. But he says he didn't waste much time on her.
They ask if something didn't change in his life though, and he admits to sleeping less. They agree that sleepless nights are the worst, and then he lets the façade drop for just one moment.
Jun-ho: "But even if I spent the whole night with eyes wide open, I liked the night. I hated the morning more. Everyone else in the world was going about their day, but I felt like I was the only one thrown away." Soon-shin looks over at him in surprise.
Outside, she asks if he's a regular member of the rejection club, guessing that his story was real. He swears up and down that it was just an act, but she doesn't waste the opportunity to tease him about it.
Jun-ho comes home to find Yi-jung bawling, and doesn't bat an eyelash. Mom tells him about Yeon-ah's visit to Dad's clinic, and he wonders what she's up to.
Yeon-ah comes out and tells Mi-ryung about her bet with Jun-ho, and asks her to stop teaching Soon-shin. But Mi-ryung tells her to be a little more honest with herself—is it that she doesn't want to lose to Jun-ho, or that she doesn't want him to know that she wants to go to him?
Manager Hwang gets a call from the police station with news that an eye-witness from Dad's hit-and-run has stepped forward, and he rushes over, as do Hye-shin and Mom. But it turns out to be a dead end.
Hye-shin confronts Mom about how weird she's acting lately—she doesn't even seem upset about this, and it's like her soul is elsewhere. But Mom just brushes her aside coldly.
Manager Hwang sees Mom there and recognizes her, but doesn't put two and two together until he later remembers her coming to the house. He doesn't miss a beat, and calls someone to do a background check on Dad and his family members.
Soon-shin gets overly emotional as she reads lines about a conflict with her mother, and admits to Mi-ryung that things are still really dicey with her mother because she disapproves of her acting.
Mi-ryung asks if she ought to try talking to her on Soon-shin's behalf, and calls Mom directly to ask for a meeting. Uh-oh.
So Mom gets dressed and goes to a café where Mi-ryung is waiting. She greets her warmly, and Mom introduces herself as Soon-shin's mother.

COMMENTS
I'm actually glad Mom snapped, because as sad as it is for Soon-shin (the poor thing), it's better to drive the story forward than to be in limbo and watch Mom feel silently sorry for herself any longer. I'd just rather see her express her anger than watch any more of her repressed wallowing, that's for sure. While I fully understand why she kicked Soon-shin out, it's also completely misdirected anger, and it's frustrating that she's not just telling her family what she's mad about, and just letting them assume it's to do with Soon-shin's career choice.
Though the whole mother-daughter acting destiny is definitely ham-handed, I do get Mom's bitterness when it comes to Soon-shin's choice, in light of what she knows. When she murmurs to herself that you can't fool blood, it really feels like Soon-shin's affinity for acting is the nail in the coffin, like she's confirming that Mi-ryung is her mother and choosing her. The problem is, Mom's thinking all this and going through it alone, which is why it's frustrating for everyone, including us. Mom's mood put a damper on this week's episodes overall, so I'm hoping for a bigger dose of funny next week.
At least Jun-ho is starting to feel a little guilty about using Soon-shin for his bet. I was screaming, Hello, pot, kettle! when he was getting all uppity about Mi-ryung hurting Soon-shin's innocent feelings, when he's the one who started fanning all these false hopes in the first place. But thankfully Mi-ryung's sharp enough to turn it back around on him, and on Yeon-ah as well. I still can't figure out what Yeon-ah's deal is, but maybe it's more that I don't care enough about her to know. I feel like she's just meant to be hated so I'm not putting much thought into why.
Yay for Jin-wook moving into the house. I hope dinners with the family become a regular occurrence, because his interaction with Woo-joo and Yoo-shin's little anti club is hilarious. I want more of Chan-woo and Jun-ho being jealous of each other (so cute), and especially more of Jun-ho showing his soft underbelly around Soon-shin. Can they just sign on as permanent members of Rejection Rebounders Anonymous? Or yunno, you could just date her. For research.

RELATED POSTS
Tags: featured, IU, Jo Jung-seok, Lee Mi-sook, Sohn Tae-young, Yoo Inna, You're the Best Lee Soon-shin