Cruel Palace: An Introduction
With traditional sageuk come certain preconceptions, since the images that normally pop into our collective heads probably include (1) lots of bearded monologuing, (2) a very long episode count, (3) all the nail-biting, edge-of-your-seat-thrills you'd expect from PBS' Masterpiece Theatre, and (4) that this is your mom's drama.
At least, that's what I always thought of weekend sageuk, and skimming a few episodes of something-like-but-not-necessarily-Gye Baek and others of its ilk over the years tended to reinforce the notion that there is an audience for these types of shows – I'm just not it. That assertion comes from a totally intellectual and completely foolproof theory based off personal preference: Fusion sageuk tends to be way more fun.
That being said, JTBC's Cruel Palace – War of the Flowers looks to be the exception and not the norm when it comes to sageuk (and my stuffy preconceived notions) – namely because it's a darn good drama. The writing is perhaps its strongest point, since we've got such a vast array of characters that all feel individualized, fleshed-out, and real, with dialogue that actually makes it seem like actors are listening and reacting to one another rather than waiting for the cue to say their own lines.
There's obviously plenty of politicking in this drama, but it's just one part of a cohesive whole – if the political underpinnings are this show's spine, then the characters and their very human stories are its heart and soul. (And the tendency to shoot at night with low visibility and the somewhat old school look of an otherwise very competent production make up the spleen and gallbladder.)
I'm ten episodes in, and so far the show has proven to be darker than expected, sexier than I was counting on, and intriguing enough to keep me wanting more. This is just a chance to give some first impressions and weigh in, so without further ado, let's explore the exciting world of Joseon history, now with extra doses of women's intrigue! Huh. That doesn't roll off the tongue as well as I thought it would.

SERIES INTRODUCTION
There's no better introduction to understanding the history that serves as the background for our story than the actual series introduction, which throws us in medias res to the moments leading up to King Injo's submission (technically a surrender, but not quite) to the Manchu Qing Empire, after the second Manchu invasion of 1636.
This is an infamous bit of history that's popular for at least a passing mention in sageuk (Chuno stands out in recent memory for depicting this scene), because of the humiliating nature of surrender/submission to a people that Joseon had long considered barbarians, made worse by exactly how the submission was carried out, which is depicted in here in a way I've never seen before, and to great effect.
We're introduced to KING INJO (Lee Deok-hwa) as he, the aging king of a nation, is forced to trudge alone through the snow behind a contingent of Manchu soldiers leading him to his place of surrender – a grand platform that the Qing Emperor, Hong Taiji, erected just for the occasion.
What stands out about this entire sequence is that it took all of one minute, with very little dialogue, for me to feel for Injo and his plight. It helps that he's marvelously acted, since we're left to interpret his suffering only by his body language and the way pride, helplessness, fear, exhaustion, and determination warp his frost-bitten features – partly because this is something he must do, and because it's something no king would ever want to do.
This director is sparing with special shots (aka anything that deviates from your usual static shot), so that when he does employ unusual angles or close-ups, it has all the more impact. Better than overuse, I say.
The submission scene is one of these instances, because cinematography is used to such great effect to drive home how terrible this event was at times showing us only Injo's back as he struggles up the platform to make his nine ritual bows to Hong Taiji, at times close enough for us to see the impact of his forehead hitting the ground reverberating through his face. He bows until his forehead bleeds. And that's how you open a drama.
As someone who generally dislikes spending episodes on backstory, having this drama start right smack dab in the middle of such a dramatic moment is like a cool drink of water. (It's also especially unexpected in sageuk, a genre that is one brave writer away from beginning the story before the invention of the wheel. One of these days.) It makes the subsequent history easier to follow, since we just go day by day from the surrender onward and experience everything as it happens to our characters in real time, and chronological order.
Basically, you could go into this knowing nothing of the history behind it and come out fine. It's a show that manages to be inclusive without treating its audience like children, but it also doesn't come off smug. All good things in my book.
Our heroine also gets a dramatic introduction, in that she stabs and kills a Manchu soldier attempting to drag her mother away. (At this point we're in the direct aftermath of Injo's submission, so the invading Manchu are still raping and pillaging in the capital.)
She's YAM-JEON (Kim Hyun-joo), the tough-as-nails wealthy daughter of a concubine. Her mother can be a lot to handle sometimes, since she's a nosy straight-shooter with zero shame, and her relationship with Yam-jeon is refreshingly frank, and they have a great rapport with rapid-fire bickering.
It's not a mother/daughter dynamic usually seen in sageuk, likely because though they're low on the social totem pole, they're fairly well-off, thanks to a noble father that doesn't even allow Yam-jeon to acknowledge him.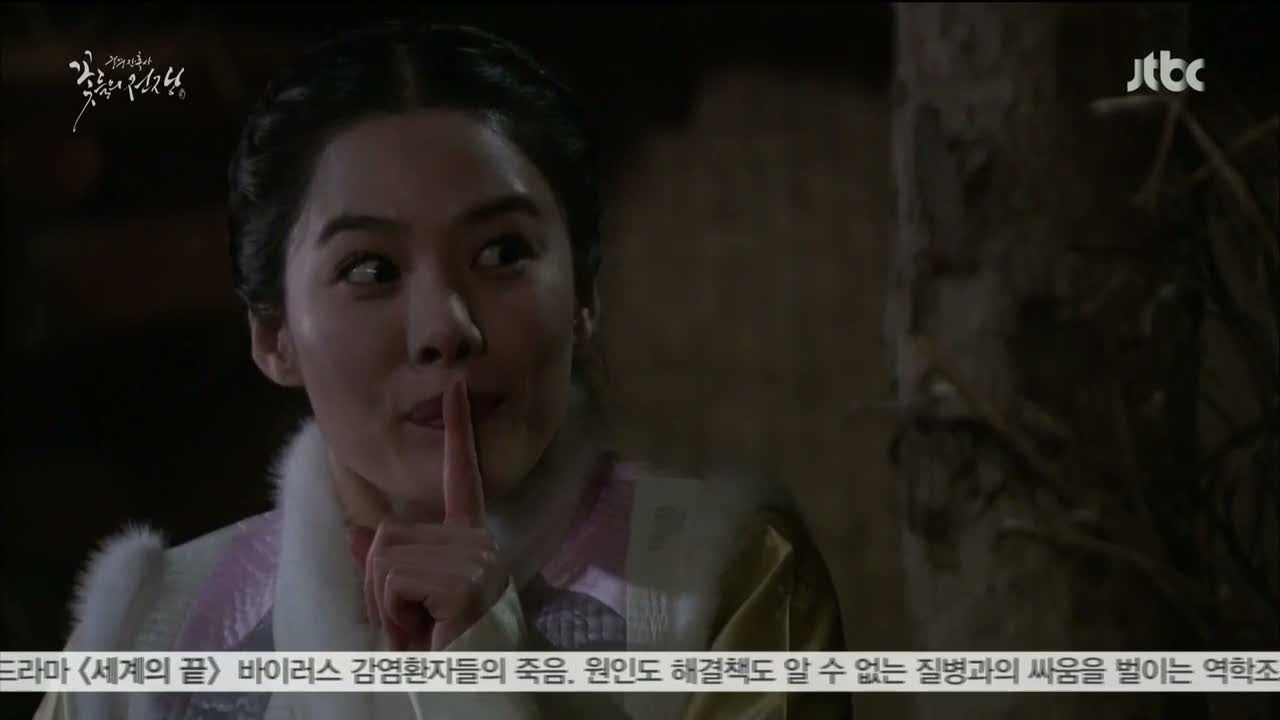 But no amount of money can change their lineage, something that becomes very clear to Yam-jeon and to us through the form of her first love's viciously petty mother. To understand that, we have to introduce her first love… well, first.
Yam-jeon has to get rid of the soldier that she killed, and thanks to that we get some dark humor that I wish was carried past the first episode. A joke or two like this down the line couldn't hurt, is all I'm sayin'.
Her journey to bury the evidence takes her to NAM HYUK (Jun Tae-soo), a young and handsome son of a yangban family that's fallen on hard times ever since his father was executed as a traitor (and unjustly so, if you ask Hyuk).
Despite his circumstances, he still has his noble name, a fact his mother voraciously clings to even though they have nothing to show for it (possibly because they live in a literal shack). She never wastes an opportunity to make Yam-jeon feel small for her low birth, and is unyielding to boot.
Yam-jeon and Hyuk are old childhood friends/sweethearts, which makes for yet another fun dynamic, again coming from someone who's tired of having every lead couple in every drama ever meet as children. (At a certain point it feels lazy, especially when the childhood meeting is a fly-by-night event that exists only so that narrative necessities can be bypassed much easier when the two have a fated reunion as adults.)
The reason why the Childhood Meet-Cute works in this context and a majority of others is because this childhood meet-cute actually informs how the two act as adults and how they interact with each other. (Who knew, right?) This show already played the childhood card a step above the usual by actually having the children who met grow up together. It also calls for a little more elbow grease on the writer's part, since that kind of past precludes a different kind of rapport—it's not a concern here, because a strong point of the drama is the writer's ability to juggle all these intertwining character dynamics cohesively.
So, having that shared past allows Yam-jeon to call Hyuk out in the dead of night with this romantic gem: "I killed a barbarian and I have nowhere to bury him." I love that Hyuk's reaction is all, Typical. Let's just get this over with. I almost don't want to say this now because I know I'll repeat it ad nauseam, but I love these two together.
Also, to be completely frank, having a tall drink of water romantic young lead like Hyuk in a show where we know who Yam-jeon will be sleeping with later (spoiler alert: it's the king!) is like that last gulp of air you take before a big dive. Funnily enough, that's exactly how Yam-jeon will come to perceive Hyuk—as that one good memory to cling to when the future seems bleak. Coincidence? Probably. But three cheers for relatable qualities you find in a heroine which only come back to bite you in the butt later, I guess.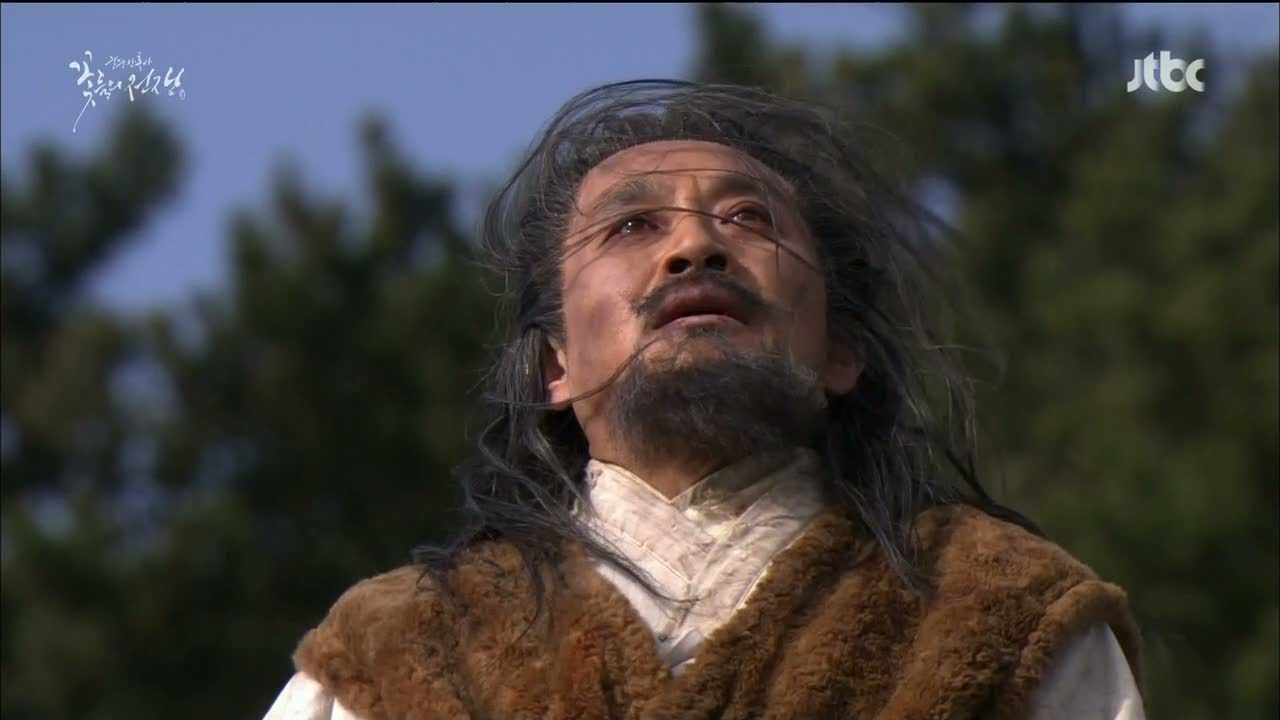 Moving on to our key players on the more political side of things, we meet KIM JA-JEOM (fantastically, and I mean fantastically portrayed by Jung Sung-mo) only briefly as the acting commander of the nation's army, because he takes the brunt of Injo's blame for not being there to protect him from the humiliating surrender and, as far as Injo is concerned, Ja-jeom purposefully hid himself and his army away until the conflict was over.
Ja-jeom is saved from dying at Injo's hands and is instead exiled to a deserted island with only the clothes on his back. His tenure there works for the story on multiple levels that are (again) all handled deftly — on the one hand, despite the fact that he's clearly got a bad streak (he murdered the messenger who told him of Injo's surrender, for instance), he's so pitiful in his struggle to survive that it's almost impossible not to feel something for the poor guy.
And that's where the show gets you, so that when he becomes so desperate that he considers suicide, you're with him enough to at least admire the resolve he finds within himself to survive — even if that means he wants revenge on Injo, because he was one of the men responsible for putting Injo on the throne in the first place after a successful coup in 1623.
One of my favorite scenes out of these ten episodes comes from Ja-jeom's delirium-fueled resolution that HE'LL just become king and kill Injo himself. He does a Cro-Magnon dance on the edge of a cliff as he screams "I am the king!" over and over again, which could have been a disaster of a scene if he weren't so committed to the role.
Lucky for him, Injo does end up calling him back to capital for protection since he has no one else. Their ensuing rivalry is just their attempts to survive in the wake of the total upheaval caused by Injo's surrender/submission/whatever helps people sleep at night.
One of the conditions of said event was that Injo had to send his two eldest sons to Qing as glorified hostages, so that Qing would have a kind of safeguard against Joseon backlash. It's a shame that I can only just touch on these characters, even though they're becoming my favorites:
Eldest son Crown Prince SOHYEON (Jung Sung-woon) and his wife, Crown Princess MINHOE (Song Seon-mi), are forced to leave their infant son behind in order to go to Qing. They make quite a power couple, though it becomes clear that it's Minhoe who really wears the crown as she proves herself to be brave, whip-smart, and kind.
The same goes for Sohyeon, though he doesn't possess the same kind of cojones as his wife. We get a chance to see their relationship grow and change as their captivity brings them closer together, where there was only resentment before. (Long story short: Sohyeon was in love with another woman who killed herself, so his marriage to Minhoe wasn't wanted on his end.)
Most of their time is spent in Shenyang, the capital of Qing, where they have a civil relationship with Prince Dorgon, half-brother to the emperor. (It's worth noting that the Manchu in this drama actually speak the Manchu language, a feat in and of itself since the language is on the brink of extinction.)
Dorgon's aim is to get Sohyeon to take his father's throne (and thus be a puppet for the Qing Empire), while Sohyeon and his wife's short-term goals remain simple: To rescue as many Joseon captives as they can. In learning to survive, Minhoe breaks all kinds of traditions by learning to farm and ride horses, the latter being so egregious that Injo bars her entrance to the palace when she later visits on horseback.
Ja-jeom plans to seal Injo's throne by using a woman he can control, and conspires with a court lady of the highest rank, Lady Kim, to make Yam-jeon into royal concubine material.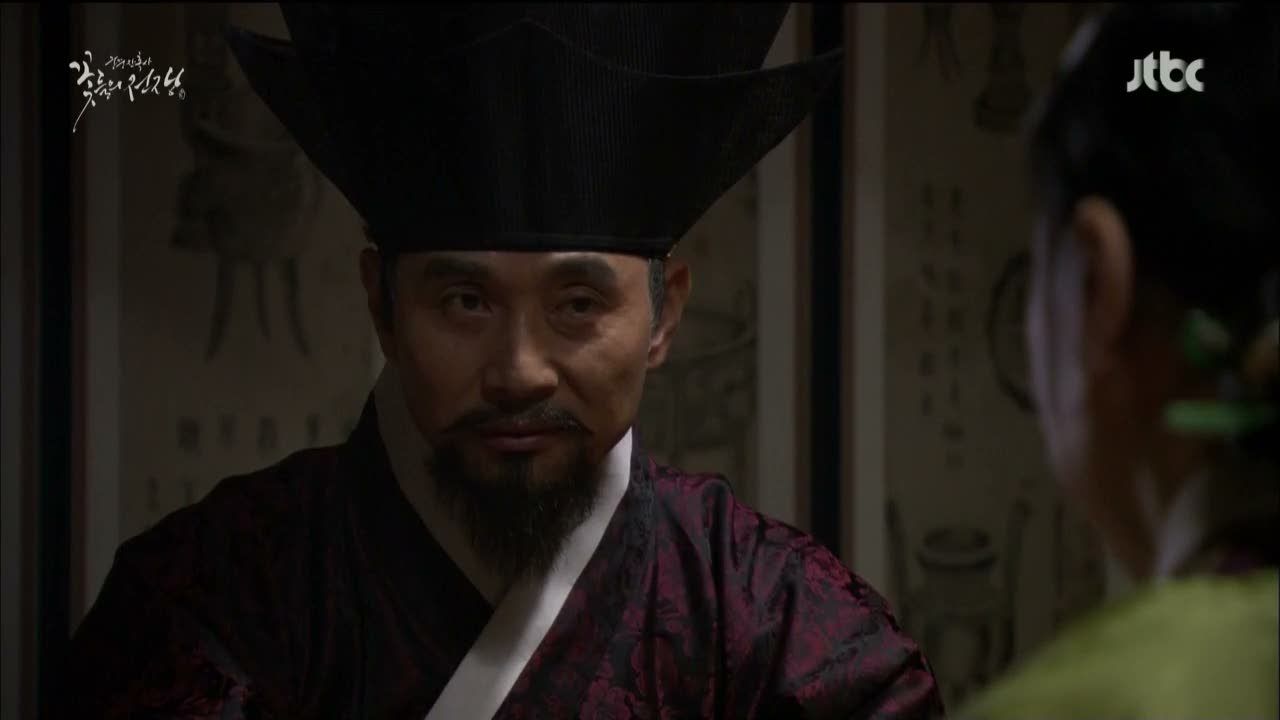 And because a concubine's daughter couldn't ever hope to rise above the rank of a court lady, Ja-jeom's solution is to adopt her as his own daughter. That way, if she has a son, she could even become queen. (The former Queen Inyeol died about a year prior, so the seat was empty.)
This doesn't jive with Yam-jeon's plans, because her initial hope is to spend her life with Hyuk. Their love story is as sweet as it is riddled with problems, most notably because of the class divide that they can't surmount.
Hyuk would risk losing everything to marry her, not to mention the fact that his mother is a crazy and stubborn old broad. She even openly uses Yam-jeon's connections when Hyuk gets arrested (for protecting Yam-jeon, no less), promising all sorts of favors if she would help free Hyuk.
Needless to say, Yam-jeon jumps at this opportunity to hopefully please his mom, only for the woman to turn on her. Anti-Mom finally hems and haws that she'll accept Yam-jeon only as Hyuk's concubine, but she'll have to wait about half a decade for him to be safely married first.
This is the last straw for Yam-jeon, and the situation is only made worse when Hyuk admits that he can't do anything to help her. (He always talks a big game, being part of a rebel group aligned against Injo, but he always ends up backing down at crucial moments.)
It's while her future with Hyuk is so uncertain that Yam-jeon is swept up in Ja-jeom's plans to make her a royal concubine, and though she resists as long as she can through a hunger strike, eventually she breaks down and gives in — not just so she can eat, but because she realizes that she has no other options without Hyuk.
That marks her turning point, and Yam-jeon puts her all into her training. What we start to witness is her sexual awakening as well as her sort of coming into her own, in terms of learning to control her sexuality and use it.
She goes through three major stages in this process. The first is when she meets her adoptive father Ja-jeom for the first time, and loses herself (or rather, learns to let go) as she dances to the tune of his zither. The fact that he allows her to call him "Father" fulfills the desire she's always had for a dad, which gets her hook, line, and sinker.
The second is when she becomes aware of physical pleasure by standing in a storm in order to "feel" the rain on her body in what can only be described as an orgasmic experience. (For her, anyway.)
The third stage comes when she decides to take control over her body — in what could be her last chance to do so — in losing her virginity to Hyuk. This is a dangerous move for both of them since (1) only virgins were allowed into the palace, and (2) because she was already considered the king's property, the penalty would be death if she were to be caught with Hyuk.
Hyuk doesn't want to let her go even though he's powerless to keep her, and he spends his time wallowing in misery while Yam-jeon begins her life as a royal concubine.
And because Injo knows she's Ja-jeom's puppet, she spends her first few nights alone. They both seem to surprise each other when they do finally come face to face — Yam-jeon is pleasantly surprised to find that he's not as old as she thought, and he's amused by her bold nature.
It's not long before Injo is completely under her spell, with things only getting better once Yam-jeon finds out that she's pregnant. Of course, she knows that the child is Hyuk's and plans to keep it a secret.
Two others know about her deadly secret: Her morally ambiguous partner-in-crime (and her mother's lover), acupuncturist LEE HYUNG-IK (Son Byung-ho) and the father, Hyuk, who can't seem to keep it to himself once he finds out she's pregnant.
Her grand solution to this problem is the saddest one, in that she sleeps with Hyuk as a sort of goodbye before she sends assassins to kill him. He fights valiantly (and puts that rebel force training to use), and only gives up when he sees Yam-jeon at the scene of the battle and realizes that she's the one who ordered his death.
He's then stabbed, and falls over a cliff into the water below. Yam-jeon holds back her tears during the ordeal —which kind of makes you want to hate her as much as you understand the why behind her actions — as she watches him float away, presumably dead. (Presumably.)
She doesn't win back favors when she actually has the child, because when it turns out to be a daughter (and therefore useless to her), she screams that it should be thrown out. Rest assured, her daughter survives, but Yam-jeon sees her all of one time, and from a distance.
Because she couldn't move up in status, Injo takes on a new, 15-year-old wife. It's worth noting that he was all but forced into this marriage, and that his bride, QUEEN JANGRYEOL (Go Won-hee) is sweet and kind, but seemingly unsuited to the rigors of palace life.
Yam-jeon ingratiates herself to the new queen in an attempt to win her favor, all while plotting behind her back, as concubines are wont to do. Her chances of becoming queen haven't completely disappeared yet — she stands a chance if she can have a son before the queen, since she's too young to bear children anyway.
Filled with this newfound ambition, mostly because it's her last chance, Yam-jeon plots to put safeguards in place for the only two things that could derail her plans. She can't afford to have another daughter, so she secretly pays a slew of couples to get to baby-making to ideally align her pregnancy with theirs (she's got her own set of problems trying to get Injo to sleep with her again), with plans to swap her baby out for one of theirs if she has a daughter.
Ja-jeom not only condones this plan, he even helps her. After all, his life is at stake too, and I keep wanting to say that it's because he put all his eggs in her basket — but I can't make that not sound weird, knowing this drama.
The only other thing standing in Yam-jeon's way is one of Injo's playthings by the name of Lady Lee, who's more or less a puppet of Injo's two official concubines (he has three, including Yam-jeon). She's ambitious even though she can't move up in stature because of her low birth, so even with a child she could still only remain a court lady. Thus she's still lower in stature than all the concubines.
Still, Yam-jeon has reason to feel threatened when Lady Lee becomes pregnant (so she lies that she too is pregnant, when she isn't), which forces her to amp up her ever-growing list of deadly and dangerous plots into one of her riskiest yet: She plans to poison Lady Lee just enough for her to miscarry the baby, but not enough to kill her.
On top of that, she tries to hunt down Hyuk's mother to kill her if she's still alive, but finds no trace of her at Hyuk's old abandoned home. She does get an unpleasant shock when a neighbor tells her that Hyuk's mother has long since been gone – but that there's someone who comes to the house to cry every night. Which could only mean…
Yam-jeon carries through with her poisoning plan, but she doesn't count on Lady Lee having a pregnant woman's appetite. Lady Lee unknowingly digs into the poisoned sweets Yam-jeon gifted her, which seems like a quick ticket to an untimely death.
Likewise, Yam-jeon also eats the poison in order to make sure she won't be suspected. At least she knows how absurd it is, because by the end of the episode her laughs start to sound like they're coming from just this side of unhinged.

COMMENTS
This was probably the worst kind of show to pick for an introductory post, since all ten episodes are absolutely packed to the brim with plot and very little waste.
That makes it a great show for watching, since every hour is eventful, with no noticeable lulls so far. Again, we're still very early into the run so anything can happen, but we're dealing with a writer who's resume is filled with long-format, fifty-episodes-or-more dramas. I'd venture a guess that he knows how to pace a show of this length, and that there's more than enough intrigue to go around.
Overall, this show is doing a great job with its characters first and foremost, though I doubt they'd be half as compelling if the plot wasn't holding up its end of the bargain. Different character groupings are a must in long-format dramas (things would get pretty static otherwise), but it's refreshing to be this invested in the alternate storylines, especially when the focus moves to Crown Prince Sohyeon and his wife. And fine, maybe a field of grass doesn't constitute a farm no matter how many people you have "working" on it, but the show's heart is in the right place. And surprisingly enough, that counts for a whole lot in a show that I honestly wasn't expecting to deliver in the warm-and-fuzzies department.
What's nice about Sohyeon and Minhoe's story thread is that they're all heart, so it's nice to have somewhere to drop a moral anchor in a show where everyone is plotting against everyone else. I was admittedly a little worried when we lost Hyuk, but that void has successfully been filled. For the moment, anyway. Hyuk is a fictional character without any historical basis, so I was disappointed when I thought we lost him, sure that we'd lost the only wild card in this show. But I'm not losing sleep over it, and I'm pretty sure that's because I'm holding out hope that he's alive. They've hinted at it, at least. That, or I've deluded myself into turning everything into a subtle hint that he's not dead yet.
As far as our resident captive lovebirds go, it really is too bad that history is one big spoiler when it comes to sageuk (I recognize that this is an absurd complaint, but it's still true), because right now, it's not that fun to know exactly where one of my favorite characters is headed and that nothing's going to change it. Minhoe is slowly but surely stealing the show, since we're seeing her really coming into her own as this fearless amazonian warrior princess/hero of the people with figurative balls of pure steel, and yet her story is just beginning. I have a feeling (darn you again, history!) that her strife with Injo won't turn out well for her, but I at least hope to see her kicking the ass I know she's capable of kicking for as long as she's allowed to kick it.
In short: Rock on, Cruel Palace. Rock on.

RELATED POSTS
Tags: cable programs, featured, first episodes, Jeon Tae-soo, Kim Hyun-joo, Lee Deok-hwa