Jang Hyuk goes variety for Real Men
Jang Hyuk (IRIS 2) is the newest star to expand his repertoire with variety, and has announced he will be joining the cast of Sunday variety program Real Men, which basically drops its members into army boot camp and makes them suffer for our entertainment. Current cast members include Ryu Soo-young (Ojakkyo Brothers, Kim Su-ro (A Gentleman's Dignity), and comedian-MC Seo Kyung-seok, while MBLAQ's Mir is leaving the show to return to his idol duties.
The program is described as a "real army project" and sticks its stars into the army for six days, five nights, and shoots them documentary-style. It's still very new, having premiered in April, but it's been met with positive response, largely because the suffering is real and the participants really are getting their butts kicked by drill sergeants. (And as we know, scripted suffering is fun for nobody. Ahem.)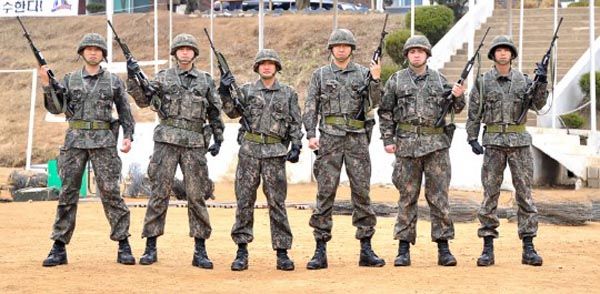 It seems both a perfect fit for Jang Hyuk's "beast-man" image and surprising given his own checkered past regarding army service. In 2004, Jang Hyuk was caught up in scandal when he (and Song Seung-heon) attempted to draft-dodge by falsifying medical records and a urine test to get excused, only to get caught. It was a huge blow to both their images at the time, but they both ended up enlisting together and served their two years, and all was forgiven. (Korea recognizes that nobody wants to go; so as long as you actually do your time, they don't blame you for wanting to get out of it. It's just when you do cheat that they'll hate you forever.)
So I can see this being an indirect way to rehab Jang Hyuk's image, although honestly I think it's already fully recovered and then some (since his acting has gotten so much better post-military service, to go with the abs); adding him to Real Men sort of feels like reminding us all of the scandal that we'd forgotten. But Jang explained his reasoning for joining the show, saying, "I'd like to use this opportunity to reflect on myself through Real Men and in experiencing army life again."
With the exit of one idol boy, we get the entry of another: Park Hyung-shik of ZE:A (whom I recognize more for playing young Lee Jin-wook in Nine) joins him as the other new member. I've only caught parts of the show and it's only aired for a month so I'm not sure what they plan to do once footage of that hell week is over, so perhaps this revolving door will become a fixture.
Jang Hyuk and Park Hyung-shik will join the show with their first shoots on May 27.
RELATED POSTS
Tags: Jang Hyuk, Park Hyung-shik, variety shows