Monstar: Episode 1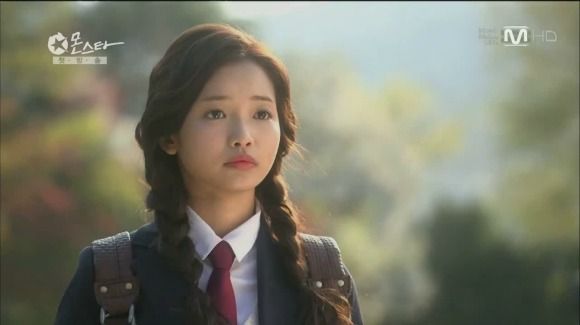 Simply charming. This show beats with emotion and carries delightful notes of humor that makes it a fairly easy watch despite its somewhat long premiere. It can be difficult to strike the right chord when it comes to music-centric dramas, especially with a cast of fresh faces. But cable network Mnet hit the ground running with Monstar, beating out its Friday competitors with a solid 1.6% in ratings.
It's a show marketed towards a younger audience, but the story and characters brings a certain fondness (and heartache) for adolescence, even for those who left it behind years ago. We've barely scratched the surface of what lies beneath, but there's an underlying sense of assurance that those mysteries will be revealed in due course.
SONG OF THE DAY
Yong Jun-hyung & Ha Yeon-soo – "지난 날" from the series OST. [ Download ]
Audio clip: Adobe Flash Player (version 9 or above) is required to play this audio clip. Download the latest version here. You also need to have JavaScript enabled in your browser.

EPISODE 1: "It All Started With Lips"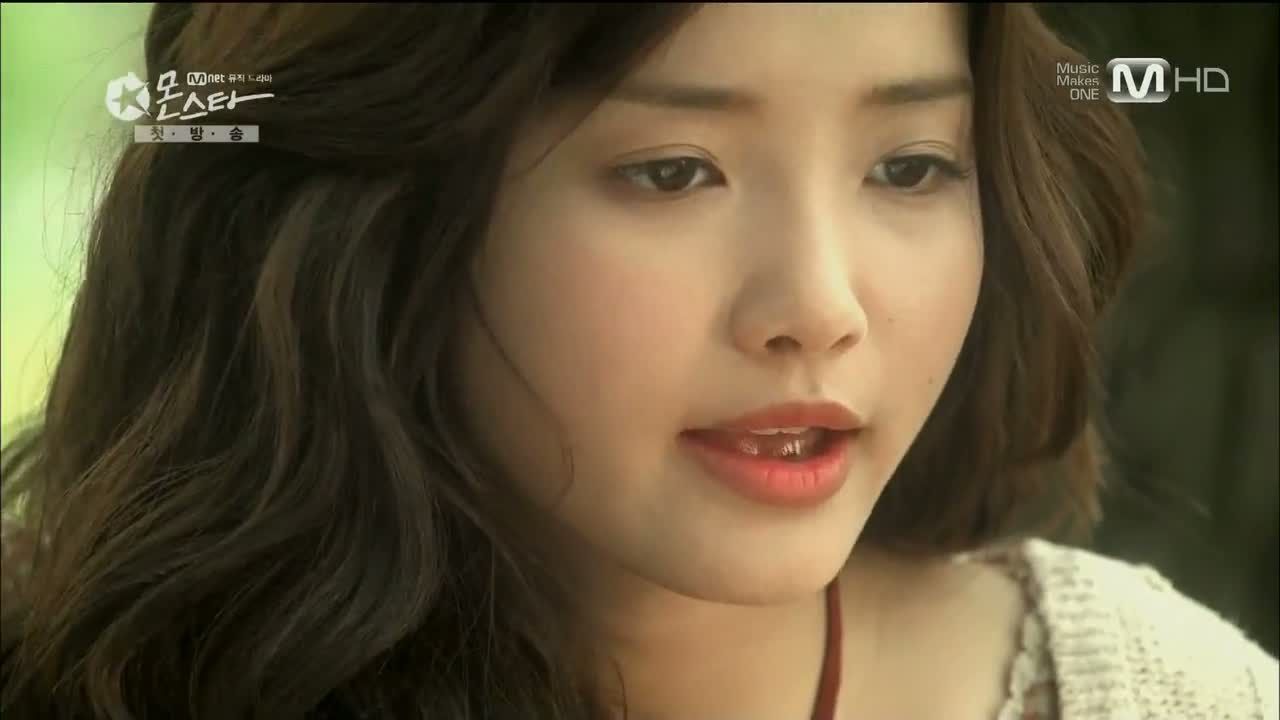 Early morning. As a pair of snails crawls on a leaf, we hear a voice narrate: "So if I had to put my finger on it, everything that happened to us… was because of a pair of lips."
That voice belongs to our heroine, MIN SE-YI (Ha Yeon-soo), who softly plays on her well-worn guitar to an audience of one: a puppy. As she sings, we intercut to a music performance show where idol group, Man in Black, takes the stage and – you guessed it – performs the same song. Is this a Dream High 2 revamp?
When she finishes her song, Se-yi packs up her things and heads off to school.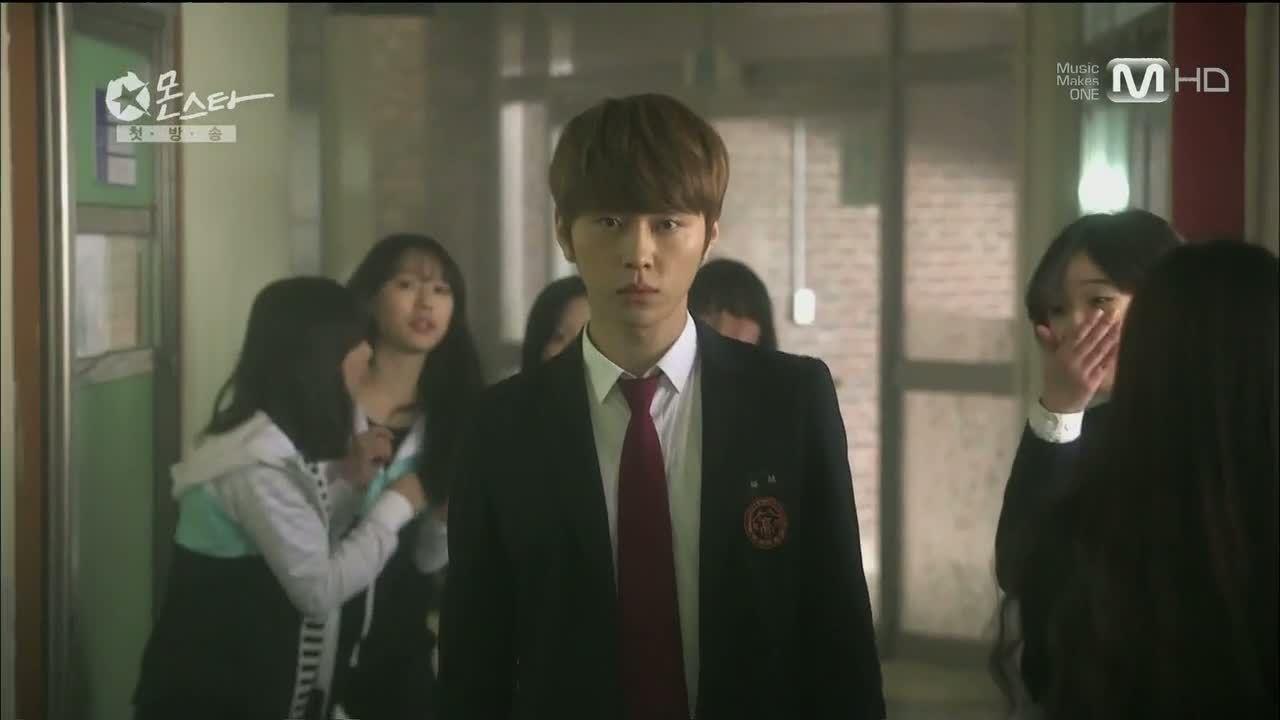 Let's give our hero a proper introduction: YOON SEOL-CHAN (Yong Jun-hyung) is the leader of the aforementioned Man in Black. He could frankly care less about going to school, and he mostly tunes out his manager's musings.
Like any top idol, his biggest worry is his crazed sasaeng fans, including one who recently left a dead mouse on his van. Ew. (While we're on the subject, sasaeng fans are those who invade idols' private lives to an often frightening extreme.)
So, Seol-chan closes his eyes and leans back into his seat to catch a few more winks. He pays no notice when Manager Hong points out another tardy student – our heroine – as their van drives past her.
At school, Seol-chan marches into a classroom and confronts a female student. Omo, a girlfriend? She's in a pissy mood, so he swoops in for a kiss.
The students gasp, the room spins… until the director yells "Cut!" and the camera pulls back to reveal Seol-chan's thumb pressed upon the actress's lips. HA.
Ah, so it's a movie set and Seol-chan defends himself with the explanation that a real kiss on camera would ruin his pristine, innocent idol boy image. As the movie director and school principal argue over the details, both Seol-chan and his co-star, Ari, walk off set.
Once they're alone in an empty corridor, Ari gives him an earful about his unprofessional attitude. Her tone suggests that she expected as much from a hoobae idol-turned-actor. To her annoyance, Seol-chan simply laughs and asks: "Do you want to see me do it properly then?"
She starts to sweat bullets as Seol-chan approaches her. He's heard that she specifically chose him to be her co-star, and that she made a bet with her fellow celebs on who would kiss him first.
Ari denies it of course, but he pulls in close to call her bluff – why don't they just get it over with? He is a pro, after all.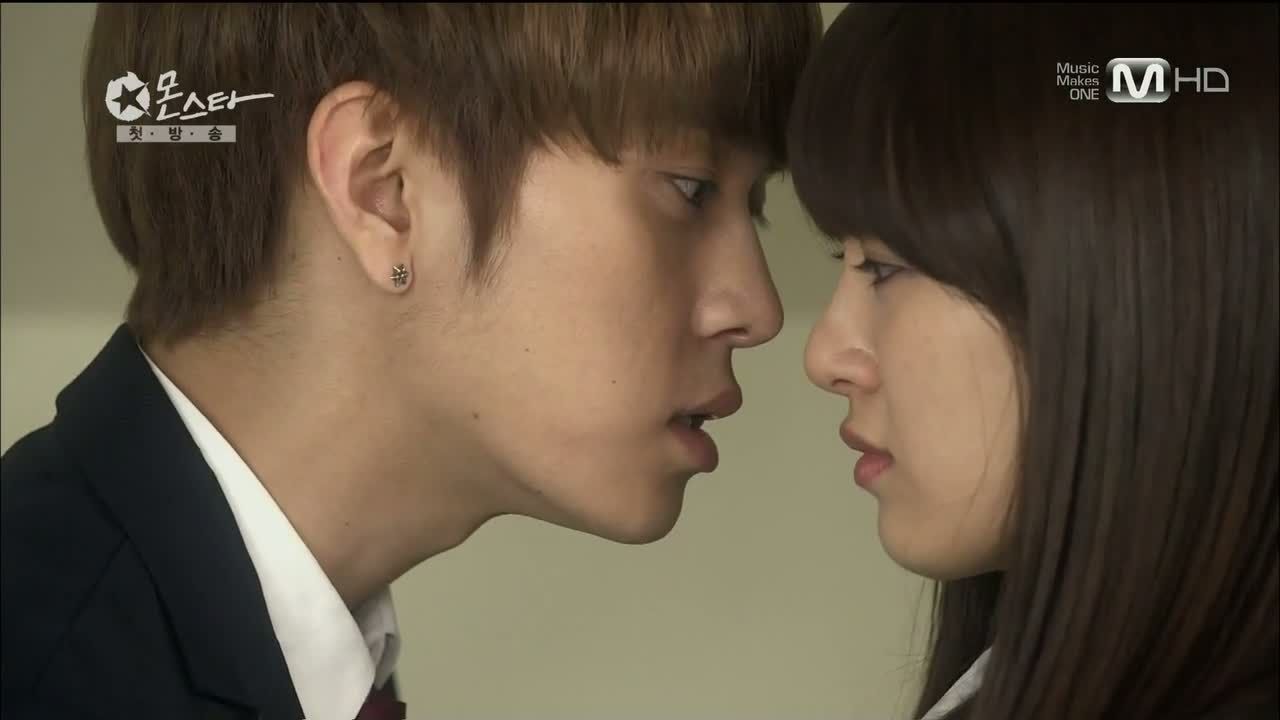 They hear footsteps approach, and she tries to push him away, warning him that word travels fast among fangirls. His face now inches from hers, he goads her to take a photo as proof of their kiss. And then… *click*
They both turn their heads at the sound to see Se-yi stand there with her phone in hand. When asked to explain herself, she starts, "Lips…"
Just then, Ari swipes the phone before storming off, and Seol-chan stops Se-yi from chasing after her.
After a quick glance at her nametag, he turns into everyone's favorite idol. He assures her (in a slightly condescending tone) that this oppa will make sure to return her phone to her.
He adds in a hug for good measure, but her attempts to whirl him back around to get a proper explanation tries his already thin patience. Mistaking her for another crazed fangirl, he growls at Se-yi to back off.
But then one last tug accidentally pulls off a button, and he yells, "You bi–" which is when Manager Hong covers his mouth and they retreat from the oncoming fangirl stampede.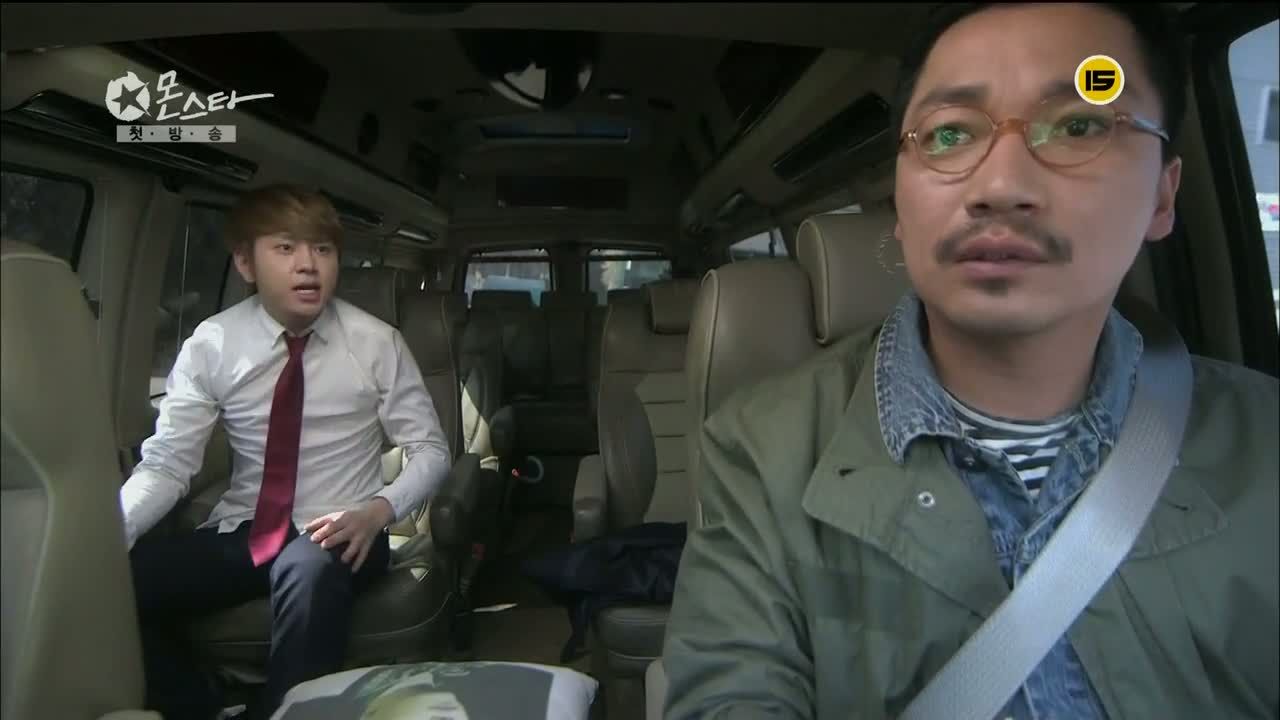 Now that they're safely back in the van, Manager Hong freaks out over the idea that Seol-chan has caused further trouble with Ari, hilariously stopping the van at each bit of Seol-chan's explanation.
Seol-chan jumps when he sees Se-yi peer ominously into the van's tinted windows before she disappears. Manager abruptly stops once more, but this time, they hear a thud. Uh-oh.
Believing it's Se-yi, Seol-chan exits the van and runs over to her side. Turns out the victim is a different girl, who is so overwhelmed by his concern that she creepily whispers in his ear, and then forcibly kisses him. Yep, definitely a sasaeng fan.
Seol-chan instinctively slaps her face away, and can only stare in shock as the girl dramatically screams and faints on the ground. All the while, the crowd of students has documented the entire situation, taking pictures and furiously typing on their phones. Oh crap, this isn't looking good.
He's swiftly led back into the van and puts on his headphones to drown out the outside noise as his manager is left to handle the school officials. Seol-chan looks out his window… and sees Se-yi gaze in his direction.
And on the other side of the window pane, we see Se-yi look at her own reflection.
We're briefly introduced to a few new characters at orchestra practice. Pianist MA JOON-HEE (Moon Yong-suk) is called aside by the music director, Teacher Dokko, to get his band, All for One, to play at a charity event. His I'll get back to you answer isn't exactly rude, but it does weigh on her mind.
Gym Teacher Choi chides her for her nicety, since it doesn't exactly exude authority. His use of banmal towards her (whereas she speaks formally with him) clearly bothers her, but she tamps down her annoyance as he whistles away.
Teacher Dokko notices Se-yi staring into space, standing in the same spot we saw her last. She sends class president and star cellist, JUNG SUN-WOO (Kang Ha-neul) to fetch their new transfer student.
Sun-woo introduces himself, and surprises Se-yi when he readily calls her by name. He watches her run off inside with a tinge of interest.
Back in the classroom, we shine a spotlight on a particular student, PARK KYU-DONG (Kang Eui-shik). Nicknamed "Radio," he's frequently subjected to sing along mean-spirited commentary by SHIN JAE-ROK (Yoon Jong-hoon), who finds it thoroughly entertaining to humiliate the poor kid in front of the rest of the class.
At least a few students (including his buddy, Do-nam) seem uncomfortable by the abuse, but their protests are easily glossed over.
We learn some more about Se-yi when she arrives at the teachers lounge. Her records state that she lived in New Zealand for the past five years, which sparks Teacher Choi to ask about her fluency in English.
He's left speechless when Se-yi honestly answers that she can't speak any because she lived on a sheep farm and mostly spent her time with the herd. Ha.
So he asks if her life was similar to Heidi, a comic book character who was a shepherd girl. With that same innocent expression, Se-yi deadpans, "No. She lived in the Alps."
Se-yi is introduced to the class, and the students collectively gasp when she's assigned to sit next to the mysterious KIM NANA (Dahee). Her backstory is shrouded by legend and depicted with a comic strip sequence of easily taking down her opponents. A friendly face, Eun-ha, advises Se-yi to stay away.
Then she pegs Se-yi with questions about her connection to Seol-chan. But Se-yi is as blissfully ignorant of the Kpop world as they come, which leads Eun-ha to cock her head in wonder. She's certain she heard her beloved Seol-chan call out Se-yi's name…
It's not farfetched to assume that Seol-chan's hotheadedness and troublemaking tendencies has caused headaches for the company before. Thanks to this morning's incident, Seol-chan's name is the most searched item on the internet, attached to words like "assault" and "cursing."
CEO Go orders Seol-chan to visit the victim at the hospital – something Seol-chan isn't willing to do. He's reminded that there's more at stake here, including the musical future of his fellow members, the movie deal, and the CF endorsements.
His infuriated state is understandable, but his rant is cut short when Ari storms into the meeting room, her eyes blazing in rage.
Ari rips a new one into him once they're alone, blaming him for wreaking havoc for the movie. She argues that trying to hold on to his pride is useless at the moment and tells him to do whatever it takes to get into the fan's good graces.
She reminds him that this problem is far greater than just himself. Throwing his words back at him that he's a pro, she challenges him to prove it. Then she tosses Se-yi's phone back at him, and tells him to take care of that problem, too.
If all of that weren't enough, Manager Hong joins the visit-the-crazed-fan bandwagon. Afflicted by his own financial woes, he suggests that Seol-chan take one for the team.
Seol-chan lets out an exasperated sigh and cries, "I was violated, hyung!" Aww.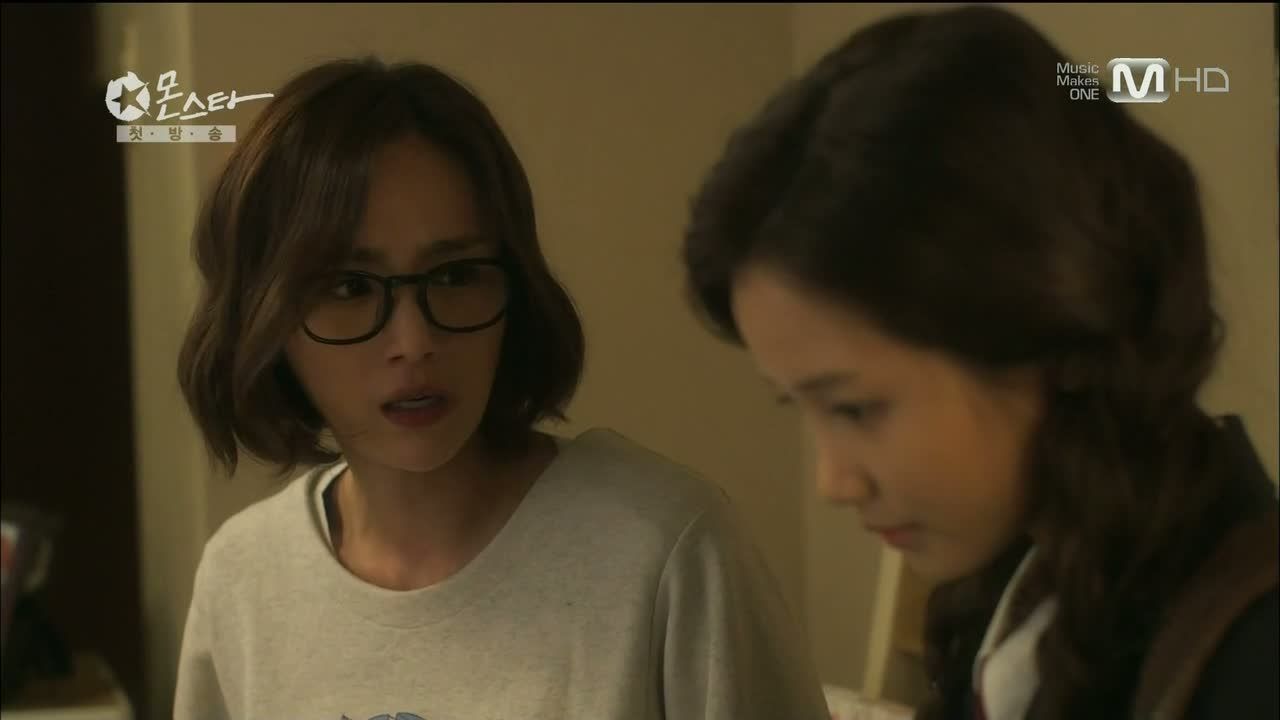 The disorienting side streets of Seoul leads Se-yi to wander aimlessly on her way home from school. It takes her over two hours before she finally returns home, and an irritated, yet worried voice greets her at the door: Teacher Dokko.
Turns outs that Teacher Dokko is a longtime friend of Se-yi's mother, and stands as Se-yi's caretaker. (Se-yi also calls her "aunt.") Teacher Dokko's character description teaches us that although the apartment technically belongs to Se-yi's family, Teacher Dok is the one who primarily resides here now.
This new living situation is more uncomfortable for Teacher Dokko than it is for Se-yi. I assume it's because she's grown accustomed living by herself, and didn't expect to share the space with a roommate, let alone a teenage girl.
She tries to hint to Se-yi that this temporary setup only lasts as long as Se-yi intends to stay. She's surprised when Se-yi answers plainly that she plans to stay for a while.
However, Se-yi noticeably tenses at the mention of her mother, whom she has yet to call about her arrival to Korea. It's a sensitive topic, and Se-yi tells Teacher Dokko that she doesn't want to fight with her about it.
Se-yi collapses onto her bed, and a flashback teaches us that she had blamed her mother as the driving force behind her father's death. Her cheek had earned her a slap across the face, a reaction her mother immediately regretted.
Elsewhere, Seol-chan contemplates over his situation in the talk as everyone's worries including his one weighs on his mind. He takes out his phone to listen to music but picks up Se-yi's phone instead, and looks through her call log and photos.
He stops at what should be the photo evidence of him and Ari together, surprised to see a poster of a pair of lips in its place. He scoffs, belatedly realizing that Se-yi had told them the truth after all.
Then he thinks back to the fanservice hug he gave her, and mentally beats himself over the head for his snap judgment. Yet vanity is a powerful thing, and he can't believe that her music playlist doesn't contain a single song from his idol group.
He peruses her list of original music (categorized by mood), and chooses "Don't Be Sad."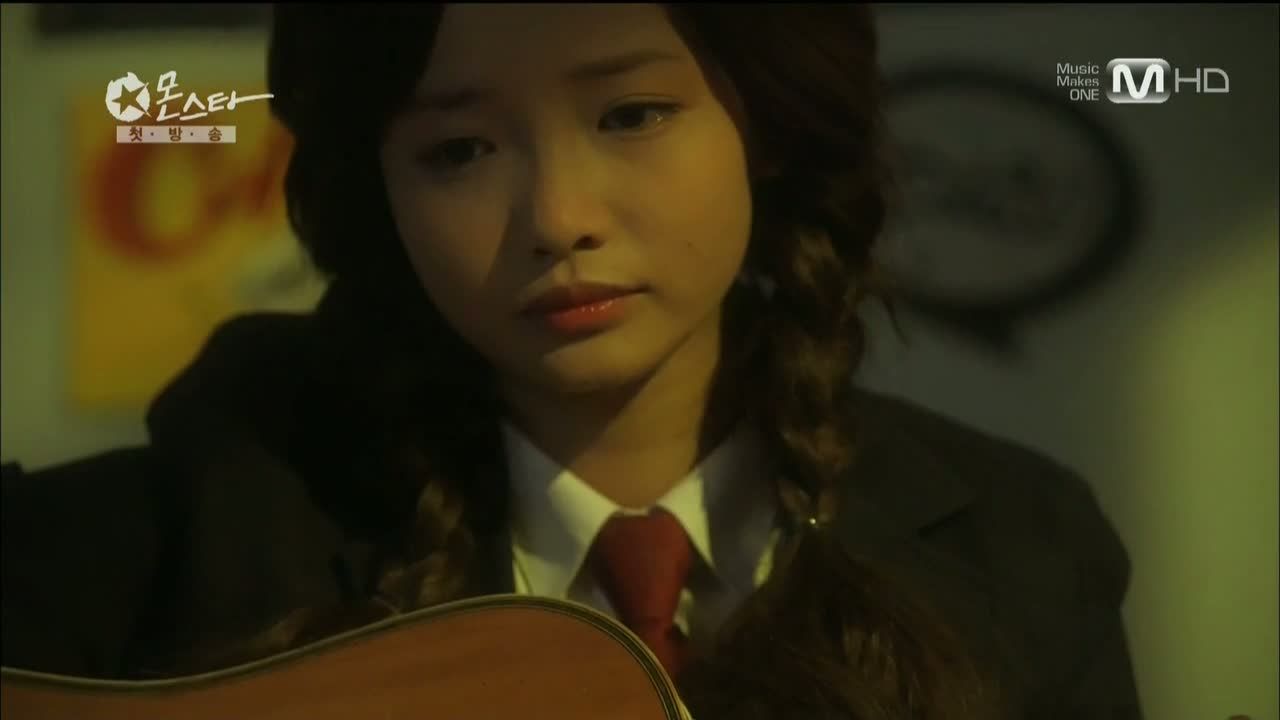 It's the song that Se-yi plays now in her darkened room. As she sings, we see a montage of the students we were previously introduced to. Nana is approached by two large thugs; Sun-woo studies late into the night and Do-nam hesitates outside a taekwondo dojang.
Then there's Eun-ha who lets out a lonely sigh in her Kpop adorned room, and Kyu-dong stands on a rooftop, crying.
As for Seol-chan, he recalls a most painful memory: begging and pleading through his tears as a young boy for his mother not to leave him. We don't see her face, but we see her wring her hand out his his and leaves him there, crying.
Se-yi strums the last few chords of her song as a single tear falls from her eyes.
Unfortunately, her nightly ballad earns complaints from the neighbors, and Teacher Dokko profusely apologizes for the disturbance.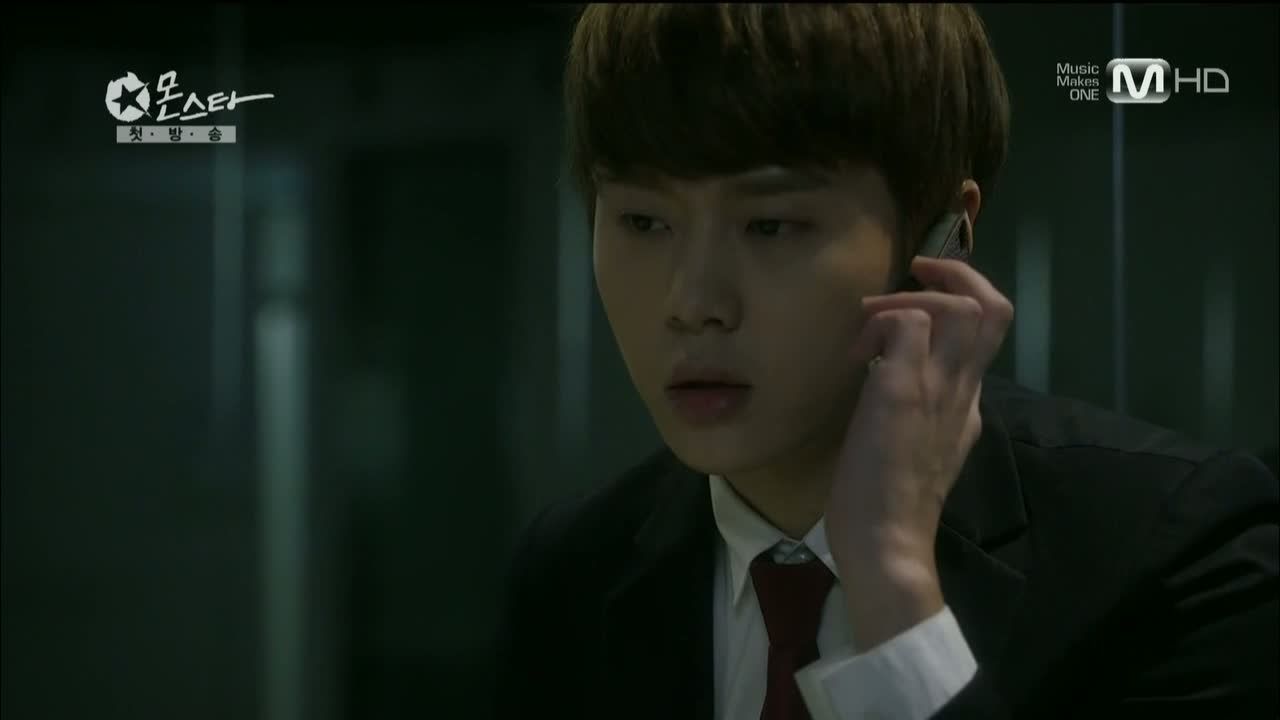 Having fallen asleep, Seol-chan jolts awake when Se-yi's phone rings. It's her mother, calling for the umpteenth time, and his finger hovers over the screen before he picks up.
She speaks before he can utter a single word, her voice full of concern. The content is mundane, but you can tell how her voice affects him, listening to a mother's concern for her child – something he's grown up without.
Just as he's about to speak, Se-yi's mother asks to hear her voice, just once. Seol-chan simply hangs up and muses that Se-yi must also have a complicated past.
CEO Go is displeased to hear that the hospital visit still won't happen. So, Seol-chan launches into a nonsensical philosophical argument about dignity versus pride. It effectively flies over both his manager and CEO Go's heads, and the latter concedes.
But before Seol-chan can pride himself in weaseling his way out of the situation, CEO Go plays his final card: Seol-chan will attend school and show the public that he's a good and diligent student.
Thus, the idol whose image was ruined by the netizens' remarks will be built back up again by them. Ha, that's pretty brilliant.
Seol-chan gawks – the kids at school will know that it's a publicity stunt. To which he gets the answer: So don't pretend, then. But Seol-chan is still against the idea of attending the same school as the crazed fan and stalks off.
There's no need to worry of course, since the victim is a student from a different school. Seol-chan's fanclub takes issue with the fact that she called their beloved Seol-chan "oppa" even though she's a year older than the rest of them.
Which makes it all the more ironically amusing, since they're guilty of doing the same, though they're all the same age. ("Oppa" is just what fans call an idol or celeb they adore and love.)
The class gathers around Se-yi excitedly when they learn that she's spent time overseas. That fact even catches Jae-rok's attention, who suggests that she uses her English skills for All for One.
He misinterprets her frankness about her lack of fluency in the language as an attempt to pull one over his head. But no – it's just a rejection, and before Jae-rok can flare up in anger again, Sun-woo interjects, defusing the situation. Then Jae-rok calls upon "Radio" for another performance to save face.
Just after dismissal time, a rogue sparrow flies in through the window. Se-yi hangs back to save it and starts to lose her balance on the chair she's standing on. Suddenly, a hand grabs the chair, steadying it.
The hand belongs to none other than Sun-woo, who quickly looks away. He and Eun-ha share bewildered expressions when Se-yi makes a joke, since she says everything with that same blank face.
Once they're outside, Eun-ha gives Se-yi (and us) the lowdown on the All for One members, all of whom hail from wealthy families.
She tsks at Jae-rok as the black sheep next to the more admirable Joon-hee and Sun-woo. Her praises about all-around student Sun-woo comes with a caveat: his typically cold personality.
It's adorable how Eun-ha enthusiastically teaches Se-yi about well, everything. She goes into great detail to warn her new friend about the pervy men in long trenchcoats who target girls in order to flash them, aka "Adams."
Cut to: Seol-chan hiding behind a tree in shades and a trenchcoat. Hahaha.
He totally looks like an Adam as he follows the girls at a distance (it sounds creepier than it actually is, I know), waiting to catch Se-yi alone. He catches up to her, but she starts running when he calls out to her.
Seol-chan chases her through the streets until they hit a dead end. He's out of breath, and at the sound of voices, he pins her against the wall and covers her mouth. I don't think this really helps your cause, buddy.
He finally pulls off his shades to reveal his identity. But a moment later, he's met by Sun-woo's right hook.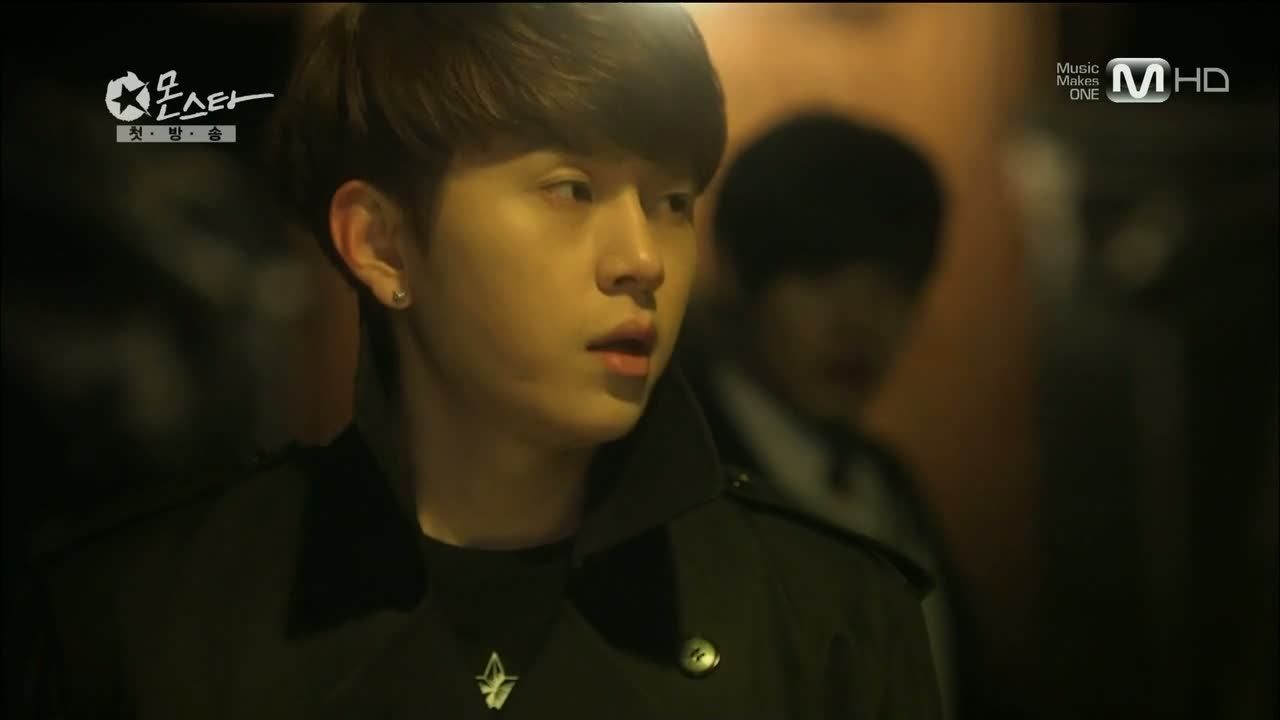 Fortunately(?) for Se-yi, Sun-woo had spotted the two on his way home, and stopped to rescue Se-yi from her pursuer. The boys recognize each other (perhaps they were both trainees in the past?) and the air is tense between them
That is, until Se-yi steps forward and socks Seol-chan in the guts. Ahaha.
Se-yi and Sun-woo relocate to a coffee shop, where she thanks him for intervening twice for her today. He looks up at her in surprise when she answers that she's not a fangirl.
However, she is angry with herself to think of the person she hates most in the world – her mother – in her most desperate time of need.
Meanwhile, Seol-chan whines over the bruises on his pretty face. He cries to his manager that he won't go off to school like this.
Not that his other option is any better, and he soon finds himself sitting in a car, unable to bring himself to meet the hospitalized fangirl. One look at the crowd of fans gathered outside the hospital entrance is enough for Seol-chan to drop the prepared get-well bouquet out the window. To school it is, then.
At school the next day, Jae-rok tries his hand to include Se-yi to his List of Ridicule, inviting her to sing with Kyu-dong. She firmly refuses.
Surprisingly, Jae-rok backs off this time, only to order Kyu-dong to sing a duet (Lee So-ra's "The Wind Blow") on his own. He does, and a few students, including Se-yi, fume in silence. The others roar with laughter until Nana breaks her usual silence to speak up.
By now, tears stream down Kyu-dong's face, his voice breaking, as he continues to sing. All the while, Seol-chan stands by the classroom doorway, having witnessed the entire situation unfold.
Then just as Kyu-dong's voice is about to give out, Se-yi joins him in song. Her strong voice takes everyone by surprise, and she shoots Jae-rok a hateful glare as she sings. It's pretty awesome.
Filled with renewed strength, Kyu-dong continues and their voices mesh to form a beautiful harmony. Oh, it's so satisfying to watch Jae-rok squirm in his seat.
When they finish, Jae-rok bursts out of his chair. Sun-woo rises moments later, ready to defend Se-yi once more.
Their standoff is interrupted, however, as Seol-chan finally makes his entrance. He beelines for Se-yi and says, "Min Se-yi, be my partner."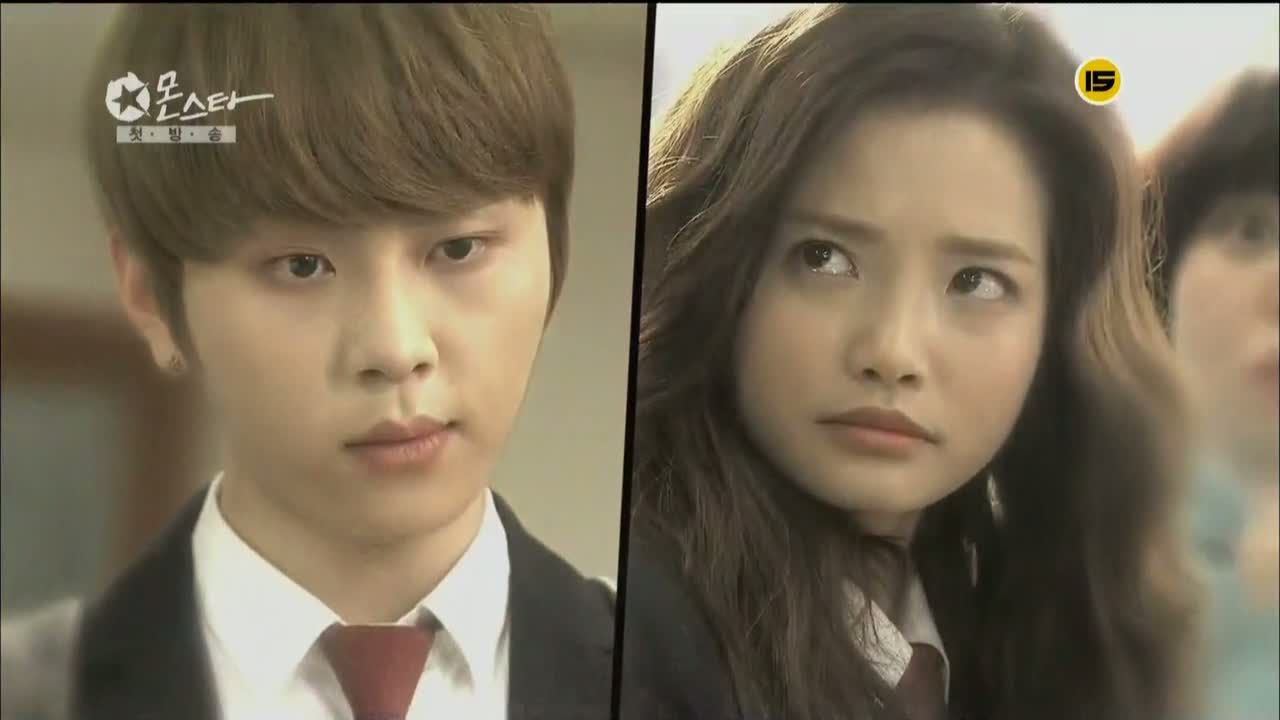 COMMENTS
This show is so refreshingly cute. With the majority of prime-time dramas in the sageuk realm nowadays (not that there's anything wrong with historical dramas, mind you. I enjoy watching it, but there has been a huge influx in this particular cycle), it's a breath of fresh air to watch a breezy series that's just plain delightful to watch. As a longtime Kpop lover (and okay, a B2UTY too. There, I said it), I wasn't sure what to expect out of another teenage music drama that could easily be dismissed as fluff.
So I'm relieved to see both heartwarming and humorous moments in this show that doesn't take us too far on either end of the dramatic spectrum. The funny makes you unknowingly giggle and the emotional threads gently tug at your heart. Given that teenagers are the drama's target audience, you can't criticize the show's use of cliches too harshly. We see how our (many) characters' tragic pasts affect them today, but those are mere glimpses to what we'll see for them in the future.
Moreover, I like that our minor characters all come with their own rich stories to tell, such as Kyu-dong whose vocal talent is the subject of ridicule by his class. Or despite Eun-ha's friendly and bright personality, she really is a lonely soul when she's alone in her room. It's nice to see that they're used more than convenient filler material, and I can't wait to see these ragtag group of teenagers come together to become tight-knit friends. And if you can believe it, there are even more characters we have yet to be introduced to.
A short-tempered idol character like Seol-chan isn't anything new, but I'm pleasantly surprised to see Yong Jun-hyung play the role with an unexpected natural air for an acting debut. Needless to say that the world of Kpop is already familiar territory for the idol-actor, but there are a few moral fibers in Seol-chan underneath the vanity and the fame. Though his school attendance is forced, I'm interested to see his journey to try and rebuild his former reputation dismantled by the power of netizens. Perhaps with the help of some new friends, he can find a new identity in himself, his music, and his dream.
As for our heroine, I like that there's more to her than what meets the eye. Though it's true that she doesn't know anything about pop culture, and that she has a tendency to be a space cadet at times. But Se-yi is no dunce, and she won't hesitate to speak up when it comes to doing what's right. We can tell that she hasn't always been the reflective and quiet personality she is now, and how her new environment is chipping away that barrier she's unknowingly built for herself.
Though we haven't seen too much yet, I especially love her interactions with Seol-chan. She doesn't cut him any slack just because he's a beloved idol, and he finds himself curiously intrigued by her. His use of the word jjak (translated as "partner" above) is slightly ambiguous, since its meaning can allude to something as simple as a partner in a project, or a partner-for-life. Given that Seol-chan asked this just after he heard her sing, we can assume it's closer to the former for now.
With all of that said, there's potential for this series to become more than the superficial teen idol premise. Though I won't be following the series in recaps, I'll definitely be tuning in.
Tags: Ahn Nae-sang, cable programs, featured, first episodes, Ha Yeon-soo, Kang Haneul, Monstar, Yong Jun-hyung