Running Man: Episode 145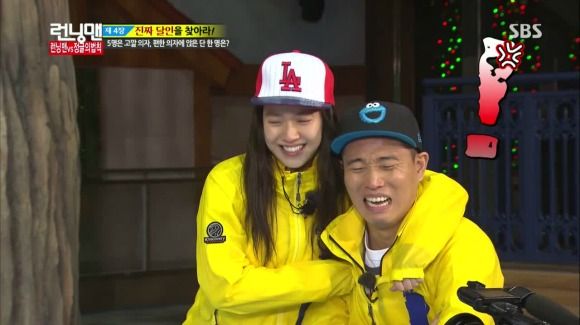 What happens when you pit two rugged all-star casts against each other? It's a survival race of the ages in Running Man as our cast faces the Law of the Jungle team for some variety fun. They'll laugh and cry with each other through the funny and the tears, through excitement and the pain. Which cast will reign supreme in this heated battle for pride and glory?
EPISODE 145. Broadcast on May 12, 2013.
Our cast gathers at the Han River, and Team Running Man immediately notices that they're one man short – where's Haha today?
Then an arrow soars through the sky and lands in front of our cast. It's a challenge scrawled with trash talk from their competitors ("I'm going to strip you of your muscles, Jong-kook!"), and the cast zeros in on the last one: "Ji-hyo, did you get home okay after we were out drinking that night?"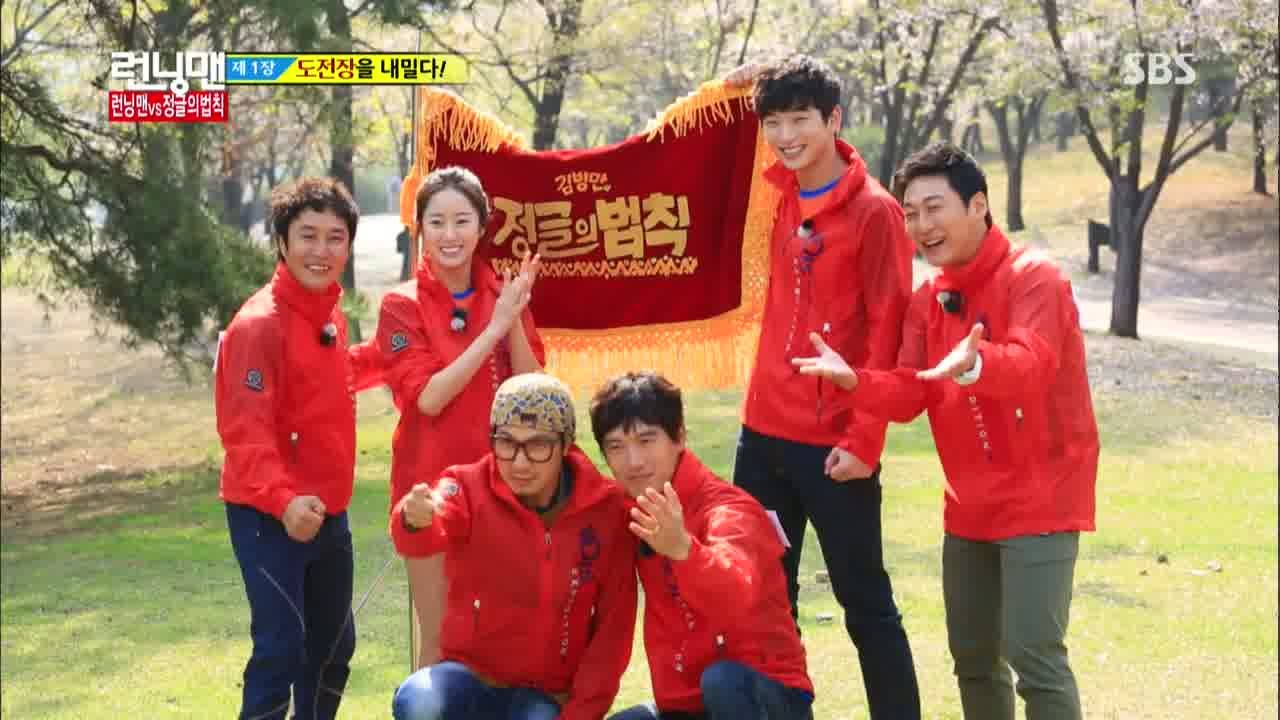 Just then, another team approaches, waving their red flag in greeting. It's the Law of the Jungle team (a survival documentary variety show that airs on SBS on Fridays): comedian Kim Byung-man, actress Jeon Hye-bin (God of the Workplace), 2AM idol Jung Jin-woon (Dream High 2), comedian Noh Woo-jin, and actor Park Jung-chul (King Gwanggaeto the Great).
These men and women represent the definition of roughin' it on variety… so why is Haha with them? Not only that, it looks like he's already pledged allegiance with his new team.
Then a flashback teaches us that Team Jungle needed a sixth, and Haha was the right man for the job. One of the Betrayal Trio on your team? Can't argue with that.
Team leader Byung-man formally issues his challenge to his opponents and then maknae Jin-woon yelps in a high-pitched voice: "We challenge you to a duel!" HA – kinda takes away some of that badassery dunnit?
Even mosquito-voiced Jong-kook acknowledges it, and Jae-suk uses the opportunity to explain how even the greatest can have squeaky voices, whereas Kwang-soo's not handsome. Jae-suk adds, "Especially his butt." D'aww.
The author of the courteous note to Ji-hyo is none other than Jin-woon, who adds in before Ji-hyo can protest: "Did you get home all right?" Ji-hyo crumbles to the ground, and Gary gapes in shock.
And it's Jin-woon who gets in the last word: "I'm working, so don't call me again." Let's see you try to talk your way out of this little white lie to your We Got Married wifey (Go Jun-hee).
Each of our Jungle team members has an opponent in mind, and when Suk-jin comments that Woo-jin has aged a bit, the guest retorts: "You look like our forefather!" HA.
The cast jokes about Hye-bin's old nickname on X-man ("Yi-sa-don" was short for being able to turn 24/7) and she protests that all that turning has made her anemic in her old(-er) age. When they ask Byung-man who his target is, he readily points to Jae-suk.
Everyone laughs, but don't judge a book by it's cover with Byung-man. With the nickname "Master," you're better off naming all the things this man CAN'T do. Some older fans may recognize him from his previous visit (Episode 28), and now he finally lets out some steam about it: "It was really tiring last time!"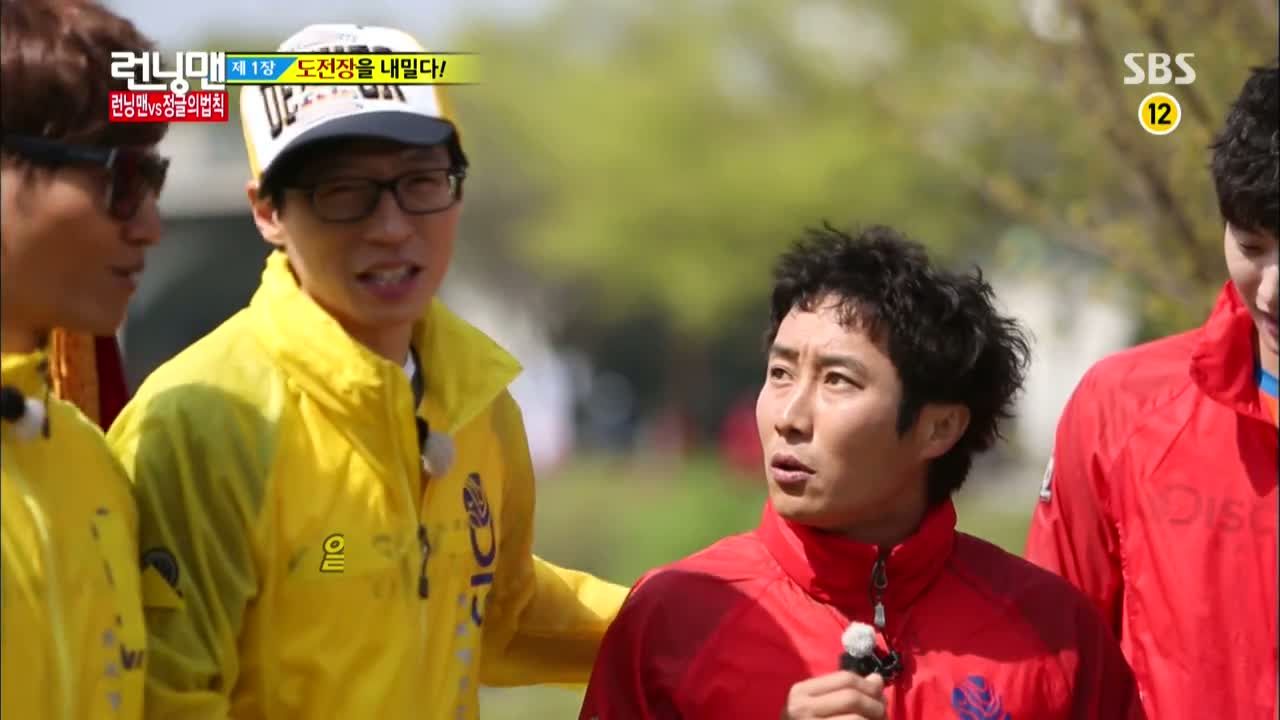 Jae-suk whispers that Byung-man's a martial arts expert, to which Byung-man argues that Running Man is all about brains and speed. Jae-suk: "It may look like that [on TV], but it's all about strength."
Then he points to Jong-kook to drive the point home. HA.
Being out in the jungle and mountains sure have taken a toll on Byung-man. When Jae-suk shows concern over the man's appearance (Haha screams: "Don't waver!"), Byung-man admits that not only did he lose weight on his excursion but that he shrank down as well. Aw.
It's a survival race between the Running Man team and Jungle Team, where one member from the losing team at each game will be taken hostage. Moreover, they'll be unable to participate in the final mission. Then Jong-kook quips: "Wouldn't it be easier to send Suk-jin off first?"
At least Big Nose Hyung acknowledges his inevitable fate. He jokes: "So when can I relax?" Aww.
Both teams arrive at the outside water park where they'll need to complete a team obstacle relay within an oddly specific 199 seconds. Even though the RM staff shows us how it's done, this difficult course includes jumping with flippers, and catching balls with a metal hula hoop.
Poor Suk-jin's shorts hilariously fall down when he tries to jump (Don't worry; he's still got his wet suit on.) and gets easily outshone by Jin-woon. Surprisingly, Spartakooks isn't able to tackle the hula hoop, though methinks he allowed for the spotlight to shine on Hye-bin.
Man, Suk-jin cannot catch a break – his shorts fall down. He decides to go without, but ends up using the entire time limit in his attempt. Oy, this is going to take all day.
Jin-woon initially gets tripped up but makes up for lost time and hands it off to his teammate. They've still got over a full minute by the time they get to Hye-bin's turn, who succeeds easily.
With thirty seconds left on the clock, it's down to Haha, who races up the stairs. Once he slides down the water ride, he aims the ball for the bin… and the last one sinks in. But unfortunately, they're outside the time limit.
After another failed attempt, Jo PD offers to reduce the number of jumps to five. The only person who takes issue is Jong-kook, but he's overruled by an overwhelming majority vote.
This change of rules works in Team Running Man's favor as they hand off the bowl at each station. Their only hiccup is Kwang-soo, who yelps in pain with every rotation as the metal wraps around his lanky figure.
There's less than a minute remaining by the time we get to Jae-suk, whose screams echo as he slides down. He throws ball after ball, until he's left with a final one… and fails. Ack, so close!
Watching the team members run in flippers crack me up and by now, Team Jungle arrives at the fourth obstacle with just over a minute remaining. Things are looking good for this team but the clock is ticking, and Haha rushes to throw the ball into the bin.
He throws as precious seconds wind down… and he brings it home for his team in 193 seconds. Team Running Man must leave one man behind, and they silently single Suk-jin out. Aw.
Their next mission is a monkey bars wrestling match, and Jae-suk complains that the acrobatic Byung-man has the advantage. Then Byung-man tries to jump for one of the bars, and falls short.
But no need to worry as he climbs on top of the bars as soon as the whistle blows. Ha, he just walks across the bars like it's no big deal, and soon he's right above the Running Man team's heads.
He's joined by Jung-chul (whose nickname is 'Flypaper') and soon, all of his teammates climb up. Now this is what I call a creatively smart battle. That is, until Woo-jin tries to jump to the bar and falls into the water.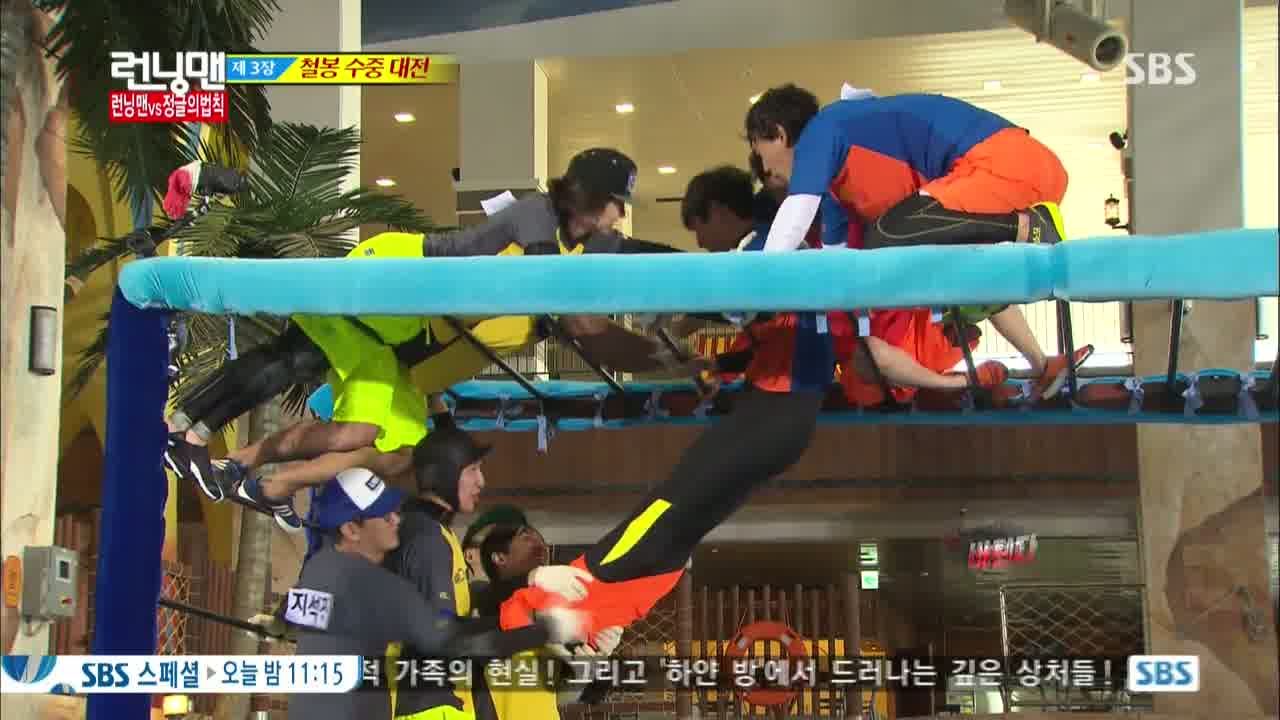 I have to remind myself that monkey bars pale in comparison to climbing trees for the Jungle team as they remain on the offensive. Then, the Running Man team grabs for Jin-woon… and pulls down his shorts? HA.
Aw, Haha tries to help but his jump is too short. He falls in with Jin-woon close behind, and the maknae goes down swinging with Jae-suk in tow.
Now it's on and the teams battle it out, pushing and shoving each other. It breaks into chaos, but Jong-kook maintains his cool and uses brute force to push Byung-man into the water.
Wait, Suk-jin is still alive? He doesn't last for long, and once again Jong-kook is left. Jung-chul uses his weight to bring the powerhouse down, and they both tumble into the water. The Jungle Team wins the first round.
Byung-man and Kwang-soo face off before they're joined by the others. After a few members are eliminated, Spartakooks takes on Byung-man, who just clings onto him until they both fall. Clever!
Soon it's down to Jin-woon versus Ji-hyo, and the chivalrous maknae can't bring himself to throw the Ace into the water. So he tries to tip the platform they're standing on as Ji-hyo clings to him. On the sidelines, Gary hollers, "What are you doing?!"
He gently lets her down and grabs the second win for his team. Is it just me or does Jae-suk's heroic declaration sound like "I volunteer as tribute!"?
In the following mission, the team will be given various tasks, and it's the other team's job to correctly identify the one person who isn't acting. The Running Man boys light up at the first task (speaking with an actress on the phone) and call with excitable anticipation.
It's a jumble of noises as the Jungle Team try to discern who is really speaking with a celebrity. Suk-jin and Gary's use of banmal immediately eliminates them. Gary: "Let me speak [on the phone] a little longer!"
They put down their phones, the Jungle Team asks who they spoke with. Half the table exclaims: "Sohn Ye-jin!" Ha, and Gary yells, "Angelina Jolie!"
So they ask him to after Angelina Jolie's favorite food. Gary parrots: "You food what like? Jjapa-geri?" Which sounds awfully familiar to the jjajangmyun ramyun Jjappa-getti. Hahaha.
Then they have Kwang-soo "ask" Sohn Ye-jin who she likes best, and when Kwang-soo jumps up in celebration, they immediately dismiss him. Are you trying to say that Kwang-soo can't be an actress's favorite?
The Jungle Team chooses Jae-suk, and Haha jokes, "Wouldn't it be awesome if it was actually Angelina Jolie?" (It isn't.) And hey, it actually is Kwang-soo, and Sohn Ye-jin's voice calls out hello.
The Running Man cast try to squeeze in their greetings, and Haha yells from across the room: "I got married! I'm sorry!" I love how Byung-man greets her with a tone of familiarity on the phone and she's like, This is the first time we've spoken.
A while later, the score is tied and Team Running Man offers to act. Gah, too bad the task is to sit on safety cones and the team looks like they already regret their decision. Meanwhile, Byung-man teaches his teammates how to identify if someone's in pain 'cause well, you can't fake that.
The Jungle Team asks them to do a few simple tasks, which includes spinning in their chair. When we get to Kwang-soo, he pauses to ask: "How'd you do that?" Guess who's sitting on a cone?
Then Jong-kook basically waddle-spins around and then Jae-suk force smiles through the pain.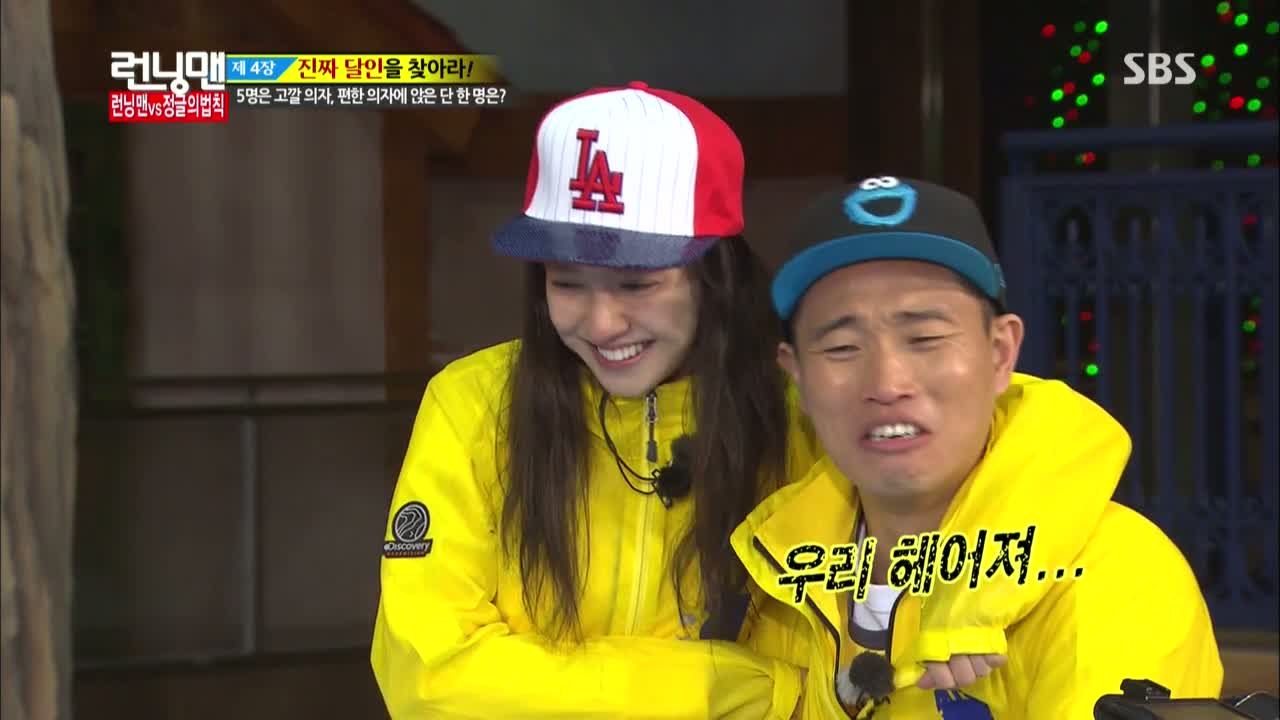 Team Running Man is told to hug their teammates (to show team solidarity, of course), and poor Gary can barely grit through the pain. He says to Ji-hyo: "Let's break up!" You don't mean it; you're delirious from the pain!
The Easy Brothers don't hold back to show their love for each other and neither do the former team leaders. Aw, I know it's mean to laugh about their pain, but it is amusing.
As the Jungle Team try to settle on an answer, Jo PD tells the cast to hold on for just a little longer. In response, Kwang-soo's like, How 'bout YOU sit on this thing?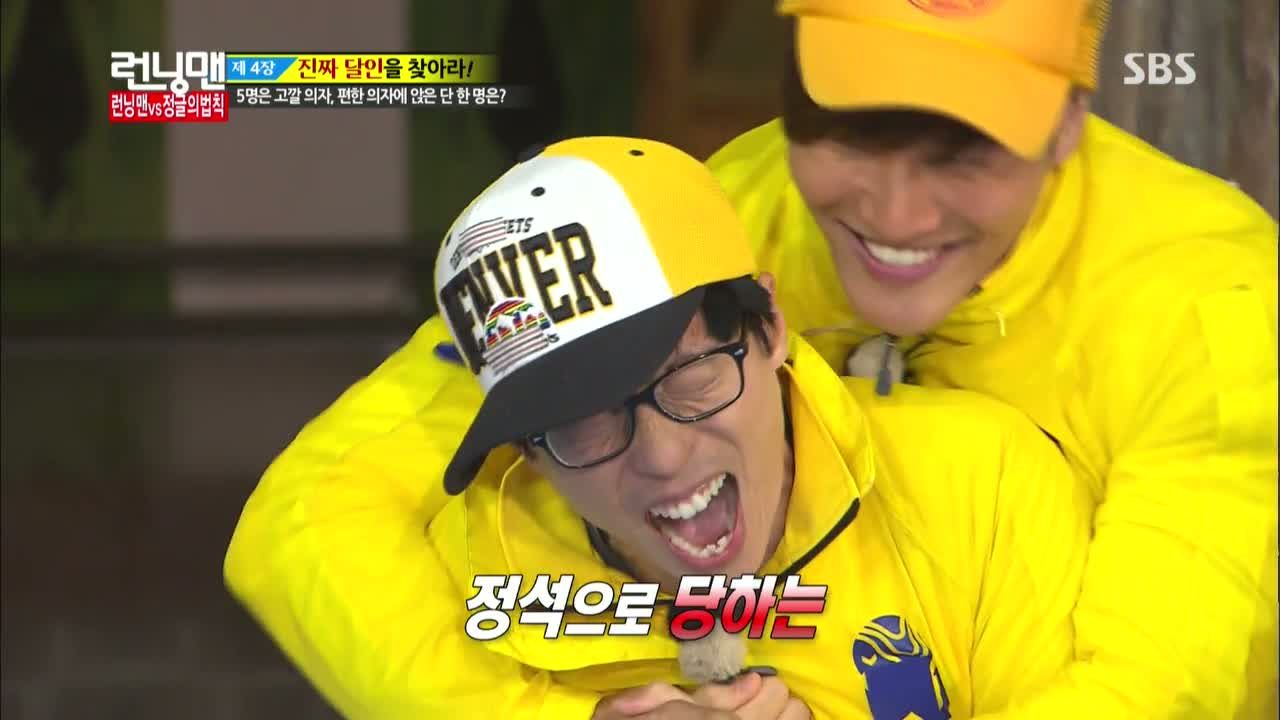 They choose Gary and their big reveal… is Jong-kook? The Jungle team is flabbergasted and Jae-suk put it aptly: "Jong-kook doesn't do anything that's hazardous to his health!"
So Team Running Man wins it, and everyone takes a turn sitting on the safety cone. As expected, Byung-man sits calm as you please whereas his teammates jump up as soon as they sit down.
The teams convene for the final mission: a good ol' fashioned nametag ripping race. However, if the hostages' nametags are re-attached, they too may participate in the game. Ooh, fun! Then Byung-man asks: "Can we hang from trees?"
Then the teams hide their hostages away.
Out of the blue, both teams are blindfolded and separated from one another. Jo PD announces the start of the race and they all run.
You may take the cast out of the jungle, but you can't take the jungle out of them as Byung-man scales a wall. His VJ whispers: "How are you coming back?" and then he has to chase him down. Poor guy.
Byung-man runs straight into Jong-kook's path, but he's quick and evades capture.
Meanwhile, both teams set out to look for their captured teammates, and Jong-kook finds Jae-suk in a room. What he doesn't notice is Hye-bin pop out of an empty fridge, and she attacks Jong-kook without hesitation.
Spartakooks stalls for as long as he can until Ji-hyo arrives. They restore Jae-suk's status and eliminate Hye-bin.
Then we're back in the action just as Gary rips off Haha's nametag. Free of his spell, Haha shouts, "Running Man Forever!" Yeah, I'm not sure they'll forgive you just yet.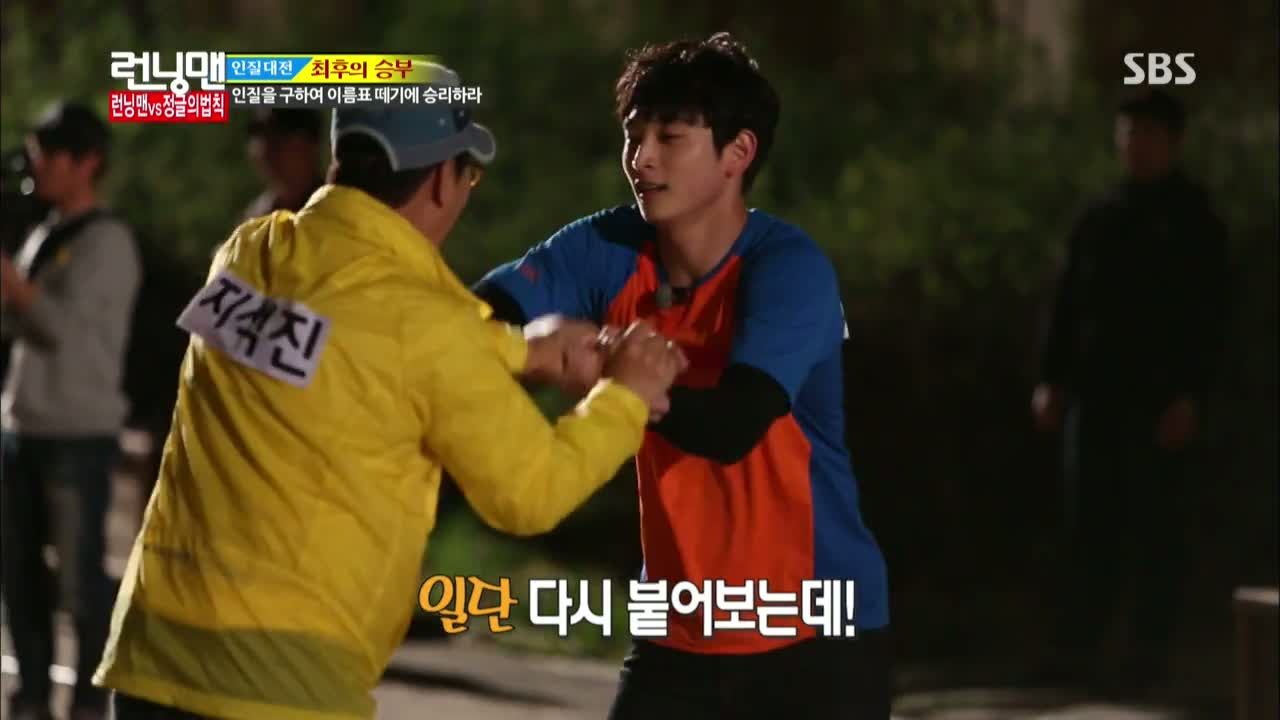 Gary rushes to reinstate Suk-jin and now the Easy Brothers sets out to tackle their opponents. They run into Byung-man and Jin-woon, who initially retreat. But when they turn back around, they've got this gleam in their eyes that tells me that our boys are about to be toast.
Byung-man falls to the ground, and rolls over to gain the upper hand over Kwang-soo. He takes off Kwangvatar's address with ease, and then Suk-jin is eliminated in his retreat.
When we check back in, Woo-jin is as excited as a child on Christmas morning about his reinstatement. Little does he know that Jong-kook and Jae-suk are on his tail.
They're joined by their teammates, and Jae-suk and Byung-man finally get their long-awaited battle. It's two versus two and Ji-hyo runs to help. But Jin-woon is just a few steps behind her and she whips around just before he can eliminate her.
In the span of a few short seconds, both Woo-jin and Jung-chul are eliminated. Now Byung-man and Jin-woon are the only hopes for the Jungle Team, who hide to evade capture.
Byung-man resolves that they'll have to face off with Team Running Man lest this battle continues all night long. So they approach the Monday Couple, and target Gary after his losing battle to protect Ji-hyo.
But Gary is speedy and he whips around out of their grasp. Both sides are tired out when Jae-suk arrives and they agree to take a short break.
Huh, but where's Jong-kook in all of this?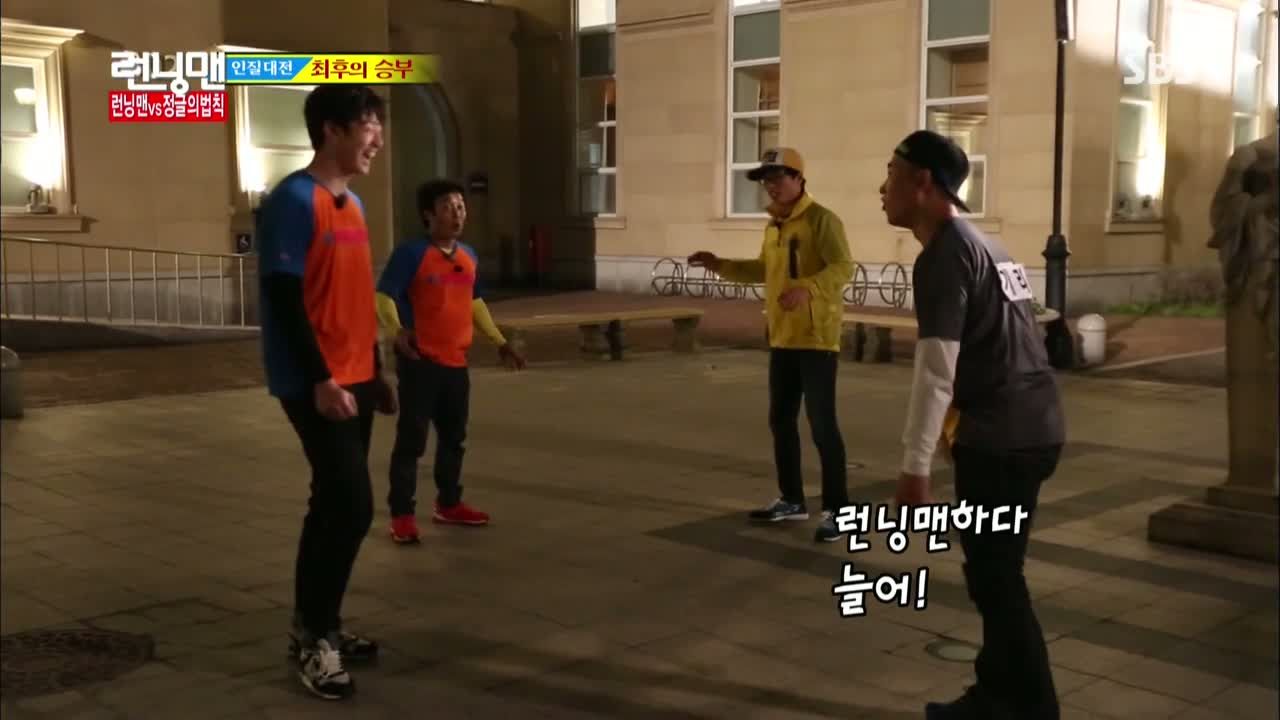 HA, the jailed are actually in a jail, and it's cute how Kwang-soo gives up his seat for Ji-hyo. It's getting pretty cramped now with her arrival and their stomachs are rumbling, and Haha asks: "Can we get a bigger cell?"
Gary and Jae-suk roam the grounds until they meet the Jungle team pair once again. The Jungle team is rightly anxious about Jong-kook's unknown whereabouts and approach with caution.
Byung-man confesses that he was surprised at the cast's unbelievable stamina and strength. The easy answer is that nearly three years of filming Running Man can only be good for your health.
As they circle around each other, no one notices Jong-kook slink through the bushes.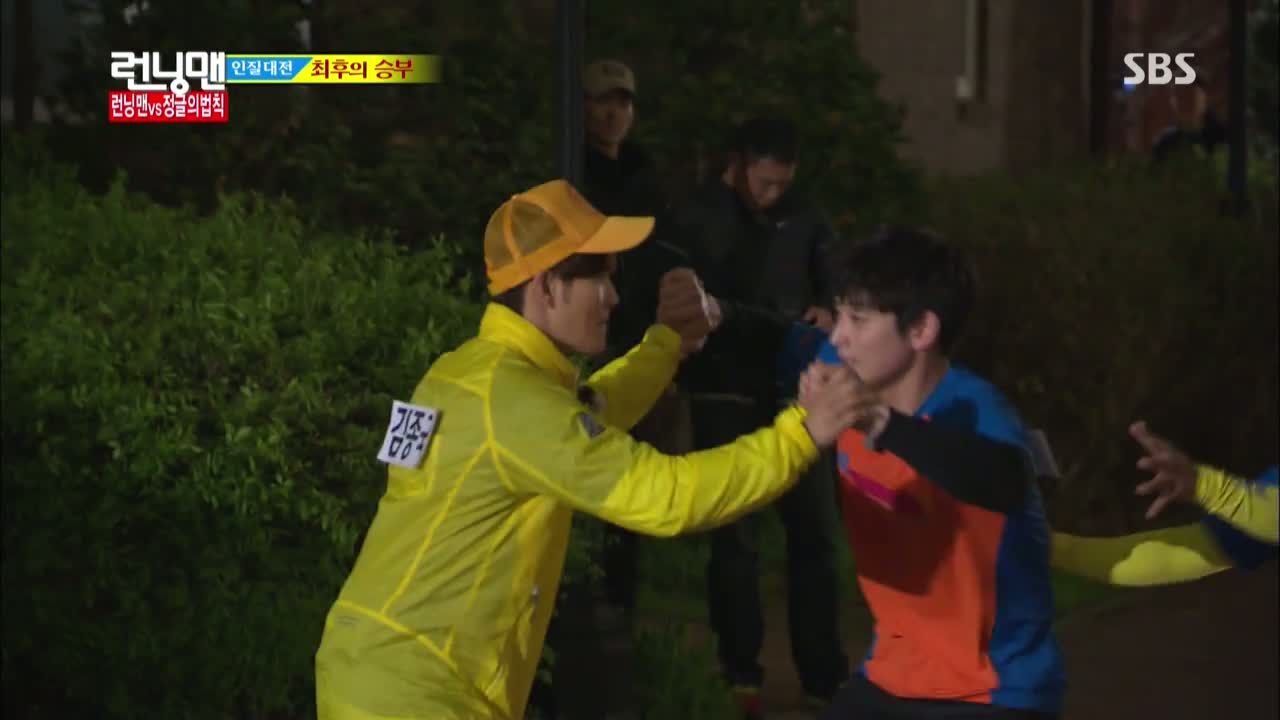 Byung-man takes Jae-suk down as soon as he can, and the two have got Gary in their clutches when Jong-kook pops out of his hiding place.
Spartakooks faces off against Jin-woon but as they get ready to attack, Gary is eliminated. Only Jong-kook is left to uphold the cast's pride, and he bides his time before he attacks.
Then Jong-kook wrestles Byung-man to the ground and rips off his nametag. That leaves his own nametag in the open and Jin-woon rips it off. Woah.
Everyone gathers together again and the Jungle Team celebrates in victory with their new shiny golden rings in hand.
RELATED POSTS
Tags: featured, Haha, Ji Suk-jin, Kang Gary, Kim Jong-kook, Lee Kwang-soo, Running Man, Song Ji-hyo, Yoo Jae-suk