Dating Agency Cyrano: Episode 5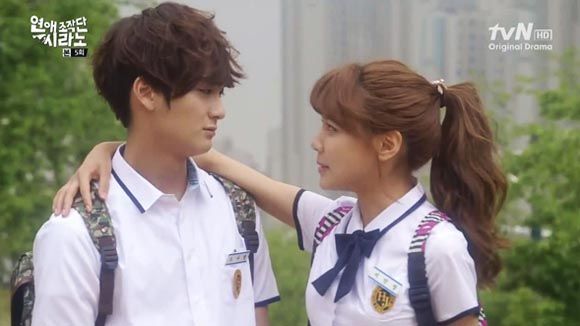 We had to do a little reshuffling in order to appease the fourth dimension, which frankly is kind of being a bitch lately, by the way, and that means I'm taking over recaps for Dating Agency Cyrano. I've been enjoying the light-hearted fizzies that this drama has been steadily doling out, along with the amusing operations, cocky puppetmaster Lee Jong-hyuk, and the budding camaraderie, so I'm looking forward to the task. It had better be worth all the sleep I'm giving up. No pressure or anything.
SONG OF THE DAY
Eluphant – "별사탕" (Star candy) [ Download ]
Audio clip: Adobe Flash Player (version 9 or above) is required to play this audio clip. Download the latest version here. You also need to have JavaScript enabled in your browser.

EPISODE 5 RECAP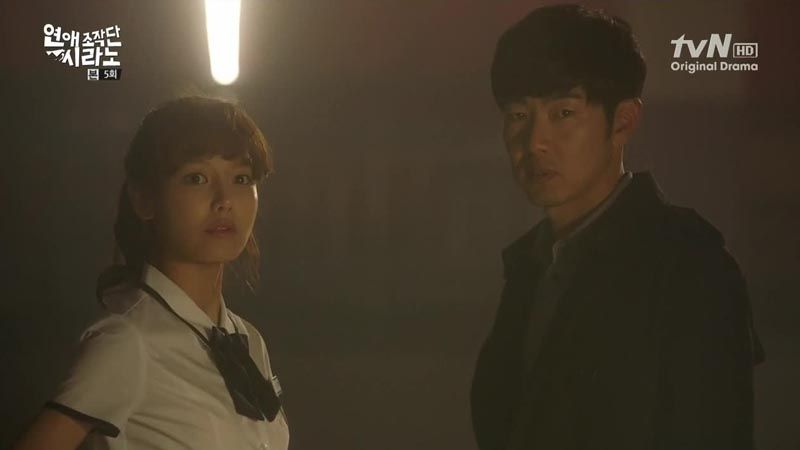 We pick up at the high school, where Operation: Idol Crush is supposed to be heading toward its happy ending. But things appear to be skidding sideways with our mastermind Byung-hoon dashing off to catch up to that first love he never got over, Yi-seol. Meanwhile, Arang makes a last-ditch confession to Se-kyung, throwing a wrench into the works. Is he really messing with the target's feelings just before she's about to reciprocate Idol Boy's?
Byung-hoon looks less thrilled at the reunion than Yi-seol, who lights up at the sight of him. Min-jung clocks the tension and backs away slowly, leaving them to some privacy.
Out in the hallway, she sees reporters peering into the theater. Assuming they've spotted the idol romance, she tries unsuccessfully to stop them.
The reporters push their way inside to get their money shot of the kissing couple. Arang blocks Se-kyung from view as the reporters get click-happy with the cameras, and they belatedly realize that there's no star here. They walk out muttering about how fast kids are these days (spoken like an old fogey, no?), and Arang apologizes to Se-kyung—this was the best way he could think up to deal with the reporters.
Se-kyung realizes that he faked this (to help Ho-yeol escape the reporters), and it's duly crushing. She gives him a kick in the shin, then runs out on the brink of tears.
Idol boy Ho-yeol finds her outside, and though he sort of acknowledges her, he continues on his quietly dejected way. We can see her wanting to follow him or engage him, but she doesn't know what to say.
Min-young finds Arang in the theater and guesses that he really does like Se-kyung, but played it the opposite way for the sake of the mission, giving the twist another twist. So the kiss was real and impulsive, but the brush-off following it was for the team. Arang denies it at first, and then confides that it's true. But he can't betray the client for his feelings, and worries what his hyungs will say about breaking from the plan.
Hearing that Byung-hoon missed it because he got distracted, Arang asks her to keep it a secret. Moo-jin did see the kiss from his surveillance van, but Arang says he'll talk with him.
She doesn't agree right away, musing that she would rather root for his romance to succeed. He insists that it was just a mistake. She points out that mistakes born of sincere feelings are no accident.
Time to find out about Byung-hoon's mysterious past love. He asks Yi-seol if she's well now, and she answers that she's healthier than ever. They haven't seen each other in years because she never made it to a certain funeral, and Byung-hoon never visited her in the hospital. She's back for good now, and states her intention to live "like I did before"—having fun and working hard.
Without warning, Yi-seol whirls around and initiates a game of rock-scissors-paper. Byung-hoon's hand reacts reflexively and beats her, just like always. Some instincts you just can't dull.
Yi-seol asks if their Cyrano Theater is still going strong. They relocate to the theater, where we find that Byung-hoon hilariously hasn't told her the truth—he lets her believe all is as it used to be, and he's still directing plays.
When she sees his strategy boards, he whips up lies on the spot, saying he's planning upcoming projects. He throws out philosophical sounding words about how the Idol's First Love project is really a production exploring the meaning of this generation's delusions, et cetera. Ha. I love seeing the cocky bastard so off-kilter.
She recognizes Arang, who is the sole remaining member of the old troupe, and assumes that Min-young is one of the current members. Then Yi-seol notices the space where her marionettes used to sit, which Byung-hoon packed away the other day. Figures she'd show up just as he decides to put the past behind him. First loves sure have killer timing, don't they?
Byung-hoon offers to bring them out again but she declines, adding that they were gifts from Do-il. Hm, was high school buddy Do-il the one who died?
The debt collectors come by again, and to preserve the ruse Byung-hoon introduces them as more troupe members whose gangster appearance is a product of Method acting. Ha.
The gangsters head next door to report the new arrival to their hyungnim, and Seung-pyo sees them walk by—and recognizes Yi-seol by name. Hello, plot thickener. He corrects their assumption: "She's not Seo Byung-hoon's girlfriend—she's his friend's girlfriend." (I admit to harboring suspicions that Seung-pyo is Do-il, though I recognize that this may be overly melodramatic since that would require him to have maybe faked a death or gotten a new face. It's possible I've been watching too much Shark.)
Byung-hoon sees her off, and she hands him an envelope that Do-il had wanted to give to him personally, which bears the Cyrano logo. Calling him Sherlock, she tells him to feel free to ask her anytime he needs help. In turn, he tells her she can come by anytime since Cyrano is part hers.
Min-young pops up after Yi-seol leaves, having followed them out. Totally not spying, are we? She says in her chipper way that she was right and that was his first love and basically annoys him batty. She then calls Moo-jin for an "emergency meeting" to figure out what to do about Arang's thwarted love. Should they persuade the boss to give up Operation: Idol?
I love that Moo-jin just sits through it stone-faced, clearly not on her wavelength. She asks hopefully, "Are you maybe answering through telepathy and I just can't hear it?" Her brand of ditziness cracks me up.
She asks Seung-pyo what he'd do if he made a dish to order, but suddenly wanted to eat it himself and couldn't ever make another one like it. Would he give it up to the client anyway? He points out what's wrong with her example: In it, he would be cooking for his own pleasure and not the diner's. She concedes that he's right.
Pretty waitress Hye-ri arrives for her shift, and Moo-jin visibly stiffens, which is remarkable since he's so reticent and stiff to begin with. I can't wait for this romance to get cookin'. The waitress's brand of cheer is just what Moo-jin needs to unwind.
Byung-hoon contemplates Do-il's letter, then shoves it in a drawer unread.
It's team meeting time but Min-young drags her feet, undecided on how to approach this idol case. She doesn't want to hurt Arang and leave him with a painful first love experience. Seung-pyo casually fishes for info about their guest, and files away her answer—Byung-hoon called Yi-seol "just an old friend." But she thinks it was his first love.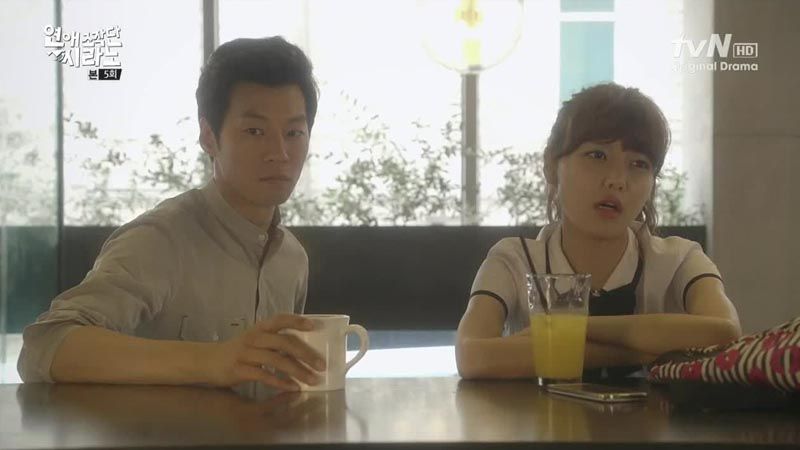 She sighs that it's especially complicated when your first love is part of a love triangle, because it enhances the memory in a painful way. She's talking about Arang, but it looks like Seung-pyo's fixated on Yi-seol.
Min-young asks what you do when two friends fall for the same person. Is there any way to make a happy ending out of it? He replies, "Then one side has to die." Whoa, this conversation took a turn. (Also, is my Shark-influenced theory not so far-fetched after all?)
Byung-hoon reviews the footage from today's operation and sees Arang's kiss. Uh-oh.
It also triggers a flashback of high school Do-il offering to tell Byung-hoon a secret: "I like Yoon Yi-seol." He doesn't see how Byung-hoon's mood immediately darkens, and wonders whether he ought to confess. Byung-hoon curtly tells his friend to take it up with Yi-seol and rides away.
Caught between the two boys, Se-kyung is lost in her dilemma. She touches her lips in memory of the kiss, then looks over at Ho-yeol's handkerchief.
Speaking of whom, Ho-yeol is in a terrible mood at rehearsal and messes up his dances. Oh no, it turns out he had seen the kiss after all—after running out of the theater to evade the reporters, he had seen them through the glass doors. He punches the wall in frustration.
Byung-hoon finds him here and says he ought to have punched Arang, not the wall. Ho-yeol says resignedly that he intended to pretend he hadn't seen anything, and the girl had liked Arang for a long time anyway: "Even though I liked her first."
Flashback to the day when Se-kyung had first noticed Arang, thanks to the hallway hockey he'd been playing. Ho-yeol had been trying to impress her, but Arang had gotten hit with the puck instead of her and earned her admiration.
He tells Byung-hoon that he doesn't care about his pride, because he likes her: "I'm going to do everything I can." Byung-hoon says approvingly that he's got spirit, and starts rattling off instructions, starting with not going to school.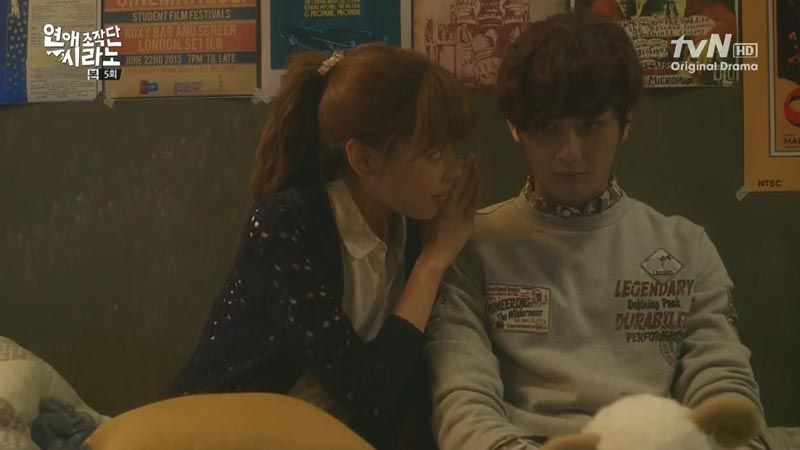 Min-young urges Arang to take all the time he needs, offering her moral support. Then she asks about Yi-seol (oh so casually), and hears that she was going to marry the other theater head, Do-il.
Then Moo-jin informs them that the boss must have seen the video footage, which means he knows about the kiss. Arang hangs his head.
Byung-hoon joins them and first offers Arang a Cyrano business card (and an employee discount, HA) to have them work on the case for him. Arang declines to be a client, so Byung-hoon announces that they'll get going on the idol's case, then. Hm, was this a test? I wonder.
Min-young sniffs that it's all about money for Byung-hoon—he won't help if Arang won't pay the fee. Byung-hoon says it's not about money (and for once I believe him), adding that Arang just had his chance.
She stops him in his tracks by asking, "You're hoping he'll just run away, like you, aren't you?" She has figured out that he never confessed to his first love, watching from afar because his friend liked her. She calls him a coward, shrinking back after saying it.
Byung-hoon says, "All actions begin from one's own decisions. I can't help someone who doesn't know what he wants." Then he exits and smiles to himself: "She's not wrong."
High school. Se-kyung arrives early and lights up to see Ho-yeol sitting there in that window again… only to realize that it's actually empty, and the curtain is flapping by itself. She deflates. (We see Moo-jin sitting outside with the fan, creating the romantic breeze. HEE.)
Still, Moo-jin wonders, "Is this wind blowing Arang away?" And Min-young sees how Arang avoids Se-kyung all day and sighs in sympathy.
Ho-yeol drops by Arang's room that afternoon and asks if Arang likes Se-kyung. He sees through the denial and says that he saw everything. Plus, he's known for a while that Se-kyung liked Arang. But he still likes her.
It's Arang who proposes to the team that they enter the final stage of Operation: Idol tonight. Byung-hoon checks that he's okay with it while Min-young tries to get him to reconsider, telling him that first loves can stick with you a long time. But Arang tells her he won't regret this choice and says he's sure.
And so we begin. Er, end. Begin the end. Arang comes to Se-kyung's apartment complex and apologizes for his behavior earlier. She suggests they count the score even, since she did kick him, and they smile.
But then Byung-hoon feeds him his lines over the comm: "What will you do if I meant those words about liking you?"
He tells Arang to tell the target his honest feelings, which makes Min-young's day—so he is giving Arang a chance after all. She looks like she wants to kiss him, or maybe hug the emotionally stunted man for growing some feelings, and gives him a big proud thump on the shoulder: "Of everything you've said till now, I like that best."
Meanwhile, Ho-yeol waits with bated breath near the alley where they had previously hidden from his fangirls. His only instruction is to let the target make her choice.
Arang is so flustered at this unexpected chance that he's silent for long moments, and Byung-hoon yells at him to do it already. Heh. He finally speaks, telling Se-kyung that he likes her for real:
Arang: "But that could be because you confessed first, or maybe it's because I knew how much [Ho-yeol] liked you and you started to shine in my eyes. But I'm even more bothered about him than about you, because he really likes you. I could never like you as much as he does. I'm sorry. You were starting to like him, but I interfered, didn't I? You've made him wait a long time. Just as your feelings have changed, what if his do?"
Next thing we know, she's running down the street to meet Ho-yeol. She arrives at the alley, but finds it empty. Sigh.
The light starts to flicker, and she walks closer to see something stuck to the wall—that band-aid she'd given him. Aw, he kept it all this while? Se-kyung runs on, searching the neighborhood for sign of Ho-yeol.
Moo-jin rides up to find Arang sitting alone nursing his broken heart, and gives him a shoulder to lean on. Good hyung.
It takes her a while, but finally Se-kyung comes to that convenience store where she'd once run into Ho-yeol. There he is again, sitting with a lonely cup of ramyun, head hanging.
She raps on the glass, then sticks that band-aid on the glass. It lights up his face in the most heartwarming way.
Watching from the van, Min-young wipes away happy tears, happy with the fulfilled romance and with Arang's maturity. She guesses that this whole thing was Byung-hoon's design, including the part where he called Ho-yeol to the theater to provoke Arang. He also told Ho-yeol the girl wasn't coming, and she wonders what they'd have done if he hadn't left the band-aid behind. The girl might have just left. Byung-hoon just replies that the guy was going to make things happen, but had to suffer a bit for it.
He sinks into melancholy thoughts, and looking at that Sherlock Holmes charm triggers a flashback of when he first received it. The memory makes him decide, "Turn the car around."
Min-young drops him off at a storefront, and he bursts inside where Yi-seol is at work with her marionettes. He asks if she remembers what she'd said to him as she gave him that Sherlock charm. She smiles to see it.

COMMENTS
I'm in the mood for a breezy romantic comedy, and Dating Agency Cyrano is fitting the bill—it moves quickly, offers up enough comedy without feeling like a gag reel, has a dash of intrigue, and shows character growth. And while it may be light and swift, it's not entirely without substance. There are poignant beats scattered throughout, which I appreciate.
For instance, despite the fact that Byung-hoon is masterminding everything (to a level of precision that even his teammates don't always know about), he lets the feelings breathe in the end, which is a good sign. I suppose you could argue that it's all manipulative and designed to elicit the outcome he wants, but I do think there's a hand of restraint in there that recognizes that people's emotions matter. He let Ho-yeol believe that Se-kyung wasn't coming, and as a result his reaction when she does arrive is 100 percent real. It's so much more valuable that way than if he'd let Ho-yeol wait smugly and play the part of the thwarted lover without ever believing that. The outcome is important, but his comment about the kid needing a little bit of suffering along the way speaks to the process having merit as well. I like that.
I also like how the Client of the Week allows the show to offer a variety of perspectives about love, which is also shown in the very different personalities running Cyrano Agency. These kind of story-of-the-week shows have a certain procedural element to them, which can be both a positive and a negative trait. On one hand, it keeps stories short and sweet, enough to satisfy with a small dose without needing to get bogged down in too many details. On the other hand, these clients are in and out, so when procedurals are clumsily handled they can feel like emotional drive-bys. We don't know them, so why should we care?
So it's encouraging to see that the show is working in the other characters with the clients' stories, to varying degrees. I don't expect that they'll all deal with the employees directly as the Arang storyline did, but that isn't necessary. The best procedurals use the episodic thread to shed light on its main players, which is a great framework to get our two leads arguing about their diametrically opposing views on romance. Then there's Arang with the youthful first love (and sacrifice) that echoes with Byung-hoon's own youth. And I'm eager to see how Moo-jin's loveline plays out.
Master Seung-pyo is an interesting one, and they're keeping him in the shadows for the time being. I do like the tiny snippets we get to see of him, and the flashes of ominous glares. He turns on a dime with unnerving ease, one second being friendly and helpful to Min-young, then next clenching his jaw and shooting daggers at Byung-hoon. Are you a mobster? Are you legally dead? Are you interested in Min-young or just amused by her, or using her? Are you friend or foe?
The pacing of the show is brisk enough that we keep from sticking to one particular character or emotional beat for too long, which I consider an asset. For instance, it helps soften the melancholy vibes surrounding Byung-hoon's first love, which feels a bit heavy for my taste; I'm not averse to the story itself, but I don't want this to be one of those shows. I want him cheeky and full of bravado, not moping. The balance right now is just fine, and I'm crossing my fingers that the show doesn't tilt that in the other direction.
Most of all I'm enjoying the rapport of our main cast, and I find myself liking the heroine a surprising amount. I was extremely wary of this character from promos and descriptions, because she seemed way too naive on paper and very been-there-done-that as far as dramaland heroines went. How many more overly romantic chronic dreamers do we have to see butting heads with cynical heroes, right? But her bubbly nature is turning out to be the glue of the agency—and the restaurant too—and I'm enjoying how the two younger guys are bonding with her as well. Sure she's sort of annoyingly idealistic at times, but the drama seems to be settling on a middle ground between her sunniness and Byung-hoon's pessimism (or realism, however you see it). And that means growth on both sides.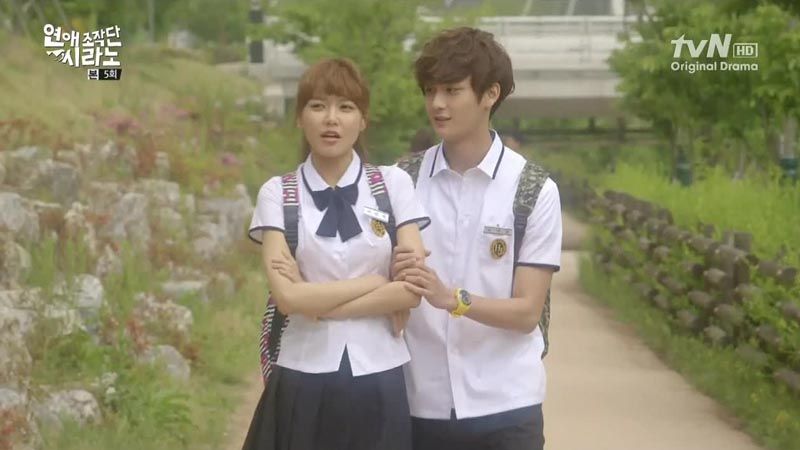 RELATED POSTS
Tags: Dating Agency Cyrano, featured, Hong Jong-hyun, Lee Chun-hee, Lee Jong-hyuk, Sooyoung