Eun Ji-won courted to replace Yoo Se-yoon on Barefoot Friends
Eun Ji-won and Kang Ho-dong reunited? Baby Bear and Papa Bear, together again? I love a lot of variety bromances, but this is one of my all-time favorites. Word is that Eun Ji-won (Answer Me 1997) is being courted to join the cast of Kang Ho-dong's SBS variety show Barefoot Friends, following the exit of comedian/MC Yoo Se-yoon from the cast due to his recent DUI. Wait… does this mean I have to start watching this show? Uh…
Yoo Se-yoon was issued a DUI for drunk-driving on May 28, and has since dropped out of his variety programs including SNL Korea, Radio Star, Knee-Drop Guru, and most recently Barefoot Friends. He was reportedly only going to be on a temporary leave from Barefoot, but SBS has announced that the exit will be permanent, and that Eun Ji-won has been cast to replace him. Eun Ji-won's reps say they're still considering.
Since its launch on April 21, Barefoot Friends has had a notably rocky run. Ratings have ranged from 2.9% to 5.6%, which is frankly abysmal. The show still hasn't found its concept, and in recent weeks has stopped going abroad (a good thing, since that was a terrible idea to begin with), and has started bringing on guests for no apparent reason. There's still no there there, if that makes any sense — like you got a great cast together and then just sort of forgot to come up with the rest, hoping it would just magically gel. To its credit, it's at least trying out new things, which you figure is the least they can do since they've got nothing to lose.
I really adore the Eun Ji-won/Kang Ho-dong pairing from ye olden days of 1 Night 2 Days, but I'm also skeptical that it can just be transferred to a new show, especially one that has yet to grab me. It'll at least be a reason for me to tune in again, to see if his addition changes things for the better.
Barefoot Friends airs Sundays on SBS.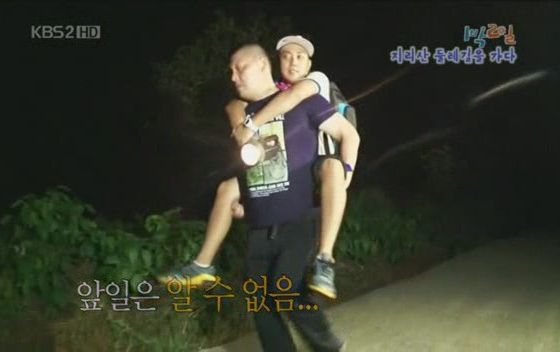 Via Sports Seoul
RELATED POSTS
Tags: Eun Ji-won, Kang Ho-dong