Mandate of Heaven: Episode 19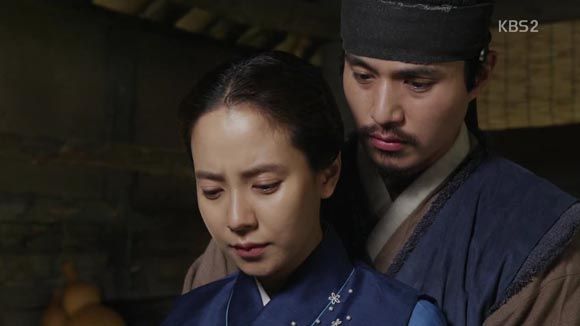 I don't know if I'm just feeling emotional today, but today's episode totally brought tears to my eyes, and for the best reasons. Not with big drama or grand gestures and intrigue, but for character moments that meant something, that were loaded with feeling and significance. With one episode left to go, the show is moving and exciting and just all-around great. Well, maybe except for one little thing…
(A reminder, as always: Please don't spoil the ending for me or others! If you do, I'll have to curse you with poison-tipped mind bullets, and those are in rather short supply. I'll need them for the zombie apocalpyse.)
SONG OF THE DAY
Kwon Soon-kwan – "건너편" (The other side) [ Download ]
Audio clip: Adobe Flash Player (version 9 or above) is required to play this audio clip. Download the latest version here. You also need to have JavaScript enabled in your browser.

EPISODE 19 RECAP
We backtrack a few steps to the rebellion plot, when our good guys clock the high levels of activity outside Vice Premier Kim's household—that suggests that the baddies are planning their rebellion there.
However, Won finds it suspicious that the baddies are so conspicuously visible, suspecting that it may be a decoy. Do-moon offers up the knowledge that Merchant Jang's home contains a hidden room used for secret meetings. Bingo.
Jung-hwan is champing at the bit to storm the premises right away, but Won, ever the shrewd planner, has a different idea.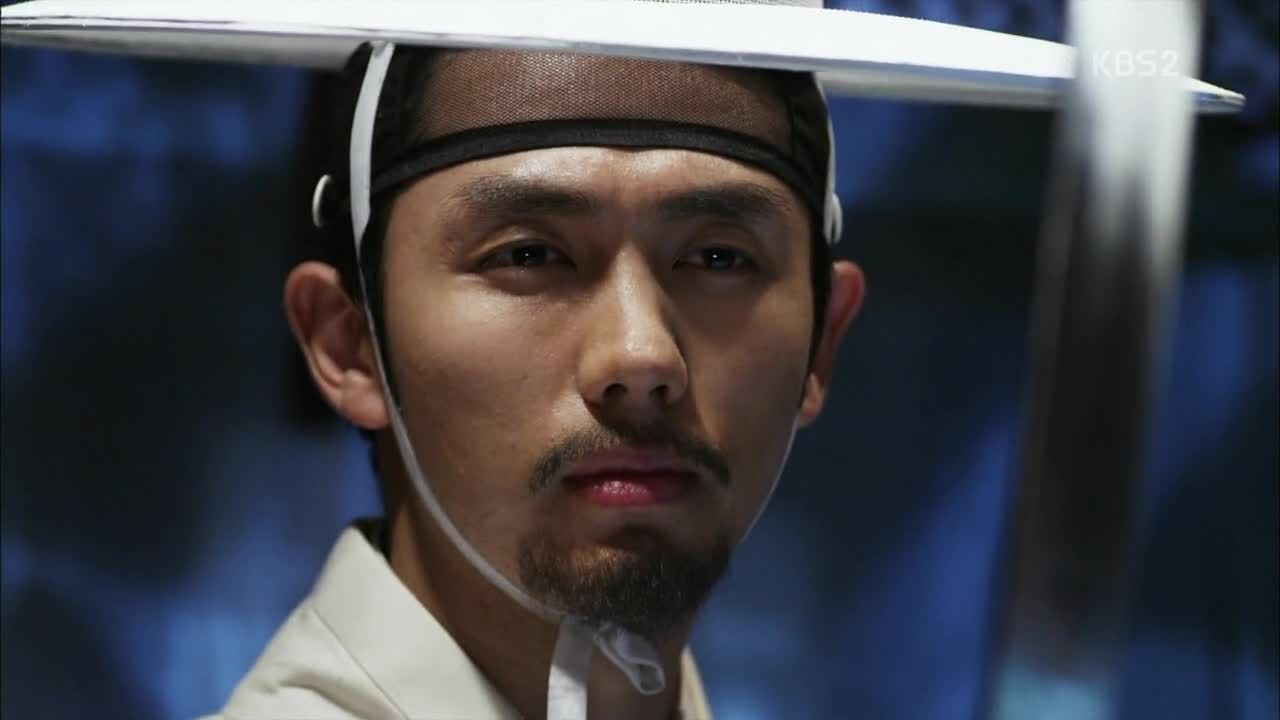 The queen sits in that secret council room with her ministers and the shadow puppets in the background. She's displeased at the suggestion that the plot against the prince must be changed at the last minute, with only one day till the ascension.
At this point, Won speaks up from behind the screen, posing as one of the conspirators. He offers up a way to kill the prince, and that certainly gets the queen's attention. So he presents himself, reveals his face, and puts the baddies on the verge of shitting bricks.
And that's before the coup de grace: Lee Ho enters the room and challenges them to kill him if they dare. He tells the queen she made the crucial mistake of underestimating Won, and asks for his advice now. Won proposes dealing with the rebellion quietly, tonight, and the prince agrees and grabs a sword. The baddies gulp, wondering if a quiet massacre is the plan, and Lee Ho turns to the queen.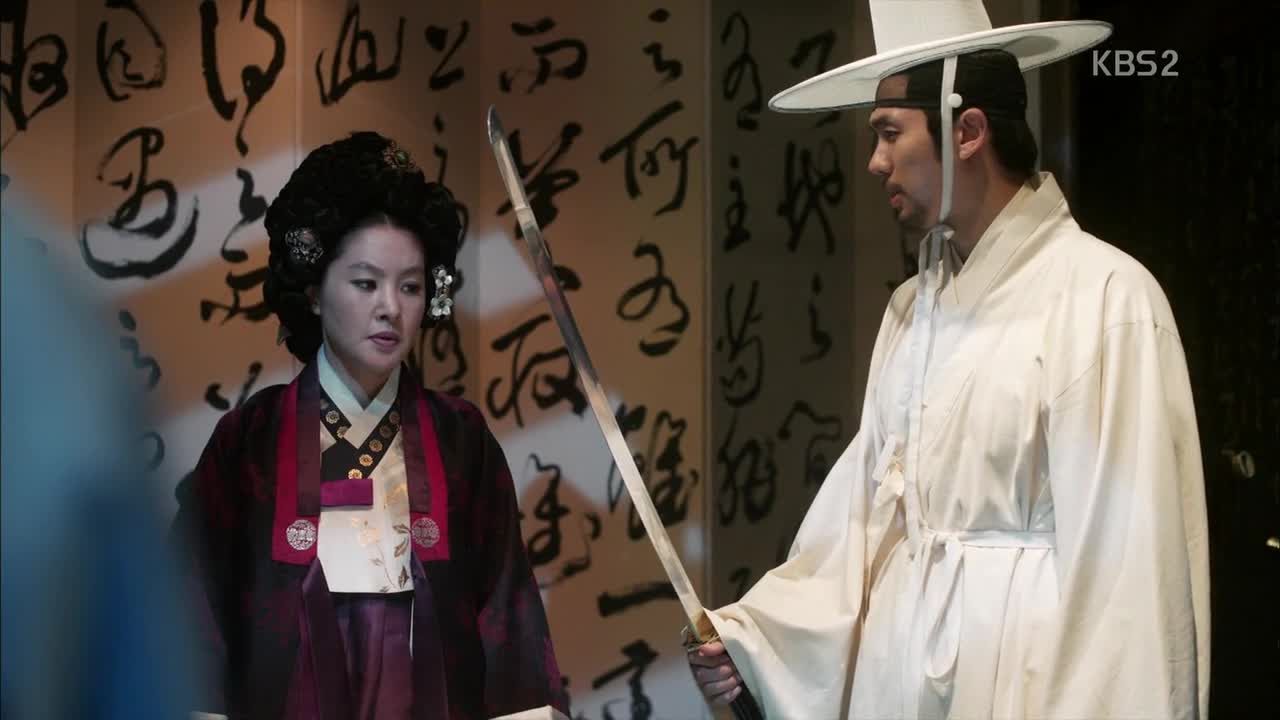 But his words counter their expectation as he offers her the sword and tells her to take his life, if that's really what she wants. She bristles, "Do you think I couldn't?"
At the Evil Ministers' nods, Gon-oh grabs his sword and starts to go after the prince, but gets knocked aside by Jung-hwan, who makes his sudden appearance. Aw, yeah. Somebody should really just go through this show and do a highlight reel of all of Jung-hwan's heroic sword-wielding entrances. He's followed by the rest of the prince's supporters, and we see that the queen's retainers have been bound and gagged.
Now that a sword has been raised against the prince, Jung-hwan can proclaim all in attendance as traitors plotting revolt, and there's no wiggle room because he has brought along his two police bosses (one is crooked, but no matter since the minister in charge isn't). Muahaha. Gotcha, suckas.
What makes this plan cleverer than a regular ol' raid (such as the kind Jung-hwan was itching to lead) is that it allowed them to strategically wait till they had the requisite proof, and then nab the bad guys. If they'd just stormed a meeting, you can bet there would've been backroom dealing and bribes and falsified testimony galore. Thus Won saves the day with another brilliant scheme.
The criminals are rounded up and taken to prison. Won and Do-moon remain behind to sneak onto Kim's property and collect the bandit trio, whose plan to kill Vice Premier Kim is thwarted again.
Da-in is relieved to hear the news from Do-moon, who wonders sadly if she loves Won that much. She replies that she doesn't want to subject him to any more pain, being the daughter of the man who killed his father, but before we get too far into that bout of noble idiocy, Won arrives to check on them.
The bandits make their rather dispirited return, still bubbling with rage over not getting their revenge. Geo-chil scolds So-baek mightily for barging in after being told to stay out of it, but Keok-jung speaks up to say he's just glad she's safe.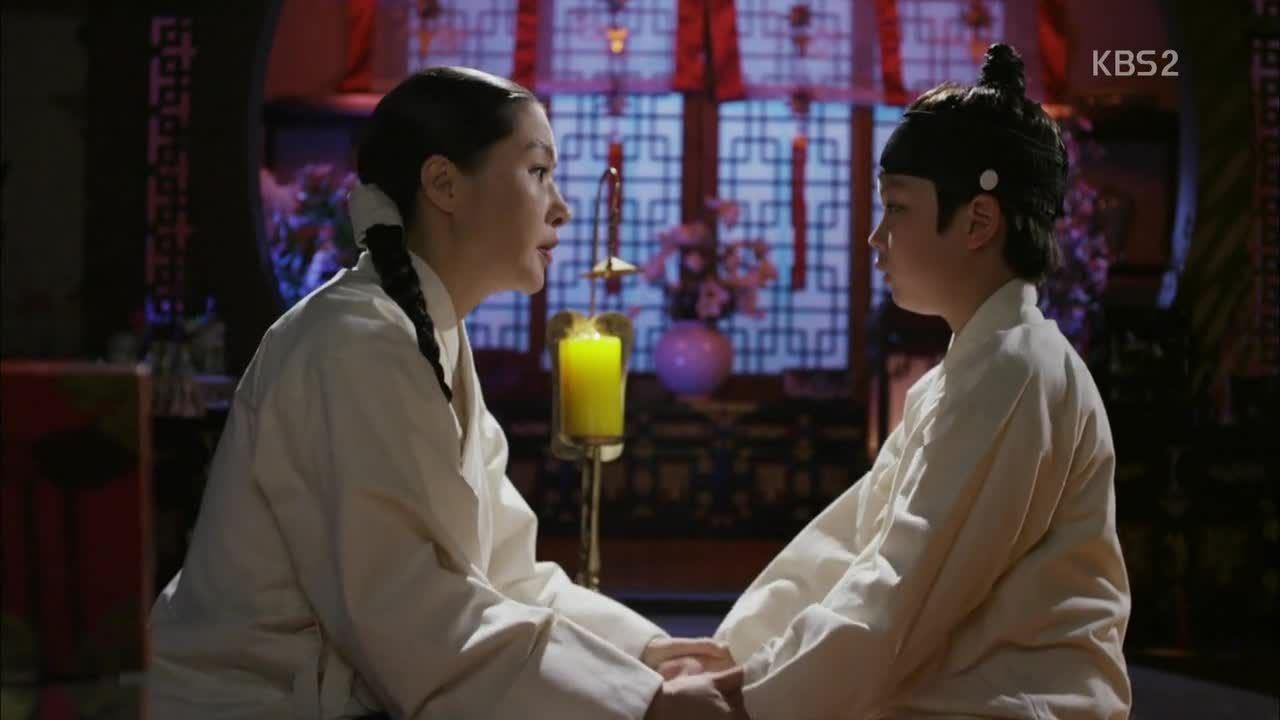 Queen Munjeong has Gyeongwon roused in the middle of the night and brought to her chambers, where she declares that he is not to leave her side. The rebellion has failed and Lee Ho will take the crown tomorrow, and she fears that his first order of business will be to kill the both of them.
Da-in tells Won that she knows about the truth of his father's death, and he understands that she's going to feel guilty over it. He tells her not to feel any blame, but she says she wouldn't be able to face him or Rang anymore knowing what she does.
Thus when Won awakens in the morning and sees her bed empty, he bolts outside fearing that she's gone. She's tending to Rang's medicine, but his relief fades when she explains that she means to leave—she just wanted to say goodbye first.
Won insists that he's fine, but she argues that she isn't. And she's not confident that this is a problem time can ease, either. Saying that this is as far as their relationship goes, she wishes him and Rang well.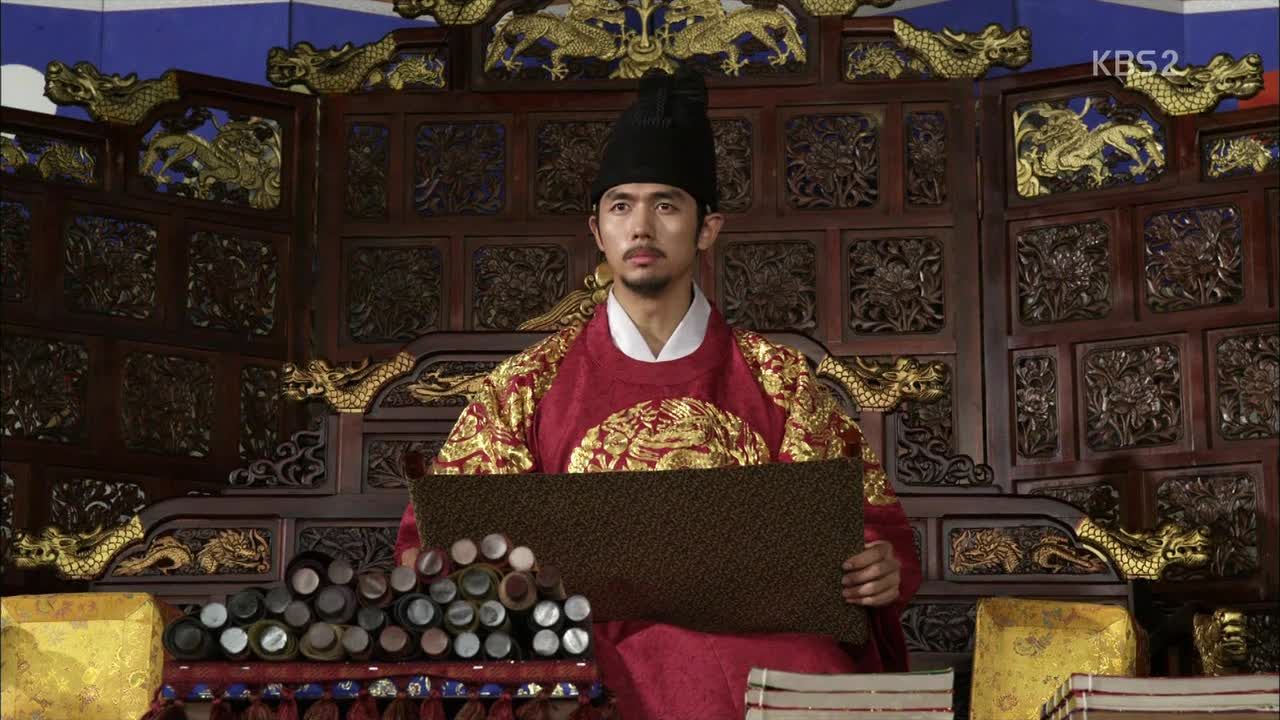 Lee Ho is crowned king, and now the chyron reintroduces him with the name history uses, King Injong. He presides over a session with his council, announcing that those who were plotting to assassinate him will be punished. As the organizer, Vice Premier will be sentenced to beheading, and the others will receive appropriate sentences.
The ministers argue over the extent to which the queen (now queen dowager) should be punished, though the general sentiment is that she should be punished harshly according to law. That means death by poisoning, of both queen dowager and Gyeongwon. (Gyeongwon hasn't done anything personally, but he is at the center of the coup attempt and therefore complicit.)
Lee Ho—er, Injong, but why confuse the nomenclature at this late stage?—is caught in the dilemma, since he doesn't want to do any executing, but not doing so could be shooting himself in the foot. Especially since I'd bet the queen would continue to attempt assassinations at every opportunity.
He visits the queen dowager and Gyeongwon, but doesn't have a ready answer for his plans. The queen tells Gyeongwon that his lack of an answer indicates that he won't save them. Because if he were intent on saving them, he would assure them. That's not false.
Rang has taken the recent traumas pretty hard, so Geo-chil tries to cheer her up. So-baek comments on how much her father has bonded with the girl, doting on Rang even more than he dotes on her. Keok-jung points out the obvious, saying that it's because Rang reminds him of So-baek as a child. She scoffs, since Rang is such a pretty child, and Keok-jung tells her gruffly that she is too. Cute.
It's a somber goodbye scene between Won and Da-in—she puts on a brave face, not wanting to leave amid tears, and intends to devote her life to being a doctor. When she gets up to leave, Won leaps up to hold her in a back-hug. She only allows it for a moment, though, before quietly stepping away and leaving without a backward glance.
Lee Ho gives Won the full pardon his father was unable to see through, and that means that Woo-young is finally free, for realsies this time. Furthermore, the family property that was confiscated is returned. Woo-young is so thrilled that she grabs Jung-hwan's hand and tells him to pinch her cheek to prove she's not dreaming, while Jung-hwan's all, Omg, touching a girl. It's so cute.
Then he hands over a package, reminding her of his promise to buy her pretty new clothes to replace her slavewear, and how a man keeps his promises. Woo-young asks if that means he's also going to keep the other promise he made over drinks. He gets muttery and stiff and tells her to hurry up and change. Woo-young looks at him wide-eyed: "You want me to change here?" Lol, now she's just messing with him, isn't she?
Cut to: Jung-hwan standing outside his own office like some lackey. Hahaha.
She lets him back in, and he goes slack-jawed at her slo-mo beauty twirl. Personally I think the orange-green design is a little pumpkin-esque, but then again that fits with his character as the guy with terrible color sense, doesn't it?
HA, and then the romantic tinge fades and Jung-hwan frowns, agreeing with her assessment of his lack of taste. "Take it off," he instructs. Well if you insist… But no, he means he'll exchange the unflattering outfit because even the slave clothes are better. She's first worried to be deemed unattractive, and then insulted that he could be so blunt.
Huffy, Woo-young starts undoing the ribbons to take off the offending clothing rightthisminute, and Jung-hwan gets all flustered and tries to cover her up. At which point Crazy Eyes Stepmom bellows in outrage from the open doorway and accuses him of taking advantage of his authority to lust after the slave girls.
Jung-hwan stutters in his defense, saying he wasn't lusting after her, but Woo-young is still smarting from the whole insult to her vanity and says he is a total skeeze.
The family is reunited at their old house, and Won tells Rang that they all get to live together again like before. Rang goes up to Jung-hwan to confirm it, and bursts into tears when Jung-hwan assures her that her father won't be on the run anymore and that he'll protect the family. She assures her family that the tears are from happiness.
Meanwhile, our criminals get beaten for their crimes and the king continues to be bombarded with entreaties for the queen's execution. His reluctance to act is throwing the court into a frenzy, and there's no question he'll have to decide soon.
The queen dowager summons Chun-bong for a meeting, who has no qualms expressing his opinion of her greed and ambition. But she's playing a different game now, offering to help Chun-bong get the world he desires. (A shrewd move, since Chun-bong isn't a blind follower of Lee Ho, but a reformist with his own set of ideals.) She can offer up positions for some of his people, on the condition that he request that the king release her two ministers.
Won and Rang are brought in to see Lee Ho, and Rang greets him in her cute artless way (getting his title backwards again). He asks what kind of king she'd like him to be, and she answers that she'd like for him to make sure that good people like her bandit friends don't need to steal or fight anymore out of starvation. Lee Ho promises to do what he can to make sure his people don't go hungry, and even pinky-swears with her.
Lee Ho calls Gyeongwon to join them, and at least Rang isn't calling him Bad Master anymore. But Gyeongwon has been told that his brother is on the brink of putting him to death, and is all aflutter with panic as he asks whether this is true. He calms down somewhat when Won says that Lee Ho will protect him.
Lee Ho asks Won to check Gyeongwon's condition, and it's then that the queen dowager enters and barks at her son to get away from the men who would have them killed.
Do-moon continues to follow Da-in around, in his kinda-sweet-but-kinda-creepy way, until finally she faces him and tells him to stop. He's intent on protecting her, but she would rather he be free and move on with his life. He accepts that gentle dismissal, but blurts that she should go to Won. It's sweet, wanting her protected by someone, even if not himself.
Lee Ho is stunned when Chun-bong makes the appeal for Vice Premier Kim and Minister Yoon's lives. Eek. Chun-bong argues that the reign has only just begun, and that the king needs loyal followers on his side, not mere yes men. In order for that to happen, the members of Chun-bong's society must find their footing in the court.
Lee Ho is, unsurprisingly, deeply suspicious by this turnaround. He asks if Chun-bong is after power of his own—is he angling for a prime ministership? Chun-bong argues that the king has already decided not to execute the queen dowager and Gyeongwon. What's a little more mercy, eh?
Despite his own misgivings, the king backs down and revises the evil ministers' punishments. They're stripped of their titles and positions, of course, but their lives are spared. It's a shocker for his court, and the queen dowager literally cackles to hear it. And of course, she gets right back into the swing of things now that she's evaded death, plotting once again against the king.
She gives a creepy smile as she unwraps a specially ordered item—a scented candle. Oh, crap. I think I see where this is headed.
Da-in is back at the palace serving the king, and one of the only people he can confide in. He admits that he had thought becoming king would pave the way to solve problems and settle matters, but even now he lacks the power to protect his people. She reminds him that he protected Won, but Lee Ho corrects her, saying that Won protected him.
He knows enough to guess that something happened between her and Won, and asks about it. Otherwise there'd be no reason for her to return to the palace alone.
Before she can answer, the queen dowager enters with Gyeongwon, here to express her gratitude for his forgiveness. She offers him the scented candle as a token of her thanks, saying that he can use it to read at night. I'm relieved that Lee Ho is suspicious enough to decline the candle outright, thanking her merely for the thought, but the goddamn queen dowager is clever enough to reverse-psychology the situation by asking if he's afraid she's trying to kill him off again. To which I say, Duh?
She adds that the same candle burns in Gyeongwon's own room, and that if he's truly suspicious, he can just throw the candle away. Throw it away! Or better yet, at her head! Alas, the poor king can't hear me yelling at him, here on the other side of history.
Won hears about (ex-)Vice Premier Kim getting off with a light banishment, and wastes no time expressing his disapproval to the king. He's angry and disbelieving, and can't understand how Lee Ho would show mercy to the man who killed Do-saeng, framed him, tried to kill Rang, et cetera.
Lee Ho explains that he's trying to do this to rule as a wise king. There isn't an eyeroll big enough to convey Won's WTF reaction, which I'm gonna say is pretty warranted. He's going to demonstrate wise rule to his citizens… by going easy on the evil dude who trampled all over those citizens?
Lee Ho calls it a decision he had no choice but to make, in order to bring in his people to the palace, in order to build his ranks with supporters, in order to have the power to govern well, in order to be a good king. In the house that Jack built.
Won says that even so, he should have drawn the line at Kim. Lee Ho replies that he isn't protecting Kim—he's using him to marshal his own power. Slumping in disappointment, Won says he had truly believed that Lee Ho would make the country a better place once he took the throne. "However, I wonder whether the world may not change at all." Oof, so sad. This scene actually brings a tear to my eye.
As Won leaves, he spots Da-in across the yard, and they both freeze. Then they walk toward each other in that classic slo-mo pass, neither acknowledging the other. She looks back at him, but he continues on grimly.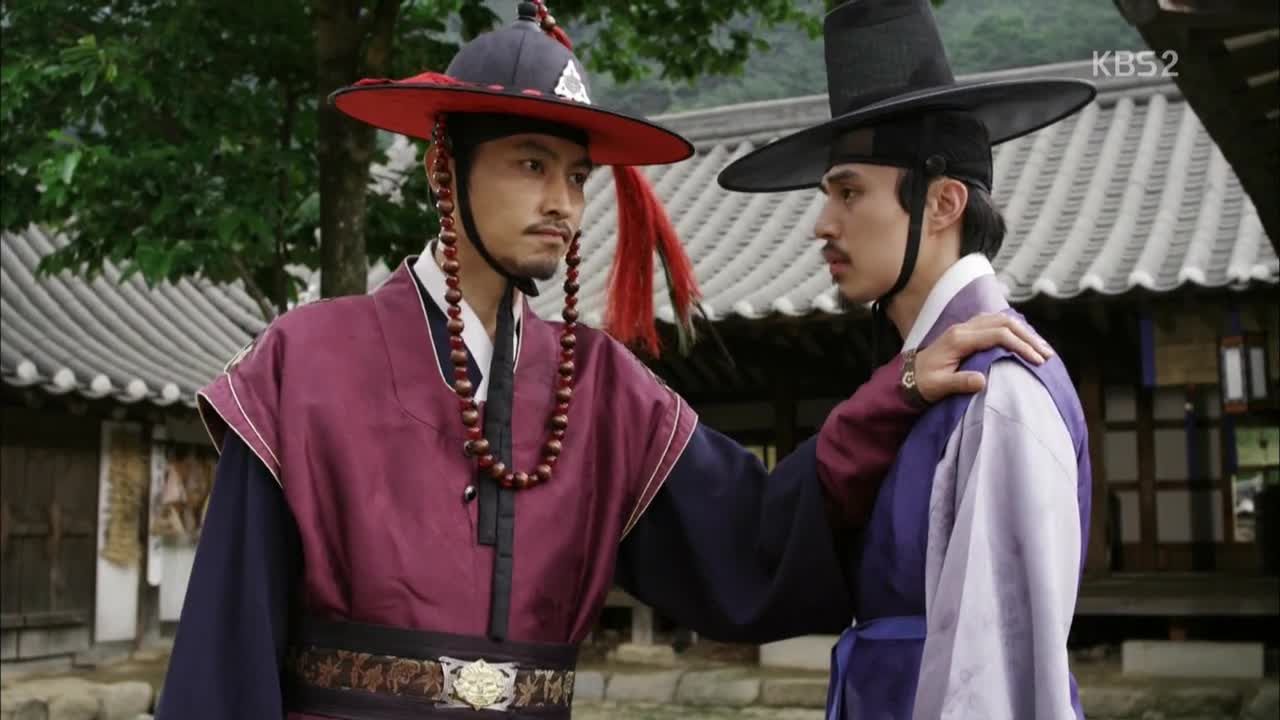 Jung-hwan is equally furious to hear of Kim's exile, and argues that the king would never have backed down. Aw. Then he insists on being the one to personally escort Kim to his exile. Sitting in prison, Gon-oh is worried despite the light punishment, since the king could always change his mind.
But Kim gets an idea, and confirms that Jung-hwan is particularly close to Won's sister…
Jung-hwan rages to Won about the king's mercy. But he's also got a plan, and decides he'll have to catch the baddies at yet more plotting, so that the king will have to punish them properly.
He has a hunch that the queen will send her killer after them on the exile trip, and ah, and that's why he wants to escort Kim—so he can fake-allow him to escape and catch him in more incriminating behavior.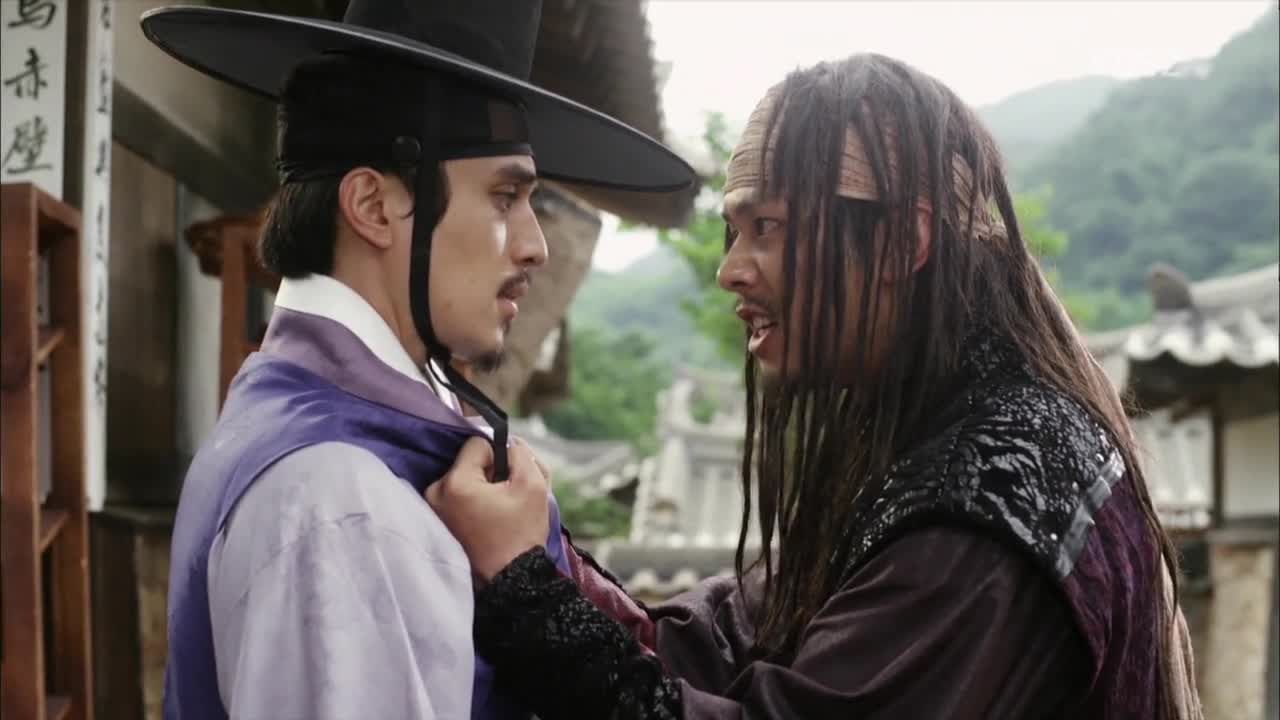 The bandits barge into Won's yard, having been denied their revenge once again. Aw, you have to feel for them, always being the bigger person and letting the good guys do it their way, only their way totally sucks. At alleviating the bloodlust, I mean.
Keok-jung fumes and growls that he isn't trusting their words anymore. He storms off ready to mete out his own personal justice, and Geo-chil warns Won that he can't stop them anymore.
While en route to intercept the exile party, Keok-jung pulls So-baek aside for some last-minute instructions. One, she is to stay behind him during the fight. And two, if he's to die…
So-baek flatly refuses to allow him to finish that thought. No, he's just plain not allowed to die, and that's that. But he has to say it now, and tells her that if he dies, Won will take her in, and that's what she wanted anyway.
So-baek barks, "You're saying I want you to die?" He says that's not it, and she thumps her heart to demand, "Then why are you making me hurt here?" She tells him in her endearingly bungled-up way that yes, Won makes her heart pound and not seeing him makes her feel like she'd die, but seeing Keok-jung makes her heart twinge and squeeze, and the thought of leaving him would prevent her from being able to die. That is the sweetest and most backward thing ever. How can a girl be so in tune with her feelings and yet so oblivious to what they mean?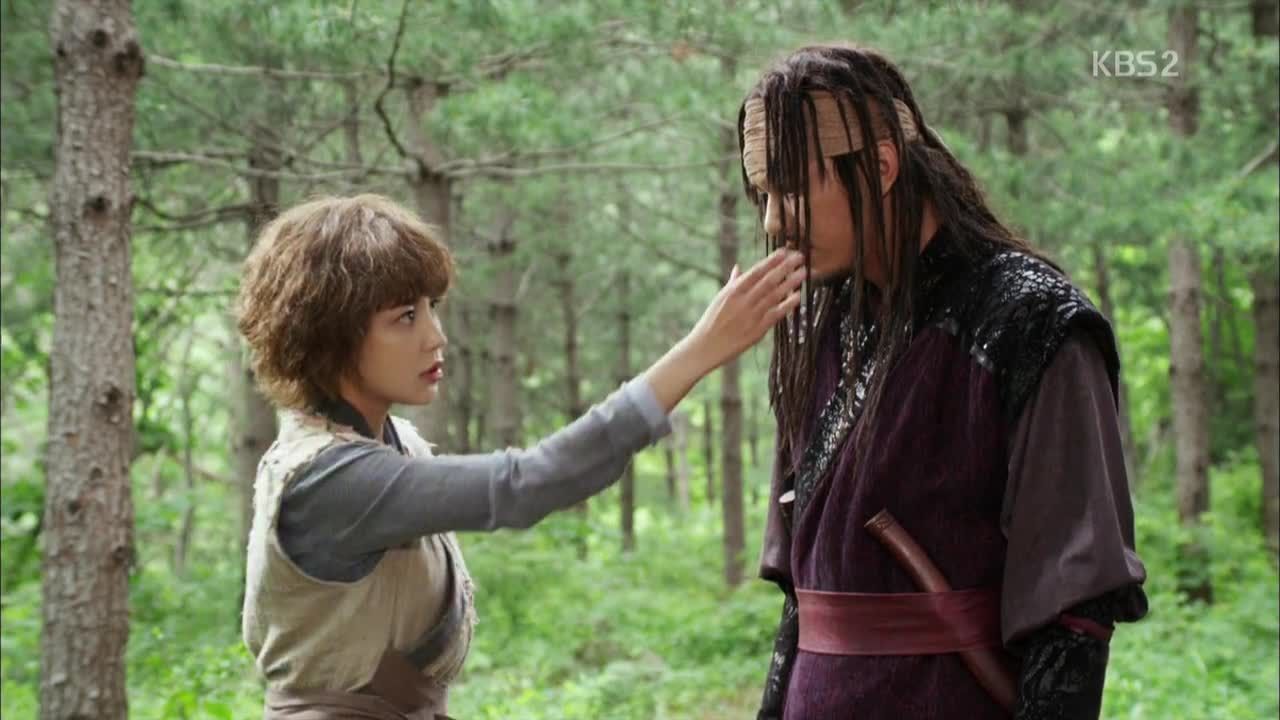 That brings tears to his eyes, and she wipes them away. (And then licks her finger to confirm that they're tears, haha.) Taking his hand, she turns his own words back on him—about how when she cries tears, his heart cries tears of blood—and asks him not to die.
Woo-young is happily back at her cosmetics table when she has an unexpected visitor. Oh crap. She's gonna be Jung-hwan's Achilles heel, isn't she?
Kim is taken on the road with a retinue of guards. Pretty boy assassin Mu-myung visits with the queen, who instructs him to go after the party.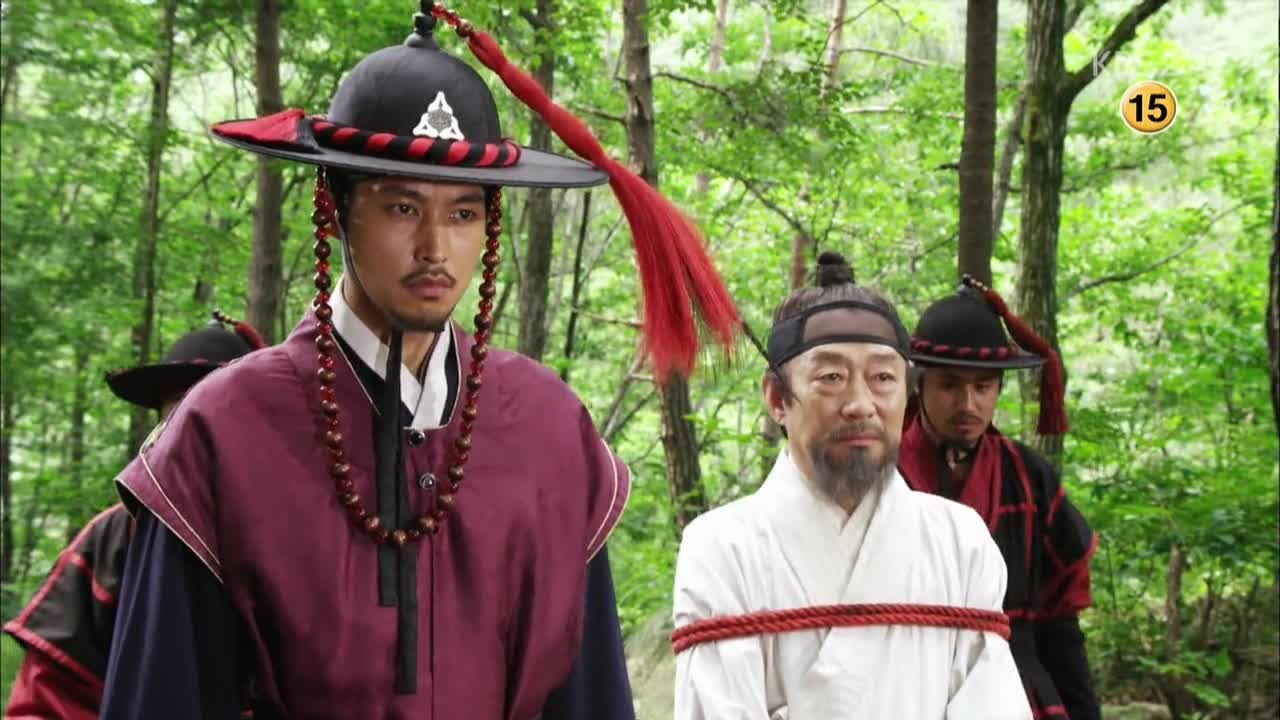 Jung-hwan and Kim trade barbs as they walk, both of them on alert for the ambush. When the assassins swing into motion, they surround the guards with swords drawn, and I'd say it's about an even fight without Mu-myung in the mix… except for the fact that the assassins have taken Woo-young prisoner.
Kim is cut free and takes a knife to her throat, calling her valuable bait that will secure his freedom. Jung-hwan freezes, unable to advance, and is ordered to drop his sword.
He drops it and kneels. His men follow suit. Kim orders his men to kill the officers, and there's nothing Jung-hwan can do to save himself if he doesn't want to kill Woo-young in the process.
But here's where the bandits fly in, and as they launch themselves into the fight, the guards reclaim their swords and join in. Won personally sees to the task of socking Kim in the face, then holds his knife to Kim's throat. But Kim knows Won can't do it and laughs in his face. Woo-young cries out for him to think of Rang, and Won ends up stabbing the tree instead. And then leaves the knife there.
Of course Kim takes it and goes after Won, slicing his arm and then going for the kill, raging, "If only it weren't for you…!" (And your pesky dog too?)
Jung-hwan steps in to deflect the blow and goes in for the kill… just as Mu-myung pops up from his spot in the woods and hurls his dagger… Noooo, not my Jung-hwan!
We get the 360 whirligig shot as Jung-hwan stabs Kim, just as the dagger lands in his chest. Stupid idol pretty boys.
Speaking of whom, then Mu-myung launches himself at Jung-hwan, delivers a few more blows, and then goes to check on Kim. Well, at least the evil old dude dies.
Jung-hwan is still hanging in there, and Won pulls the dagger free. But that's even scarier, because he recognizes that it's been poisoned. Ohhh, fuck.

COMMENTS
Gahhhh. They just had to go and threaten my favorite character. I know he's not gonna die because the story pattern just isn't set up for him to die, plus they already used the poisoned bit where the guy couldn't be saved (hence the need to do it differently this time), but that doesn't stop the moment from being terrible (as a fan), which probably makes it really good (as a story). But that's only if he doesn't die. Because if he dies, then the show dies, and there goes another drama into the crapper this year. Ahem. Help me help you, Mandate. Don't kill Jung-hwan. It's for your own good!
That aside, I really did like this episode. (I even liked the episode including the whole Jung-hwan-being-threatened bit, granted he doesn't die.) I do know how Injong's reign ends and which historical figures survive this drama's timespan so there's a tinge of melancholy there, but in the world of this show I find it an uplifting and well-plotted story.
I particularly enjoy that this final stretch presents a conflict that is more complex than a simple bad-guys-must-die battle to the death. By which I mean, it doesn't just end with the bad guys caught in their plot and put to death, and our good guys going home to their happy ever afters. That's fine and dandy, and that dynamic of good-versus-bad has driven the show for quite a while, but I find it more rewarding to give us a bigger-picture conflict as the final trial.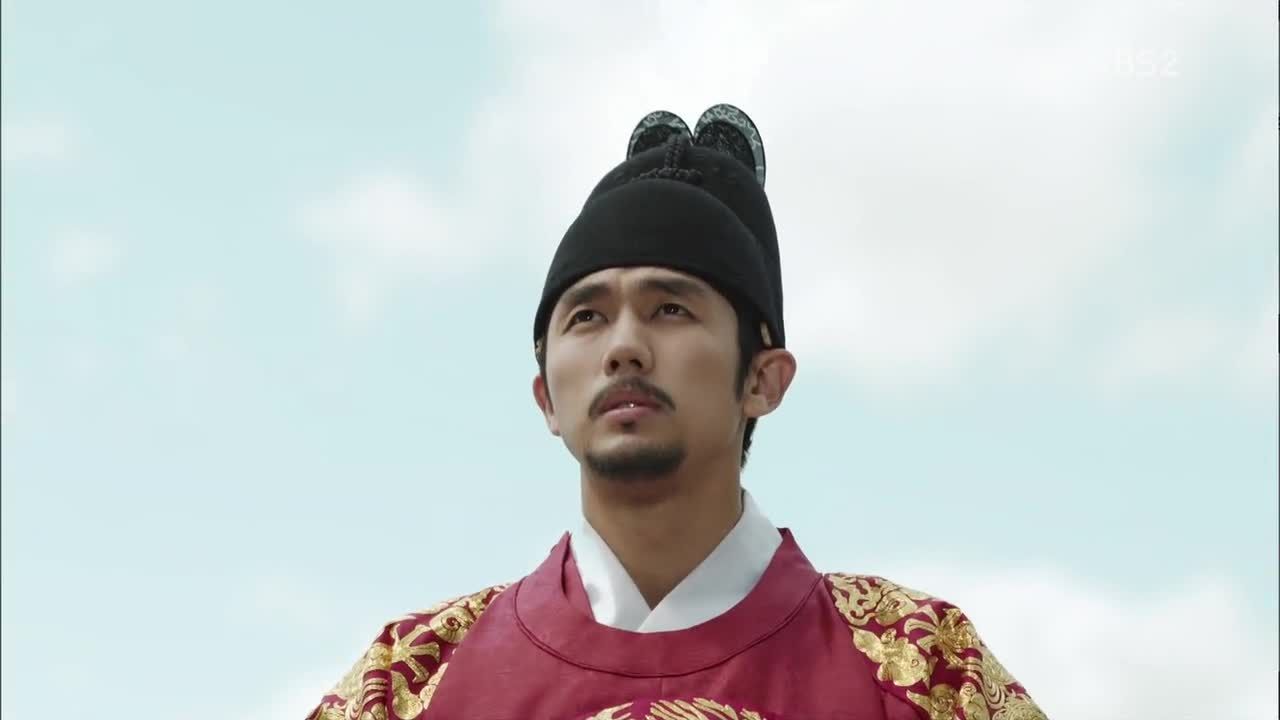 That is to say, Lee Ho finally wears the crown and is poised to begin his reign on the right foot, with all the best intentions. He has collected a small group of loyal friends and supporters, and up until now we've all wanted to believe this little underdog story of triumph. But now we see Lee Ho being challenged to crack some eggs to make omelettes, because inasmuch as he is a nice guy who hates hurting poor innocent eggs, the guy who sits there twiddling his thumbs afraid of hurting anybody gets jack shit done.
Lee Ho's fundamental flaw as a king is that he's a good person, and while that makes him a great person I'd love to do lunch with, it's terrible for a player of court politics. And he's starting to see that he has to claim his power and play the game—you can't abstain from the game entirely because it'll just continue without you. If you want to do ANY good in the world, you'll have to sacrifice strategically.
That's why I accept Chun-bong's turnaround, even though the quickness of his decision to accept the queen's offer sort of drives me nuts. But it's consistent with his character, because he was never in this for his own personal gain or out of warm fluffy feelings about Lee Ho. He's a curious mix of idealism mixed with pragmatism, because he's driven by the desire to have a good king who works for his people. Lee Ho is an idealist in a different way, and his desire to be a good person is often paralyzing. In that way he's like Won, who argues that he's this selfish and self-contained person but has proven over and over again that he'll always do the right thing. Thus when Lee Ho takes that deal, this is where they part ways ideologically. I just hope the bromance can survive the rift.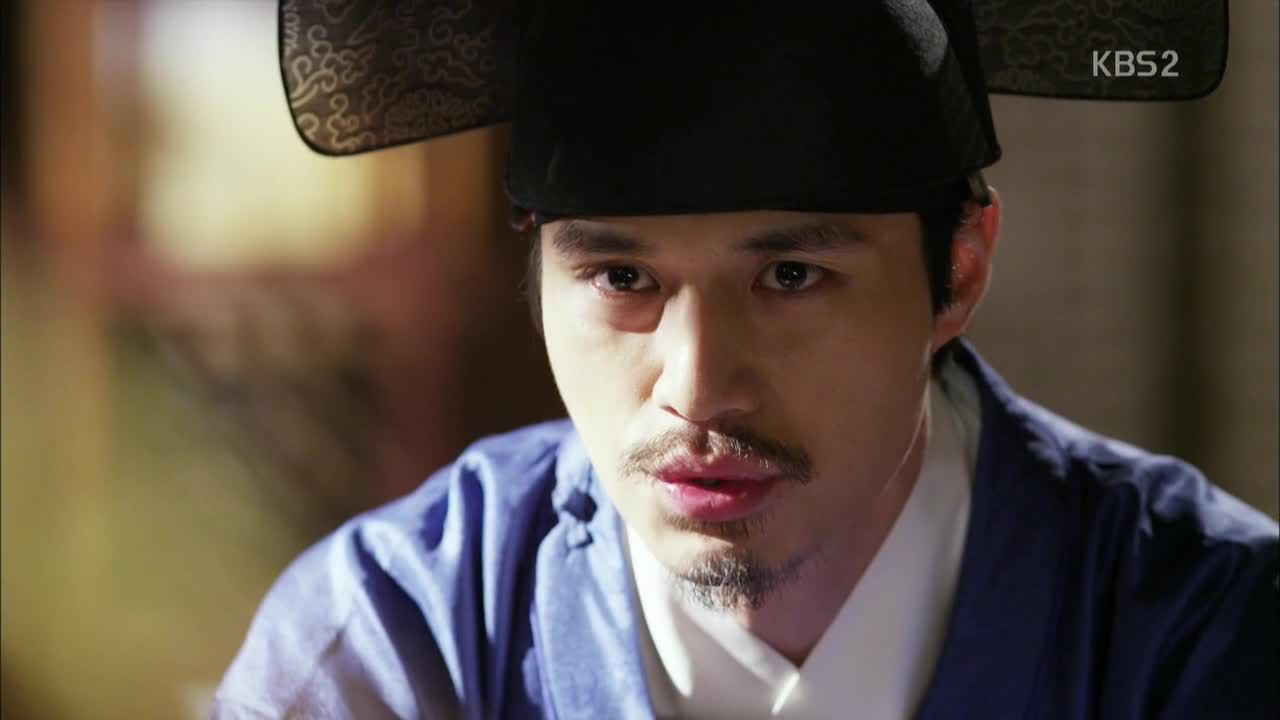 RELATED POSTS
Tags: featured, Im Seul-ong, Lee Dong-wook, Mandate of Heaven, Song Ji-hyo, Song Jong-ho, Yoon Jin-yi