Movie Review: Sopyonje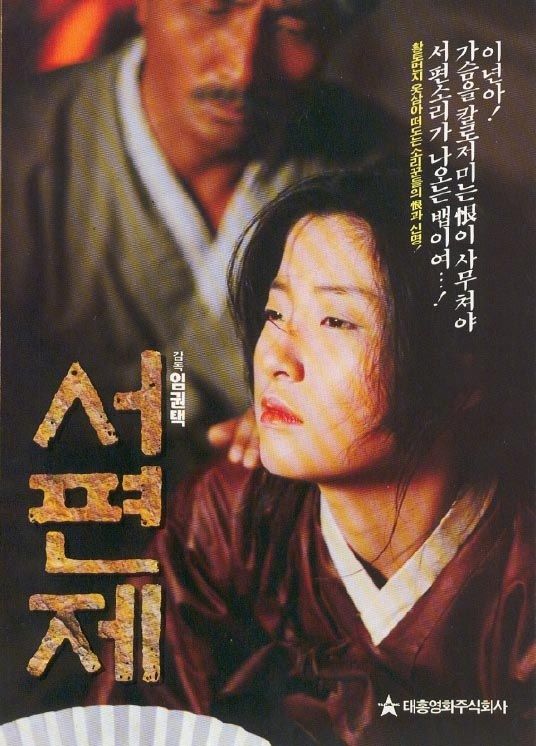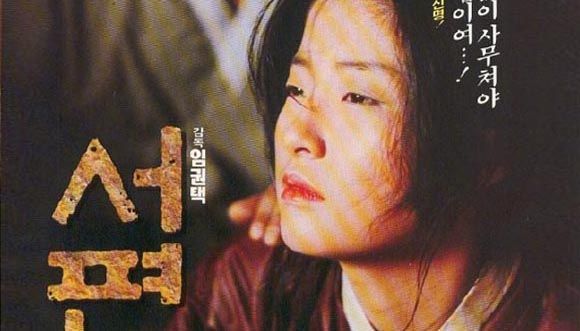 A long time ago, when I was a film student in college, we had a series of frequently changing classes that were considered "national cinema" classes and as aspiring film majors, each of us was required to take at least one such class. While there wasn't a hard and fast definition for precisely what the study of national cinemas was, at a basic level, it entailed watching a country's cinema and its television programming to gain an understanding of that country and its people.
And for good reason too. There are many films, both commercial and arthouse, that can tell you much about different aspects of a nation's identity and its history. Sometimes a film can strike the collective consciousness of a nation so much that its people are driven to watch it, making it a surprise box office success. Sometimes such a film can reinvigorate interest in elements of national or cultural identity, resurrecting dying traditional art forms and stories. And sometimes these films can even act as a window into the collective heart of that nation's people.
Sopyonje is one such film.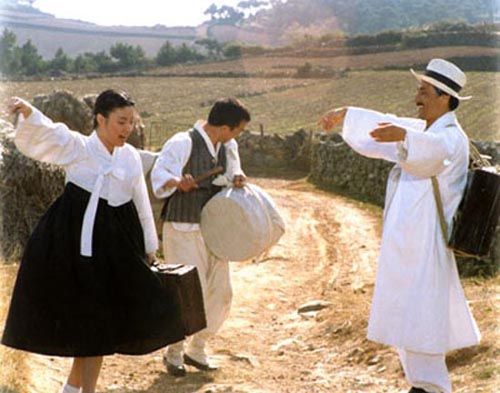 It's an art film that defied trends by breaking box office records with over million viewers just in Seoul. It became one of the only Korean films of the early 1990s that stood with Hollywood blockbusters in terms of overall admissions. And unlike those blockbusters, it wasn't even shown in that many theaters.
A film in part about a traditional Korean folk music genre called pansori, it revived interest in the fading art form during the explosive early years of modern k-pop. The film's reception in Korea itself was a national phenomenon worthy of Korean history books and it, more than any other film he made, identifies the trajectory of director Im Kwon-taek's career from then on forth, continuing to explore matters of Korean cultural and national identity through cinema.
I would go so far as to argue that Sopyonje is essential viewing for anyone with a genuine interest in Korea and Korean cinema for its depiction of a Korea in transition and grappling with modernity, for its captivating examination of pansori and its artists, and for its rare ability to capture most purely on celluloid a complex sentiment of the Korean psyche: han.
All this is done from the perspective of Dong-ho (Kim Kyu-chul), who in then present-day Korea (1993), is searching for his long-lost family and reminiscing about the past. Adopted as a child by wandering pansori performer Yu-bong (Kim Myung-gon), he and his also adopted sister, Song-hwa (Oh Jung-hae), are raised to be pansori performers with Song-hwa displaying a particular proficiency and love for the antiquated art form. Meanwhile, Dong-ho struggles with both playing the buk, a traditional Korean drum, as well as with the life of an itinerant artist in an art form that is quickly becoming irrelevant with the rising popularity of both Japanese enka-influenced trot as well as American rock.
Although the story itself is actually rather simple, the choice to tell much of it in flashback allows for great immediate contrast between the past and the present, clearly showing a dramatically changing and modernizing Korea, which helps set up the parallel tension in Dong-ho between connecting to the past his family through pansori and keeping up with modernity and pointing to a significant element of identity lost in the pursuit of the present.
Simultaneously, this becomes a story of Korea as the country rushes to embrace a modern future, shedding its poverty stricken post-war desolation for new and exciting advancements from the West. Meanwhile, as Korea hurriedly adopts the socioeconomic customs and materials of the Westernized first world, it risks losing its connection to the many traditional elements that have defined it for centuries, as well as possibly the voice of its heart, its "sori."
If there's anything that Sopyonje gains from its generous art-film pacing, it is plenty of time dedicated to the powerful art of pansori. Admittedly, it's probably going to be an acquired taste, but the moment that the first pansori singer in the film began her recitation (pansori is often used as a vehicle for telling traditional Korean stories), I felt chills running down my spine.
Written by and starring a devotee to the art, Kim Myung-gon, both he and fellow pansori singer Oh Jung-hae pour such passionate performances into the film that it's hard not to be awestruck. The film has several emotionally potent musical peaks, including a moment in the final act where Song-hwa, having lost so much, is desperately trying to drive her grief into mastery of the art so that she can at least have that much.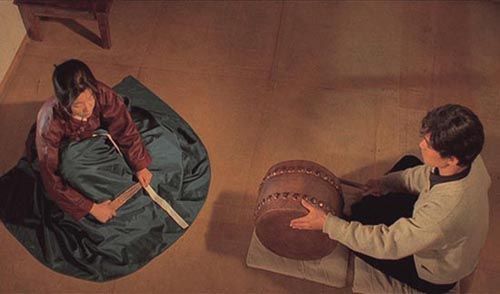 The film's finale is cathartically resonant, presenting director Im and writer Kim's own personal discovery of the value of this tradition in making the film as they give Dong-ho and Song-hwa's story a kind of closure.
The dialog in the film's final moments actually mentions "han," which drives home the overarching sentiment of the film. Han roughly describes a sorrow coming from helplessness and loss, which is a sentiment that Yu-bong and his children carry towards the music and towards each other, given Yu-bong's dedication to the craft and the sacrifices the family makes for the sake of it as well as the decision Dong-ho makes in light of the harshness of his life.
This "han" is an undercurrent of much Korean storytelling, even today, and exhibits itself in the popularity of melodramas and well as stories of separation, loss, and sadness. What Sopyonje does remarkably is make this complex concept of han perfectly accessible through the story of the family in this film, the story of pansori, as well as in the parallel story of Korea that it tells through this family.
Im Kwon-taek has some of his strongest directorial moments in this film, including a remarkable long single-take scene as Yu-bong, Song-hwa and Dong-ho travel across a country road, having lost their singing jobs again due to Yu-bong's pride, but find a moment of peace and even joy singing "Arirang" together. Im demonstrates a complete trust in his cinematographer, performers, as the genuineness of the moment, yet perfectly framing the shot as to capture the action through the whole performance while using the stillness of the shot to reveal some of the underlying han of the otherwise happy moment.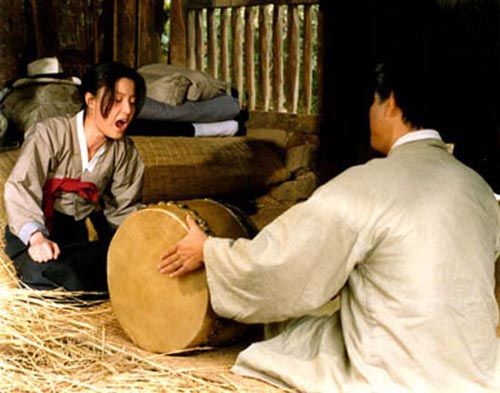 It's this combination of strong direction from the veteran Im with immense musical and acting performances from the pansori performers that really light up this story. Given its artistic strengths, the nature of the story, and the particular moment in Korean history that Sopyonje was released, it's not surprising in retrospect how the film struck a chord with the Korean people: it was telling their story through their roots and hitting a genuine underlying sentiment of the times through particularly empathetic storytelling.
Twenty years since its release, Korea has changed so much that it hardly resembles the world that even Sopyonje's present depicts, but the film remains just as relevant now as it did when it was released in 1993. The film posits that even as Korea marches further into the future, sacrifices are inevitable and loss unstoppable. But the same Korea that has struggled through invasions, war, and even division, can continue on perhaps even because of its way of dealing with this loss, the han, represented in Sopyonje by the pansori.
Sopyonje is a masterwork of director Im Kwon-taek: an indelible contribution to the nation's cinema that expresses the country's past and present and provides a window into its soul though its story while putting on display its moving pansori. It is essential viewing for those with a sincere interest in Korea and Korean cinema and a powerful art film on its own. 10/10.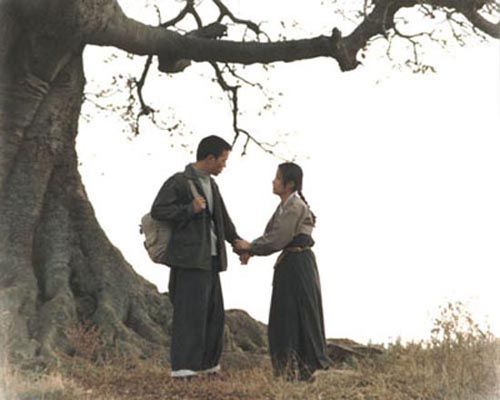 Tags: featured