Crazy Love is a hit for tvN, expands broadcast format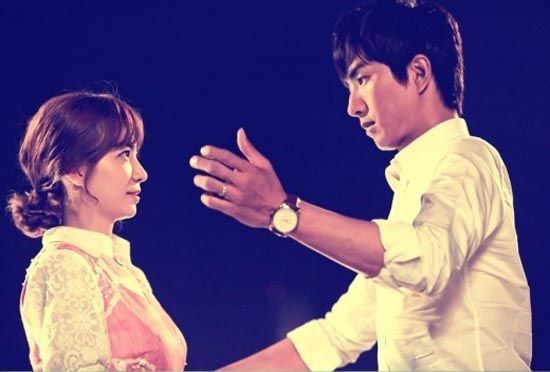 In addition to carving out a niche for itself with light, breezy rom-coms, cable station tvN has had pretty successful runs in their daily drama lineups. They're still new to the daily programming game, but they're off to a great start: Yellow Boots aired in 2012 and broke/set cable ratings records for daily numbers (with a series high of 5.9%). Glass Mask followed and didn't quite reach those heights, but managed well enough with a high of 3%.
The currently airing series Crazy Love is the next show in tvN's daily lineup and has been performing well. It was quicker than Yellow Boots to reach the 2% ratings mark (within its first week). As a result, the Monday-Thursday drama is expanding its format to be a Monday-Friday show, with five episodes a week rather than four. (Some "daily" dramas air Monday-Thursday while others choose Monday-Friday; both are common formats, but it's notable in this instance since the expansion comes with the increased demand and response to the show.)
Crazy Love is reportedly gaining steam as the romance (which depicts a "fateful love," naturally) heats up between leads Park Sun-young and Go Se-won. These daily tvN dramas tend to go for lots of dramatics and makjang plotlines, which I can see being fun to watch but are just not my bag. Still, good on tvN for establishing a character and a brand, and building gradually and smartly.
Speaking of which, one thing I've got to really commend tvN on as a whole (well, aside from creating many shows I enjoy) is that they've expanded wisely. They've been around since 2006, so they're not in the same category of those other "general-programming" cable stations that burst on the scene a year ago and got a bit overambitious attempting to compete with the Big Three right off the bat. (Remember Operation Proposal, Color of Woman, Bachelor's Vegetable Store, Vampire Idol?) Many of those stations faltered and have since had to back off with the original programming or find their own niches—MBN has better luck with current-events and variety programs than they did with dramas, and I don't hear much about Channel A or TV Chosun anymore (they air news, variety, and drama reruns). JTBC alone has had a steady run, though not even they escaped rough patches.
On the other hand, tvN started slowly with the occasional original drama, airing in late-night slots or on weekends, and then once it had a number of successes in that format (Joseon X-Files, Harvest Villa, Once Upon a Time in Saengchori), they expanded to prime-time (I Need Romance, Flower Boy Ramyun Shop). Having found firm footing in the prime-time game, they've been expanding with reality (Korea's Got Talent), variety (Grandpas Over Flowers, The Genius), and now sitcoms.
Crazy Love is currently up to Episode 57, just over halfway through its 100-episode order, and will add Friday to its broadcast schedule beginning next week.
Via TV Report
RELATED POSTS
Tags: cable programs, drama production, drama ratings, Park Sun-young