Dating Agency Cyrano: Episode 11
Ah, clues get filled in about the mysterious past haunting several of our characters, and why there's enough guilt, resentment, and blame to power a small city. Maybe a really unpleasant city. In any case, I was thinking this show would have to produce something pretty darned compelling to make the reveal worth all the cryptic setup, and I was worried it would get way too makjang to be worth the build-up. Thankfully I think the conflict works, adding depth to the emotional responses but not getting too heavy-handed with the dramatics.
SONG OF THE DAY
Dickpunks – "Viva 청춘" (Viva primavera) [ Download ]
Audio clip: Adobe Flash Player (version 9 or above) is required to play this audio clip. Download the latest version here. You also need to have JavaScript enabled in your browser.

EPISODE 11 RECAP
Seung-pyo requests the services of Cyrano Agency in winning over Min-young, although perhaps requests is too mild a word, since he and Byung-hoon are engaging in a glare-off the whole way through. Min-young and Arang can see the confrontation through the window, though they can't hear and are left wondering at the animosity.
Byung-hoon asks if Seung-pyo is so lacking in confidence that he'd need other people helping him. Seung-pyo doesn't let the jibe corner him and answers that yes, he's got a soft spot where Min-young is concerned and he'd like to take whatever help he can get. He gives Byung-hoon time to think it over and stalks out with his tough face on… and then slumps over once he's outside, like it took all his energy to put on the fierce front.
Time to turn their attention back to the case of the week, with the reluctant firefighter Chul-soo backing out of his date with nurse Hae-shim. He was seen meeting a woman at another fire station—his previous workplace—and it turns out she's the fiancée of a firefighter friend who died in the line of duty. Chul-soo, the friend, and the woman had been a tight trio until the friend died, and hm, this setup rings a bell…
The day of the abandoned date, Chul-soo met the fiancée and headed down to his friend's grave. So despite his interest in the nurse, he hurried off anyway.
Nurse Hae-shim is disappointed when Chul-soo doesn't come by to the hospital anymore. Byung-hoon and Min-young are on it, and head over to the gym to find him.
Byung-hoon takes one look at the buff firefighters pumping iron and blocks Min-young's path, telling her to wait outside. He makes up the lame excuse that it stinks of sweat so he's sparing her the ordeal, and I do enjoy that he's satisfied because he's kept her away from all the hard bodies (and, more importantly, the feeling of inferiority that inspires in him) while she's pleased at this sign of consideration. I guess this is what they call a win-win.
So Min-young agrees to wait outside, while Byung-hoon assures himself, "It's okay. My face and brain are sexy." Yes, that's true, but it's also hilarious how he looks askance at all the abs and sniffs that they're too busy working out to put out fires.
Yi-seol drops by the agency unannounced and finds it locked. She recalls Byung-hoon telling her that the theater is partly hers, so she takes out the key to let herself in.
Seung-pyo happens by and helps her when she drops the keys. But then she asks, "Are you by any chance… Seung-pyo?" Ooh. Interesting. Well, this scratches the brother theory out.
Byung-hoon introduces himself to Chul-soo as a specialist in PTSD (post-traumatic stress disorder), giving the wrongful impression that he's counseling the fiancée in the wake of her loss. I know he's not a real shrink, but shouldn't there be more suspicion about patient confidentiality breaches? Chul-soo doesn't question the explanation and says that she's having a hard time and could still blame him for his friend's death.
But it seems more likely that it's Chul-soo who's still haunted by blame, because he says that while his friend was dying in a fire, he was out on a date. Ah, that would explain his guilt reflex. It's worse because he should have been on call that day. Hence he decided to devote his life to firefighting, and not leave anybody behind like his friend did.
Those words resonate with Byung-hoon, who falls into flashback to the time he was working on a show in England. He argues with his best friend Do-il on the phone, telling him not to come because he's so swamped that he won't have a chance to talk. Over the phone, he hears Yi-seol urge, "Tell him we're on the way to the airport." But then there's the sound of a terrible crash, and we all know what happens next.
Seung-pyo and Yi-seol chat at the restaurant, and we get a few more hints about his identity, but not the whole enchilada. They would have met on the day of her wedding, and thus Seung-pyo didn't expect her to recognize him now. She asks if Byung-hoon knows who he is. He says that he mentioned it once, but Byung-hoon appeared not to recognize him so he didn't say anything further. He asks her not to tell, either.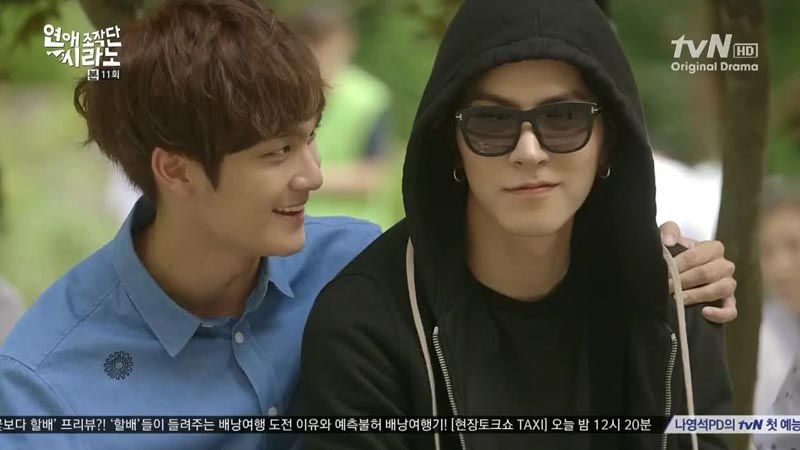 Moo-jin and Arang head over to the hospital and keep Grandma company. She mentions his super-pretty girlfriend, and Arang guesses that's why he was so fixated on that heart rate monitor. Moo-jin smiles and says, "Now I know without looking at it." So cute.
Byung-hoon and Min-young get back to the agency and find it open, and inside is a furious-looking Yi-seol who has figured out what the agency does. She asks how Byung-hoon could mess around with the theater like this, adding accusingly, "Don't you feel sorry to Do-il at all?" Yes, clearly he's so unaffected by that death that he's developed this whole emotional paralysis for nothing. Yeesh.
Min-young tries to smooth things over in her well-meaning way, but that just makes Byung-hoon snap at her to butt out. She does, though his harshness hurts her feelings.
He says that the theater will make its comeback, but Yi-seol argues that he's always like this—doing everything on his own, without ever once being honest with either her or Do-il. He asks what that would have accomplished, and she says, "At the least, the three of us wouldn't have turned out this way." Oh, that's the least, huh? Gah, starting to hate her now, whereas before I just didn't care.
He concludes, "So you think it's all my fault too." She doesn't have an answer for that, which is enough of an answer.
After she leaves, Min-young urges him to explain the full truth—that he's running the agency to pay off the debts that Do-il left behind. But he says that Yi-seol believes the debt was settled, and telling her would just worry her.
Min-young asks tentatively, "Do you still… like her?" He asks why she cares to know, and tells her that she ought to put a lid on her nosy interference. He leaves her feeling dejected, and she notes, "He didn't say no."
Byung-hoon sits in his empty theater and sighs, "I want to produce shows too." It'll only be a little bit longer, he says.
Min-young trudges out of work, thinking wistfully that chatting with Seung-pyo used to be the best for days like this. Today she just walks on, which goes noticed by just about everyone in the restaurant. In particular the two loan shark minions, who decide to get involved.
They step right into Min-young's path, looking like gangsters but sounding like twelve-year-olds as they ask, "What do you think of Master?" They rattle off his positive attributes, like how he's good-looking and tall and rich. She guesses that they knew Seung-pyo from before the whole supposed debt (which they're terrible keeping a straight story about), and Minion #1 blurts, "How could we have known hyungnim?" At the hyungnim slip, Minion #2 chides, "What are you going to do if hyungnim finds out?" Ha.
They plead for her not to let on that she knows, and she agrees. They're so relieved that they take back their earlier words about Min-young being a "downgrade" of Seung-pyo's taste in women, and vow to help the couple get together. These two lugheads are such doofs, but cute.
Nurse Hae-shim decides she's tired of waiting for Chul-soo to come by the hospital, and goes to the fire station. It's with surprise that he finds her passing out drinks to the firemen, and he mumbles his way through the request to stop coming by like this, which he finds burdensome.
Hae-shim replies that it would be nice if he returned her feelings, but she's happy enough just to have those feelings on her own: "So can't you just accept what I give?" Does he like someone else? He assures her that he doesn't dislike her, but that he's not in a place to date anyone.
Chul-soo's co-workers give him some guff about rejecting a good woman, and then he gets a call from his friend's fiancée. She shows Chul-soo an old pair of musical tickets, which are her proof that he shouldn't blame himself for switching shifts and getting his friend killed. Actually, she'd gotten his on-duty days mixed up, and told him to swap shifts. She admits that she hadn't told him about the swap all this time because she didn't want to feel alone in her loss, and apologizes.
…and then, we see her with Min-young, marveling at their skills in mocking up such realistic old tickets. She's happy to do whatever she can to help Chul-soo, because Min-young has presented herself as part of the fire station's counseling program helping Chul-soo work through his grief.
Byung-hoon follows Chul-soo into the elevator, which then gets roped off with a construction sign. Byung-hoon feigns shock when the elevator stops, and watching from the surveillance van, Min-young notes that the boss sure has terrible acting skills. Moo-jin decides, "We have to help him act more realistically." HAHA. I don't even know what you're going to do but I'm all for it.
Moo-jin gives the elevator a few extra shakes and drops, though it doesn't cut down on Byung-hoon's hamminess. He rips out a piece of notepaper and asks Chul-soo to convey his last words to his beloved in the event he should die, then bangs his head on the wall, asking, "Why did I not say these words before? WHYYYY?"
Byung-hoon pours out a few anguished "I love you"s with an eye on Chul-soo, who seems to be swayed by his regrets about never having said the words to his loved one. Byung-hoon clocks his response and sends a wink at the camera, straight at Min-young, who gets a little moony-eyed in response. With the seed thus planted, the elevator doors open and let the men out.
Byung-hoon exclaims that he feels he's been given a new lease on life. He comments that Chul-soo is well-prepared mentally for the future (say, in the event of his death), and therefore he has nothing to fear. So why not live in the moment, with the person you love? That's the best thing he can do for himself.
Seung-pyo broods, his thoughts on his meeting with Yi-seol, which we see in flashback: She comments on his very dramatic first meeting with Do-il, back in the days when Do-il had been taking out loans left and right to keep the theater afloat. Yi-seol sighs that she'd been so glad when she heard the debts were cleared, which puts an uncomfortable expression on Seung-pyo's face. I wonder if he isn't telling her because it isn't his place, or if it's because it would make Byung-hoon's life easier, and clearly Seung-pyo is not in the business of making Byung-hoon's life easier.
But Seung-pyo says that it was "thanks to that" that he got his head on straight and set up the restaurant. I have an automatic skeptical response to anything Seung-pyo says but I can credit this for being truth, that perhaps after Do-il died he realized he didn't want to live as a loan shark anymore and threw himself into his new livelihood.
Almost on cue, Chul-soo pulls up to the hospital just as Moo-jin is apprising his grandmother of the latest developments. She chuckles that all they need is a kiss scene to finish off this scenario, and Moo-jin sets the mood with a song (product placement opportunity!).
Chul-soo takes Hae-shim aside and starts with an explanation of his friend's death, and how he decided he wouldn't fall in love and leave behind anybody to grieve for him if he died. But he's found a reason to change his mind, and he apologizes for making her wait.
Hae-shim takes a long moment to absorb his explanation… and then laughs. In a cavalier tone, she says she was interested in him because he said he never looked at women, then scoffs that this was "too easy." She'll pretend they didn't have this talk, she says, and saunters off to work.
Huh. That's unexpected. There's gotta be more to this plotline, right?
Standing in the empty theater, Seung-pyo relives the moment he first saw it, back when he was in the loan shark business. Past Seung-pyo comes upon Do-il (aw, cameo by Lee Min-woo), who's on the phone arguing with Byung-hoon to come back to Korea. Do-il says that he's figured out a way to settle the problem, and now their theater can produce the plays Byung-hoon wants to produce. To that end, Do-il insists on flying over to England right away to talk him into returning.
Byung-hoon finds Seung-pyo standing there and asks what he's doing, loitering in someone else's theater. Seung-pyo dissects that: "Someone else's theater? I don't think you're in a rightful place to tell me it's someone else's theater."
Seung-pyo reminds Byung-hoon that he's waiting for his answer about taking his case. But he makes a barbed comment about the former theater owner, and how Byung-hoon wouldn't be standing here if he hadn't died.
Byung-hoon warns Seung-pyo that he's running his mouth off about things he knows little about. Seung-pyo challenges, "I don't know what I'm talking about?" Seung-pyo just fumes and fumes until Byung-hoon dismisses him, saying, "If you've got nothing else to say, please leave my theater."
That pushes his anger over the edge, and Seung-pyo shoves Byung-hoon against the wall. "Then shall I tell you what I know?"

COMMENTS
The romance of the week is a little odd this time around, because even though I'm expecting that it's not over yet, I don't really care about the nurse and the firefighter. I do appreciate that it gave us a twist at the end, because otherwise it would have seemed too plain and straightforward, and inserted purely as metaphor fodder. After all, its real purpose was to set the stage for the past conflict to come to the fore, and to force Byung-hoon to address some of his own residual guilt. And on that front I think it works pretty well. I'm not all torn up with the emotions of it all, but I can understand how things came to be the way they are now.
I'm also relieved that there is much more to Byung-hoon's lingering survivor's guilt than mere first love feelings. Because yes, first love is painful and unforgettable and all that, but at a certain point you're kinda like, Dude. The living have to keep living. Move on. It's especially so in this case where we aren't given much context for his feelings for Yi-seol; we just know that was the case. (As opposed to the kind of drama where the first love setup is really laid in there.)
And to add to that, I'm glad that there was a more compelling reason than feeling guilty for the car crash, because while I get that, it's just not enough. You're all adults, and shit happens, and it's not your fault your friend was in an accident on his way to see you. But when the episode revealed the reason for the visit, well, I admit my heart gave a little squeeze, and that was the mark of a great conflict.
Because yeah, Byung-hoon was selfish and self-absorbed, as all of his friends have pointed out, and fixated only on his career. So when you see that Do-il ran into debt to save the theater, so that he could bring Byung-hoon back, so that they could work together… awww. That's sweet, and a goddamned shame.
I'm curious to see where Seung-pyo fits in, because up to the point where he first meets Do-il, he seems like a sharp, cold-hearted mofo. What changed? What made him identify so strongly with Do-il that he wanted to mend his ways, set up shop next door, and now hold Byung-hoon responsible for the death? I don't really think he's intent on revenge, at least not as an end goal; I'm more inclined to believe that Seung-pyo can't help his hate from bubbling up and needling Byung-hoon whenever they butt heads.
The backstory also gets me understanding Yi-seol's blaming Byung-hoon, to a limited extent (it's misplaced, but I get it), and also Byung-hoon's current burden. It's why he's determined to save the theater and bring it back, and why he's taken on the debt as his own. He owes his buddy, and while reviving Cyrano isn't going to bring back the dead, maybe it helps to mitigate the loss. Maybe he didn't die for nothing then.
RELATED POSTS
Tags: Dating Agency Cyrano, featured, Hong Jong-hyun, Lee Chun-hee, Lee Jong-hyuk, Sooyoung