Dating Agency Cyrano: Episode 16 (Final)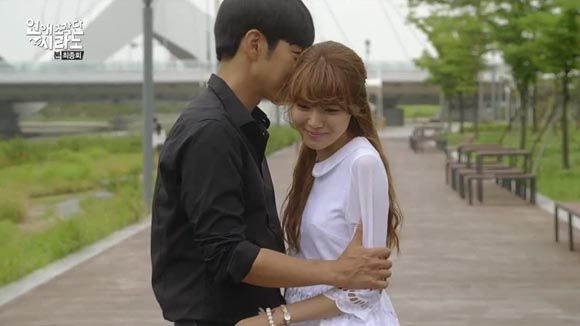 Oh phew, this series ends on a high note. I was worried when yesterday's episode took a precipitous dip into crazy dramatic territory, but the resolution is full of sweet and cute, which is really what Dating Agency Cyrano is all about. It's a big relief to see the show getting back to the rom-com, and doing it in a thematically resonant way as it ties up the Cyrano connection.
SONG OF THE DAY
Baek Ah-hyun – "Because of You" [ Download ]
Audio clip: Adobe Flash Player (version 9 or above) is required to play this audio clip. Download the latest version here. You also need to have JavaScript enabled in your browser.

FINAL EPISODE RECAP
Min-young wakes up in the theater, still tied up, still gagged—only now there's a flashing countdown clock hanging around her neck. Must be Mr. Crazy's bomb. She's been stuffed behind a grate into what looks like a crawlspace in the main theater wall.
Seung-pyo arrives first and runs in, but sees nobody. He calls Byung-hoon, who's en route and directs him to look on the roof, while Min-young watches him run off helplessly, trying to make some kind of noise.
Seung-pyo finds the roof empty too, and while his back is turned Mr. Crazy rushes him with a baseball bat. Byung-hoon can hear the sounds of the scuffle over the phone and drives faster, though thankfully Seung-pyo can hold his own. Thank you, gangster past.
Mr. Crazy laughs in his face and calls him stupid for going to such lengths for a woman in love with someone else, but Seung-pyo just wants to know where Min-young is. The fight heads indoors and Mr. Crazy tosses out a few lies about where he's hiding Min-young. Thankfully Seung-pyo is on his guard after that cabinet blew up in his buddy's face, and he pushes the perp along ahead of him.
Min-young manages to make a thump with her foot, and that's enough to get Seung-pyo's attention. He sees her shoved behind the grate… and turns his back on the perp—and his knife. Ack! Don't ever turn your back on Crazy!
Byung-hoon arrives at the theater, staggering from the ordeal of forcing himself to drive, and Moo-jin joins him. Not soon enough, though, because Seung-pyo gets a knife to the side. Eeeeek. I didn't think they were actually gonna stick him!
Seung-pyo fights back and knocks Crazy aside, then collapses clutching his abdomen. When Byung-hoon and Moo-jin rush in, he gasps out where Min-young is hidden, and they find the opening to the crawlspace.
They're so fixated on pulling her out that they don't see Hawaiian Shirt reaching into his pocket to pull out his bomb remote—what did I say about turning your back on Crazy?. Seung-pyo does and tries to make a grab, but he's weak and bleeding. Crazy gets Byung-hoon's attention, announces the "beginning," and presses the button. Beep. The timer starts counting down—ten minutes till boom.
Byung-hoon orders him to disarm it, but Crazy laughs that he doesn't know how—he just learned how to make it. Moo-jin gets busy examining the bomb and says he may be able to stop it… but since he's not sure, they'd all better get out.
Those words heighten Min-young's panic, and Byung-hoon sits by her side and says reassuringly that it'll be okay. Poor Seung-pyo, bleeding on the floor watching, while his heart gets trampled for good measure.
Moo-jin manages to disable the bomb with a few minutes to spare, and Min-young rushes to check on Seung-pyo. He tells her he's fine, obviously not fine, and adds that he's glad that she's safe.
Soon the police arrive and Seung-pyo is loaded into the ambulance. Now it's Byung-hoon's turn to look sad when she goes in the car as Seung-pyo's guarantor.
Mr. Crazy is escorted out in handcuffs, and tells Byung-hoon that it's not over because guys like him will have to pay for messing with people's lives. Byung-hoon just agrees with him, though, saying that it's a tough job moving people's hearts, especially when he can't even move his own. What really moves the target's heart is the client's sincerity. Ha, Min-young wins this round, even if she's not around to witness it.
Everyone convenes at the hospital while Seung-pyo undergoes surgery, and his two goons rush in crying about hyungnim's plight. At least Junior Goon is, but Senior Goon chides that there's no shame in a man begging on his knees or getting stabbed to save his woman.
The surgery is successful, and now they can relax. When Byung-hoon returns to the theater after his trip to the police station, he finds Min-young asleep at the table, having waited up. He thinks of Yi-seol's prodding—that Min-young was the reason he was spurred into action—but also of her emotional reaction to Seung-pyo's injury.
In the morning, she wonders where he is and hears that he's already out and about. Arang tells her how worried Byung-hoon was when she went missing, and encourages her to not give up on her feelings.
Seung-pyo's faithful goons are at his bedside, and inform him that the gangster boss dropped by—he's not going to hold him to the earlier promise.
They adorably clear out in a flash when Min-young drops by. She's grateful and thankful, naturally, but he jokingly warns her against saying that any more than she already has. Aw, and then his face falls a bit when she asks if Byung-hoon has been by, disappointed.
Byung-hoon is currently visiting Do-il's grave, where the headstone is marked with a Cyrano de Bergerac quote. He says Do-il has a cool kid brother, then adds, "I think I'm going to end up repeating the same thing." Aw. Let me guess—you're going to stand aside and let the other guy get the girl?
Byung-hoon drops by the hospital later that night, and now that the big drama is over I find it pretty cute how they're back to their gruff ways—they still don't like each other, but it's rather unsporting to continue the antagonism in light of things, isn't it? So Byung-hoon manages to say an apology, with a straight face and everything, but he does it quickly and with his face averted. Seung-pyo can't quite believe it and asks him to repeat himself, so Byung-hoon restates his apology—quickly and with his face averted. Haha.
Seung-pyo comments that it's just about worth being stabbed, just to hear him saying he's sorry. Heh. And now Byung-hoon declares it time to head into the final stage of their mission. Seung-pyo points out that he's already been rejected, but he isn't going to argue against it, though he does ask why—is it because he feels sorry?
Byung-hoon answers, "No. It's because I don't think she'll be able to find a better man than you."
Min-young catches Byung-hoon outside the theater on his way in, and thanks him for his help. She tries to broach the topic of their relationship (or, at least, their feelings), but he's back to his curt mode, diverting her thanks to Seung-pyo instead of himself.
She tells him she heard his conversation with Yi-seol during her kidnapping, when Yi-seol had urged him to come clean with his feelings. He tells her soberly, "I can't be a good person for you."
On to the final step. Byung-hoon sets the stage with beautiful scenery and watches grumpily from his van while Seung-pyo and Min-young take a walk. Arang and Moo-jin wonder if he's really going to go through with this, then both refuse to participate. Aw.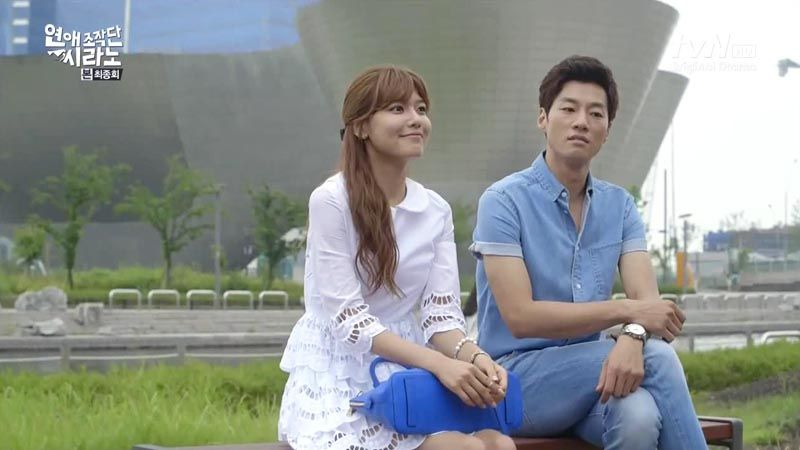 Seung-pyo begins his confession speech by recalling the day they met, and how he'd watched her hovering outside the agency and laughed. "That was the when you first came into my heart," Seung-pyo recites. It's Byung-hoon feeding him the lines from his own heart:
Byung-hoon/Seung-pyo: "Before I met you, I thought loving someone was something I didn't need in my life, because I was living as though tied up in my past. But thankfully, you found me first. I didn't let on, but seeing you every day made me happy. After you arrived, every day was enjoyable. That feeling—that somebody I might've lived never knowing was becoming more precious than myself…"
By this point we get intercutting scenes of both men and their encounters with Min-young, since the speech really does suit Seung-pyo's trajectory, even if he isn't the one crafting it. And Byung-hoon finishes up by saying, "If not for you [Rockhead], I might never have felt that."
Seung-pyo pauses before taking that last line… and it's with a bitter smile that he repeats it word for word. Aw! He purposely keeps Byung-hoon's nickname for Min-young intact—he's throwing the match.
She realizes what's happening and starts looking around for the camera, finding it in the lamppost. "Coward," she calls him, for ignoring what she said and doing this anyway.
He says into his mic, "Because I want you to be happy."
Seung-pyo chimes in, "Coward is right. If you really want the person to be happy, shouldn't you do as they want? And not as someone else plans?" The words may as well be directed toward himself as much as to Byung-hoon.
He gets up and says to the camera that maybe Byung-hoon needs to lose her in order to come to his senses… and then the camera screen blacks out and Min-young screams. Byung-hoon panics and runs out of the van to charge in…
…while the two conspirators smile at each other, totally having planned this. Oh cute, they out-Cyranoed Cyrano.
Byung-hoon finds them standing there perfectly fine, and Seung-pyo says that he was all set to go along with the plan if Min-young seemed at all partial to him. But nope, he'll have to give up. He tells Byung-hoon to be honest with her directly, and not hide behind his mission.
What endears me to Seung-pyo in this moment is that he's totally playing the hero role, but not accepting the hero praise/sympathy that comes with the move. He just warns Byung-hoon that he'd better not assume Min-young will stay with him forever, and that he might lose her if he gets complacent. And if he really wishes for her happiness, he ought to consider what she wants. Then he makes his cool not-a-hero exit.
Byung-hoon tells her that she'll regret letting a man like Seung-pyo go. She replies cheekily, "If you let a woman like me go, you'll regret it too." Touché.
Even now, he can't do the cheesy romantic thing and concedes, "If being with me makes you so happy, then do that." Lol. She has to scoff in his face, "That's it?"
She pesters him for something, some kind of romantic declaration that she can remember forever. Arang and Moo-jin put in a bicycle drive-by to shove them together, and he concedes, telling her to listen up good since it's just this once. So Byung-hoon leans in to whisper into her ear, and whatever he says makes her glow and throw her arms around him.
Aww, and then the goons chime in with their two cents, by skulking close with their huge cloud of balloons, which they release behind the hugging couple. The goons sigh that it's too bad Min-young didn't respond to Seung-pyo's grand confession, but Junior Goon says that Seung-pyo at least looked super cool today. Senior Goon corrects: "Hyungnim is always cool, always!"
Arang wonders what would've happened if Seung-pyo hadn't taken action, but Moo-jin supposes it would have still worked out for the couple, "Because her sincerity would have moved his heart."
Back at the theater, Byung-hoon collects the agency files to put away, now that he's shutting down their services. Min-young prods him to keep it going, arguing that they do good work. He rejects that flat, saying that he's going to focus on new stage productions exclusively from now on. She can be his assistant, he says, and then bans her from his office for the next month while he works.
Pouting, Min-young heads out with the files to be trashed and pauses to read the bulletin board with all their mission plans on it. She gets a little teary-eyed to think it's over now.
Seung-pyo moves on with his new career and gives cooking lessons, and from the way his class is packed with admiring young ladies, I'm gonna guess they're not very much interested in the cooking part.
Moo-jin has been trying to call Hye-ri to no avail, and she's moved out of her apartment as well. He finds her working at a new restaurant, saying that while he likes cute girls, he's not too fond of the ones who run away. But he's willing to overlook that, and assures her that he doesn't hate her. He makes her promise not to disappear again, and hands her theater tickets… and her pink bike helmet. Cute.
The show is, appropriately, Cyrano de Bergerac. Both Seung-pyo and Yi-seol arrive on opening day, as do Moo-jin and Hye-ri. The two goons have roles in the play, which is sweet given how much they enjoyed acting during the missions. So does Arang, who attracts the notice of his co-star, who confirms that he's single.
Byung-hoon watches as the play gets underway, and from the audience reaction it's a hit. He wonders where Min-young went…
…just as a woman enters the theater from the back entrance and asks, "Is this the Cyrano Agency that makes love come true like magic?" HA! Min-young's totally gone rogue, and even tweaked the Cyrano catchphrase (which used to be "so secret that no mouse or bird will hear it").
Min-young welcomes the prospective client, just as Byung-hoon interrupts to remind her that they'd closed shop. She chides him not to turn away a client who's already here, and when he starts grumbling his protests, she shuts him up with a kiss.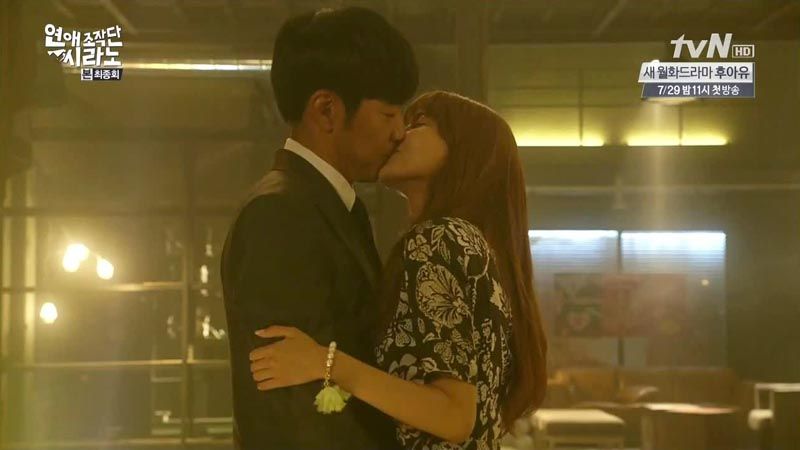 Min-young's ending narration echoes the voiceover that started the series, with her statement that all people have in common the dream for romance. As we see clips from all the cases they've worked on, she allows that while the dream sometimes ends sweetly for the pair who come together to create their own universe, sometimes it ends in pain and hardship.
She concludes, "But giving up is prohibited! Because when you gather those moments together, in the end they'll bring you to your true mate. And at Cyrano Agency, I made my universe, my romance."
And when she ends the kiss, Byung-hoon grabs her close for another.

COMMENTS
Yesterday's detour into kidnapping and bomb threats was a decided low point, yes, but thankfully it was a one-episode stop to Crazytown before we got back on track for the much improved finale. As I said, yesterday's developments felt in keeping with the plot progression, so it was really the sudden tone shift that was jarring. Too much whiplash, going from upbeat romance to crime thriller in one forty-five-minute chunk.
What the finale does that Episode 15 faltered at is wrap up the thematic elements and resolve our character arcs in a neat and satisfying way without sacrificing tone. I really did enjoy how the romance played out, and while it wasn't hugely surprising, I like that there was a bit of a twist on the twist—that Byung-hoon would repeat his prior decision and then get outmaneuvered by everyone. Ha!
Let's take that in pieces. First, Byung-hoon's decision to ultimately withdraw. Aside from being nobly stupid (a familiar hero's affliction), it does fit with his character and sets him up for tragic fool-dom. The first time he stepped aside, you could see why he chose that path and lived with it, and even though he later regretted it, he didn't know in the moment how he would come to feel later. Plus, I don't think he would have chosen differently even in retrospect. The second time, he knows exactly what he's setting himself up for since he's lived it once already, which makes the decision both stupider and sweeter—it's a conscious sacrifice, albeit misguided. Because it's always annoying when people decide things for other people "for their own good."
But thank goodness everybody else has better plans, and they conspire against the mastermind. The mission-within-a-mission wasn't a mind-blowing twist of Keyser Soze proportions, but it was a nice tweak to an expected conclusion. In fact, it single-handedly makes the kidnapping plot less terrible (mind you, it's still terrible) because the ending beat is no longer "Boy almost loses girl, realizes he loves girl, keeps girl." That's fine and all, but rather simplistic. Instead we develop an added character layer when you have "Boy almost loses girl, realizes he loves girl, decides he loves her so much he'll send her away, then is outsmarted by girl and friend and foe because boy really needs a severe kick in the pants. Kiss and fin." I like version 2 much better.
Overall, Dating Agency Cyrano was a really refreshing summer romance that always breezed by in a flash and was super easy to watch. It felt perfect for the moment and was just the thing to mitigate the stress of a packed season, drama- and life-wise. The tvN rom-coms have been pretty solid across the board, but I admit to being wary of the endings; when Cyrano hit its last-stretch lag I had flashbacks to Flower Boy Next Door's finale slow-down. So I absolutely don't take for granted that I got a fizzy, gratifying end to a series that made me smile for the couple and wish good things for all its characters,from the lonelyhearts second lead down to the doofy loan sharks who just want to act. Except Mr. Crazy, that is. He can get dumped away into the Never Happened Nope file. At least for this drama, it's a pretty slim file.
Granted, not all the romances ended well, and we didn't ever see a resolution to Chef Mi-jin's blow-up after discovering the agency's role in her romance. It's likely that doesn't end with a kiss and a smile, but I'm okay with that, and perhaps that beat was a necessary one to allow us to have the agency up and running again—they'll have a fresh reminder to keep in mind that while they do engineer scenarios, sincerity is always the goal. Nobody's interested in manufacturing love out of thin air, not that it's even possible. And even when you succeed in conveying those feelings, it's up to the couple to keep the romance alive, day by day.
RELATED POSTS
Tags: Dating Agency Cyrano, featured, Hong Jong-hyun, Lee Chun-hee, Lee Jong-hyuk, Sooyoung