Heirs adds Kang Haneul, Park Hyung-shik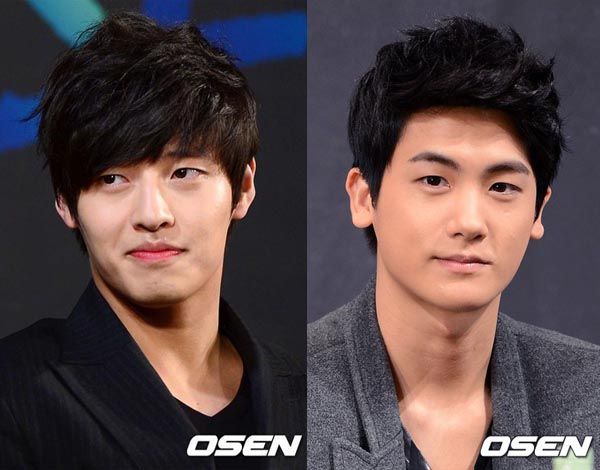 Are you tired of hearing about Heirs yet? I know, I know, there's been a lot of news, only it's not really that much real news, and the drama's still months off. I wouldn't blame you if you were sick of Heirs already and it hasn't even begun shooting yet.
But I'm not gonna lie, I'm so totally not in that camp, because this show is probably going to be my crack of the year. At least I hope so, since I've had a decidedly crack-deprived year thus far and I miss the high. Some shows have produced minor buzzy effects, but nothing in the realm of the full-on, heart-pounding, I-dream-of-potential-plot-developments-at-night brand of addiction that has you craving your next hit.
Okay, Imma stop talking like a scary junkie now and move on to Heirs, which already has a pretty shiny cast of beautiful, popular, and talented stars: Lee Min-ho, Park Shin-hye, Choi Jin-hyuk, Kim Woo-bin, and most recently Krystal. Now two more up-and-comers are in the mix, both with recent cable hits that have boosted their name recognition: Kang Haneul of Monstar and Park Hyung-shik of Nine and idol group ZE:A. (Kang Haneul is confirmed, Park Hyung-shik is not.)
This should be a great stepping stone for Kang Haneul, who will play the son of a police chief who is smart, handsome, and student body president. Soooo… just like his Monstar character? Granted, that's not a bad type of character to reprise, since he's currently fluttering hearts and winning over viewers as the smart, musically talented, all-around perfect Big Man On Campus. And while the Monstar character isn't really doing it for me (I know, I tried, but his brand of disdainful hauteur keeps me from warming to him), he certainly is doing a good job in the role. As a bonus, it's giving him lots of opportunities to show off his musical talents, which he honed first on the musical stage.
I thought Park Hyung-shik was a little green but promising in Nine, where he played the younger version of Lee Jin-wook's time-traveling hero. He is reportedly in negotiations to work out his schedule with the show after receiving the offer and meeting with the writer. Time conflicts were supposedly why he dropped Master's Sun recently, but Heirs will be a few months behind that show's timetable. His would-be character is a chaebol heir, which, dur. They're ALL heirs! That's like saying there are rich people in Gossip Girl. Will they all have eyes and hair and speak, too?
Heirs will premiere in October.
RELATED POSTS
Tags: Heirs, Kang Haneul, Park Hyung-shik