Monstar: Episode 11
It's an episode where we finally learn almost everything we've been waiting for, and yet still leaves us wanting more before the finale. Or is it wondering more? Maybe it's because we continue to move at a snail's pace to get to the answers that seem like we're getting somewhere, only they're still very much shrouded in mystery.
EPISODE 11: "I loved my friend's friend…"
In the restored courtyard, Se-yi confides in Ajusshi with how she's been distracting herself with other thoughts ever since her mother's return. When he asks if she's confused about Seol-chan again, she sheepishly replies that that's taken care of.
She wonders if her mother felt the same butterflies in stomach feeling when she first met her father. "But why… why did [her feelings] change?" He doesn't answer.
She asks if there's ever been a moment in his life he would want to turn back to. For her, it would be when she overheard her mother confess that she once loved someone else at her father's memorial. If only she hadn't hid in the corner to hear those words…
Just then, their conversation is cut short and Se-yi heads down to the basement with the others. A brief mention of a high school music battle program excites them, and they laugh while sharing dessert together.
The ajusshi contemplates Se-yi's question outside. A flashback shows us the night he drove a young woman home and left Se-yi's mother behind. From the look he sends her before getting into the car, it seems like he deliberately did so for her to see.
He thinks to himself how if he had to redo that night, he wouldn't have driven that woman home. When Sun-woo shows up, the ajusshi stops to ask where he might be able to find the Thai musician Nawin.
We get a serene musical interlude in the basement as a few band members practice in the basement. It's a nice callback to their earlier imaginative setups with Kyu-dong at the keyboard and Do-nam on the drums.
Also, they're both surprisingly good at their respective instruments despite the short time they've spent to learn them. But we'll just run with it, eh?
Se-yi hums along to the tune of Lee Ji-yeon's "Wind, Please Stop Blowing" as she studies outside with Sun-woo. She starts singing when the band starts over again, and Sun-woo joins in to a soft duet.
In the car, Seol-chan thinks of his childhood memories with Sun-woo, and loses his manager in his own musings about how he feels sorry about something he shouldn't have to feel sorry about.
They pull up at Ajusshi's place just as he's leaving, and Seol-chan stops him to ask if he knows how to play the guitar. He does, and then Seol-chan mutters under his breath: "She really does like every guy who plays guitar." Hee, I love his petty jealousy.
He asks if Ajusshi is willing to teach him, but gets gruffly shut down. "I don't teach just anyone."
Seol-chan heads inside to join the others and smiles to see Se-yi, but then awkwardly stiffens at the sight of Sun-woo.
Then it's like we're introduced to an entirely new Eun-ha, who now speaks to Seol-chan like any other guy friend and pegs him with questions about his fellow idol group member, Arnold, instead. (The same one from the fanfics). Well, look who found herself a new Oppa.
Seol-chan follows Sun-woo outside, and starts to speak before he thinks better of it. Then Sun-woo asks if something happened with Se-yi, having picked up on the awkward tension between them. Seol-chan denies it.
Seol-chan heads back inside where a refreshingly frank Eun-ha asks point-blank what he's doing here. She coolly adds that he may as well help out with practice by singing for them. The song? Lee Seung-cheol's "I Loved My Friend's Friend."
Seol-chan freezes at the title, and the air grows noticeably tense. He tries to wriggle out of the favor but that's a no go since Eun-ha clearly remembers when he performed that very song onstage about a year ago.
Her smirk when she realizes she's got him cornered suggests that the song was a deliberate choice. He hesitates at first, but then sings into the mic: I couldn't love my friend's friend / Should I say that I want you / Or should I close my eyes, turn my back to you and confess my feelings for you.
His voice carries as we get a brooding montage which includes Se-yi's mother. Then we see Ajusshi walk up to where Nawin is performing, only to run away a moment later.
Back at the company, Seol-chan isn't happy to hear that he's been handpicked to feature in Ari's new song for a goodwill project.
He doesn't seem at all convinced about the details, to which Manager Hong adds in a whisper that it's a collaborative project by the company presidents. So basically a publicity stunt to show the public that the two companies are chummy with each other.
He asks if he really has to go through with it later in the car, only to be reminded that he has a star image to uphold. He returns to his room in a dejected mood.
Se-yi talks with Eun-ha over the phone as she walks home. She listens as her friend rambles on what it means to be an anti-fan (while she replaces Seol-chan's photos with her new celebrity crush, ha) and that her fangirl love for Seol-chan is no more.
Eun-ha tells her that she did feel sorry for making Seol-chan sing today, but thinks that Sun-woo's a better person in comparison. Surely Se-yi knows that the class president likes her, right?
She interprets Se-yi's silence as surprise, though I'd say Se-yi's more shocked that everyone else knew of that fact before she did. Eun-ha calls her friend dense for not clueing in sooner.
Se-yi quickly hangs up when her mother appears by the steps, and she remains distant and cold when speaking to her. However, she does turn to ask why her mother did it.
Meanwhile, Sun-woo is still in the basement. He picks up a guitar and starts playing Kim Yeon-woo's "Wind, Where Are You Blowing From?"
As he sings, the lyrics speak of how the wind blows to heal the scarred memories of his confession: Sometimes being alone is like a stigma that can't be erased / Living is making me into a sinner. By the end, we see his eyes glazed with tears.
Just then, Nana arrives for her bass lesson. Sun-woo compliments her on how fast she's learning, and they hold two different conversations as he teaches her something new. He tells her that she'll be able to pick it up right away since it's not that difficult.
Nana replies, "It looks hard." By that she means that it looks like he's having a hard time, and wonders if she should continue to ignore what's going on.
They both know they're not talking about the bass anymore, and Nana says the situation is even apparent to her: "It's not easy getting your first love stolen from you."
Nana asks what's going on in his head because it'll really be the end if he keeps holding back on his feelings like he is now. As he slowly strums, he wonders if he's making the right "sound."
Nana answers that that's his problem—he needs to be willing to be childish sometimes. As she takes back the bass, she replies that he is making the right sound, it's just that it doesn't suit his intended listener's preferences. "You can't do anything about a person's tastes. It's not something you can force."
She stands up in order to show him something… and starts rocking the bass like a boss. Mind = blown. Seriously, what can this girl not do?
Sun-woo can only stare in shock, and he asks why she wanted to take bass lessons from him then. She wants to learn a different music genre from the one she already knows, Nana explains, in case her style didn't suit her intended listener's tastes. Plus, she's seen plenty of people who end up in limbo trying too hard to match everyone else's preferences.
Sun-woo takes her words in, but he tells her that his present issue isn't about tastes. He smiles instead, saying how Nana always manages to surprise him time and time again.
The students take their exams at school, and Seol-chan engages Se-yi in some light-hearted teasing about whether she'll end up in last place since it's her first round of exams in Korea and all. She glares at him, heh.
Eun-ha runs over to tell Se-yi that she has two admirers who regard her as "a goddess." Then she nods towards the two worst students in class who are hoping that she'll end up as the class dunce this time around.
I get a kick out of watching how much it irks Seol-chan to see that Eun-ha isn't one of his adoring fangirls anymore, even calling her "chic" behavior as "cynical." Her response: "Love is constantly moving." Pfft.
Se-yi runs into Joon-hee on her way out, ignoring his attempts to be somewhat friendly. He gets annoyed over how she keeps referring to him as "school president" versus his name.
But Se-yi replies that calling someone by name implies that they'll be friends and she has no intentions to be one to him. She turns the question back on him, but Joon-hee remains silent. Then Sun-woo steps in before the situation escalates any further.
They return to the classroom to collect their things when Sun-woo gets a call from little Hye-rim, who asks that they both come by to see her.
The rest of the Color Bar members are waiting outside when Hyo-rin walks up to them and demands that Eun-ha return the journal she found. Oh, so that wasn't a part of the dream sequence?
Eun-ha puts a hand to Hyo-rin's mouth to shush her, but she pushes Eun-ha away, and then launches into a full-on blue blood rant, screaming at the top of her lungs, calling them lowlifes and spitting on the ground. Whoa, that's totally uncalled for.
What else is that even Jae-rok looks surprised by her bratty tirade. Does this mean that Cymbals Boy has a heart?
Joon-hee puts a stop to his sister's volcanic eruption, and glares at Seol-chan and Company before he leaves with the others. Sun-woo and Se-yi appear just after the dust settles, and he pointedly mentions that they'll haveto visit Hye-rim today.
Seol-chan doesn't miss the intentional jab to rile his jealousy, and leaves wondering about the name.
The All for One crew gets stopped by Byun PD, who has witnessed their standoff at a distance. Joon-hee dismisses the PD's attempts to wrangle them into participating in the previously mentioned music battle program entitled "Goddess's Kiss," but stops when he's told that it's their duty as real winners to stomp out the fake ones.
It turns out that despite Ajusshi's gruff no, he gives Seol-chan guitar lessons anyway. Though he wonders what's distracting Seol-chan more than usual today, he praises the idol boy for being a quick study.
He asks if Seol-chan finds his busy idol schedule tiring. Seol-chan confirms it, but he likes it because his fans are thankful that he was born. To that, Ajusshi reminds him that the world's cheers never last forever.
The song that Ajusshi strums on the guitar is the same one playing at a local convenience store. Manager Hong recognizes the oldie and looks up the songwriter… who just happens to be Ajusshi.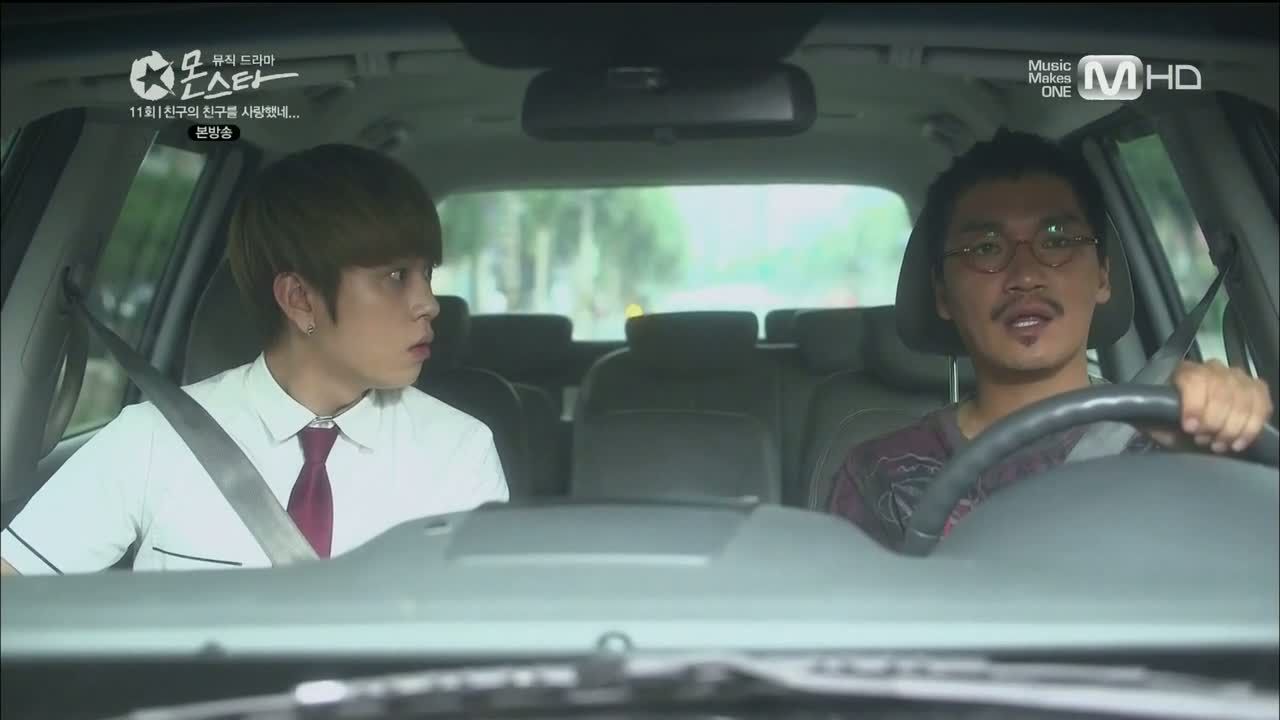 After his lesson, Seol-chan is shocked to hear that Ajusshi is the famed songwriter J. Han, and Manager Hong tsks how someone so great can hit rock bottom, all thanks to an incident about six years ago.
Then a flashback takes us to that fateful night, and now the jarred pieces finally fall into place. It was Christmas, and Se-yi's mother came to see Ajusshi after he won an award. But he chose to speed down the road and got into a car accident with a young woman who died, who was a company trainee.
Not only that, the victim was a minor, so Ajusshi was charged with drunk driving and statutory rape. It was an absolute legal mess, and although Ajusshi was found non-guilty, his life had spiraled into ruin.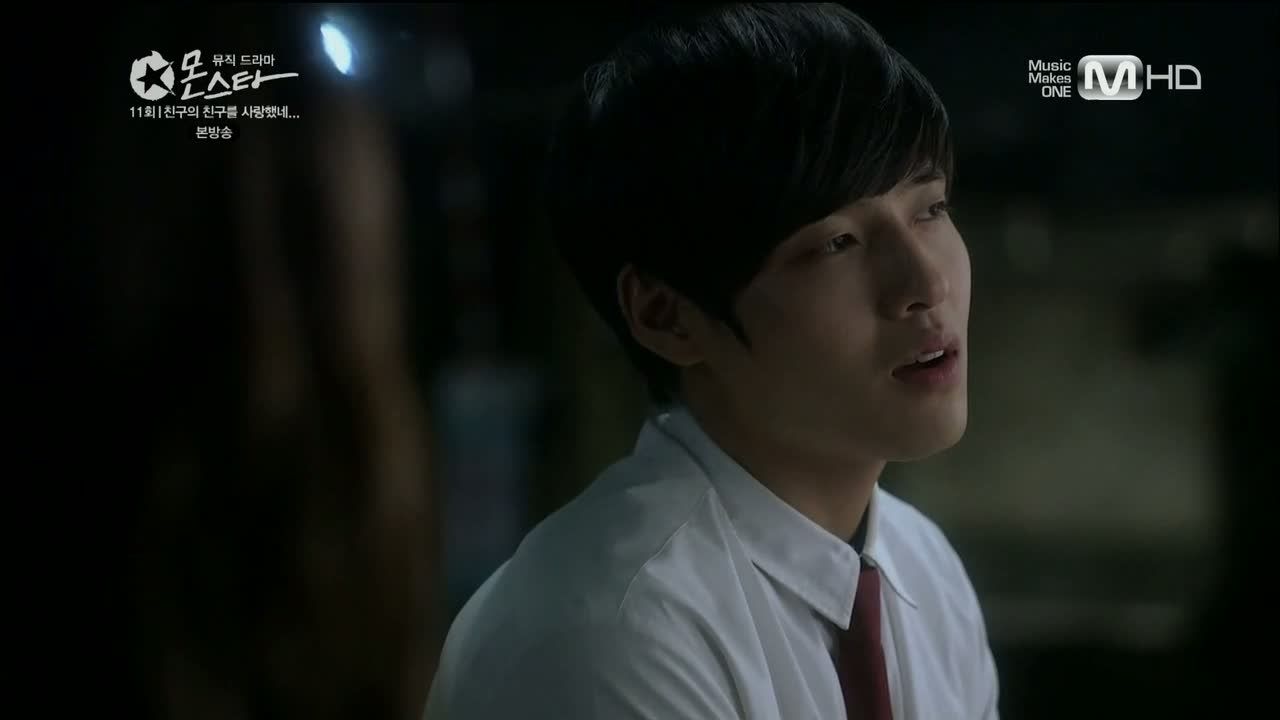 Sun-woo and Se-yi visit little Hye-rim at the hospital. How cute is it that she's also wearing a wig to look like Se-yi? Unfortunately, Se-yi's deadpan jokes only result in Hye-rim's tears. Haha.
As they walk back later that evening, we finally learn of Sun-woo's backstory: He had a younger sister around Hye-rim's age who died of leukemia. Meeting Se-yi when they were kids reminded him of his sister, and he wonders if he had acted too much like an older brother to Se-yi.
Losing a loved one like that was difficult, Sun-woo explains, but it was nothing compared to the pain his mother felt, who lived in fear of losing her other child. Ah, so that explains why Sun-woo volunteers at the hospital, and why he checks in with his mother so often.
Sun-woo drops Se-yi off afterwards, and he thanks her. Then we see Seol-chan scowl from above them, bothered by the thought of the two spending time together.
It seems a part of Sun-woo's words about his mother sticks with Se-yi as she slips out of her room and silently joins her mother to fold laundry together. They start to playfully bicker over socks which turns to how Se-yi's father had teased her mother for not being good with her hands.
Se-yi falls silent at that, and when her mother presses her to say what's wrong, she asks if the reason why her mother loved someone else was because Se-yi took her place next to her father.
She says that she's not mad if that's the case—she was just curious if it was her fault. But Mom says that it isn't Se-yi's fault at all, and sends her daughter back to her room.
Mom sits outside to get some air when a familiar voice calls out to her. It's Se-yi's father (well, an imaginative manifestation of him. But we knew that.) who offers to sing to her.
The tears start to fall as imaginary Dad sings "Leaving" (by Kim Young-ho, who also plays Dad) as the lyrics speak of the one who leaves them: You, who used to be my everything / You are leaving far away.
Mom cuts him off to say that this song angers her every time she hears it. Imaginary Dad doesn't know why, and it kinda cracks me up that she orders him around, all, Stay put!
She reminds him how he used the song to get back into her good graces… only for him to use it for one of his albums. And it didn't even sell because the song was so out-of-date. Hahaha, wait—this is supposed to be a reflective, moving moment, but it's still funny.
Then imaginary Dad if she intends to hold it all in. She nods. He tells her, "I'm sorry."
Mom: "I know." Wait, is there something that Mom isn't telling us? Then Dad tells her to take care of Se-yi for the both of them. Crying, she replies, "I know that, too."
Then she breaks down in tears, and Se-yi hears her mother's sobs at a distance.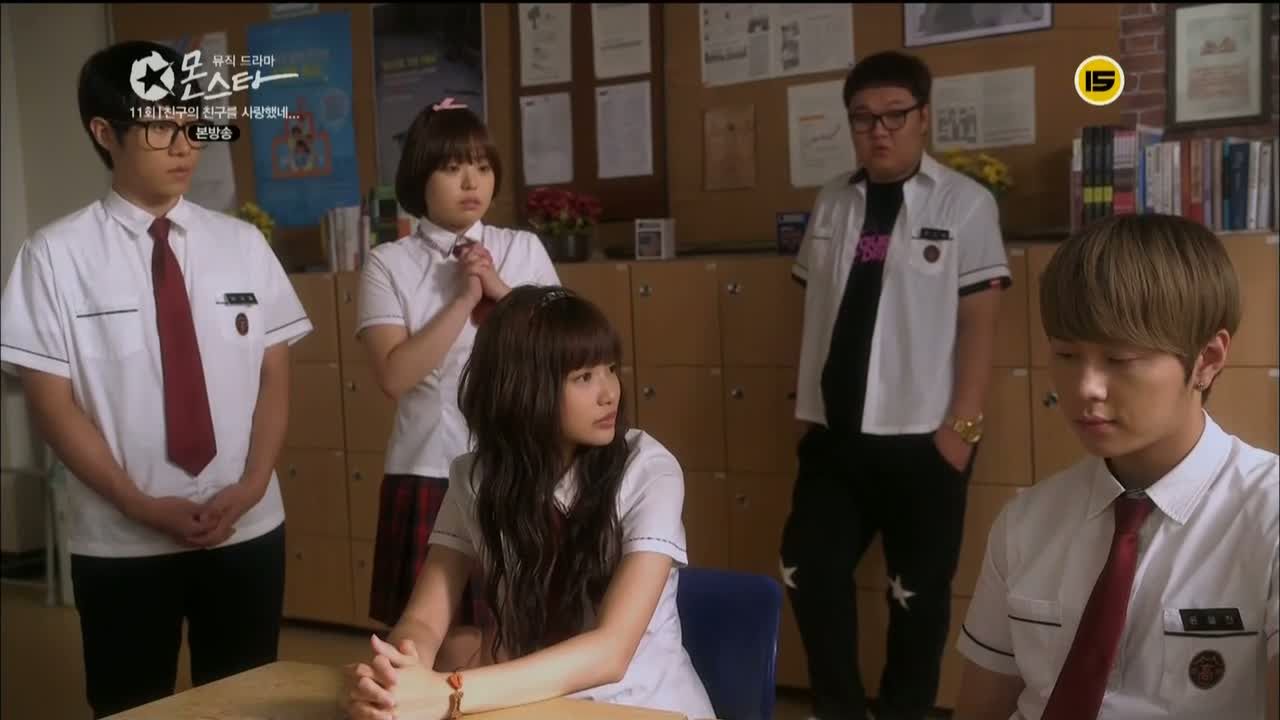 At school, Teacher Dokko is up in arms at the news that the school has agreed to film a Goddess's Kiss episode. Word travel fast among the students, who grow excited at the possibility of seeing a rematch between All for One vs. Color Bar.
Most of the Color Bar members are excited themselves, and Eun-ha gives Seol-chan full rein on producing their next track. Unfortunately, Seol-chan isn't as thrilled, and tells the others that he has to sit this one out. He walks off.
Se-yi follows him to apologize on behalf of the group, who didn't realize that a comeback stage with the Color Bar band could have a negative effect on his idol image.
Seol-chan tells her not worry about it, but he notices that Sun-woo is within earshot and adds, "Is that the only thing that concerns you? Don't you know what concerns me the most?" He makes a fuss about it just long enough until Sun-woo leaves.
Meanwhile, the remaining Color Bar members contemplate what to do now, and Do-nam suggests that the three of them try out on their own.
Sun-woo follows Seol-chan's car after school, and pulls him over to talk. Seol-chan starts to explain that he has legitimate reasons as to why he can't participate in the battle.
But that isn't what Sun-woo wants to talk to him about, and he asks how long Seol-chan intends to avoid him. When Seol-chan averts his gaze, he asks, "Is there something you're sorry to me about?"
Seol-chan says there isn't, and Sun-woo replies that he isn't finished yet. With what, trying to woo the girl?
Sun-woo gets a text from Nana, who takes him out shopping. He jokes that he doesn't need anything, and Nana deadpans that it isn't for him. However, the shirt she picks out just also happens to be in his size, so she chooses that one.
Afterward, Nana explains that her goal is to use the coupons before they expire. She asks when his "hangout coupons" does, but Sun-woo replies that he hasn't thought about it.
She asks if he figured out his issue yet, and he shares that his problem is in order to "not make her cry" because if he pushes too hard according to how he likes things, then she'll end up crying.
Nana knows that he means Se-yi, so she calls after him, yelling: "You idiot! What does it matter if you make her laugh? She's going to go to the guy who makes her cry anyway! That's why you don't amount to Seol-chan!"
She runs off in tears.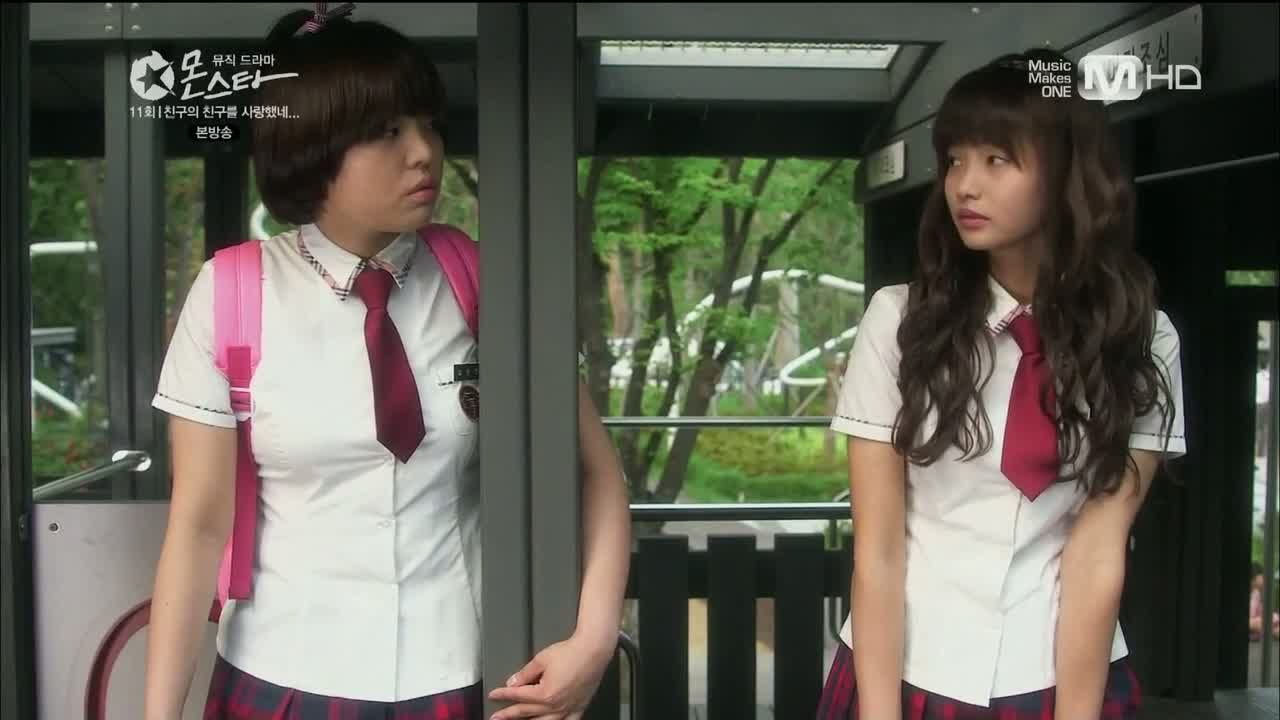 Eun-ha notices how Se-yi is distracted during practice, and sighs in sympathy over Sun-woo and Seol-chan's complicated relationship. She still feels that Sun-woo is the better guy overall, but understands where Seol-chan can feel like he falls short in comparison.
She advises Se-yi that she ought to explain who the mysterious "Hye-rim" is to Seol-chan since his curiosity about it is probably driving him nuts.
He doesn't pick up when she calls (and he hilariously gets peeved when Arnold looks better on a magazine cover than he does, ha), and though Eun-ha says that he's probably busy, Se-yi's face falls anyway.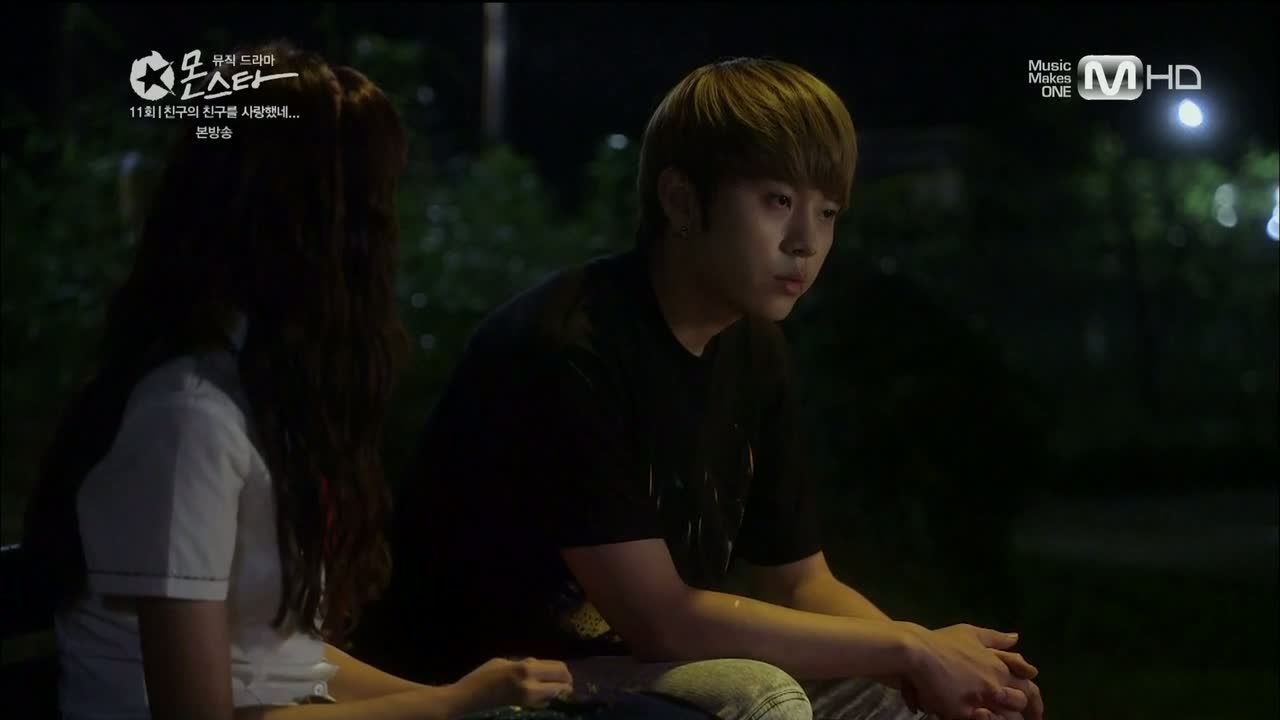 But she's surprised when Seol-chan shows up by the steps later that night. She says that she thought he was busy working, which he was, but the thought of her possibly spending time with someone else bothered him. She reels a little, to which he adds playfully, "Is that what you thought?'
They relocate to the park bench, and Seol-chan admits that thoughts of Sun-woo does weigh on his mind. He knows a lot more about Sun-woo than Se-yi may think, and there's something that he can never beat Sun-woo in: "Time."
That answer confuses her, and Seol-chan tells her that though a part of him wants him to back off already, he's known about Sun-woo's feelings for her for a while now, so he feels that he owes it to Sun-woo to give him that extra time. "Because he's a friend. And I don't hate him that much."
Se-yi asks what drove the two friends apart since Sun-woo's explanation was rather vague. Seol-chan ponders on it, and then answers: "I'm… I'm adopted."
At Se-yi's initial shock, he explains that his adoption at the age of five was a secret only he and Sun-woo knew about. But something had happened, and as a good friend, Sun-woo had went ahead to inform his mother, who then in turn told his own adopted mother.
That was why he was angry at Sun-woo, because he hates his mother worrying about him: "Because then I become a burden."
Se-yi reflects on his words in her room and thinks back to the time when the boys played the Canon in D duet together. Then she calls Sun-woo to suggest they go see a movie together tomorrow.
Which leaves the rest of the Color Bar members to practice by themselves, and from the way both Kyu-dong and Do-nam jump to cater to Nana, it's pretty apparent that they both harbor a budding crush towards her.
Meanwhile, Se-yi greets Sun-woo for their movie date with a warm smile. They decide to hang out at the lounge, and as Sun-woo goes to buy snacks (she rattles off the same litany of street foods again, heh), Se-yi picks up a book to read.
Sun-woo recognizes the title, and when she reads an excerpt, he finishes it from memory: "Be it when I was a child, or adolescence, or last year / the name of what penetrated my heart was love."
But then Se-yi's smile fades away as she looks at Sun-woo during the movie. Oh no, you're about to break his heart, aren't you?
They go for a walk afterwards, and Se-yi points out how Sun-woo always replies with the same, monotonous murmur of agreement: "Mmm." He stops in his tracks.
As she steps away, she sincerely thanks him for always listening to her and agreeing with her. "Then you can do that for this too, right?"
Then she turns towards him to confess, "I think I like Seol-chan a lot."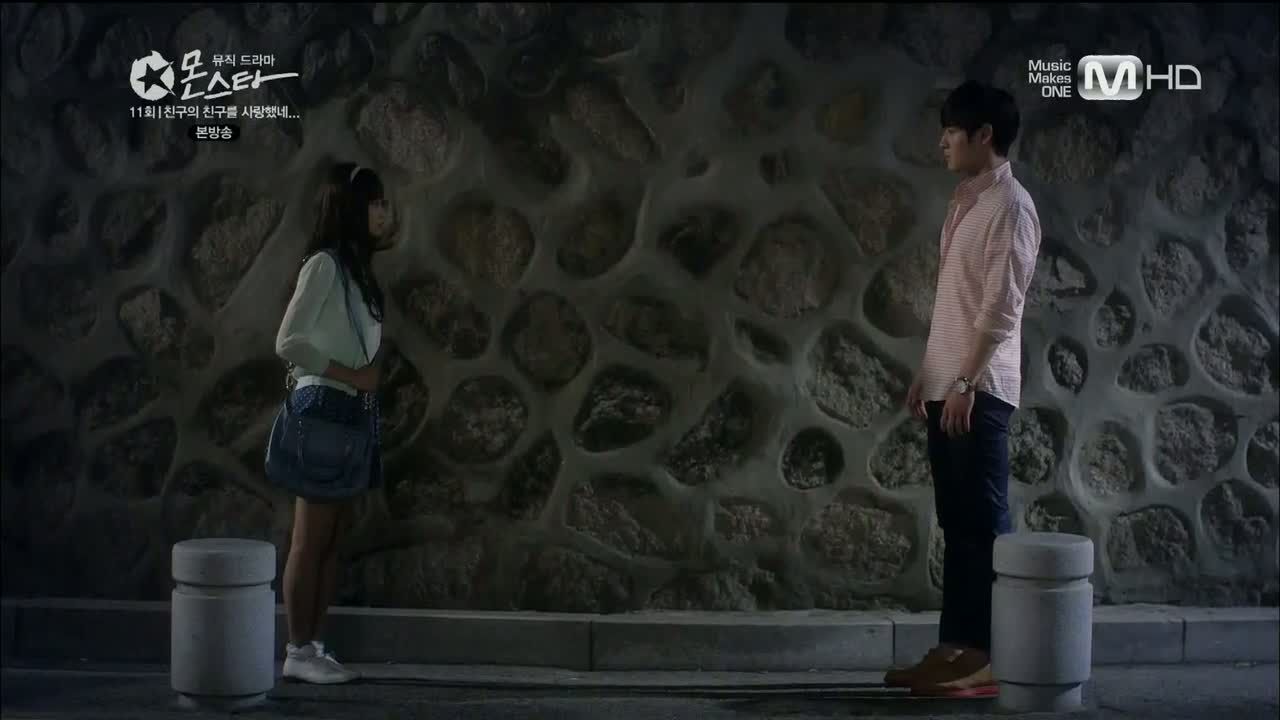 As they stand there in silence, the scene overlaps with Nana singing Park Hyo-shin's "Scattered Days" at band practice.
Se-yi turns to leave, and she stops when Sun-woo calls out her name. She looks back at him. Then it's as if time stands still as they look at each other, their eyes welling up with tears.
COMMENTS
What a loooooong episode. On one hand, the show still carries the same delectable dream-like quality that I've come to love, but on the other hand, these eighty minutes felt like a trailer reminding us of all the major mysteries we have yet to fully unravel for the finale.
But before we dig too much into that, I appreciate that we finally closed the chapter on Sun-woo's one-sided love for Se-yi. His heartbreak is a long time coming, but it's still a sad moment when your first love doesn't reciprocate your feelings and moreso to hear those words in person. I dearly hope we won't dedicate too much time to the repercussions of Se-yi's rejection in Sun-woo's behavior in the finale, partly because we don't have the time for its setup and resolution, but also because I'd hate to see their friendship dissolve into the wasteland of teenage angst when they have such a supportive rapport for one another.
With so many interwoven narrative threads, the show did what I feared most by exploring ALL of the major backstories at once in the eleventh hour. It feels like information overload to juggle Ajusshi's past to his ruin because of the fatal car accident on Christmas night that ties in with Nawin's appearance along with Mom's silent suffering and Sun-woo's younger sister and Seol-chan's adoption and what led to their broken bromance. Phew, did I miss anything? And that's just the past.
Moreover, although it feels like we were finally privy to this information, it also feels like we were hoodwinked into thinking that we learned quite a lot while still withholding certain key pieces to the puzzle. It certainly leaves me unsettled that we'll rush into a resolution, which would be a stark contrast to the show's mostly contemplative, wistful pacing. But still, I'm hopeful for a finale that will leave me satisfied with a song that resonates until the last note.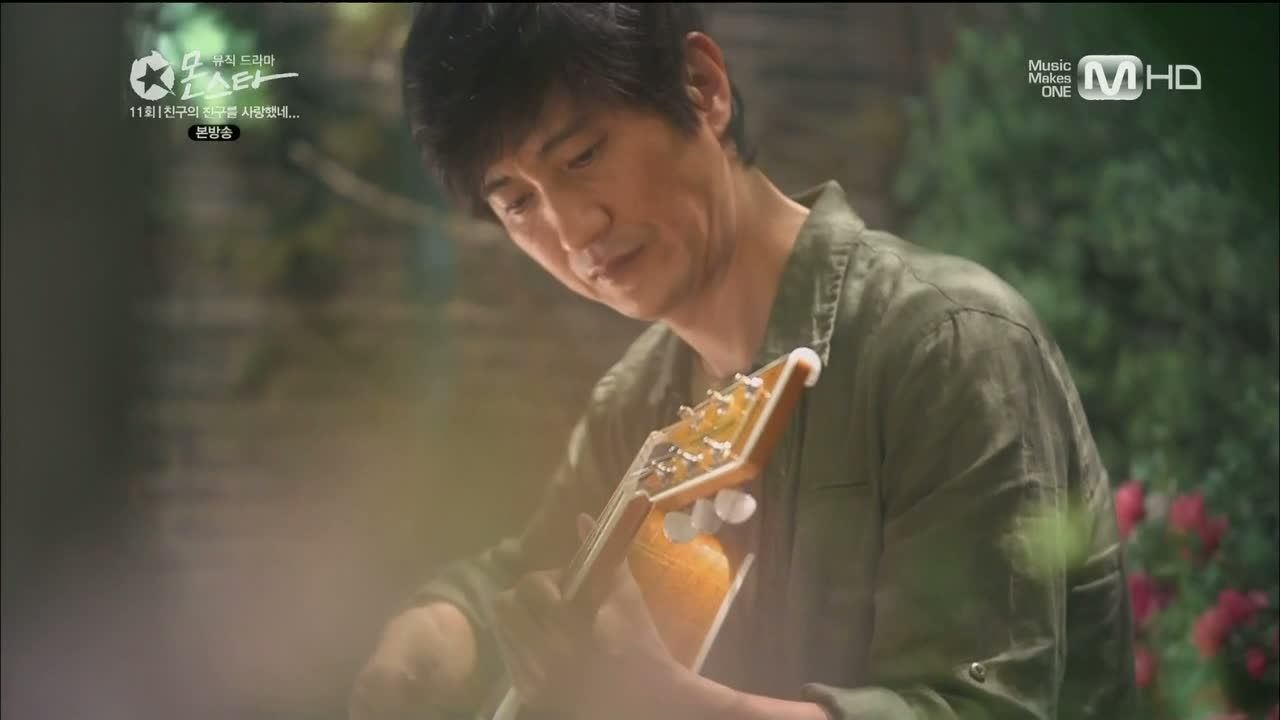 RELATED POSTS
Tags: featured, Ha Yeon-soo, Kang Haneul, Monstar, Yong Jun-hyung