Monstar: Episode 7
Best. Episode. Yet. It amazes me how a series can keep us engaged for so long and still carry us through new waves of emotions. I feel like I'm drowning in an ocean of feels and am totally okay with it. We finally get to witness the epic showdown between our newbie band versus the elite orchestra where the competition is fierce, the rivals are formidable, and the music… well, it's just pitch perfect.
Monstar continues to lead the pack on Fridays with this episode hitting a solid 2.3% in ratings.
SONG OF THE DAY
Kang Ha-neul & Dahee – "사람, 사랑" (Human, Love) [ Download ]
Audio clip: Adobe Flash Player (version 9 or above) is required to play this audio clip. Download the latest version here. You also need to have JavaScript enabled in your browser.
EPISODE 7: "Finally the Battle! Color Bar vs. All for One"
Sun-woo's acoustic serenade wins over the girls' hearts (including mine). Unbeknownst to him, Nana looks heartbroken behind him as she looks on. However, her voice doesn't betray her emotions when she tells him to sing another song for them: "Human, Love" (by Lena Park & Kim Bum-soo).
He points out that it's a duet and Nana quickly shoots down the idea that he sings it with their vocalist, Se-yi. Unfortunately, we don't get to hear this potentially awesome duet as an irritated Seol-chan interrupts to end practice. He doubles over in frustration in the car.
Next thing we know, he scares the bejesus out of Se-yi on her way home. He can barely utter words, let alone sentences before he barks, "D-did you like it?!" and runs off, embarrassed. Hahaha, I love jealous Seol-chan.
In the car, Seol-chan literally beats himself up over the head. His manager reluctantly hits him when asked (it shouldn't be funny, but it is a little) which is enough reason to let the tears finally come. Though he outwardly sobs over the ridiculousness of his tears, it's apparent that the serenade has gotten to him more than he lets on.
As for Nana, she stops outside of Sun-woo's place and chucks a CD over the gate—a BoA album.
It's still lying on the ground when Sun-woo finds it the following morning. On the way to school, he stops the car when he sees something fall out of Nana's pocket and he silently watches her walk away.
Then he sees her arrive at school from the classroom window. Ooh, does he see her in a different light now? If so, it's a nice reversal to Nana's memory in the previous episode.
Just then, Sun-woo is called away by Seol-chan, who still has a bone to pick with him about yesterday's cheese-tastic serenade. It's nothing compared to Seol-chan's move, Sun-woo reminds him. Those words leave the idol boy understandably confused since he has no idea Sun-woo has seen the almost-kiss.
We move onto the other broken bromance. Reminded of the ajusshi's words that shielding your friends does more harm than good, Kyu-dong bucks up the courage to confront Do-nam. He pushes through despite Do-nam's increasing aggravation to get out everything he's been meaning to say.
When Do-nam retorts that he should say something else instead, Kyu-dong yells, "You don't give me a chance to say it!" I love that Kyu-dong doesn't shrink away this time and refuses to back down.
They're joined by Jae-rok and his incessant sneers about them stops Seol-chan in his tracks. He pointedly remarks how their elite orchestra doesn't need to practice in order to win their upcoming competition. You sure talk big, Cymbals Boy.
Seol-chan retorts that all of those rich privileges like expensive instruments and private lessons don't compare to the human voice. Which is when Joon-hee steps in with a mockingly polite apology that they should even the playing field.
So Joon-hee calls their opponents (okay, I give in. Seol-chan's team call themselves "Color Bar") to the auditorium to get a taste of what All for One has to offer. It cracks me up that Seol-chan yawns as soon as they begin. But just when he's about to leave, a strong voice rings out from onstage.
You can see the collective looks of Oh crap that settle on their faces at the realization that Hyo-rin can sing. Ugh, and she even challengingly smirks in their direction as she belts out Jo Sumi's classic, "If I Leave."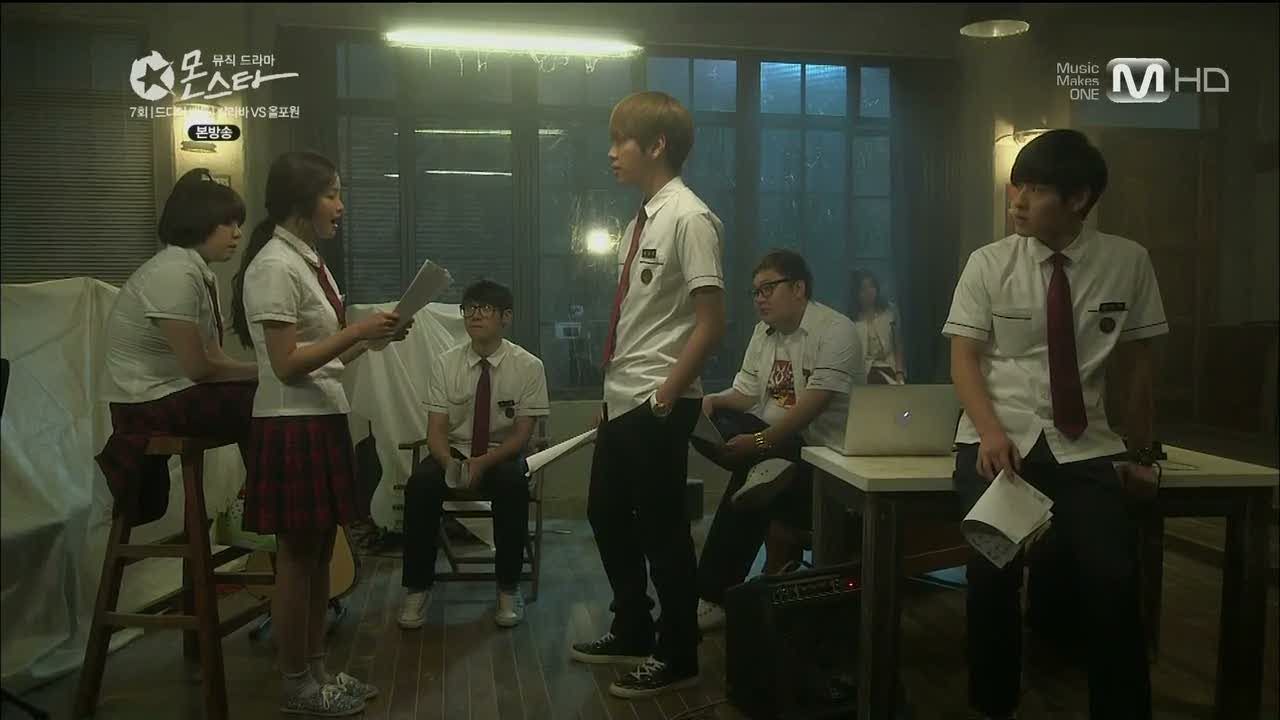 Seol-chan doesn't hesitate to use Sun-woo's previous knowledge of Hyo-rin's hidden singing ability as ammo to accuse Sun-woo of being a spy yet again. He's irritated when Se-yi rises to Sun-woo's defense. The others step in before the situation escalates any further as voices of reason—instead of fighting, they should focus on what to do now.
This calls for a change in song, which clearly pushes the boundaries of Se-yi's vocal range when they go over it at practice and ends up with Seol-chan to storm out in frustration again. At the mention that they need someone else to sing it, Sun-woo momentarily glances at Nana. *gasp* Do you know about her strong pipes?
Kyu-dong's comforting words that everyone can tell that Seol-chan is trying too hard to win manages to calm him down. But his jealousy flares again when he sees Sun-woo and Se-yi looking chummy through the window. He marches back inside to resume his stern music directing, and this time, it drives Se-yi to tears.
Seol-chan chases after her and grabs her by the wrist, silently refusing to let go despite Se-yi's protests. Gah, that look of reserved guilt just about kills me. Just tell her that you're sorry for being an ass!
She asks why he keeps doing this to her—what on earth did she do to him? She demands to know why he almost kissed her that night, but Seol-chan remains silent. He finally lets go when the ajusshi steps in.
Meanwhile, Sun-woo calls Nana outside and asks her to help them out. Ack, so you do know that she can sing! He reminds her that she once asked him what he sees in her. He now admits that he did see her talent once, but never mentioned it since he figured she didn't want anyone else to find out.
Nana denies it and she asks why she should help Se-yi. But Sun-woo tells her it's for the team and when she refuses again, he drags her back inside. Then he picks up his guitar and starts playing "Human, Love" before Nana can leave.
She slowly turns to face Sun-woo as he sings, his eyes fixated on her. Her eyes glaze over in tears, moved, and from the way she looks at him, it's as if you can almost see her imagine herself as the object of his serenade. Hell, I'm imagining him sing to me.
Then Sun-woo stops to invite her to sing the duet together. He starts over and over and over again, patiently waiting for her to join him. And then… she does. And it's GLORIOUS.
As they belt out in beautiful harmony, a flashback reveals that Sun-woo had indeed heard her sing as she walked to school that morning. Their voices cohesively overlap in the present as they sing together. Rewind, replay!
When they finish their jaw-dropping performance, the others break into applause.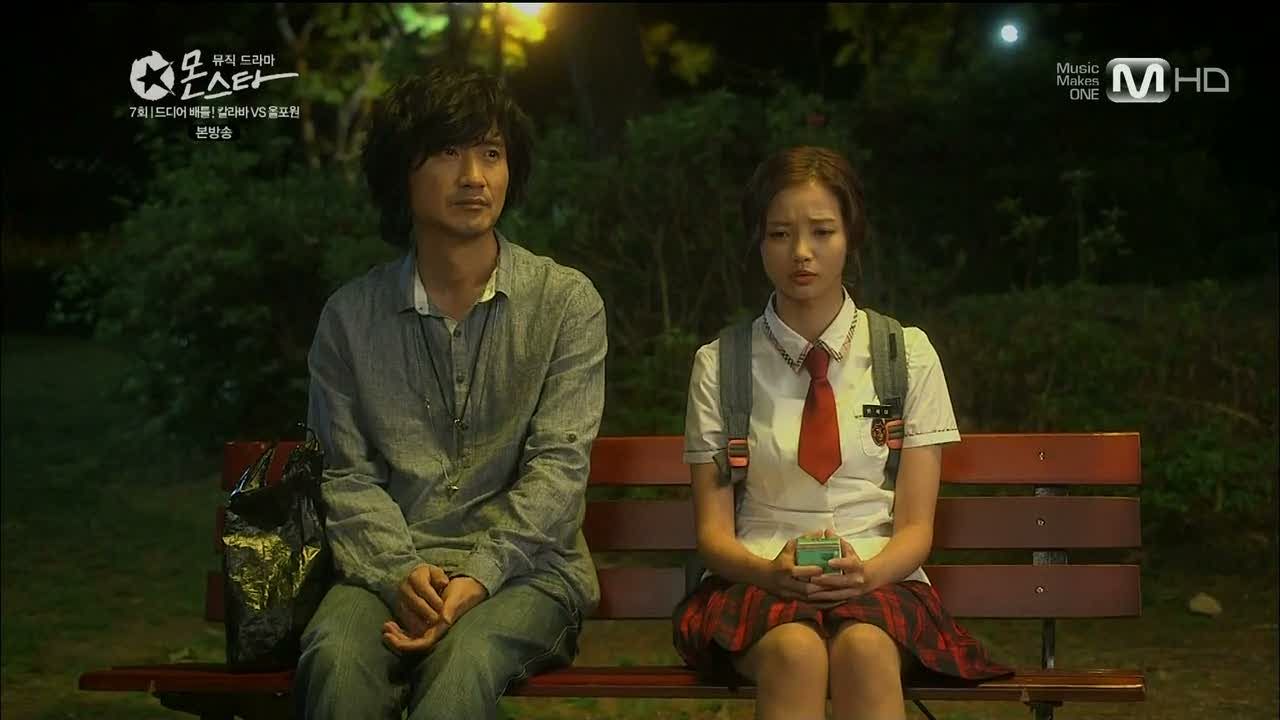 Elsewhere, Se-yi sits with the ajusshi on a park bench. She confides in him, saying that she doesn't get why Seol-chan is acting this way. But even though she's angry with him and hates him, he keeps weighing on her mind. There was something else he did to her but rather than getting angry, she's hurt and sad instead. She wonders, "Why is this happening to me?"
The ajusshi gives her a knowing smile and tells her that someone else asked that of him once. He got angry then because they already knew the answer… and so does Se-yi.
Seol-chan collapses on his bed in a dejected mood, reminded of how he made Se-yi cry again. Then he rises to unveil a package by the bed and breaks out in laughter. Omg, you got Se-yi's encouraging note framed? Ha, you would do something like that.
He's back to his usual self by morning and sincerely apologizes to Se-yi for his actions last night as they walk up to school. Sun-woo joins them and doesn't miss an opportunity to spark Seol-chan's jealousy as he takes Se-yi to walk with him.
Seol-chan calls from behind: "Hey, let go of my seat partner's hand!"
The math teacher offers to spice things up a bit at the class's general disinterest… with a lightning round relay of a math formula? Then he lays down a beat and starts spittin' out variables like a boss.
Oh gosh, this looks WAY harder than the quadratic formula tune. Am suddenly so thankful I didn't go to this high school.
Given how the others jump, it must be a familiar routine to the class, but both Seol-chan and Se-yi are caught off-guard. When it's Seol-chan's turn, he hilariously starts dancing, completely baffled.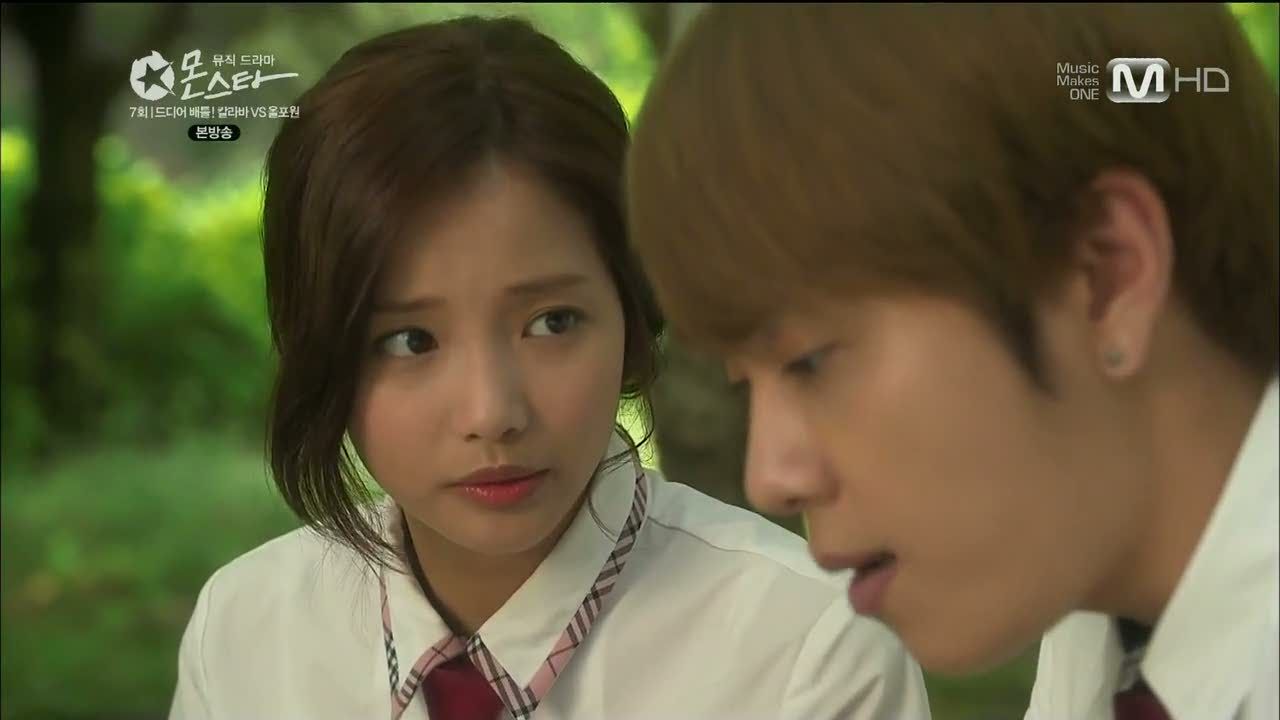 Naturally, they're assigned to memorize the formula. Seol-chan blurts out that she had the same blank expression when he nearly kissed her, and they both flush at the mere mention of the incident. Then Seol-chan walks her through the rhythm, breaking it up into parts for her. It's sweet to see how patient he is with her now.
After they perform it for their teacher, Seol-chan asks why she keeps staring at him—has she fallen for his idol star image charm now? Se-yi rolls her eyes at this. When she asks what they'll do without a power vocal, Seol-chan tells her that they'll perform as is.
So of course they're both left awestruck when they hear Nana's powerful voice, and Seol-chan looks so happy that he can hug her. He does (Se-yi slightly grimaces, heh) and the gesture earns him a punch to the jaw.
Se-yi notices that more flowers have bloomed outside and learns from the ajusshi that they're violets. And the ajusshi wears a lighter-colored shirt now. Hm.
The Color Bar band gets to work immediately, their cheery mood and cohesiveness now returned. I appreciate how we get a rough cut of the music in practice, as the MR adds to the feel that this is practice, setting us up for a big reveal later.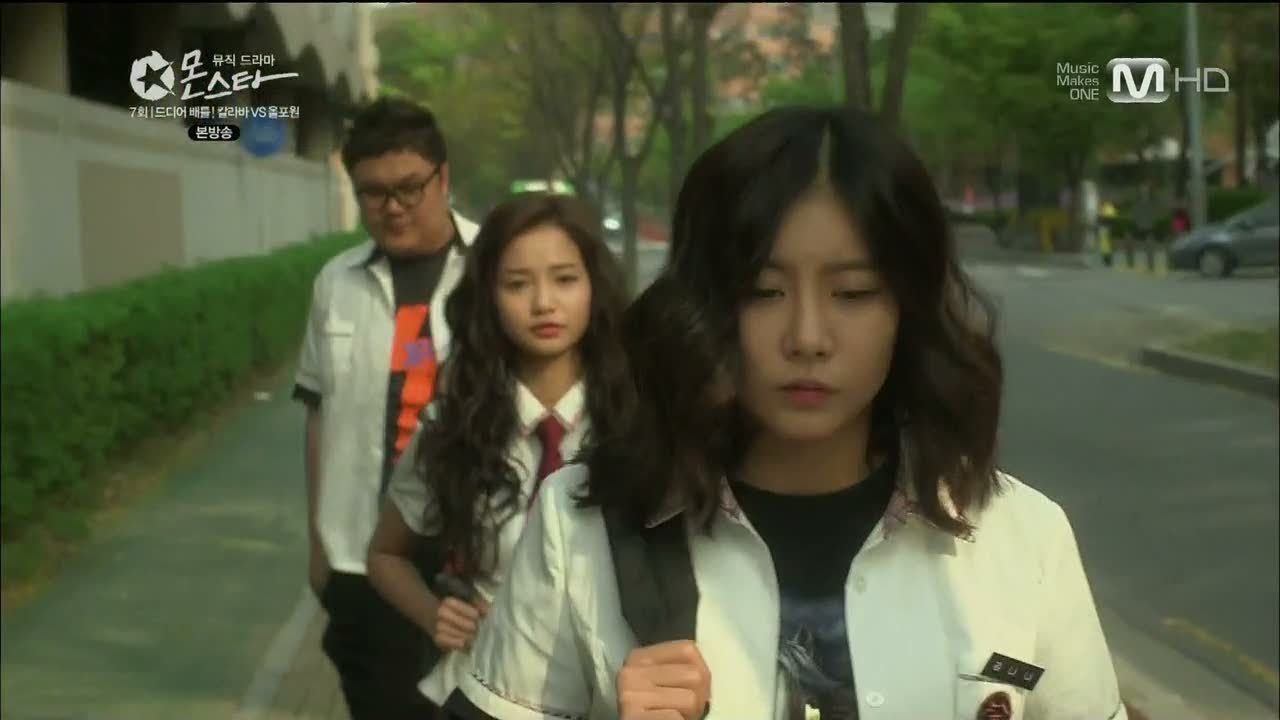 The Color Bar members are briefed about tomorrow's battle after school and they overhear Nana take a gruff phone call. Do-nam and Se-yi follow behind her and can only watch as she's quickly whisked away by a car.
So Do-nam shares his hypothesis about Nana based upon what he previously overheard. He presumes she must work part-time at a room salon, i.e. entertaining older men by pouring them drinks.
He tries to shake Se-yi off when she offers to come with, but Se-yi stubbornly tags along. Both Sun-woo and Seol-chan spot the two hurriedly race off and follow behind in their respective cars.
Sun-woo confronts them as they argue outside of the club. But before he can say another word, Nana suddenly runs out of the doors and into his arms. She's quickly followed by a rough group of men, who bark at her to come back in. Both Sun-woo and Do-nam intervene and engage them in a fight.
It's not long before Seol-chan joins them and Nana runs off. Fists fly in every direction until the fight abruptly stops at the word of an older gentleman, who seems to recognize the group. As for Seol-chan, he's whisked away by his manager to save his idol image.
The older man is Nana's father, who sits the kiddos down for a chat. He may have a scary presence but his fatherly concern for his daughter is the same as any parent. He's determined to find the boy who broke her heart—do they know who it is?
He assures them that he'll make sure to send Nana along tomorrow. He looks back at Sun-woo (the only one who maintained eye contact) before he leaves. They wonder if she'll actually turn up tomorrow.
Unfortunately, Nana's still a no-show the next morning, and Se-yi receives word from that she's unreachable. The group grows nervous with less than thirty minutes to spare before the competition. Then Sun-woo calls back and before he runs out, he tells them to stall for time.
Which means we get a hilarious scene of the Vice Principal trying to squeeze his car into a narrow parking spot. His repeated attempts to park are blocked off and he's unable to get out from either side. To make matters worse, his phone runs out of juice when he calls Teacher Dokko for help. Hahaha, he's going to be there for a while.
Thanks to Nana's father, Sun-woo arrives at the one place she could be. It's a fashion design studio, where she's currently at the sewing machine as tears fall from her eyes. She bends down to pick up a rogue spool and cuts her already injured hand. Ah, so that's how she scraped it, and the new injury reminds her of Sun-woo's concern.
Sun-woo finds her in her crying state, and she lashes at him when she hears that they spoke with her father. They must find her pathetic to see the rumors about her come to light. Now they know about her parentage, with her gangster boss for a father and her room salon owner for a mother. Through her tears, she bites out:
Nana: "You probably thought to yourself: 'Oh god, that I hung around with that girl. That I exchanged words with that kind of girl! That I lowered myself to sing with her.' Didn't you?"
She tells him to get out. But Sun-woo stands firm and reminds her that he only believes what he sees: "What I see isn't a gangster and room salon owner's daughter, but Kim Nana the student, Kim Nana the Color Bar member, Kim Nana who sings well… and Kim Nana whom everyone is waiting for."
The Vice Principal finally finds a way out of his car and bursts into the auditorium, annoyed and sweaty. He calls for the battle to begin immediately, ignoring the protests that Color Bar isn't ready yet. At that moment, Sun-woo returns alone and relays the bad news that he wasn't able to persuade Nana. So Seol-chan reassigns Kyu-dong to take over Nana's part.
The All for One orchestra takes the stage first and begin their performance of "Amazing Grace." Hyo-rin sings as her brother plays on the piano before he joins in song. The orchestra drops out and a chorus chimes in to robustly round out the song in soft harmony.
When they finish, the teachers break in applause (as do the small group of students who snuck in, hee). The Color Bar members hang their heads.
The Color Bar band takes the stage and Kyu-dong nervously stands in the center, trying to calm his nerves. He gets silent looks of encouragement from his teammates before they begin. The spotlight shines on Kyu-dong and he squeaks out the first few lines, to everyone's dismay.
Then the sound of approaching footsteps grabs everyone's attention, and the stage lights come up—it's Nana. Oh, whew.
She takes her rightful place on stage and they start over their performance of (Shin Seung-hoon's) "Don't Make Me Cry." Her talented voice takes the audience by surprise and the others join in after an impressive legato.
Their remix includes a dance break, which spotlights Seol-chan's DJ skills, and the music picks back up as Nana belts out the chorus.
They finish their performance in a line, fingers pointed upwards to the sky.
SO AWESOME. Surely the wait was worth it to watch the band finally perform onstage, even if it was just for the chance to perform elsewhere. We've seen what each individual member can do in the previous episodes as the show gave us a sample of what each of them can offer. But what we were really waiting for was to see how those talents would join together as one and boy, was it beautiful. I wouldn't necessarily call it my favorite music number of the bunch so far, but I appreciate what this performance means to them: that an unlikely group of students can band together to find a common passion and give a killer performance. I only hope that this is the first of many to come.
On that same note (hur), I love how the show integrates their musical choices into the narrative. The show's own renditions of oldies and new-ish Kpop songs alike hold a certain meaning to the story at present or to our characters. That isn't to say that the show has always utilized music perfectly (did we really need to hear all of MIB's upcoming single in last week's episode?), but even in those cases, the lyrics can still hold some relevance to the scene we actually see.
Nana and Sun-woo's duet is a wonderful example of music integration where Sun-woo's serenade speaks to Nana's already broken heart. Though she's fully aware of Sun-woo's feelings for Se-yi, the combination of the invitation to sing with her crush, to be momentarily serenaded by him, and the fact that he knows she's talented… is anyone else swooning yet? Plus, it's an awesome duet of bottled musical perfection.
So it breaks my heart to hear how she deliberately alienates herself in shame of her family background and allows false rumors about her to spread. Perhaps she feels that it's easier to bury herself under these misconceptions and to live quietly with a passion virtually unknown by those around her. Thus, I can understand the vulnerability and emotional nakedness she feels when the one person she never wished would ever find out knows what she's worked so hard to hide.
The broken bromantic relationships are still at the heart of this series for me, and I love how emotions continue to bubble at the surface despite the group coming back together again. It's a reminder that the boys have a long way to go and we have to continue to wait and bite our nails to see what it takes for these relationships to heal. I love how Kyu-dong took a courageous step in this episode to confront Do-nam in an effort to repair their friendship. Wah, I just don't want them to fight anymore (even though I love that the glares can easily be misconstrued as lovers squabbles)!
As for the battle itself, I have to admit that All for One's performance took me by surprise. I didn't expect for Hyo-rin to stand her own with her own vocal chops, and the orchestra still deserves due credit for their talent even though I don't want them to win. And though the name "Color Bar" is an apt name for our group of misfits to act as a slap in the face to their enemies, I somehow expected a more kickass name for our band. C'mon Hallyu, wouldn't something like Monstar be more fierce and badass?
RELATED POSTS
Tags: featured, Ha Yeon-soo, Kang Haneul, Monstar, Yong Jun-hyung