Monstar: Episode 8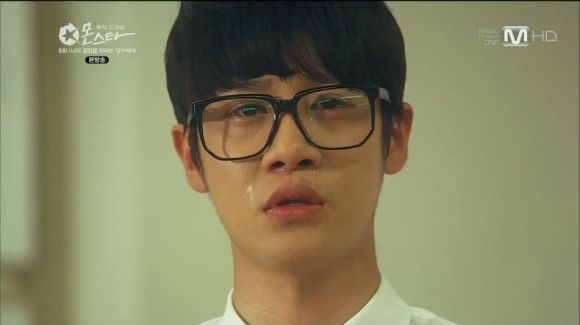 This week's episode isn't for the faint-hearted as we shine the spotlight on Radio and dig into the past that results in his current situation. We still get some cute and winning moments between our leads that prepare us for a more dramatic turn. But what lies ahead makes me nervous for the future and I'm not sure if I have enough nails or courage left for the rest of this series' run.
SONG OF THE DAY
Kang Eui-shik – "나의 절망을 바라는 당신에게" To You Who Hopes For My Despair
[ Download ]
Audio clip: Adobe Flash Player (version 9 or above) is required to play this audio clip. Download the latest version here. You also need to have JavaScript enabled in your browser.
EPISODE 8: "To You Who Hopes For My Despair"
The crowd breaks into uproarious applause at Color Bar's performance, and even All for One is left amazed. The judges are left to deliberate and Seol-chan gets the usual star treatment as soon as the band steps outside.
Nana takes to the roof and she hides her cigarette when Sun-woo comes by. Then we rewind to catch the rest of the conversation at the design studio, and Nana laughs at his assessment of her. She tells him that he's still got it wrong: "You don't say things you see, but the things you want to see."
She tosses out an offhanded remark that she'll go if Sun-woo hangs out with her ten times. To her surprise, he agrees. Thus he's here to keep his end of the bargain and lets her decide the logistics of their hangouts (read: dates. Is it just me?). Then he draws closer and snaps the cigarette in his hand—no smoking.
The Vice Principal declares All for One as the winners and speaks over the crowd's boos saying that mellow music is more suited for the charity concert. Color Bar can hardly believe their ears and trudge out of the auditorium one by one until Kyu-dong and Se-yi are left.
However, Seol-chan is still within earshot to overhear their conversation and he listens as Kyu-dong remains optimistic about the results. It's enough for him that they got to perform onstage together, he says. "And the kids saw me sing as Park Kyu-dong, not Radio." Aww.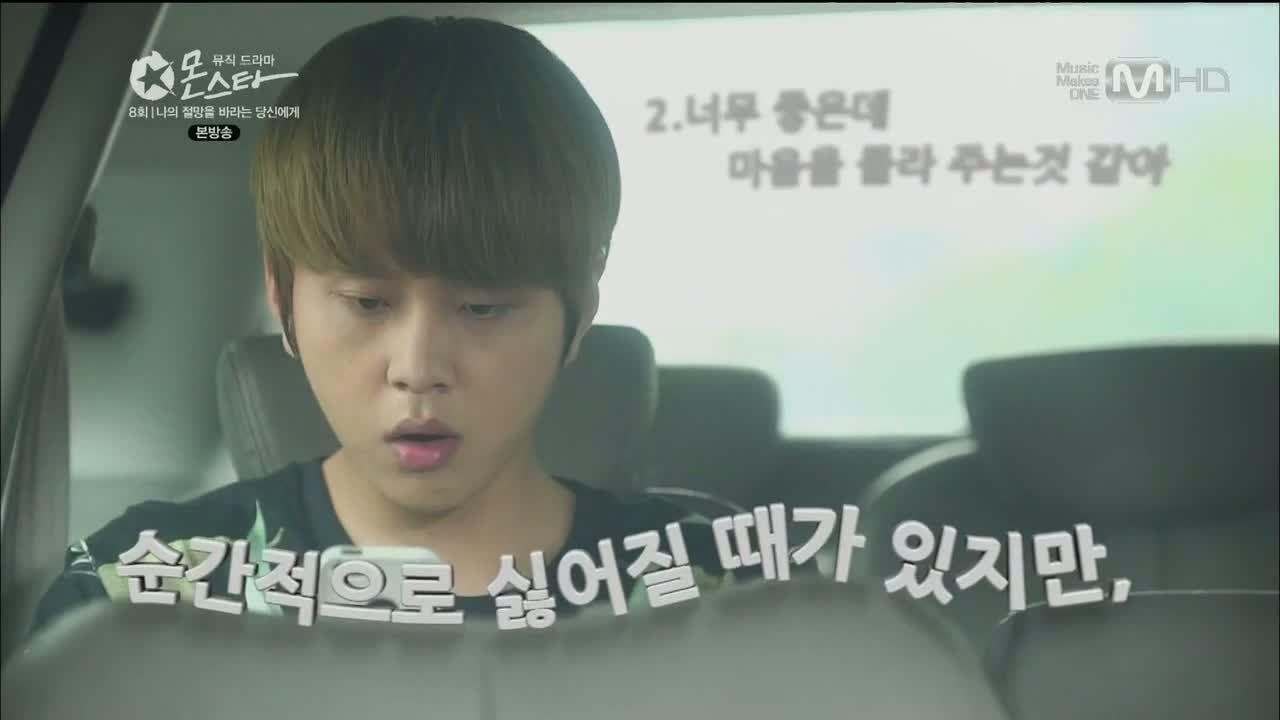 At least the battle does wonders for Seol-chan's celebrity image as Manager Hong beams with pride in the car. In his search for headlines, Seol-chan stumbles upon an article which outlines the 40 Symptoms of One-Sided Love.
He quickly becomes engrossed as he reads on and murmurs in agreement about them, like how you hate them one moment and like them the next or hurt by one dismissive comment from them. Ha.
At home, Seol-chan reads a few more until he picks up the phone and contemplates whether to call Se-yi, his thumb hovering over her number.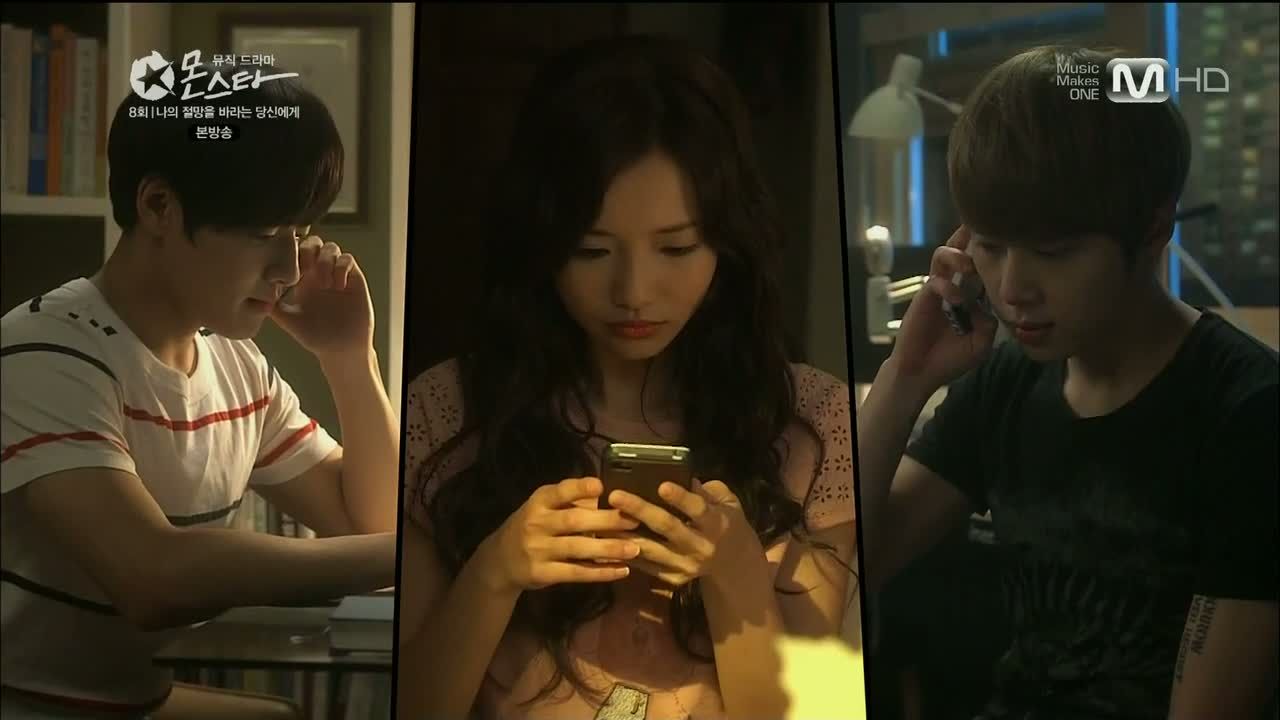 Se-yi has the same dilemma as she recalls how disappointed Seol-chan looked earlier that day. Just then, Sun-woo calls to check up on her and he's about to ask her out when she puts him on hold to take another incoming call.
Seol-chan seems surprised that she actually picked up, but it's not long before he falls back into his usual pettiness, saying how insensitive it was for her to comfort Kyu-dong before him, her seat partner.
Then he oh-so casually says that she should totally make it up to him by taking him to the movies or something tomorrow. Plus, it's not like he can watch a movie by himself or anything. Smoooooth.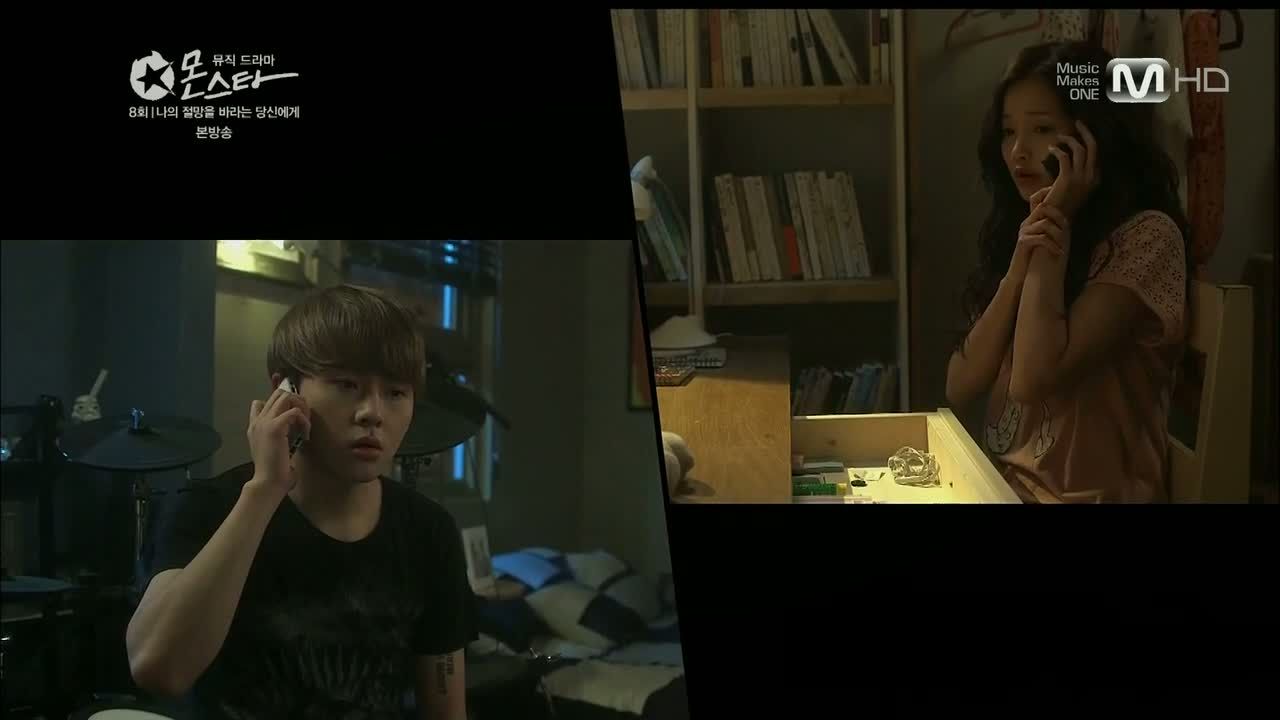 When Se-yi tells him to go watch one with someone else, he lets out an exasperated cry:  "I don't have anyone to go with!" Now it's her turn to be annoyed and she angrily hangs up… on both guys. HA.
Se-yi fumbles for an excuse when Sun-woo calls back to ask her out to the movies properly. Then she scoffs in disbelief at the idea that the adored idol star has no one to hang out with.
So she changes her mind and calls Seol-chan, who hilariously lunges for his phone and hurts himself in the process. You're adorkable. He pretends to be slightly off-put about the not-a-date even though he has this huge grin on his face. Heh.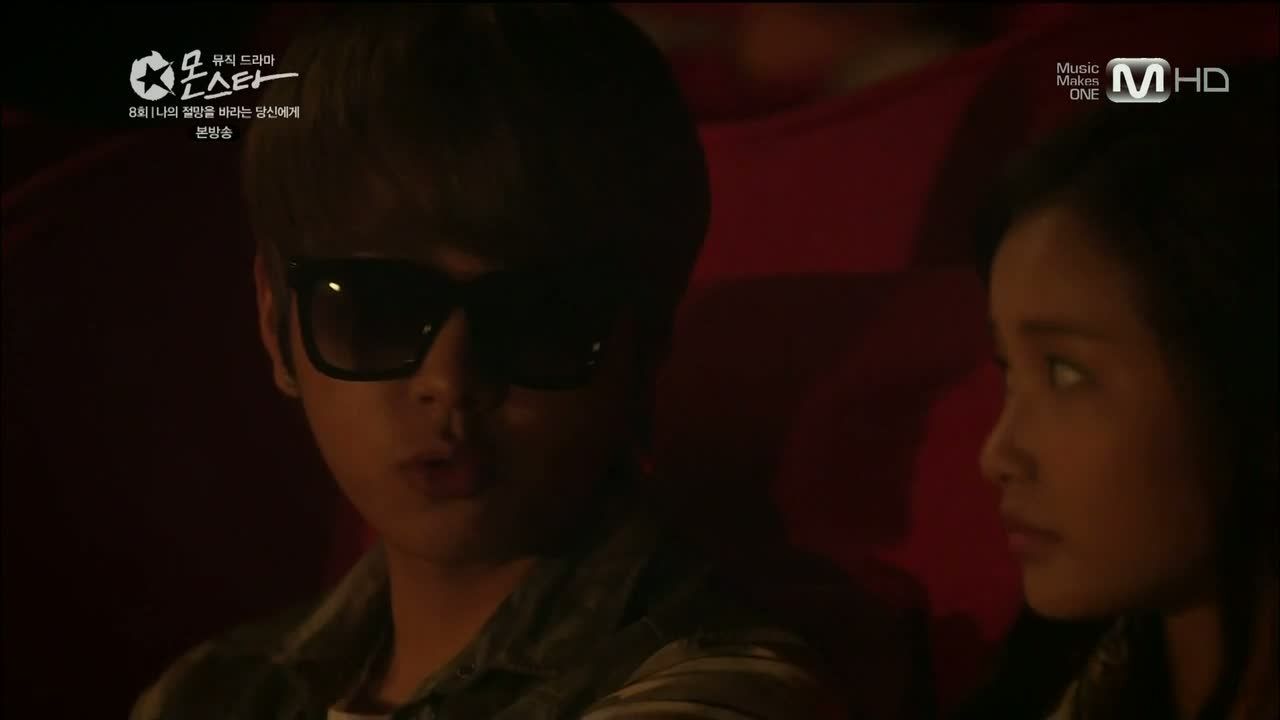 They meet to watch a movie the next day. Seol-chan's argument about why they're sitting in a couple booth cracks me up—it's all part of being a celebrity to sit in comfortable seating. He tells her to just watch the movie (it's A Werewolf Boy!). Says the boy wearing shades in a dark theater.
Meanwhile, Nana calls Sun-woo out for their first outing and she's surprised when he actually turns up. She even keeps a tally on his arm to keep count. They end up at the same dessert cafe Sun-woo and Se-yi ate at last time. Er, isn't this kinda awkward?
There's none of the flirty attitude on his end with Nana, who asks why he agreed to hang out with her in the first place. He honestly answers that it's like doing "a good deed." Dude, I think this is a little different from earning a few karmic points.
He continues that he used to be a good kid, but ruined a childhood friendship when one of good deeds went awry. So he's trying to set things right again in the present.
How cute is it that Seol-chan buys Se-yi a lamb doll as a souvenir? She tells him that she already owns a mother and baby pair, to which Seol-chan mutters: "Then just think of it as your lamb boyfriend." She smiles.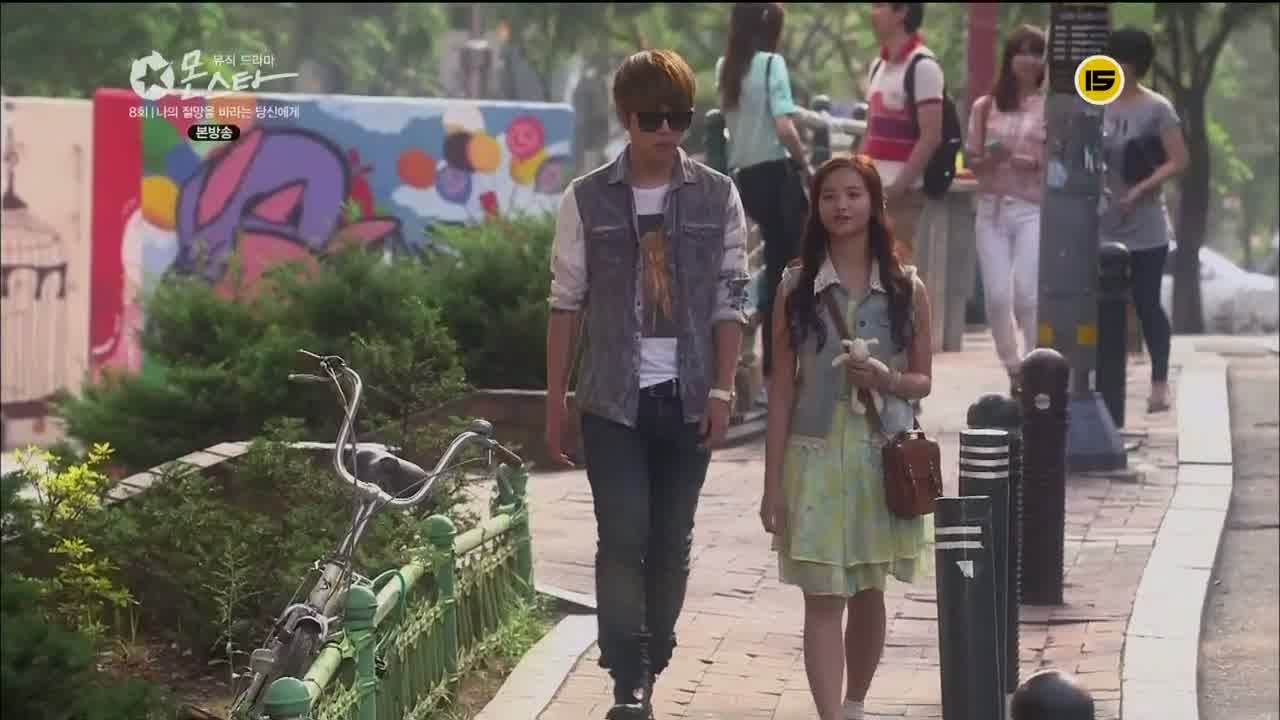 They stop to listen to a street musician (the same one from Episode 4) and Seol-chan takes issue with how Se-yi looks at him admiringly. He asks if she likes guys playing guitars that much. "Aren't guys who play the piano cooler?"
She explains that they remind her of her father; whenever he played the guitar, it was like he was standing on top of the Himalayas, blocking the wind. "He looked solitary. He didn't look lonely or lonesome."
Seol-chan figures that they're all the same things and she corrects him. Trailing behind her, he asks what the difference is then. Se-yi: "Everybody needs to be lonely, nobody needs to be lonesome, and being solitary makes you cool."
Then Seol-chan warily asks how hard it is to learn guitar, not that he has time to learn or anything in his busy schedule. But she sees right through him and figures that he does want to learn so he can find out if he looks cool playing on one or not. Smiling, she takes him by the arm.
They head over to a guitar shop and both stiffen when the friendly owner assumes they're in a relationship. Seol-chan strikes his best guitar-holding pose to impress and Se-yi deadpans, "You don't look solitary." As in, not cool.
Placing a hand on the neck of the guitar, she instructs him to strum. It doesn't work, so he suggests she come around "to the head" and laughs when she takes him literally and stands behind him.
She sits beside him but it's not much better. Seol-chan wonders aloud: "This always works in the dramas." Ha, thanks for the meta joke, Show.
Se-yi tries a different approach and takes his hand to pluck a few simple notes. He gulps at the touch but picks it up easily.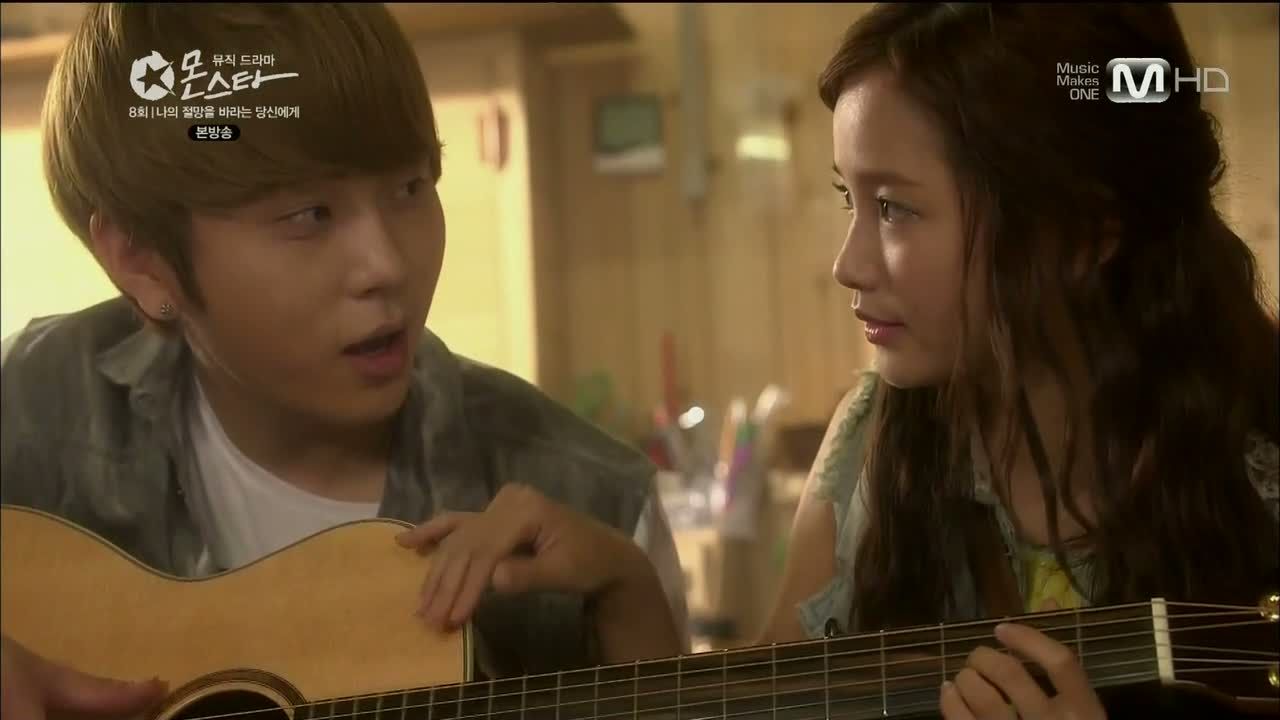 Now Se-yi joins in to strum the chords to overlay the notes to Sanulrim's "Your Memory" She taps the guitar lightly as Seol-chan sings and then joins in song.
They glance at each other as they sing and play together as a unit on the guitar; their voices provide background music for Sun-woo and Nana who watch the same movie.
Seol-chan smiles at Se-yi once they finish their duet, which is when she suddenly rises to leave.
Once they're outside, Seol-chan balks when he hears that Se-yi had changed her mind because he looked so lonely sitting in the van when they first met.
Seol-chan reminds her that nobody can see through the van's tinted windows and is taken aback when she replies that she could see. But she means with her heart, and tells him what she thought then—that the boy sitting inside must hate all the attention and the embarrassment and loneliness he feels.
He stutters back, "T-then take responsibility for it." (In this case, he basically means for her to make it up to him since he went through all that trouble to look cool.) If she thinks it's too much pressure, she can be his girlfriend for a day.
A sudden cloud of smoke interrupts them. Once it clears, they find themselves face to face with Sun-woo and Nana. Then if it weren't bad enough, a nearby reporter recognizes Seol-chan and starts snapping photos.
His name is Byun PD, who guesses the idol star is out on a date and he compliments Se-yi before taking her photo as well. Seol-chan steps in to say that she's not his girlfriend (Se-yi's face falls), and the tension mounts when he covers the camera lens to get the PD to stop goading them.
That's when Sun-woo steps forward. He places an arm around Se-yi to assert himself as her boyfriend. He explains they're all here to see a movie with some friends (and that Seol-chan tagged along), and tells Nana to call them.
Byun PD raises a suspicious eyebrow at this and asks Se-yi if it's true since it means he'll have to sincerely apologize for his error. Se-yi casts long silent looks at both boys before she answers that it is true and demands an apology. Gah, I can hear the crashing sound of broken hearts!
It turns out Nana actually did call out the other Color Bar members, who are puzzled about the sudden get-together. Everyone in the theater enjoys the movie apart from the four and Byun PD, who sits in a nearby row, having followed them there.
Afterward, Se-yi wonders why Seol-chan's denial that they're an item bothers her so much. As for Seol-chan, he throws his vest at the framed note on the wall, reminded of how quickly she latched onto Sun-woo.
Though Sun-woo's car whizzes by Se-yi at school the next day, he clucks at her to get her attention. He thinks aloud, wondering what if the two had a date.
He says in an indifferent tone that he was only hanging out with Nana because she was bored, and admits that he was pretty angry with Seol-chan yesterday because he put her in a tight spot. She protests that he didn't, and Sun-woo turns to face her: "Then why did you look so angry yesterday?"
If it wasn't because he almost publicly blacklisted her, then what was it?  But before she can answer, Nana walks in between them and casts a dark look at Se-yi. Sun-woo tells her to receive an apology from Seol-chan, regardless.
In the classroom, the Color Bar members beam silently at the student's excitement over their performance. Eun-ha pops in join in with them, but falls silent when they ask what role she plays.
Seol-chan and Se-yi meet in his van to talk after lunch. He apologizes for getting her involved in this mess and speaks from personal experience when he says she could be angry at the false rumors when there's nothing going on between them.
He vows to make sure it doesn't happen again, but those words irk her, and Se-yi partly blames herself for thinking she could go out to eat and watch a movie among friends. "I forgot that you're a particularly special person."
The air is still tense, but they agree to not complicate things further and remain as seat partners.
It's pretty satisfying to watch Jae-rok squirm when he overhears a few students gush over Color Bar. Thus he's even more peeved than usual when he bullies Kyu-dong, and takes Do-nam aside to press him for more information.
The ajusshi steps inside the empty cellar and he imagines the Color Bar members roaming about the room. Aw, do you miss them?
There's a sudden knock at the door and he looks up expectantly. It's Se-yi, who confides in him, and she tries to assess why she feels so disappointed when she doesn't even like Seol-chan. The day's events led her to wonder if Seol-chan has feelings for her. Though his words today convinces her otherwise, she admits that she was still slightly hopeful.
The ajusshi tells her that Seol-chan wouldn't have been able to answer truthfully and heaves a sigh when Se-yi still can't connect the dots.
It's a little strange that the ajusshi plans to move the piano inside, given that he doesn't know how to play. His voice trails off as he alludes to another time when the cellar was full of people… and then redirects the conversation again. Hm, whose band are we talking about now?
Se-yi decides that she needs a fresh start to overcome her frustration which can only mean one thing: cutting hair.
Cut to: Se-yi in a beauty salon… with the ajusshi sitting next to her. His eyes grow wide when he hears that he's her proxy. Ha, did you just dupe him into getting a haircut?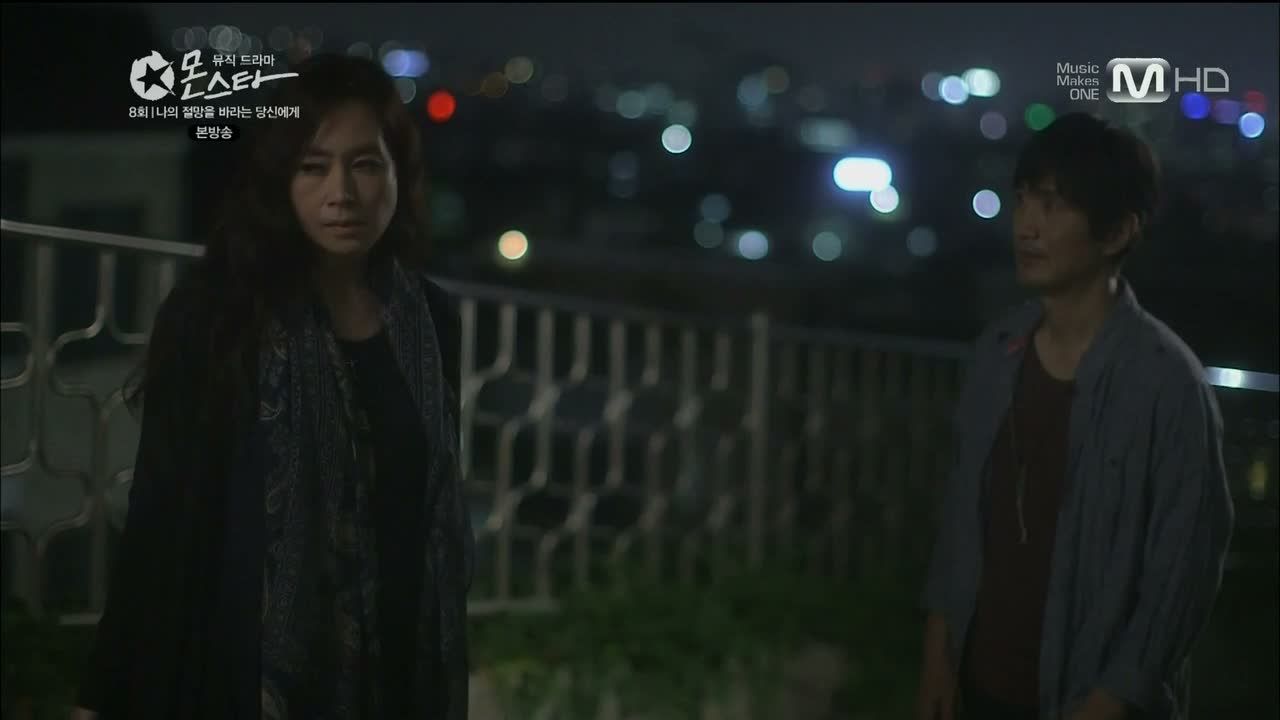 As the ajusshi walks her home, Se-yi (with her new bangs) marvels at the ajusshi's new shorter 'do which suits him much better. She cheerily waves goodbye, and the ajusshi breaks into a smile.
But as he walks down the hill, he suddenly stops in shock by the sight of the woman traversing up the hill. It's Se-yi's mom and he identifies her by name: "Choi Kyung."
They stand there in silence as he struggles to find the words until he finally utters, "It's been a long time." She doesn't return the sentiment and continues to walk up the hill instead. Aw Mom, you couldn't have helped us out with a name?
Se-yi has caught wind of Mom's impromptu arrival, and she immediately packs her bags. Teacher Dokko tries to stop her but Se-yi lashes back, demanding to know why her mother suddenly turned up. But Mom is already at the doorstep and although she casts Se-yi's luggage aside, it doesn't stop her from storming out anyway.
Mom follows her out to face her daughter and tells her to go inside. She asks Se-yi if she plans on never seeing her mother again and Se-yi angrily retorts that she plans on it.
But Mom remains resolutely patient, and says that she won't lose her daughter again even if it means she has to chase her all night long. Se-yi bites back: "Don't count on it," and marches back inside.
Byun PD is still acting on his hunch and Hyo-rin happens to overhear him ask if Se-yi and Seol-chan are an item. He's eager to get his hands on a juicy story, furiously jotting down notes as she boldly announces herself as the idol's girlfriend, even giving out her personal information.
But Hyo-rin has nothing to worry about since Byun PD works for her father's entertainment company. She crumples the note and warn him to back off her idol Oppa. Hm, so you turned into a Seol-chan fangirl after Color Bar's performance, too.
Elsewhere, Sun-woo loudly calls out Se-yi's name in Seol-chan's presence, which makes both of them stop. He's satisfied to hear that Seol-chan properly apologized to Se-yi, and she in turn asks Seol-chan if he thanked Sun-woo for getting them out of their predicament.
Seol-chan doesn't see why he should do so—should he be grateful that Sun-woo stood up for him? He wonders how Sun-woo hasn't changed one bit over the years and levels at him: "Listen up. A good deed isn't a good deed if the other person doesn't want it. They call that pretense."
But Sun-woo isn't looking for thanks, since that kind of formality is pointless for them. Then his eyes trained on Seol-chan, he confesses: "I like you Se-yi."
Se-yi can hardly believe her ears and asks, "Who does?" Sun-woo: "I do."
Seol-chan is so lost in his own thoughts that he doesn't notice Jae-rok rally the students to collectively taunt Kyu-dong nor Eun-ha, who hangs her head in dismay. Also, is that… a bruise on her leg?
But this time, Kyu-dong won't stand for it. With newfound confidence, he confronts them and declares that he won't be their personal jukebox any longer. Furthermore, he tells them to stop calling him by his humiliating nickname. I'm punching my fist in the air in victory. Then it's just icing on the cake when he's the one to call Do-nam out to talk.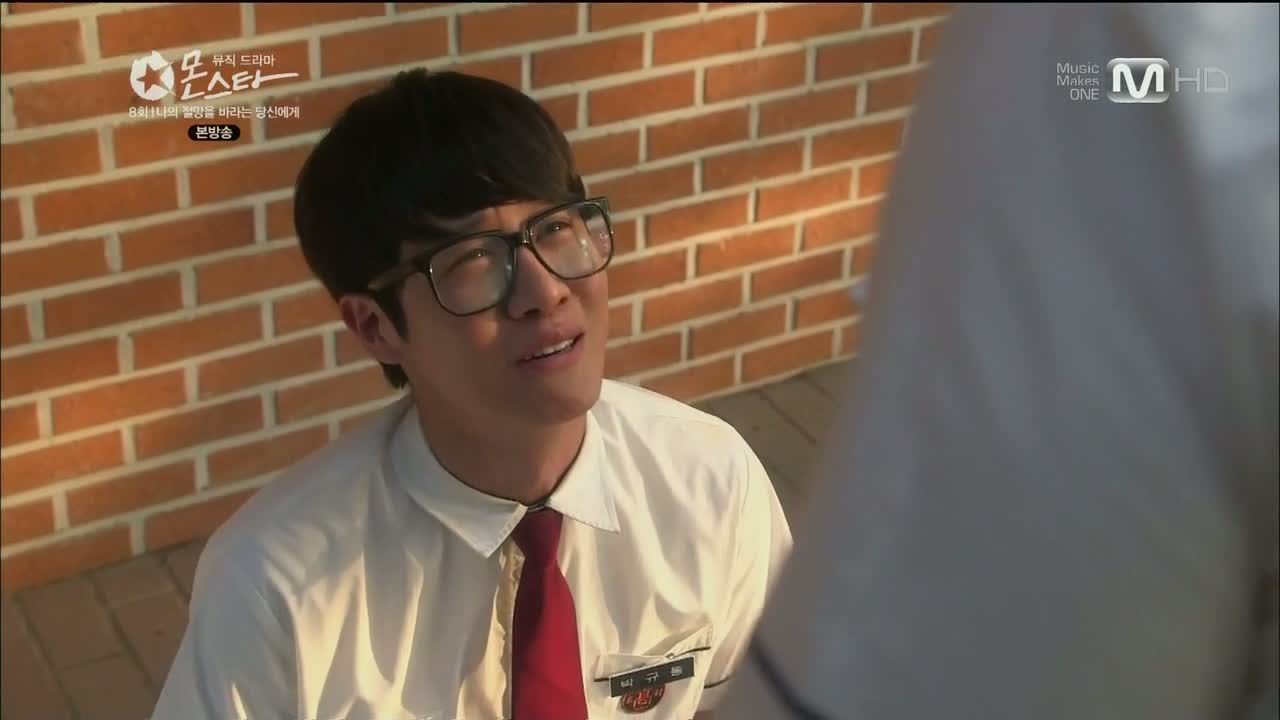 Once they're alone, Kyu-dong falls on his knees and sincerely apologizes to Do-nam about "that time." Do-nam grows uncomfortable and barks at him to get up, but Kyu-dong gives a heartfelt apology that he wanted to say sorry on his knees so many times but didn't have the courage. He sobs:
Kyu-dong: "I never had the courage. To apologize to you. To stand up to Jae-rok. I didn't even have the courage to stand up to the kids who laughed at me! I just wanted to die… but I didn't even have the courage to do that. I prayed to God at the rooftop, 'Give me the courage to jump.'"
But Do-nam doesn't find Kyu-dong's confession the least bit sincere. Asking for courage is pointless since he'll never have any. "You're just selfish."
Then we finally learn what happened between the old friends. They had once auditioned together for a music audition program as a team comprised of outcasts and promised to stick together no matter what.
However, when the judges expressed that they only chose Kyu-dong, he agreed to move on solo. Do-nam felt the bitter sting of betrayal, saying that he wouldn't have abandoned his friend if their places were switched. Then he wrung out of Kyu-dong's grip and an accidental tumble down the stairs injured his shoulder and essentially left him unable to continue judo.
Which explains why Do-nam doesn't have an ounce of sympathy for his former friend. In his eyes, it's too little, too late …and just around the corner, Jae-rok has overheard everything. D'oh!
The bitter truth doesn't stay under wraps for long, and thanks to Jae-rok, the entire class is aware of the details of their strained relationship when Kyu-dong and Do-nam finally return.
Kyu-dong tears up as the kids throw the victim card at Do-nam, who storms out, angry and humiliated. That leaves Kyu-dong to take another round of abuse a hundredfold worse than before, and he takes off his glasses as if it would help ease the pain.
But Jae-rok saunters up to him and puts them back on his face. To rub salt in the wound, he whispers that all of the applause for Color Bar was for the idol. "You're just Ra-di-o." Oh god, my heart aches for him.
Tears fall, and Kyu-dong can barely eke out his request to sing for the class. Jae-rok laughs in amusement and relays the idea to the class, who protest in response.
But Kyu-dong starts to sing Mot's "To You Who Hopes For My Despair"  anyway. His voice slowly grows louder and stronger as he sings: "No, I'm not all right at all."
As he builds to the chorus, the instrumentals drown out the students' objections. He takes a deep breath and the drums joins in, just in time for him to belt that he's not all right: "Go on, mock me… No, I'm not all right at all… I stagger… I shatter every day."
And now the class falls silent, astonished by Kyu-dong's audacity to keep singing. He looks right at Jae-rok and finishes the song in tears: "To you, who hopes for my despair. Today — will not — become — a memorable — day." He leaves without another word.
Meanwhile, Se-yi is downstairs, still ruminating over Sun-woo's sudden confession when a paper airplane lands at her feet. She looks up to the rooftop… where Kyu-dong stands just behind the railing. Ooohhhhhh nooooo.
She runs, calling his name, as Kyu-dong steps one foot over the railing, and then the other. He slides his feet closer to the edge, breathing deeply while looking out as Se-yi tries to call him down below. He cries: "I'm sorry… Mom and Dad."
His phone rings—ohthankgod it's Se-yi—but he apologizes to her too… and lets his phone drop to the ground. Then we pan over our Color Band members: Do-nam stops in his tracks, Sun-woo turns his head from enjoying the fresh air, and Eun-ha lifts her head.
Desperate now, Se-yi makes a run for it and runs right into Seol-chan, who catches her. He clocks her tear-stained face and asks what's wrong. But Se-yi can only cry in response.
Back on the rooftop, Kyu-dong closes his eyes and narrates in a disturbingly calm voice: "I finally gained the courage I wanted. Therefore, this is enough." He lifts one foot just as Seol-chan looks up to the roof.
OH NO YOU DON'T, SHOW! Don't you dare take Kyu-dong away from us! What does a girl need to do save a character in dramaland?
As one of my favorite characters of the bunch, I don't know if I can take the subsequent heartache if Kyu-dong is written out of the band. His deep pains of guilt, ridicule, and shame that plague him day in and day out is something everyone can relate to on some level. The richness of his character makes me fully invested in both his journey and his shattered relationship with his former best buddy. There's real deep-seed hurt lying beneath on both parties, compounded by the sting of betrayal and the loss of a sports dream.
It's no wonder then that Do-nam lashes out in with his fists and Kyu-dong just takes it, because there's truth in the words that Kyu-dong is at fault. This adds great depth to both characters who were initially introduced at a surface level as a bullying victim and a bully. By giving us a deeper look into their past, we learn that there is a reason to explain their present relationship. Now that we've seen what broke them apart, I look forward to see what will bring them back together.
It's Kyu-dong's loneliness on that rooftop that gets me at the heart where it still stands as a place of refuge for him. In his eyes, it's the one place he doesn't have to hear the mocking jeers of his classmates, a quiet place for him to contemplate, and even more sadly, the only outlet he can see that will set him free. There's so much room to grow for his character that I'm desperately hoping this isn't the end. Say it ain't so!
I also love the last interaction we got from Seol-chan and Se-yi in the final scene. Like almost every lead couple in dramaland, they say things they don't mean and ruminate for extended periods of time over what it means. But here, it takes no time for Seol-chan to piece together why Se-yi may be crying. Or at least that's what I hope. Seol-chan has been (pettily) jealous about her close friendship with Kyu-dong for a few episodes, even misconstruing her concern for feelings toward him at times. Though he's not the only one who understands this friendship, I do like that he gets the chance to act  before Sun-woo does despite Mr. Perfect's forthright confession of his feelings.
So even with his petty and often childish antics, I love that we can see some marked development in his character as Seol-chan shaves off the façade for the sake of sincerity. He's more patient and overall kinder to Se-yi and the rest of the band. You can see how he struggles to protect Se-yi from public scorn with so much of it outside his hands. So then it cuts a little deeper when your frenemy is able to say exactly how he feels whenever he wants when you can barely reveal your true self.
Tags: featured, Ha Yeon-soo, Kang Haneul, Monstar, Yong Jun-hyung