Shark: Episode 14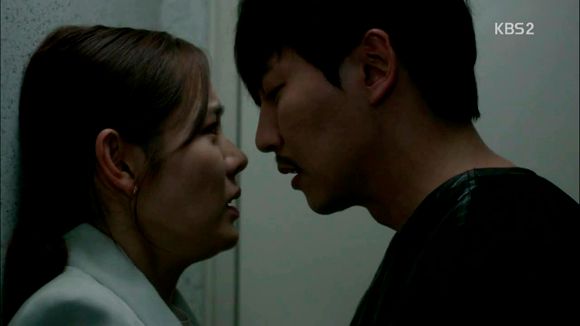 Shark has been picking up a lot of steam lately and this episode is no exception, with Yi-soo's identity crisis unraveling about as fast as our resident evil mastermind's and an assassin on the loose. Everyone's headed toward the same truth at different speeds, even though you have to wonder why some of our characters are only withholding certain truths and why, but the end result is a pretty thrilling hour—even if the reveals run the gamut of "How exciting!" to "Why was that still a secret, again?"
I wish I could donate lights to this show sometimes, though. Even a string of Christmas tree lights would help.

EPISODE 14 RECAP
Hae-woo places a desperate call to Detective Byun to trace her father's cell phone location while she follows Yi-soo, who's currently on the phone with her grandpa.
He gives Grandpa Jo a choice between telling the truth or saving his son, so Grandpa goes through a few tactics. First, he threatens Yi-soo: "If my son dies, your sister won't survive either." This doesn't seem to phase Yi-soo, since that's not the problem at hand. Will he save his son, or not?
Daddy Jo's able to listen to the conversation from the warehouse, only growing more frightened as his father hesitates and when his kidnapper walks in with a weapon. Grandpa Jo wants more time, but Yi-soo knows he'd just end up like Prosecutor Oh. Tick-tock.
"A human's life is decided by fate," Grandpa Jo finally says. "Maybe my fate with my son ends here." If Yi-soo weren't driving, I'm sure he'd give a slow clap to Grandpa's heartlessness in abandoning his own son.
Daddy Jo's captor turns off the feed, right as Detective Byun & Co. get a lock on his location.
The conversation continues, with Grandpa Jo saying that no father would want to abandon their children: "Both your father and I… All we wanted was to live new lives for our children." Yi-soo's caught off guard. Ah, that's right, Yi-soo doesn't know about his father's dark past, but he does know that Grandpa Jo has killed a ton of people.
Grandpa Jo tries to turn the tables by offering to trade information with Yi-soo for his son's life: "If you don't want to regret it, release my son right now. Then I will tell you the truth about your father that you don't know."
"I understand my father better than you," Yi-soo grates. But it's too late, as he tells Grandpa Jo. His time is up. Click.
Grandpa Jo places a desperate call to Clicky to find his son, while Yi-soo calls his Friend to carry out the plan as intended.
Hae-woo follows him into an apartment building, but he's been onto her and grabs her in the stairwell to force her up against the wall: "Why are you following me?" Gulp. Why not? Oh, right, that whole Being Married thing.
"Where is my father?" she demands to know. Even though Yi-soo's with her, she knows he's behind it and that he must have help. Her tone turns pleading, "Don't destroy your life just for this, Yi-soo. Don't commit any more sins."
Yi-soo grabs her by the shoulders and edges in closer to tell her that the only way she can stop him is by finding the truth. "You are more important than the truth!" Hae-woo fights back. "There is nothing more valuable than your life."
"If I don't put an end to this, I'm as good as dead," Yi-soo says. This moment is so charged. Especially when Hae-woo pleads for him to think of his sister, and Yi-soo suddenly leans in so close that their lips almost meet. Omo.
But instead he speaks closer to her ear in a low whisper that Yi-hyun will understand him. All Hae-woo wants is to save him, but at least Yi-soo gives her some straight answers in that he didn't kill Detective Oh or cause Prosecutor Oh's accident. Even though the truth is what matters most to him, she argues that the truth is meaningless if he were to be destroyed in the process.
Yi-soo stares at her for another charged moment before pulling her into an embrace. She fights him at first, but he keeps holding on until she stops, and his lips are close enough to brush her ear when he speaks. "You should give up. I won't stop."
Hae-woo: "You won't get away with this. No matter who it is, I will make them pay for what they've done. You're no exception." Yi-soo just smirks and brushes away a bit of her hair, a move that seems more patronizing than affectionate. "I'm looking forward to it."
Daddy Jo's captor stalks up to him with a knife… but he uses it only to cut him free. Soo-hyun calls Hae-woo while she's on her way to her dad's triangulated location to say that he's on his way, too. Hmm. I still think that he's Yi-soo's Friend.
Oh, and hah, the show finally does the Big Reveal to show that Soo-hyun really is Yi-soo's Friend. He's got the perfect cover when Detective Byun and the rest of the police arrive since he's supposed to be there.
The police rush into the warehouse to find it empty, with only Daddy Jo's cellphone inside along with a business card for a professor named Robert Yune. Ohh, did Soo-hyun already hide Daddy Jo in his car? The car that all the police just passed by? Devious. This would only be more fun if it wasn't so dark.
Detective Byun calls Grandpa Jo on his son's cell phone, and guesses from Grandpa's threatening tone that he talked with the suspect directly. When asked what the kidnapper wanted in return, Grandpa Jo says, "If I didn't pay the ransom, he threatened to kill my son." And then, "I said as long as my son is safe, I would do anything." Oh, you LIAR.
He then relays this information to Hae-woo, who raises her eyebrows at the mention of ransom. But she can't tell Detective Byun the truth about Yi-soo or her grandpa, so she's stuck.
The police eventually find Daddy Jo in an abandoned car and take him to Casa Jo, where Joon-young has been waiting and placing frantic calls. Daddy Jo is badly shaken and recoils from his father when he rushes out acting all relieved to see him.
Daddy Jo knows his father better now, and hides away in his room while the phone conversation from the warehouse haunts him. Then Grandpa Jo comes in. Eek.
He asks his father if he's really his son, because he can't differentiate what's real and what's not anymore. Oh man, Grandpa. Kill all the people you want, but your secret isn't yours anymore.
"Is this it?" Grandpa Jo asks when he's alone, presumably to Yi-soo. "Is this what you wanted?"
While Yi-soo meets with Soo-hyun in a bar, Hae-woo and Detective Byun rush home, only for Joon-young to tell them that Daddy Jo is refusing to speak to anyone. Hae-woo asks Detective Byun to delay questioning until her dad gets some time to rest.
Of course, the second she walks in the house her dad comes running past her in hysterics with his hands clasped over his ears. He runs straight into his dad's office and breaks the ceramic vase Junichiro gave him, the one said to contain the soul of his father… who Daddy Jo now knows wasn't his actual father.
"Are you disappointed that I came back alive, father?" Daddy Jo asks aloud, in plain sight of his daughter and her husband. He's babbling like a lunatic, but it's because he knows what his father did, and turns to Hae-woo: "You respect your grandfather the most in this world, don't you?"
Then he turns back to his father to celebrate his return with an ironic, "Korean independence, manse!" So he's cheering for himself while pointing out his father's not-ties or maybe-ties to the Korean independence movement. Dude, if your father was going to leave you for dead, what makes you think he won't hurt you now?
Soo-hyun tells Yi-soo everything he's learned about Clicky—how his wife's been hospitalized for over ten years with dementia, how he was not only a special forces agent but also a cop, and how there aren't any current records of him and none that explain his connection to Grandpa Jo.
As for protecting Yi-hyun, Yi-soo wants Soo-hyun to get some help since he can't be at the job 24/7. Man, this is a tough one. If only her father were a policeman…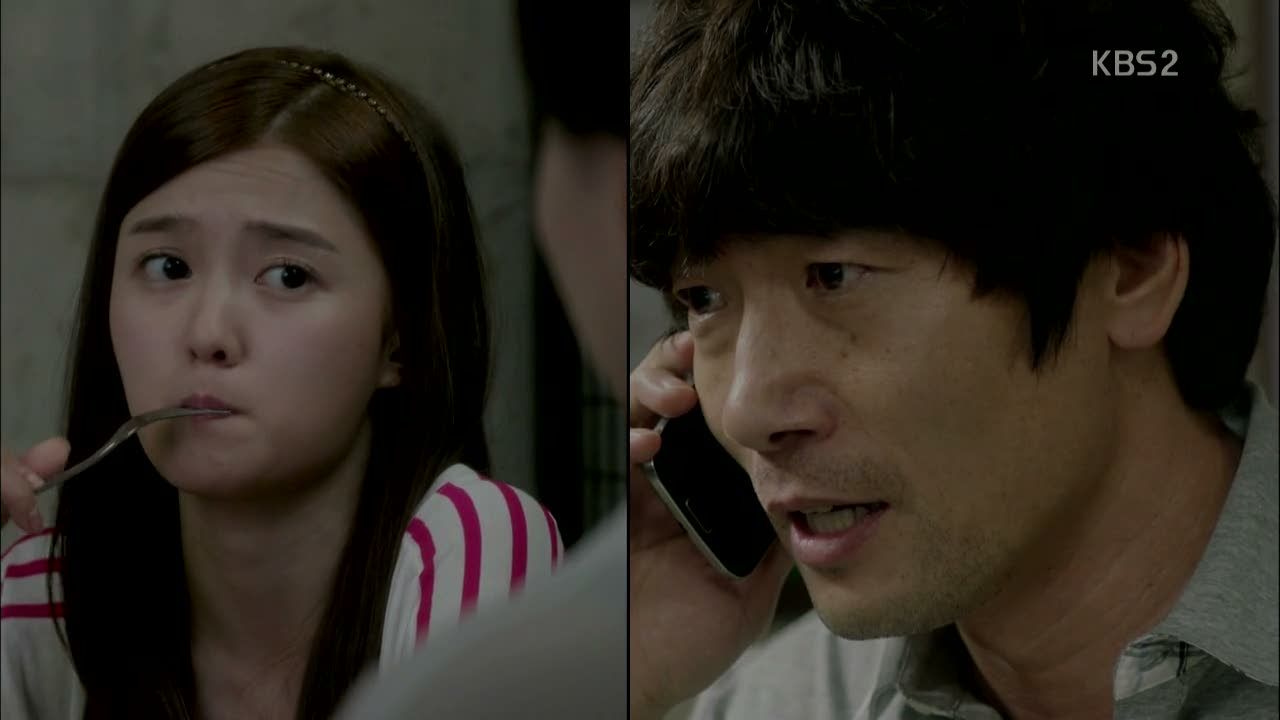 And then her father the policeman gets a mysterious text: "Protect your daughter." He calls his wife out of worry, and tells her not to let Yi-hyun out of her sight even for second until he can get to them.
Hae-woo asks Mrs. Park about her biological grandmother, especially on the heels of her dad yelling to her grandfather that he wouldn't let himself be abandoned like his mother. She specifically wants to know if her grandmother wasn't her father's biological mother, because the photo she saw of her grandmother in the family album didn't look familiar.
Mrs. Park claims she heard something when she was attending her grandmother's sick bed—that Grandpa separated from Daddy Jo's biological mother and remarried the woman Hae-woo knew as her grandmother. And her grandmother didn't pass away like Hae-woo thought, but instead went missing one day.
Joon-young is ready to take investigative matters into his own hands, and nothing Hae-woo says will stop him: "This is a plan Yi-soo took twelve years to prepare," he argues. "First it was my father, then yours. You could even be next. The police will never be able to stop Yi-soo."
She tries to tell him that the culprit who tried to kill his dad and the one who took her father aren't the same, but she won't explain how. So she's going to just keep letting Joon-young think it's Yi-soo behind all this, when I feel like he's more than rational enough for her to sit him down, explain the truth, and ask him to keep it a secret for now. It's not like he and Yi-soo were never friends.
Yi-soo takes some time to think about his kiss with Hae-woo, while she thinks about their close encounter in the stairwell. But eek, Joon-young sees her brooding. Does he see the shark pendant? That'd be a dead giveaway on who she's thinking about…
The next day, Yi-soo agonizes over the least-creepiest way to give Yi-hyun a present, which pretty much doesn't exist. Detective Byun drives her straight to the cafe door and has plans to drive her home as well—good thing too, since Clicky is watching from the cafe nearby, waiting for the right time to strike. (If Yi-soo knows who Clicky is, why doesn't he have Soo-hyun trailing him and not vaguely protecting his sister? It could only help to know where Clicky is at any given moment, right?)
Gah, Awkward Yi-soo is the best. He even cringes as he pushes the wrapped box over the table to his sister, which he totally insists isn't a present… just some leftover shoes, or something. I love how Yi-hyun's not at all creeped out by this older man giving her gifts, but who cares? They're ADORABLE. I can't even say it enough.
We soon see the purpose of the shoes—Yi-soo inserted a GPS chip in order to track Yi-hyun's whereabouts. Better hope she wasn't lying about liking those shoes.
Secretary Jang tries to get Yi-soo to eat breakfast with her even though he's not interested until Dong-soo pops into their convo (literally). Secretary Jang invites him for breakfast, and Yi-soo takes the initiative in making it a group thing.
Dong-soo chatters on as usual and is totally floored when Secretary Jang tells him that they should eat together from now on. He's all, You and me?! But she scales him back a little—she means the two of them plus Yi-soo. He's deflated, but only for about a second. Then he breaks out his happy dance, which is amazing and terrible all at once. If only I knew how to make gifs…
Wait! I googled how. This deserves a victory dance.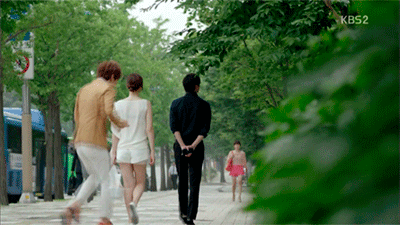 Joon-young runs into the pervert CEO while visiting his father in the hospital, and isn't keen on hearing his excuses for selling to Kim Jun instead, until the pervert warns him not to make the same mistake he did by trusting people too much, "Your wife included."
Eek. Joon-young looks like he's about to punch the guy into explaining his words, so the man tells him: "Your wife and Kim Jun… they don't seem like just acquaintances." Joon-young threatens him at eye level to shut up, because he won't stand idly by while his wife's name is maligned. You poor, perfect husband. She doesn't deserve you.
Grandpa Jo tries to make up excuses as to why his son can't be questioned by Detective Byun (and Hae-woo), and is thus surprised when Daddy Jo crashes the party to volunteer for questioning.
It's when the subject of a ransom comes up that Detective Byun catches a disparity in their stories, and Hae-woo notices how nervous her grandpa grows. Grandpa Jo wants the questioning over and done with, worried that his son will say something to incriminate him. As it stands, Daddy Jo just says of the possible culprit: "A lot of people want me dead."
Afterward, Detective Byun tells Hae-woo that he's sure both her dad and grandpa are hiding something. "Are you hiding something from me, too?" Well, now that you mention it…
Hae-woo gets an out when Joon-young calls to tell her he's on his way to meet the attorney general. A little insecurity creeps into his voice when he asks her if she'll be home late.
They find out that a man named Robert Yune (from the business card left at the abduction scene) called the newspaper to respond to the ad that scared Grandpa Jo so much—the one looking for Chun Young-bo, aka Grandpa's real name.
Yi-soo can't get Grandpa Jo's haunting words about his father and guilt out of his head, even though he never knew why his father called him so many years ago to say "I'm happy today. I was forgiven." 
He calls Soo-hyun about it, but decides not to have his friend look into his father's business in the end. Since Soo-hyun is keeping an eye on Yi-hyun he's able to tell Yi-soo that she's wearing the shoes he bought for her. Yi-soo seems just a little relieved until he remembers that Grandpa Jo threatened to hurt her.
Even Yi-hyun notes how much spare time Soo-hyun must have to be visiting her so frequently, and rebuffs his offer to drive her home since her dad's already volunteered. She knows it's fishy, but no one will tell her why, and she gets a flick on the forehead from Soo-hyun for complaining. "What was that for?" Soo-hyun: "Because you're cute."
There's no Clicky in the cafe, but there is a dude who looks suspicious. Not good.
Hae-woo and Detective Byun try to track down Robert Yune at his apartment, but everything looks so familiar. Then it hits—this is the building that Hae-woo followed Yi-soo into earlier.
They meet with Professor Yune, who called the number on the ad not only knowing that Chun Young-bo was dead, but all about his history. This is where it gets interesting: According to recently-unclassified documents from the U.S., Chun Young-bo was a North Korean spy for the States, also responsible for multiple massacres.
The camera focuses on Grandpa Jo, aka Chun Young-bo as the professor tells the story of how he killed South Korean soldiers and civilians while working for the North, before he switched allegiance to the States and turned in his own countrymen—even going so far as to participate in their executions. Good grief.
There's no proof that he was responsible for the fire that destroyed Great-grandpa Jo's village, but there's plenty of speculation. Also, there's no record of how Chun Young-bo died, nor can the professor find any photos of him. But he claims that Grandpa Jo might know some information based on a phone call he received that Chun Young-bo's father was a slave in Great-grandpa Jo's house. Iiinteresting.
Detective Byun asks if the professor got the name of the man who called him. "He said his name was Han Yi-soo."
He can tell from Hae-woo's non-reaction that she's probably known this for a while, and when he stops her to talk, all she gives him is The Picture, adding that the late Detective Oh gave it to Prosector Oh before he died.
"There's someone I have to meet," she says, and the look in her eyes stops Detective Byun from pressing further.
The suspicious dude at the juice bar hands a sheet of paper to Yi-hyun before booking it out of there. It reads: "Han Yi-soo is alive."
Naturally, she goes rushing after him, but he's a second too fast in a getaway car. She jumps into a waiting cab and orders the driver to follow the car…
…But it's Clicky behind the wheel. OH NO. Oh no!
Yi-soo decides that today is the day to confront Clicky, only he's obviously not in his shop. He knows something's wrong when Yi-hyun's GPS dot starts racing away from where she's supposed to be, and then when she doesn't pick up his calls. GO. HURRY.
Detective Byun finally gets a hold of the deleted footage from the library, which shows Yi-soo (Kim Jun) sitting at the table across from Detective Oh. He remembers Hae-woo trying the crime scene smart key on Yi-soo's door… ah, now it's all starting to click.
Hae-woo finds her grandpa staring hard at a garishly huge statue of Rodin's The Thinker (for being in his personal backyard), which I suppose is there to symbolize Grandpa Jo's internal strife. 
She asks him for the truth: "Chun Young-bo… You remember that name, don't you? Are you that person?"
It's like you see the color drain out of Grandpa Jo's face. He sighs, "I think it's time for me to finally confess to you. I… killed someone." Pause. "I killed Chun Young-bo." Oh, you devious bastard.
Yi-soo traces his sister's signal down… to his apartment? Oh no. He stands outside the threshold of his own door trembling in fear before he goes inside.
He gives a quick look, sees nothing, and heads back for the door… but something gives him pause. He turns around, a look of heartbreak and disbelief crossing his face.
Oh no. Ohhhhh no. *watches through fingers* I don't want to know!
We can't see what he sees, but he stumbles over to his couch and drops to his knees in despair. The camera starts to pan down…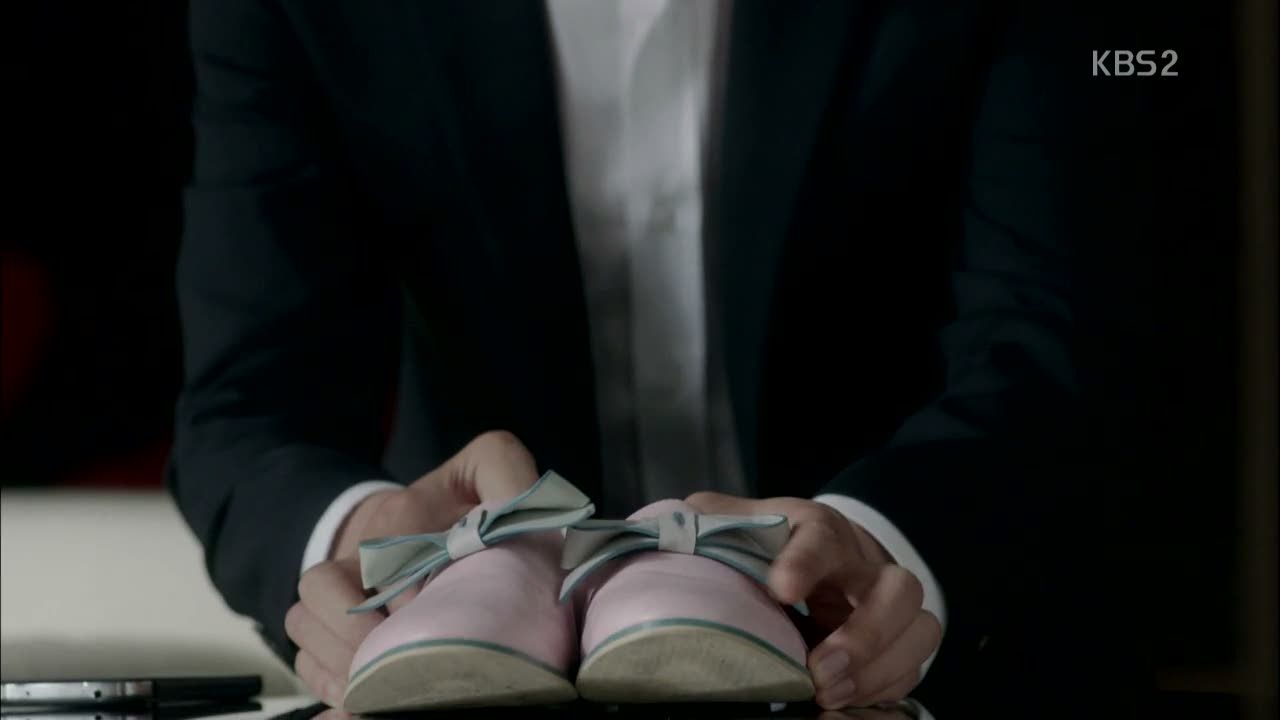 It's Yi-hyun's shoes. PHEW, it's just her shoes. It's not her dead body. I totally thought it was going to be her dead body. I've never been so happy to see a pair of shoes.
Yi-soo clutches the shoes as his gaze turns dark.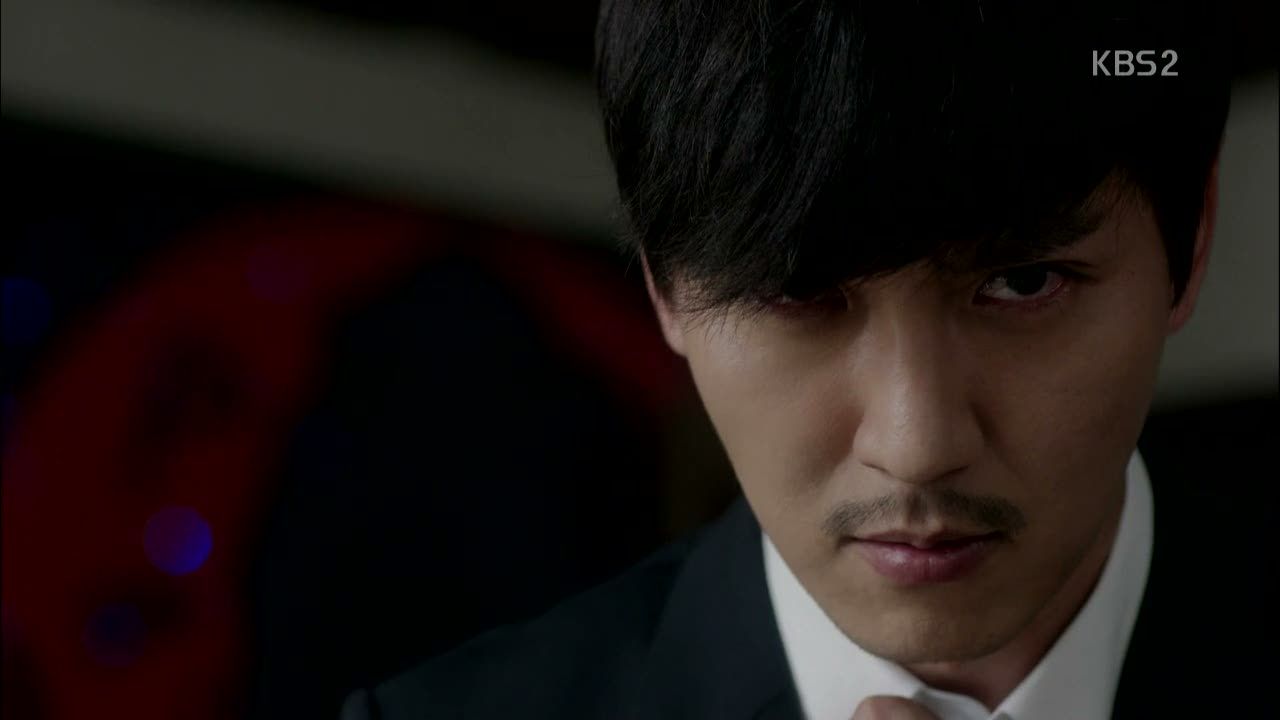 COMMENTS
Oh, it's ON.
I mean, I hope it's on. I've been waiting to see Yi-soo kick some butt and take some names for what feels like forever, and now we're almost-kind-of getting there.. But if we could get all the benefits of Yi-soo breaking free of his Kim Jun shell *without* killing either Yi-hyun or Detective Byun, I'd be happy. Everyone else is fair game. (Sorry, everyone else! It was fun while it lasted.)
It was nice to learn everything there ever was to know about Grandpa Jo's dark past this episode, even if it was a little convenient to have one guy just sit down and spend a few minutes listing his extensive list of crimes against humanity. We don't have the whole puzzle of course, since it remains to be seen exactly how Grandpa Jo pulled this massive identity-switching stunt off, but the vague idea I'm getting from this show is that it included murder with a side of mass murder, high treason, and the possibility that Grandpa even burned down a whole village just to keep a secret.
This information sheds a whole new light on who Grandpa Jo really is, and he's a lot worse than I imagined. (Gotta give credit where credit is due—at least on paper, Grandpa Jo is one of the most heinous drama villains in recent memory.) Not only is he responsible for the multiple murders we've seen happen in the series, but he's literally responsible for war crimes—so now I understand why an ex-spy with such a nasty track record would want to live a new life, and why he'd do anything to stay hidden. Now the question is, what stake does Junichiro have in all this? And what more don't we know about Yi-soo's dad?
I guess there are fifty more questions than that, like whether Grandpa Jo is still trying to keep his secret by kidnapping Yi-hyun or whether he's just over it and out for revenge. It was smart of him to throw Hae-woo off by confessing to a false crime, because it sounds almost real enough—and damning enough—to be true. But there's his evil genius at play, since he's not saying he killed an innocent bystander. He's saying he killed an outright villain. Now all Hae-woo needs to do is make the connection that that very same villain is her beloved grandfather, and all hell will break loose.
…As long as Yi-hyun and Detective Byun live through it. Yes, Shark, they're a package deal. I have a ballpoint pen, and I know how to use it.

RELATED POSTS
Tags: featured, Kim Nam-gil, Shark, Sohn Ye-jin