Dramabeans the (e)Book: Why Do Dramas Do That?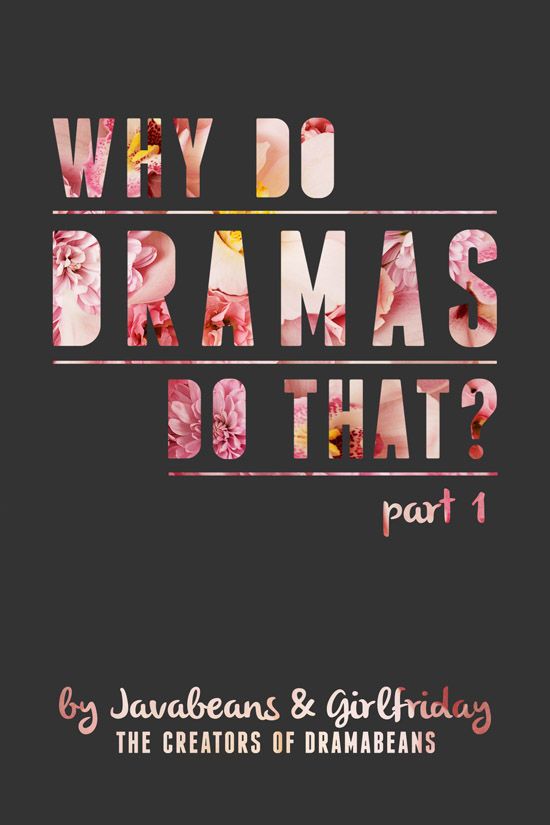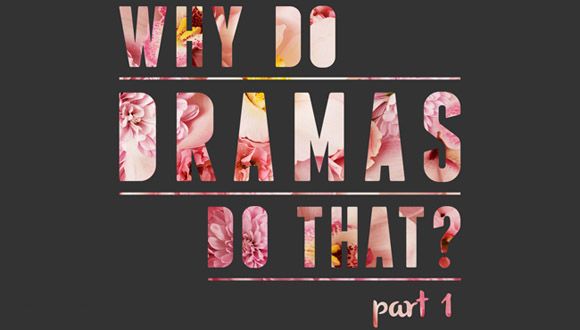 Why do dramas do that?
If ever there were a question that characterized the seven years we've been running this site, that would be the one. What's with the back hugging? Do Koreans really drink so much soju? Wrist grabs: EXPLAIN!
We attempted to tackle the question with our Pop Culture and Glossary series of posts (examples: What's an oppa? and an explanation of the folk-tale Gumiho), but quickly realized that there was so much material we wanted to cover that we joked we could easily fill a tome with it. So why don't we? was the obvious response.
And thus Dramabeans: The Book was born, which we decided to call, aptly, Why Do Dramas Do That?
We'll be publishing the project as a three-part ebook series, which we'll make available on Amazon (to be read on a Kindle device or free Kindle apps) and Smashwords (which publishes formats readable on Sony Reader, Kobo, Nook, Kindle, and your iThing of choice).
We'll be releasing Part 1 soon, so stay tuned for updates. For now, here's a taste of what's in store:
Why is everyone in a K-drama obsessed with a first love?

First loves have their own mythic place in K-dramaland (or perhaps because of dramaland), holding power over characters that traverse the unlikeliest of divides: time, memory, generations, even between the living and the dead. Countless dramas base entire romantic plots on the love of a little boy for the first girl who was ever nice to him. Often we can sum up an entire drama this way: boy meets girl in youth, falls in love, gets torn apart by tragedy, spends life fighting all odds to get back to her. The End. Is it realistic? No. Then why do dramas refuse to leave that mythic land, FirstLoveonia?

Why do diametric opposites attract?

He's deaf but pretends to hear; she pretends to be deaf although she can hear. He can't feel any pain, while she has acute sensitivity to pain. She's poor and overflows with warmth; he's filthy rich and frozen so rock-solid that a lump of ice resides in his chest cavity. How is it that these characters always manage to find the person who represents the exact antithesis of themselves? Is there a special pheromone that only drama stars are keen enough to detect as they hunt for a romantic match? What gets accomplished through this K-drama Law of Diametric Opposites?

The Prince and the Pauper: Wither the Middle Class?

K-dramas might give you the impression that Korea is divided into two economic classes: chaebols (insanely rich, and all handsome, young, and brilliant to boot) and dirt-poor commoners with strong work ethics (all beautiful and sweet, naturally). And while the income gap is a very real thing, these dramas tend to ignore a notable majority of the population, leading us to wonder: What happened to all the normal people? Where's the middle class?

Why are loan sharks such a threat to the innocent heroes and heroines of dramaland?

Why is dramaland so littered with loan sharks, and why are they always black-suited brutes with fashions from the '70s and brains from the Cro-Magnon era? And what do they possibly get out of harassing a dirt-poor hero or heroine who clearly can't pay up anyway?

They'll harass, stalk, threaten, and then do the same to every relative they can track down. It doesn't matter if the heroine has not a cent to her name, or if the hero isn't technically the name on the contract; if the thugs terrorize the debtor's child, the theory goes that the debtor will be nearby. It's not fair, but who said fair had any place in a predatory loan in the first place?

RELATED POSTS