Good Doctor: Episode 3
Just in case we forgot that we have a medical drama on our hands, another case throws our team of pediatrics for another loop as the stakes are raised higher, and more than one person puts their jobs on the line for our hero. Working in medicine may require the brains to react on a moment's notice, but it also calls for the heart to accept the responsibility of those decisions, sometimes at a cost.
Good Doctor continues to lead the ratings pack with a 15.3% this episode while its contenders Empire of Gold and Goddess of Fire came in at 10.0% and 9.1%, respectively.
EPISODE 3 RECAP
Do-han is faced with the accusation that he dared to steal a patient from his old boss. Doctor Kim is here to find out who it was because the family said it was a male resident in pediatrics. And then Shi-on pipes up to say it was him.
A flashback reveals Shi-on had told the parents his department could save the baby and that Do-han would perform the surgery.
He claims responsibility for the order and says Do-han isn't at fault at all, but that just adds more fuel to Doctor Kim's fire to mock the pediatrics department's disregard of hospital hierarchy. He tells Do-han to keep his team members in line.
Now that they're alone, Yoon-seo demands an explanation from Shi-on as to why he acted of his own accord again. She doesn't accept his honest answer that he did so because the other department wouldn't do the surgery.
Shi-on flinches when she starts to yell, but they're interrupted by the arrival of the preemie's parents, who grow upset to hear that the surgery won't happen after all. Yoon-seo explains their newest resident has a soft heart, and Do-han apologizes on behalf of his team as the mother breaks down in sobs.
The residents nag Shi-on about it outside, telling him how he's dragged their boss into this mess. The family is led out and Yoon-seo lets out a sigh.
Shi-on follows the family back to the NICU where they contemplate whether to change hospitals for their baby's sake. He listens as the mother wishes for the chance to do those things every mother does like to feed, hold, and change her baby's diaper. Shi-on walks away with a heavy heart.
Do-han relays the news that the preemie patient has been transferred back, and assures his old boss that it won't happen again. Doctor Kim wonders if part of the reason why Do-han chooses to stay in pediatrics is because of their chief of staff. He offers Do-han a promotion should he decide to return to their department.
As Yoon-seo walks by the NICU, she sees Shi-on standing by the preemie's incubator, watching its tiny fingers curl and open. She thinks back to Do-han's words about how Shi-on works like a mechanical robot, and it weighs on her mind.
Just then, Shi-on is led away by Doctor Kim's minions, who bully him in the bathroom. Yoon-seo speaks up when one of them raises a hand to hit him, and it's funny how they immediately cower in her presence.
She calls them out on their schoolyard antics and asks if it's such a crime to see a patient in a different department. She scolds them for trying to lay a hand on one of her hoobaes and threatens, "Do you wanna die?" Heh, who's the bully now?
They sit outside (and Shi-on eats ice cream, aw) and Yoon-seo asks him what he thinks it means to be a doctor. Shi-on recites the Hippocratic Oath in response, ha. She asks about a patient then, and he gives the textbook definition that patients are those who need a doctor's help.
That prompts her to ask if he's ever had an independent thought about his job apart from what he's learned in his studies. Shi-on thinks for a moment and starts to rattle off the definition again before she cuts him off.
She tells him that she looked favorably upon Shi-on these past few days because he reminds her so much of herself back when she was a rookie, and she felt that a worthy candidate finally joined their team.
But now she realizes that Shi-on doesn't act out of his own volition, and a doctor who works like that is no different than a robot in surgery. She urges him to develop his own conviction and thoughts before he goes to treat and save his patients.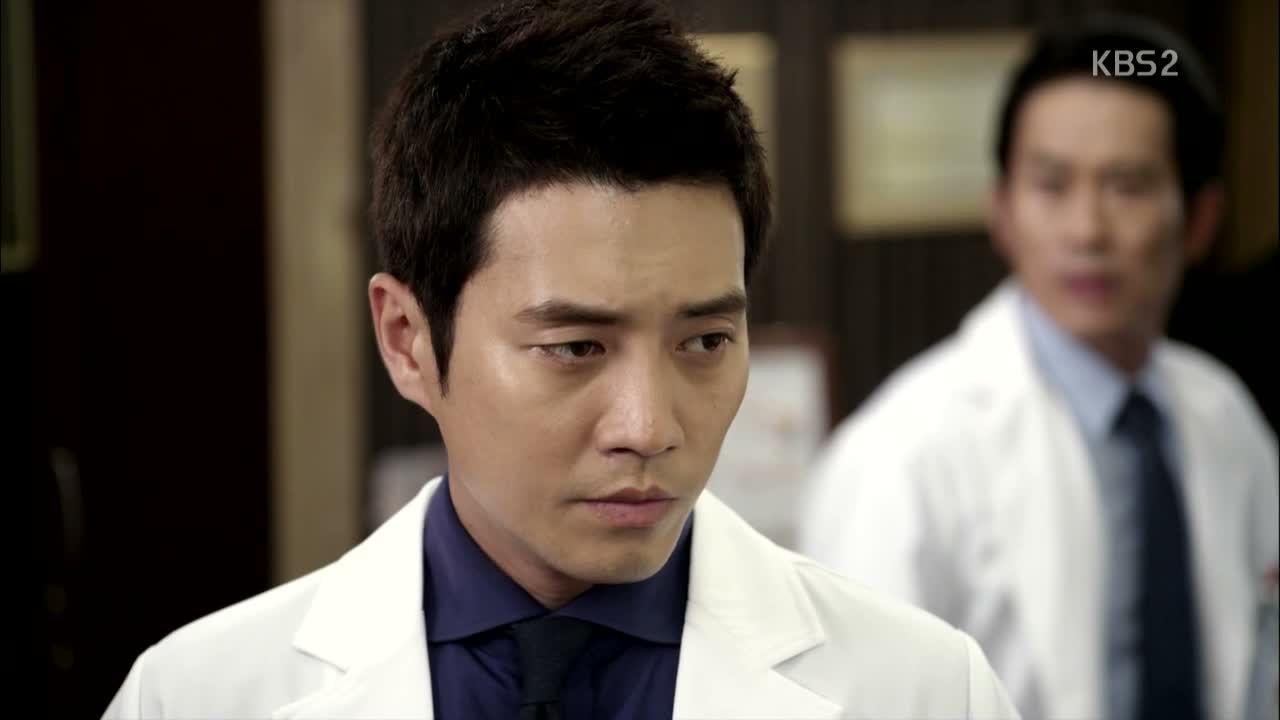 Doctor Pomade lectures Do-han for disregarding his superiors' authority by failing to report the preemie incident. Do-han doesn't hesitate to knock him off his high horse, asking if it's okay to ignore basic protocol then.
He means the medication order on the bile patient, and that shuts Doctor Pomade up. Ha. Then Doctor Pomade rises from his seat—he knows that Do-han doesn't respect him, but can't he at least pretend to when they're at the hospital?
Do-han turns back towards him and bows at the waist. "Like this?" Doctor Pomade fumes, and he has one of the residents spy on Do-han and Shi-on for him.
Chae-kyung arrives at a fancy restaurant and smiles to see Do-han. But that smile quickly disappears when she sees her stepmother, president Lee, there as well.
She wastes no time to say that she doesn't want to talk about the wedding. But that isn't what president Lee is here to talk about, and she suggests that the two work overseas for a while.
It's worth noting that Chae-kyung addresses her stepmother by her job title. Chae-kyung sees right through those words and explains that the reason why she's angry with her stepmother is because she keeps interfering with her life. With a smile, she politely tells her stepmother to back off.
She rises to leave and Do-han catches up with her in the hallway. He understands that she may not regard the board president as a mother figure, but she should at least treat her like an adult. Chae-kyung says she's doing what she can.
So Do-han asks if they should get married, and Chae-kyung laughs at the gruff proposal and tells him that as long as she has his heart, they don't have to get married. And you want to marry this woman, why?
Nurse Jo scolds a pair of nurses gossiping about how it's never a quiet day since Shi-on came on staff. He puts them in their place, saying every day is a hectic one.
The residents show up at the desk with Shi-on in tow, giving him stern instructions to stay here. They grumble over how they thought they would have less work with the rookie on board, only to end up with more.
A patient's mother approaches them about her son who stubbornly refuses to eat. The residents readily shunt the task off to the new guy, and Shi-on gets hit with a pillow as soon as he walks in.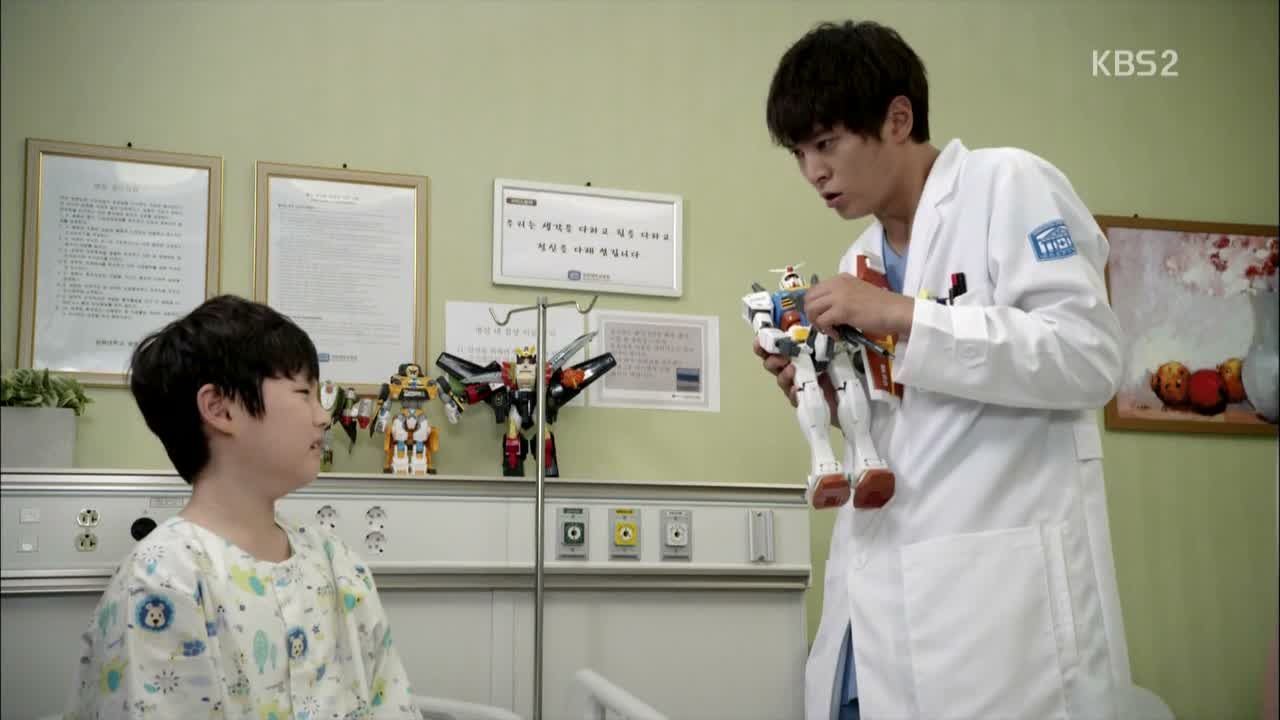 The little boy complains that he wants to eat pizza, and their attempts to calm him down fall on deaf ears. Then Shi-on's eyes fall upon the toy robots on the shelf.
He eagerly asks the boy questions about them, which effectively gets him to stop crying. The little boy marvels at how Shi-on is the first doctor to have such an interest, but then Shi-on asks if he can borrow one for a day, and the little boy starts to cry again.
In an effort to stop the tears, Shi-on warns him that he'll break it… and then it actually breaks in his hand. Twice. More tears. Hahaha.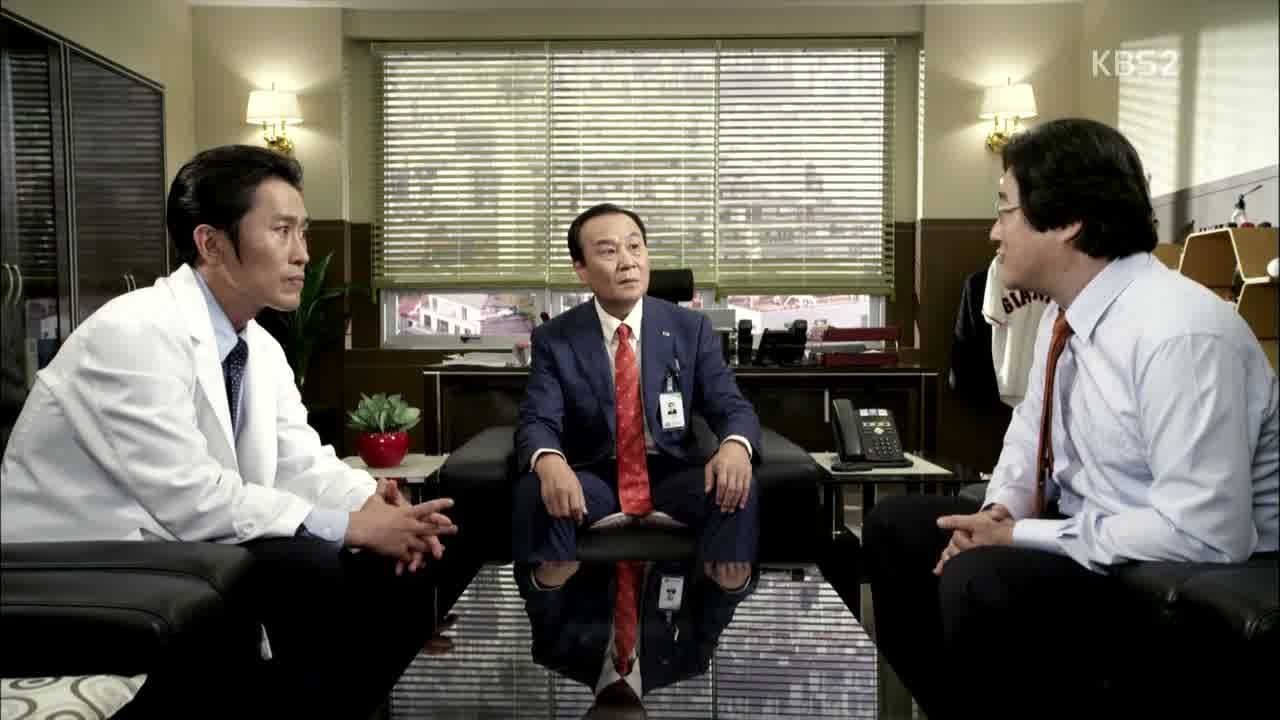 The evil trio convenes again and they sigh over how the opportunity to oust the good guys keeps slipping through their fingers.
Doctor Pomade confirms that the preemie's chance of survival with surgery is thin, so the assistant chief says the best way is to get the doctors to turn on themselves. Using a baseball analogy, he says they need one crucial error. He asks if there's anyone whom they can trust.
We cut away to a group of mothers, who gripe about how someone with Shi-on's condition could ever become a doctor at this hospital. When the bile patient's mother talks about how Shi-on saved her son's life, they remind her that it was Do-han who performed that surgery.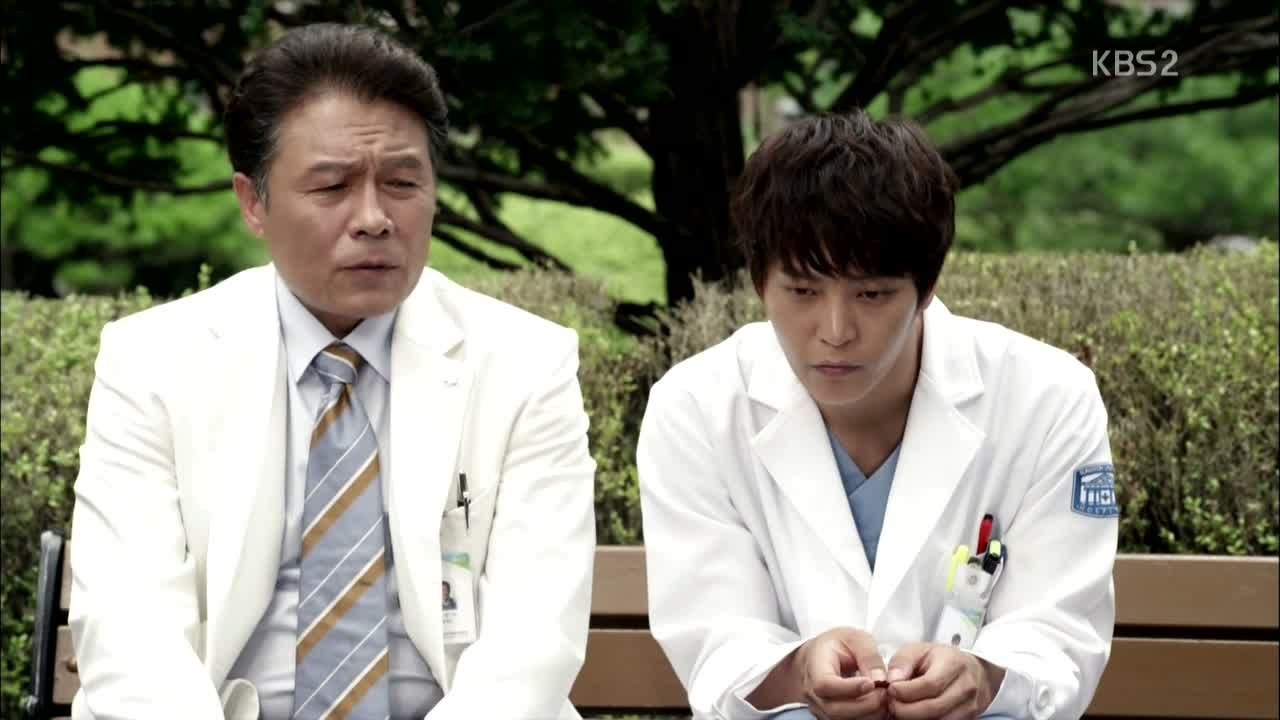 So they all head to the nursing desk to complain and request a different doctor. The nurses try to dissuade them just as Shi-on rounds the corner. And then one mother adds: "I heard he's not all that right in the head." Oof.
Shi-on scuttles away, having overheard that remark, and Doctor Choi finds him sitting outside a little later. He sits down beside Shi-on and listens as Shi-on says that he thinks that everyone hates him, but it doesn't make him sad since it's always been like this. Aw.
He starts to ask Doctor Choi about "robots who perform surgery," but he decides against it and runs back inside.
At least Jin-wook is around to cheer him up, and he tells Shi-on to keep his head up. Suddenly the little boy with the toy robots runs up to them and tells them to hurry.
They run into a room where the teenage girl from the previous episode (her name is In-hye) covers her eyes and cries that she's in pain. Jin-wook is tipped off that it's a prank, but he instructs Shi-on to examine their patient as usual.
Shi-on leans in… and In-hye moves her hands to reveal a pair of goofy glasses. The children erupt in a fit of laughter, but Shi-on doesn't laugh with them.
He says that he didn't find it funny in the least, and doesn't like how they're making fun of him. The children fall silent since they didn't intend to hurt his feelings, and Shi-on shuffles away.
Jin-wook follows after him, but he runs into a pretty girl at the doorway. He breaks into a smile and sheepishly says that it's been a while. This is In-hye's older sister, and it's apparent that Jin-wook harbors a crush for her. And In-hye knows it. Cute.
Do-han shares a drink with Doctor Choi, who apologizes and thanks him for keeping Shi-on on. Do-han sighs at this, as he finds those words of apology and gratitude infuriating and burdensome from his once stern teacher who used to yell at him at every misstep.
They're about two bottles in, which means they both start slurring their words. Do-han asks why Doctor Choi continues to defend Shi-on when he does everything he hates the most.
Doctor Choi answers that Shi-on is a particularly special child who could have become an exceptional surgeon like Do-han is. Thus he wants to be able to make Shi-on's life a little better. "It's my last wish as a doctor to heal one person's life."
As Shi-on walks along the street on his way home, he stops at a store to watch an animal documentary on a 3-D TV. It sends him to another flashback with Hyung, who crafts a homemade kaleidoscope for his little brother.
Hyung asks Little Shi-on what he sees, and Shi-on names a whole slew of things. Hyung beams and ruffles his hair, calling his brother a genius.
And in the present, Shi-on wells up with tears at the happy memory, and puts the glasses back on.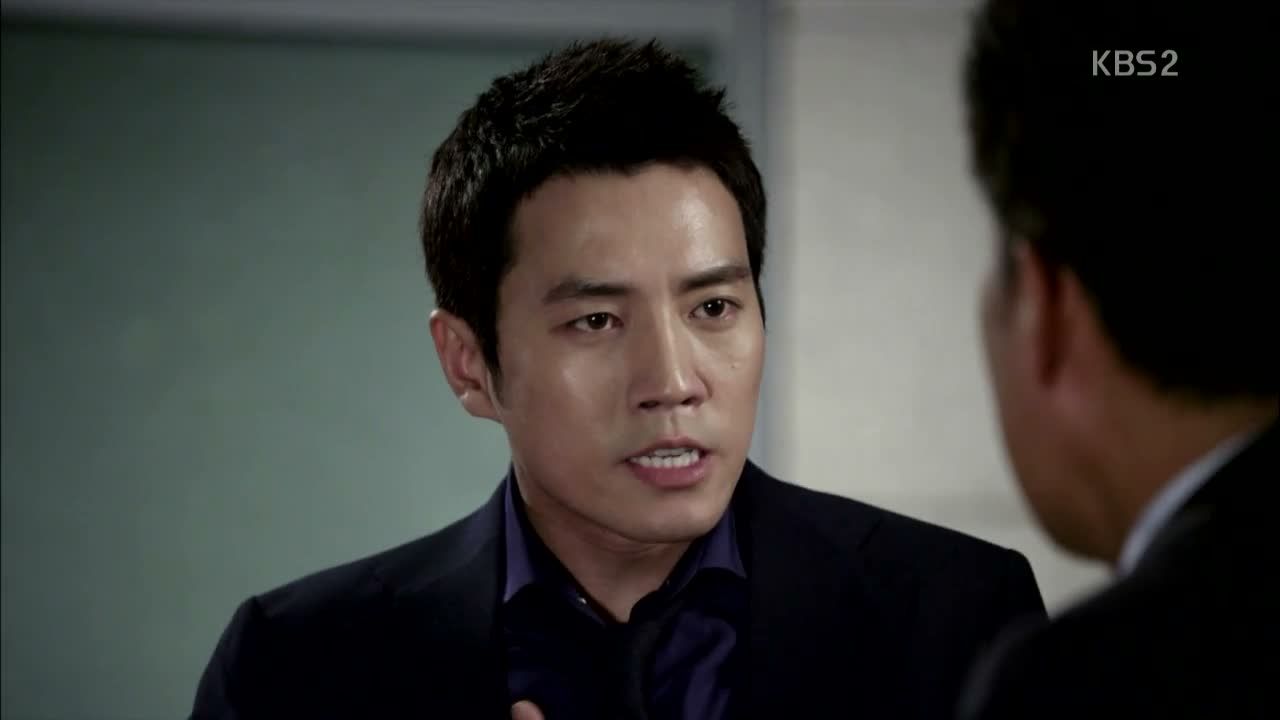 Both Do-han and Doctor Choi are pretty tipsy as they stagger down the street. Do-han is clearly the drunker one between them, and in his drunken stupor, he tells his teacher to stand his ground.
It's actually kind of funny to watch Do-han be an angry drunk, and he shouts that he'll take the fall instead. Well, he starts to say it, but then he doubles over. Pfft.
Yoon-seo spots them on her way out of the hospital, and she offers to take Do-han home. As Doctor Choi watches them leave, he lets out a deep sigh.
She manages to get him back home, and she smiles at the collection of photos of the medical team in his room. We travel to one of these photographic memories which was taken at the Library.
It's a departmental dinner and Yoon-seo sneaks glances towards Do-han at the table. She ends up pretty drunk afterwards and Do-han has to piggyback her home.
Yoon-seo tries her best to make coherent sentences in her inebriated state. She bucks up the courage to start to confess her feelings to her sunbae: "F-for the longest time, I..I.."
He prods her to say it, but she chickens out at the last second, and blurts out if he likes jorim (a kind of marinade) instead. Ha, it has the same starting syllable as the word "to like" or joah.
The memory brings a smile to her face, and she returns home with a hand to her shoulder where Do-han leaned on her.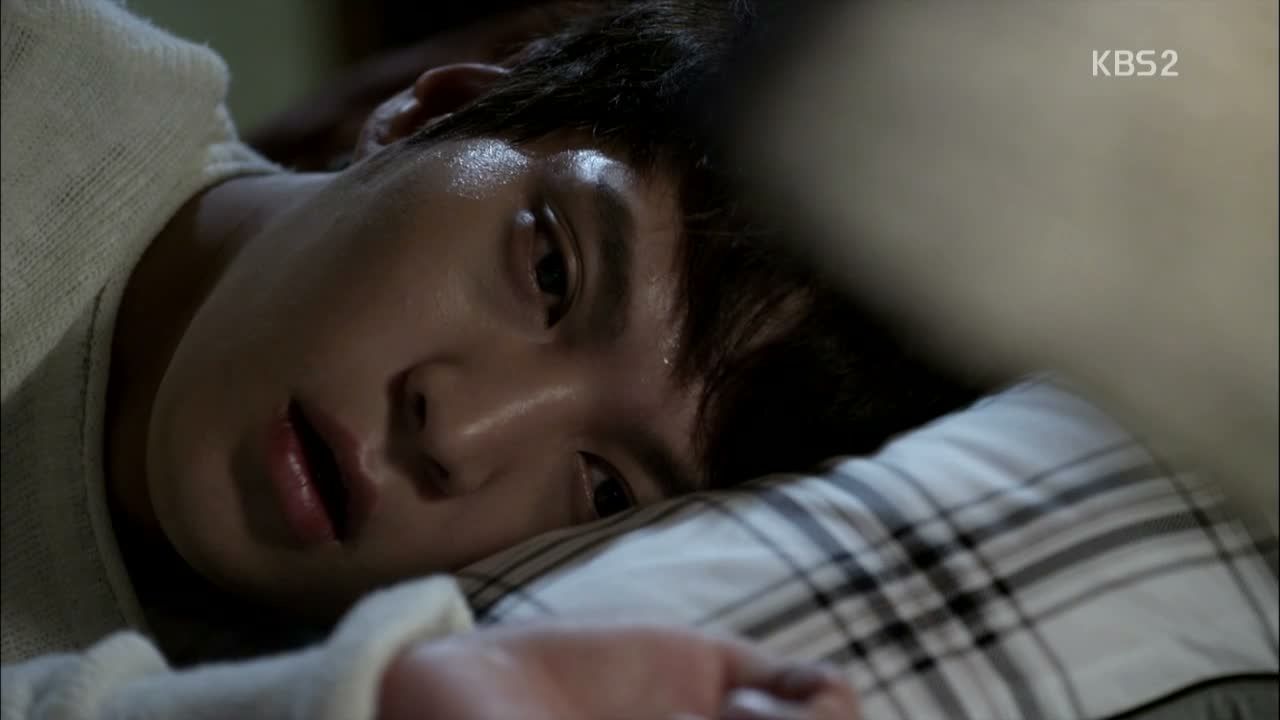 Shi-on sleeps fitfully that night as he dreams about the time he and Hyung were stuck in the mine. But this memory is slightly different because we see Hyung's fingers twitch with movement. Gasp, was he alive? Oh god, what happened down there?
Shi-on jolts awake, calling out for his hyung. He sits up on his bed.
The next day, Do-han thanks her for taking him home, and she teases that he was pretty heavy. He says the extra weight is from all the stress they've caused him. Ha. Then he oh-so-casually hands her a gift. It's perfume, isn't it?
It is, and he explains (without making eye contact, mind you) that he bought it out of respect for her patients who have to put up with her. Mmhm, o-kay.
When she steps out of the office, she notices Shi-on nervously fidget at his desk before leaving it soon afterwards. That strikes her as odd, so she follows him and catches him on his way back from the NICU.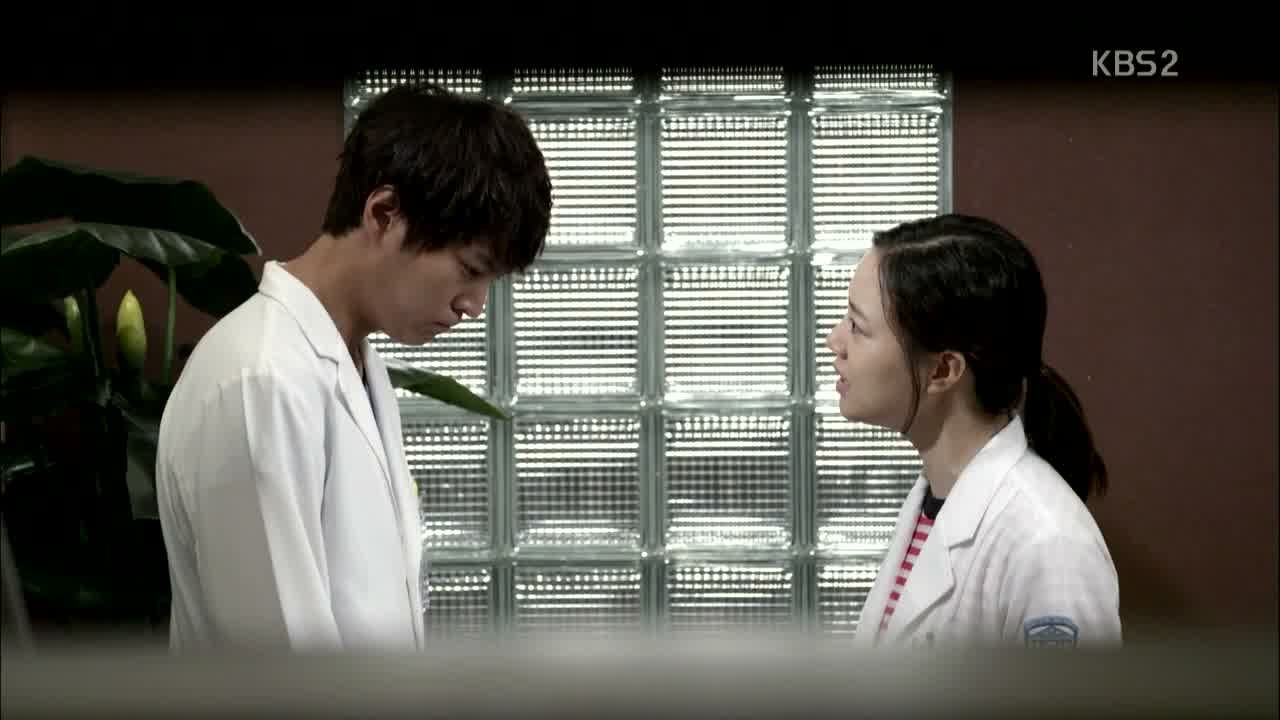 She tears into Shi-on for doing as he pleases without consideration of the patient or his team. She told him to have his own set of thoughts, remember? Shi-on answers: "I'm not a robot."
Yoon-seo argues that he's only focused on saving his client and doesn't feel for his clients. Shi-on disagrees with her—he can sense how the baby feels: "The baby… wants to live."
Shi-on says the way the baby moves its hand is a way for it to show that it really, really wants to live. She counters that it's just a reflex, but Shi-on shakes his head as he recalls how Hyung's hand moved in a similar fashion.
He tells her: "Even though a baby can't talk yet because they're too young, too scared, or in too much pain… they want to live. They want to see their mother."
Doctor Pomade's spy flags Do-han down to chat, and bumbles through how he overheard Doctor Kim's minions talk about Do-han behind his back about not doing the preemie's surgery because he lacked the confidence.
Do-han beelines for the NICU to review the preemie's charts. The evil little minions pop in to say this may complicate things, so Do-han makes things clear for them: he'll do the preemie's surgery. What would we ever do without you, Super Doc?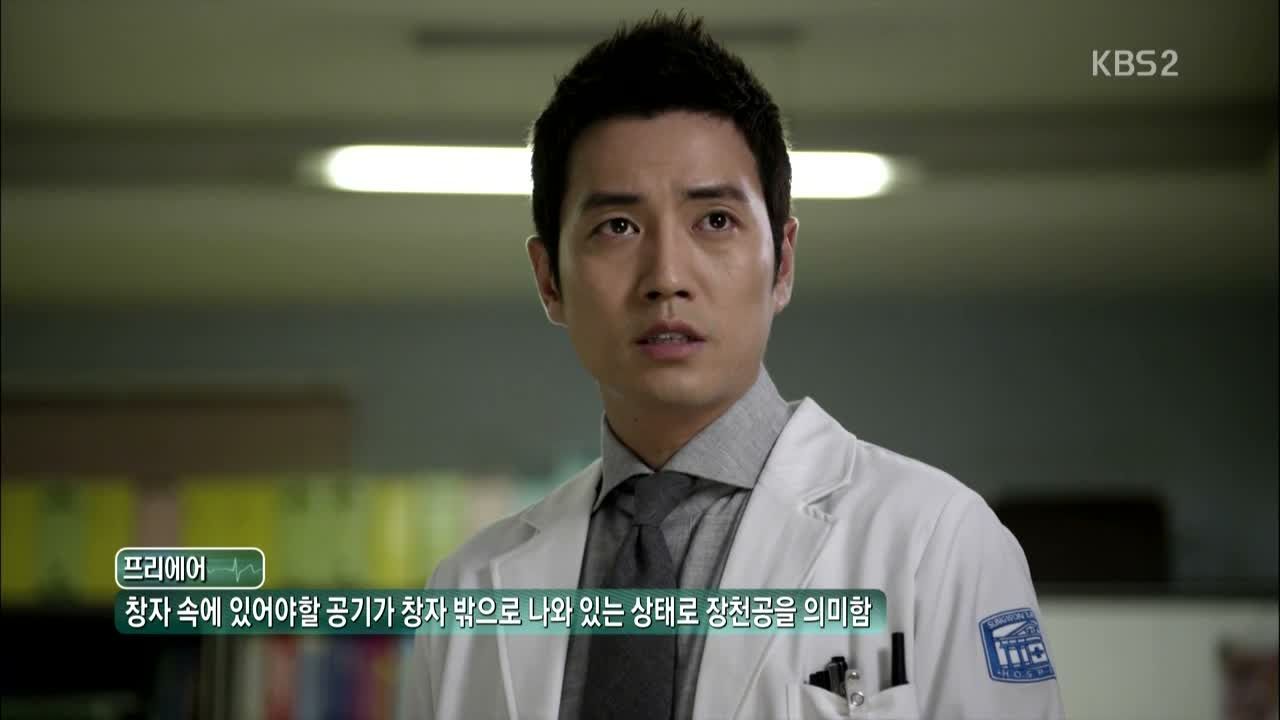 Do-han briefs his team on the preemie's case, and says they'll perform the surgery within 24 hours. He adds the caveat that the surgery's rate of success is less than 20 percent.
Shi-on rises from his seat to point out a spot on the sonogram. Yoon-seo dismisses it as an error on the scan, but Shi-on is certain there's something there. His observation gets glossed over.
Doctor Kim marches in in a huff, and is told that his "treatment" is no better than neglect. Do-han is prepared to take responsibility for performing the surgery.
Then Shi-on pipes up: "I take responsibility too! But… what am I taking responsibility for?" It's not meant to be funny given the tense moment, but it's still kinda funny. Unfortunately, it only solidifies the idea that Shi-on lacks in his comprehension of the situation to his fellow colleagues.
This course of events feeds into the evil trio's plan, and the assistant chief wonders if they have to call for an ethics committee meeting. Since Shi-on's name is still involved with the case, Doctor Choi is prepared to take responsibility for him. But the assistant chief says that won't be necessary… yet. Eep.
Meanwhile, the residents start to fret—the preemie's surgery hinges upon the ethics committee's decision. Yoon-seo tells them that they'll follow Do-han's orders.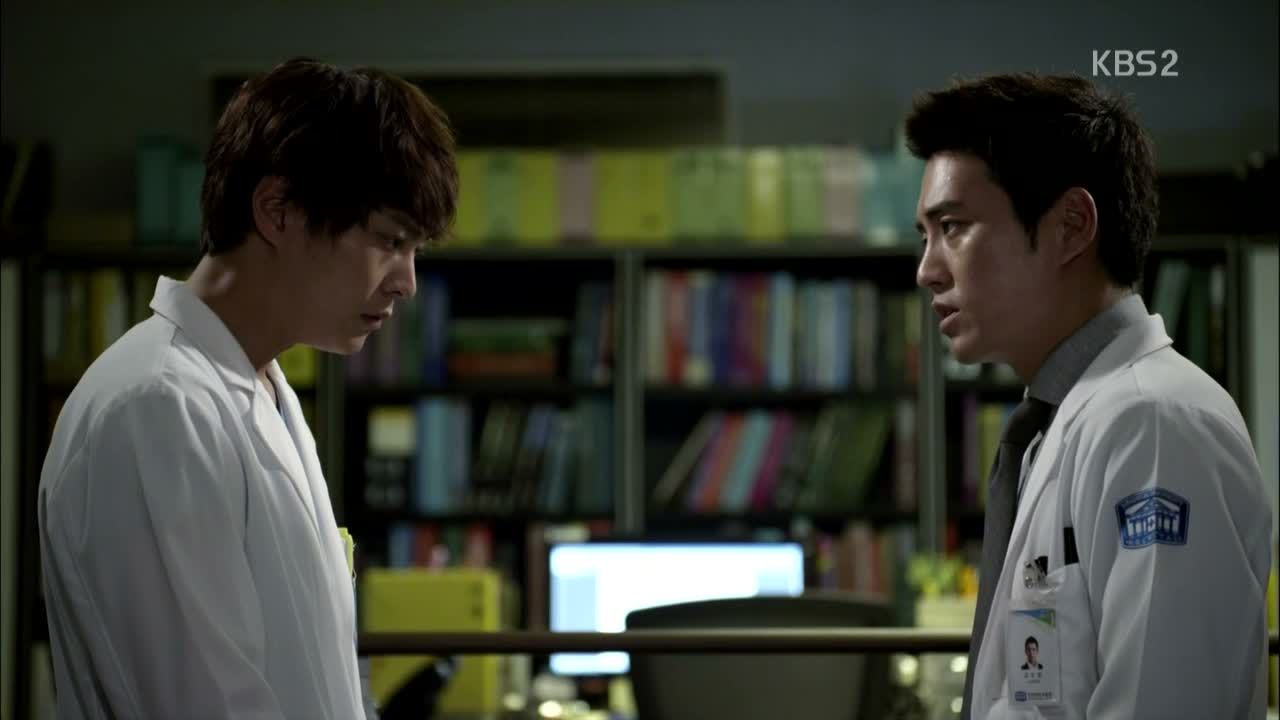 Shi-on seeks Do-han out to thank him for going ahead with the baby's surgery. Do-han tells him that he's not doing it for Shi-on's sake, but he does tell Shi-on what he did wrong: "A doctor is not a religious man. You should never give people false hope or possibility."
It doesn't change the fact that he thinks Shi-on is the worst doctor he's come across. He challenges Shi-on to finish his residency training, and practice on his own—then he'll see the full impact of his mistakes on his patients. And should he realize it at that time: "Quit immediately."
The evil trio converse over drinks as they heartily laugh over how it was so easy to ruffle Doctor Kim's feathers. Now all they have to do is bring Shi-on down with the chief of staff…
The assistant chief excuses himself, and heads to the batting cage. But he's not just here to get a few swings in as a messenger drops off an envelope. It's a file on Do-han and he notices that a name—Soo-han—has been stricken from the family record, as if he never existed.
At home, Do-han pulls out a children's anatomy book. A picture of Do-han and another young man falls out of its pages. Do-han tears in half and crumples it in his hand. Might this be Do-han's younger brother?
Do-han and Shi-on stand for their hearing in front of the ethics committee the next day. When they ask who made the order to transfer the patient, Shi-on starts to say that he did it, but then Do-han steps in to take responsibility.
Shi-on tries to correct him, but Do-han barrels through with the explanation that first-year residents don't have the authority to make such a call. So they ask about the reason behind the decision, and Do-han answers that it was neglect within Doctor Kim's department.
Doctor Kim rises to defend himself in his reasoning that he didn't choose surgery out of consideration for the patient and family. But Do-han counters that Doctor Kim believed that option would mean certain death. Doctor Choi intervenes to defuse the situation.
Little do they know that things are looking bad for the preemie as they proceed. Doctor Choi summarizes the case and presents two options: either return the patient with a light punishment; or go ahead with the surgery with greater consequences.
He leaves the decision up to Do-han, who answers that he'll proceed with surgery. Just then, Yoon-seo charges in to report that the baby's vitals are failing.
Do-han rushes back to the NICU and orders his team to prepare for surgery here since sudden movement can endanger the preemie. Problem is, they're without an anesthesiologist, surgical tools, or nurses due to the high risk of surgery outside the operating room.
The residents press that the patient's life depends on it, but the nurse asks who will take the fall should things go wrong. That's when Doctor Choi appears behind them and says he'll take responsibility.
Do-han begins as the committee members stand outside. He makes an incision in the preemie's abdomen and keeps his cool when the damage is worse than they initially expected.
Some time later, Do-han announces the end to the first part of the surgery, and the assistant chief asks if it's going well. Doctor Choi answers that it's exceptional and believes its success will be recorded in future medical journals.
Do-han calls for the next step in the procedure, but Shi-on says that he saw something under the baby's liver. Yoon-seo says they have to wrap up surgery, but Do-han takes a look.
And sure enough, there's a perforation in the bile tract. Oh it's on now.
There's a high risk of infection should they remove and reconnect the bile tract. Shi-on says they can't do that. Yoon-seo says that's their only option, but then Do-han admits that Shi-on is right.
The dramatic music swells as she asks if Do-han can think of any other way. Do-han admits: "No."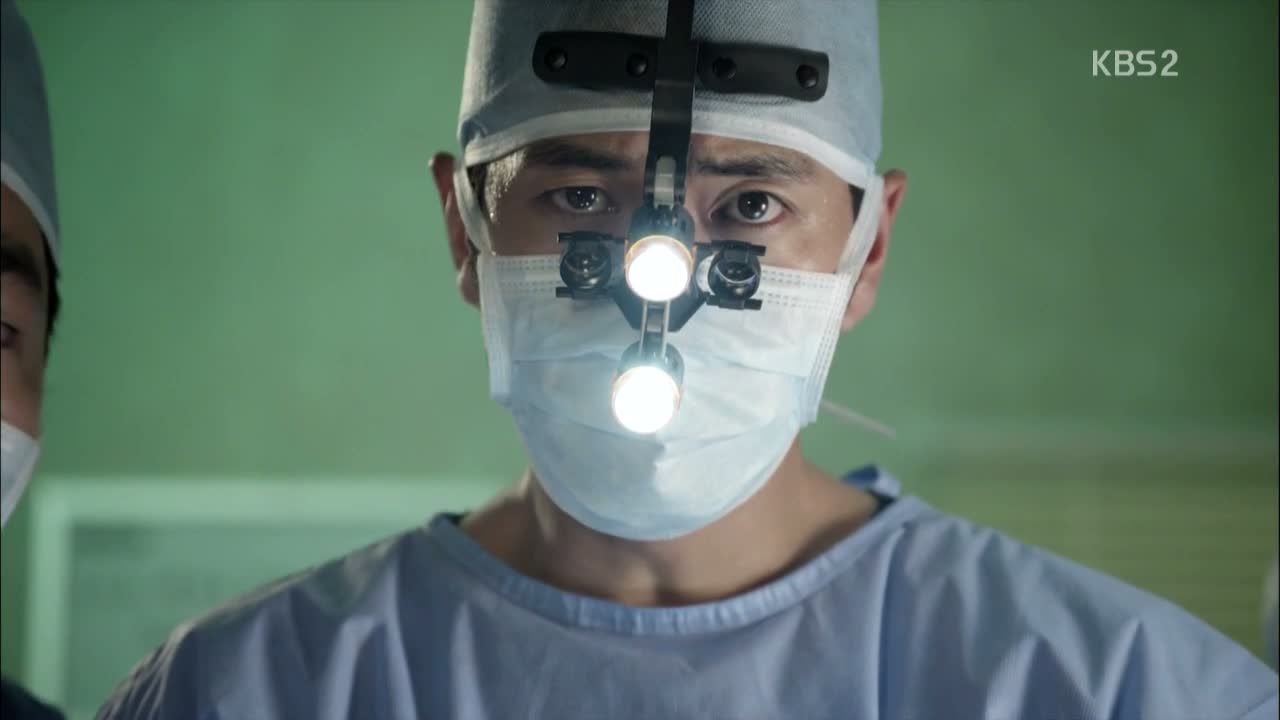 COMMENTS
Now that's what you call a medical drama. The suspense of lives hanging on the balance of one man's hands, facing the impossible task, and asking yourself the question: "Will they make it?!" all make up the signature parts of this genre. But what I like about Good Doctor is that beyond the dramatics of surgery there's a character conflict of what's at stake behind the medical decision. Do you defy authority to make the riskier call or cower in fear and choose the safer route? Because then we're dealing with matters of morality, values, and ethics that goes beyond the medical lingo.
While we're on the subject, I've noticed that this show calls the viewer to suspend belief when we're tackling the medical emergency of the week. There are times when the medical terminology flies over my head as well (bile tracts? enteritis?), but the point the show wants to drive home is that this one surgery is Important, Impossible, and Unpredictable; and goddamnit, Do-han is the best (or only) pediatric surgeon out there to handle the job. Who needs other residents or surgeons, who seem to merely shadow their sunbae, when you've got Super Doc, who can perform two surgeries simultaneously? I say all of this with a smile on my face because I find these procedures to be a much more enjoyable watch when I remind myself that these are dramatic, made-for-TV takes on surgery rather than focusing on how much of it is realistic or not.
That being said, it's a different story when we look at the dynamics between Shi-on and his medical colleagues. The hospital politics and power play between the higher-ups are nothing new, but I liked the central conflict about whether Shi-on can feel the same emotions as his cohorts and how that dictates his medical judgment and actions. It's in the quiet moments when he watches the preemie in the incubator or thinks of his hyung or when the little kids play a prank on him when we see that the answer is: Yes, he does.
I mentioned earlier that I appreciated that Shi-on is still held to the same professional standard as everyone else, and there's been some talk in the comment thread about how the hospital staff should be aware of autism as medical professionals. I can't speak to how much knowledge they would or should have about the condition, but I can talk about the cultural stigma that surrounds anything that deviates from seemingly normal behavior and development, should that be in regards to mental, emotional, or physical health. Sadly what often happens is that these issues are either dismissed or ignored because the society isn't prepared to or doesn't know how to tackle them. So although I do know that autism is fairly prevalent in Korea, I honestly have no idea if there are psychoeducative programs or other support networks in place. That isn't to say that it justifies the struggles Shi-on faces at the workplace, but it's another instance when I reflect on the idea that I want to keep rooting for our hero to overcome those societal obstacles in his path.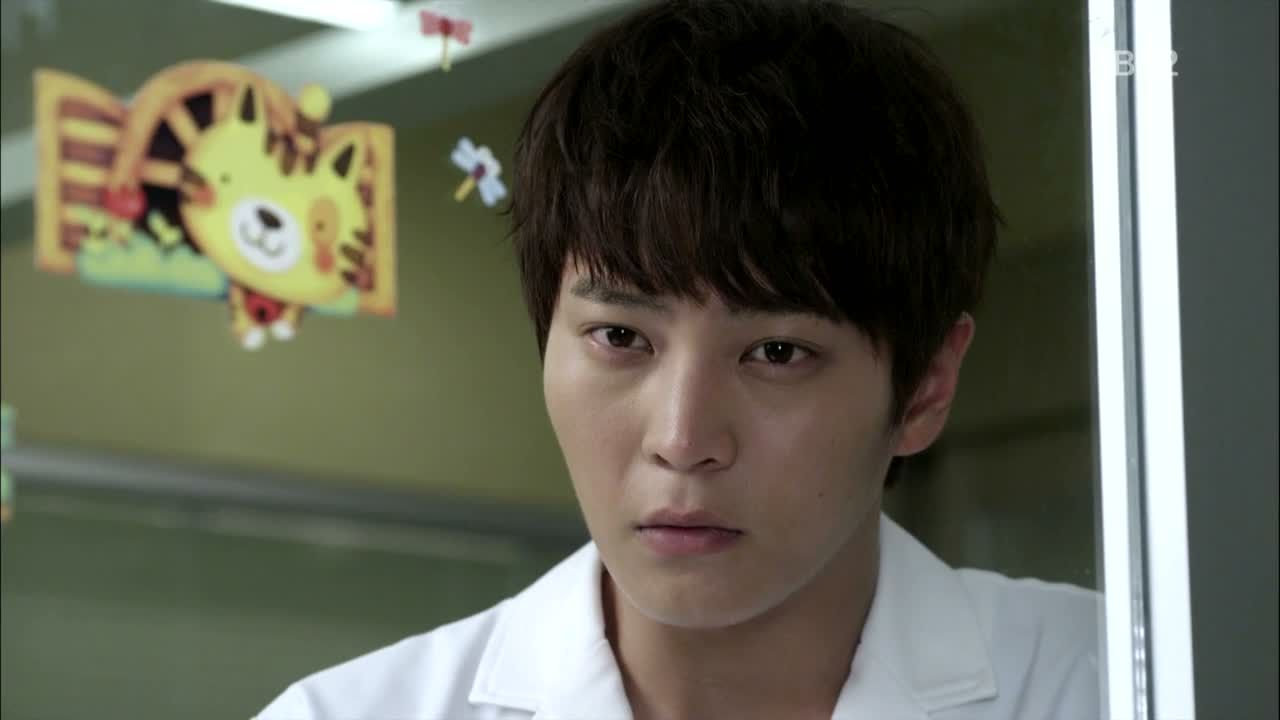 RELATED POSTS
Tags: featured, Good Doctor, Joo Sang-wook, Joo-won, Kim Min-seo, Moon Chae-won