Hide and Seek leads the thriller-packed box office
We've got a couple of movies burning up the box office these days, and taking a look at the top of the charts would indicate we're in thriller season.
The big names of recent weeks have been Ha Jung-woo's The Terror Live, Jang Hyuk and Su Ae's contagion thriller The Flu, and the most recent entry, Sohn Hyun-joo's Hide and Seek.
Hide and Seek, which opened on Wednesday the 14th, took first place at the box office over the weekend, raking in 1.35 million admissions from Friday through Sunday. That brought its overall sales to 2.12 million, which puts it on the fast track to challenging Gift of Room 7 and Gwanghae, The Man Who Became King on the all-time box office list, because it broke the 2 million mark faster than those two. As Gift and Gwanghae currently stand in third and fourth places on the all-time box office list, Hide and Seek is off to an auspicious start.
In second place was The Flu, which opened on the same day, which took in 1.85 million tickets overall. Not a bad number, although it did release on more screens than Hide and Seek. Director Bong Joon-ho's Snowpiercer, in its third week of release, was in third place; the sci-fi action film has been well-received and has already broken 8 million admissions. Fourth place went to The Terror Live, which celebrated its third week of release by breaking the 5 million ticket mark.
We've covered the other films previously, so here's the lowdown on Hide and Seek, which centers around two families who get caught up in a "breathless struggle" to protect their homes against the strangers who hide inside. A poster asks the question, "Have you heard of the Hide and Seek horror story?"
The trailer below starts with a child saying, "A strange rumor started going around our neighborhood, about people who entered other people's houses and hid there." Sohn Hyun-joo arrives looking for his hyung, and notices strange markings on the doors—markings that seemingly indicate who lives inside. The copy reads: "Somebody… lives… in my house…" and ends with the question, "Do you still… think your home… is safest?" Shudders.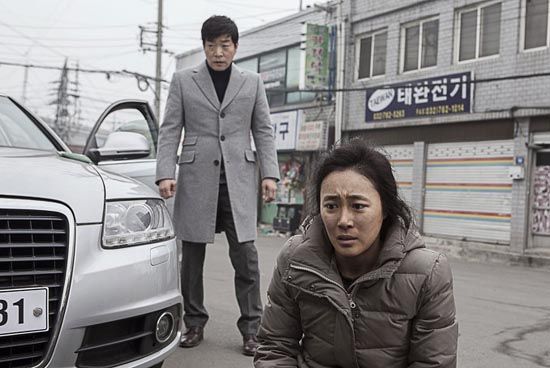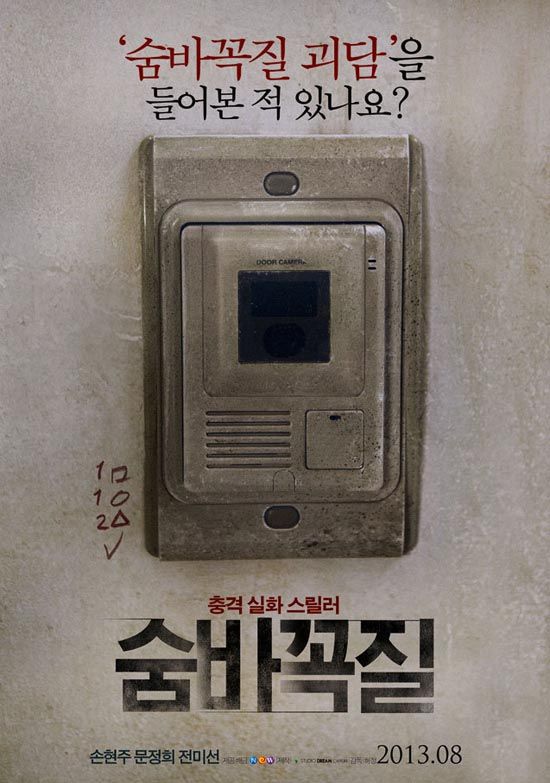 RELATED POSTS
Tags: box office, Ha Jung-woo, Jang Hyuk, Sohn Hyun-joo, Su Ae