Master's Sun: Episode 2
This show is a nice breezy watch, filled with cute antics that send the hour flying by in a heartbeat. I'm not madly addicted to it yet, but I find all the players interesting, instantly likable and the premise fun, so I think once the romance gets going in earnest, it'll probably hook me good 'n' proper. Ratings went up for both new Wednesday-Thursday shows: Master's Sun stayed ahead at 14.4%, and Two Weeks ticked upward at 8.0%.

SONG OF THE DAY
10cm – "오늘밤은 어둠이 무서워요" (Tonight I'm Afraid of the Dark) [ Download ]
Audio clip: Adobe Flash Player (version 9 or above) is required to play this audio clip. Download the latest version here. You also need to have JavaScript enabled in your browser.

EPISODE 2 RECAP
Our ghost-seeing heroine Gong-shil is so sleep-deprived that she falls asleep standing up in Joong-won's arms, and he has to rattle her awake. The whole time she just keeps reaching out to him crying, "I want to sleep with you! Sleep with me!" HA. He gapes, assuming she's trying to seduce him: "You want to sleep with me? Looking like that?"
He pushes her away with a judgy finger, all, Do you think someone like ME would sleep with someone like YOU, and tells her to wake up from her dream. And then he gets a whiff of his finger and scowls at her smelly hair.
She's finally awake enough to wonder why he's here, and he gets to ask the question that brought him here—what did she hear about his past and what is she saying to other people about his dead first love? He assumes she knew First Love Hee-joo, but she says, "Oh is Hee-joo her name?"
Gong-shil says she just saw a girl around him, which of course makes him think she's lying. She beats him to the punch: "She's dead? …I see dead people." Ha. She even whispers it like the scary movie line that it is, only it's just funny.
At the security team's dinner out, Kang Woo hears the story about Joong-won and his famous first love who haunts him and keeps him from ever getting married. The staff even has a punny name for her: Mr. Joo's Dead Girl. (Joo-gun = Mr. Joo, joo-geun = dead.)
Kang Woo already knows a bit about the incident, because he either did his homework on the boss or he's a secret double agent government spy. Listen, he's being shifty, okay? They confirm that it's the girl who was kidnapped along with Joong-won in high school and died while he lived.
Back on the rooftop, Joong-won asks when exactly she saw Hee-joo, and Gong-shil says it was the day he yelled at her in the park. We go back to that day, where after ripping up her drawing and walking away, she found Joong-won staring at a spider about to devour a moth caught in its web. What he couldn't see was Hee-joo's ghost just on the other side, staring back at him.
He says it again, like he's humoring a crazy person: "So, you see dead people." She nods. He asks how many there are now, and she points out the rocking chair nearby that's moving on its own.
She explains that she had an accident a while back, and ever since then she can see dead people, and sometimes they come find her, or other times she just stumbles onto them. They want to talk to her, and often ask her to do things.
She says that it frightens her terribly, and the ghost on the rocking chair starts to come closer. She grabs Joong-won's arm as she screams, and then the ghost whooshes away, just like the last one did. She feels up his arm again and says that for some reason, when she touches him, they go away.
She peers up at him: "If I'm with you, I think I could sleep well and live like a normal person. I want to be next to you." Hee. She means it literally, of course, but all he can think is that she's out to seduce him, and badly at that.
He tells her she'd be better off saying she owned this building, because land here is pricey, and he'd at least take an interest in that. She cries that he doesn't know how scary it is because he can't see or hear them, and he says he's not afraid of things he can't see or hear: "What I'm afraid of is you."
He goes over to give the rocking chair and weathervane another spin just to prove there's nothing there, only this time the ghost stops them. He still thinks it's all a ploy to get in his pants, and muses, "So it's not because I'm rich or good looking, but because you're afraid of ghosts that you want to be with me? Well, it's new." So is the size of your ego.
She just cries onto his shoulder that she's too lonely and sad this way, and he tells her to get it together: "Even when the famous Candy went after her rich men, she tied her hair up neatly before throwing herself at them." Dude, you did not just call the nation's most beloved cartoon heroine a golddigger. You WOULD see that cartoon and think that.
Gong-shil sighs that all he sees in her is a golddigger… and then decides she's okay with that. She holds her hair up in pigtails: "I'll be Candy!" Lol. Oh, the meta. You're already a Candy, in this drama.
He starts to leave, and she tells him her nickname Taeyang (sun), and he spits back, "If you're the sun, then I don't ever want to see the morning again!" She calls after him that the sun always rises, and that she'll be back, next time with cleaner hair. It's pretty great how undeterred she is by his assiness.
As Joong-won leaves, Kang Woo arrives, and he wonders what his fancypants boss would be doing here. He sees Gong-shil peering down from her rooftop, and takes note.
At home, Joong-won starts to notice little things, like the curtains coming undone of their own accord. He sighs to himself that if such things were true, he'd really like to see Hee-joo.
On to our Ghost of the Day: a group of schoolgirls try to do a séance in their classroom, to call forth their dead classmate. Someone comes down the dark hallway towards them… they scream, but it's just their teacher. False alarm.
But then a girl's feet dangle outside the window, and the Schoolgirl Ghost hovers, watching them. And then three girls get a picture message from the ghost's phone, and it's a group photo in front of a fountain with a ghost in the background.
The picture ends up all over the internet as proof of ghosts, which is another round of bad PR for Kingdom, since that's their fountain in the shot. Uncle VP says there's all kinds of talk about Kingdom being haunted, but that most of the staff thinks it's a sign of success to come.
Joong-won doesn't share the sentiment, and tells him the picture must've been photoshopped, and the rumors need to be quieted. With Giant Mall being constructed just next door, they can't be too careful. It's hilariously pathetic that he spends his day peeping at the next-door mall construction through his golden telescope.
Gong-shil wanders through Kingdom and smiles to see a Help Wanted sign for part-time employees. She goes to visit a friend at the café downstairs, and the unni cautiously reminds her that she just became a manager here, so she can't have Gong-shil being carted off in a police car.
Gong-shil says it's okay because she got a job here today, and there's something special about this place—if ghosts show up, there's somewhere she can run to and hide. Her friend asks if she ordered two cups of coffee because she's trying to stay awake during the day, but Gong-shil says it's because of the ghost.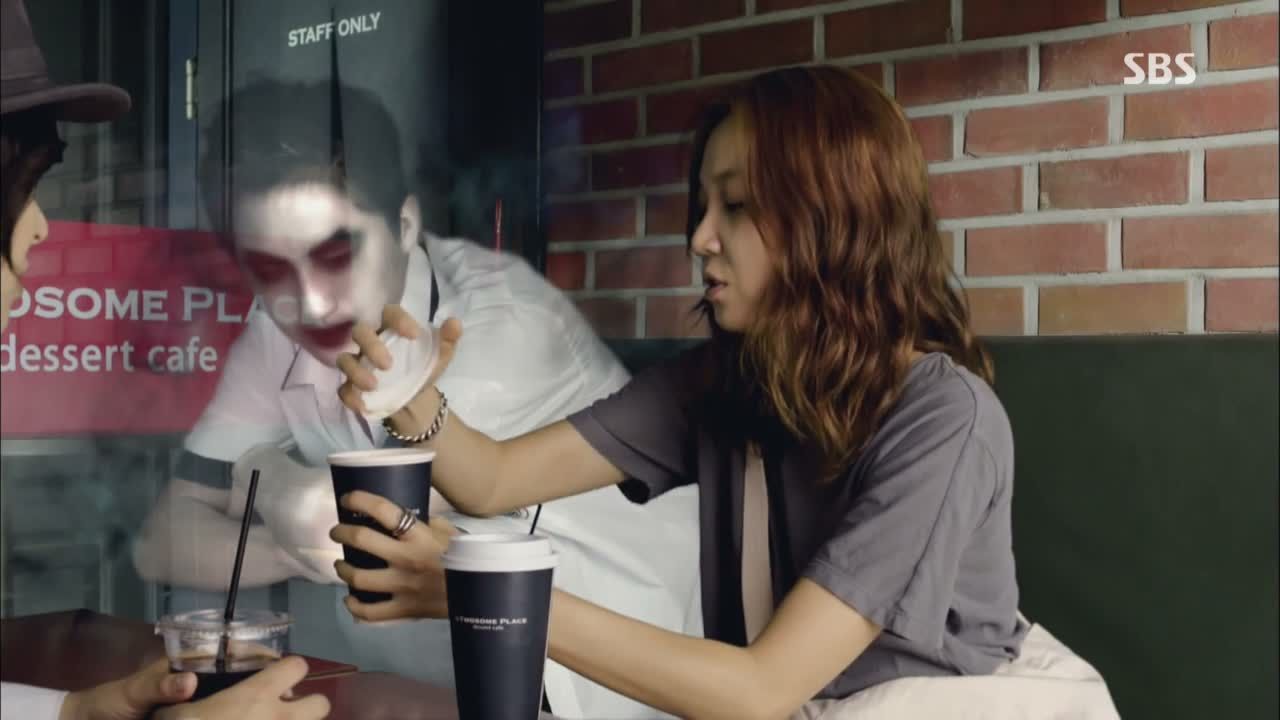 And then we see that last night's rocking chair ghost has been sitting next to her all this time, just drinking in the smell of coffee. Okay, now that's a dying wish I can relate to.
The schoolgirl trio discusses the photo, which is of them the day Schoolgirl Ghost died. They wonder if she sent it to them to say that it was their fault, and one girl says it was just a car accident that had nothing to do with them, while another argues that she still feels responsible.
Auntie Joo flips out to hear the rumor floating around that the fountain ghost is Joong-won's dead first love. Meanwhile, Joong-won sees more people trying to catch a ghost on camera by the fountain, and pitches a fit that they poured so much money to build that thing, with goddesses and everything. "Did the goddesses get beat out by ghosts?"
As he circles around it, he comes upon Gong-shil, mopping up the floor on her first day as a janitor. He calls her frighteningly persistent, and when he finds out she works there, he figures this is all part of her Candy plan, so she can appear to be hardworking while running into him at the office all the time. Watch a lot of dramas, do you?
She reaches out a finger to touch him (while he inches away), and says that he already knows that's not what she wants from him. Lol, I love the sexual innuendo in everything she says. He half-jokingly asks her about the ghost in the fountain, and she scans it and says there isn't one.
He lights up, "Of course there isn't! Do you know how expensive that thing was?" She starts to chuckle, and points out that she just caught him believing that she can see ghosts. His eyes dart back and forth and he covers it up by saying that it's obvious there wouldn't be one because there's no such thing as ghosts, and tells her to get out.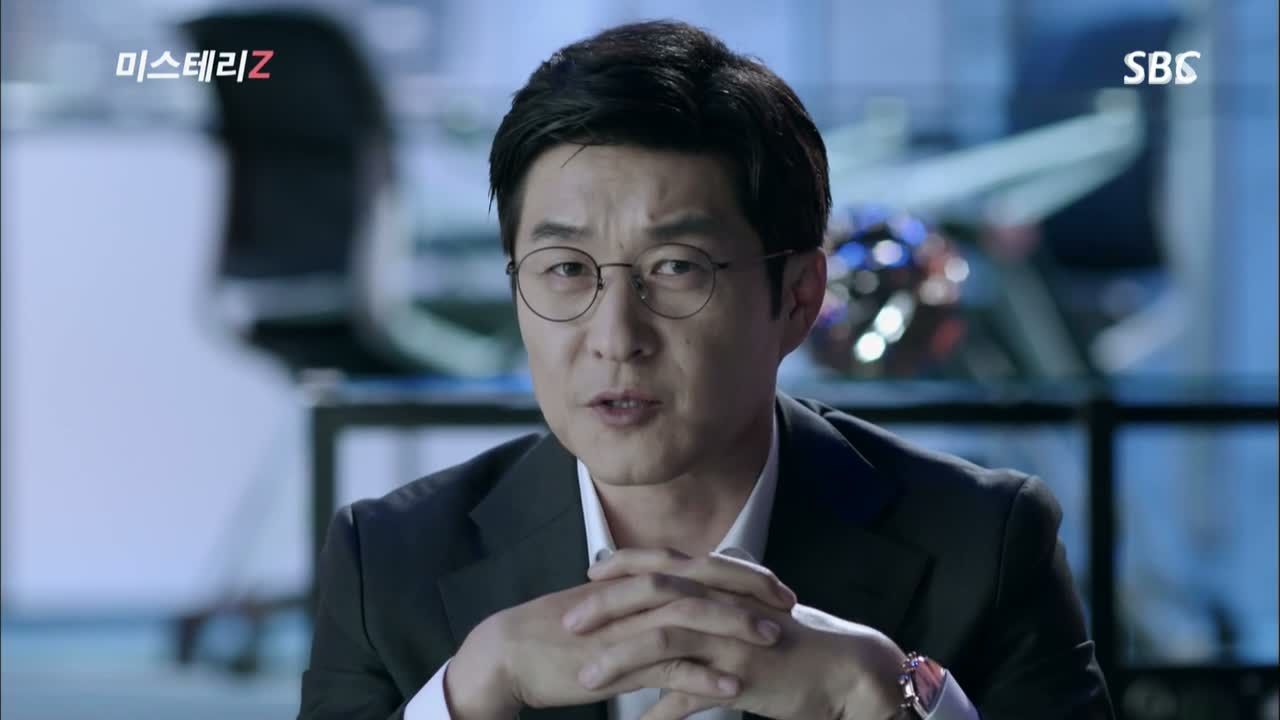 Joong-won has a new distraction coming his way though, when his staff tells him that the ghost fountain story is being aired on TV. They turn on the broadcast, and hey! It's Bad Daddy!
Lol, Kim Sang-joong is parodying his own Unsolved Mystery-esque show. It turns out the Schoolgirl Ghost story is gaining traction because of Joong-won's past, and his "10 billion won kidnapping case."
The mystery show host makes the connection between the high school boy whose girlfriend died in that kidnapping and Kingdom's CEO, and the program features an interview with a chatty security guard who says that there's always been a rumor that their boss is haunted by a ghost, and another interview follows with the lead detective on the unsolved case.
Gong-shill sees the broadcast too, and the thing she notes is that the fountain ghost isn't the same girl she saw haunting Joong-won. She goes upstairs to tell him so, but he just tells her to shut it and brushes past her coldly. Kang Woo watches the exchange with a hairy eyeball. He's got to have some connection to Hee-joo, right?
Joong-won goes to see the detective and asks why he gave an interview to such a crackpot show. The veteran cop says the statute of limitations is almost up on the case, and he figured one last push of interest couldn't hurt. He's still determined to solve it, and wonders if Joong-won isn't the least bit sorry that Hee-joo died because of him.
Joong-won reminds him that he's the one who told him that the living have to keep on living, and wonders if maybe he's living too well for everyone's liking. The cop asks if he's really all better, and holds up his newspaper, "Can you read this now?"
Oh interesting. So the jumbled letters are a kidnapping-related trauma. The cop sighs that maybe Joong-won hasn't forgotten and moved on like he thinks.
Gong-shil wonders about the fountain ghost over dinner with the neighbor boys, and they suggest she seek out the ghost for herself. She realizes that's a good idea, because maybe if she helps out it'll allow her to be by Joong-won's side.
The boys watch her go, and then the hyung tells his little brother to keep acting like they believe the weird noona, so that she keeps feeding them. Cute.
Gong-shil creeps into the deserted mall late that night, and despite the heebie jeebies it gives her, she goes ghost-hunting. She brings the photo along and checks it against the spooks she finds, but the bathroom ghost isn't her, and the escalator ghost turns out to be a mustachioed man in drag. Ha.
Eee, I'm more freaked out by the cat lady statue she leans against to take a break. Kang Woo happens to be on night watch and shakes her awake with a hand to the shoulder. Gong-shil panics and has to ask if he's a person, before realizing that it's the tenant in 404.
He asks why she's skulking around like a bandit cat, and she says she works here too. He points out that it didn't look like she was cleaning, so she lies that she lost something. She hides the ghost photo behind her back, and he offers to help her look since it's scary in the dark.
The trio of schoolgirls has decided to seek out the ghost as well, and they make their way inside the mall.
Kang Woo asks what they're looking for, and Gong-shil says it's not something he can see, which he takes as a comment about eyesight. He makes sure to introduce himself by name, and when she jumps at a spinning trash can lid (where she ran into a ghost just earlier), he offers up his arm: "You can hold it if you're scared."
Oh, I like him. Cute AND gallant. She doesn't hesitate for a second before taking his arm.
The schoolgirls reach the fountain and call out to their dead friend, and then something or someone creeps up behind them…
Gong-shil sees them from above and notes disappointedly that they're just people. She wonders what four schoolgirls are doing here. Kang Woo looks at her: "It's three." Aaaack. The line creeped me out more than the visual.
She looks back down, and sure enough, the fourth is a ghost. While Kang Woo chases down the three living girls, Gong-shil cautiously approaches the dead one. We don't see their conversation, but afterwards she catches up to the three girls and confronts them about the picture.
Meanwhile, Joong-won heads to an abandoned warehouse in the middle of nowhere, and notes that nothing has changed in all this time. Secretary Kim asks if he's coming here because the statute of limitations is running out. This must be where they were held during the kidnapping.
Secretary Kim asks if he really never got a look at his kidnappers' faces, and he has a flashback to waking up tied to a chair. When he opens his eyes, a figure in a white dress comes closer and closer. She remains fuzzy, but Past Joong-won's eyes widen. Curious.
Secretary Kim sighs that not knowing is what allowed him to live, and Joong-won agrees that Hee-joo died because she knew who the bad guys were. Yeah or worse, is what I'm getting from your tone of voice.
Kingdom's brand model (and jilted bride) Yi-ryung has dinner with Auntie Joo, and wonders if Joong-won's curse is what ruined her wedding. Or it could be your personality. Just sayin'.
She asks if anyone got a good look at the person who brought her fiancé the box that broke their engagement, and she says that Uncle VP saw her face.
Gong-shil jumps out in front of Joong-won's car as he arrives to work the next morning, and he crankily reminds her that he told her to stop working here. "Seeing the sun first thing in the morning is already disagreeable because of you, but now I have to come to work and see this?" He waves his hand over his face.
She says sheepishly that she found out who the fountain ghost is, and asks if he'll let her keep her job if she tells him. So off they go to school, where she points out the schoolgirl foursome, with one member dead.
They sit the girls down with their teacher, and the kids explain that Schoolgirl Ghost was an outsider, always following them around and thoughtlessly ruining everything. So that day when she followed them to the mall, they bluntly sent her away, saying that they didn't want her there. She died in an accident on her way home.
I love that Joong-won just points at his eyes: "You won't get off easy by crying." He figures that the person with the cell phone is the culprit, and the girls assume it's their dead friend haunting them from the beyond.
But Gong-shil says it's not her. She leads the group back into the classroom and goes straight for another girl and asks for the phone. The girl hands it over, and confesses that she added the ghost to the photo and sent it to scare them because she saw them that day at the mall.
We see in flashback that Phone Girl ran into the outcast as she was returning with the trio's favorite flavored sodas in an effort to appease her friends. She followed her to return the phone she left by the vending machine, and witnessed the three mean girls calling her clueless.
They laughed and planned to upload the photo of the three of them as their profile pictures, to make it clear they were a trio and not a foursome. The outcast ran away in tears… right into the path of an oncoming truck. Gah, does this girl get run over in every drama she's in?
The entire classroom breaks out into a fight, and Joong-won holds Gong-shil back from getting involved, saying that the dead have no place in the land of the living. She decides she can't leave it at that though, and heads back inside.
The mean girl trio sits outside, battered after the classroom brawl. They begin to wonder if maybe they were to blame after all, and then they get a text from their dead friend that she's listening to them right now.
They decide to believe it even just for a moment, and tearfully apologize to her for treating her so badly. And then nearby the vending machine drops three sodas. They go over there to find one in each of their favorite flavors, as a final gift from their friend. That's sweet. (Also hysterical—the Hong sisters have always had a flair for narratively-backed PPL.)
Joong-won just looks at Gong-shil like a crazy person as she waves up at the sky to say goodbye to the schoolgirl ghost, and leaves her there. Again.
She asks Secretary Kim later if that means she gets to keep her job, and he says she can stay, but she can't go up to see the boss. He asks her to keep a lid on the disagreeable sun rising on the fourth floor, but then adds that the boss will come down of his own accord. Heh, I like him.
She asks if Joong-won is going to do anything about the girl who made up the ghost photo, and Secretary Kim laughs and says Joong-won loves that ghost fountain now. Cut to: a line of people waiting to throw money into the fountain to ask the ghost for wishes. He tells Uncle VP to spread the news far and wide that wishes at this fountain come true, and answers a little boy's wishes for toys to prove it.
Auntie Joo asks Joong-won if he's still stuck in the past because of his guilt. She tries to tell him that it wasn't his fault that Hee-joo died, but he cuts her off, saying that he's heart it thousands of times before: "The greatest excuse for the living: that the living need to keep on living."
But he adds that she shouldn't worry, because he's never once believed that it was his fault. Huh. Uncle VP and I both scoff, wondering if that's really true. (Also, am I the only one who had a hard time taking him seriously during that speech because of that giant chair?)
But that night he sits alone in his office, and we return to that flashback where he wakes up tied to a chair after being kidnapped. The figure in white approaches, and it's Hee-joo. He asks if she's okay, and tries to free himself from his ropes.
And curiously, she just stands there. He asks what's going on, and she says, "Joong-won-ah… I'm sorry… Joo Joong-won."
The sun comes up, and Joong-won says aloud how much he regrets that she died that day, which now has a very different meaning.
Downstairs, Kang Woo reports over the phone to his mysterious spy boss/overlord that this last incident didn't have anything to do with "that incident," but there is someone hanging around Joong-won that concerns him: "A woman." And we see Gong-shil working nearby.
The other cleaning ajummas all egg her on to introduce herself, as she blurts, "No I don't want to!" to a ghost standing nearby. They all jump back, and then she reluctantly reminds one of the ajummas that her father-in-law's memorial is tonight, and she runs home. His ghost clucks disapprovingly.
Uncle VP sees her and remembers her as the wedding-breaker-upper, so Auntie Joo goes over there to give her a once-over and remember her name.
And then Kang Woo comes up to her in front of all the other workers and declares loudly that he'll wait for her to finish so they can go home together, since they live in the same place. Hee.
She nods and smiles, and all the ajummas flutter and ask how long she's been living with the hot security guard.
The best part is, Joong-won witnesses the whole exchange, and looks perturbed. He gets even more annoyed when he sees her checking her hair, and storms over there just to ask her something senseless about ghosts. And then he gets mad at her for answering, accusing her of looking for a reason to talk to him. Pfft.
She uses the opportunity to apologize about bringing up old wounds, and says that if she had known about his past, she wouldn't have told him about Hee-joo's ghost.
She tells him all the stuff he doesn't want to hear—that he shouldn't feel guilty, that it's not his fault, that it's okay to keep on living.
His anger boils over and he asks if she can conjure ghosts too, because he has something to say. She asks what, and he leans in close: "You bitch."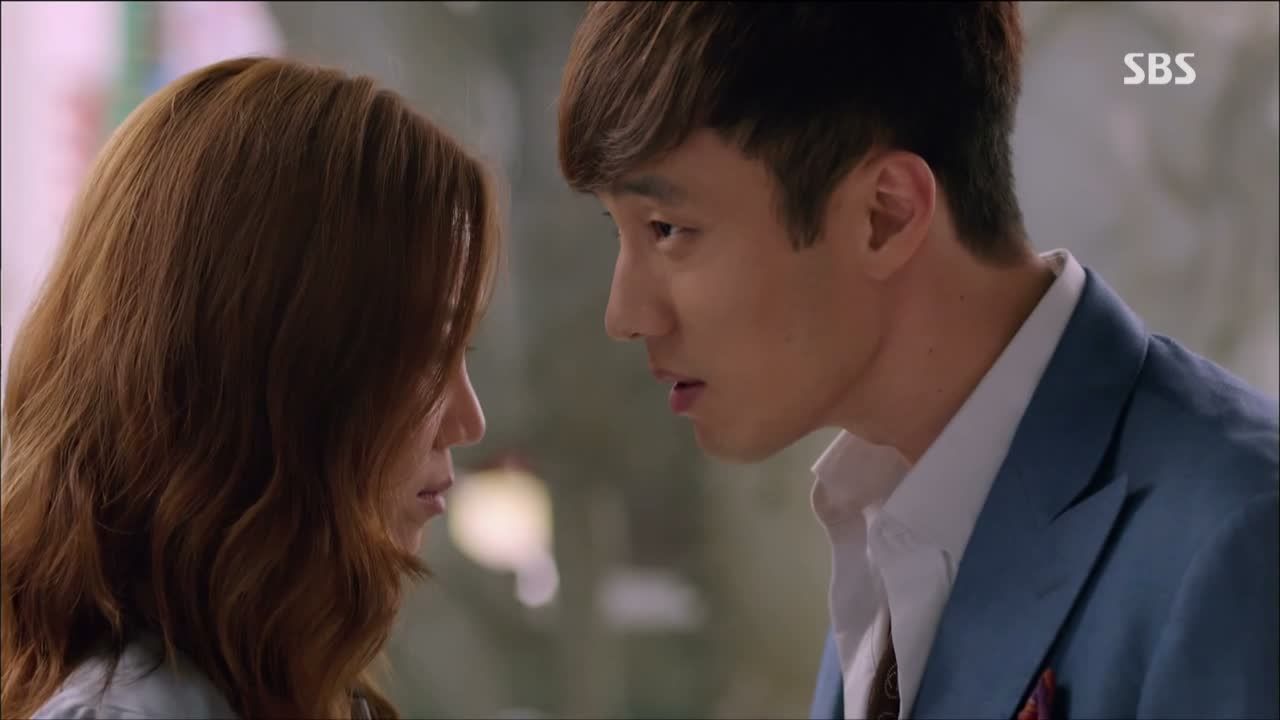 COMMENTS
And suddenly I have the urge to wring that ascot around his neck. Curse at your first love in the privacy of your own brain, buddy. Everyone else does. I actually don't find the hero that unlikable despite his massive assiness, mostly because so far the heroine only sees him as a ghost-repellant (er, a hot ghost-repellant with nice arms), and therefore isn't hurt by the things he says. I'll probably be swearing at him more when she starts to care, but I also know that with a giant ego comes a giant romantic comeuppance once he falls for her, so I'll try not to imaginary-strangle him too much.
I like that the use of the supernatural on this show is interchangeably a source of fright, laughter, and even emotion. I'm glad we got more of the hero's backstory in this episode, which is by far the most engaging ghost story—I find myself only tangentially interested in the Spook of the Day, because they're not very complex. At least they function to bring our leads together in various ways, so I'm all for ghosts playing cupid.
The twist on the first love is a great one, and I'm definitely more intrigued by the story now that it isn't just a simple pining-for-a-dead-first-love scenario. I thought Joong-won was just in denial about the lack of guilt, but if she was in on the kidnapping, or sold him out, or who knows what else, then it reverses the classic vengeance spirit mythology. He's the one with the grudge against a dead girl. Oddly enough, that festering anger works the same way for the living as it does for the dead—it keeps him from moving on to a life after the accident. Perhaps in exchange for letting her feel him up all the time as Ghost-Raid (which is maybe the best excuse for skinship ever), she can help him unload his revengey regrets and move on.
The hero is pretty cookie-cutter, but I like that Kang Woo is different. He's a good source of mystery, and the fact that he's already igniting some jealousy flames is even better. I'm not sure yet if he's doing it on purpose just to split them up for some nefarious spy reason (the scenario does feel a lot like Dating Agency Cyrano's strange love triangle), but I definitely find myself curious about him, and giddy when he's with Gong-shil despite my reservations about his true intentions.
Mostly though, Gong Hyo-jin just makes my day. I love her. Me~ow.

RELATED POSTS
Tags: featured, Gong Hyo-jin, Master's Sun, Seo In-gook, So Ji-sub