Master's Sun: Episode 8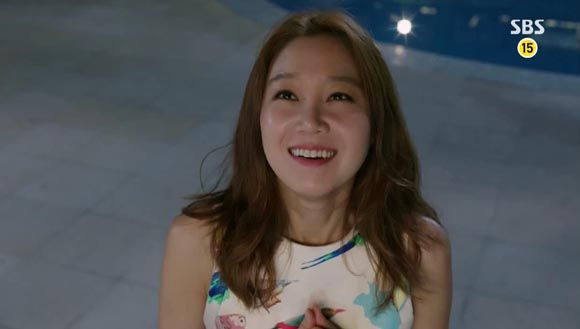 Things are getting better and better, which warms my heart. You wouldn't think one terrible drama would be enough to make me lose faith entirely, but it definitely has made me gun-shy, so I'm feeling perhaps a slower burn with this show than I might if it were my first time with these writers. But my favorite aspect about Master's Sun is that the emotional ups and downs feel rooted in genuine feeling, so that when the plot twists to throw wrenches into the works, I'm not cursing the show for using cheap tricks, and instead feeling my heart pinch in sympathy.
SONG OF THE DAY
Hyorin – "Make me crazy" from the Master's Sun OST [ Download ]
Audio clip: Adobe Flash Player (version 9 or above) is required to play this audio clip. Download the latest version here. You also need to have JavaScript enabled in your browser.

EPISODE 8 RECAP
Joong-won places her hand on his heart and tells her that he's not made of marble, and that it isn't that he feels nothing when she touches him. Gong-shil makes a vague motion to her heart region and asks if it feels funny too, and he admits, "It always did." Not in a grand confession sort of way, but as a matter-of-fact explanation that she touches him too freely.
He says he didn't say anything because she seemed so unperturbed—but now that her reactions are taking a more "normal" turn, he asks her to be more circumspect. You know, so that bystanders just think they're friendly, not weirdos attracting strange looks.
To demonstrate, he holds her hand—that's friendly. He places her hand on his face, then his chest—that's "What the heck are they doing?"
Gong-shil says that before, she'd been too overwhelmed with fear to think about anything when feeling him up, but agrees to start being more careful now. He motions to her forehead scrape and tells her to be more careful with her safety, too, and not get hurt like that anymore. Because that kind of worrying is friendly. Ha, I can't wait for the day you make out like bandits and excuse yourself as being friendly.
Then he steps waaaaay closer to her to demonstrate another example of WTF behavior. He's enjoying this way too much, isn't he? Yes, "friend," keep explaining what exactly it is she shouldn't do. How will she know if you don't show her?
Joong-won offers to take her home and hold her hand, but she pushes away his hand and declines—her radar is acting all funny. He misinterprets her reaction as fear that Kang Candy will see them together, and in a flare of jealousy he grabs her hand and declares he has nothing to hide, and if they should happen to run into Candyman on the way home, he's just gonna tell him they're "friendly." Lol.
Kang Woo makes his latest report to Daddy Joo, now having regained his previous focus on the task at hand. He informs him that Gong-shil does in fact have some sort of connection to Hee-joo (based on the photo he saw in her desk) and that his emotions briefly clouded his reactions. Daddy Joo directs him to looking for a potential link in Hee-joo's orphanage past, since she has no parents or family. And also whether Gong-shil has ever been to Europe, since he has a photo of Hee-joo amidst a European backdrop.
Daddy Joo speaks to him familiarly and even warmly, wondering whether Kang Woo will be okay investigating a woman he'd been interested in. Kang Woo says he'll be fine, but Daddy Joo advises him not to put on a strong front—if you repress your feelings, you'll end up in pain. "Do you think it will hurt?" Daddy Joo asks. Kang Woo promises, "I will end my feelings."
With that, he takes the Dooly and Gong-shil stuffed dolls to toss in the trash, just as Gong-shil gets dropped off by Joong-won. He asks about her funny-acting radar, and she assures him that it's not because of a ghost, but just something she has to give a good scolding.
Joong-won goes home and finds a plate of cheese in his fridge, which reminds him of Gong-shil's advice to eat some tofu (tofu = white and pure = what you eat when you get out of jail to prevent future transgressions). He'd scoffed at the tradition, but gets out the cheese nevertheless. Close enough.
Gong-shil talks to her stuffed doll, eating tofu, about how touching Joong-won on the face amounts to sexual harassment and how it's no different from a perv copping a feel on the subway. She figures it's something that comes with not being scared so much of ghosts anymore, so when one of her ghost regulars pops up in her apartment, Gong-shil asks granny to give her a good scare to knock some sense back into her.
Aunt and Uncle drop by Joong-won's apartment for a visit, and also to chide him over recent events. Auntie Joo isn't too concerned about the jail stint since it came from a good cause, but she points out that he's been acting out of character ever since Gong-shil started hanging around. It's a fact his father has already heard of, as he has asked after the girl.
That news makes Joong-won bristle, saying that his father hasn't once showed interest in his 34 years. Aunt says that Dad's probably mellowing out with age and wanting grandchildren, and Uncle VP encourages him to give it a good go this time.
Gong-shil runs across Kang Woo in the lobby, who is now stony-faced and cool. But thanks to his candid nature (you know, when he's not sneaking around investigating you), he decides to make everything crystal clear and tells her that his liking her was a misunderstanding. He explains it away as a joke said to the boys that she believed, which he felt too apologetic about to correct. But now he needs to set things straight and let her know.
Gong-shil is embarrassed to have thought otherwise and says he should've told her right away, but he points out that even though she liked his attention, she didn't like him. After all, hearing this now doesn't bring her pain, does it?
With that, Kang Woo goes out for a punishing run, trying to shove aside his own pain.
Time for a new ghost story. We find a party in full swing at a hotel pool, but as soon as the camera goes underwater the tone turns ominous. A ghostly hand reaches for swimmers' legs, and latches on to one girl as she wades out to retrieve a beach ball. Immediately the swimmer starts thrashing as she's dragged under, even though to everyone else's eyes there's nothing causing it.
As the girl goes under, she comes face to face with a terrifying sight (we only see the ghost from the rear) and screams. A lifeguard dives in and pulls her out, and while all the swimmers look on curiously, the ghost goes in for a second target…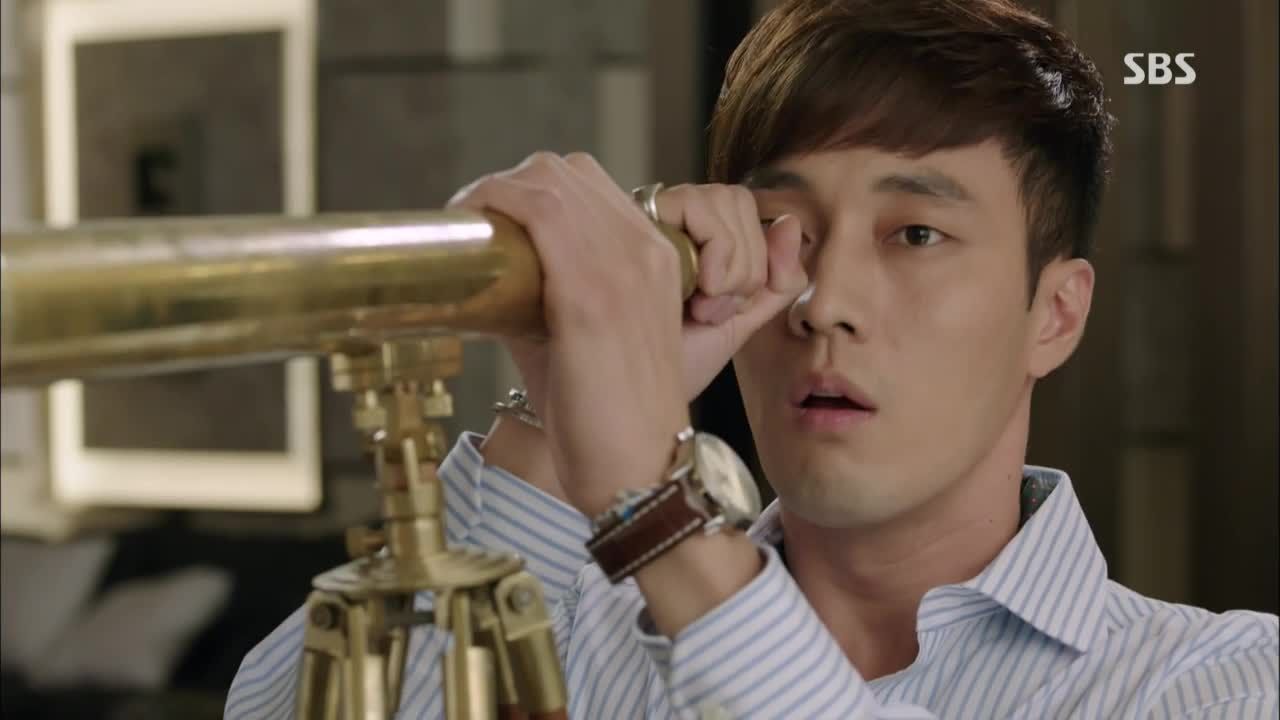 This marks the third time Kingdom Hotel has had a complaint of a mysterious leg-pulling attack in the pool, and they're bound to lose clientele to Giant Hotel. Joong-won can't have that, and decides to dispatch his radar to the pool. Then he gasps to see something alarming through his telescope: "Giant Mall is… taller than mine!"
He finds Gong-shil in her office, and notes that she looks "even more like a zombie" today (she explains being haunted by ghost ajumma all night). At the mere mention of water ghosts, though, she shudders at the memory of almost being drowned in the river and cries that she never wants to see one again.
Joong-won offers her his hand, but even that's not enough to dispel her fears. He sits back to figure out a way to solve this dilemma…
And sends Secretary Kim to give Gong-shil a vacation package to Kingdom Hotel for her day off. HAHA. You can't make her go, so you'll trick her? You, sir, are kind of a clever meaniepants.
She's giggly and thrilled, though, thinking he's being thoughtful after seeing her dark circles. She decides to use it the very next day, inviting her sister and her friends along.
Kang Woo calls Yi-ryung out to inquire into Gong-shil's background. She gets huffy at the idea that he's still interested in Gong-shil, but cheers right up to hear it's just more investigation. I do love how she's always inviting him to things with backhanded excuses ("I'm not inviting you to lunch, I'm just saying it's lunchtime so I'll let you come along") and how he declines her half-assed explanations when in fact she's gone all-out and made reservations in advance. Maybe you'd have some luck if you were actually direct, honey. But Yi-ryung is basically harmless so I can't help but find her amusing.
Gong-shil's unni wonders whom to invite with the extra gift certificates, and despite Gong-shil telling her not to include Kang Woo, she decides to do some matchmaking of her own. So unni takes the vouchers to Gossipy Guard (fine, his name is Han-joo) and tells him to bring Kang Woo along so she can set up the couple. Ha, something tells me there'll be a couple, but not the one she's thinking of.
Han-joo wonders for two full seconds whether Gong-shil's activities constitute reportable intel to Uncle VP, then dismisses it in favor of a fun vacation. Ha. He's a dim bulb, but an amusing dim bulb.
Gong-shil heads to the hotel first and marvels at the luxury, looking wistfully at a sign about the fireworks festival. It'd be nice to go, but venturing out alone at night isn't exactly her idea of fun. She gets a call from Joong-won, who turns out to be right behind her and whisks her away to dinner. She's confused at all the fuss, but goes along while his employees guess that he has a romantic event planned that would explain why he reserved the whole pool for himself.
Auntie Joo drops in on Hee-joo's orphanage, which she has helped support since Hee-joo's death. She explains to Secretary Kim that she'd considered cutting ties after the kidnapping, but decided to keep up the support out of consideration for Joong-won, who met Hee-joo here.
And then Secretary Kim notices another visitor arriving: Kang Woo. This is definitely fishy.
Kang Woo's errand means he doesn't join unni or gossipy guard Han-joo, who stop for gas on the way to their hotel visit. Unni Gong-ri deflates to recognize another customer, glowering and calling him the jerk who ripped her off and disappeared. So when the jerk pulls out of the lot, Gong-ri revs her engine and peels out after him.
Joong-won is attentive and considerate through dinner, which makes Gong-shil blush and me groan at the impending kabloomy. Because there's only one way for this to end, right? He asks whether she has a change of clothes (she's dressed plainly in a T-shirt and shorts), thinking that she'll need a dry outfit following her dip in the pool. Eeeek. My heart is cringing for Gong-shil already. I hope you know how to grovel, dear sir.
Making it worse is how Gong-shil overhears employees in the bathroom talking enviously about the romantic plans their president has prepared for his date. After dinner he makes plans to meet later in the evening, saying that he has something "very important" planned, adding, "Even if you're surprised, don't get too mad."
He sends up a gift box to her room, and inside she finds a dress and heels, and that sends her heart fluttering even more.
Gong-shil finds him waiting poolside, and he directs her attention upward just as the fireworks show begins. But when she steps aside, she returns to hear him on the phone talking about solving the issue with the pool, and her face falls. She recalls his question earlier about the water ghost, and hurries away feeling stupid. She tells him she'll be back, and heads up to change out of her pretty designer dress.
Back in her T-shirt, she sighs that she dodged a bullet—this would have been terribly embarrassing. "Why do I feel so upset?" she asks, fighting tears. Kang Woo's comment reminds her—pain is what happens when your feelings are thwarted.
Joong-won waits a while by the pool, then figures out that she must have gotten the wrong idea. Gong-shil returns to the lobby and gets a few snickers from employees who figure that there was no event after all. Yet Joong-won grabs her hand anyway, shutting them up, telling her that even if there are no scary ghosts around, there are still people's eyes—equally scary, those.
Gong-shil points out that it'll affect his image, and he replies, "I don't care at all what those things chatter about. I'm looking at you, who is upset by those chattering things." He guesses that her feelings were hurt, and she admits that they were, and that he should've just told her to be the radar instead of inviting her to luxury and buying her things.
He says, a bit uncomfortably, that it's because she was scared and he felt sorry about it. That makes her feel a bit better, and he insists on holding her hand all the way to the pool.
Kang Woo meets with Yi-ryung, who has done as he requested and asked around about Gong-shil's family background. As usual she's gone way overboard and has voice recordings all prepared, but he just tells her to send them over and leaves right away, to her frustration. Heh. What's a top actress-model gotta do to get a date around here?
Yi-ryung follows him out and offers him a ride home, to which he says he'll take the plebeian subway instead, which she's welcome to try. Y'know, it occurs to me that this might really be her one shot at becoming a decent person. So for that, kudos to Kang Woo.
Gong-shil and Joong-won wait poolside for the ghost to appear, and the longer they wait the more nervous he gets. Finally she decides to just go into the water anyway, even though water ghosts are frightful and don't like to let go once they've grabbed hold, asking him to at least fish her out if that happens. Joong-won orders her not to, though, deciding that they'll just drain the pool and wait it out.
Just as he stalks off, though, Gong-shil hears a splash and looks into the water, which starts to ripple with an unseen force. It barrels toward her and leaps out to yank her in—just as Joong-won returns and pulls her back, poofing the ghost into smoke.
Gong-ri follows her money-owing jerk home, intent on giving him what-for and getting her money back. But before she can confront him, his pregnant wife steps out and the jerk turns doting husband, sapping her of all her resentment.
Yi-ryung is rather proud of herself for taking the subway after all, though her mood sours a couple of passengers start gossiping about her and how she's an over-the-hill, talentless has-been, destined to eat the dust of younger, prettier stars like IU. Kang Woo sees her face fall and takes her hand to guide her to the exit, but Yi-ryung shakes it off and reveals her face to her slanderers. With a bright smile, she informs the lady that she's doing quite well, thank you, and sings a line from an IU song.
Fan mayhem ensues and Kang Woo leaps into bodyguard mode while Yi-ryung smiles and waves. Once out of the subway car, he tells her that her singing sucked, and she chirps, "But I looked pretty, right?"
Kang Woo sighs, "You really are cracked, aren't you?" She replies, "Yup. So I've decided—let's date."
He flatly says no, leaving her to get mobbed by more bystanders. Only this time it's not quite so fun and she hunches over nervously while they accost her, and Kang Woo barrels through to grab her hand. Off they run, and I'm pretty sure he's enjoying at least part of it.
By the pool, Gong-shil observes as the ajumma ghost sits poolside and reapplies her makeup, then heads into the bathroom to shower, do her hair, and even knock on stall doors before entering. Gong-shil guesses that this is not a water ghost after all, and that she doesn't know she's dead.
With a puzzled Joong-won following along (and taking her word for what's going on), Gong-shil watches as the chic lady ghost "dines," reads, and enters the hotel's most expensive suite.
Gong-shil and Joong-won wonder why this ghost who acts like a human would be dragging people underwater, and he instructs her to inform the lady that she's dead and that it's time to check out. The lady just reaches into her purse and presents a voucher—she was selected to receive the gift, so she's allowed to be here.
At least that gives them a way to find out her identity, and an employee confirms that she was a memorable guest. She was a common-looking ajumma who enjoyed her stay so much that her pleasure at everything was notable. Don't you just love Joong-won's reaction, which is that his hotel is so awesome that a guest would be loath to leave it even in death. Ha.
But the employee corrects them: She's not dead. She's in the hospital, unconscious but alive. This is a first for Gong-shil, who's never dealt with a case like this. Can you be a ghost if you're not dead?
A glimpse of the woman's hospital room shows us that she has a bickering family, and one where she perhaps was overworked and underappreciated. Which may explain why the ajumma has no desire to leave, as she ignores Gong-shil as though she can't hear a thing she says.
But at the mention of her daughter's name, the ghost reacts. Gong-shil urges her to think of her family and return to life, and gets her to agree. She just wants to see the fireworks show before she goes, and changes into an evening gown. So Joong-won encourages her to do the same and match the occasion, and Gong-shil changes back into her pretty dress.
By the pool, the ajumma watches the fireworks, Gong-shil watches the ajumma, and Joong-won mostly watches Gong-shil. The ajumma is near tears thinking of how nice her dream was, "But it's time to wake up now." Off she goes, and her family greets her with tears.
Joong-won asks how the ajumma liked the show, and Gong-shil relates her words: that it felt like a dizzying midsummer dream. "It felt thrilling and happy, and painful too, because what she saw here was so nice." I'm pretty sure we're not talking about ajumma anymore, though Gong-shil makes it sound like ajumma was here until just now, saying those things.
The show ends, and Gong-shil notes that tonight she shattered somebody's nice dream. They aren't pointed at him, but I think he feels the barb nonetheless.
Meanwhile, Yi-ryung smiles to see the news of her subway show and the photos with Kang Woo. Unni Gong-ri has a harder time of it, crying that she hadn't thought her ex would be married. Guard Han-joo sits uncomfortably next to her and pats her comfortingly.
Kang Woo sighs upon his return home that night, because those dolls he tried to throw away have been rescued by the neighbor boys, who waste no time making them kiss. Ha.
The next day, Joong-won watches Gong-shil as he finalizes his plans for a weeklong business trip to China, and wonders if he should tell her. Secretary Kim informs him that she knows already, and he's maybe a little miffed that she's so fine with it, as though he expected her to be upset.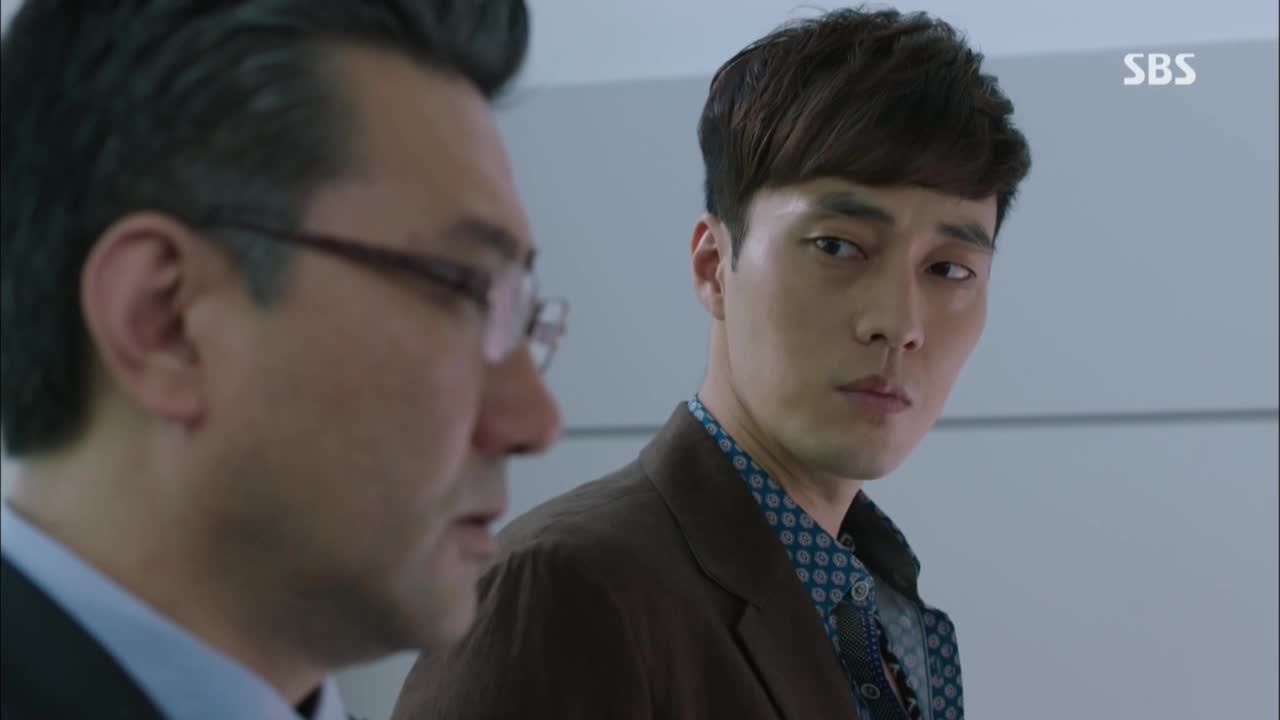 Secretary Kim relays her words: that to her, Joong-won is like a special voucher that she won. It's a huge gift, but not a place she can stay forever. "If I want to live well on my own, I have to get used to being places without him."
Joong-won denies being affected by it, saying he feels better to hear that she doesn't need him. Secretary Kim repeats Gong-shil's words about pain telling you the answer when you're not honest with your heart, and Joong-won's jaw clenches—he's heard those words before, when they came from Hee-joo. (Innnnteresting, because Kang Woo heard it from Daddy Joo.)
In flashback, we see teenage Hee-joo telling those words to teenage Joong-won, who boils it down to the question, "So you're saying that if I want to like you, I should hurt?" She smiles and says, "Yes, I'd like it if you hurt an awful lot."
Joong-won asks Gong-shil where she picked up that saying, and his eyes narrow when she sources it back to Kang Woo. He orders Secretary Kim to look into Kang Woo's background with a fine-toothed comb, which is when Secretary Kim offers up the tidbit about seeing him at the orphanage.
Tracing Kang Woo's origins further, Joong-won asks Uncle VP how Kang Woo came to be hired, and hears that he was recommended for his outstanding record. Uncle hedges, but Joong-won guesses the truth, that it was his father who made the recommendation.
Joong-won heads to security next to confront Kang Woo about working for his father. Kang Woo is honest, saying that he was instructed to investigate those around Joong-won, particularly anyone related to Hee-joo—because Daddy Joo believes Hee-joo was a co-conspirator, not the victim.
Flashback. After the kidnapping, Daddy Joo asks Joong-won if he truly didn't see his kidnapper's face. Joong-won is fully of suspicions himself and asks whether Dad truly paid the ransom—because why else would he be afraid Joong-won might have seen the kidnapper's face?
So Joong-won suspects his father refused to pay and thereby killed Hee-joo, while Daddy Joo suspects Joong-won lied about his kidnappers' identity. They find themselves at impasse, and have been for the past fifteen years.
Keeping his temper at a low boil, Joong-won has a few messages for Kang Woo to convey to his father: that he's looking for the necklace, and that he hopes his father won't get his hands on it.
Just as Gong-shil wonders what Kang Woo's relationship to Hee-joo is, the ghost appears. We don't hear what she says, but Gong-shil falls to the ground in response, which is how Joong-won finds her.
So Gong-shil now knows that Hee-joo was in on the kidnapping, and Joong-won asks to know who her co-conspirators were. But Gong-shil shakes her head—Hee-joo can't say. Or wouldn't say, because she has to protect whoever it is.
He tamps down his reaction, struggling to deal with his emotions, and as Gong-shil turns to leave him, he stops her. "Don't go. Stay here," he requests. "I don't want her to see me like this. Since you can see her, stay with me and protect me."

COMMENTS
Aw, I loved this episode. Just everything that happened, and what it means for our people. We've been on a nice streak so it's not like we haven't had good episodes before, but there was a lovely balance of emotion from both leads in this one, as both Master and Sun find that they both want and need each other in deepening ways.
Plus, we also got development for multiple side couples and a ghost tale that was pleasant for its understatedness—it mattered, sort of, but not so much that it overtook the plot. As a bonus, the ghost's trajectory had a thematic resonance with the main storyline; I felt that pang when Gong-shil realized that this was a temporary bliss, and that she ought to get used to life after it's over. In a simpler drama, I think we might expect the hero and heroine to stay in denial and convince themselves that what they had was purely a business arrangement, but I like that both characters are willing to admit that their feelings can't help but get mixed up in matters. It's just not going to become the basis of their relationship, or change why they need each other. At least not yet.
The makeover scene was one of those subverted cliches that I really liked, even though it was also a heart-twister. The heroine gets her Cinderella moment as the hero lavishes her in gifts and attention, and for a moment Gong-shil allows herself to bask in her hopes. All the while Joong-won is thinking in plainly practical terms and just getting his wires crossed in the communication process. I liked that we're dealing with subtler characterizations here than the setup might lend itself to; it would be all too easy to keep everyone in their diametrically opposite molds. But no, he feels apologetic even as he's using her, even as he knows it's okay to use her because that's the nature of their radar-shelter deal. And it's for that reason, that he doesn't feel so great about it anyway, that smooths things over and eases her embarrassed hurt.
Baby steps, yes, but as long as they're baby steps headed toward each other, I'm all good.
RELATED POSTS
Tags: featured, Gong Hyo-jin, Master's Sun, Seo In-gook, So Ji-sub