Monstar: Episode 12 (Final)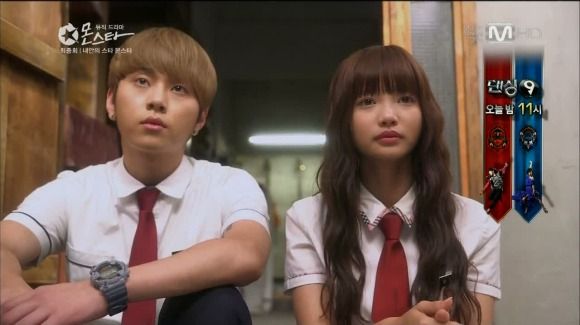 It's a monstrous episode for Monstar as we play the final chords of this composition that has rocked our hearts in its short (and yet, deceivingly long) run. All things must come to an end as our characters face the music on the hidden pages of their lives. The truth is never an easy pill to swallow, but when it's paired with a glass of forgiveness, it can be incredibly liberating and powerful.
Note: Unfortunately I couldn't do anything about the advertising banners that often appear on the side of the screencaps. Sorry, everyone!
SONG OF THE DAY
Color Bar – "그것 만이 내 세상 & 행진 (That Is My Only World & March)"
Audio clip: Adobe Flash Player (version 9 or above) is required to play this audio clip. Download the latest version here. You also need to have JavaScript enabled in your browser.
EPISODE 12: "The star in me, Monstar"
As Nana sings to "Scattered Days" (infused with Seol-chan's rap lyrics), Se-yi confesses her feelings for Seol-chan to Sun-woo, who looks heartbroken to hear the words.
He tries to crack a joke to cover his hurt, but he can't bring himself to say okay to that. Putting on a brave face, he apologizes for being unable to walk her home and leaves.
It's only when he's alone does he let out a deep sigh, "It hurts to be rejected over and over again." He stands there, head hanging.
In the meantime, Seol-chan finishes up in the recording studio (for the goodwill project song) and runs into Ari on his way out. He spends the rest of the night composing, his fingers calloused from playing on the guitar.
Byun PD yells up a storm at the news that Seol-chan won't participate in the music battle. He storms out, only to march back in to declare that they'll make semi-documentary tear-jerker featuring Color Bar instead.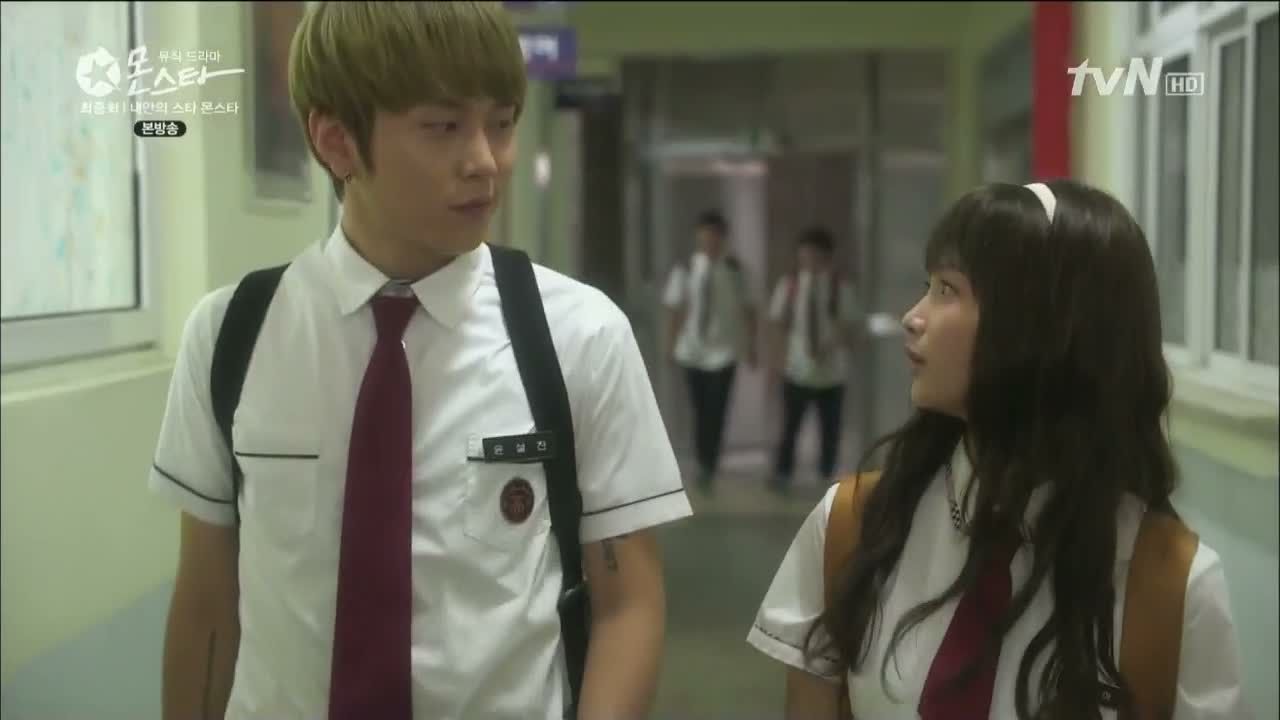 At school, Seol-chan asks why he didn't hear from Se-yi all weekend long, and wonders if she was met up with another guy. He correctly takes her silence to mean she met with Sun-woo, and then teasingly accuses her of being a player.
That's when Se-yi notices his calloused fingers, and he quickly hides his hand behind him. The others joins them and Sun-woo deliberately walks in between them. He doesn't betray any emotion of his rejection with the reminder about practice (without Seol-chan of course) later that day.
Annoyed, Seol-chan calls Sun-woo outside and tells him to stay away from Se-yi. Sun-woo merely scoffs at these words with the same cryptic message that he won't give up on her.
Realizing that Sun-woo intends to use the upcoming show as an excuse to stick to Se-yi, Seol-chan shows up at practice in the basement. He offers to help out behind the scenes to arrange their music piece, an idea which is met with general agreement (apart from Sun-woo, who's like, So what?).
After practice, Seol-chan whispers to Se-yi that he's got some free time. Sun-woo echoes his words, and then leads Se-yi by the wrist, to Seol-chan's annoyance.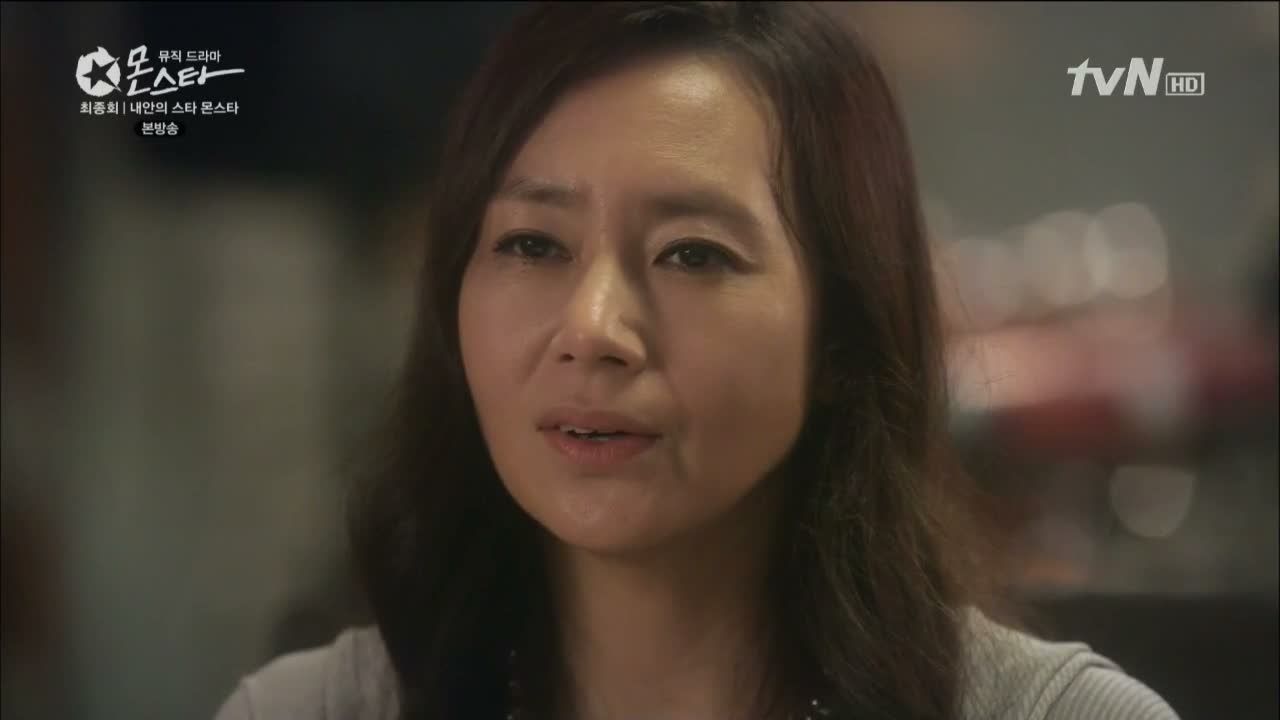 Then we see Mom emerge from just around the corner. She's here to see Ajusshi because she knows that Se-yi has been spending here.
He asks why Mom allows Se-yi to hold a misunderstanding about the night her father died. Se-yi doesn't know that he was the one Mom went to see, and he asks what Mom is trying to protect by withholding this truth from her daughter.
Mom: "Se-yi." She believes that she's living out the consequences of her actions through Se-yi.
To this, Ajusshi admits, "I also lived my life cursing and blaming you until Se-yi came to see me." He had wondered why his own life was in shambles while they all continued to live happily.
But then he had learned that Se-yi's father had died that night. He also feels partly responsible for his old friend's death, so it's likely that he won't tell Se-yi the truth either. All right, but can we know?
Then he asks her the same question Imaginary Dad did—does she intend to carry out this burden on her own? She says she will (ugh) and continue to do so until Se-yi is older and ready (bleh).
At a nearby cafe, the boys bicker outside where Seol-chan asks why Sun-woo is acting so childish lately. Sun-woo answers that he was told (by Nana) that he lacks that particular characteristic, which basically means he'll play at Seol-chan's level now.
Appalled, Seol-chan asks, "Then are you saying I'm childish?" Sun-woo: "You didn't know?" Ha.
Se-yi frowns at the boys' argument as she sits by herself inside. Sun-woo smiles at her, to which Seol-chan frantically waves his hands in front of Sun-woo's face. Ha, boys.
Sun-woo receives a text from Nana. He greets her with the usual indifference which I just find plain annoying now. I know you might not have feelings for her and you're still hurting from the rejection, but would it hurt for you to be semi-nice to the girl who impresses you time and time again?
He knows that he'll eventually have to come to terms with Se-yi's feelings for Seol-chan. So he plans to take his time to let his feelings ebb away. When Nana asks if it's because he doesn't want to give into his tears, he doesn't answer.
At the news that All for One has decided to practice in secret, Eun-ha wonders what their hidden card might be. Her suggestion to ask Nana to send in her family thugs to spy on them gets quickly shut down by Do-nam and Kyu-dong. Heh.
Then we get a glimpse into Eun-ha's imaginary scenario where the All for One trio sings and dances in colorful outfits to Two Two's "One and a Half."
I… don't know how to erase what I just saw. It's kind of unnecessarily long, but on the bright side, we got to see Joon-hee smile, right?
Seol-chan steps outside to take a call from his adoptive mother, who says the company dropped by to pick up this things. She suggests that he continues to stay at home.
As soon as he hangs up, Ajusshi appears and asks when Seol-chan plans to perform (on the guitar for Se-yi, presumably). He answers that he hasn't found the right place yet.
Before Seol-chan heads back downstairs to practice, he remarks that he was inspired to be a singer because of a certain songwriter whom he truly respected: J. Han. D'aww, that's sweet of you.
Byun PD flips through the Color Bar members in order to decide who to feature in his exposé. He tenses at the mention that both Nana and Sun-woo hail from influential families, and then casually tosses their pictures from the pile.
But he sniffs out a potentially juicy story with Se-yi who currently practices with the band in the legendary J. Han's basement. His writer gripes about the extra work, and he tasks her to let Seol-chan know then. Ugh.
The guilt-trip text works, and Seol-chan immediately calls back to give the show an earful. Unfortunately Sun-woo overhears the bit about airing the band's dirty laundry, which Seol-chan downplays, saying he'll handle it.
Seol-chan confronts Byun PD, accusing him for exploiting his friends just because he won't appear on the show himself. Byun PD just smugly smiles. From what he's heard, Color Bar really wants to perform, so either Seol-chan participates or he'll remove Color Bar from the program.
As expected, CEO Go is against the idea. He could entertain the idea if a top star like Stella appears on the show as the goddess, but they know that it's a virtually impossible feat.
Which means Seol-chan heads straight to ask Ari, since Stella always listens to her cousin. He asks what he can do in exchange for her to help him. Though we don't get to hear what it is, it does weigh on Seol-chan's mind.
Back at school, Joon-hee runs into Sun-woo. He's heard that Seol-chan won't appear with the rest of them and hints that Byun PD is likely to have something else up his sleeve if he can't get to Seol-chan.
That reminds Sun-woo about the conversation he overheard earlier. He confronts Seol-chan about it, and they exchange clipped words until Sun-woo issues the warning: "I won't stand for it if Se-yi gets hurt."
Seol-chan turns to Ari again, who remarks that he's changed for the worse since he started attending school. His seriousness takes her by surprise, however, and she instinctively backs away as he pleads with her to help him.
She grows increasingly anxious as Seol-chan approaches her, willing to comply with Ari's condition to literally kiss her shoes. Even though is Ari is as bratty as they come, I'm sure she didn't anticipate that he might actually follow through.
So it's hard to watch Seol-chan start to bend down, only for Ari to push him away. She tells him to stop, and agrees to help him. He thanks her in return.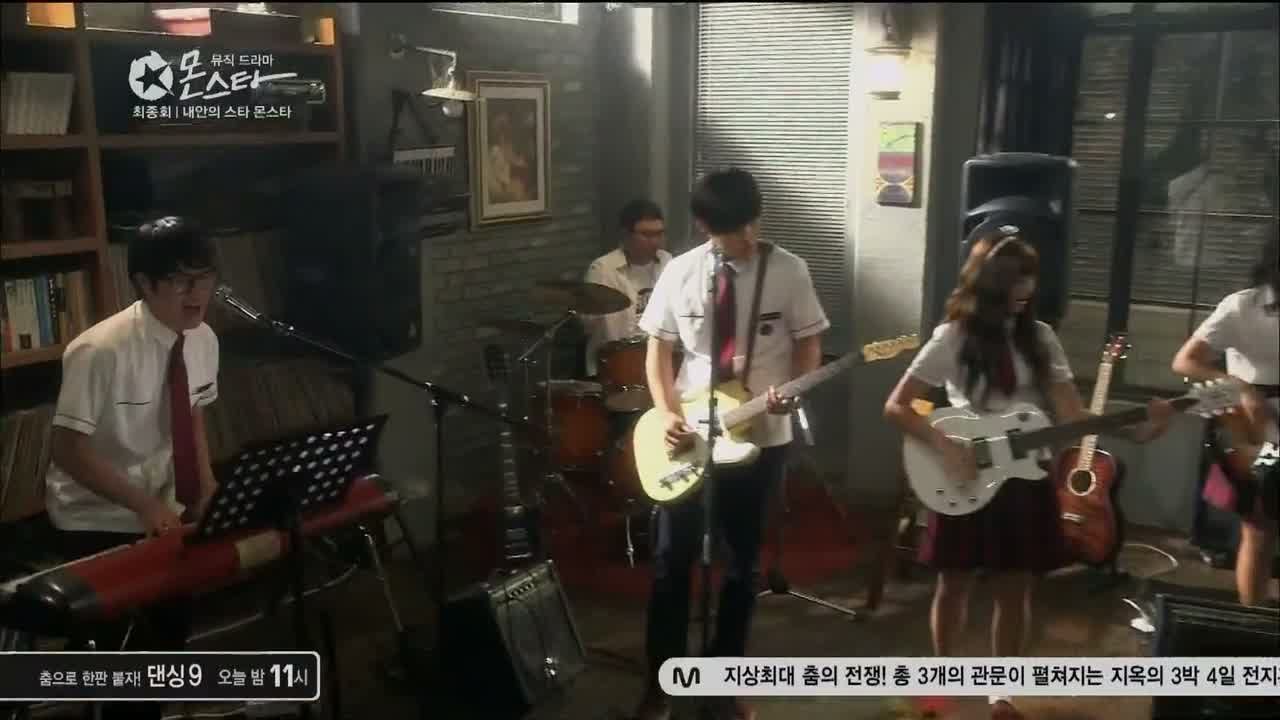 This means that Seol-chan can appear on the show, and after he relays the good news to the band, he smugly rubs his achievement in Sun-woo's face. He asks if Sun-woo will back off now. Sun-woo: "Nope."
Color Bar practices in high spirits to a rendition of Panic's "Left-handed." CEO Go tears his hair to hear that Seol-chan actually managed to convince Ari, so he throws a MIB performance into the mix. 'Cause why not—those boys need more screentime, after all.
Byun PD looks like he's in Candyland at the idea of getting two popular musical talents to perform. Unfortunately, he's still unwilling to drop the matter of the exposé on the Color Bar members. Auughhh.
Now we learn about the Christmas night that led to J. Han's ruin as Byun PD's informant wonders if that mysterious woman who was waiting for him with a demo CD had something to do with it.
Then we flashback to that stormy night. Mom congratulates Ajusshi on his award and asks him to listen to the "Catnap" lullaby. Her request is met with scorn, and Ajusshi asks if Se-yi's father has finally given up on his stubborn pride to reach out to a top music producer like himself. Does her husband even know that she's making this request of him?
He walks away with a smirk, and Mom calls after him: "The reason why I didn't accept your heart is because you're someone who only amount to this." And well, we know the rest from there.
So when the informant says that the demo CD was J. Han's friend's composition, Byun PD puts the pieces together in his head and smiles.
Joon-hee meets with Byun PD after he learns that the show's writer has been lurking around campus to gather gossip about Se-yi. He's told that the story can only benefit All For One. Surprisingly, he tells Byun PD to stop digging around because they don't need to fight dirty in order to win.
Then he leans in to whisper to Byun PD not to lay a finger on this battle. Hmm, are you doing this because you're confident you can win or for something else? Whatever it is, is it wise to have Byun PD as an enemy?
After school, Seol-chan swoops in to take Se-yi with him before Sun-woo can get the chance to say otherwise. In a low voice, he asks, "Sun-woo, have you ever brought a girlfriend home?"
Huh, it's official now? At least Se-yi's surprised expression seems to suggest that she's hearing this for the first time, too.
Next thing we know, they're at Seol-chan's place, to his mother's shock. He leads her into his room where her eyes falls upon the framed encouragement note and the lamb doll by his bed.
Picking up Seol-chan's family photo, Se-yi remarks that he takes after his mother. His face grows dark and she cheerily adds that there's a saying where married couples take after each other. So it's the same thing in families: Since they use the same muscles when they laugh and cry together, they end up with similar features.
He calls it nonsense at first, but then asks if they'll eventually resemble each other in time. Se-yi suddenly rises at the statement, which is when Seol-chan's mother enters to check in on them.
She comments that Se-yi's the first friend her son has brought home since Sun-woo. Then there's an adorable sequence of her leaving the door slightly ajar a few times and Seol-chan closing it again.
At one point, he discovers her just outside the door and she explains that she heard a mother shouldn't leave her son alone with his girlfriend. Can't blame a mother to be wary of raging hormones, hehe.
The door now closed, Seol-chan takes out his guitar to perform for her. It's an apology for plagiarizing one of her father's songs before, and this time, it's an original piece. Aww.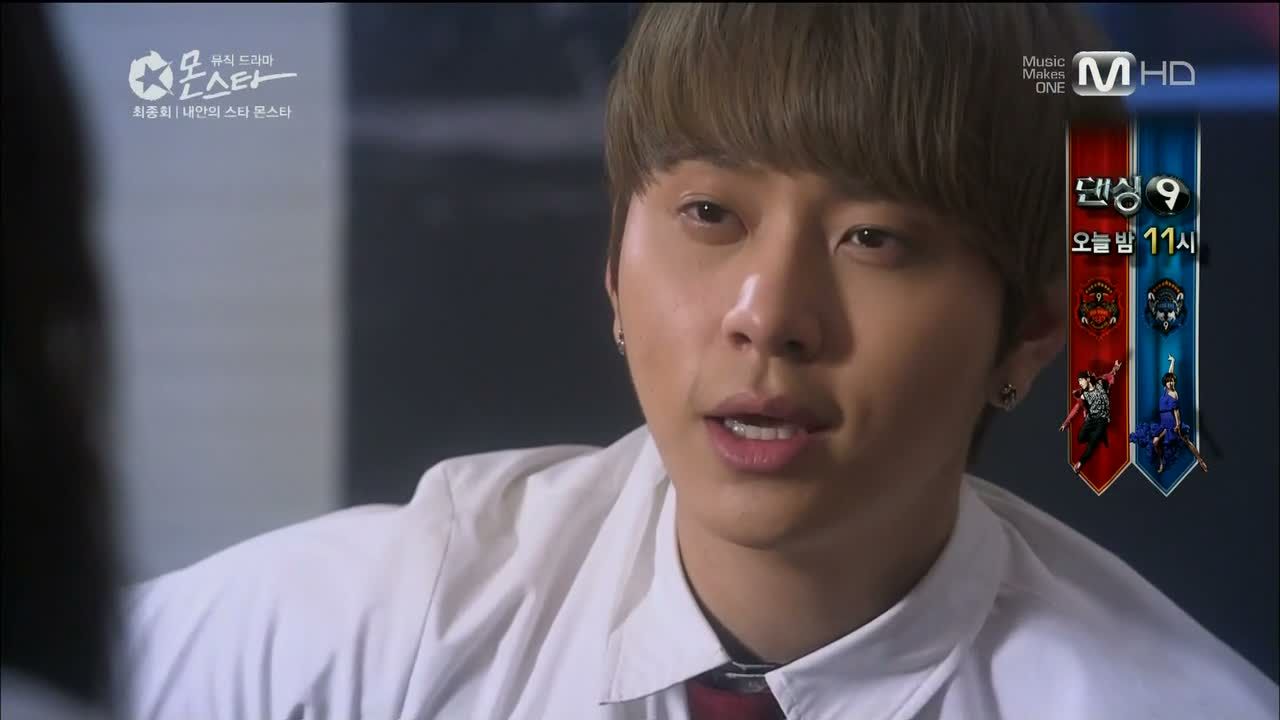 The heartfelt lyrics of his confession of his feelings for Se-yi bring a smile to her face:
Through your hair drenched in the sunshine
I know that sorrow you feel
Because you're my jjak

As I look at the shadow of your steps
I can see how you spent your day

Lean on me from now on
Don't hide your sorrow
Close your eyes and forget the past
Now let's smile together

You have become
another reason for me to live
Because it's you

Now hold my hand tightly
and let's walk together
as we wipe each other's tears
Now let's smile together

Now I can hold you tight
Because you're my jjak
Mom smiles as she listens on the other side of the door. Then Seol-chan drops Se-yi off at home. When he returns, he says aloud: "I forgot to ask her if she likes it better when I sing or when Sun-woo sings to her." HA.
He stops to mention to his mother that Se-yi said that they look alike. She beams.
She knocks a moment later, and they sit together on the bed. Her voice breaking, she confesses, "I-I'm sorry."
Tears well up in her eyes as she apologizes for the time she tried to return him to the orphanage. She explains she wasn't ready to be a mother then, and things got too difficult for her to handle. You were rejected by both your birth and adoptive parents? That's just awful.
There are still times when doesn't know what to do, but there is one thing she does know. Cupping his face in her hands, she tells him: "I love you."
Seol-chan breathes, "Mother…" She wonders when her son will call her "Mom" instead.
Color Bar is told that they'll have to prepare a different song before the battle. With less than five days ahead of them, they get to work and practice like no tomorrow.
As they work, Eun-ha narrates about how she worries the world will continue to abuse Seol-chan's talent even though she believes in him. She realizes that she has an interest in social justice.
Nawin comes by to see Ajusshi before he leaves Korea. He appreciates that they were able to meet, and at the mention of his sister (Choi Si-young aka the trainee who died), Ajusshi hangs his head in apology.
He tells Ajusshi that it's okay, so he can stop sending money out of his guilt. "So please forgive yourself." That's what his sister would want too. Ajusshi sobs in front of Nawin, having received forgiveness for the sin that has plagued him for years.
Meanwhile, Se-yi and Seol-chan go out on a date that suspiciously looks like a cake product placement opportunity. She sighs when Seol-chan whines if she gave Sun-woo the same cake-feeding treatment, but it's not long before they smile at each other. Cute.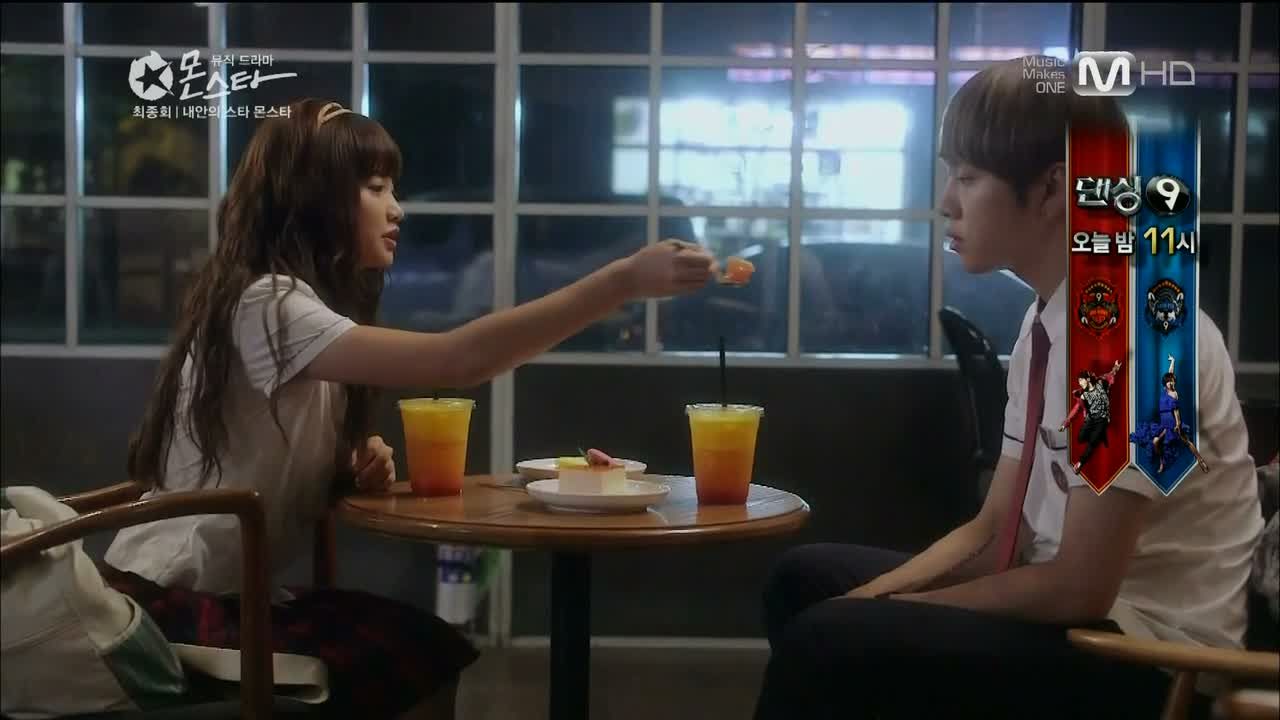 Sun-woo receives a text from Nana to use her eighth coupon, and he waits for her in the basement. As soon as she arrives, he says that whatever it was, she could have told him earlier. Dude.
She asks if he really doesn't know or pretends not to know, and then asks if he's decided on the expiration date for her coupons.
He has. "Today." But there are two left! Shouldn't there be a two-week notice on these things?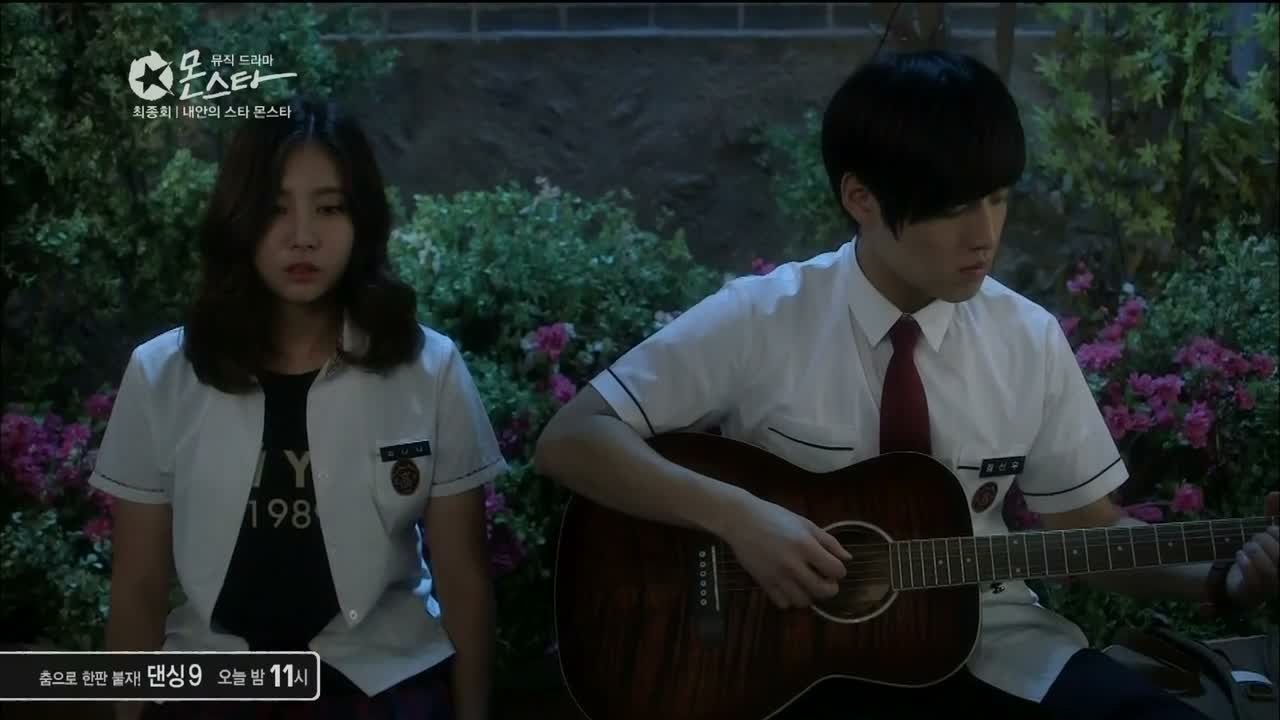 Holding back her tears, she makes a final request to sing a song for her. It's pointless to make a girl laugh if she ends up with the one who makes her cry anyway, so she asks that he makes her laugh just this once.
She lets him choose the song. He plays Lee Moon-sae's "When Love Passes By." As he sings, Nana tersely whispers, "You jerk." I'll say.
Then Nana leaves him in the courtyard still singing. It's only when Sun-woo finishes the song does he notice the gift bag Nana brought in with her. I never thought I'd say this, but I hope you feel like an ass.
Goddess's Kiss Filming Day. Things are better between Se-yi and her mother as she leaves with a bright smile on her face. And why yes, I totally laughed at Byun PD in his losing battle against the vending machine.
Both teams prepare for the battle, and Sun-woo cracks a smile after Nana brushes past him. He sits in between Se-yi and Seol-chan again, and this time Se-yi rises to leave, wondering what's gotten into Sun-woo.
We learn that the reason for the Color Bar's last minute music switch is because another group will play it at the finals. Um, couldn't we have learned that earlier?
Then the writer explains the story on Se-yi is a juicy one, completely unaware that Se-yi is just around the corner. We then jump back to that fateful night as Dad speeds down the road. Little Se-yi tries to persuade her father to slow down, which only results in Dad gunning it instead.
The scene intercuts with little Se-yi arguing with her father as present Se-yi staggers in shock.
Her eyes wide with horror, Se-yi falls to the ground. She clutches her head as a sound of a crash echoes in her head. Oh god, how horrible—no wonder you repressed the memory.
The boys stare in shock as the writer describes the gruesome details, and Se-yi finally makes a run for it. Both boys run after her, but it's Sun-woo who stops in his tracks. Seol-chan chases her outside, but runs into a throng of fangirls.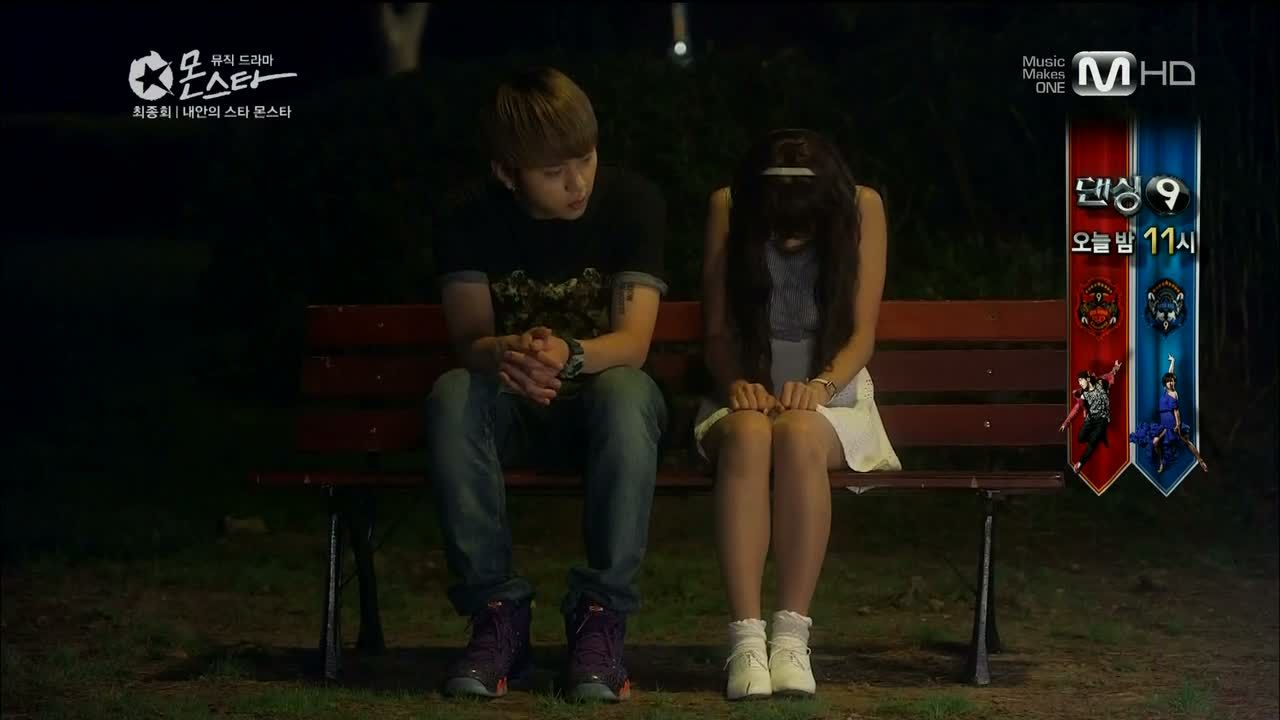 Eventually, Seol-chan breaks free and it's dark by the time he discovers Se-yi sobbing on her usual park bench. You can see how much it pains him to see her cry as he gently calls her name, "Se-yi-ya…"
He silently sits next to her. Through her sobs, she blames herself for her father's death. "It wasn't my mother's fault. It was mine."
"I have three names," Seol-chan tells her. The one he has now was given to mark a new beginning after his adoptive mother took him in again. He explains the initial adoption was difficult for both of them because they were both new to this parent-child relationship.
He isn't sad at the fact that his birth parents gave him up, but the memory of his adoptive mother leaving him at the orphanage continues to haunt him.
In those times, the verse "God… will not let you be tempted beyond what you can bear" (1 Corinthians 10:13) turned out to be pretty useful. He wonders why it's so painful when they're so young, and Se-yi breaks down in tears once more.
The Goddess's Kiss broadcast begins. Things are getting bleak for Color Bar as they bite their nails waiting for Se-yi and Seol-chan to return.
To make matters worse, All for One has brought in a sunbae as a power vocal. HA—it's Noh Min-woo. Well, that was certainly unexpected.
All for One puts on an impressive, entertaining stage to Cho Yong-pil's "Youth." Color Bar gapes in surprise, and Eun-ha says they may as well throw in the towel.
Seol-chan texts Sun-woo to inform him that they're on their way. Se-yi is still crying in the car, and Seol-chan silently takes her hand. He squeezes it tightly, but then loses it in the crowd of fangirls.
With a ten minute warning, Sun-woo runs out to find them. He looks on as Seol-chan reaches out to grab Se-yi's hand and runs inside. Seol-chan joins the others with this huge victorious smile on his face, only to turn around and learn that he brought in the sasaeng fan instead. Pffft.
Then Sun-woo runs in holding Se-yi's hand a moment later. He asks if Se-yi is up for it, and Seol-chan whirls her around, "Do it. Cry as you sing."
Color Bar takes the stage and each of them sing in turn until everyone joins in on their instruments. Se-yi starts to cry as Sun-woo belts out the pre-chorus to the anthem: But I have no regrets / All of the dreams that made me cry and smile / That is my only world.
They sing together as a collective voice, a band united as one. They end their performance to a cheering crowd and confetti falls from the ceiling. Se-yi sobs.
The next day, Se-yi pays a visit to Ajusshi, who asks if she came alone. She replies the others are on their way. He asks if they won. She smiles. He asks if they lost. She smiles.
Sun-woo smiles at the group photo of the Color Bar members. He finally opens Nana's gift bag, which contains the jacket she'd been making for "no one." He admits, "I thought it wouldn't suit me."
As a montage of the entire series plays, he narrates in voiceover:
"Love came. Love came into our lives and became a longing. Even though we were shaken by the power of time, people haven't forgotten that deep within us, love lives in hiding. Whether when we were children or in adolescence or last year, the name which pierced the deepest part of our existence… was love."
Then we see Se-yi and Seol-chan sitting on the steps to the courtyard. Seol-chan silently wipes a tear from her eye.
Epilogue. Do-nam rocks out on an electric guitar intro before the credits roll, and the cast sings in a chorus to Crying Nut's "Run the Horse."
COMMENTS
An open-ended ending it is, then. Before the finale aired, I honestly thought to myself that it'd be half-funny and half-painful if we had a 90+ minute episode on our hands. And well, we all know what happened there.
To a certain degree, I understand the purpose of this kind of ending, as it remains in step with the rest of the show's lingering feel. We've seen how the often slow pacing has been a disservice to the series as a whole, especially in the latter end of its run, but the ending does achieve the effect that our characters will continue to move on long after the final note.
As a viewer, I wish we had gotten clearer answers to some of the questions from the very beginning of the series. For instance, we reached a heart-tugging reconciliation between Do-nam and Kyu-dong, but it's the Seol-chan—Sun-woo friendship I'd been holding out for because the reason behind their fallout was what I really wanted to know. I'm still trying to wrap my head to figure it out because both Seol-chan and his adoptive mother were aware that he'd been adopted twice. I don't want to make light of adoption (which is a sensitive issue that many of you have pointed out. Thanks for the info, y'all!) but… was that the deep secret only the two of them knew? If you have an answer, feel free to share with the class!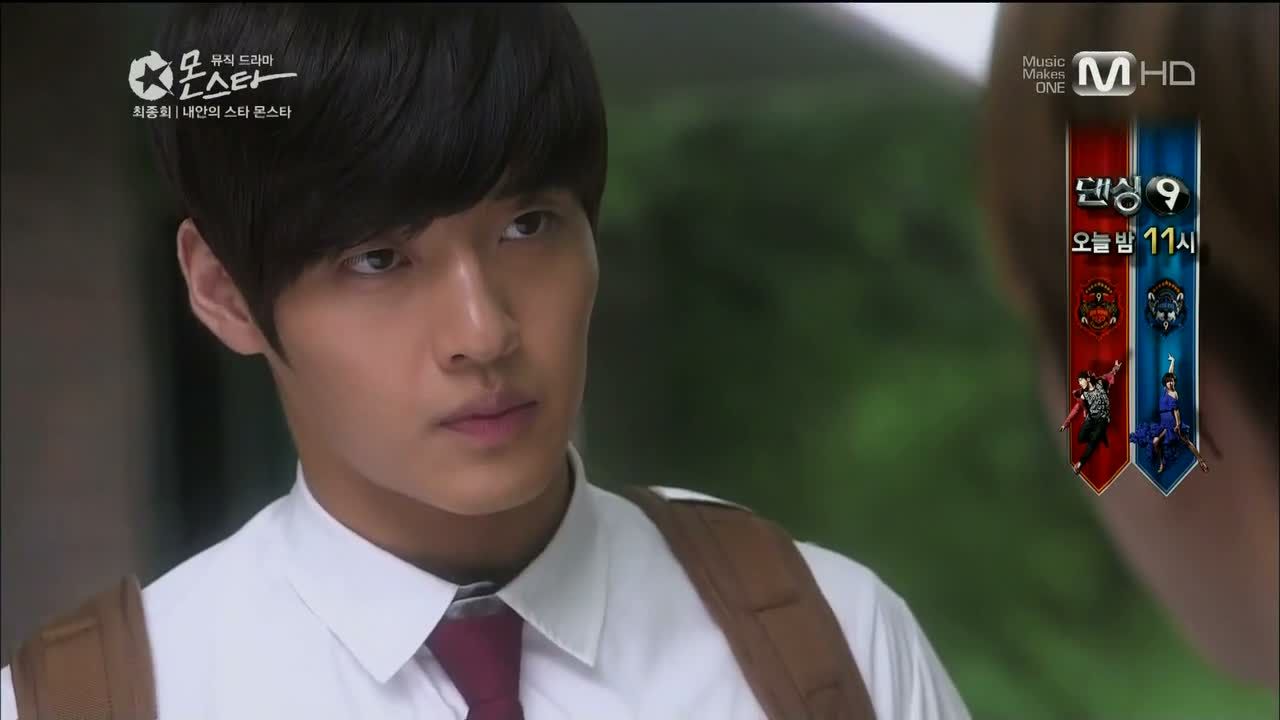 On the topic of Sun-woo, I have to wonder where his current status with Seol-chan falls in the spectrum between friendship and rivalry, since he's made it verbally clear that he won't give up on Se-yi. Um, you guys aren't going to fight over her forever, right? Right? Also, I know that I've been giving Sun-woo the benefit of the doubt (okay, more than that. It's my blind love for Kang Ha-neul) because he seems mostly great on paper. He's talented, has leadership, and courteous to every… just Se-yi. He's still a flawed character — as it is with most characters — but at one point, I couldn't be on board with his disregard and cold attitude towards Nana.
It boggled my mind since he was the one who encouraged her to see a part of herself that was more than her familial background, only to begrudgingly hang out with her eight times, not even the promised ten. *grumble* Because of Nana's awesome characteristics (her musical talents are a plus) to tell it like it is when needed, I was happy to see her finally walk away from an unrequited love. Their future is also one of the points that remain open-ended, but I'm okay with not keeping my hopes too high about a romantic outcome. At least not now, anyway.
The parents' past was a plot point that never intrigued me, apart from how it affects our heroine in the present. I appreciate how we were given little clues to The Christmas Night When Everything Happened throughout the series run, though I will admit that the non-chronological order made it difficult to follow the show's timeline at times. At the beginning of the series, I hoped that J.Han/Ajusshi/Han Ji-woong would serve as a mentor to those ruddy kids knocking on his door. In retrospect, I love that Se-yi was the one who brought him back to the light, even if she still doesn't know that he was also indirectly involved with her father's death. Perhaps the best we can hope for is that they eventually have that conversation, if ever.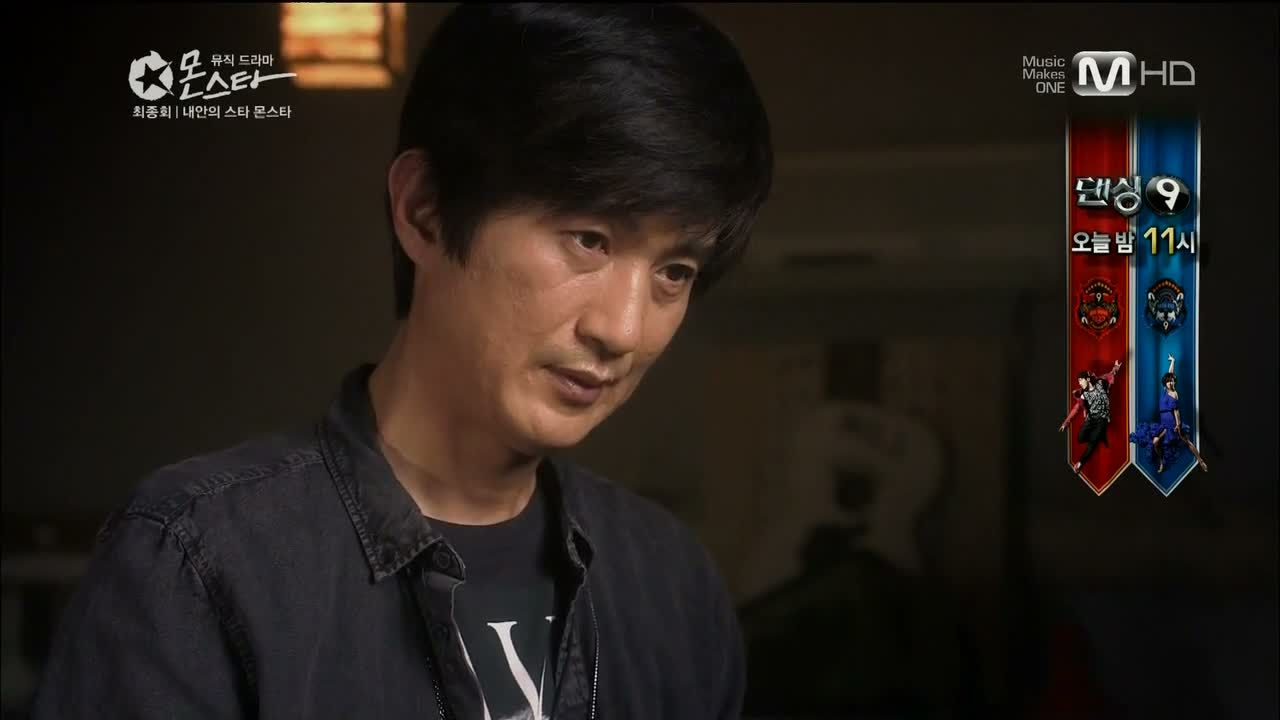 There are countless little plot points that were left open (or dropped) that could easily fill a manifesto. It cracks me up to realize that this is a world where the adults and other authority figures mostly fell in line to the teenagers by the end of the series and other minor appearances help to bookend the series. There are so many other things that I could wish for, like more time to see Color Bar encounter conflict and grow together or some closure on our other minor characters, that I can only settle to wish for.
On a brighter note, I fell in love with Seol-chan's confession. For him to encapsulate his feelings for Se-yi in an original song with lyrics of a longing to be her jjak. It's the meaning that I've been waiting to hear him say—to be a partner in life; to walk, laugh, and cry together. It's the best way that I could imagine for him to rectify how he wronged her before and convey his feelings towards her. I still get butterflies in my stomach thinking about it.
Despite his childish behavior which reminds me that he's still very much a teenage boy, there's a certain gravity in his character that still resonates. His fear of abandonment and subsequent gratitude towards his mother speaks volumes because the thought of him being rejected twice didn't even cross my mind. It makes his adoptive mother's confession all the more heartbreaking—she's aware of the scar that has been left behind because of her actions, and I love that she makes sure to tell her son that love transcends blood.
It's the same wish I have for Se-yi, whose quirky, frank nature was extremely refreshing in a blur of the same-type heroines. There were, of course, times when I found her frustrating when it came to Seol-chan and Sun-woo, but this is the same frustration I often find in any other heroine in dramaland. I love how she is the one who draws the others out of their shells, and how she isn't afraid to stand up for her friends when it counts. In turn, she gains an invaluable friendship with the Color Bar members, who are still a mix of individual personalities, but a collective group that makes rockin' awesome music together.
As a whole, the series still carries a sense of nostalgia and yearning, even though the show is over-indulgent in the whimsical and the meandering in its last few episode. I won't be screaming for an encore just yet, but I sure won't forget how my idyllic love for this series still pierces the deepest part of my heart.
RELATED POSTS
Tags: featured, Ha Yeon-soo, Kang Haneul, Monstar, Yong Jun-hyung