Uhm Jung-hwa headlines rom-com about love sex and singledom
And she's romancing a younger man to do it. Rawr. Uhm Jung-hwa's next project is a rom-com about the friendships and love lives of three forty-something women, called Laws of Attraction. It promises a bold, frank portrayal of sex and singledom, and co-stars Jo Min-soo (Pieta, Goddess of Marriage) and Moon Sori (Ethics of Wrath, The Housemaid) as part of the trio of girlfriends. Setups like this will always sound like another Sex and the City, but hey, I'll always welcome more films about women's friendships and single lives.
Uhm Jung-hwa stars as a cable network executive in charge of variety programming, who breaks up with a long-term boyfriend and begins a relationship with a much younger man. Lee Jae-yoon of Heartless City will be the new love interest, with whom she has a fiery new romance. Jo Min-soo plays a divorcée who runs a bakery cafe, and dreams innocently of the day a new love will wander into her life. Cue Lee Kyung-young (Vampire Prosecutor 2). Aw, I bet their story will be super cute. The actors will be reuniting for the first time in 13 years since the drama Fireworks.
Moon Sori is the only married member of the trio, and she plays a mom who enjoys a second newlywed phase in her relationship the minute her son leaves the nest to go study abroad. Ha. She'll be paired with Golden Time's Lee Sung-min. The script, from a newbie writer, won the top prize at Lotte Entertainment's open screenwriting contest, and directing is PD Kwon Chil-in of Wonderful Radio and Singles (essentially the thirty-something version of this story).
Laws of Attraction has begun shooting and is aiming for a release later this year.

Uhm Jung-hwa, Lee Jae-yoon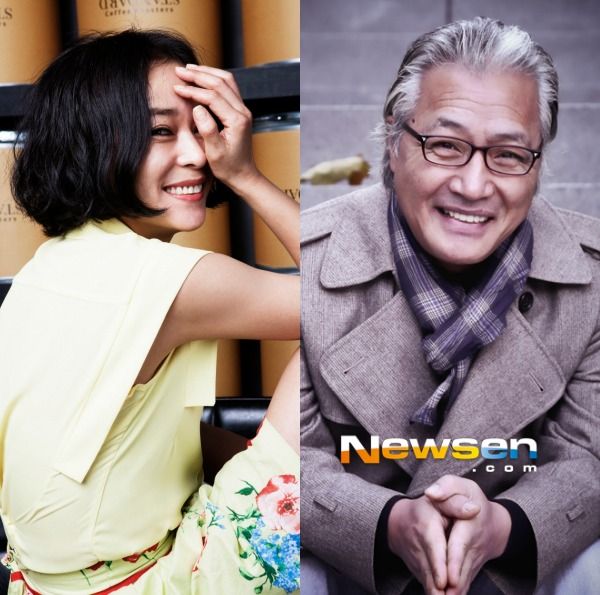 Jo Min-soo, Lee Kyung-young

Lee Sung-min, Moon Sori
Via Newsis, E Daily, Sports Hankook
RELATED POSTS
Tags: Jo Min-soo, Lee Jae-yoon, Moon Sori, Uhm Jung-hwa