You're the Best, Lee Soon-shin: Episodes 47-48 [Open Thread]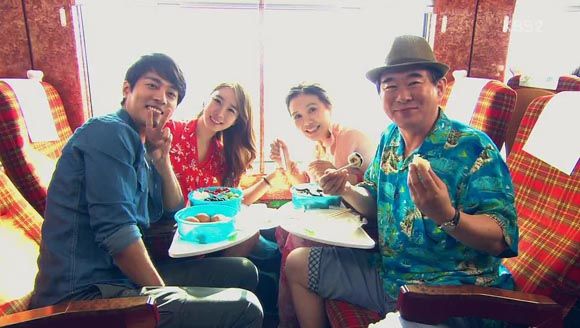 I wish I had better news for you all, but the best I can offer is: This show ends in a week, so at least the next two episodes should be happy and cute? I think? I hope?
We're dealing with mostly fallout in these two episodes as everyone finds out everything about everyone and does a lot of yelling. And crying. And moping. I get that the story needs the characters to react to the big news, but let's just say I can't wait until they move past the reaction phase and head back into cheerier waters. You know, next week.

Lowlights
So, now that the last secret is out about Mi-ryung being at the scene of the hit and run when Dad died, it's time for everybody and their mother (and their mother) to find out, which means this week's episodes are all about angry reacting. It's necessary to the plot, I suppose, but also really mindlessly annoying.
Mi-ryung actually decides to confess this truth to the family, because she'll do whatever she has to in order to make Soon-shin feel better, but she's a step too late since Mom hears about it from the police. Grandma overhears (not that it's hard, since Mom is screaming in the street) and collapses in shock. Not gonna lie, for a fleeting moment I wondered whether the show was doing that to make us happy, but sadly while I wouldn't be aggrieved at a granny death, it would require the characters to care and we just don't have time to waste on that.
Mom figures out that Soon-shin already knows and goes to collect her, telling her to come home now.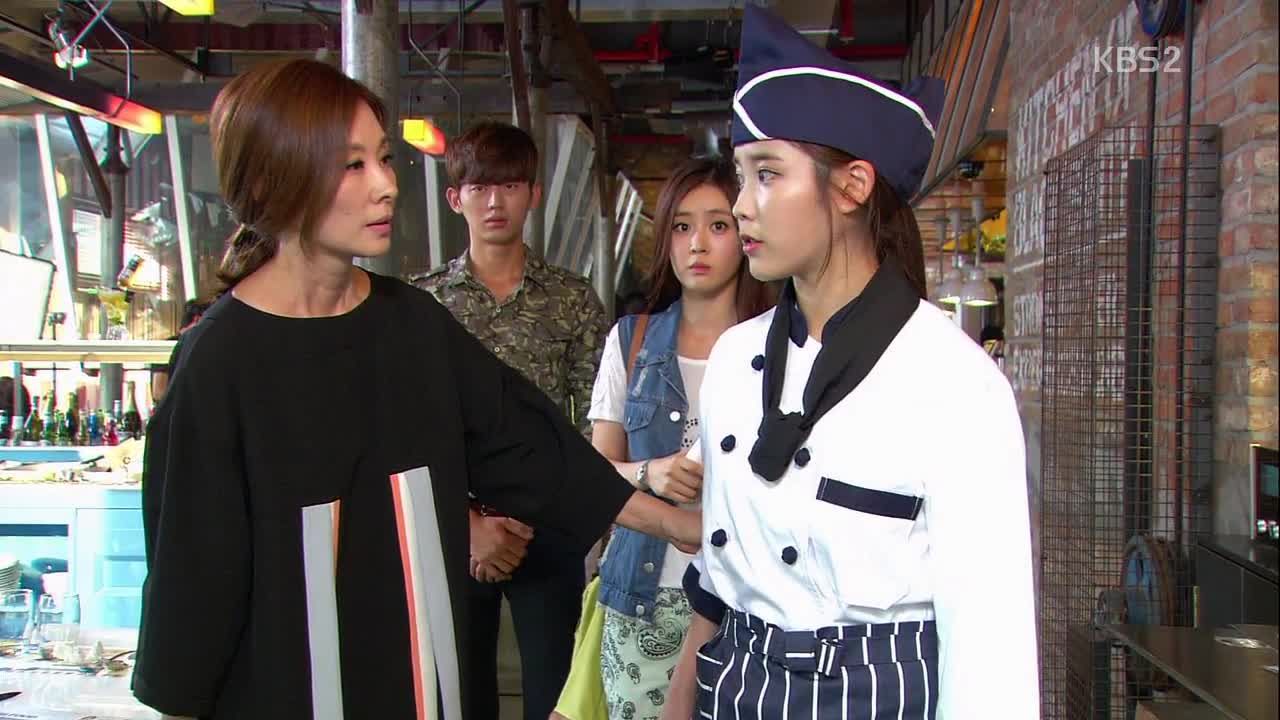 Soon-shin refuses all calls from Mi-ryung and shakes her aside coldly when Mi-ryung tries to talk. This goes on a while. A really long while. So much so that while I understand Soon-shin's anger at Mi-ryung for being a terrible person, I'm definitely tired of her reaction to Mi-ryung. This is what the show does so terribly—it does occasionally know how to hit the right emotions, but then it drags them out and belabors them until you just want to roll your eyes at everybody.
Yeon-ah seems a bit smug at Mi-ryung's fall, but not as smug as she used to, because the show is turning her around in the eleventh hour to soften her malicious edge. So when she snipes at Mi-ryung for being brought low, Mi-ryung points out that Yeon-ah got what she wanted, but is she really any different from Mi-ryung? Mi-ryung gives her perhaps the one piece of motherly advice she's qualified to give, which is that forcing a thing only makes you more pathetic, because there are some things you can't have no matter how hard you try.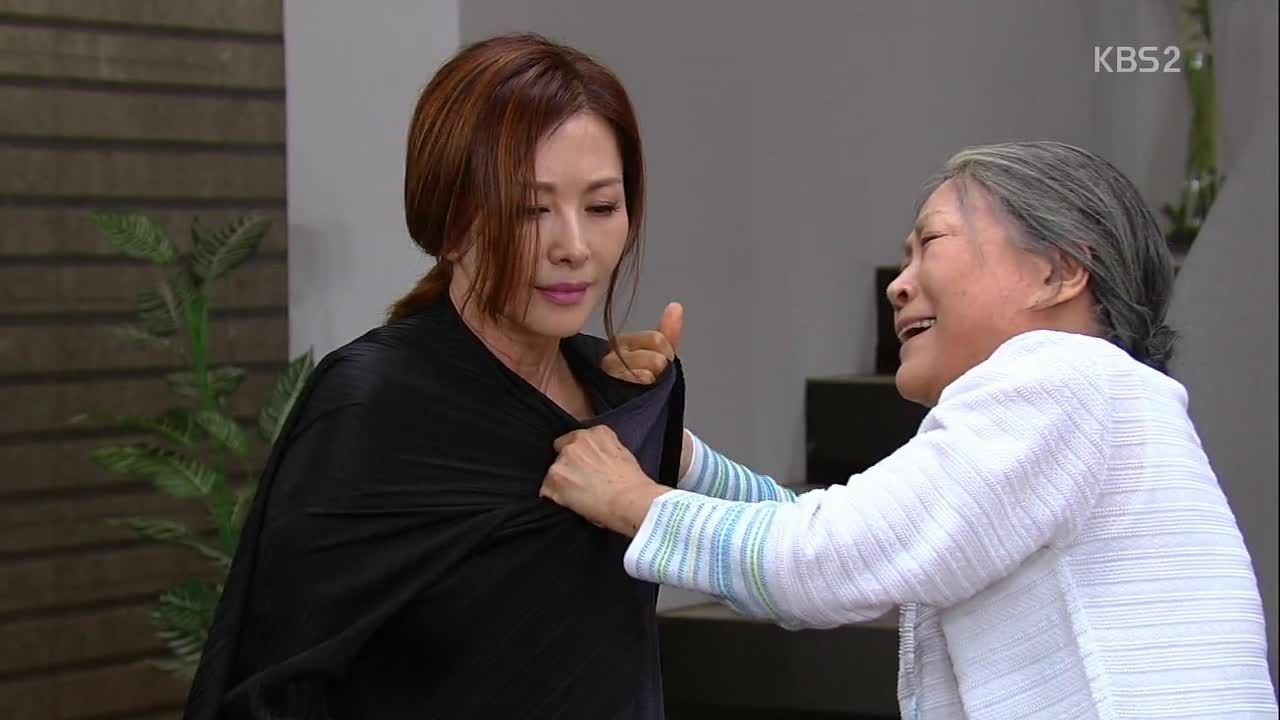 Grandma goes to vent her rage on Mi-ryung for killing her son, and orders her never to see Soon-shin again. Mi-ryung accepts all the abuse silently, but she balks at that last bit and protests that she has every right to see her daughter. In fact, Soon-shin isn't even their blood—her father wasn't Lee Chang-hoon!
So that's a blow, sort of, in that the family reels to learn it. But it's one of those anticlimactic revelations, which both Mi-ryung and Soon-shin thought would mean the crumbling of the world, and yet the Lee family reaction is mostly, "So what?" I mean, Granny is still bitter and snappish, but for the most part they claim Soon-shin as theirs and tell her not to associate with her terrible mother anymore, because she doesn't deserve the title of mother.
I… think that's supposed to be played as heartwarming, but I admit it doesn't sit well with me that the "good mom speech" is basically the adopted mom telling the adopted child that she should hate her bio-mom forever.
The fresh scandal hits news wires and causes a stir, because I suppose it sounds pretty seamy when you have the Big Star running away from an accident that killed the Father of her Long-Lost Biological Daughter. Unfortunately, Soon-shin gets wrapped up into the mess and some of the malicious gossip targets her, even though she had no part in anything.
Grandma gets hounded by reporters outside their house, and gets shoved to the ground. Bread Man rushes to her side and carries her back in… to which Grandma barks, "Did you think I would thank you?" Uh… no, I guess that would have been asking for too much.
The heat on Mi-ryung builds and builds, and it looks like her career is heading for the skids. Contracts are cancelled, offers rescinded, and Jun-ho's agency will be on the hook for the huge damages and fees. So she leaves her bankbooks and seal for Manager Hwang to use to pay the contract damages and says a vague-sounding goodbye, then heads off without a word.
Manager Hwang and Jun-ho fear she's going to do something drastic and tear around town looking for her, to no avail. Soon-shin keeps ignoring Mi-ryung's calls, even though she's the only person Mi-ryung attempts to contact at this point, and seems to feel a twinge of guilt when asked about it. But she just says Mi-ryung is none of her business and dismisses the issue (understandable, but not admirable), and Mi-ryung wanders to her old orphanage and cries by the sea.

Highlights
Uh. I'm digging for scraps again this week, which is light on the good stuff. I don't really care about the Chicken Family too much, but lately they've taken on comic relief status and in light of the uber-melodramatics of recent weeks, it's nice to lighten things up with jokiness.
Chicken Ajumma is still in a huff about being unappreciated by her family, but this time she actually breaks down and cries because nobody missed her, which is kind of sad. Because while she is a pill, and she brings a lot of it on herself, it's true that she's outnumbered in her family and has nobody to back her up. (Again, it's a self-inflicted wound, but trying to give her the benefit of the doubt here.)
So it's actually probably a good thing to have Yoo-shin in the mix, because Yoo-shin will go out of her way to smooth things over with her mother-in-law, whereas the men are more likely to just sit there and ignore Ajumma's outbursts. At least Yoo-shin makes proactive efforts to make Ajumma happy, and insists on a day trip for all of them. Ajumma grumbles the whole way over, but soon relaxes and enjoys the attention.
Woo-joo avoids calls from her father and runs away when he picks her up from school, still angry about his cheating ways. Finally, though, she comes to terms with her feelings and tells her father calmly that he should live with his girlfriend and that she'll be fine living with Mom. She adds that Mom really had a difficult time with the divorce, but is smiling a lot these days, and that's something she wants for her.
It's sweet, and she's definitely warming up to Bread Man as being a large part of the reason for Mom's happiness. She's still awkward around him and runs away when he sees her staring at him thoughtfully, but the antagonism is gone.
So now Soon-shin's family knows that her biological mother sorta had a hand in the death of her father, and also that Dad isn't bio-dad, and Soon-shin wears that knowledge like a heavy burden. She keeps head bowed and eyes averted and apologizes to all of them repeatedly, even though Mom tells her there's nothing to be sorry about.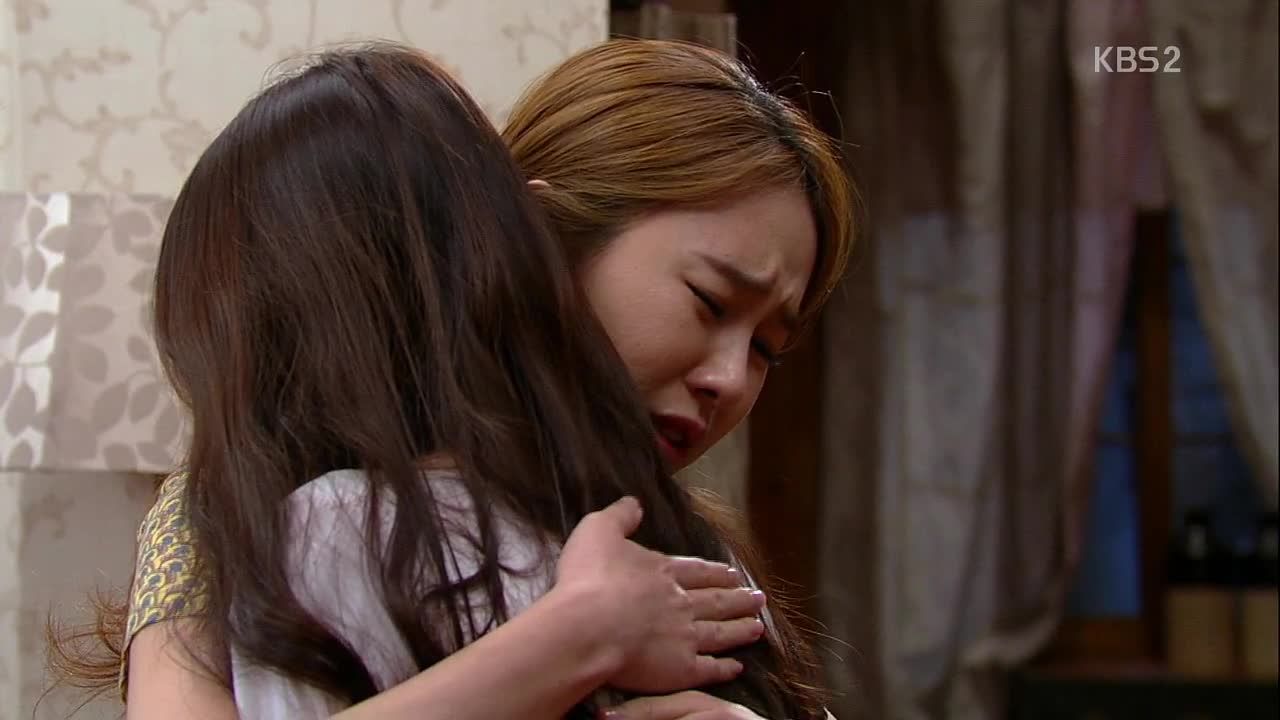 When she does it again, Yoo-shin yells at her, "What do you have to be sorry about, you idiot?" It sounds mean, in Yoo-shin's characteristic cranky way, but it's sweet to hear her saying that Soon-shin should have told them and leaned on her sisters.
And finally, Young-hoon hears that Yeon-ah used some kind of blackmail to force Jun-ho to break up with Soon-shin. That's a new low in his eyes (though I thought he already knew she was capable of that and more), and takes that news right to Soon-shin. He says that Jun-ho probably thought it was for Soon-shin's good, adding that they both know Jun-ho can be a bit of an idiot about these things. TRUER WORDS, y'all.
So Soon-shin confronts Jun-ho with it, accusing him of always doing everything his way without telling her, angry because she never asked him to do anything for her own good. He should have just kept his promise, she cries, and stayed with her, because breaking her up out of consideration is not at all considerate. You tell him, sister. And so he apologizes and hugs her and I guess they're back together now?
RELATED POSTS
Tags: featured, IU, Jo Jung-seok, You're the Best Lee Soon-shin