Master's Sun: Episode 11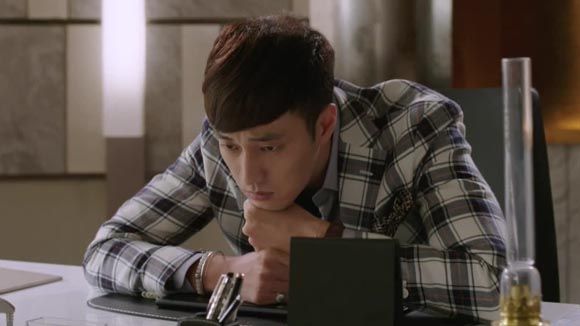 Thank goodness the new ep finally rolled around so we can all stop rewinding the end of the last one, yes?
I continue to feel giddy over the developments in this show, which are not only hitting consistent beats of satisfaction but accomplishing them with a nicely paced acceleration. There have been so many shows that start out amazing and exciting and so full of promise, only to dip at the very end, and I never quite know how to feel about those. But I'll always take the show that took a few beats to get started, then built that momentum successfully toward a well-placed crescendo. I'm crossing my fingers that this show continues on its course to being the latter case.
SONG OF THE DAY
Lunchsong Project – "가족의 힘" (The power of family) [ Download ]
Audio clip: Adobe Flash Player (version 9 or above) is required to play this audio clip. Download the latest version here. You also need to have JavaScript enabled in your browser.

EPISODE 11 RECAP
Joong-won confesses that he loves Gong-shil, which comes out more like I'm pretty sure I love you, but coming from him it's a pretty huge deal either way. Her first impulse is to ask whether he's joking. He says that he had difficulty accepting the truth of her ghost-seeing condition but eventually did, therefore she should accept this truth. Which cracks me up, as you are putting your love for her on the same level as her terror of ghosts.
She asks whether this actually changes anything, or if he's saying this to keep her from touching him anymore. The look of frustration on his face at the sideways turn of this conversation is making my day. How could an "I love you" get so misinterpreted? But that's the point of Gong-shil, she who interprets things sideways.
Joong-won replies, "I wondered why I kept forcing reasons when the calculations didn't line up, and it was because I like you." He's decided that he's tried his best to resist, but since that wasn't working out, "From now I'm going to do as I want. Now your job is to stand firm and not let it sway you."
The message is mixed, confusing Gong-shil—why is he telling her to resist him instead of accepting his feelings? He replies that this ain't no "sweet confession" but a "bitter warning."
As she protests, something whooshes nearby. Gong-shil barks at the ghost that she's in the middle of something right now but it's pretty persistent, so finally Joong-won whirls her to him. He confesses that he missed her every moment they were apart, and turned off his phone just so he wouldn't pathetically check for her calls all the time.
Swoon. Then he says this is exactly the kind of stuff she's supposed to resist. OH YOU. He points out that she'd already said she could withstand him (y'know, back when she was lying to herself) and thus he trusts her at her word. Or do you just want her to fail? Because I would be just peachy with failing.
Kang Woo and Yi-ryung have their own conversation outside the restaurant. Since Gong-shil called Joong-won her special one-and-only, she advises Kang Woo to give up. He replies that it's for him to deal with, and makes extra-clear that Yi-ryung ought to stop chasing him—he'd thought she was just bored, but if she's serious she'd better quit.
Never one to let her pride down, Yi-ryung retorts that she's not serious at all, and she'll quit because she's tired, not because he told her to. But she's blinking back tears.
Walking holding hands, Gong-shil asks whether Joong-won was affected by all the physical contact. He says that wouldn't have been enough to sway him, which leads to a pun about her yook-gahm (sixth sense) not being the same thing as yook-gahm (sensuality), and how in the end it was her yook-gahm that got him. Heh.
He offers to do whatever she wants tonight, and she realizes with a thrill that she doesn't have to be scared of night activities anymore. She's giddy with all the possibilities and racks her brain for choices as a phone call interrupts (booooo). Just as she decides, he says that tonight they'll just go to his thing, which is a a gathering of the country's wealthiest. But first, a nicer outfit for her is in order, say in black.
Cut to: A funeral. HAHAHA. And to think, for a moment I was actually disappointed that we'd get saddled with a typical makeover montage. So much relief for the joke version.
She pouts that he didn't have to lie about loving her just to get her to come to a funeral (which, given the pool stunt, isn't an unfounded fear). Joong-won gripes that he wasn't lying—it was just bad timing. She harrumphs that she doesn't believe him and sets out with her radar up.
The deceased is Chairman Lee of rival group Giant Mall (cameo by Lee Jae-yong, whose character name is Lee Yong-jae, heh). Apparently the devoted family man actually died with his mistress at his side, keeping his wife and son away.
It's the son who accepts visitors at the funeral hall—Lee Jae-seok, Giant Mall's president and Joong-won's direct competitor (cameo by Lee Jong-hyuk, keke). The moment she claps eyes on him, Gong-shil's jaw drops in admiration; she'd assumed he'd be awful-looking based on Joong-won's descriptions.
Joong-won fumes and reminds her, "We're on a date. Don't go looking at other men." Well, it's your fault for making a funeral your date.
Then he runs into an acquaintance and swings an arm around her shoulder, introducing her as his girlfriend. She points out that there are lots of rich people around (as in, Aren't you worried I'll make you look bad?) but he says, "If I can't say the thing in front of my friends that I say in front of your friends, you'll get mad." True! See, he's learning.
Gong-shil spots the chairman's ghost at a table and reports back to Joong-won that he made a request: Get rid of a particular thing that his son mustn't know about.
In a flashback, we see the moment when son Jae-seok discovers his father's body at home. Strewn around the room are women's clothing, cosmetics, and a bottle of perfume he recognizes. Having had faith in his father's fidelity, now Jae-seok faces his father's altar grimly.
I'm half-expecting a twist at some point, but Gong-shil tells Joong-won that the ghost wants her to clear out the mistress's belongings, whom he'd kept successfully hidden all his life. Joong-won wishes the old man had left behind some trade secret instead (psh, you would), and deduces that if the woman were to appear suddenly, a battle over inheritance rights might erupt. He decides he'd like to see that blow up in the Giant president's face, and advises Gong-shil to stay out of it. Ha.
Gong-shil is determined to help Jae-seok, which leads to a bickering match about whose vacation villa they should go to—Chairman Lee's (to help out the Giant family), or Joong-won's (to step aside). Things end in an impasse as he huffs that he'll take her home instead. He adds that ghost-assisting isn't his job, nor does he enjoy doing it, but he's helping her because he wants to spend time together. Aww. But if she no longer needs him, it's up to her to decide when this ends.
Gong-shil deflates at the reminder that all things come to an end, and says they ought not end up like that wolf and goat pair. He asks how the story ends, and she tells him to read the book. Lol.
Chairman Joo returns to Korea and is briefed on Joong-won's latest broken engagement, as well as Gong-shil's involvement. Kang Woo reports that Joong-won believes Gong-shil can see ghosts and possibly Hee-joo; thus he's unlikely to believe a theory about Hee-joo being alive. Moreover, Kang Woo believes Gong-shil's claims.
Joong-won asks for the title of the wolf-goat story, and she advises him to watch the cartoon instead since he can't read. Pfft. She has come to a decision about their relationship, though, and suggests that they enjoy themselves and have fun while it lasts. They both agree, and both seem disappointed.
Kang Woo arrives home to see Gong-shil trudging inside and asks if anything's wrong. He heard that Joong-won broke his engagement for her, but asks if he promised to be true to her. Gong-shil reminds Kang Woo of his advice about pain being the indicator when you aren't true to your feelings, and says that Joong-won was true to his—"But I think the pain is my lot."
A car almost hits Aunt and Uncle VP's car as they pull into their complex, and Uncle VP's ready to rage at the other driver until he sees that it's their pretty new neighbor (cameo by Hwang Sun-hee). She's polite and apologetic, and Aunt and Uncle are left with a favorable impression.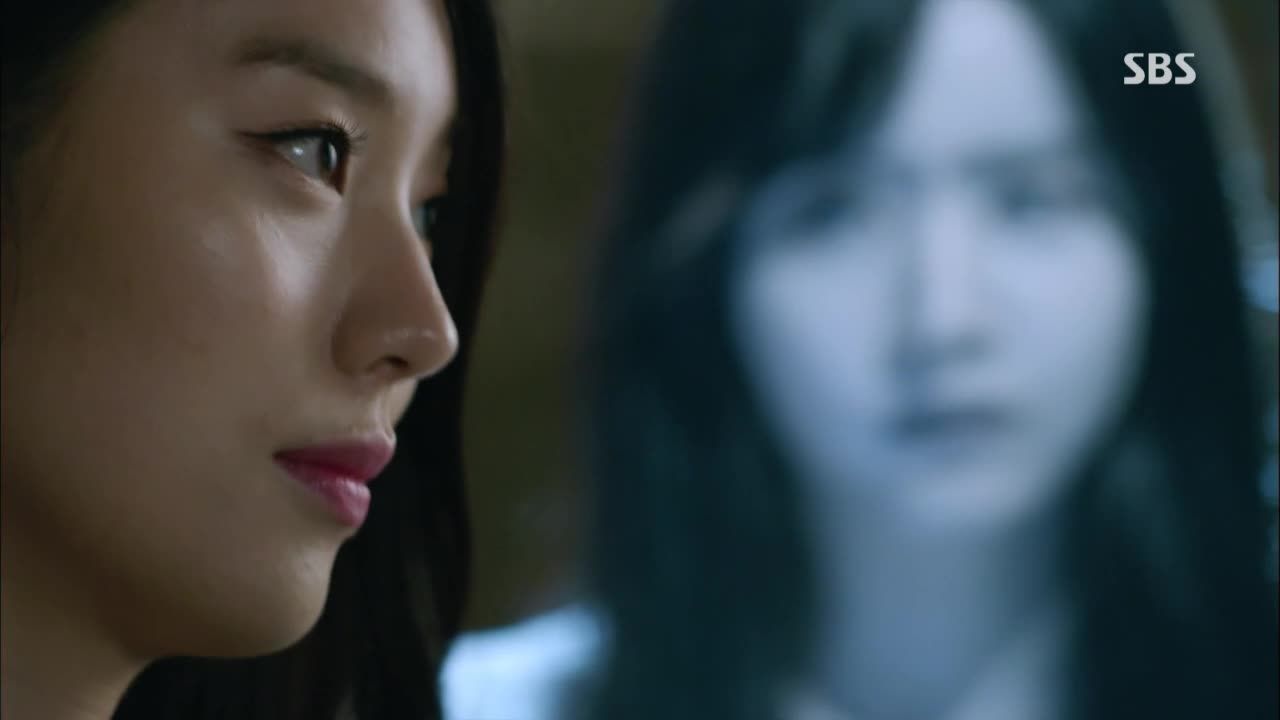 But then New Neighbor asks, "That's Joo Joong-won's aunt, right?" Standing beside her is the glowing ghost of Hee-joo. Huh, can she see ghosts too?
At Chairman Lee's villa, caretakers begin to clear out the mistress's belongings from the bedroom. They can't see the chairman's ghost raging at them, "DON'T TOUCH!" but they can certainly feel the wave of bad juju that sweeps through the room. They skedaddle.
The chairman's ghost approaches the clutter of mistressy things, but without corporeal powers he's unable to move them himself. Hm, I'm getting a far-fetched idea about those belongings…
Gong-shil remains convinced she should help the chairman, who looked awfully sad. His ghost also carried a fragrance that turns out to be a bottle of woman's perfume, a sign of his longing for his mistress. Gong-shil spritzes herself thinking to attract the ghost, which should work as she's quite popular with spirits. Turning to the empty seat, she asks, "Aren't I?"
Joong-won just now sees that there are three coffee cups, ha. She adds that today the coffee-addict ghost brought a friend, and he asks (hopefully?) whether it's Trash Can Man. Hearing her no, he mumbles, "So you weren't friendly with that one." Aw, and then he wonders whether she never got the necklace, or whether she did and is just not wearing it.
Kang Woo reminds Joong-won that his father is awaiting his visit, and Joong-won replies with the ole Tell HIM to see ME. Neither side is willing to take the first literal step, and thus they remain at impasse.
Giant prez Jae-seok arrives at Kingdom for a meeting with Joong-won, and passes Gong-shil in the lobby. Recognizing her perfume, he stops her to request its name; she doesn't know it, but offers to show him the bottle.
But to Joong-won watching from afar, all he can do is speculate as to the nature of the encounter. And stew. He endures perhaps the world's most annoying narrator in the form of Secretary Kim (annoying for him, I mean—hilarious for us): "The Giant Mall president has laid eyes on Tae-yang… now he's talking to Tae-yang… they're going somewhere together… that's not the direction of the conference room!"
Both Joong-won and Kang Woo suppose this has to do with the father ghost and his villa. Secretary Kim says, "Ahhhh, so they'll be heading off together then." Joong-won and Kang Woo glare, and Secretary Kim just fuels that fire: "The Giant Mall president doesn't have a wife by his side, and he'll be feeling weak with his father recently deceased. She can comfort him."
Kang Woo suggests tersely that Joong-won go after them (better the devil you know than the one you don't?), which at least gives Joong-won his excuse. Psh.
Gong-shil shows Jae-seok the perfume, which he confirms is the scent he sometimes caught on his father. Yet even though his mother was sure there was another woman, Jae-seok had steadfastly believed dad wasn't a cheater, making the betrayal sting. He briefly wonders whether Gong-shil is the woman, but accepts her denial.
Moments after he leaves, Joong-won shows up at the door singing a new tune: Now he wants to go to the chairman's villa and help after all. Hee.
Uncle VP calls in Gossipy Guard Han-joo with a new assignment: Find out as much as possible about Gong-shil's background. He knows she got into an accident just shy of graduating from university, and wants details.
Han-joo's starting to feel pangs of guilt for abusing unni's trust while he pumps her for info, though he shoves it aside. Unni confirms that the accident was seven years ago, but shudders at the horrible memories and doesn't want to speak of it any further. So he invites unni to a friendly dinner, planning to loosen her tongue with alcohol. Again, he feels bad, but not bad enough to actually not do it. I hope unni delivers a mighty beatdown when she finds out what Han-joo's been up to. (I don't hate him—he's a silly man with no spine—but he deserves a reckoning.)
Joong-won and Gong-shil drive over to the villa after his meeting with the Giant president, and he's in great spirits because the other guy's distraction allowed the negotiations to heavily favor Kingdom. Gong-shil picks up on the tension between Joong-won and his own father, and he confirms, "We don't like each other."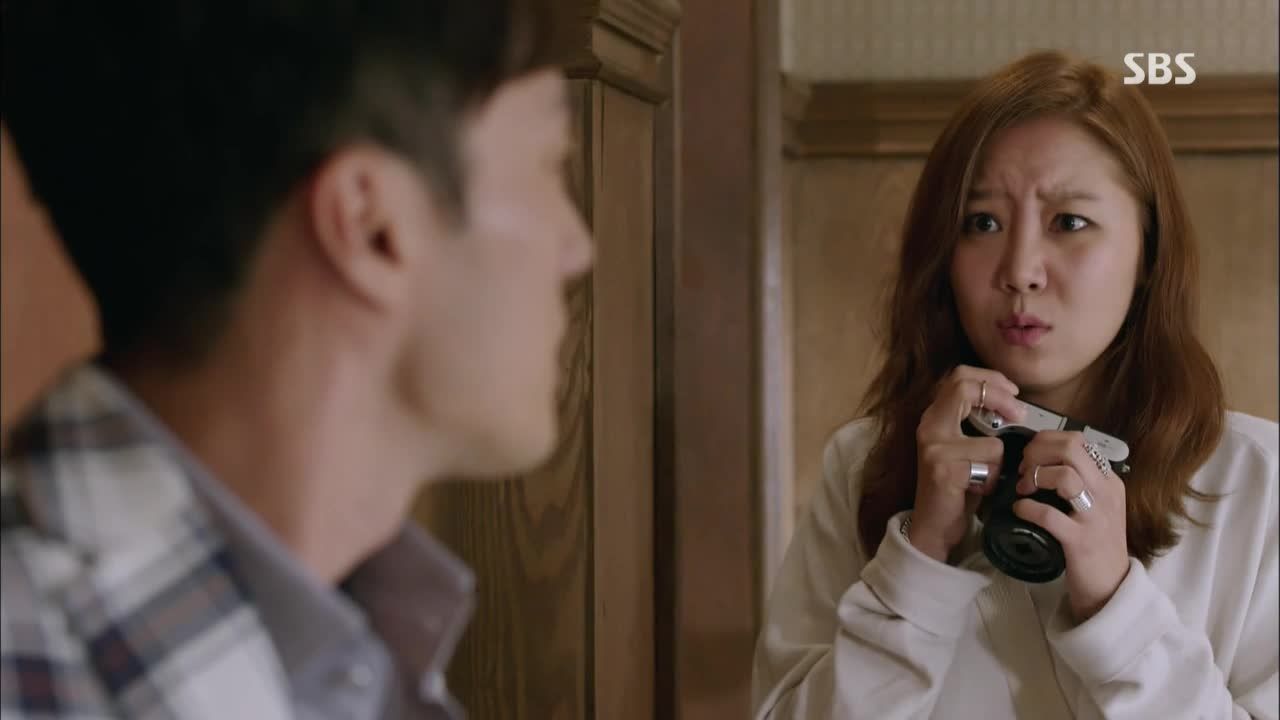 They find the chairman waiting their arrival in the mistress's room, where he asks Gong-shil to delete the woman's photo from his camera. But before she can get to it, they hear footsteps approaching from outside—it's son Jae-seok.
They scramble to lock the door, but Jae-seok has a ring of master keys and starts trying them in turn. Crap. Being found here would look awful for them both, particularly given the business rivalry, but there are no exits. Gong-shil says they have to erase the photo before Jae-seok sees it, but Joong-won argues the opposite—that photo is their only proof backing the claim that they had a reason for coming here. The seconds tick down and Jae-seok is getting to the last of the keys…
Joong-won thinks fast and calls Jae-seok, barking at him to return to Kingdom immediately. He acknowledges that the deal was too stilted in Kingdom's favor and offers to renegotiate—but it has to be NOW. Before he changes his mind.
That saves their skin, though Joong-won is left knocking his head against the wall for giving up a huge profit. As Gong-shil turns her attention to the camera, Joong-won says pointedly that the chairman is so focused on hiding his woman that he has given no thought to his son's feelings—shouldn't he have been asking Gong-shil to convey his apologies and sorrow?
Joong-won clearly identifies with the wronged son in this scenario and his words make an impact on the saddened chairman, just Gong-shil finds the photo and stares in surprise. It's totally what I think it is, isn't it? And so, the chairman changes his mind and asks Gong-shil to show the photo to Joong-won—he'd like Joong-won's opinion on how he'd handle the shocking matter.
Joong-won scoffs that nothing would shock him about his own father's taste in women, only when he sees the photo, he totally gapes. It's him, isn't it. IT'S HIM.
Joong-won makes the choice to call Jae-seok and order him to the villa, admitting that's he's there now. Jae-seok is surprised and suspicious to find the two in his father's house and returns to his accusation that Gong-shil is the mistress. Hilariously, Joong-won cuts him off: "Get it straight! This one is mine. That one is the one your father was hiding." He slaps a photo facedown onto the table.
Jae-seok interprets this as blackmail and informs Joong-won that he may hate his father, but he won't stand for others scorning him. Joong-won tells him to take a look at the picture, then turns to address the chairman next to him: "Rather than trying to protect your son, it's better to let your son protect you." Ooof. That line is a winner.
Jae-seok flips over the photo… and recognizes his father, dressed as a woman. Gong-shil explains that the chairman had so much to protect that he had to "hide his true soul" all his life. He had taken that last photo as a ceremonial funeral picture, intending to give his soul a proper send-off. But he collapsed before he could do so, and wanted to hide it from the son who would surely be disgusted.
A short while later, Jae-seok sits regarding the photo while his father's spirit sits across from him. Jae-seok states that he will continue to protect the things his father did, and completes the funeral for the woman in the photograph. The photo burns and with his soul at rest, his father poofs away.
Given today's events, Joong-won is a little less hostile to the idea of seeing his father. He again wonders whether his father withheld the diamond necklace ransom as he suspects, to which Secretary Kim suggests that perhaps the chairman is hiding something to protect his son. Also, Dad was told of Joong-won's relationship with Gong-shil—if Joong-won keeps dragging his feet, Dad might summon her instead. Ha, Secretary Kim is such a manipulator.
Just then, Jae-seok arrives in the lobby bearing a bouquet of flowers, and Secretary Kim notes that he must be here for Gong-shil: "Once a person feels Tae-yang's warm heart, one tends to keep seeking it out." Ahem. Prod. Hint. And the kicker: "That flower bouquet sure is big."
Joong-won sniffs that the flowers could've been delivered, but Secretary Kim points out that it's more meaningful in person, plus you can be assured that it got to the recipient. This sends Joong-won back to the trash can ghost to ask whether the necklace made it to the rightful owner. Mind you, he can't see the ghost so he asks for a sign—if she took it, spin the trash can.
The lid starts spinning, and Joong-won smiles in relief. Then he asks if she liked it, and gets no response. He figures not, but then the lid goes 'round with extra force—she loved it. He supposes that he would've seen her reaction for himself if he'd given it to her personally.
Secretary Kim greets Jae-seok, who does seem interested in poaching Gong-shil away. Secretary Kim says that she is special to the president, as she is "the master's sun." Or, depending on how you hear it, she's Mr. Joo's Ms. Tae. Or maybe Mr. Joo's sun. You get the point.
Jae-seok says that's too bad and leaves a last message for Joong-won: "Tell him that I have a telescope too." Bwahahaha.
Today Gong-shil hosts a tea party for four, listening to the ghosts' tips on how to fix various problems for people. One rude ghost whooshes in frighteningly, and Gong-shil warns them all to behave, threatening to get the president—they all know what happens when she touches him. She clutches her sun necklace with a death grip.
The Mysterious Neighbor makes an appearance at Kingdom Mall, a strategic move to run into Aunt Joo, who invites her to dinner. Looks like she's ready to play matchmaker by sending in the new girl to take Gong-shil's place, which I assume is exactly new girl's plan.
New Girl sees Joong-won walking by and notes, "It's been a long while, Joo Joong-won."
Joong-won sees his father after all, with the air is as strained as ever. Joong-won gets to the point and tells his father that Hee-joo was in on the plot. Chairman Joo states that he handed the necklace off to Hee-joo "like a fool, because I had to save you first."
So both were both fooled by Hee-joo. Joong-won declares that he will put this whole affair behind him and almost sounds convincing, except his father isn't so sure—Joong-won still can't read, after all.
Chairman Joo hands over an envelope of evidence that he has collected on Hee-joo, saying that the contents may rattle him. He leaves the decision to look at it to Joong-won.
Joong-won has one last question, about whether his father purposely hasn't told him the ransom amount to spare him hurt. Chairman Joo tells him to believe what he wants to, which is the answer Joong-won repeats to his father at the question of whether he ever doubted Dad.
Joong-won fiddles with the envelope, almost opening it before deciding against it. Secretary Kim delivers a stack of books—the wolf and goat stories, spanning multiple volumes. Joong-won is dismayed at the amount of words he'll have to get through, but refuses assistance. He'll read it himself.
He squints at the title, barely making out On a Stormy Night. Secretary Kim notes innocently that it's quite the coincidence that he'd met Gong-shil on such a night.
Kang Woo informs Gong-shil that Joong-won told his father the truth about Hee-joo's involvement in the crime. Gong-shil wishes she had some help to offer, but her encounters with Hee-joo's ghost have left no clues about the other criminal. Kang Woo supposes that Joong-won will keep Gong-shil near until the case is closed, which has different meanings for them—for Kang Woo, that's when he might hope for a new start, while for Gong-shil that means the end of her relationship with Joong-won.
Kang Woo returns to his post to find himself the subject of gossip—he's made No. 1 on the internet searchwords list. Sort of. (The terms are "Tae Yi-ryung's boyfriend" and "Tae Yi-ryung's bodyguard.")
Yi-ryung denies the rumors in an interview, deflecting with an admission that she is dating someone, but not Kingdom's security chief—it's the president. Oh we're back to this? Aw c'mon.
Uncle VP gets a call tipping him off that the story will hit the press tomorrow, and Aunt Joo decides to use this occasion to press Joong-won for clarification on his love life. They happen to be dining with New Girl at the moment, who finds this all very interesting.
Joong-won pops up at Gong-shil's office to remind her that she had picked a date place the other night, before they'd gotten diverted to the funeral. He'll take her today, and orders her to wait for a moment as he heads back to his office. She takes the time to primp, and debate on whether to wear the sun necklace. Would it be too telling, like a sign that she's hoping for more? In the end she puts it on.
Aunt is waiting in Joong-won's office to warn him about the dating rumors with Yi-ryung. He says they'll have to block the news, since Yi-ryung is their brand model and images must be protected.
Aunt prods, asking whether his reaction is more about Gong-shil, and he replies that Gong-shil isn't one to be chased off by this kind of stuff. She doesn't understand Gong-shil's reactions, so he tells her to consider Gong-shil someone from a different world and leave things alone.
But as Joong-won heads out for his date, he sees Gong-shil standing just inside the office, having overheard the conversation. Aunt continues, not seeing her, "Does she have no pride? Does she love you that much?"
Gong-shil covers the necklace self-consciously. Joong-won answers while staring right at her, "That woman has no pride. She has a reason for not letting go of me, and no space to consider her pride. Even when I say I love her, she has no space to look after that love. So rest easy. Am I right?"
At that, Gong-shil answers quietly, "Yes." And as always, Joong-won looks disappointed to get the answer he angled for, while hoping for its opposite.
He follows her out and holds her back, but she's close to her breaking point and lies that the place she wanted to go was home. She excuses herself and leaves in tears, and he lets her go.
Joong-won broods in his office until he arrives at a decision, and arrives at her door shortly thereafter. He pounds insistently until she joins him on the rooftop, and asks why she cried when she had assured him she would manage their situation just fine.
Gong-shil just looks at him coolly and asks, "Who are you? Ah, are you that rude jerk Joo Joong-won? Why are you here? Does she look like such a pushover to you?"
Ah, he realizes she's talking like someone else—is somebody else here? She accuses him of being a bastard and orders him to get lost, since Gong-shil didn't enjoy hanging out with him. He grabs her arm and she cries, "I said get lost!"
A dead giveaway. He points out that he touched her, but "she" didn't disappear. She covers it up with a lie (he pissed her off so much she came right back), and while he doesn't believe her, he plays along. She adds that Gong-shil is hurting because of him and wants him to leave.
Joong-won stops her to point out that she doesn't know how he got rid of the pianist's wife. She snaps, "What, did you hit her?" He answers, "Watch carefully, and come back."
Kiiiiiiiss.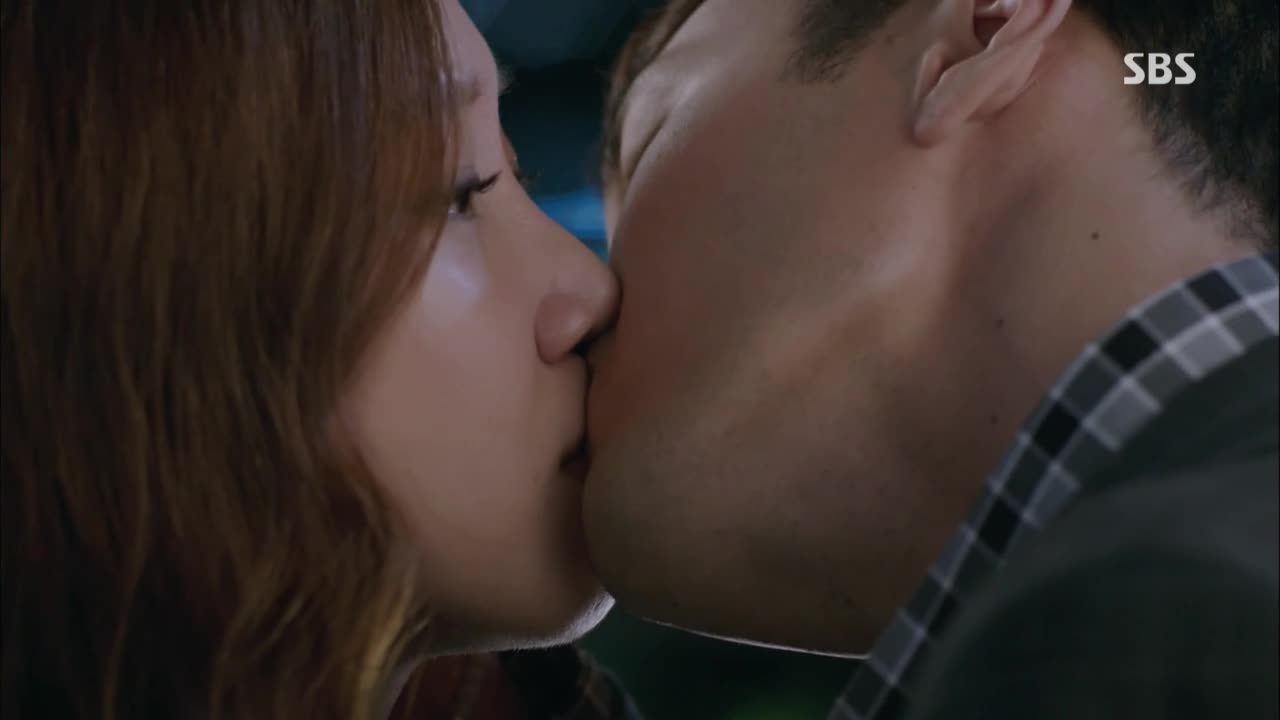 COMMENTS
Swoon. A lot of great moments in this episode, starting with the dual father-son stories of misunderstanding and forgiveness. While Joong-won has more baggage to sort through with his own father than the Giant duo (as their misunderstanding was much shorter-lived), I like that he's growing appreciably, and that he's not too driven by old grudges to see that perhaps there's a bigger story at play. It sure would be easier if Chairman Joo would just open his mouth and defend himself rather than leave Joong-won to draw the only conclusions that come to his mind, but as Secretary Kim notes, perhaps there are reasons for that silence. Frustrating, yes, but possible logically driven.
I love the point in stories where the hero gets over his denial and embraces his feelings, because duh. Kisses! This drama never lacked for the skinship, but I enjoy the point where Joong-won just faces the situation head-on and admits that maybe he doesn't have reasons for wanting to be with her other than wanting to be with her. And once you accept that, well, things get a lot less frustrating.
I do understand Gong-shil's fears and find her torn reaction—wanting to take him at his word and recalling that she's got a self to take care of outside of this—believable and sympathetic. Especially since he's the one contradicting himself all the time, taking a step forward (I love you) and then immediately back (don't let this continue). It's hilarious that he's giving up the reins entirely to her, because he was so terrible at trying to be the control freak and now enjoys the freedom of just basking in the feelings. Let Gong-shil deal with all the complicated questions of how far to go and when to end things! And lest that sound too spineless, I think it's important that he gives her final say—it's her call to put an end to things.
So her confusion is reasonable… to a point, I think. Granted, the situation is much clearer to us because WE know when he's being sincere and when he's begging her to contradict him and say no, she does love him. She doesn't have the benefit of our omniscience. It's just that at a point, I think my (our) understanding of the real emotional throughlines actually confuses my understanding of the characters' limited knowledge, so that I have to rack my brains to remember why she's shoving him away this time instead of jumping his bones. Because please! Whose first impulse wouldn't be to jump his bones? Especially when he's declaring love and missing you and wanting to be with you all the time and asking you out on dates (albeit really weird ones)?
So it's in those cases where I find that the stories sometimes follow a romantic logic that is semantic more than it is… oh, credible with the heart-feels. I have to convince my brain that this actually all works out on paper, while my heart is whining, "But whyyyyyy." It's like the wordy mathematic version of logic, where if A equals B and C equals D, then not-D does not equal B or C is greater than or equal to my mother. I dunno. Logic was a class I bombed utterly in college, which may or may not surprise anybody. Sadly for me.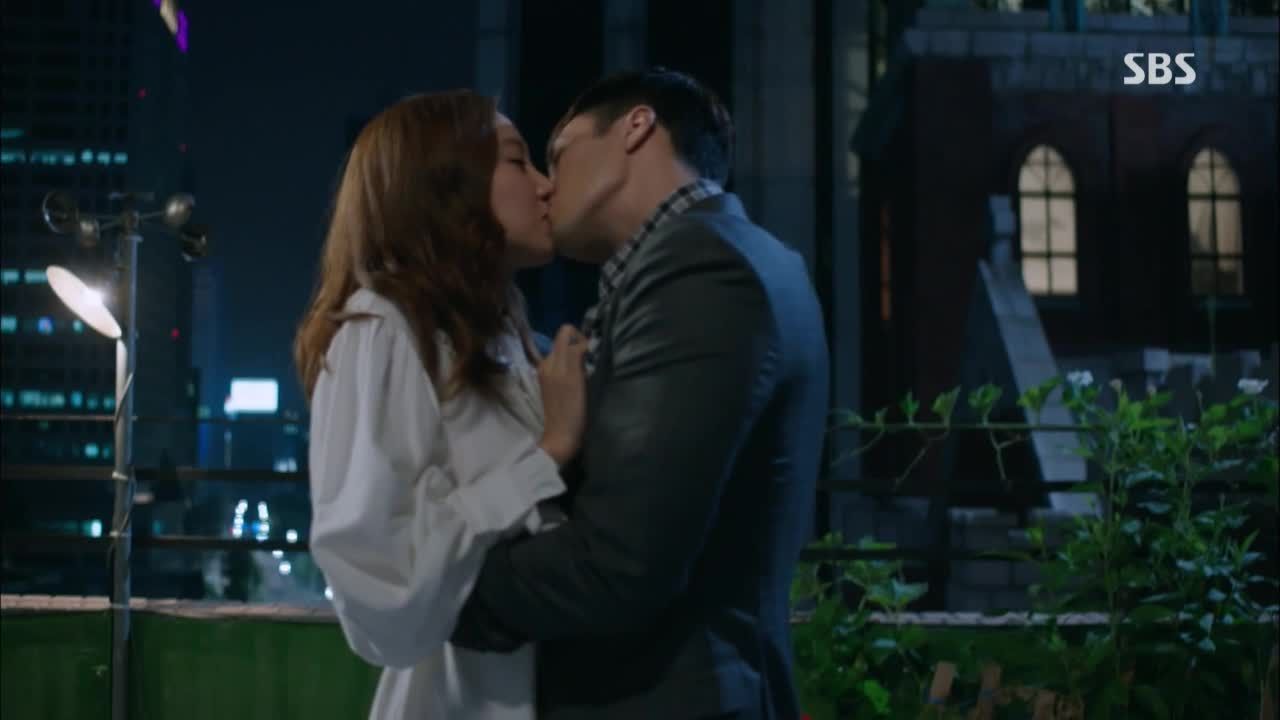 RELATED POSTS
Tags: featured, Gong Hyo-jin, Master's Sun, Seo In-gook, So Ji-sub