Master's Sun: Episode 9
The romance really kicked into high gear with last week's episodes, and today doesn't disappoint. Feelings start to interfere with the business arrangement, so our hero starts to look for creative ways to balance his books and his heart. Because math solves everything, right? The denial, it is strong with this one.

SONG OF THE DAY
Yoon Mirae – "Touch Love" for the OST [ Download ]
Audio clip: Adobe Flash Player (version 9 or above) is required to play this audio clip. Download the latest version here. You also need to have JavaScript enabled in your browser.

EPISODE 9 RECAP
After reeling from Hee-joo's last visit, Joong-won sits in silence with Gong-shil keeping watch nearby, protecting him as requested. She takes another look around and confirms that Hee-joo is gone.
She asks why he didn't tell anyone about Hee-joo being in on the kidnapping from the start, and he says that if she had lived, he would've done just that and purely hated her. But she died in front of his eyes, and he couldn't help but pity her, thinking she had been used and abandoned by the person responsible.
But he scoffs that that was foolish and he now realizes he had fallen for the ruse completely, if Hee-joo is, to this day, protecting the person who kidnapped him. Gong-shil says sympathetically that it must've been hard for him. She reminds him that he said it was okay for her to show concern, and adds that his wounds hurt more because he covered them up.
She starts to get worked up and grumbles that he still can't read because of those scars, and bites, "That bitch." Haha. Joong-won looks up in surprise, and Gong-shil tells him she'll make sure to curse at Hee-joo properly the next time she sees her. That's so cute. He's immediately buoyed by her taking his side and calls her a useful radar after all.
Daddy Joo tells Kang Woo to stay put, saying that Joong-won isn't the type to do anything but ignore him. At the same time, Joong-won is telling Secretary Kim word for word what his father must be thinking. He still suspects that Dad has the necklace because he never paid the ransom at all, while Dad is scouring Europe looking for it.
Dad tells Kang-woo that he plays his son the same way he does women: hot and cold. Orrrr, you could just have an honest conversation? How about that? In any case, he plans to return to Korea soon.
Secretary Kim asks what'll happen to Gong-shil if Dad turns up with the necklace, and Joong-won says there isn't really a use for the radar anymore, if Hee-joo is a dead end. Secretary Kim sighs that it suuuuure will be quiet around here if she goes. I love that he needles him about Gong-shil at every opportunity.
Kang Woo runs into Gong-shil down in the mall, and asks if Joong-won told her about him working for Daddy Joo. She nods and says he should've just asked her outright from the start, instead of letting her think he liked her and was always asking about Joong-won out of jealousy.
She offers to tell Kang Woo the truth, and tells him to follow. Joong-won watches them walk away together, and notes she doesn't seem too mad at Kang Woo, but that she must be a little hurt inside.
Gong-shil leads Kang Woo around the mall for a little while, and stops when she finds a good spot. She takes a deep breath and tells him the truth: that she can see ghosts, and that's the real reason she's by Joong-won's side.
Kang Woo asks if she's punishing him for lying to her, and making up scary stories. But Gong-shil calmly tells him that she didn't want to scare him, but there's no way to explain her relationship to Joong-won without this. And that's when she points out the grandma sitting on a bench nearby, with a cat ghost sitting next to her.
She says that grandma must've had a fluffy white kitty that just died, and lets Kang Woo find out for himself. He asks the grandma if she has a cat, and she sighs that it just died, and shows him a picture. He gapes.
Joong-won goes up to Gong-shil's office, wondering to himself if she has to go now that there's no use for the radar anymore. When he goes inside, he finds her hunched over in her chair, and immediately assumes she's crying (over having to leave you?) only to find that she's dozing off.
But then he notices ghost activity stirring her awake, and adorably goes into emergency shelter mode. He sits by her side and shoos the ghosties away, arguing that they have to let her sleep. He pulls her head over to rest on his arm so she can sleep ghost-free.
He sits there for a while and then puts his arm around her for absolutely no reason other than to pull her closer, and she totally feels him up in her sleep. Joong-won: "You like that, don't you?" Rawr.
When she wakes up, he's gone, and she wonders how she got such good uninterrupted sleep. Coffee Ghost is waiting at her feet though, so she heads down to visit unni. She sighs that she's too popular with ghosts, and says one of them told her once that they're attracted to her light.
She remembers that creepy ghost matchmaker's warning not to let herself get swallowed up, because ghosts are looking for ways to come back and hopping a ride in her body is one of them. Upstairs, Joong-won sees his curtain sway, and thinks it's the ghost that was bugging Gong-shil earlier. He brushes it off, but it turns out to be Hee-joo.
Gong-shil asks unni if she's supposed to let a ghost borrow her body if they have something really important to say, but unni calls her crazy. I'll second that. Gong-shil decides to heed the warning, because who knows if they won't ever give it back—does that mean she dies?
Today's Ghost of the Day: a man (Jung Chan) visits the morgue, where his wife is brought out on a slab, frozen cold. He replaces the frozen red rose with a fresh one, as the coroners look on with pity. They say it's been a month already, but he refuses to let go of his wife, truly believing that she'll come back to him somehow.
Inside, he plays her a new song he composed, begging her to return to him. We see her ghost appear behind him and put a hand on his shoulder. He turns out to be a famous concert pianist that Kingdom has booked for a concert. Aunt worries about the rumor that he can't play ever since his wife died, but Uncle insists he'll be fine.
Joong-won broaches the topic of the radar's worth with Gong-shil, and she prepares herself to be fired now that she's worth nothing (she in fact decides she's costing him money, what with emergency shelter fees factored in).
He tells her to check her bank account because her paycheck should've come in, and waits while she calls her bank and practically faints at the number repeated back to her. Joong-won tells her that's what her radar earned from the ghost-chasing and problem-solving she's done up till now, and says her full worth is yet to be calculated.
For now, she's got use and therefore value, so she stays. He asks if she was really going to leave if he told her to get lost, and Gong-shil says she doesn't even get hurt at those words anymore because she hears them so often, "But when the day comes that you sincerely want me to go, I'll understand." He comforts himself by saying that she'd need to be told three times anyway.
Auntie Joo comes by to nag Joong-won about keeping Gong-shil around when things were going so well with Yi-ryung, and he points out that Yi-ryung is Little Sun while Gong-shil is Big Sun. Heh. That's no comfort to Aunt, so he offers to go on as many blind dates as she wants to ease her mind.
She's appeased by that, and sets up a date while he's on his business trip to China. "The sun won't be rising in China, will it?" Joong-won: "No, the weather report says a storm is brewing."
Lol, poor Kang Candy has dark circles down to his jaw line, and tells Gong-shil that he couldn't sleep a wink last night, thinking of that grandma and her ghost kitty. He wonders how Joong-won believes all of this, and she just says that Joong-won is special to her, and leaves it at that.
She swears that her only connection to the case is in trying to talk to Hee-joo's ghost, and that she has no other relationship to the kidnapping. Kang Woo takes her word for now, and says he'll just consider the ghost thing her way of punishing him. She suggests that he chalk it up to her just being from a different world.
He jumps in his skin when he walks into some boxes on his way out, clearly embarrassed, but too scared to hide it. He jumps again when Yi-ryung comes up behind him a little later, and sighs in relief, "Oh, it's a person."
She flips her hair: "I'm not a person. I'm a goddess." Pffft. You did not just say that. She pouts in disappointment to hear that they don't have to spy on Gong-shil anymore, and offers to buy lunch instead since it's their first day as boyfriend-girlfriend.
He doesn't recall agreeing to date her, but she tells him that he'll eventually fall for her and look back on today and realize it was when their relationship began. He stops, takes in her crazy logic, and agrees: "Okay, let's say we dated then. Let's break up." He thanks her for the happy memories in the minute and a half that they were dating, and tells her to be happy. Ha.
Late that night, Kang Woo hears some tinkering in the concert hall on his nightly rounds, and feels something cold as he brushes past the ghost of the pianist's wife. Meanwhile, the pianist is trying to work up the nerve to slam the piano shut over his fingers, when Kang Woo comes in.
He tackles the guy to the ground by the hand, and the next day the pianist shows up with his hand in a cast, insisting to Uncle that he can't play. Guess he found his excuse after all. Gong-shil hears that Kang Woo is being blamed when there's clearly something else going on, and she goes to see the ghost for herself.
As Joong-won and Secretary Kim walk past the jewelry department, Secretary Kim points out a necklace on display, in the shape of a sun. He says that would make for a much better talisman, and tells Joong-won that Gong-shil asked if she could borrow Joong-won's favorite pen while he's away in China.
She had said it might make her feel safer, kind of like a talisman to ward off ghosts. Joong-won smiles to hear that she's worried about being without him after all, but walks past the necklace brusquely.
Cut to: the necklace, dangling from Joong-won's hand. "Why did I buy this?" Hahaha. Because you're weak to the power of suggestion? He decides that this is a move that doesn't fit into his calculations, but before he has a chance to think it over, Gong-shil is at his door.
He asks what she's doing here, and she says coyly that she asked Secretary Kim about "it," and he told her to come to Joong-won, saying that he'd have "it" prepared for her. Joong-won grips the necklace in his hand, wondering how Secretary Kim knew: "I bought it alone…"
Gong-shil: "But you have it, right?" and she walks in. Joong-won blurts, "I didn't buy it for you! I'm not going to give it to you!" Hee. She wonders what he's talking about, and when he says talisman, she takes it literally, wondering why he spent money on a talisman when she could've given him one of hers.
It's only then that he realizes they're not talking about the necklace, and he quickly hides it. She explains that she came to try and fix the pianist problem, and brought the wife ghost along. She needs an oven, which is why she's here.
As she gets to work in the kitchen, she explains that the pianist was a highly regimented creature of habit, and his wife would always bake him a pie as he practiced before a big concert. She says that if she brings him the pie, the misunderstanding with Kang Woo might get cleared up.
Joong-won seethes at that, realizing now that all this is for Kang Candy. She admits that she feels really bad about having to tell Kang Woo about stuff he really didn't want to know, and adds that it's beneficial for Kingdom too.
As she consults the ghost on the piecrust, Joong-won stands a little too close to her and they accidentally bump into each other, poofing the ghost away. Gong-shil snaps in frustration, and that pushes him over the edge: "Are you… getting mad at ME?
He points out that she's the one touching him all the time to get rid of ghosts, gaping in disbelief that she's now complaining that he touched her once. He grabs a bottle of champagne out of the fridge and slams it down on the counter, telling her to just get drunk, let the lady make her own damn pie and be done with it.
Gong-shil hems and haws, wondering if she should, even if it's dangerous. She tells him that there's a risk that a ghost won't give her body back after possessing it, and he quickly puts the champagne back. "Don't you ever drink." Awwwwwww.
Yi-ryung finds Kang Woo lost in thought in the concert hall, and tries to cheer him up by saying that he can be her personal bodyguard if he gets fired. That's not what he's upset about, and Yi-ryung sighs that she can't understand the world of the salaryman.
Kang Woo asks what a person should do when he likes someone from a different world, and Yi-ryung says if he can't get over her, then all he can do is like her more. He says something scary might pop out in that other world, but Yi-ryung says if he likes her enough that all he can see is her, then he won't be able to see anything else.
He realizes that it's rather simple, and thanks her for the advice. Yi-ryung still thinks they're talking about her, and swears up and down that she's not that far gone and she doesn't like him that much.
But when she follows him out, she sees him staring over at Gong-shil and Joong-won, and realizes that he was talking about Gong-shil the whole time… and that she just told him to like her more.
Gong-shil calls the pianist to Joong-won's office that night, and presents him with the pie. It's a recipe only his wife would know, and he believes Gong-shil immediately, begging her for the chance to see and talk to his wife.
She shakes her head, and he breaks down in tears in her lap, pleading for one more chance to say goodbye. Joong-won looks on with increasing annoyance, and when Gong-shil pats the pianist on the shoulder as he cries, Joong-won gestures at her to separate. Heh.
The pianist heads down to apologize to Kang Woo and says that he did nothing wrong, and says that the person who sees his wife asked him to come and apologize. He declares that he'll give a grand concert, now that he knows his wife is always by his side.
Upstairs, Joong-won asks if Gong-shil's just going to let anyone touch her like that. "He was… *twitch* sticking to you!" He asks accusingly if she was planning to hold him all night long if he hadn't interrupted, and she asks what she's supposed to do when a man is crying like that (using his signature face gesture, ha).
Joong-won scoffs that she's so busy being concerned about others, and asks if she isn't concerned for herself, yunno, since he'll be in China and she'll be all alone. She admits that she's less afraid of ghosts now, which totally deflates him, so then he asks why she stole his favorite pen if she's so brave.
She cringes, muttering to herself that Secretary Kim sold her out, and starts fishing around in her bag for the pen. He starts digging around in his pocket for the necklace, totally planning to replace one talisman for the other… but then she pretends to have misplaced it and runs away, just as he takes the necklace out. Drat. Thwarted.
The pianist returns the next day to ask Gong-shil about every little thing like what he's supposed to wear for the concert tonight, insisting that he needs his wife's input. So she gets dragged along to help him, and Kang Woo sees them walk by.
He goes to ask Joong-won if he's using Gong-shil to see Hee-joo, the same way that pianist is using her to see his wife: "So she's not special—it's the people seen through her that are special?" The question unnerves him, but Joong-won says he's right. He's left wondering to himself why it chafes so, to be compared to that pianist.
Gong-shil picks out an outfit according to ghost wife's tastes, and has to remind the pianist that he can't actually change in front of her because she's not his wife. Unni comes by with cinnamon tea like the ghost requested, and Gong-shil complains that the man is so picky that she's tempted to let the wife borrow her body for a day to just get all this over with.
Unni talks some sense into her that it's too dangerous because she might never leave… and the pianist overhears it with a glint in his eye. OH NOES.
Gong-shil finds Joong-won's pen in her bag and realizes that today's the day he leaves for his trip, and runs upstairs. He sits at his desk staring at the necklace, until it's time to go. As he heads down, he stops in the spot where the trashcan ghost always sits, and leans over to tell him that he's going to throw the necklace away here, and he can tell Gong-shil about it if he wants.
By the time Gong-shil gets upstairs, Joong-won is gone, and when she comes back, the pianist hands her a glass of drugged tea. She drinks it, and as she sleeps, the wife takes over her body. Ack.
Joong-won calls her from the airport (heh, he's saved her number as "Get Lost") but there's no answer.
Aunt and Uncle come by to check on the pianist before the concert, and they're shocked to see Gong-shil standing beside him, dressed up and looking like a different person. He calls her his muse and says they'll be leaving for Paris right after the concert, leaving slacked jaws everywhere.
Just as he's about to board the plane, Uncle calls Joong-won to ask if he broke up with Gong-shil, and if it's really true that she left him to go be the pianist's muse and live in Paris. Oh thank goodness for you and your nosiness. Hurry, go save her!
The pianist tells his wife to wait here while he finishes the concert, but she surprises him by saying she won't do anything of the kind. She says she only borrowed this body so she could deliver one last blow of sense, and slaps him across the face.
She says she spent her whole life in his shadow and isn't about to spend her dying days doing the same, and says he isn't picky, but just plain lazy. Ha. This is a nice twist.
She tells him that he enjoyed the spotlight all by himself so now he can take care of himself, and tells him to let her go. He breaks down in tears, and then performs at his concert as scheduled.
Joong-won comes running in, and the pianist's wife greets him with a smile to ask if he came to rescue Gong-shil. He tells her to go, but she sits back and taunts, "If I go, I can't tell you the secret. Aren't you curious, how this woman sees you?"
A flashback to the pie-making session shows us that the ghost caught her stealing glances at Joong-won. She asks if Gong-shil likes him and she smiles sheepishly, "Is it obvious?"
She says that Joong-won already has someone he likes a lot, and tells the ghost to keep her secret.
Back in the present, Joong-won doesn't hesitate, "I don't want to know." Ghost: "Why, because the calculations won't add up if you know?" She says things already don't add up, and admits that she wants to stay in this body a little longer, to find out what his secret is.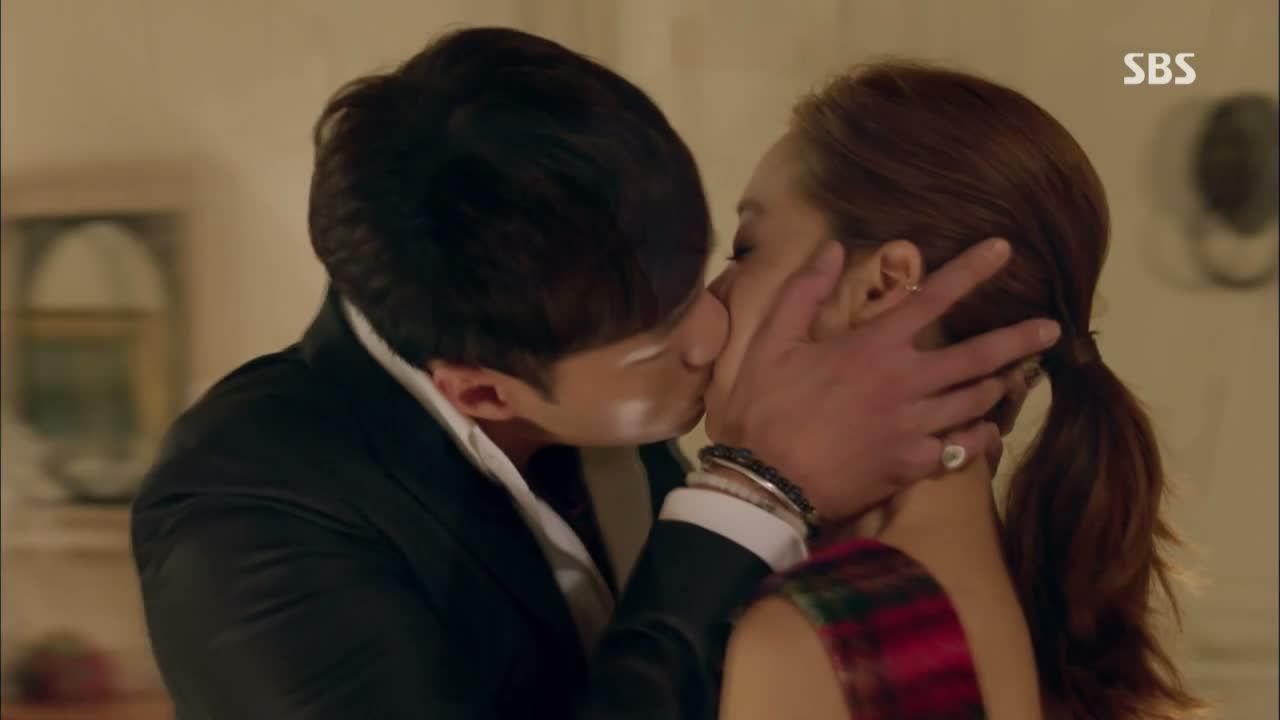 Joong-won: "Watch carefully, and get lost."
And with that, he marches over, takes her face in his hands, and kisses her.
As their lips meet, the ghost leaves her body, and she falls into his arms, unconscious. He stands there for a long moment with his arms hovering above her bare back, and finally gives in and holds her close.
He sits by her side, holding her hand as she sleeps. But when she starts to stir awake, he pulls away and gets up to go. When she opens her eyes, all she sees is the hazy outline of his back as he walks away.
Seconds later, Kang Woo walks in to check on her. He asks what happened to Joong-won, and she knows nothing of it, only knowing that he went on his business trip. She's all spun around to hear what happened, and Kang Woo offers to take her home.
Joong-won sits at the airport, staring vacantly. Secretary Kim finally asks if Gong-shil is okay. Joong-won: "I'M not okay."
He asks why Secretary Kim worked so hard to keep Gong-shil by his side, having known the whole time. Secretary Kim admits that it was nice to see Joong-won change. Joong-won: "If that woman remains by my side, then I'll continue to change, won't I? I don't want to change."
A week later, Gong-shil anticipates Joong-won's return, and it's only then that she passes by the trashcan ghost, who stops her to show her the necklace he's been guarding this whole time. He tells her it's from Joong-won, and she beams.
She hears that Joong-won has returned from China, and runs down to greet him. But every time someone opens his mouth to tell her something, she keeps cutting him off, and I have a bad feeling about this…
Aunt comes down and tells Gong-shil to congratulate Joong-won when she sees him: "He's getting married." Whaaa…
In walks Joong-won, with his new fiancée (Seo Hyo-rim) by his side. And he walks right past Gong-shil, as if she's invisible.

COMMENTS
Heartbreak. Augh, you kissyface denialpants. You would do something that drastic to keep from facing your feelings. And just when I thought we'd get a drama where I didn't have to spend time hating a second lead, you bring in a surprise fiancée to gum up the works. I guess my only consolation is that we know from the start that she's just another pair of sunglasses to him—something else to keep out the sun that he can hide behind.
The only thing that makes it unfair is that Gong-shil doesn't even know the kiss happened, so he's gone from zero to sixty and back to frigid, all without her knowing why. Though of course it makes for great angsty drama—I'm really loving all the little moments where Joong-won lets himself indulge in his feelings when no one is looking/awake/around to see it. I honestly don't mind living in denial for a good long while, because the push and pull between how they feel and wanting to keep it hidden is the best part of their romance. I just get butterflies every time Joong-won lets himself enjoy being near her, for just a moment, without anyone else knowing. It's like his secret radar addiction, and I can't get enough.
The ghost of the day was pretty dull, save for the connection that Kang Woo made between Joong-won and the pianist both using Gong-shil, and seeing through her, as it were, to someone else. The thing is, we know that Joong-won doesn't really see Gong-shil that way, but it's still a nice wake-up call to be reminded that that's what the relationship looks like from the outside, and I like that he bristles at the comparison to the other man.
He's really pretty far gone in his feelings by this episode, between the necklace hullaballoo (oh the Hong sisters and their trinkets), the adorable jealousy, and all the warnings for Gong-shil to be more careful. I mean, how much do I love that he has to be told NOT to touch her? It's a wonder that he thinks marrying the first girl he sees will cure him of his affliction, but then, that's the thing about rom-com heroes. The more obtuse they are about those pesky emotions, the bigger the goldmine of romantic awakening.

RELATED POSTS
Tags: featured, Gong Hyo-jin, Master's Sun, Seo In-gook, So Ji-sub