Time-traveling Mi-rae's Choice begins script rehearsals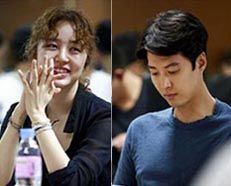 The fun begins on Mi-rae's Choice (aka Future Choice), which held its first script rehearsal with the main cast several days ago. This is the time-traveling show starring Yoon Eun-hye as the heroine whose future self (played by veteran actress Choi Myung-gil, 51) finds a way to travel back to try to get her younger self to choose differently.
In the present day storyline, Yoon Eun-hye plays a bright and confident writer at the broadcast station where our characters work, while her leading man Lee Dong-gun plays a broadcast announcer with a brusque demeanor. Normally I'd figure it's the heroine who'll get through his prickly armor to win his heart, except for the fact that Future Mi-rae (heh, Future Future) is here to warn Present Mi-rae not to marry him. While she's at it, can she tell Mi-rae to get a different perm?
(My big struggle with this premise: Whatever happened to learning from your mistakes, growing as a person, and building character? How are we to believe this isn't just a selfish misappropriation of the wormhole device? Okay, not like other wormhole narratives are drowning in selfless heroism, but at least in Dr. Jin and Faith the travelers had no say in their jumps, and in Queen In-hyun's Man there were royal plots to uncover with big life-and-death stakes. In Nine the guy was trying to prevent deaths and exact revenge against big evils, and in Back to the Future our guy had to fix the stuff he himself messed up. So within this context, time-skipping to smooth over your personal regrets seems like the kind of thing Fate would kick you in the ass for. And fine, maybe Fate stories don't coexist with Wormhole stories in this world, only this is a K-drama, so of course Fate has to be somewhere, biding her time. Just you wait. She'll get you.)
Annnyway, back to the show. Jung Yong-hwa is the other male lead and he'll be a gentle, charismatic sort who also happens to be playing undercover boss. Han Chae-ah completes the love rectangle as a reporter.
Mi-rae's Choice will follow Good Doctor and premieres October 14.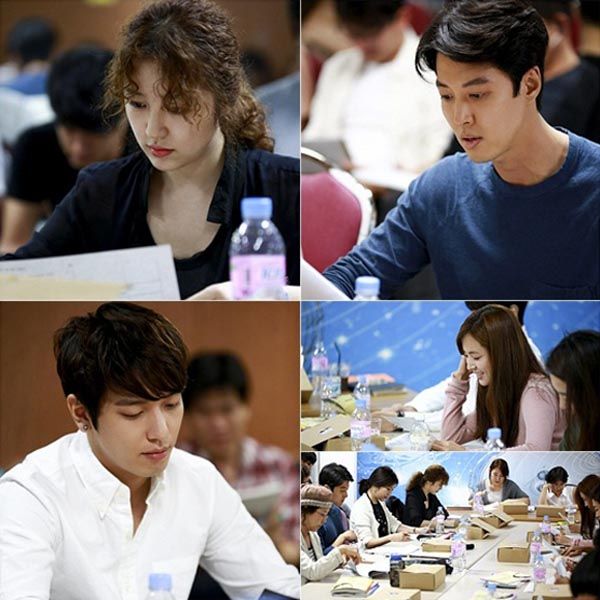 Via TV Daily
RELATED POSTS
Tags: Han Chae-ah, Jung Yong-hwa, Lee Dong-gun, Mi-rae's Choice, Yoon Eun-hye