Answer Me 1994: Episode 2
We get more characters, more sibling bickering, more heart-tugging quiet relationship moments, and more fish-out-of-water awkwardness with Episode 2, which completes our introduction to the cast and their world.
The Answer Me franchise may be known for its witty dialogue, cheeky pop-culture references, and regular train of celebrity cameos, but really those are just icing on the cake. A cake that has somehow figured out just the right balance of comedic quirk, youthful fervor, and poignancy—those are Answer Me's real strengths. I'm not necessarily in love with the pacing of the show, which feels a little indulgent, but I still have the hope/expectation that the show will deliver in many/most of the ways I want it to.
SONG OF THE DAY
Seo Taiji – "너에게" (To You) [ Download ]
Audio clip: Adobe Flash Player (version 9 or above) is required to play this audio clip. Download the latest version here. You also need to have JavaScript enabled in your browser.

EPISODE 2: "We're all strangers"
At the Shinchon Boardinghouse, life is settling into a rhythm for newest resident Samcheonpo, the stiffly proper country boy who's earnest and hapless in equal measure. Unfortunately for him, it's an uncomfortable rhythm, full of fish-out-of-water uncertainty (his) and intrusive habits (everyone else's).
For example, Samcheonpo's enjoying a shower when his new roommate Hae-tae (or Haitai?) barges in to use the sink, and then it's Garbage to use the toilet, and then Na-jung saunters in to hand oppa a letter and give the toilet a courtesy flush. Ew, I know you're close, but boundaries! Samcheonpo confusedly huddles in the shower nekkid, but the others scarcely bat an eye.
His narration notes that everything is strange and unfamiliar—the city, the house, the people. He hasn't quite made the adjustment yet, as we see when Hae-tae keeps him up at night with his handsy sleep habits. But then at some point, shoving the roommie away transitions to cuddling comfortably.
The boardinghouse family sits down to a mountain of breakfast, where Na-jung reminds oppa that he was supposed to be at practice today. Garbage bolts up with alarm and scuttles out of there, screaming back occasionally to get her to tell him where he left all his stuff. I don't know but there's something sweet about the way he's yelling "Jung-ah!" instead of "Moooooom!"—those kids fight like cats and dogs but she's still gonna look after him.
Samcheonpo starts to ask if he can take the solo room that's not being rented right now, but that reminds Mom of how the boarders who have taken that room have been such weirdos, giving us a series of cameos: First was the ROTC oppa who seemed so nice (appearance by actor Hong Seok-chun)… until he snuck into the other boys' room at night and took over their bed.
Then there was that Yonsei student who wanted to be a PD, which has Dad grumbling, "If he's a PD, then I'm a movie star!" Haha, this is Na Young-seok of 1 Night 2 Days, who huddles with a bunch of cups and a funnel. Muahaha, I wonder what that could be. Na PD offers the parents coffee, promises all the cups are the same, then gleefully shouts "Ddeng!" when Dad picks a bad one.
That gets Na PD kicked out, along with his canisters of fish sauce. Dad literally shoves him out the door as he protests, "But I've only been here one night and two days!" After him there was that "high-IQ oppa" who… levitated in his room? (Cameo by singer Heo Kyung-young.)
But Samcheonpo's request for the single room gets cut off by Mom's announcement that it'll be going to a new tenant.
Na-jung grimaces at her sore back, and Dad takes that as his cue to rail on her basketball fangirl activities, warning that she'd better not go today. Cut to: Na-jung at the Yonsei game, of course.
I love how fierce Na-jung gets when she's in full-on fan mode—she sounds rather like a bellowing ogre—and that she calls herself Oppa's "Shinchon Da-seul" after Shim Eun-ha's character in The Last Match. It's doubly funny to compare herself to her because Da-seul was a beautiful shy flower type, and Na-jung… is not that. Definitely not.
It's a close game, and Na-jung actually full-body-screams her way to collapse. It puts her in bed with medication, and Garbage sits patting her hair like she made Dad do. When he tries to slip away, Na-jung orders him to keep patting till she's asleep.
They bicker back and forth, about how she should take care not to slip a disc and how he should get her some warm milk. But it's a sweeter, toned-down version of the usual warfare.
Samcheonpo continues to assure his worried mother that all is well and that he's made lots of friends. His assurances have a way at tugging at my heart, given that he's not loving his new life but he can't bear to let his mother know it. But the stress finally gets to him at night, when computer-addicted Hae-tae ignores his hints that it's time for lights out and keeps plugging away at his game.
Samcheonpo passive-aggressively complains about bedtime, Hae-tae tells him to go to bed already, Samcheonpo turns out the lights, Hae-tae keeps tap-tap-tapping away, and finally Samcheonpo yanks the power cord out of the wall. Omo. You didn't.
They start arguing back and forth, which devolves into a mutual dissing of each other's thick accents. Haha. It wouldn't be funny if a Seoulite were mocking a country boy, but two transplants going at it in their respective accents is pretty hilarious.
In the morning, Mom and Dad (who's a baseball coach this time around too) wonder whether Na-jung will need surgery for slipped discs, and whether they'll be able to marry Na-jung off with such a bad back since a good back is important in a marriage, wink-wink. Ha/ew. Mom says that the boardinghouse family across the street managed to marry off their three daughters to boarders, and now they have a judge, prosecutor, and lawyer for sons-in-law. What if they find a nice boarder to set her up with?
And so, the next time they see the boys it's through the specific lens of Son-In-Law Potential. Haitai (ah, it's Haitai after all, after his beloved Haitai Tigers) gets a favorable reception, with his father owning a bus company back home, and they dote on him with goofy grins on their faces. Samcheonpo, on the other hand, has a father who owns multiple boats for deep-sea fishing. Mom and Dad's eyes widen at the thought of his wealth and push the entree dish from Haitai toward Samcheonpo instead.
At mention of their shouting match last night, Haitai breezily assures the parents that they got it out of their systems and he's already forgotten it. Samcheonpo clearly hasn't let it go and is holding a grudge, which is cute given how little Haitai cares.
Garbage heads out the door, ignoring Na-jung's demands for cookies ("You eat too many cookies, that's why your back is bad") and leaves her yelling after him. Aw, if he buys her cookies anyway I might cry.
The guys are headed out for a massive group date after class today, where their computer science department will be meeting another school's dancers. That explains the spiffed-up appearances.
Then the front door opens and a bag slides across the floor. Out spill boxes and boxes of cookies, and then Garbage heads out again. Awwwwwww. That is my favorite thing.
The computer science class gets let out with a reminder to buy the textbook, and then the leader of the students reminds everyone of the blind date later. Samcheongpo refuses to let Haitai borrow his book, but gets blackmailed into it with the threat of Haitai inviting his hometown buddies to crash in their room. Then Samcheongpo winces painfully the whole time as copies are made of each page, as though creasing the book's spine is creasing his own. Ha, I feel your pain dude.
Na-jung is left at home alone, and Mom tells her to order food. So she crawls along on her stomach and presents quite the sight for the delivery guy, sprawled in her entryway with cash in hand, and then crawls back like a thing out of a horror movie. (A thing with a huge appetite; she's circumvented the age-old jjajangmyun-or-jjampong question by ordering both.)
She makes it to the living room and turns on the basketball game, which strikes me as a risky idea. At this rate I fear for her back ever recovering.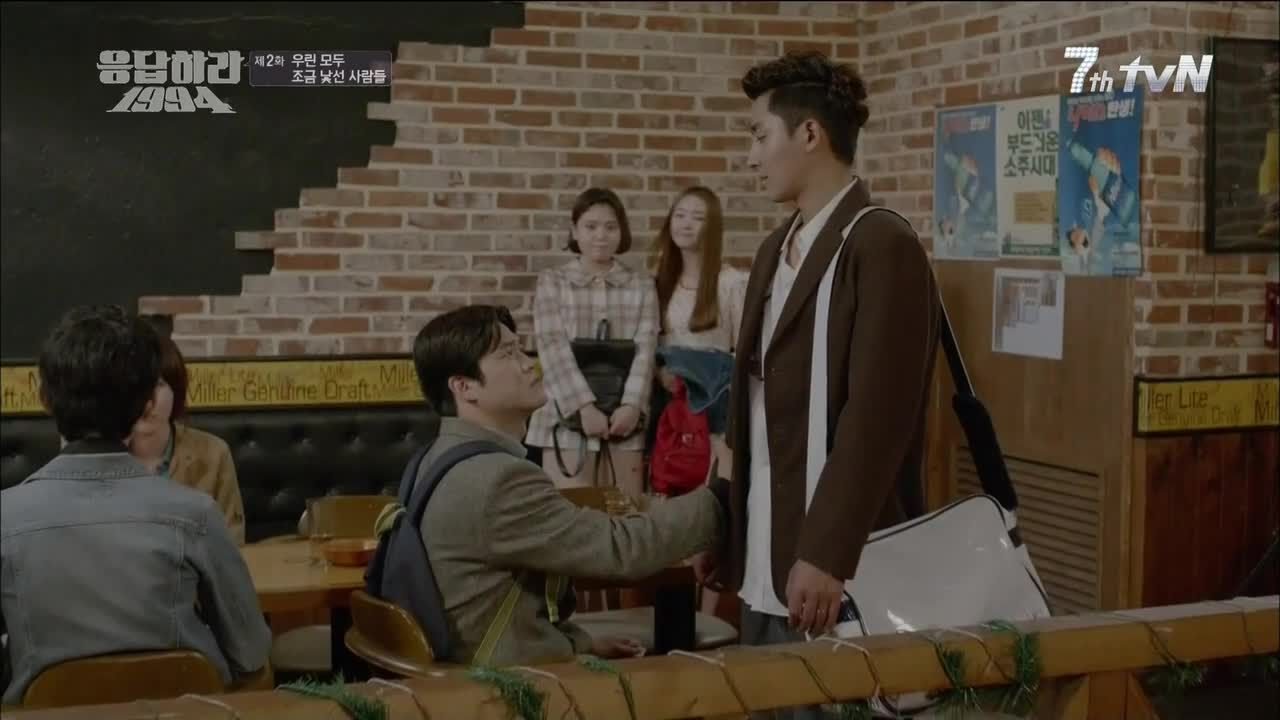 The group blind date gets going, where everyone picks a famous name out of a hat and is paired with that person's partner (e.g., Romeo and Juliet), and then the couples are dismissed for solo dates. Haitai (who picks the name Choi Su-jong) is thrilled when his mate (Ha Hee-ra) turns out to be a very pretty dancer, but Samcheonpo gulps to see his partner. (I feel sorry for this actress for always playing the typical fat girl role, but she does usually manage to be memorable at it.)
Samcheonpo stops his roommie, pleading to tag along, and thus they end up on a double date. Things start off on the wrong foot, with the girls being asked about their dancer background and then correcting the boys: not dance majors, but commerce. Samcheonpo can't compute this right away and insists, "No, dance. DAAAANCE." Lol.
At home, Na-jung gets a case of stomach upset and speed-crawls her way to the bathroom. But she's stymied at the door in her struggle to get to the slippers (Korean-style bathrooms are basically wet rooms with a drain in the floor, and slippers are a necessity). The television basketball commentary ("Oh no, it's dangerous!") does double-duty as she slips, landing flat on her back. Ouch.
The not-dancer girls get a laugh out of the misunderstanding and add that they were under a misconception of their own—they were told the guys would be from the Class of '94, but clearly they're returning students. (Koreans count class year by their entry year, not graduation, so '94s would be freshmen.) Haha, it's another comment on Samcheonpo's old-man looks, and Haitai confirms that they're indeed '94s.
Samcheonpo gets more interest from the girls at mention of his family's three boats, but deflates when they laugh at the story of his ordeal getting to the boardinghouse on his first day in Seoul. The girls say it's cute, though, and Haitai wonders, "This is funny? To us it's a sad story." Heh. But the mood picks up from there, and the boys take the girls' lunch orders.
They're at KFC and struggle to get the names of the American food, then have their Ahhhh moment at the counter: "Oh, so 'french fries' are fried potatoes?" "I've never heard of this before in my life." Aw, you country boys are so cute. They push each other to order, not wanting to embarrass themselves, and then Samcheonpo does his darnedest to mask his accent. Rather than admit they don't know what things are, they just quadruple everything and come back with a mountain of food.
Na-jung ends up in the hospital with a dire prognosis for three bad discs, in too much pain to sleep. The doctor tells Mom it's safer for her to endure the night without additional painkillers, so Na-jung struggles to lie still with tears pouring out of her eyes. She sends Mom home saying there's nothing she can do for her here, doing her best to withstand the agony.
Someone shows up at her door wearing a doctor's coat and sets a mug at her bedside. It's warmed milk—is that you, oppa?
Why yes, yes it is. Garbage sees that she's struggling and climbs in bed to stroke her hair, while Na-jung narrates: "I have an oppa. My childhood dream… was to marry oppa."
In a series of flashback photos, we see childhood Na-jung with her oppa, who finds her crying and cradles her head in his lap, stroking her hair. Then another boy joins them, and the three stick together in everything. (How much do I love that one of them is being punished for troublemaking in the screencap?) And then… a funeral.
Na-jung: "I have an oppa. And my oppa has a friend. The three of us were always together. But on one spring night, just like a lie, my beloved oppa left for far, far away. And after that day, oppa's friend became my oppa. I have an oppa. My childhood dream was to marry oppa."
As they lie there together, the camera shows us the object Garbage had set on the table: his prized Seo Taiji tape (which is the music scoring the moment, song posted at top), which Na-jung had asked for the other day, which he'd refused to give her.
"Oppa's hand that pats my hair, the sound of oppa's breathing, oppa's smell. It was just as it had been, but that day, oppa became unfamiliar."
A classic case of awakened feelings? Her eyes widen a little at the thought.
A short time later, Na-jung is back at home, on the mend and laughing with the boys about their blind date story, and how they ordered forty biscuits not knowing what a biscuit was. It turns into a whole monologue recounting the lengths Haitai went to on a date to avoid betraying his country-bumpkin cluelessness, which instead led to a lot of sweating bullets trying to navigate the city.
Na-jung gets drunk on beer and ends up giggling and winking to herself while the boys look blankly at her. Haitai suggests that Samcheonpo retire for the night and the boys escape into their room. I love that their date-gone-awry was at least the thing to bring the boys together, and now it's Samcheonpo sitting at the computer playing Haitai's game.
Haitai explains that they want to steer clear of Na-jung when she's drunk, because she "turns into a dog." And what does that mean?
Cut to: Outside, where Garbage finds Na-jung alternately winking and staring unnervingly at him. She gets right in his face, closer, closer, lips approaching…
And bites. Muahaha.
That actually looks super painful—she clamps her teeth on Garbage's lower lip and pulls. He very painfully manages to extricate himself… and then she bites his chest. As oppa transfers Na-jung to her room, she thinks:
Na-jung: "When a familiar habit, familiar daily life, or familiar person becomes unfamiliar all of a sudden, it doesn't have to be a chaotic event. It could merely be a secret signal that a new life or a new relationship is beginning."
In the morning, Mom and Dad give the boys the disapproving lecture about drinking all night. Then Mom calls down their new boarder, Binggeure, which is another nickname (it means Smiley).
Binggeure (Baro) shows up in the doorway, and thus we meet Bachelor No. 3. He's sweet-faced and super-polite as he asks their permission to include his cousin in breakfast, who came over to help him move in.
Enter Bachelor No. 4, Chilbongie (Yoo Yeon-seok, I was afraid we weren't going to get to you today!).
Dad drops his spoon in his excitement, because Chilbongie is a rather famous baseball player for his age: MVP in the high school league and top pitcher currently at Yonsei. (Chilbongie, another nickname, refers to the time he pitched seven shut-outs.) Dad fawns all over him and would just about feed him with his own two hands if he could.
Then Garbage shows up for a brief appearance on his way out, as absent-minded as ever, and earns an entry as Bachelor No. 5. And is Garbage… really a genius medical student? Way to twist the expectation.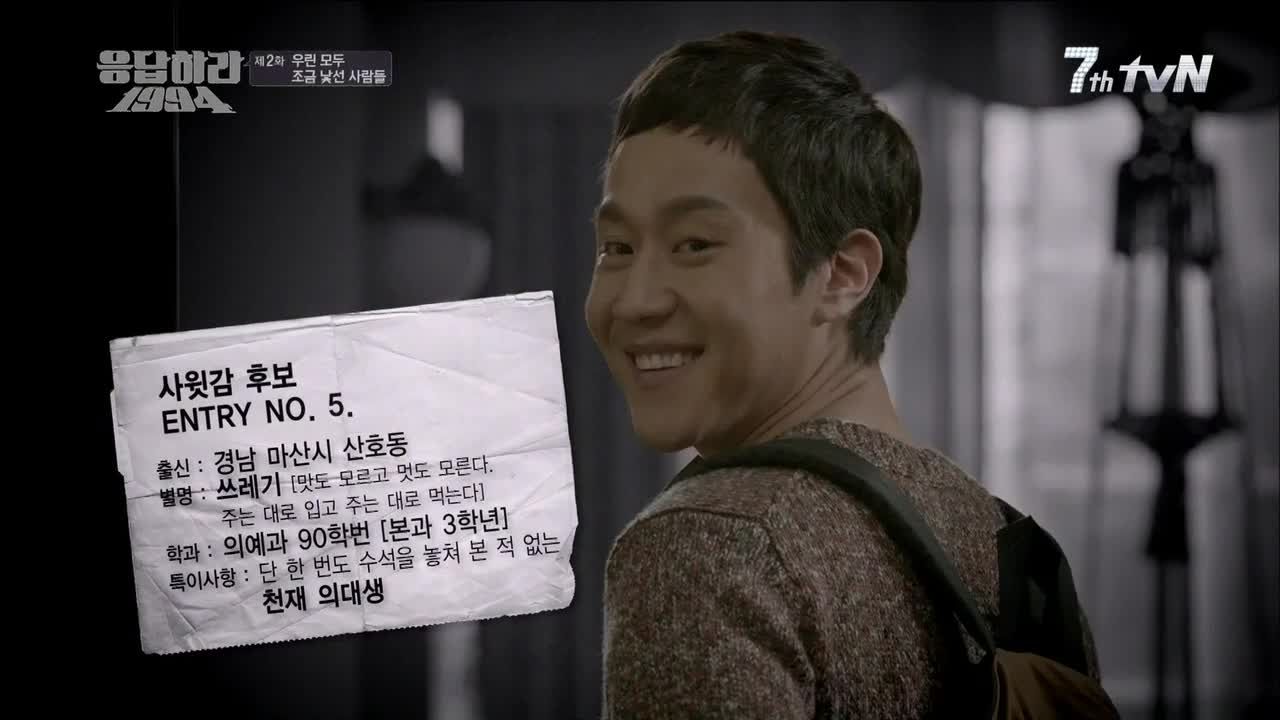 Only now do we hear about Garbage's mom back in their hometown, whom Mom urges him to call.
Back to the future. It's 2013, and the housewarming party gets underway when all five bachelor potentials show up at Na-jung's door together. Sigh. Yes, it really is this game all over again.
Na-jung confirms, "Out of these five men, one is my husband."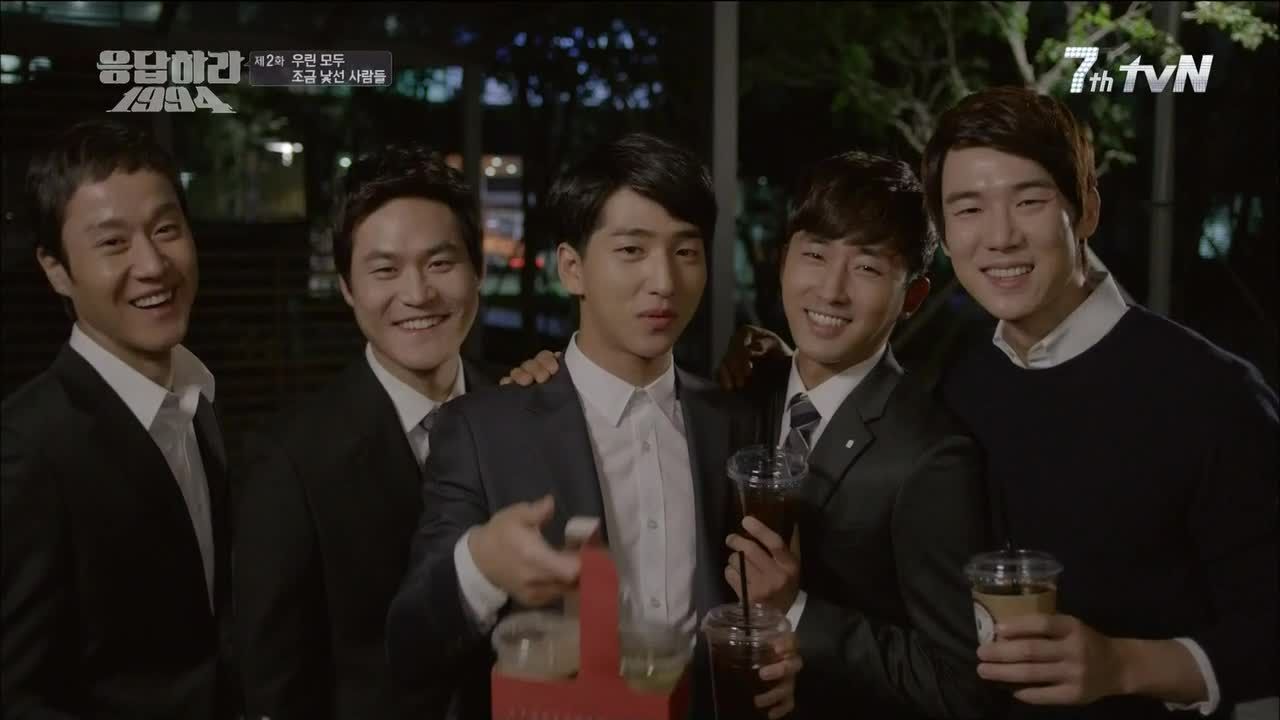 COMMENTS
I enjoyed Episode 1 as a light, easy watch, but it's only now that I feel we got our proper introduction to the world of the drama. Episode 1 was very little plot but a lot of cute and sometimes touching character moments, while Episode 2 actually introduces the central conceit: the Bachelor-a-thon. You'd have thought that they'd put that into the first episode to frame the whole thing, but then we wouldn't have gotten the twist reveal(s) leading up to the five-man lineup at the end. (Unless it got there faster. Which it could have. Ahem.)
Speaking of the twist, I'm not really sure why the show did the oppa misdirect with Garbage, which is a lot like the way Answer Me 1997 did the hyung misdirect in purposely withholding the brothers' relationship. I mean, okay, it's not a bad thing and it's fine, but at the end of the day it feels a little like a smart-alecky "Gotcha!" moment. Considering that our plot really begins here at the end of Episode 2, when oppa is no longer blood brother but potential husband material, the twist didn't really twist much.
I'm actually disappointed to be losing the brother angle, because it was both hilarious and a fresh change from 1997. It wasn't until I saw the awesome bickering matches between Na-jung and Garbage that I realized how much I loved this additional dynamic in the mix, and I was all set to embrace it with open arms. So now I feel like my shiny present has been taken back and we're back to the same setup of 1997. And yes, I understand that if you didn't see 1997 the comparisons are going to get repetitive, but you also can't make this series and expect to avoid comparisons. There are just too many similarities for that. And a thing that was amazing and hilarious and perfectly realized in a first series is automatically not going to produce the same effect the same time around, no matter how good it still is, because we've seen it already.
On the other hand, this does give us a bona fide leading-man turn for Jung Woo, which is fantastic since I love him and was wanting him to get a role worth his talents. Same for Yoo Yeon-seok, so I'm equal parts glad that these are our main contenders (because let's be honest, this is mostly gonna be a two-way battle, right?) and torn that it's these two, because I want them both to be happy and win their love. I was fully expecting to be 100 percent for Chilbongie from the start, so it's a surprise (though a pleasant one) to see that he's really going to have to work for it, with Garbage being so awesome. Garbage also gets the head start, and in more than one way with having the childhood history and with Na-jung awakening to her feelings first. Does Chilbongie even have a chance?
I do love the setting of this series, and the motley assortment of Korea's eight provinces as expressed through the boarders. It warmed my heart the way the two roommates went from frustrated fighting to total buddies, in a way that felt true to life; sometimes it's not what you've got in common that brings you together but the shared experience of feeling you've got nothing in common with the rest of society. They're adorable and I think their bromance is gonna be full of good stuff.
I do wish the show had stuck to the shorter length, though, because I fear that twenty hour-long episodes is just too much running time. As I said, I had a great time watching the first episode despite the chatter-chatter-chatter and the lack of plot, but man did it make recapping Episode 2 just a hair burdensome, and the recapping process really highlights how much filler there is. It's padded out in long dialogue passages, and while that's somewhat masked by how entertaining the passages are, never say they couldn't be improved with a tighter edit. I remember when 1997 started to outgrow its 30-minute episodes, then 40 minutes, then 50 minutes. While I'm sure the writers struggled to fit all their material into the shorter formats, those were the best episodes, chock-full of only the best stuff. There was no moment wasted… until they gave themselves more moments and started wasting them.
That said, now that our foundation is set and our characters introduced, I'm looking forward to seeing what the story brings. I think it's a little crazy that we're this far into the show and we still don't have a story—as in, what's the arc? What's the conflict? What's the narrative through line? Maybe it's even crazier that it's as good as it is without those things, with its slice-of-life approach and loose plotting. But I want a story, not just vignettes, and I'm all eyes and ears to see what it is.
RELATED POSTS
Tags: Answer Me 1994, featured, Go Ara, Jung Woo, Yoo Yeon-seok