Basketball: Episode 1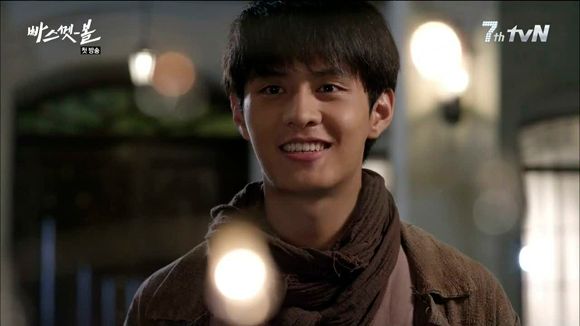 Good news, everyone—Basketball is off to a fantastic start, with amazing production values, a true underdog hero destined for greatness, a story set in a tumultuous time all but guaranteed to tug at the heartstrings, and it's all topped off with gritty basketball sequences which aren't anything like I imagined they'd be, all squeaky sneakers and, you know, rules. Because basketball in this show is more like dropping a ball into a UFC cage match. It's awesome, but violent. (Or is it awesome because it's so violent?)
As for me, I couldn't be any happier that this premiere was so solid. Had this come directly after Conspiracy in the Court and Chuno, I would've had no doubt that PD Kwak Jung-hwan would deliver a winning product. But then Runaway Plan B happened, and I've since been a little gun-shy about this director's most anticipated new project, worried that hope would turn into disappointment. But if there's any director capable of bringing the epic back to this year's drama landscape, it's this one. Welcome back, Kwak PD. We missed you.
SONG OF THE DAY
Basketball OST – The One – "A Thousand Nights" [ Download ]
Audio clip: Adobe Flash Player (version 9 or above) is required to play this audio clip. Download the latest version here. You also need to have JavaScript enabled in your browser.

DOCUMENTARY WEECAP
tvN aired a special documentary episode a week before the premiere of Basketball to introduce viewers to the world of the show, and among numerous interviews with former basketball players from the Japanese occupation era onward was one from PD Kwak Jung-hwan explaining why he chose to tell this story.
While the dark years of the occupation era are engraved in Korea's cultural memory, the fact that Korea's first unified national basketball team made it to the quarterfinals in the 1948 London Olympics a few small years after its liberation isn't as well-remembered. PD Kwak explained how he wanted to reach and inspire the generation that perhaps lived though this period with a story of the obstacles their peers overcame to represent their country, a country which was finally their own after having been under Japan's colonial rule since 1910.
Unlike the middle years of colonial rule—where Japan tried to implement a softer "cultural rule" after their brutal and counterproductive crackdown on the Korean people after the March First Movement in 1919—the year prior to this show's beginning marked the first step toward an even darker period for Korea: Japan's wartime mobilization, which worked to turn Koreans into true imperial subjects of Japan through forced labor for the war effort, the capture of thousands of women to be forced into sexual slavery for the imperial army, and the forced adoption of Japanese names. All this and more lasted until Japan's 1945 surrender at the end of World War II.
Basketball begins in 1939, three years after a famous act of national defiance in the journalistic printing of marathoner Sohn Kee-chung's picture with the Japanese flag on his uniform rubbed out, and only one year after wartime mobilization began. Yet while the history is tragic, this story promises to be one of hope and inspiration, of surmouning insurmountable odds in order to become a part of history.
FIRST EPISODE RECAP
We open on bustling night market as a smiling youth runs through it, peddling the liquor he carries on a jug on his back. When asked about his identity, he proudly proclaims that his name is KANG SAN (Do Ji-han). Short and sweet. I like it.
His next stop is a busy main street mostly frequented by Japanese citizens (called Honmachi), but he's drawn away by the distant sound of cheering. He follows its source, and the sound turns deafening the second he reaches the underground room where a wild crowd watches a one-on-one basketball game in progress.
Bets are placed as one of the players (cameo by Oh Ji-ho) scores a winning shot. He and his opponent literally wrestle each other for control of the ball right before Ji-ho scores yet again. Nothin' but net.
San watches the eager bookie taking bets from the crowd as he becomes acutely and achingly aware of all the money surrounding him, with fistfuls of the stuff crinkling inches away from his ear.
But this isn't your normal basketball game—the players have to be violent in order to claim the ball. Ji-ho is victorious once more in wrestling the ball away, but as he leaps up to make a dunk, his angry opponent rams him, hard, into the backboard.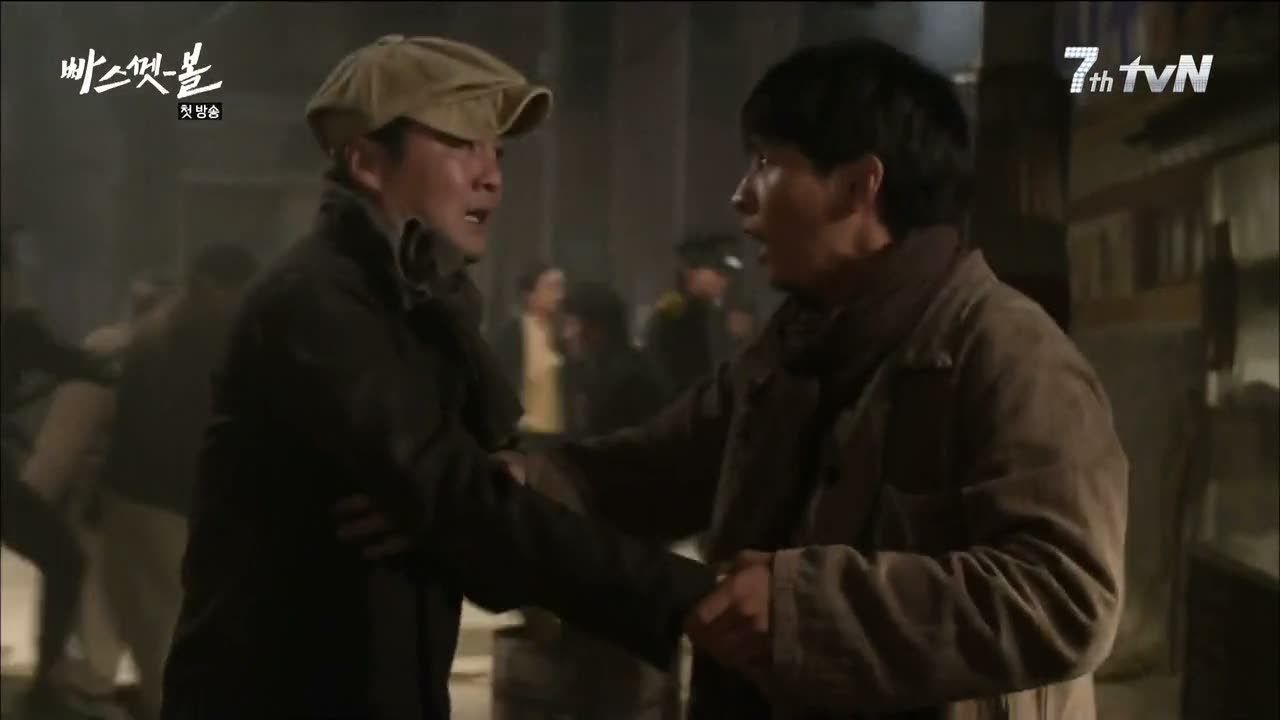 He falls on the ground stunned as someone from the crowd shouts, "It's a raid!" Suddenly the room erupts into chaos as all the illegal gamblers run to escape the incoming policemen, with San among them.
The bookie falls next to him, but when San stops to help him, his jug of alcohol goes crashing to the ground. Aw. Still, he helps the man to stand and urges him to split up from the group in order to evade capture.
But, this means that San has to face his ajumma employer with a broken jug and nothing to show for it. She reprimands him immediately, thinking he was off playing basketball again (would it help if she knew he was just watching?), and declares that he won't be paid for today's work.
San is willing to take all this silently until the ajumma's daughter MI-SOOK (Kim Bo-mi) comes running to her oppa's defense—the word "oppa" being one her mom finds ludicrous, since San is younger than Mi-sook.
Either way, the ajumma gives San another chance.
San attends a class the next morning taught in Japanese by a Japanese officer (played by Jo Hee-bong, who by the description will play a variety of roles in this drama).
Even though San answers every question perfectly, he and his other Korean classmates are pulled aside to be hit and derided by their teacher. Apparently they haven't been able to pay their tuition, which the teacher claims is sooo typical of Korean street rats. (Racism in 3… 2… 1…)
Teach demands that they each say that they're thieves, but San remains silent. When confronted, San looks Teach straight in the eye defiantly, which earns him a beating.
A well-dressed woman's arrival interrupts the proceedings, and San gets an inverted view of her bribing the teacher from his forced punishment position. Once again, he sees how easily money changes hands.
Later on, San plays basketball in the school court while his buddy sings to cheer him up. They're both poor and freezing in their meager straw shoes against the chill, but San finally cracks a smile as he tells his buddy that their suffering will be over tomorrow once the basketball scout comes around.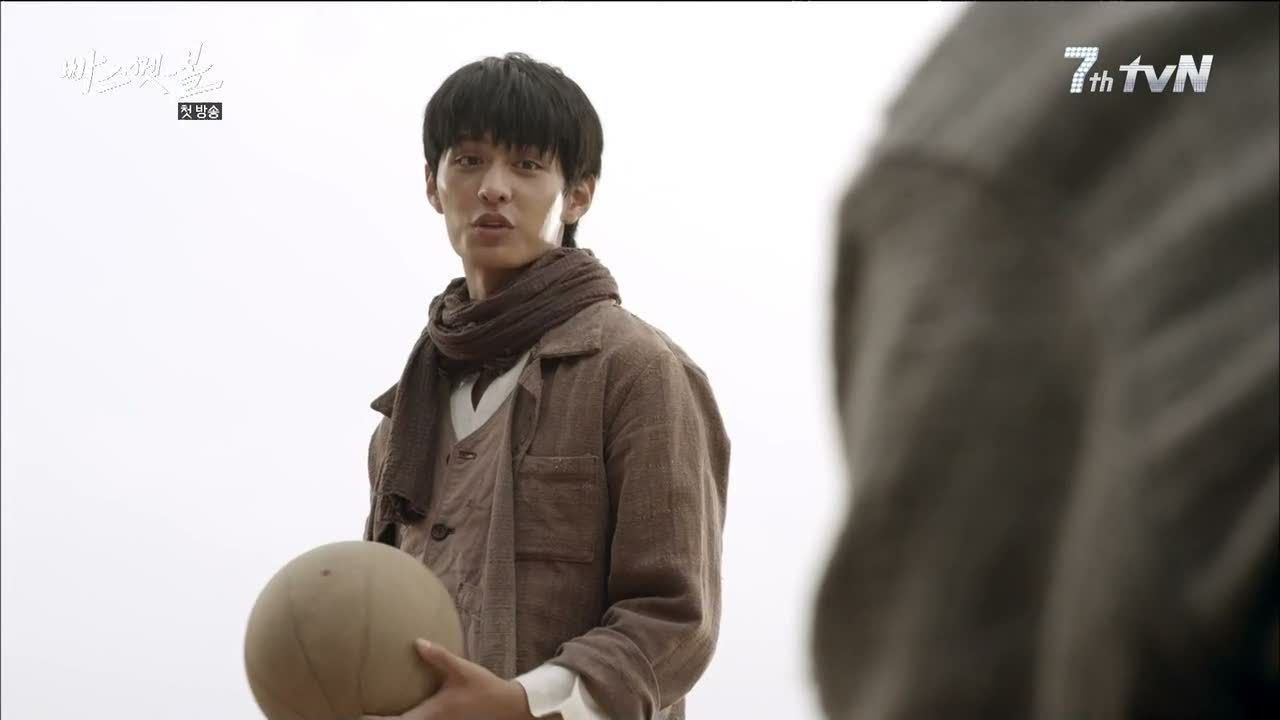 San's sights are set ahead—once he makes the (business-owned) team, he'll be able to play basketball as much as he wants, and make money at it. "When I do, I'm going to make sure my mother lives in comfort."
Welp, that's it. I'm a goner.
San's mother works as a maid for a rich Japanese mistress, and is treated appallingly when she accidentally breaks a vase. Through her mistress' ensuing angry rant, all Mom can do is repeat "I'm sorry" in Japanese.
Mom is surprised to see San waiting outside the home, and the two are adorably sweet together as each one fusses over the other. Though Mom tries to hide the bruise on her hand caused during the accident, it doesn't escape San's worried gaze.
She assures him that she's fine and hands him a little money so he can get a warm meal. Aww, Mom.
The shantytown where San lives has just received government notice that their neighborhood will be demolished in order to build luxury apartments. When he's asked by the elders to join their protest tomorrow, San replies that he's got his basketball tryouts, expecting the elders to be displeased. To the contrary, they give San their blessing to go.
Tryout day. Though San is playing against students who can afford real shoes (as opposed to his straw ones), he's good enough to attract the scout's notice.
His teacher huffs and puffs and recommends the student whose mother he accepted a bribe from, but unfortunately for both of them, San easily overcomes that player to execute another perfect shot. Needless to say, the scout is impressed.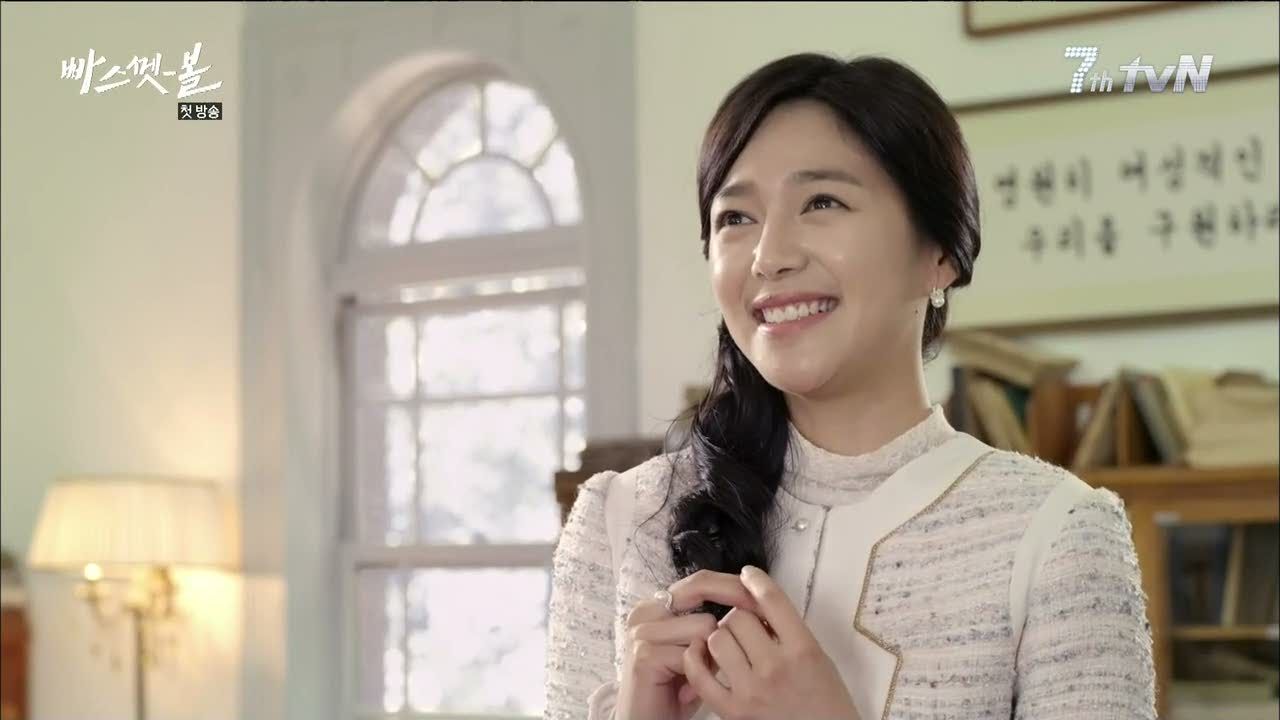 We meet journalist CHOI SHIN-YOUNG (Lee Elijah) in a much neater (read: rich) environment, as she discusses her true-love-conquers-all romantic idealism with her much more pragmatic maid BONG-SOON (Wonder Girls' Yeeun), who's a money-matters-more kind of girl.
(And ha, I guess they weren't lying about Jo Hee-bong being a "one-man band," since he's playing a meek editor here as opposed to the Japanese officer we just saw him as.)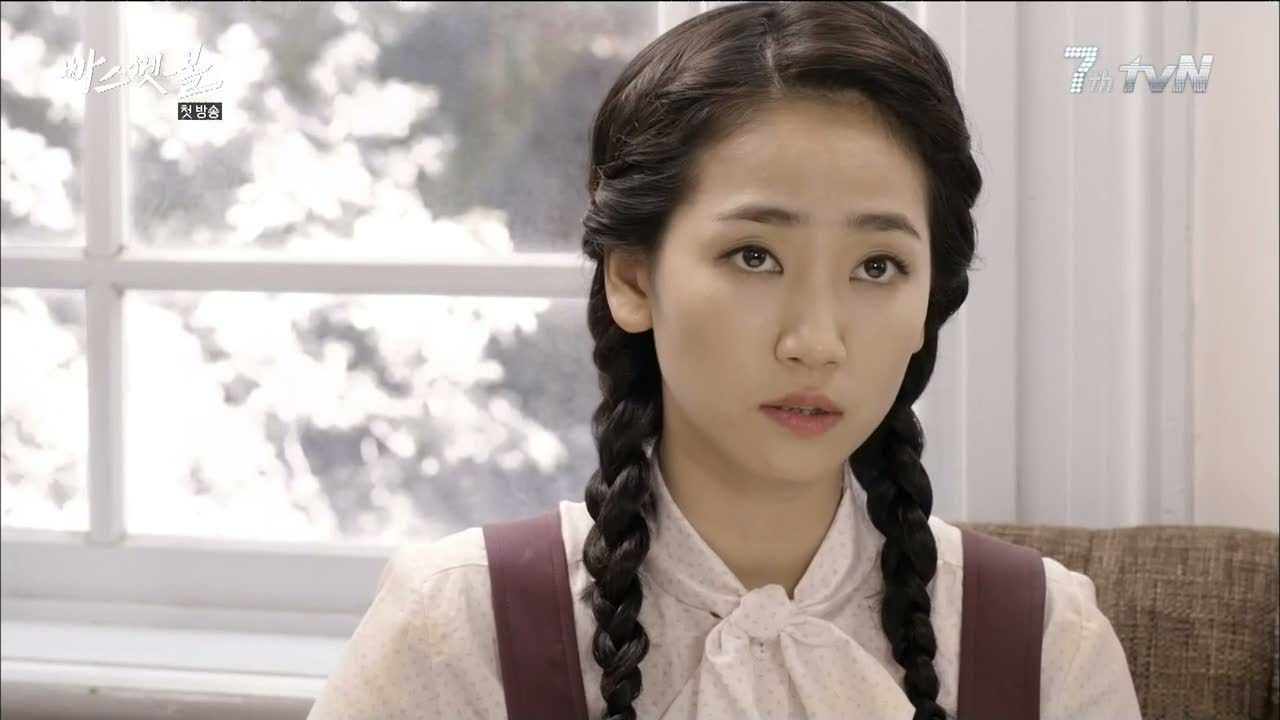 Shin-young brings up the 1936 romantic film Camille (about—you guessed it—lovers caught up in a class divide) as an example: "That's what real love is like. Love that's strong enough to overcome any difference in class and society." Bong-soon just shakes her head, knowing that Shin-young's knowledge on love only comes from the movies.
Regardless, Shin-young lists the qualities which make up the perfect man for her: That he's safe and trustworthy, masculine yet gentle, kind while knowing when to make a stand, and resolute in his beliefs while knowing when to concede. So… every girl's perfect guy. A reminder from her editor reminds Shin-young that she's got actual work to do in covering the basketball team's homecoming, and she's off.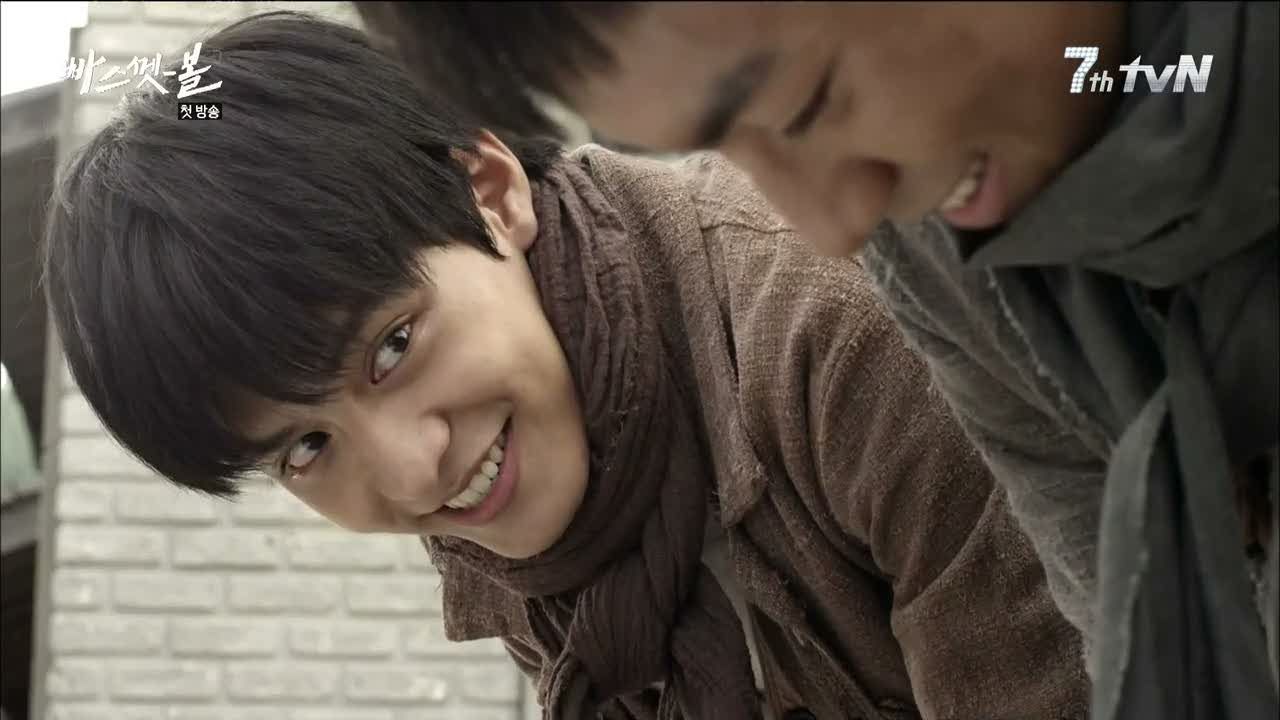 An alarm goes off in the city, causing everyone to stop what they're doing and bow toward the east in honor of the Japanese emperor, all under heavy police scrutiny.
San and his buddy are amongst them, but they use the time they're bent over to discuss how much the scout seemed to like him. San's hopeful smile is contagious.
Thanks to the crowd gathering for the parade, Shin-young can't move her car an inch. Bong-soon tells her to just hoof it to the parade—as it is, she'll be the last reporter there.
San reports for work at the ajumma's restaurant, and she comes out of her bedroom partially undressed. The man she was with is none other than the bookie from the basketball game, who nods to San all, 'Sup.
It's only when the ajumma tells him that everyone's gone to see Min Chi-ho that San is almost overcome by fanboy feels—does she meanthe Min Chi-ho, star Korean offensive player for the imperial team? It takes one affirmation before San is off to see the homecoming himself, and the ajumma explains to the bookie that San is crazy about basketball and the best at playing it, which gets the bookie thinking.
A crowd is gathered outside the train station to cheer for MIN CHI-HO's (Jung Dong-hyun) homecoming, calling out his name only even though he's among his other team members.
San is on his toes amongst the crowd, eager to catch a good glimpse of his hero. While Shin-young tries to ease through the wave of people herself, a shout of "You lying lowlives!" comes from the crowd as the players are suddenly pelted with rocks.
The rock-thrower is an unwashed, dirt-covered girl who yells that Chi-ho is Japan's dog (using a less kindly racial slur), causing a few of the players to try and capture her.
In the ensuing chaos, Shin-young and San fall together, with her landing on top. His eyes go wide in shock while she barely notices before she scrambles up to chase after Chi-ho.
Another part of Japan's mandate to assimilate the Korean people was to order them to pay visits to Japanese shrines, and we find two gentlemen paying a visit—one of whom is on the Governor-General's council (the Governor-General being the highest Japanese administrative position during the colonial years), while the other is a wealthy factory owner whose factory is in danger of being seized by the colonial government.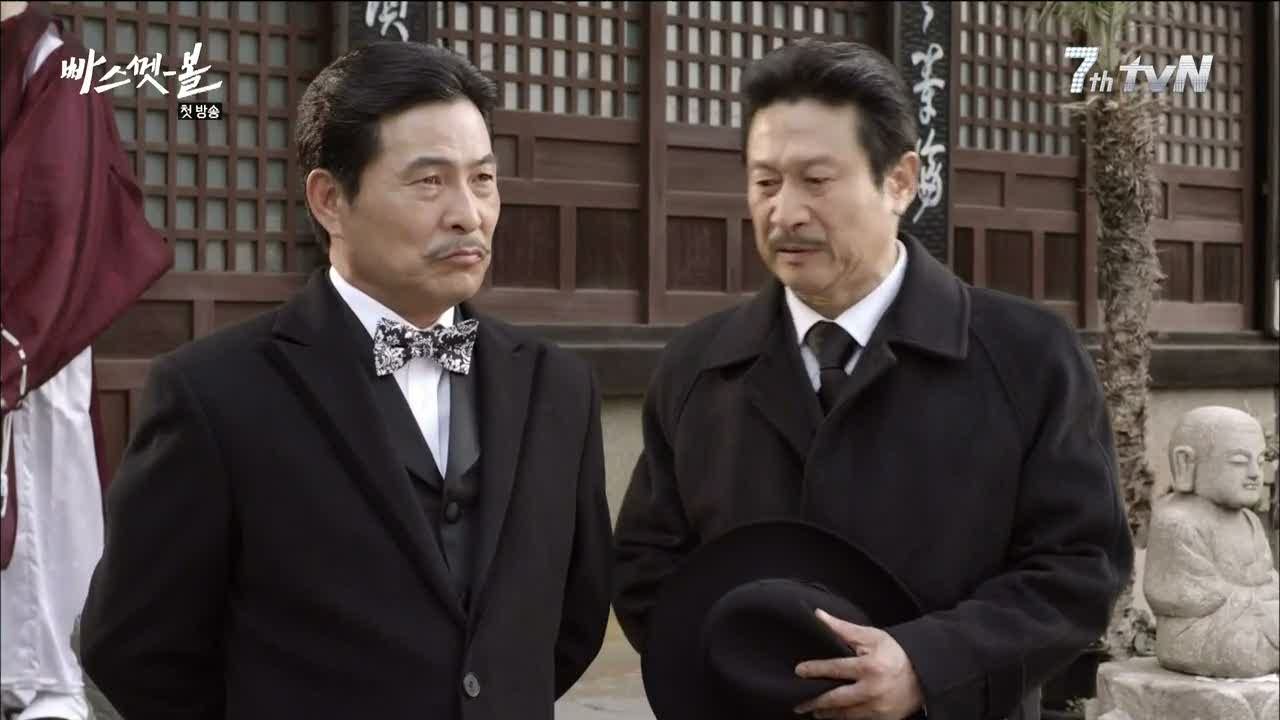 In order to save his factory, the other promises to do anything the councilman asks.
We then cut to the residents of San's shantytown as they protest outside the Government-General Building. Part of the councilman's request was that the factory owner help clear the protestors so that their homes can be demolished as planned. The businessman does as asked.
San walks home in a daze as he thinks of his brush with Shin-young. He comes across the bookie bribing a policeman, which gets him thinking about the raid during the basketball game, and how it was oddly beneficial for that bookie…
San confronts the man over his ploy and demands compensation for the liquor jug he broke trying to save him from his own scheme. He's brushed off, and left to face the bookie's two lackeys when he tries to follow. Eek.
The bookie is back at it during another basketball game… until a grinning and bloody San suddenly appears behind him, "Hey, thief!" Ha. Clever use of editing.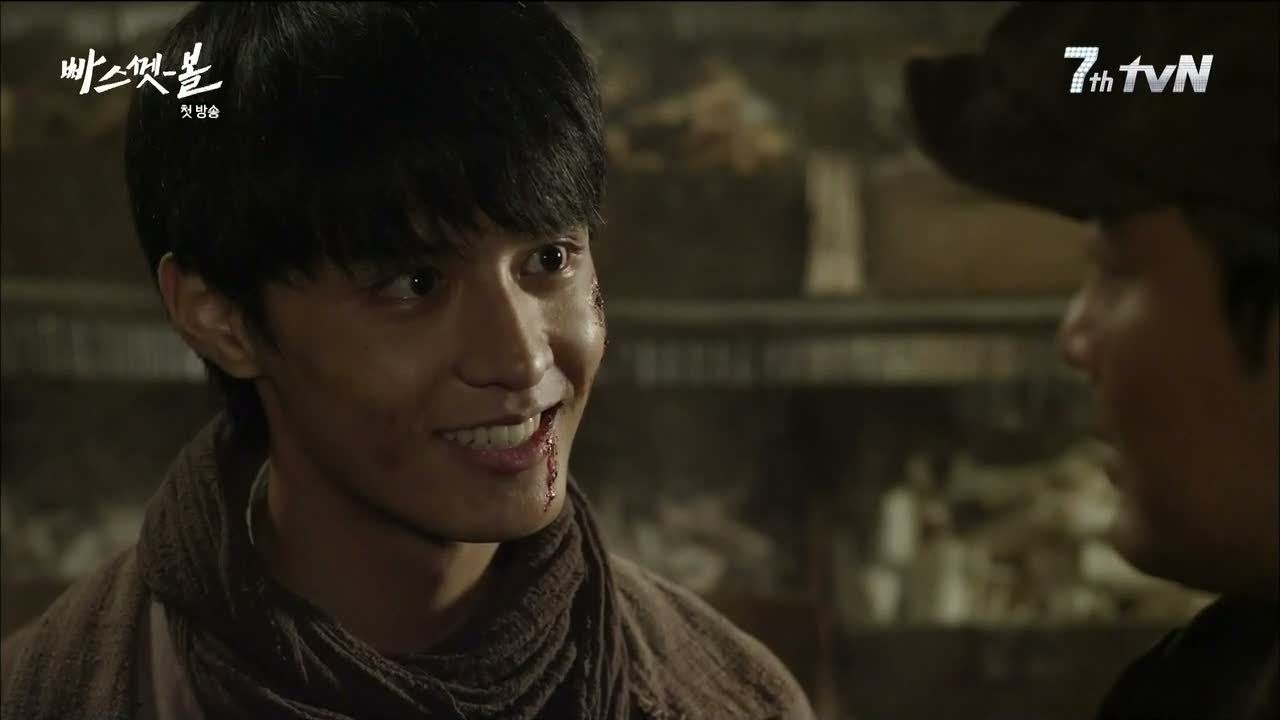 He demands compensation lest he tell everyone that the bookie's running a scheme, so he's taken to a back room where the bookie GONG YOON-BAE (Gong Hyung-jin) finally gives him money and an offer to play basketball for him. He can make real money that way.
But San, ever-principled, counts out only what he needed for the jug and passes the rest of the money back. He sends a dangerous look up at Bookie Gong: "Do you think I learned how to play basketball just so I could become a pawn for people to gamble over?"
San is dealt a crushing disappointment at school the next day: The kid with the bribe-happy mother got scouted over him. While his teacher claims San will have another chance, he knows he won't—he's just graduating high school even though he's twenty-four, and those tryouts were his last hope.
He heads to a factory to beg to see the scout, only to be rebuffed by the guards. Shin-young arrives in the meantime and is instantly let in, and while San drinks in her every movement, she doesn't even notice him.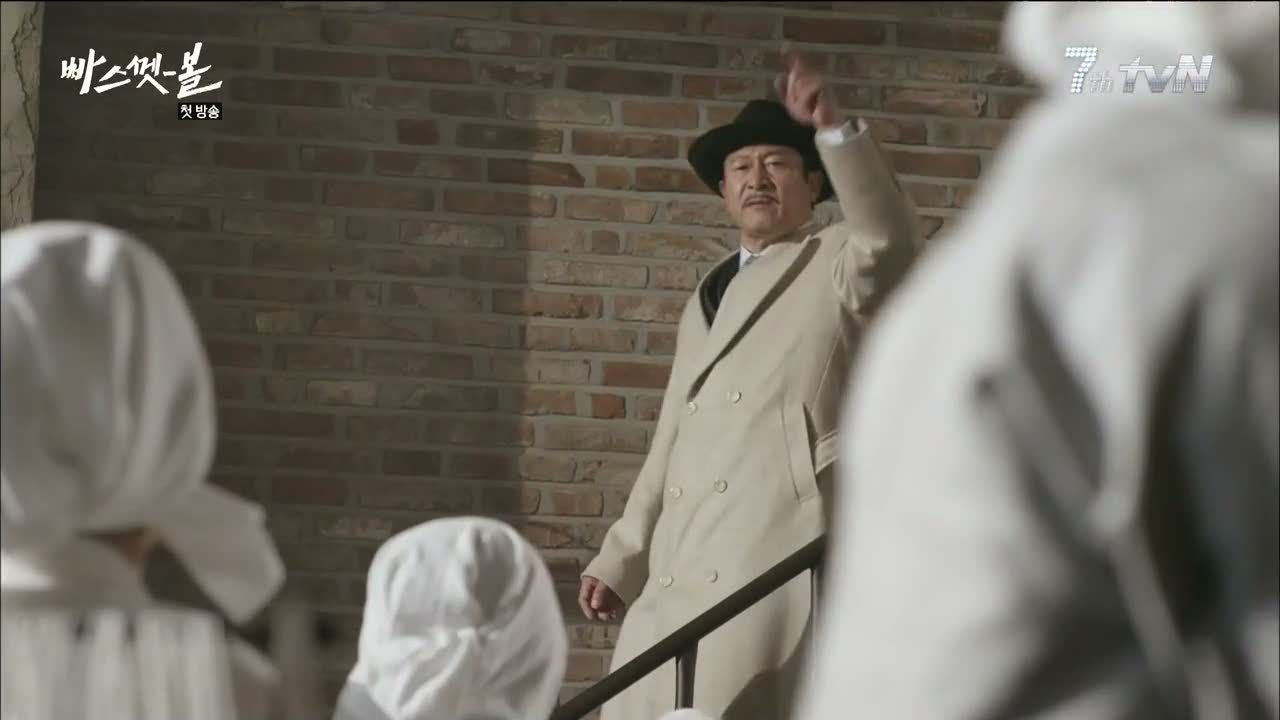 The guards explain to a questioning San that she was let in because she's the president's daughter… meaning that her father is none other than the factory owner we saw earlier, CHOI JE-GOOK (Kim Eung-soo), whom we find lecturing a group of workers coughing from their poor working environment.
Despite their obvious suffering (or perhaps because of it), Daddy Choi orders them to just keep working, with all the fervor of a commander leading his troops to war. Shin-young doesn't pay the workers any mind as she instead hones in on her father's secretary, since he conveyed her father's message that she be fired from her job.
San waits by the entrance so that he can catch the basketball scout as he's leaving. He begs for one more chance, that he'll do his best…
But the scout cuts him off to give him some advice: "Stop playing basketball." Basically, he tells San that he's too poor to play such a gentlemen's sport. The bribe-happy mother appears just then, and San remembers her bribing, realizing that's why he lost.
Shin-young tries telling her father that she liked her job as a reporter, but doesn't make much headway with him. What she doesn't know is that her dad is making arrangements to get her married off asap lest her "worth" go down.
Meanwhile, San returns home to find collection agents repossessing what little he and his mother have because of his unpaid tuition. San tells the men that he'll stop attending school, but they don't care—they just want the money.
However enraged he is, Mom stops San from getting into a fight and chastises him for saying that he'll quit school, "If you don't even graduate from high school, do you think anyone is going to treat you like a human being?!"
The next day, Mom visits his teacher at school with a gift of homemade food and an envelope, which the teacher digs into first assuming that money will be inside. (There isn't.)
San is called in. The teacher acts like everything's fine, then turns on a dime to begin a litany of cruel remarks against San and his mother.
Right in front of them, the teacher throws the food in the trash. San sees the heartfelt letter of gratitude (in Japanese script, no less) that Mom included with the food and starts trembling with indignation. And this is all before Teach starts racially condemning the both of them for being inferior Koreans, replete with slurs which need no repeating here.
Mom holds San's shaking fist down to stop him from retaliating, even as Teach keeps tearing into them. Finally, San breaks and attacks him.
Even after San is dragged off, Teach still has more hateful things to spew (he's making me SO ANGRY), and eventually draws his sword on San with a vow to fix his rotten Korean mentality.
Mom jumps in front of her son and sets to begging Teach for his life. San tells his mother to stop begging to such an awful son of a bitch, but Mom turns and slaps him across the face. Whoa.
She bows to Teach and keeps repeating in Japanese, "I'm sorry, I'm sorry" until they're finally left alone.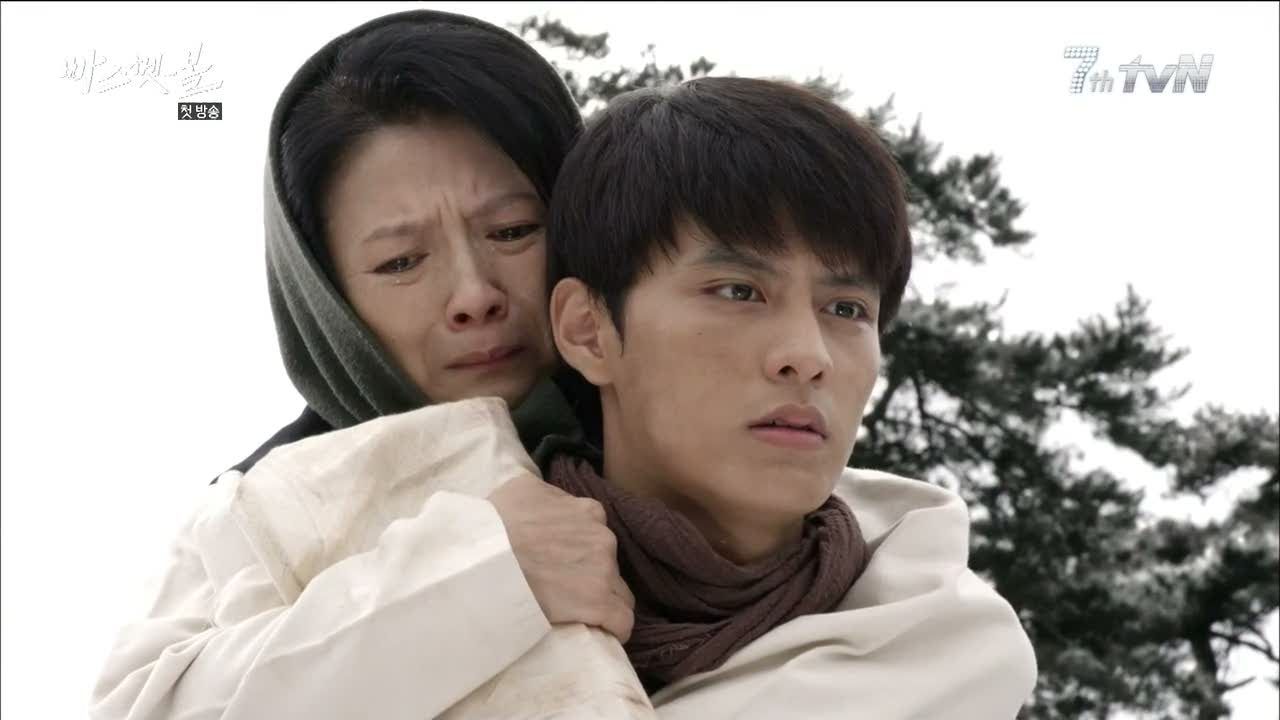 On the somber walk home, Mom tells her son her philosophy on life—that there's not much to it, and as time goes by, wounds will heal. She holds back tears as San kneels in front of her to give her a piggyback ride.
"Thank you," he says. "I'm grateful to have you as my mom." But in voiceover, we hear him say that he won't live like his mom—he's going to do whatever it takes to pay his debts, make money, and succeed in life.
Time for another down 'n dirty basketball game, this time with Lee Jung-jin dominating the court as he fights off any of his opponent's attempts to score, making an impressive pass that nets him a perfect dunk. Awesome.
San makes it through the crowd right as Lee Jung-jin's team wins, and I love how Bookie Gong is all, What brings Mr. High and Mighty to this place of decadence and sin?
"If I do this… how much will you pay me for it?" San asks. Bookie Gong laughs—he's got San now.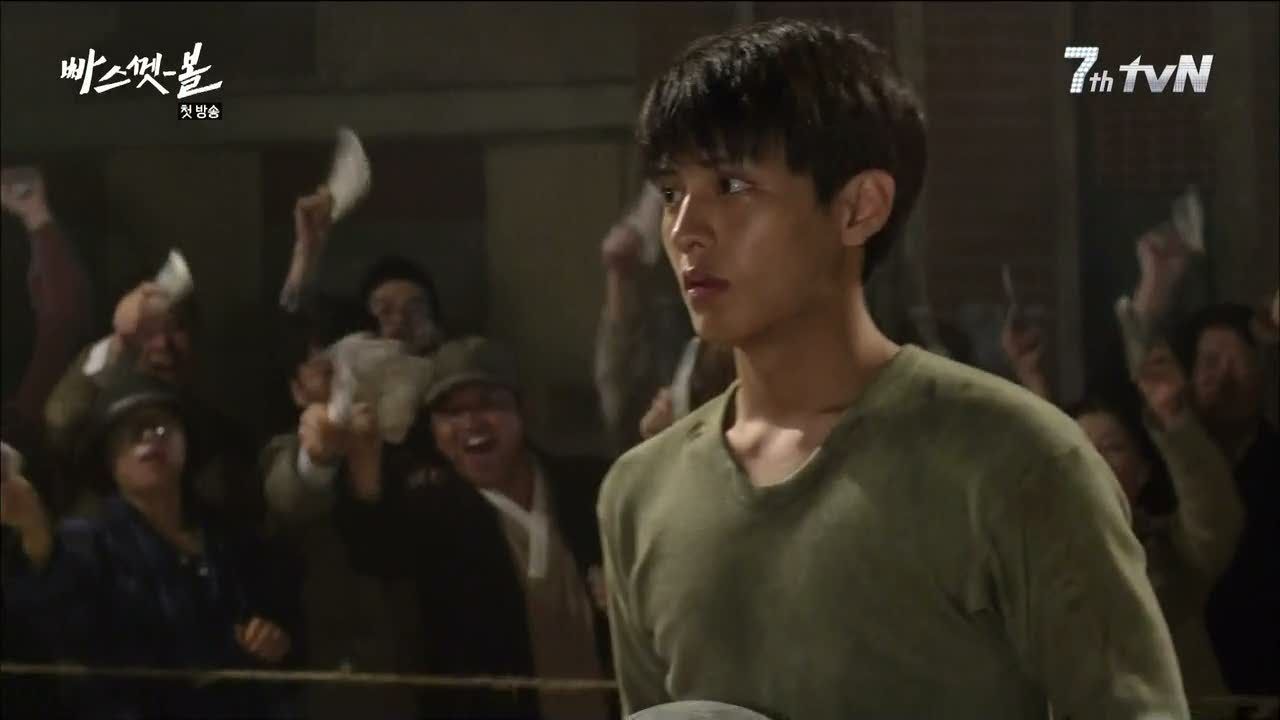 Before we know it, it's San's first one-on-one game against a much larger player, and we see San's tough guy act slip for the briefest of moments as he looks just this side of lost in the middle of all those screaming people.
The referee throws the ball into the air to start the game, and San surprises everyone by leaping higher than his opponent to catch it first. He scores his first point easily, but then his opponent starts using his size as a weapon to throw San around like a toy.
But San twists, turns, and fakes his opponent out in order to lunge for the ball, and uses his size and agility in order to score.
The crowd goes wild at the start of the next round, and… whoa—San's opponent shoots the ball, but San leaps over his head to steal it. That. Was. Awesome.
He leaps again to make the shot, with commentators wondering if he's a human or a horse (I was going to say a gazelle on steroids) as San wins the game. Hooray!
Bookie Gong gives San his payment afterward, which has San in shock: "I had no idea… that money could be made so easily."
Gong tells San that if he gives him five years of his basketball-playing life, he'll be financially set for life. You can see San actually considering this before one of Gong's lackeys suggests a trip to Honmachi to see some girls.
The city is beautiful all lit up at night for Christmas, and San's eyes light up with wonder as he takes in all the sights and sounds.
A women's clothing display at a department store catches his eye as he thinks of his mom, but the price tag has him doing a double take. Even with the money he earned, he can't afford that.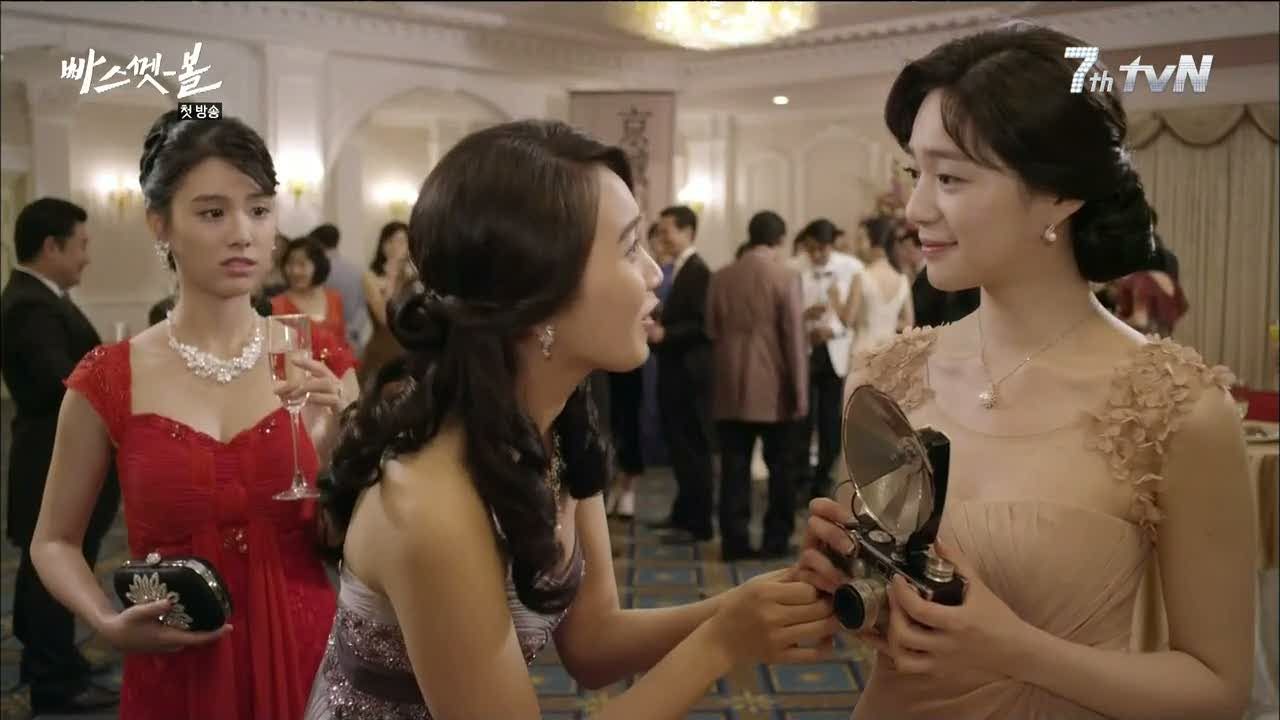 Then we cut to a fancy banquet being thrown in honor of the Japanese Imperial Army, which our fancy heroine is attending. (And if strapless prom dresses existed in 1939, then I'm a wizard.)
But unlike her friends who are only interested in talking about men, Shin-young is there for a higher purpose—work. She's brought a camera along in the hopes of catching a photo of Min Chi-ho.
San asks Bookie Gong if he's really going to help him make money, like he still doesn't believe it can be so easy. San: "I'm not going to live as I did in the past. I'm sick of living in suffering day in and day out."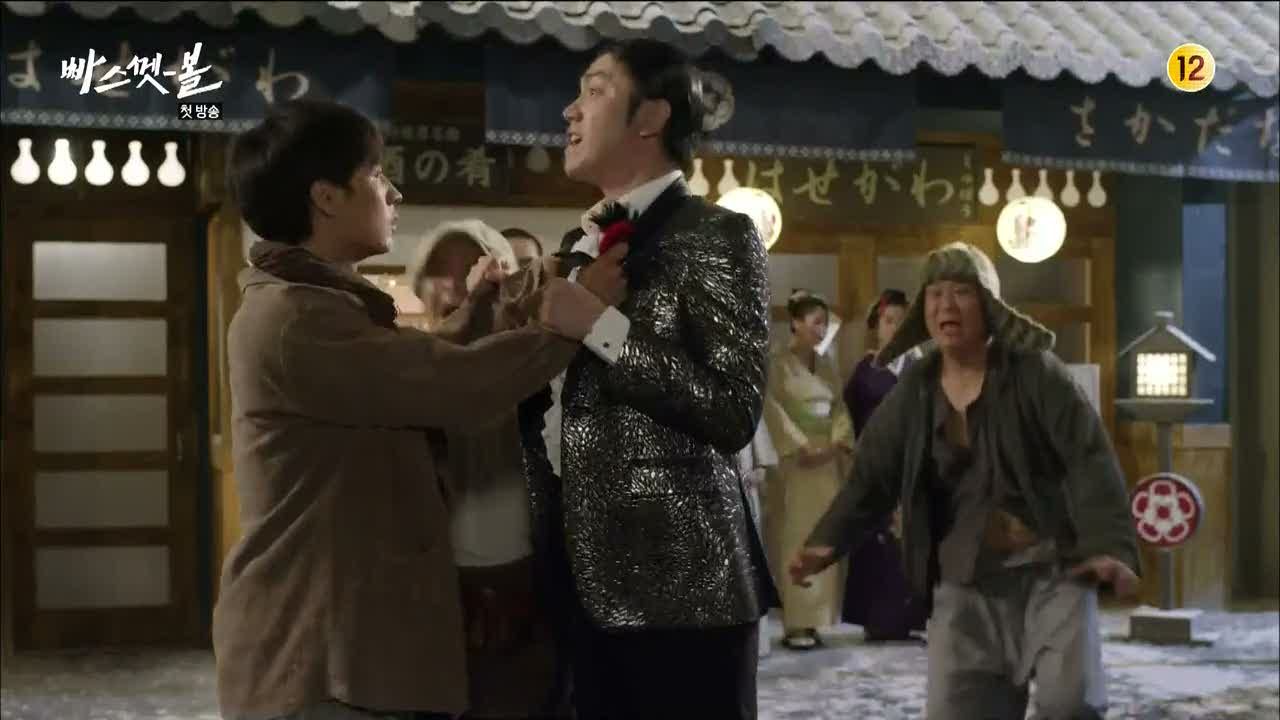 Gong assures him that they'll face the future together since they're family now, right before leading his new son to a Japanese brothel. San accidentally bumps into one of the star basketball players we saw earlier, but since no one is nice in this world, the player insults San by calling him terrible things.
But the minute San grabs him by the lapels, the coward starts calling for the police. Bookie Gong holds San back, but the player keeps calling San terrible things because males in this show have nothing else to do with their testosterone but be total assholes to each other.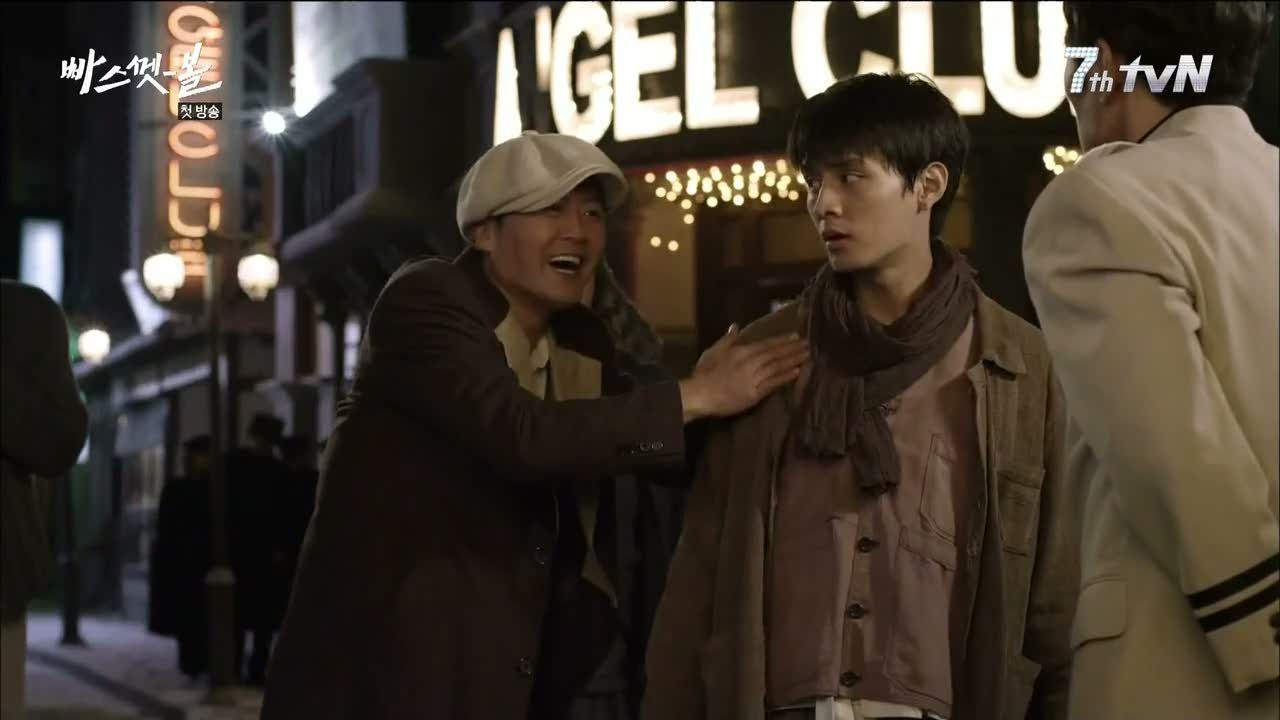 So, San follows the player, but he can't follow him into the imperial banquet. Jo Hee-bong, now playing a bellhop, is the one to refuse San entry.
Bookie Gong and his lackeys come to rescue their new family member, but they're not there to dissuade him—Gong eyes a group of uniformed officers with interest. Ah, the old Mugged for Disguise/Dressing as the Enemy trope.
Cue San and Team Gong entering the banquet hotel in their fancy new disguises. The asshat player is inside and greasily introduces himself to Shin-young as TAKESHI, but at least he gets his comeuppance when Shin-young is only interested in seeing his teammate, Chi-ho.
San & Co. arrive in the hall in time for San to make moony eyes at Shin-young, who again fails to notice he exists. No one seems to notice much of anything as Takeshi grabs Shin-young by the wrist, still chafing that she'd ask him about Chi-ho when he's the almighty team captain.
When this forceful tactic somehow doesn't cause Shin-young to go weak in the knees, Takeshi raises a hand against her. He's stopped by San, who takes a delightful "So what?" attitude in response to all of Takeshi's blustering.
And when Takeshi demands to know who San thinks he is, San replies, "Me? I'm Kang San from Kyeongseong Imperial University."

COMMENTS
Ah, love. This hour hit most of the right notes for me, and all of them if we're just talking about San. He embodies all the qualities I love in a good hero (and I suppose all the qualities Shin-young listed for her perfect man)—he's kind, though he'll make a stand when necessary. He's resolute in his beliefs, but he knows when to concede. He's tough, yet vulnerable.
That vulnerable quality is what makes San the kind of character you can't help but empathize with and feel for, especially in those moments where his childlike naivety and wonder shine through even though the world around him is doing its damnedest to beat him so hard he never gets back up. But he does again and again, and despite being a little hotheaded and righteous to a fault, he's a good kid. Do Ji-han blew me out of the water with this first episode, and to say I'm excited to see more would be an understatement. Also, I really just want to give him a hug.
On the opposite end of the spectrum, Shin-young left me feeling a little less enthused. I hope she'll become more than just an object of adoration for both leads, because as of now she's reminiscent of a prim and proper lady from an English period drama in her mannerisms, which can be an interesting dynamic when played off of a straight man (or woman) like Bong-soon. But for being a reporter, she's really unobservant, isn't she? Either that, or she's grown up so privileged that plebeians aren't worth noticing at all.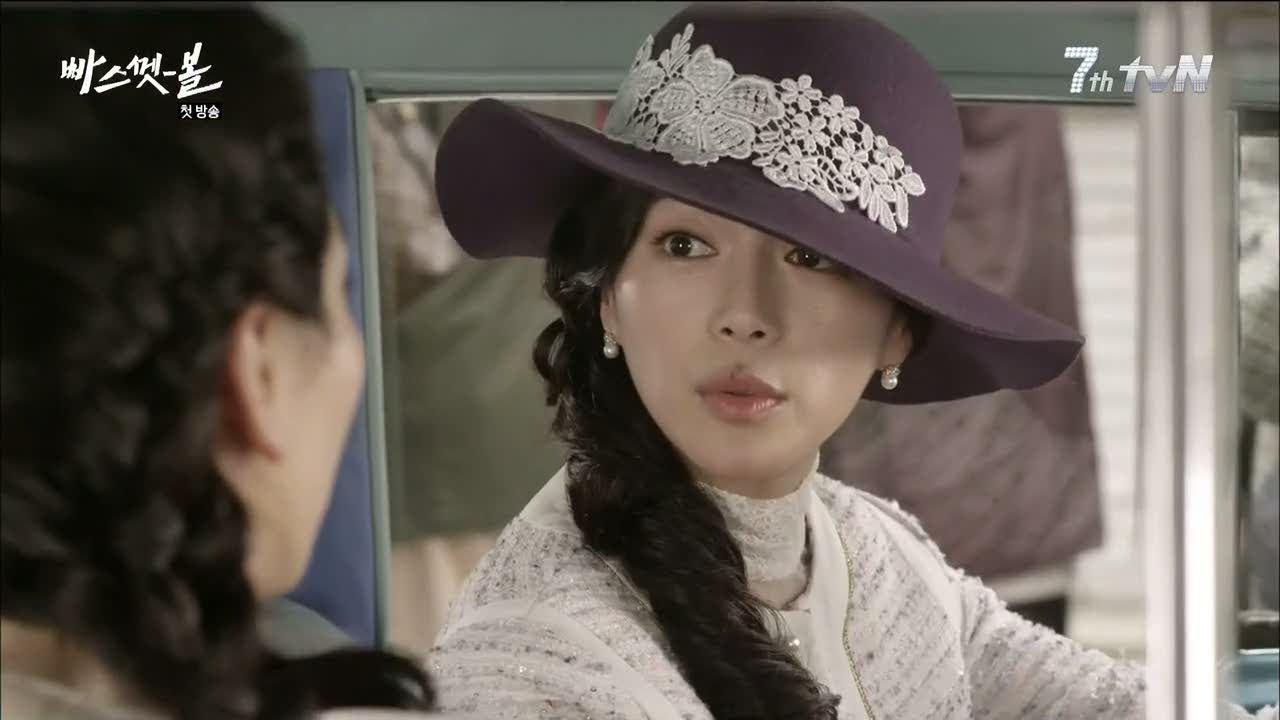 She wasn't really a deal-breaker until she went to her father's factory filled with suffering workers that she couldn't even spare a glance for. I can buy that her father is terrible enough to ignore their plight for his personal gain, but I was curious to know whether she (1) willfully ignored them, (2) didn't see that they were there, or (3) doesn't care either way. None of those are especially great options, so I mean it when I say that I hope she's got some growing to do over the course of this series, because we've got a whole lotta show left.
Otherwise, most of the characters we saw in this episode were terrible, hateful human beings. In that respect, Basketball is doing almost too good a job in bringing the kind of cultural oppression faced during the colonial years home on a personal level, and in doing so sets up a world where San must overcome the adversity he faces, just because someone's gotta show 'em.
But still, it wouldn't hurt to introduce a few more likable characters so that we're not pinning everything on the scriptwriter's resident punching bag, however badass at basketball he can be. Mostly I'm just worried for his first introduction to his hero, Min Chi-ho, because something tells me that because San has built up a very unrealistic image of him over the years, the truth will crush his hopeful-yet-jaded little soul.
And if I'm already up in arms about just one episode of San facing soul-crushing disappointments, I'm not really sure how I'll survive twenty-three more. But I'm sure as hell going to try.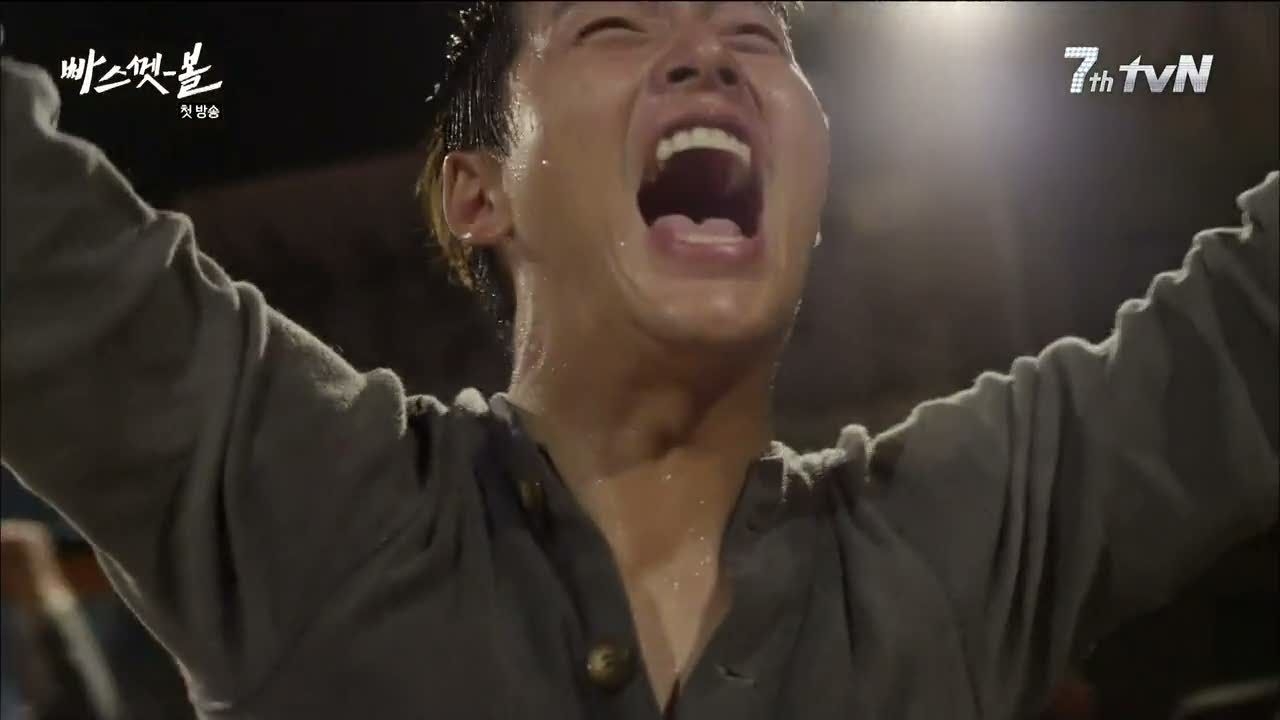 RELATED POSTS
Tags: Basketball, Do Ji-han, featured, first episodes, Jung Dong-hyun, Lee Elijah