Medical Top Team: Episode 1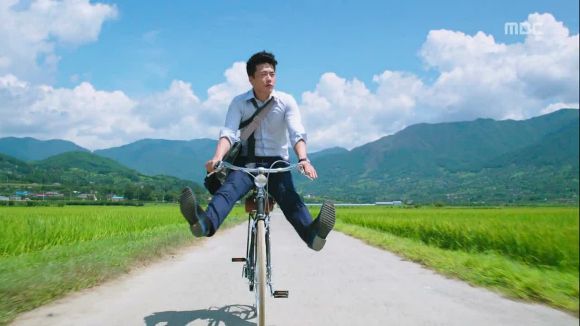 Not the image you'd associate with a medical drama, is it? Never fear, since there's plenty of high-stakes doctoring to go around in MBC's Medical Top Team, which premiered earlier this week against Heirs and ratings winner Secret, which is already in its third week. (I know!)
The first half is a bit wonky, but when the show isn't too busy touting its brilliance for coming up with the idea (of putting more than one genius doctor in the same room as other genius doctors), it manages to be an interesting if not blood-splattered character study that's not quite as formulaic as the title.
Helmed by the PD of The Moon That Embraces the Sun and the writer of Brain, there's no doubt that we're at least getting a technically proficient drama, though I admit to knowing very little about medical dramas as a genre since I'm not usually part of the audience which enjoys them. That being said, there's enough here to keep me watching for a few more episodes (though not recapping), surprisingly enough. I just have to resist the urge to mentally place this entire cast in literally any other genre… Buuut, while we're playing fantasy dramaball with this cast, wouldn't Jung Ryeo-won be fun in sageuk?
SONG OF THE DAY
John Park – "Light" from the OST [ Download ]
Audio clip: Adobe Flash Player (version 9 or above) is required to play this audio clip. Download the latest version here. You also need to have JavaScript enabled in your browser.

EPISODE 1 RECAP
We're introduced to our heroine, SEO JOO-YOUNG (Jung Ryeo-won) at an anniversary celebration for the hospital where she works.
It's a big who's who of doctor events, and already we can see a carousel of meaningful stares between our key players to let us know that there's rivalry afoot. We'll get to them later.
The hospital's assistant director SHIN HYE-SOO (Kim Young-ae) takes to the floor to announce the creation of a new cooperative (yet competitive!) medical top team consisting of—you guessed it—the best doctors arou-…zzzzz.
Okay, so through fancy CG we're told that this new medical top team will enhance the hospital's global brand (because those exist?) by placing the best doctors from each separate department into one group. Or as the powerpoint presentation puts it: Welcome surgeon who has best talent, infinite challenging spirit.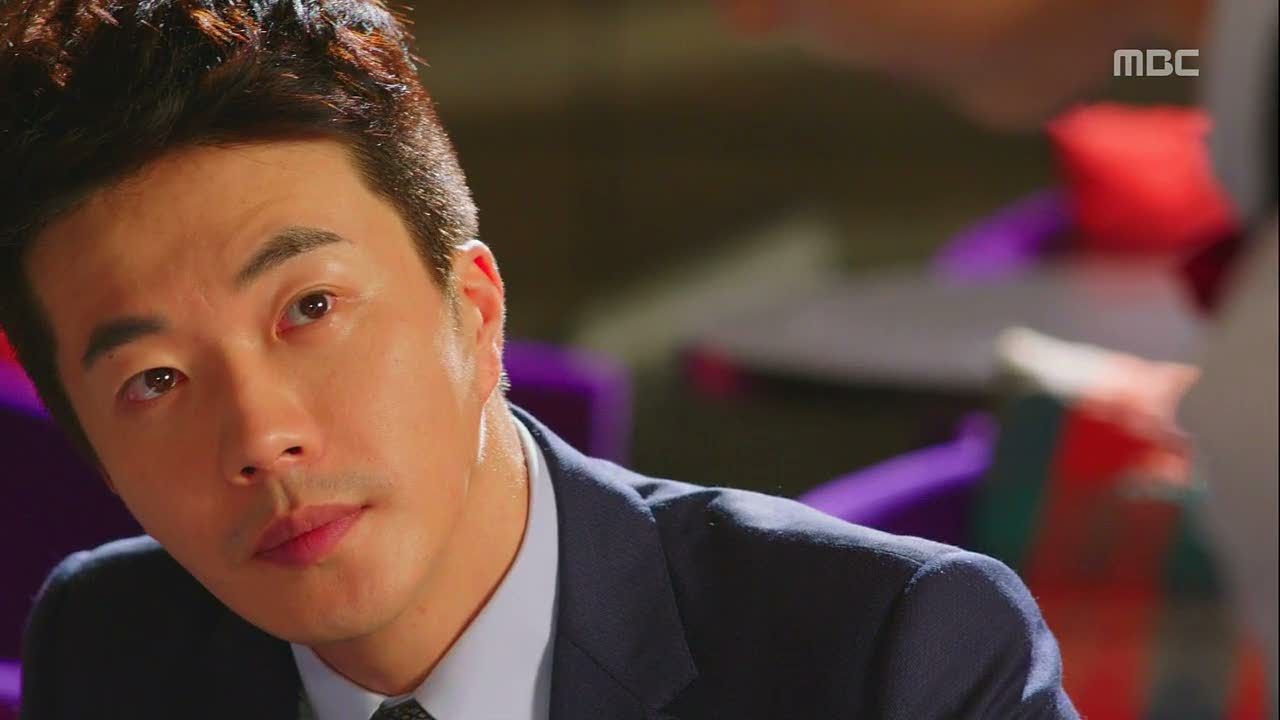 Meanwhile, our hero PARK TAE-SHIN (Kwon Sang-woo) has been gussying up for a meeting about a possible future for him at an American hospital.
They've offered to pay him a hefty yearly salary because of his genius, but Tae-shin's first concern is toward a young patient of his in need of a lung transplant—one of Tae-shin's conditions was that he could take her with him for treatment. But the hospital that wants him seems to be stalling on that decision.
During the discussion, Tae-shin can't help but notice that the waitress serving them trying to hide the fact that she's in pain and limping. Good thing there's a doctor in the house.
Back at the doctor's gala, Assistant Director Shin asks after doctor HAN SEUNG-JAE's (Joo Ji-hoon) father, the chairman of the hospital, since he's been absent from the ceremony.
Seung-jae seems politely dismissive, especially when a team of brown-nosing doctors led by JANG YONG-SUB (Ahn Nae-sang) congratulate the assistant director on her brilliant idea of putting together a medical top team, something that's apparently been unheard of before now. However, she gives Seung-jae all the credit for the idea, which is blowing everyone's mind right now.
Seung-jae slips out of the party to find Joo-young, and displays an extra level of care for her as he asks if she ate, if she'd like to leave early, etc. He's soon interrupted by other doctors needing his time, which seems like a normal occurrence by the looks of it.
On the flip side, Tae-shin passes the waitress he noticed earlier, and aside from a few looks he just lets her continue to limp/crawl down the hallway in very obvious pain.
But soon his Doctor Senses start tingling, and he makes a dramatic turn to run and find her.
We find Joo-young talking in the same bathroom the ill waitress limps into, failing to notice when the woman ends up spilling the pills she's trying to take before she gives up on them (they're in the sink and that's just too far) and leaves.
Joo-young notices the pills belatedly and goes after the waitress, who's sweating and panting as she grips her chest above her heart.
Meanwhile, Tae-shin follows the waitress into another event, where everyone around fails to notice the waitress stumbling in their midst. He gets a slow motion glory walk as he tails her before asking if she's all right.
She isn't, obviously, and collapses in front of the crowd. Plates smash to the ground around her as everyone backs away in shock, while doctor-hero Tae-shin rushes forward to help.
Joo-young gets to the event hall around the same time, and stands by for only a second as Tae-shin rips part of the girl's skirt and massages some part of her neck that must be important. I'm no doctor.
Whatever he's doing sends Joo-young into a tizzy, and she literally throws Tae-shin off the waitress before she crouches over her. She's not able to doctor for long though, since Tae-shin gets back up and shoves Joo-young out of the way. Ha. Sorry, got to get my serious face back on.
Joo-young tells him that massaging the artery can be dangerous, and while she calls 119, Tae-shin desperately asks for ice. There's none to be found at this party of mixed drinks, so Tae-shin scoops the waitress up to carry her elsewhere, all while Joo-young fusses at him to leave her.
"I told you I'm a doctor!" he yells at her, in an effort to shoo her away. "I'm also a doctor!" she yells right back. Ha.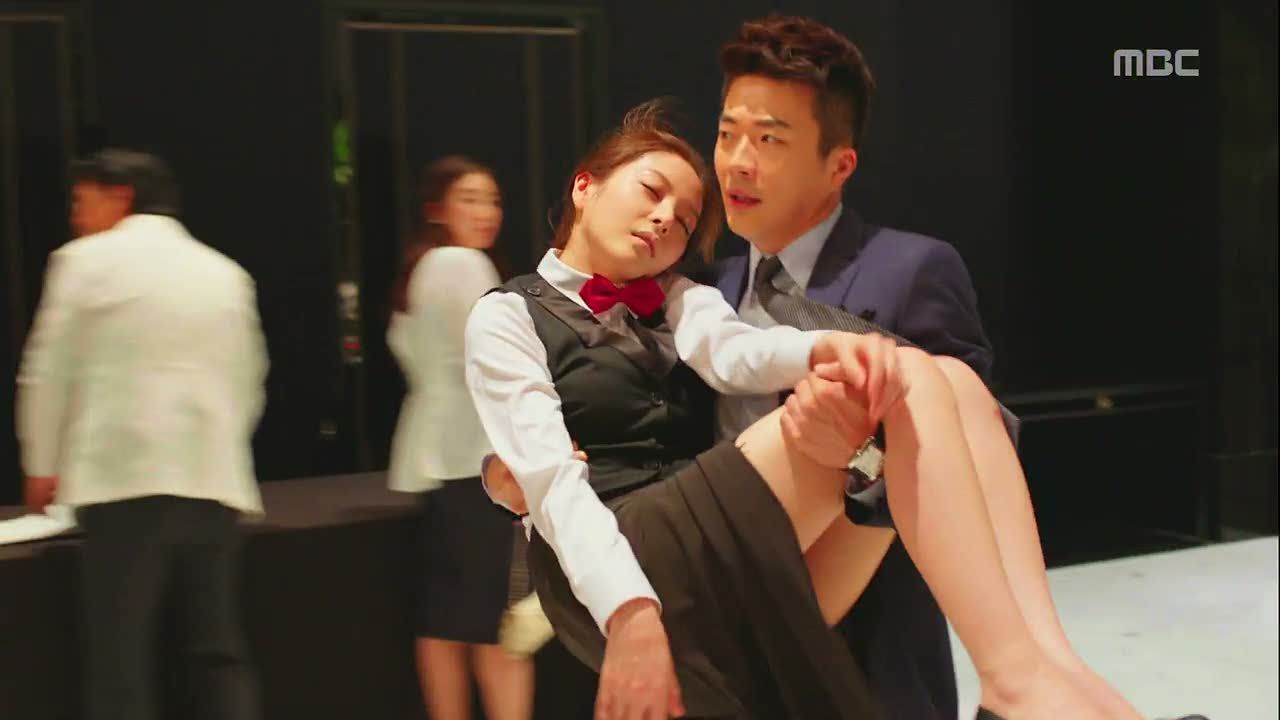 They argue over the best way to treat her genetic condition using sophisticated doctor terminology (I'm not going to list the technical terms if I can help it, because you can watch the episode for that), but it all boils down to their disagreement over whether Tae-shin should take the waitress away or wait for EMS, like Joo-young wants.
Tae-shin ends up physically shoving Joo-young away again, but this time she collides with a table and hurts her wrist. Tae-shin spots an ice sculpture in a nearby event room and beelines toward it with the waitress in his arms, yelling to everyone, "I'm sorry! I have to save this patient!"
He grabs the sculpture and dramatically shatters it on the floor before he's forced to brandish his doctor's ID to security guards like it's a police badge.
Then he gathers ice in his coat to place under her head before he starts tossing ice on her, which shouldn't be that funny but it's just played So Seriously. These are life and death stakes, after all.
Joo-young enters the hall clutching her injured wrist just as the waitress opens her eyes, causing Tae-shin to cheer in relief. She helps comfort the waitress before EMS can arrive. The day is saved.
Afterward, Joo-young tries to school Tae-shin about recklessly treating a patient when it could've done more harm than good. What she doesn't know is that Tae-shin is a Super Genius, able to diagnose the waitress by seeing only a few symptoms. That's how he knew the situation was so dire, and why he acted accordingly.
When Joo-young asks how he knew her condition right away, Tae-shin asks, "Are you still a resident? What year? I think you need to study a little longer."
However, he gives Joo-young the name of the syndrome he diagnosed the waitress with and tells her to look it up on her own to learn for herself. He's very sure of himself and his diagnosis, which surprises the skeptical Joo-young a little, but he tells her to call him once the results are in. If he's right, she has to buy him a meal—and he knows he is.
Assistant Director Shin meets with her father-in-law, the hospital chairman (also chairman of the whole big corporation which owns the hospital), and Seung-jae about the medical top team and the money that they'll need to take up multiple floors just for them.
The chairman isn't happy about any of this and decides to get in a personal dig at Shin by mentioning her cheating husband (aka his son), like he's blaming her for being successful while her husband isn't. She takes it all in stride.
Once she's gone, the chairman complains to Seung-jae about how all his other family members call him by his title, while only Assistant Director Shin calls him "father."
Turns out that Seung-jae is also the chairman's son (which we might've guessed from the gala), but illegitimately so—the chairman doesn't seem to have nice things to say about his mother. No surprise there.
Seung-jae's secretary is exasperated by the fact that his boss hasn't accepted any of the top team candidates he's sent to him, since Seung-jae is so picky.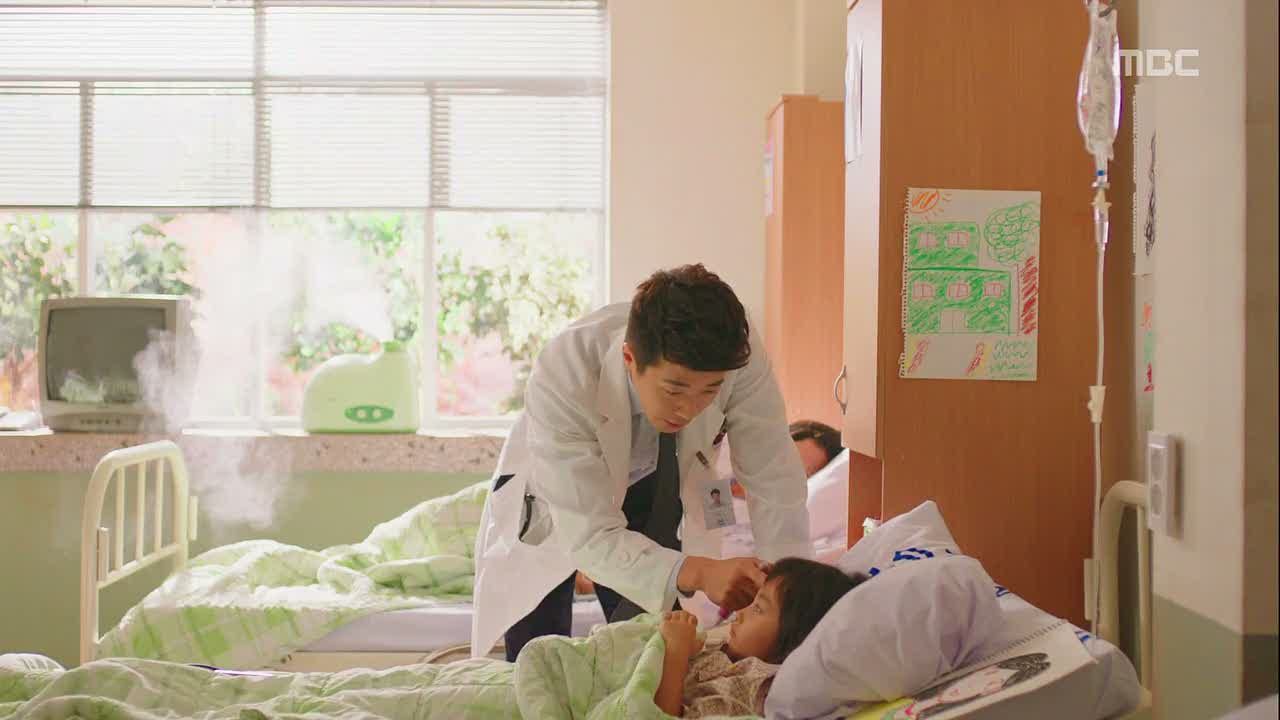 Tae-shin travels by bus and then by bike to a beautiful rural area where his clinic is located, his attitude carefree and fun. He knows every patient like the back of his hand and treats them all like family, which is cute. It's nice to have a First Lead Doctor who isn't all cold and calculating and is just… nice.
One of the doctors at the clinic ribs Tae-shin for being gone so long, showing that the two have an easy and friendly rapport with each other. He's keeping something from Tae-shin, but we don't know what.
Tae-shin checks up on the little girl he'd wanted to take with him to America for treatment, EUN BA-WI, and is ridiculously sweet to her even as he talks bowel movements (and her lack of them), and all but orders her to poop. Hee.
Tae-shin makes the rounds with a senile grandmother who can't get his name straight and a girl with a speech impediment, but when the grandmother says she'll be going to a party, Tae-shin interprets it as meaning that her son has finally come to take her to a home for the elderly.
However, the attending nurse seems very nervous in confirming Tae-shin's belief, like she's afraid of lying. Hmm.
Back at the hospital, we meet doctor CHOI AH-JIN (Oh Yeon-soo), right before she flips out at the news that her boss will be visiting—and her boss is none other than Joo-young.
We find Joo-young walking the halls with nervous maknae doctor KIM SUNG-WOO (Minho), and she's just as hard on him as she is on Ah-jin.
However, when she's about to ream Ah-jin for something she did wrong, Sung-woo steps up and falsely claims that it was his mistake so he takes the scolding. He doesn't let Ah-jin get a word in until after Joo-young is gone, and even then he cheekily proclaims, "You didn't get in trouble thanks to me!" D'aww. He's not sorry, he's proud.
Joo-young gets wheedled by the Doctor Jang—the one we saw over-reacting to the totally brilliant idea of a medical top team at the gala—about an upcoming surgery she's to perform on an important government official.
It was Seung-jae who recommended her for the job, but Doctor Jang makes sure to remind her to do well, since her rising career will either benefit or collapse depending on the job she does.
Meanwhile, Ah-jin collapses on the desk next to her friend to complain-but-not-really about getting scolded by Joo-young, even though her friend reminds her that there's no one Ah-jin looks up to more than her boss.
Joo-young asks after the waitress admitted to the hospital yesterday, and confirms that Tae-shin was right about her syndrome—except everyone thinks that she was the one who administered the on-location care.
Tae-shin stops by Gwanghae University Hospital while driving in Seoul to check up on the waitress, and is impressed when he looks up Joo-young's impressive doctorly credentials (seeing as how she looked so young).
She comes down to meet him, though she seems reluctant to admit that he was in fact right about the waitress' diagnosis. It seems to really affect her that he was right too, even though he's not one to gloat.
However, when he asks her to buy a meal as promised, she curtly refuses and instead offers to transfer the money she'd pay for a meal to his account instead.
He tries to argue that the money isn't the point, but in the end he just gives in and says they're square, mostly because she doesn't give him a choice. He's a little bit impressed and a little bit incredulous at her feistiness.
Of course, when Seung-jae asks Joo-young to go eat with him, she nods yes.
He takes her to a fancy restaurant and encourages her to eat when she's initially uncomfortable, though he does grow concerned when he sees her holding her injured wrist (from her earlier brush with Tae-shin).
Seung-jae doesn't explicitly say that he's worried about her wrist not being in top shape for her big upcoming surgery on the government minister, but it's implied. I'm not sure if she catches that though.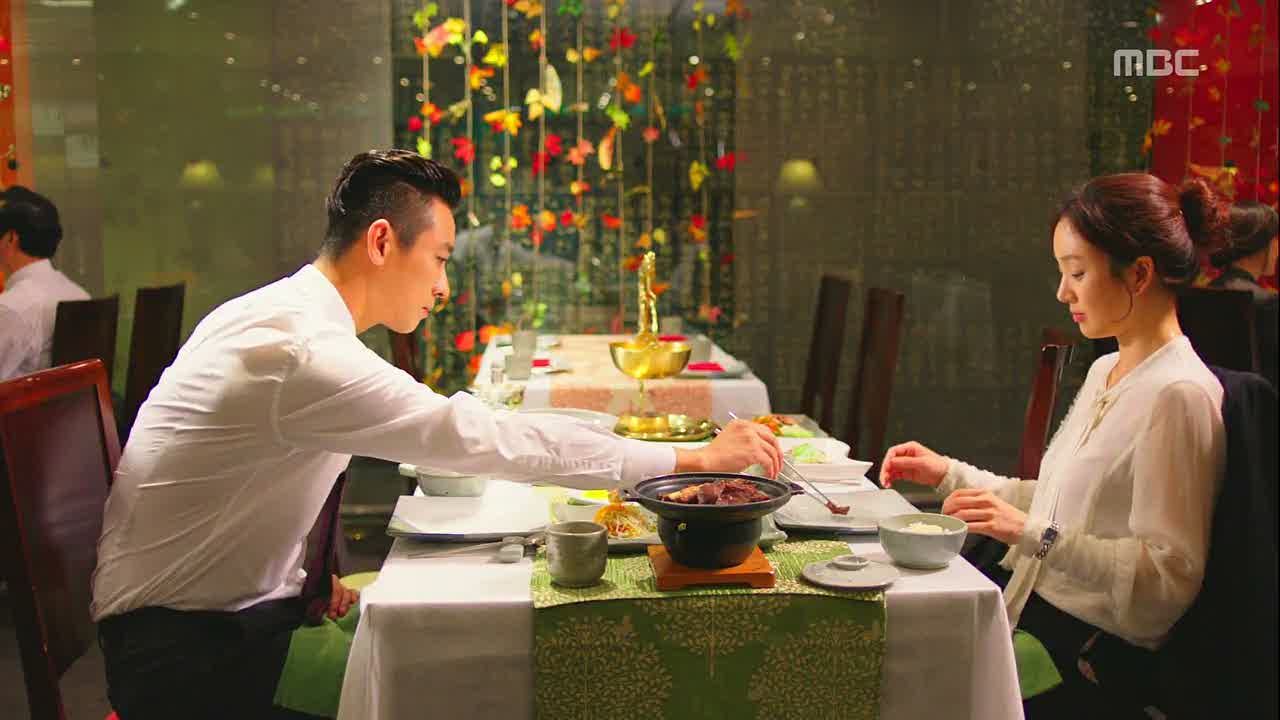 She broaches the topic of the candidates for the medical top team like she isn't first choice, causing Seung-jae to assure her that she'll be on the team since she's the hospital's best surgeon.
Joo-young may know this to be true, but she's worried that other people will think she only got on the team because of Seung-jae's favor.
He dismisses her fears and tells her to ignore that kind of talk, since the top team is as much her project as it is his. Then he puts a piece of meat on her plate out of affection. (I can't help it—nothing says "I like you" like the gift of protein.)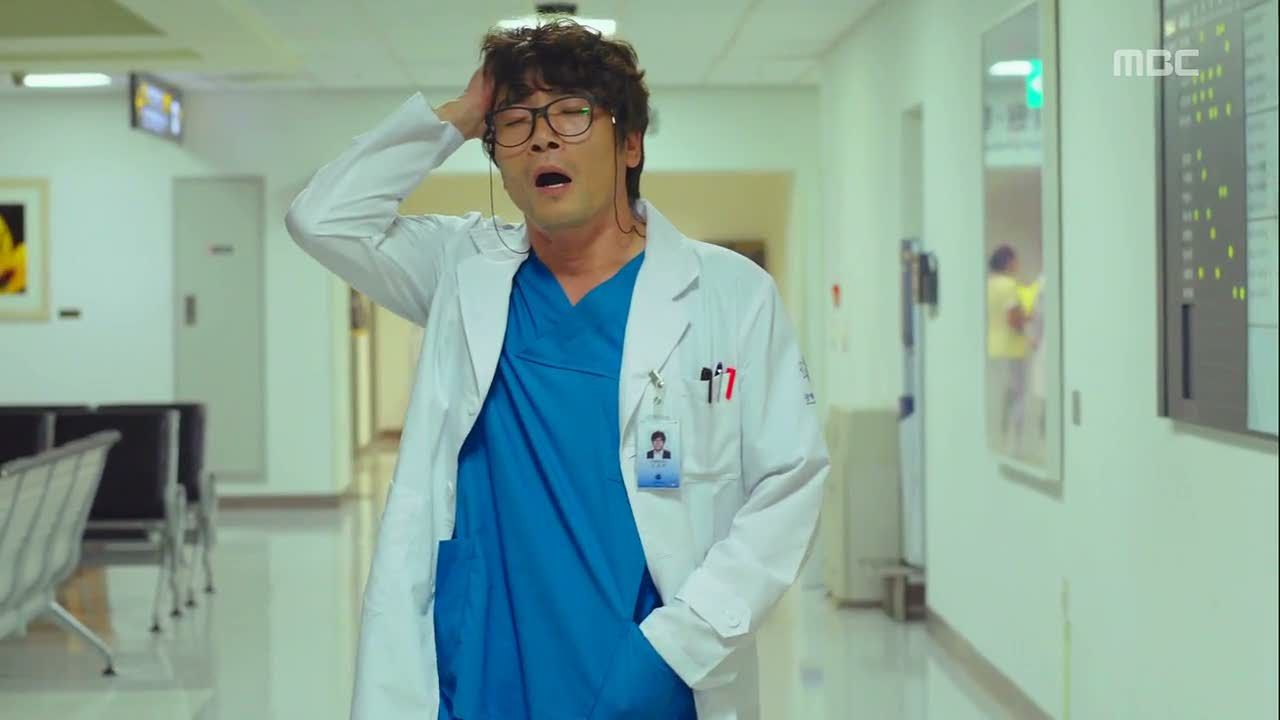 The maknae doctors are shocked when their sunbae, DOCTOR JO (Park Won-sang! You were the best thing about Shark!) shuffles into the break room.
They think he's just arrived at work when it's just the opposite—he's just leaving after working for two days straight. Sung-woo describes him as a workaholic after he leaves, right before Ah-jin rushes after her sunbae to give him food (that Sung-woo made and let her take because he's madly in love with her).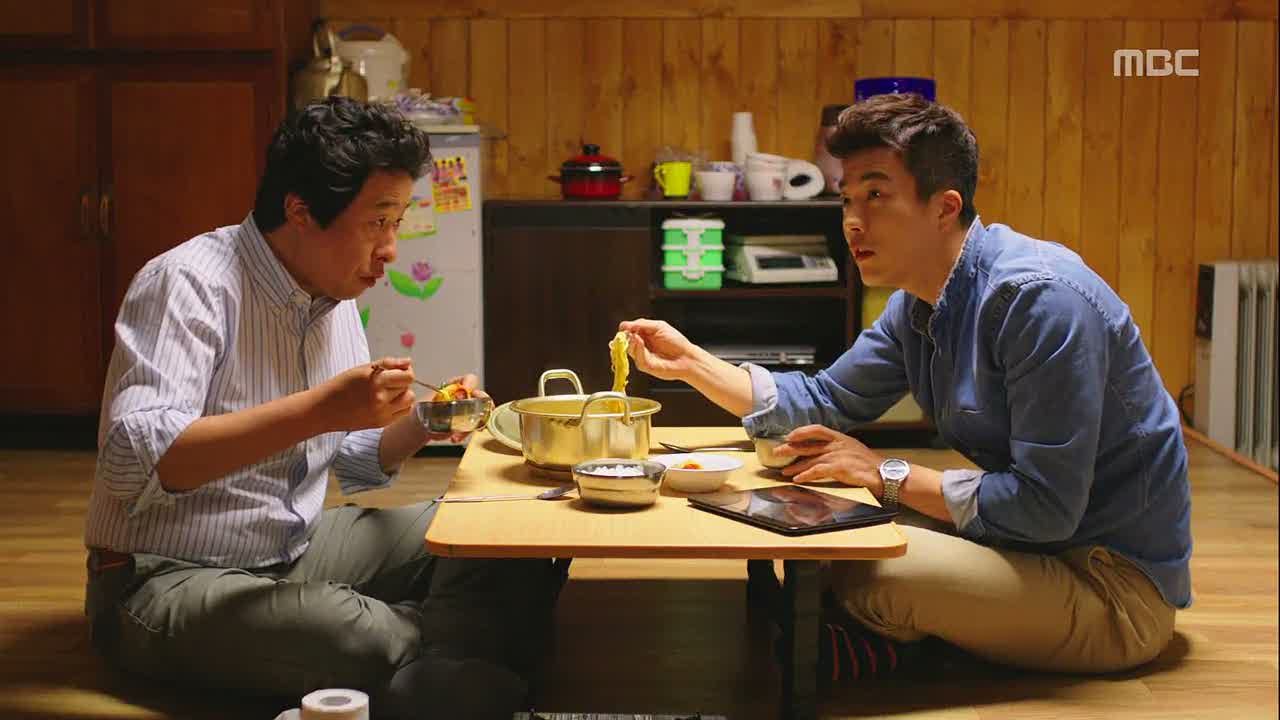 Tae-shin eats a modest dinner of ramyun with his mentor, where he mentions that he'll be going back to the States to take up one of the many, many offers he's been given. His mentor is sad to see him possibly go, especially because Tae-shin has been working at the clinic pro bono for the past two years.
His mentor then asks if Tae-shin plans to try finding his real parents before his big move (since he was originally adopted into the States). Tae-shin tries to act disinterested—he doesn't see the point in tracking down the people who abandoned him when he only has one week left in Korea anyway.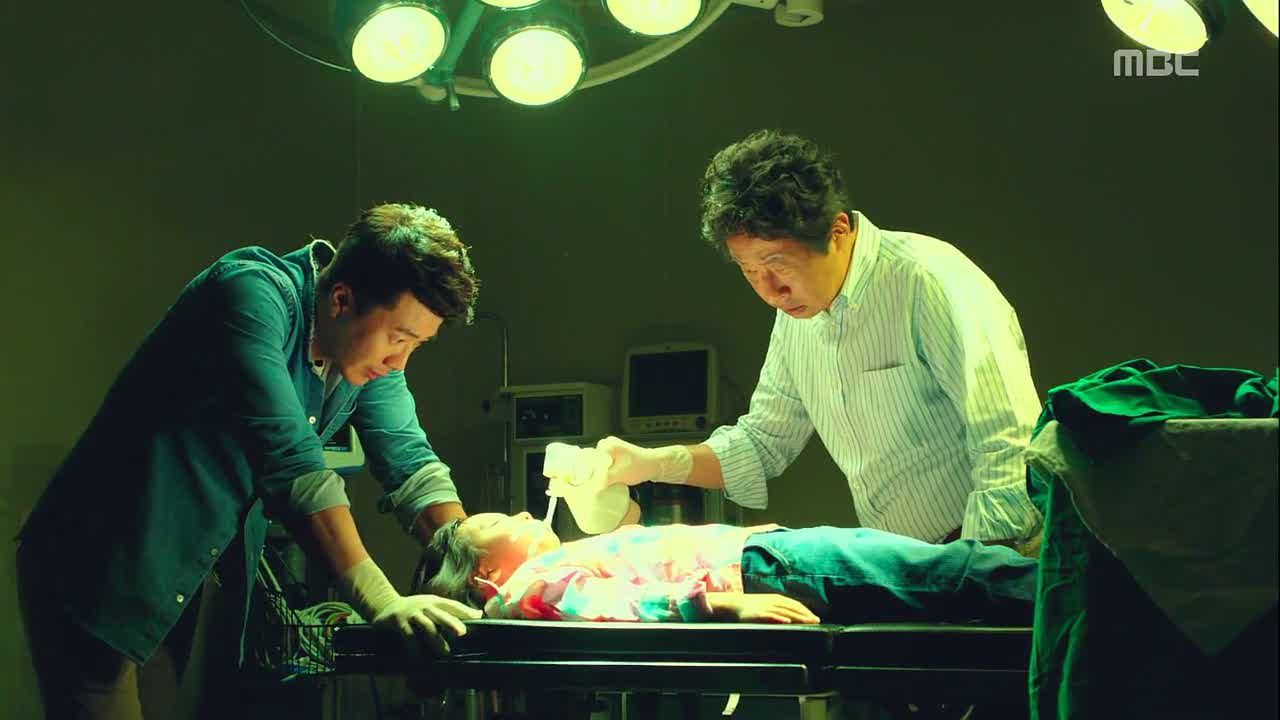 An unconscious Ba-wi is brought to Tae-shin, and he immediately rushes her to the clinic. It's not unusual for Ba-wi to escape in order to look for her mother, even though everyone but her knows that she'll never find her. She was either abandoned, or her mother's passed away.
When Tae-shin listens to her breathe he notices that her left lung isn't rising. In order to fix it, Tae-shin performs an emergency surgery to insert a tube directly into her lung, and another one into her throat to prevent her airway from collapsing.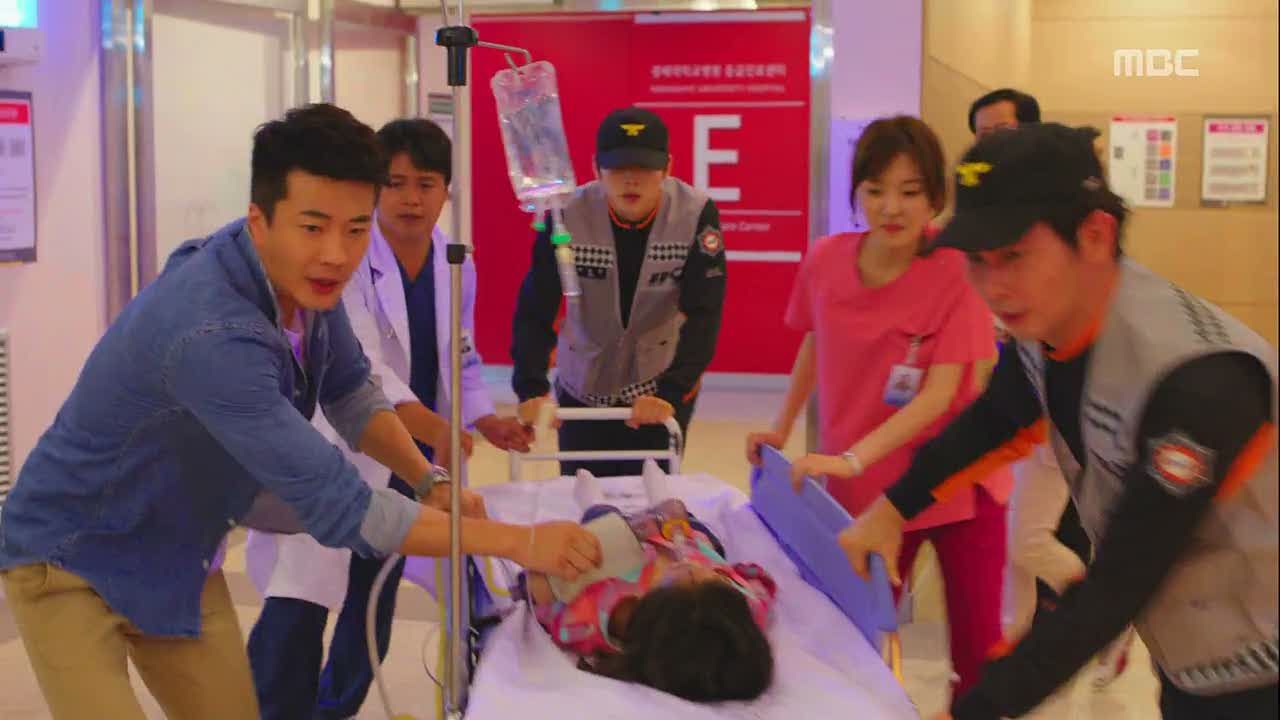 Her respiratory system is still failing, which means she has to go to a bigger hospital for treatment. The only one with the specific facilities she'll need is, of course, The Only Hospital in Seoul.
Once there, Tae-shin instructs the emergency room doctors on what to do to help Ba-wi, and Joo-young is called to come take a look at the girl.
Joo-young and Tae-shin share a brief moment of recognition before it's back to the task at hand—Ba-wi will need surgery, which Joo-young will perform herself. Tae-shin gives her a heartfelt, formal plea: "Please take good care of her."
At the same time, Seung-jae gets the call that Joo-young's VIP government patient has just lapsed into critical condition. Even though he knows Joo-young is in the operating room, he calls her anyway. She picks up.
Since the minister is going to need emergency surgery, so Joo-young tells the other doctors to hold off on Ba-wi's surgery (despite their attempt to warn her that the device she needs has to be inserted, like, yesterday). And then she just… leaves the girl there.
Tae-shin catches her rushing out of the operating room, where she simply tells him that Ba-wi will have to go to a different hospital as the minister is wheeled past them.
She claims she has to perform an emergency surgery, but Tae-shin knows that she's just favoring one patient over the other and refuses to take Ba-wi somewhere else.
Despite the unshed tears in his eyes, Joo-young doesn't even seem to be considering the idea of leaving the minister—especially when Seung-jae is there to back her up.
"So you're telling me to take her out of the operating room?" Tae-shin asks helplessly. Yes, that's exactly what they're telling you.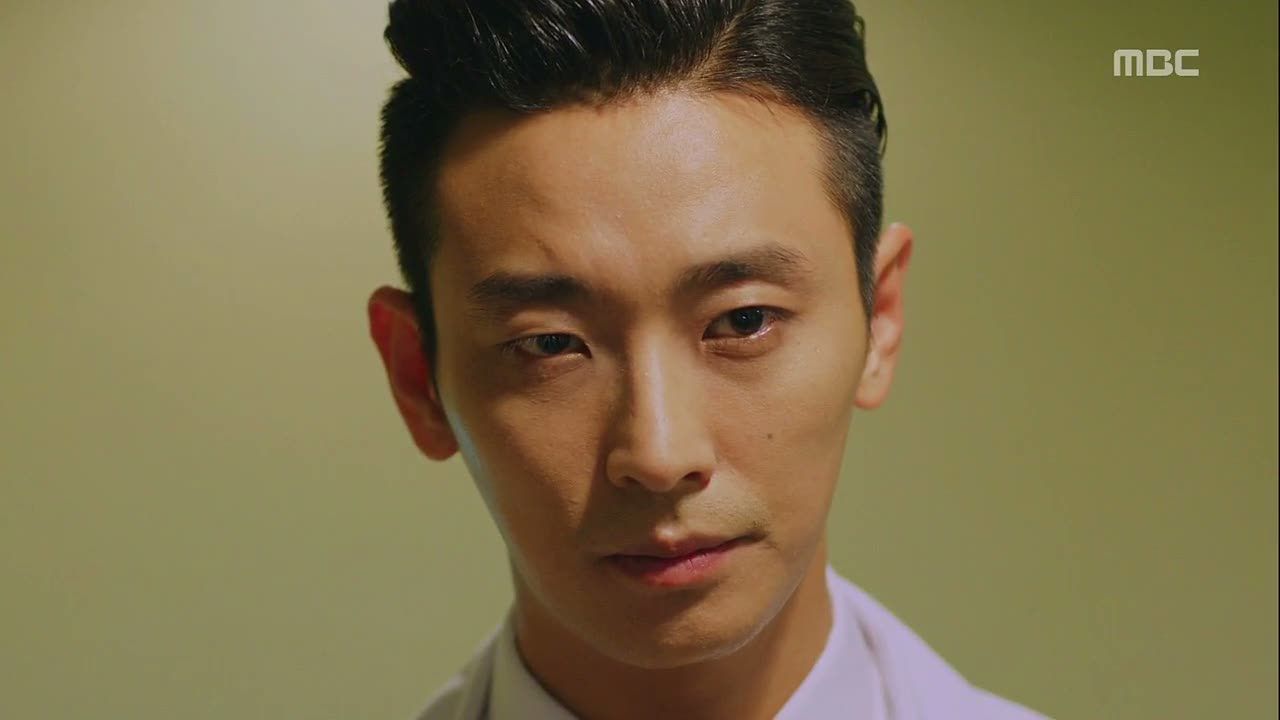 That's when Tae-shin adds, "I'll perform the surgery." (Wait for it…) "I'm also a surgeon." He show them his certifications to prove his point, but Seung-jae says no—having an outside surgeon is against the rules.
Seung-jae sends Joo-young in to perform the minister's surgery even as Ba-wi's blood pressure starts to drop drastically, causing Tae-shin to grab Seung-jae's arm and plead with him for permission to perform the surgery.
We see Seung-jae taking some time to think before he comes to his decision, and then it's back to the operating room where Tae-shin preps for surgery. Yay!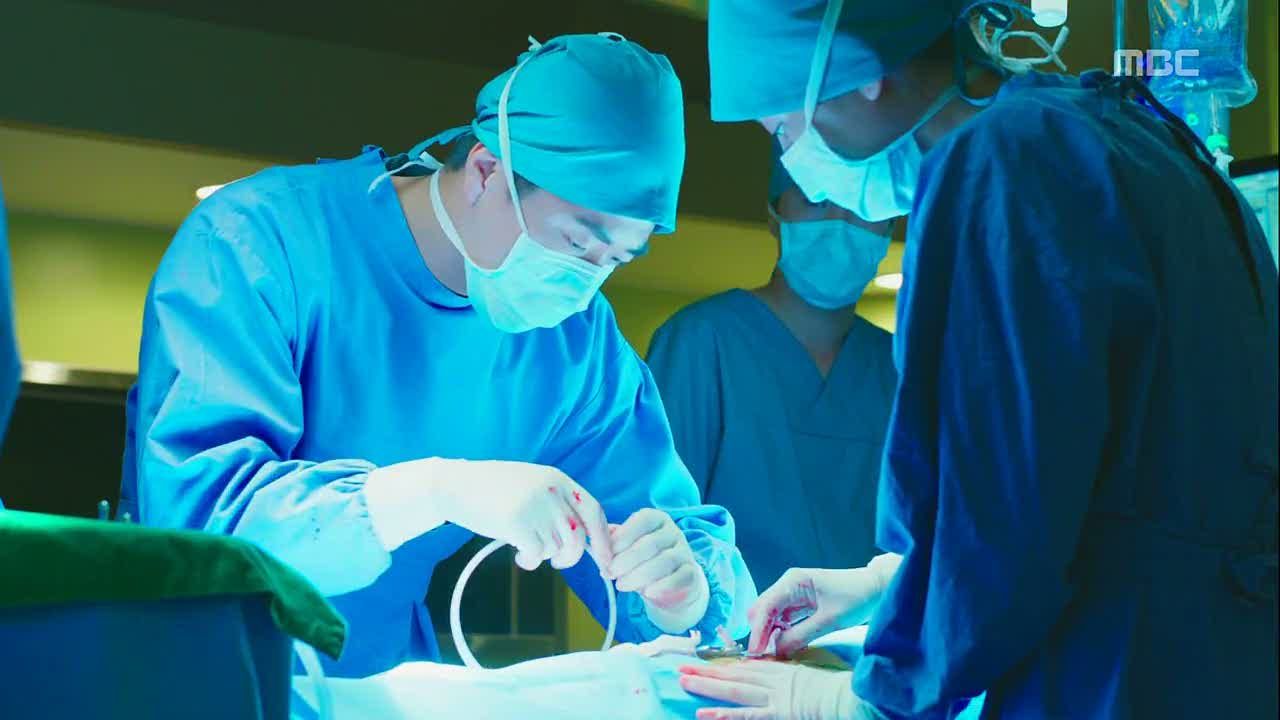 Both Tae-shin and Joo-young perform surgery at the same time, with hers going less smoothly. Seung-jae watches Tae-shin's surgery intently from the observation deck as Doctor Jo helps Tae-shin in a big way by getting air into Ba-wi's lungs. Aww. I just love that ajusshi.
Tae-shin completes his surgery successfully and tasks Ah-jin with suturing the patient. He leaves his surgery team impressed and pleased with his work.
Even Seung-jae can't help but praise Tae-shin as they talk the specifics of the surgery, and at least he's pleasantly surprised to learn that Tae-shin is working for free at a free clinic for the needy.
Their short-lived conversation is interrupted when Tae-shin notices Joo-young's patient hemorrhaging from the observation deck, a fact which isn't lost on Joo-young as she works to fix it.
Seung-jae hears how Tae-shin would handle the operation as Joo-young does the same things he would do, only she's a step behind when it comes to the source of the patient's excessive bleeding. Even with the medical curveball thrown her way, Seung-jae has full faith that she'll be successful.
However, it's during that most critical moment that Joo-young's injured wrist causes her to falter during the surgery. She needs steady hands to stop the patient's bleeding, but her sudden lack of them causes her patient to start losing even more blood.
She soldiers on like a hot mess, enough for Tae-shin to try giving her instructions on how to proceed next.
Joo-young ignores him, and her mistake causes the patient to start spurting blood all over the operating room. She's too harried to listen to Tae-shin's instructions, and the patient is too critical. As usual, there is no time!
So, Tae-shin declares that he'll help Joo-young with the surgery. While he goes to prep, Seung-jae tells Joo-young to wait until he's called Doctor Jang, the same doctor who warned her to do a good job.
That's why she's so insistent that he not call Doctor Jang because she can do it… when she really, really can't.
Cue Tae-shin's entry. Joo-young rebuffs his offer to help, until the patient's pulse starts to drop. He's dying. Tae-shin: "We don't have time for this. We have to save this patient!"
It's all up to Joo-young now.

COMMENTS
I've always found medical dramas somewhat limiting as a genre–so much of the doctor/hospital imagery happens to look the same across the board in all doctor-related shows, with familiar scenes we can always recognize even if we've never watched a medical drama from start to finish. Inescapable examples include doctors washing up, doctors entering the operating room with their hands up, characters taking turns shouting "There isn't any time!", so on and so forth.
Because even the best of medical dramas can't avoid these tropes, it really comes down to execution—and on that level, Medical Top Team is solid. The directing is slick without being overbearing, the medical prostheses are believable (no gummi babies, or whatever this is), and the stakes are expectedly life-or-death.
The first twenty minutes or so were a smidgen ridiculous with the Sick Waitress story, especially when the recently-wrapped Good Doctor's first episode featured a sudden and very pressing emergency that could only be handled by a doctor in the room and not by normal emergency services. That's fine if not slightly formulaic, but then we got ice-smashing and "I'm a DOCTOR!" "Well, I'M a doctor!" and enough shoving to give Joo-young an injury that affects her for the rest of the episode. (An injury which she decided to ignore rather than treat, because… wait, why did she ignore it again?)
I will say that the episode really picked up after we got the initial introductions out of the way, if only because we took the dramatics down a notch to focus on the characters. I'm especially glad that the three leads have interesting facets of their personalities that set them apart from the normal cookie-cutter character types we see in, oh, every medical drama ever—and really I'm just basing that on the happy fact that Tae-shin is not a cold-exterior-genius-super-doc, but really a warm-exterior-genius-super-doc. Because there's a difference, I just can't tell what it is yet. Or ever.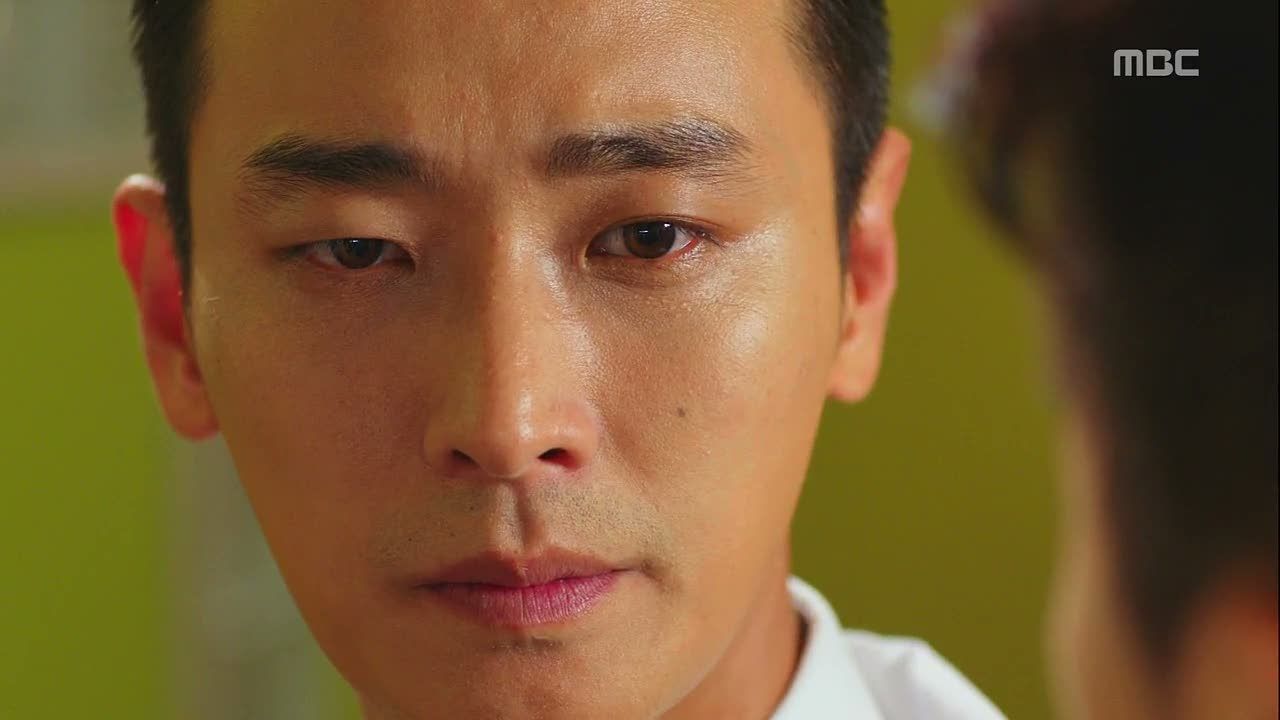 By comparison, we'd normally see Seung-jae's character take on a more antagonistic role from the start, though as of now he's mostly conducting himself like a (gasp!) normal human being. Something about Good Doctor that could really get grating were the hospital politics and the money-grubbing group of doctors who clearly had no business being doctors, so I like that we're seeing Seung-jae, Tae-shin, and everyone else except for Joo-young clearly in their profession because they want to save lives. Granted, Seung-jae made a questionable decision in letting Tae-shin perform Ba-wi's surgery, but he did it because he thought it was right—even if pulling Joo-young away from her initial surgery for the more important patient was wrong.
And then he actually congratulated Tae-shin on his work? No instant rivalry or competitive angst, it was really just good old fashioned mutual respect and admiration? I'm sure we'll get the runaround with hospital politics and obstructive bureaucracy down the line, but at least it's not here yet. It also helps to have Joo Ji-hoon in any role that has nothing to do with Five Fingers, because he's incredibly good at portraying inner strife (see: The Devil) and/or just emoting in general without laying on the melodramatics.
Jung Ryeo-won has really come into her own since owning her role in History of the Salaryman, so there's really no qualms on a cast level with this show. Out of all the characters presented, I will say I understand her the least, though that's not necessarily a bad thing—she's just the one doctor who seems more concerned about her career than she is about saving lives, and her cold choice in leaving Ba-wi high and dry to operate on her VIP isn't a character trait that makes her instantly likable, even if it does make her interesting.
It's hard to balance imperfection and human error in a profession that allows for so little of either, so while we're used to seeing the Perfect(ly Flawed) Doctor, it's a bit fresher to see a struggling doctor who doesn't necessarily ignore her moral compass, but is instead too busy and sleep-deprived to sit down and have a cup of tea with it. Because as every TV doctor can attest, there's just never enough time.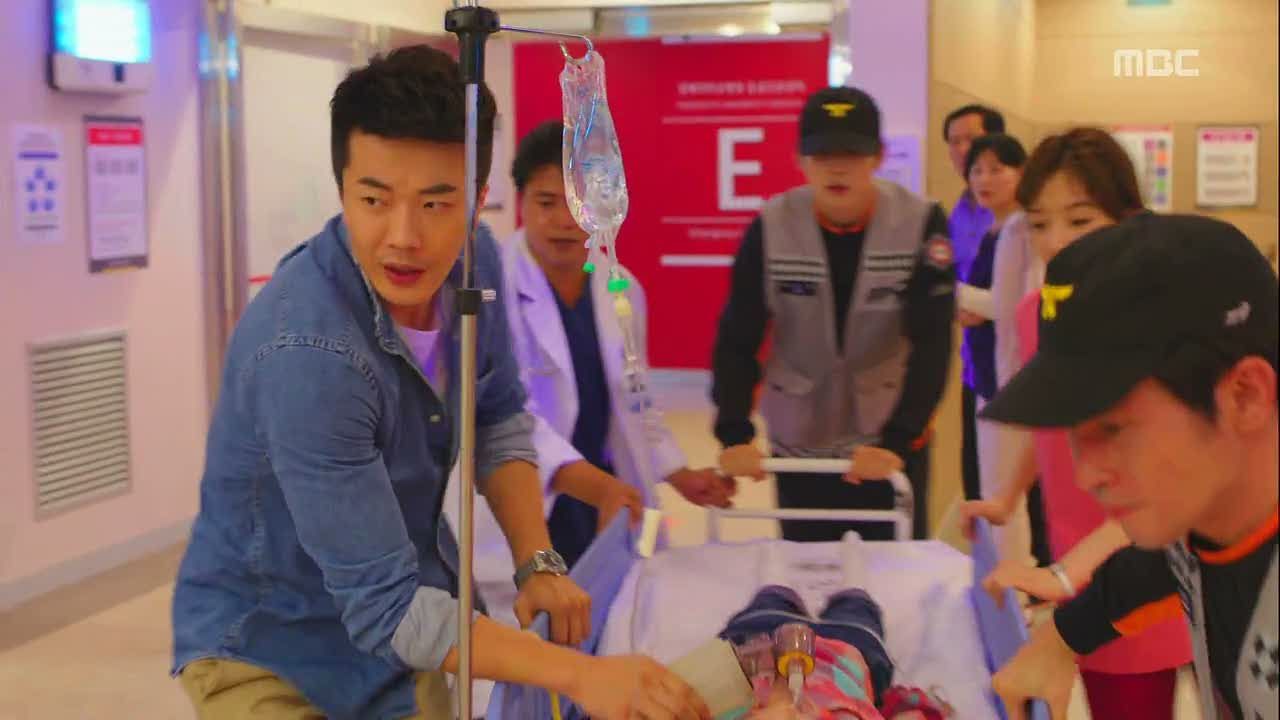 RELATED POSTS
Tags: featured, first episodes, Joo Ji-hoon, Jung Ryeo-won, Kwon Sang-woo, Medical Top Team