Mi-rae's Choice: Episode 2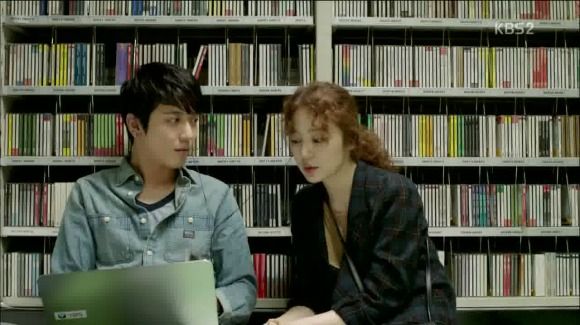 Man, this time-travel notion is already giving me headaches. Keeping track of what has happened or will happen or is happening is no easy feat when you've got one heroine trying to get one foot in the door while the older one is telling her to keep her foot out of it. The series saw a small dip in ratings to an 8.6% for its second episode, but I found that it keeps getting cuter by the minute. There's plenty of mystery as we explore what the future's deal is when she's doing her best trying to change the present.
SONG OF THE DAY
Juniel – "잠꼬대" (Sleep Talking) [ Download ]
Audio clip: Adobe Flash Player (version 9 or above) is required to play this audio clip. Download the latest version here. You also need to have JavaScript enabled in your browser.
EPISODE 2 RECAP
After crashing into Shin's car, Mi-rae evaluates the situation in her head: (a) "that bastard" works in broadcasting (b) her insurance won't cover the accident (c) her brother will kill her and (d) the sky-high repair costs.
So Mi-rae feigns a back injury instead, but Shin isn't amused. He pulls her back up, and then curses his bad luck when Mi-rae sticks to her ruse. Stunned by the swearfest, she grabs her phone to document the moment.
But Shin isn't having it and says they can take it up with the police. He pushes her back into her car and barks orders, which she obediently complies with. They exchange licenses… and something about Shin's driver's license catches her eye.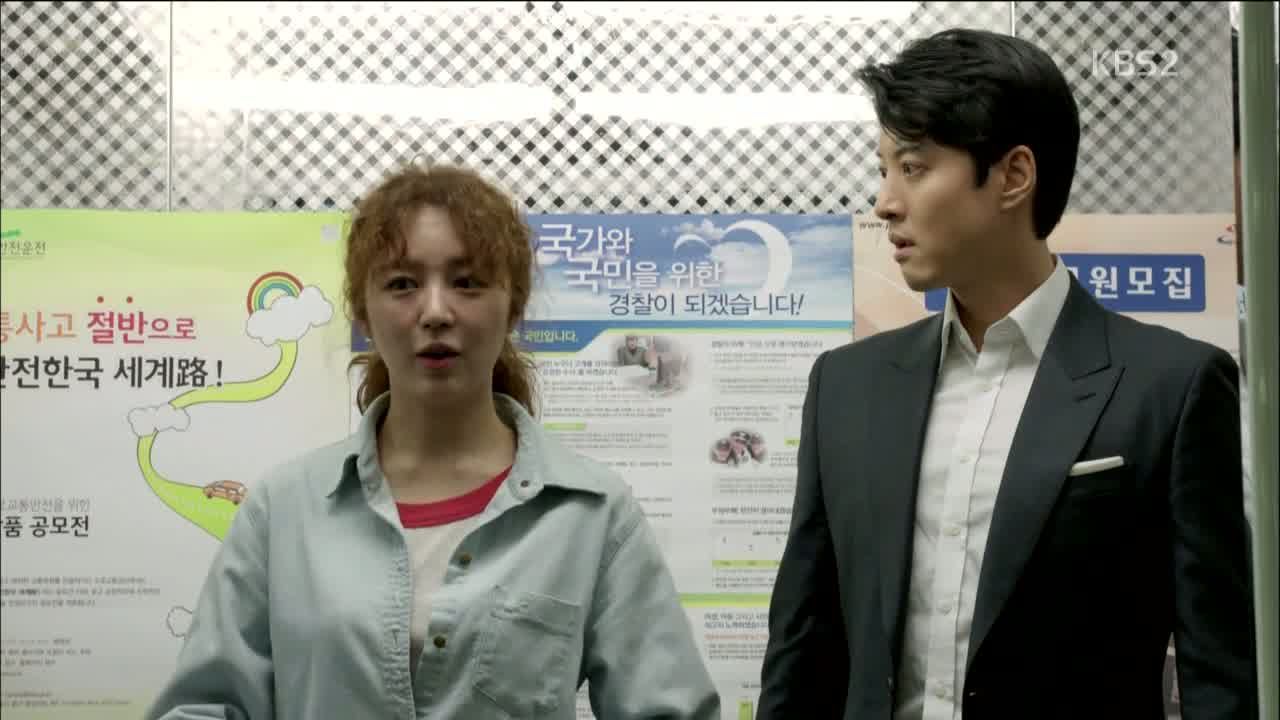 Mi-rae is oddly confident in the elevator at the police station, letting Shin's remarks roll off of her shoulder. Turns out Shin's license expired over a year ago, and that effectively changes his tune. Hehe.
Once they're outside, Shin tries to think of something else while Mi-rae calls out that she'll be perfectly happy with a reimbursement. He surprises her when he agrees, but then clarifies that he means to turn himself in.
He's noticed her broadcasting study books, and he offers a humorless word of advice about the endless moral struggle in this industry. In those times, they must stick to the facts and the truth. It cracks me up how he says all this with a straight face.
She says she's willing to overlook it but gets dragged along anyway, so Mi-rae finally yells, "I miss you!" That stops Shin in his tracks as Mi-rae claims to be a longtime fan and how she'd like to see him back on the air soon.
However, Shin won't be fully satisfied without a clear conscience; thus in a last-ditch effort, she asks that he wait a year when the viewers will appreciate his sincerity. To her relief, he agrees, but then he asks for her phone number to cover the repair costs.
To that, Mi-rae cooks up a quick excuse to climb in her car and then hightails it out there. Shin is forced to take a taxi when his car doesn't start, and just gets annoyed at Mi-rae's explanatory text.
Ajumma Mi-rae returns home in a tizzy, but before Mi-rae can talk about the accident, Joo-hyun arrives home. Oppa wonders who the random ajumma is, unhappy that his sister has brought home a stranger without his permission.
The mere sight of him brings tears to Ajumma Mi-rae's eyes however, and as she drops her bag, she ekes out, "O…oppa." Why is that so funny and so sad at the same time?
That leaves him confused, and Mi-rae hurriedly ushers her brother to another room. She asks if there aren't any available positions at his workplace, YBS. But Oppa doesn't want his little sister working in the same industry in case she taints his good name, and asks for the car keys so he can drive to work tomorrow.
Mi-rae wonders if it isn't her brother who ends up dead in the future, a remark that earns her sharp look. Changing the subject, she asks why her future self cried earlier but doesn't get an answer.
Instead, Ajumma Mi-rae has her younger self promise her not to go into the broadcast industry at all costs. Mi-rae asks for some time to think, and though Ajumma Mi-rae grants her three days, she urges Mi-rae to arrive at a decision sooner because she's running out of time.
Mi-rae points out that they just went on vacation, but Ajumma Mi-rae says that one day is like a month to her. But Mi-rae interprets that statement metaphorically, agreeing that time does seem to pass by quicker now that she's in her thirties.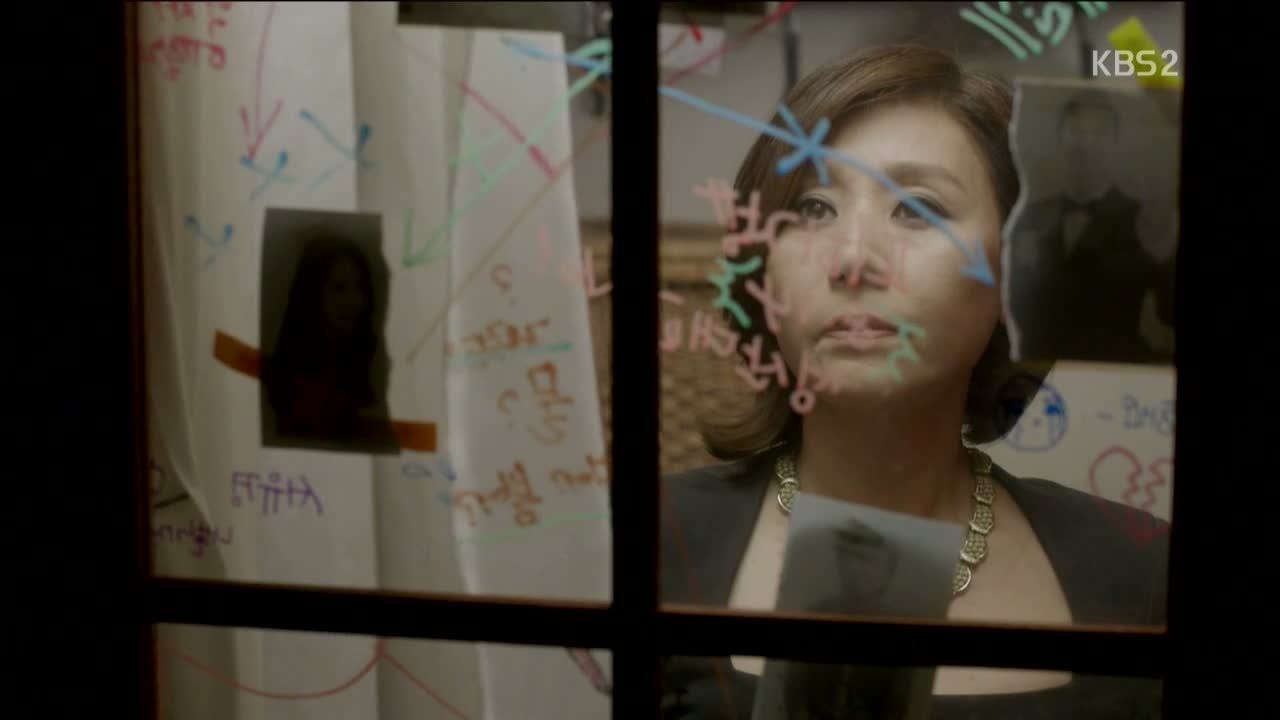 While Mi-rae runs downstairs to grab something, Ajumma Mi-rae pulls back the window curtain to reveal her makeshift outline written on the glass. The plan aims to get Mi-rae married off to Se-joo instead of Shin (though we already knew that from the premise).
Thinking that Mi-rae's only shot with Se-joo has passed, she writes an X by his picture. And interestingly enough, there's a note beneath Joo-hyun's picture that reads: "Oppa… I'm sorry. I love you." Huh.
Shin returns to the police station a little while later, prepared to come clean about his expired license. He's momentarily spooked by a newspaper headline, thinking it's about him. It's not, but just as he's about to confess, Shin picks up a call from a mysterious policeman who claims he already knows everything about the incident.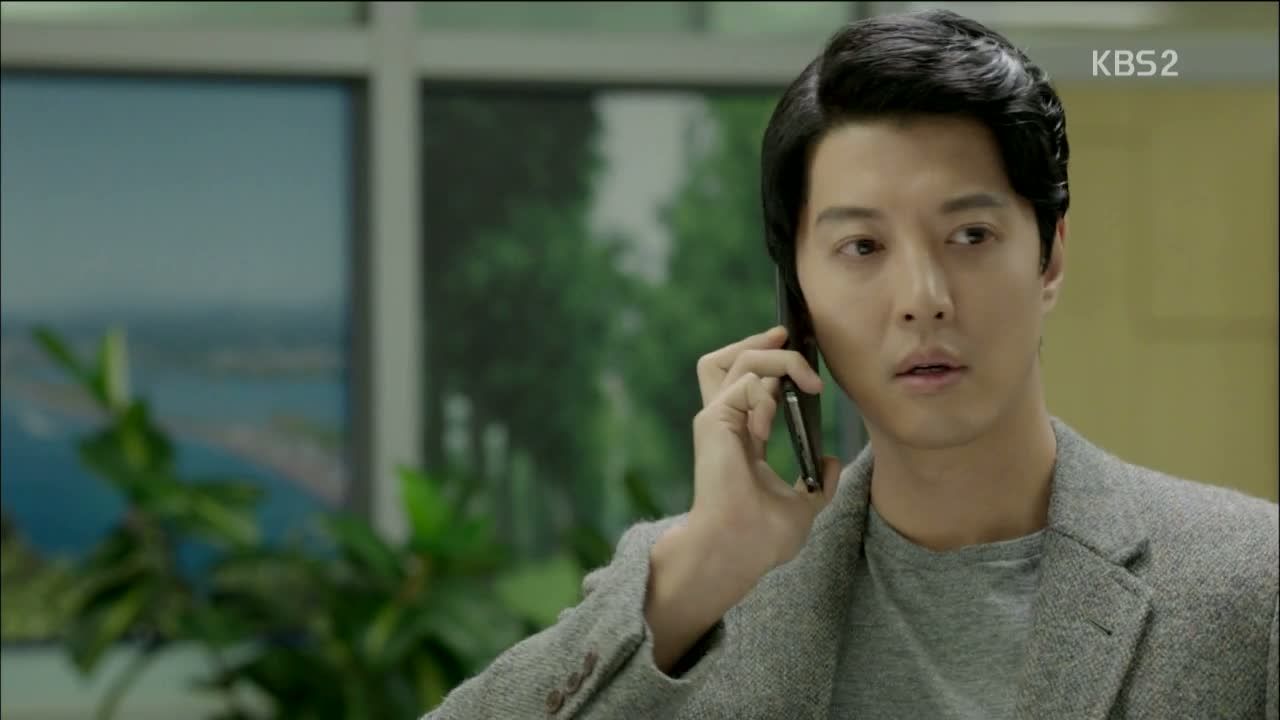 That shakes Shin as he scans the place to trace the call… which is when the jokey PD on his team tells him he was just pulling his leg. He pitches the idea to feature the currently hot topic of an idol who just got into a car accident with an expired driver's license.
The idea hits too close for comfort for Shin, and he abandons the idea to turn himself in.
It still weighs on his mind in the morning, however, as he covers the story. Shin takes a moment after the public confession clips before launching into his script of how an expired license is not only irresponsible, but endangers the lives of society at large, even calling it a murder weapon.
After the broadcast, Shin imagines himself being hauled away and blacklisted from the industry for exposing the story when he's guilty of the same. His arrest is covered by none other than the replacement rookie announcer, who smiles that he'll be taking his place.
With that in mind, Shin deduces that Mi-rae is planning to pin him on this later and is determined to find her. Then he calls up every Na Mi-rae in the phonebook until he finds the right one, only to get promptly hung up on.
Then his writer, who has been tirelessly trying to grab his attention, reads off the conclusion about the effectiveness of bringing someone over to your side. And that gives him an idea.
At the same time, Mi-rae apologizes for crashing a writers class at another broadcasting station, claiming she did it because it was too hard to study on her own. She then receives a text from Shin, telling her to come to YBS right now if she still wants to be a television writer.
It's with some hesitance then that she arrives at the YBS lobby and smiles to see some famous faces (including Shin Bo-ra from Gag Concert). Shin arrives a minute later and shoos the money away from him—he promised her a job, so he's giving her one.
She asks why he's offering, and Shin explains that it's completely unprofessional to run away from a crime. Ha, speak for yourself. So he plans to groom her himself, which means she'll be working with the morning show team, including Oppa.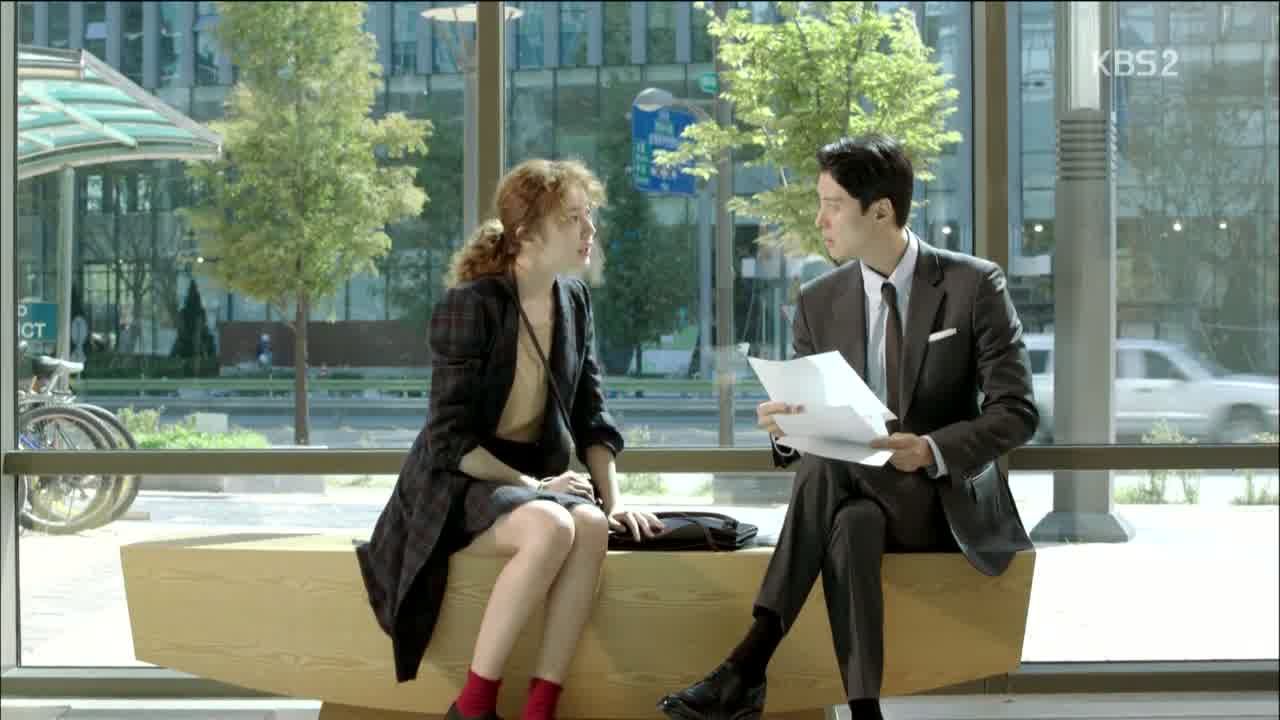 Mi-rae hesitates for a moment, then agrees to his offer. She hands over her resume and he sighs deeply at her lack of experience and unknown alma mater. In exchange, he has her promise to keep quiet about his expired license until he fesses up to it himself in a year's time. She assures him that he has nothing to worry about.
Then Shin gets exasperated when it seems that Mi-rae doesn't even know the basics, but Mi-rae promises to work her butt off to learn everything about the industry. So he sends her to Writer Bae, who isn't at all excited about teaching the newbie.
Meanwhile Ajumma Mi-rae is at a dating agency to find a match for Mi-rae. She asks to see the "special section" Class A candidates, only to frown as she recognizes them as crooks and druggies (in her present, of course).
She passes over the doctors and lawyers ("They're all ruined because there are too many of them anyway," ha), and then gasps to find such successful and famous celebrities in the dregs aka Class E. She asks the dating consultant to get her a copy of this list but exclude anyone remotely related to broadcasting.
Shin lets out a sigh when he sees the rookie anchorman mess up yet again on air. He thinks back to his conversation with chairman Lee about the real reason why he was ousted: "You're too old."
People tune in to watch the news for a pretty young face, she'd told him. There isn't anything wrong with Shin's superb technical skills, but the viewers enjoy watching the young'un make mistakes, and the ratings show it.
Shin counters that the whole point of journalism is to address the cold, hard facts, but chairman Lee says that's the very problem. Sure there are esteemed and respected older anchors out there, but that's not what the viewers want. However, if he can pull in 15% ratings on his morning show, she'll make him the main anchorman of the nine o'clock nightly news.
Shin drops by to see Yoo-kyung at the hospital with a bouquet of flowers in hand, and the nurse wonders if his visits won't lead to marriage headlines in the future. He assures her that it's platonic just as Yoo-kyung emerges and calls out to greet him cheerily.
Mi-rae gets to work in the editing room and saves Shin's number on her phone as "Kim Shin Announcer." Eek, why do I get the uneasy feeling that Ajumma Mi-rae will find out?
She diligently takes notes of a video preview reel, including a portion when Se-joo checks the lens for dust. Then she walks down the hallway to ask for help, only to be met with stressed-out and angry employees.
It only gets worse when Mi-rae accidentally crosses paths with Oppa, who gives chase. She runs into another editing room where Se-joo is currently working in and hides underneath the desk. Se-joo recognizes her as the girl who was playing in the ocean.
Oppa barges in out of breath looking for his sister, and Se-joo smoothly covers for her. I love how Se-joo's like "Is she pretty? Then why don't you introduce me?" Heh.
Now in the clear, Mi-rae recognizes him as "that guy," and there's a moment when Se-joo thinks she remembers him from the resort, but no—he's the guy from the video preview clip she was working on.
He quickly masks his disappointment as she says breathlessly that he looks just like he did onscreen. And Se-joo replies, "I thought I'd never see you again."
Ajumma Mi-rae reviews her outline with a sigh, wondering if they should just give up when she gets a call from Oppa asking about Mi-rae's whereabouts. She's alarmed to hear that someone who looks remarkably like Mi-rae is at YBS.
Se-joo and Mi-rae share a laugh talking about her brother in the lobby when Ajumma Mi-rae catches sight of her. She scrambles to get ahold of Mi-rae (while getting all handsy with Se-joo) not realizing who's standing between them.
But when she does, boy is that revelation glorious with Se-joo bathed in an angelic glow.
Ajumma Mi-rae identifies herself as Mi-rae's mother and quickly lies that they were once neighbors. She asks what he's doing nowadays, and Se-joo says he's a VJ. That's when it occurs to her that Se-joo had mentioned that very fact before (in the future. I mean, well, you get it).
So Ajumma Mi-rae asks if he's single, which is just the sort of thing any mom would ask, and Se-joo laughs, amused. When he's asked if there's anyone he's fallen in love with at first sight recently, he tellingly glances at Mi-rae though he says there isn't anyone.
Now Ajumma Mi-rae is all smiles, delighted that her present self and Se-joo will be working on the same team. She pulls her "daughter" aside for a chat, not at all angry with her present self anymore.
Then Ajumma Mi-rae summarizes their current situation: why did Se-joo make no mention of Yoo-kyung at all? That must mean his love at first sight must be somebody else.
She sits down to explain that Se-joo is no ordinary VJ—he's a chaebol who will later become a world-shaker. Mi-rae wonders why he's working here then, and Ajumma Mi-rae gets carried away in her explanation, accidentally letting slip that "that bastard" works with them, too.
The cogs in Mi-rae's brain starts churning, so Ajumma Mi-rae threatens to leave again and let some horrible thing befall upon Mi-rae or whatever. That grabs Mi-rae's attention, and Ajumma Mi-rae informs her of their next objective: "Seduce Se-joo."
Those Cinderella stories only exists in dramas no matter what year they're in, she adds. There's only one person who's able to make his own happy ending outside of an arranged marriage: Se-joo.
There's an excitable gleam in Ajumma Mi-rae's eyes as she says that now's their chance. Then she ushers Mi-rae away all, Go forth and seduce! Hahaha.
Holding a photo of Shin in her hand, Ajumma Mi-rae apologies, "But I can't live like that again."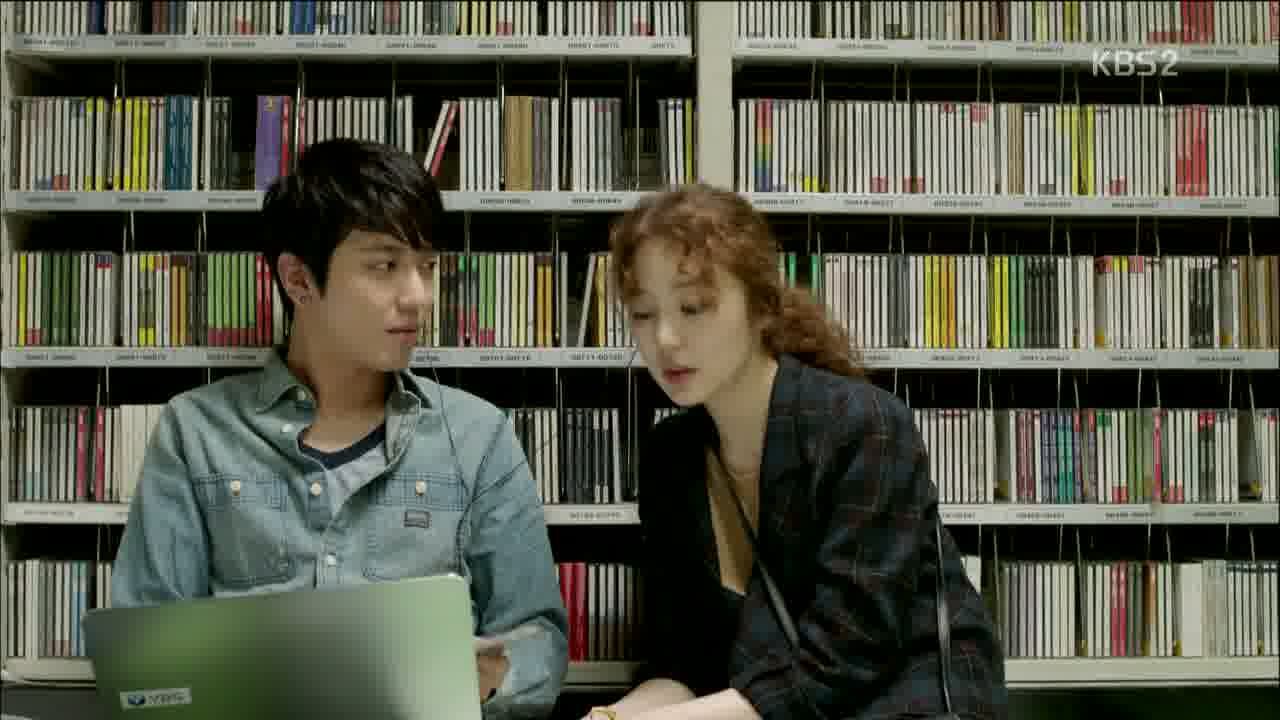 Mi-rae find Se-joo alone in the audio storage room where he assures her that her brother doesn't ever come down here. He takes out her notes to correct her mistakes, but he's also impressed by her conscientiousness, which brings a smile to her face.
Curious, he asks about the markings, and listens intently at her explanations that those were just her own suggestions. She apologizes, saying it was a newbie thing to do, but Se-joo think they're good ideas.
Mi-rae brightens at that and immediately shares all her ideas excitedly. They even share the same tastes in music, and as they listen to a track together (the one posted above), Mi-rae thinks to herself that Se-joo seems like a nice guy.
Shin is surprised to hear that Mi-rae isn't answering her phone. He figures there was something strange about how she agreed to work so readily and heads back to the broadcasting station.
His suspicions are raised further when Ajumma Mi-rae calls in with a strange message. Shin heads down to the lobby to meet her himself to complain about "her daughter," as Ajumma Mi-rae stews silently, growing more furious by the second.
Ajumma Mi-rae lets him have it, saying that the world will soon know how selfish and egotistical he is. He may be at his peak at present, but there's nowhere else but down for him.
Shin interprets this as a mother-daughter conspiracy plan against him, but Ajumma Mi-rae cries, "Why did you kill [him]?!"
He may think it was an accident, but it wasn't, she says, "You did it on purpose! How could you leave [him] there to die?!" (It's worth noting that Ajumma Mi-rae has always used a gender-neutral pronoun [my mistake earlier!] to purposely be vague and mysterious.)
Shin thinks they're talking about Mi-rae, but Ajumma Mi-rae is talking about the man she loves. Through her tears, she cries that Shin killed the one she loves.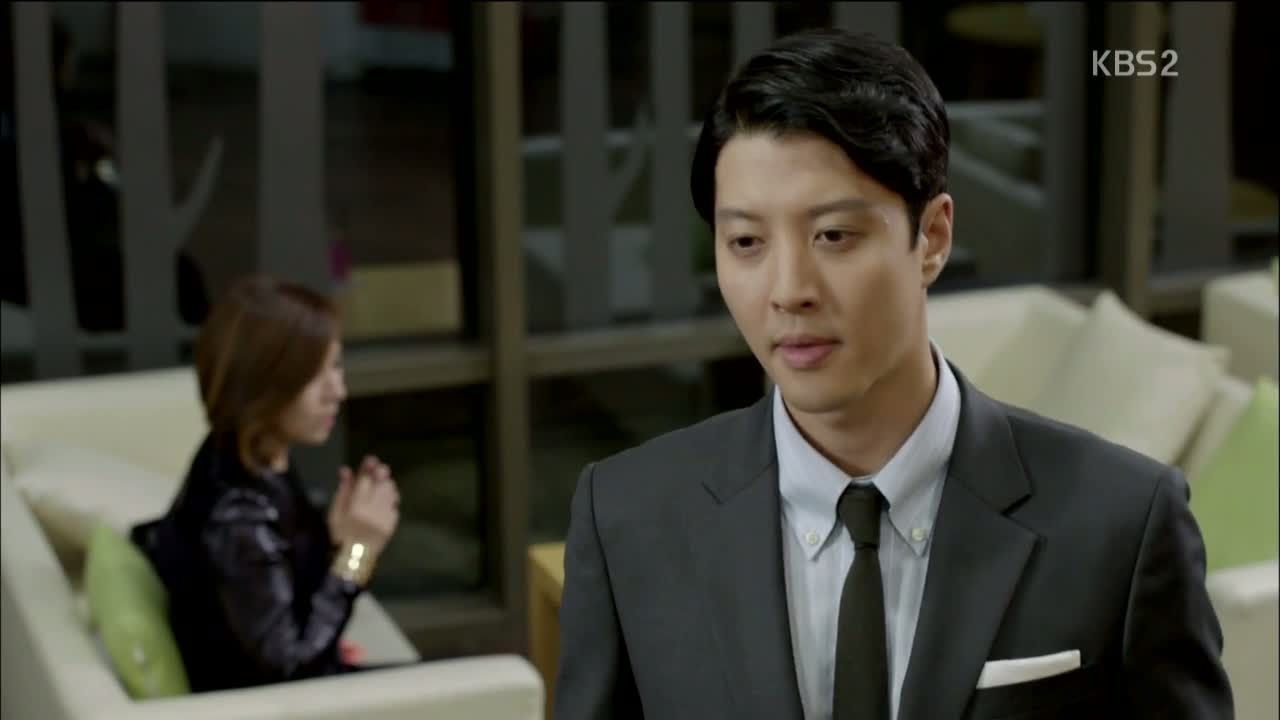 Ajumma Mi-rae asks how he managed to steal Mi-rae's heart already. Exasperated, Shin confronts her about their so-called conspiracy to bring him down about his expired driver's license from the hit-and-run.
But this is all news to Ajumma Mi-rae, who grows afraid that time is repeating itself again. Shin threatens to take this to court, and Ajumma Mi-rae tells him to leave Mi-rae out of this.
Mi-rae and Se-joo run into her brother in the elevator. Oppa chases her around (and Se-joo gets caught between them again) and takes her by the wrist to have a chat with his darling little sister.
When Oppa hears that Mi-rae was hired with Shin's help, he asks, "Are you dating Kim Shin?" To that, Mi-rae waves her hands around him—a usual habit—as if to magically make those ridiculous thoughts disappear.
He's ready to kick her out, but Writer Bae rises to her defense, not because she particularly likes Mi-rae, but acknowledges that she did good work today.
She says truthfully that Mi-rae's personal connections to the staff bug her, and that she's the sunbae when she's actually younger than Mi-rae. There's no malintent in her words, and she tells Mi-rae to quit after today.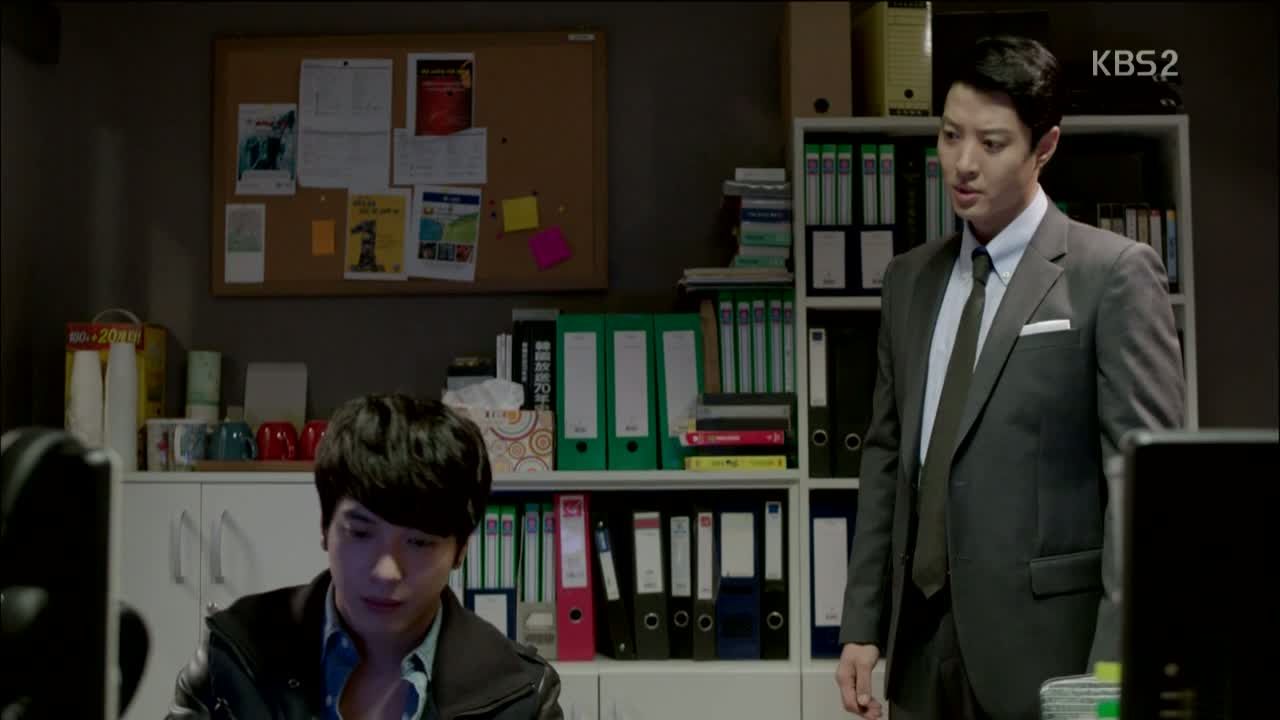 Elsewhere, Shin grows impatient waiting for Mi-rae, and takes it out on Se-joo, who says that it's right that she meets with the PD first. Shin immediately calls Se-joo out on how says that he's right with such authority in his voice.
How odd is it that 28-year-old man like Se-joo, who just started out in this industry, throw his weight around like he already owns the place? "Are you related to Miranda? Her spy?" Gulp.
Mi-rae leaves with a heavy heart. Holding back tears, she thinks to herself that this isn't the only place she can work and picks herself back up again.
When she heads inside to meet Shin, she's met with water thrown in her face, and Shin asks what her deal is. He plans to turn himself in tonight as well as sue her for threatening him.
But Mi-rae throws a question back at him and asks if he got into a car accident on the highway. Shin wonders how she knows that, and Mi-rae answers, "So it's you. You're the bastard who kills the one I love."
"Is that me?" she asks. "I love myself the most in the world. But what will you do? I'm not going to pretend to be happy or be okay anymore." She vows to do whatever it takes to achieve her goals. How dare he think of killing her when she's just decided to start her life anew?
She declares that she'll survive to the end to prove to her brother and everyone else that she can make something of herself. With that, she storms out and walks past Se-joo, who has been listening outside the door.
He follows her to another room, keeping his voice light. Noting her tears, he asks if she's okay. Which is when Mi-rae finally breaks down and admits, "No, I'm not okay. I don't want to pretend that I'm okay anymore."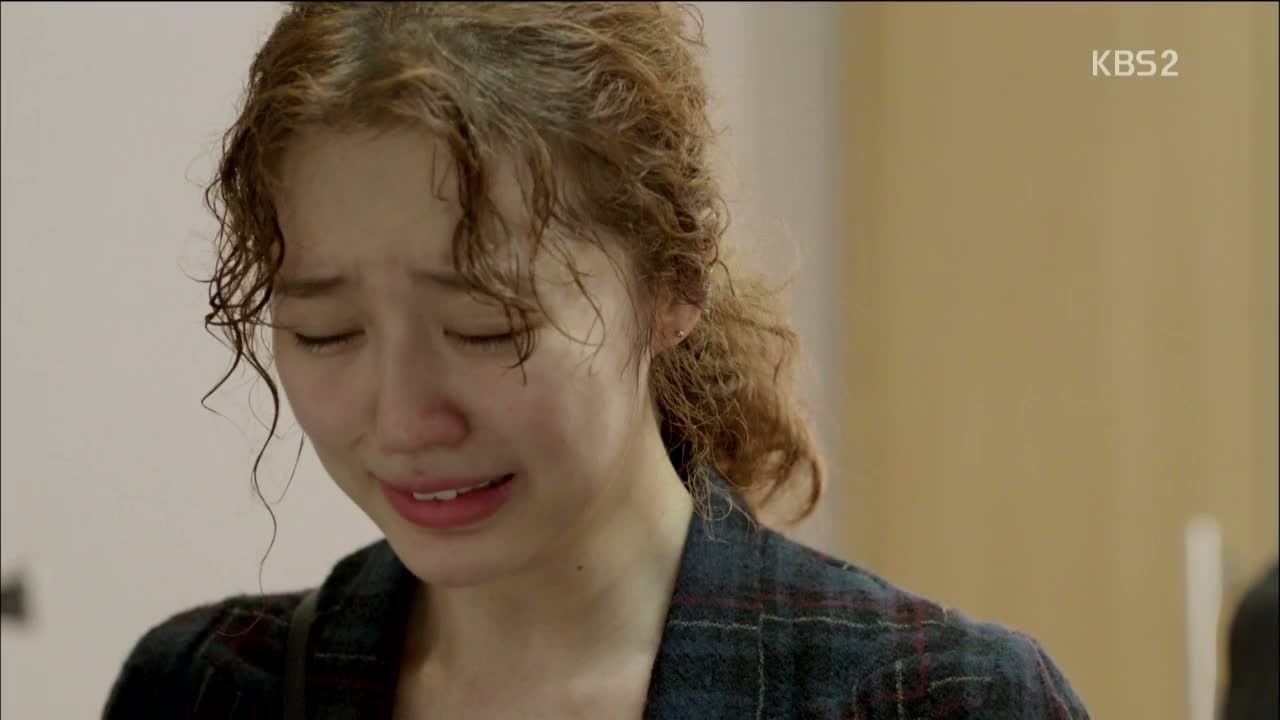 COMMENTS
So far, so good. What a heartbreaking moment for Mi-rae, who has spent so long minimizing her emotions to admit that yes, it's okay not to be okay. It's a realization that carries a lot of pain, hurt, and anger, and also a courageous moment at that to acknowledge that she doesn't want to hide behind a façade and prove to everyone, including herself, that she can make something of herself.
Aside from the hair (which, I know; you'd think I'd have learned a thing or two about bad perms and cuts by now) I love a heroine who we can root for. Mi-rae does just that by giving us a motivation that she loves herself the most; therefore she's not going to let anyone get in the way of that. All she knows at this point is that Shin is "that bastard" who theoretically killed—or will kill—the one she loves. That prejudiced animosity thanks to Ajumma Mi-rae, spurs her confidence and hopefully on a character interaction level, will lead to some quippy and fun bickering with Shin, which is always fun to watch. The fact that Shin hasn't the faintest idea what Mi-rae is talking about just makes his puzzled face that much more enjoyable. By keeping the crossbow pointed at Shin, it keeps us intrigued as we continue to unravel the mystery behind why there's so much hate for him.
Even at this point, there are some early clues in Ajumma Mi-rae's behavior that may suggest who that poor, unfortunate victim is. Like I mentioned earlier, she remains gender neutral in her references, leaving us to guess whether the victim is a man or a woman. One thing that catches my interest is Ajumma Mi-rae's reaction to Oppa, nearly breaking down in tears at the sight of him along with the note on her mystery board. One explanation is that he could have passed away before she traveled back in time by other causes, or by this tragic one. It's all speculation of course, and early theories can still be subverted later on down the road.
We still have yet to see more than a sparse few minutes out of Yoo-kyung, who strikes me as the girl-next-door second lead who got her own happy ending the first (or just previous) time around. There's a grudge Ajumma Mi-rae holds against her, and I like that Yoo-kyung is already on friendlyish terms with Shin. I can't wait to see her more, if only because I love Han Chae-ah ever since Gaksital. And while we're on the topic of second leads, watching Se-joo fall in love with Mi-rae is so sweet and conflicting because he need only take a few more steps into second-lead territory, and I haven't taken my Second Lead Syndrome vaccine yet. (It doesn't work because it's a recurring condition, unfortunately.)
Between all this time-travel-consequences-alternate-reality business, I like how we're digging into the broadcasting network system as a whole. Though bathed in uproarious humor, there's some truth to chairman Lee's words about how viewers tune in for the Pretty. Sure there's value and weight to address the problems of society, but for the majority, viewers seek to be entertained. There isn't anything wrong with either camp of course, and it would be great if a show achieved that balance. But for someone as serious as Shin, maybe the words that he needs to hear are to lighten up.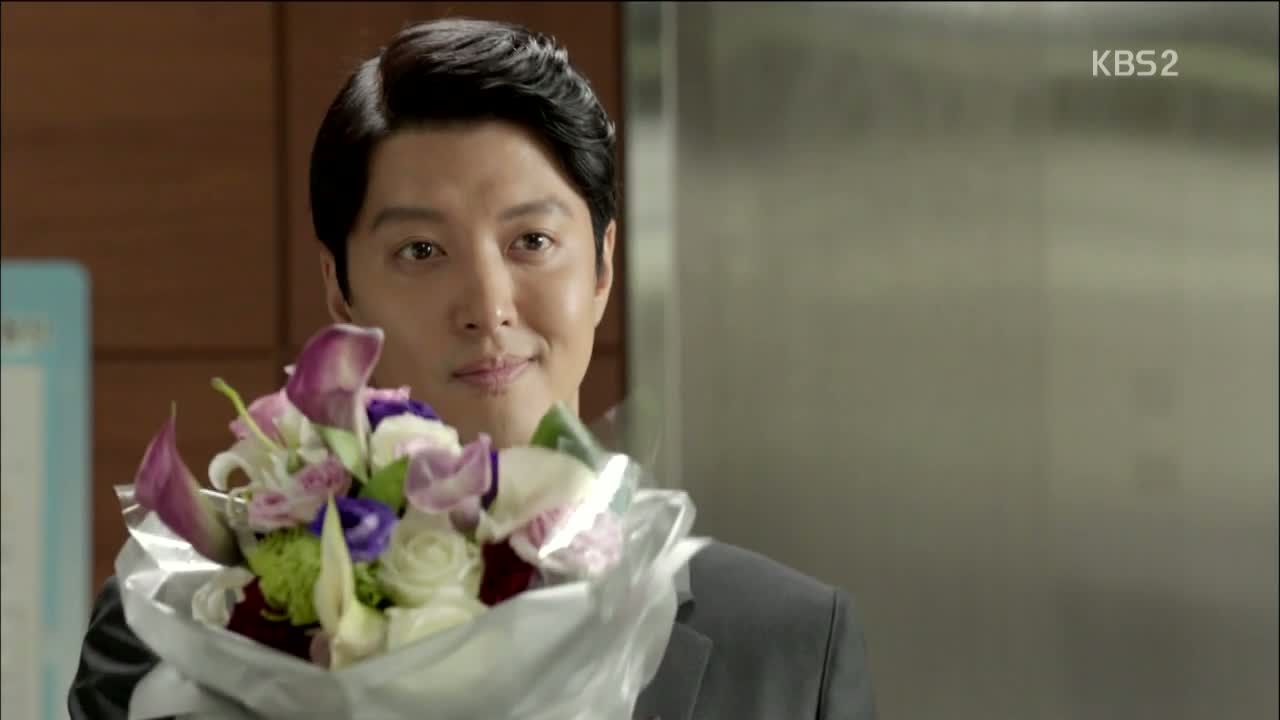 RELATED POSTS
Tags: featured, Han Chae-ah, Jung Yong-hwa, Lee Dong-gun, Mi-rae's Choice, Yoon Eun-hye