Mi-rae's Choice: Episode 5
As time continues to tick past, our heroine is at a crossroads between two suitors who are both as sweet and endearing as they come. Our characters learn that just because you're in a position of authority doesn't always make you powerful, and one act of defiance can come to bite you later. And even if meddling in the little things don't always get you the results you want, you can always count on the big things to strike loud and true.
As an episode that feels rather void of any pressing threat to the present (despite the mysterious time-travel authority presumably hunting down a time traveler), I can see how the ratings dipped to 6.5%. (Suspicious Housekeeper pulled in a 9.3%, while over at MBC, Empress Ki premiered to an 11.1%.)
EPISODE 5 RECAP
On the air, Shin invites Ajumma Mi-rae to look into his future, and he's told that it's a bleak one—he'll be ruined. Her prediction is generally met with amusement, so he humors her, asking for specifics.
She gives them: Once he loses his job, his poor wife will work herself ragged to pay off his debts, while he'l be an unemployed bum sitting on the couch all day long. In other words, he'll be nothing more than "a beast."
Though insulted by her words, Shin keeps to his professional demeanor and wraps up the segment without skipping a beat. And elsewhere, the mysterious Black Man locks in on her location.
Mi-rae flags her future self down for an explanation, only to be told that it's all true—there is no happily ever after ending with Shin, pure and simple. Neither sleep nor tears is an option when one is dogged by debt, Ajumma adds matter-of-factly.
Mi-rae can hardly believe her ears, and by now, both Shin and Se-joo are waiting for her at opposite entrances. I do love how excited Shin looks about their "study date." The choice is up to her, Ajumma Mi-rae says, adding, "I know you'll make the right choice."
Thus Mi-rae makes her way to one of the entrances as both men turn their heads expectantly… and she emerges to greet Se-joo, who notices her gloomy mood.
Se-joo sees her off at the bus stop, where she asks if he's free tomorrow—would he like to go to an amusement park together? Did… you just ask him out on a date? Good for you for taking the initiative, though I also feel kinda bad that Shin got stood up.
Mi-rae finally picks up Shin's calls in the bus, and aw, he asks if she wasn't feeling well. They reschedule their lesson for now, and unable to choose, Mi-rae decides to meet up with both men for the time being.
Meanwhile, Ajumma staggers out of the YBS building just as Chairman Lee arrives. The chairman recognizes her from the show, but is alarmed when Ajumma suddenly faints in front of her.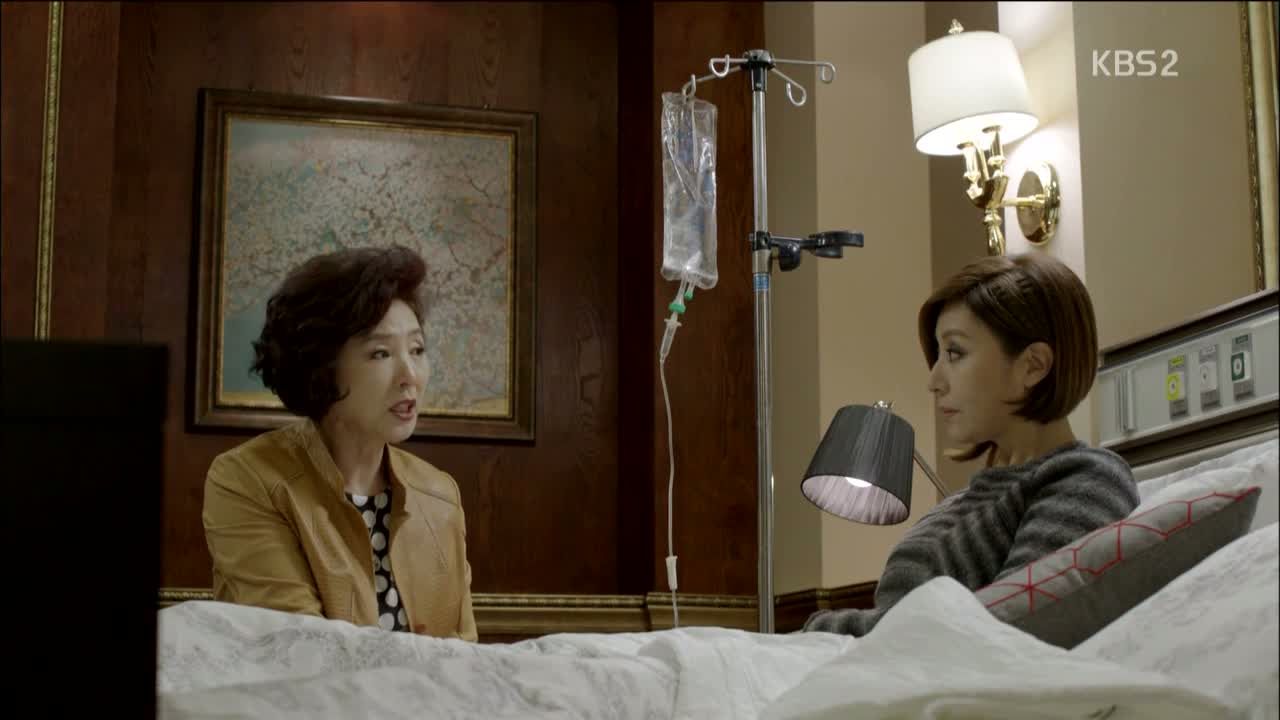 When Ajumma finally comes to at the hospital, Chairman Lee proves that she's sharper than she lets on, calling her out as a fraud. She's done her homework on the so-called fortune teller who's actually a cleaning lady.
She doesn't buy Ajumma's pity story either, and definitely finds her rapid aging condition as strange. She asks why Ajumma approached her. Ajumma Mi-rae answers: "Sometimes, I… can see the future in my dreams."
One mention of her grandson Se-joo is enough to pique the chairman's curiosity, and she gapes in astonishment as Ajumma accurately describes his current hard-knock life working as a VJ. It's too bad, Ajumma adds, because there's someone that he loves. Ha, now you're just milking it.
Furthermore, Ajumma suggests that Shin be sent abroad to advance his career, but Chairman Lee is quick to point out the gaps in her contradictory statements. Grabbing Ajumma's hand, she challenges her to read her own future—will she drop her hand or not?
Ajumma returns the favor by climbing out of bed and warning her that she even struck the chairman in her clairvoyant dreams. Chairman Lee challenges her to try it then and there, only to cower in fear moments later. Altering one's personal future can lead to many different versions, but major events are harder to change, Ajumma explains.
Then she taunts the chairman with the possible downfall of her resort. When the chairman is desperate for more information, she makes an off-handed remark to pay close attention to one particular evening in the near future.
Ajumma finds Mi-rae examining the Master Plan when she returns home. She asks whom Mi-rae ended up choosing, and Mi-rae says that she met up with neither, but plans to see them both until she can sort out her feelings.
Mi-rae doesn't know if she can stop liking Shin, nor is she certain that she can love Se-joo either. As far as she's concerned, she doesn't know the first thing about seducing anyone. So she'll test out the waters and see where everyone's hearts lie instead.
The next day, Mi-rae worries whether the rainy weather might dampen their not-a-date. She strikes up a conversation with Se-joo in the car, impressed by how he's made his own movies before. He gets all embarrassed about it, but their rapport is downright adorable.
Shin gets called in to see Chairman Lee, fully expecting to receive a punishment for his defiance. He sees past her transparent attempt to send him abroad, asking if she lets superstition influence her business decisions.
Then Chairman Lee decides that he can be sent to the countryside instead, where he'll have plenty of time to reflect on his actions. Shin says that he'd rather be fired, but that isn't on the chairman's agenda, and she gets lost in the riveting stories he could cover.
He runs into Ajumma Mi-rae downstairs, and he asks why she's so interested in his affairs. She simply answers that they must have been enemies in a past life.
Then Shin walks towards her, backing her into the wall. He asks, "Could it be that you like me?" Her racing heart seems to be enough of an answer. Either that or her heart is getting stressed more frequently lately.
Mi-rae and Se-joo get rained out of their amusement park not-a-date after all, and she suggests that they head back to his place to watch his self-produced movie from film school. Realizing that he needs to keep up his poor VJ ruse, he puts in an urgent call for a spare apartment. I love how he stresses, "It has to be shabby and plain!"
He's surprised when she considers the impromptu space quite nice while he tries his best not to look like a stranger in his own home. They eventually settle down to watch the movie as Se-joo adds his own nervous commentary to entertain her.
Mi-rae finds the film plenty enjoyable, however, her eyes transfixed at the screen. When he waves his hand in her face, she moves it away, and he hangs onto her touch a few seconds longer.
She admits that the film is quite sad like he described as he keeps watching her. Then he gently wipes off a crumb from her lip with his thumb, and they both start at the touch.
Yoo-kyung's comeback segment calls for a lot of legwork, which the PD willingly exploits. He tries to justify his actions later, calling her sex appeal a strength (ugh) and saying he wasn't too revealing in his shots (bleh).
She nods along, but momentarily stop mid-utensils setting, reminded of Se-joo's words about why she keeps the habit. It's only when the crew leaves does she drop the smile on her face, and then she heads to her usual bar, half-hoping to run into Se-joo. She deflates when she finds that he's not there.
As Se-joo walks Mi-rae out, he invites her to stay for dinner, but Mi-rae says that she shouldn't be at a single guy's apartment late at night. He's relieved that she considers him a man (versus being friend-zoned), and asks when they can hang out again.
Back at the bar, Yoo-kyung contemplates whether to call Se-joo out herself, wondering if it might look desperate on her part. She rises in a huff to find it turned off, and then hilariously doubles back in embarrassment when Se-joo walks in a moment later.
Yoo-kyung tries to strike up conversation, attributing their chance encounters to fate, and she frowns when Se-joo replies that he doesn't believe in things like destiny. She does catch him smiling over how much of a carefree and spontaneous person Mi-rae seems to be.
He claims to possess neither of those qualities, then he shares that he initially saw Mi-rae on a separate occasion, marveled by how she ran into in his editing room that day. Yoo-kyung pouts.
Mi-rae is all smiles on the bus, but panics when she receives a text from Shin to meet him at the park for their lesson. Now. She arrives out of breath, which is when Shin instructs her on the importance of keeping fit in this industry. And on that end, Shin proposes a basketball game where the loser treats the winner to a meal.
He even gives her a handicap, and they smile and laugh as they play against each other. Mi-rae wins (did Shin forfeit his last shot?), which is when Shin mentions that he's being transferred.
Mi-rae is quiet during dinner, and Shin laughs that she can relax now that he'll be gone soon. He tells her that every announcer reaches a crossroads at one point in their career, and he thinks that he's already reached his.
Right now, he's conflicted on whether to accept the hand given to him or be stubborn and choose his own way. It troubles Mi-rae to see Shin so unsure of himself, so she takes it up with Ajumma Mi-rae once she gets home, accusing her as the reason behind Shin's future downfall.
Ajumma claims that he's going off to bigger and better things, and she's genuinely surprised when she hears Shin is heading to the countryside, and not New York.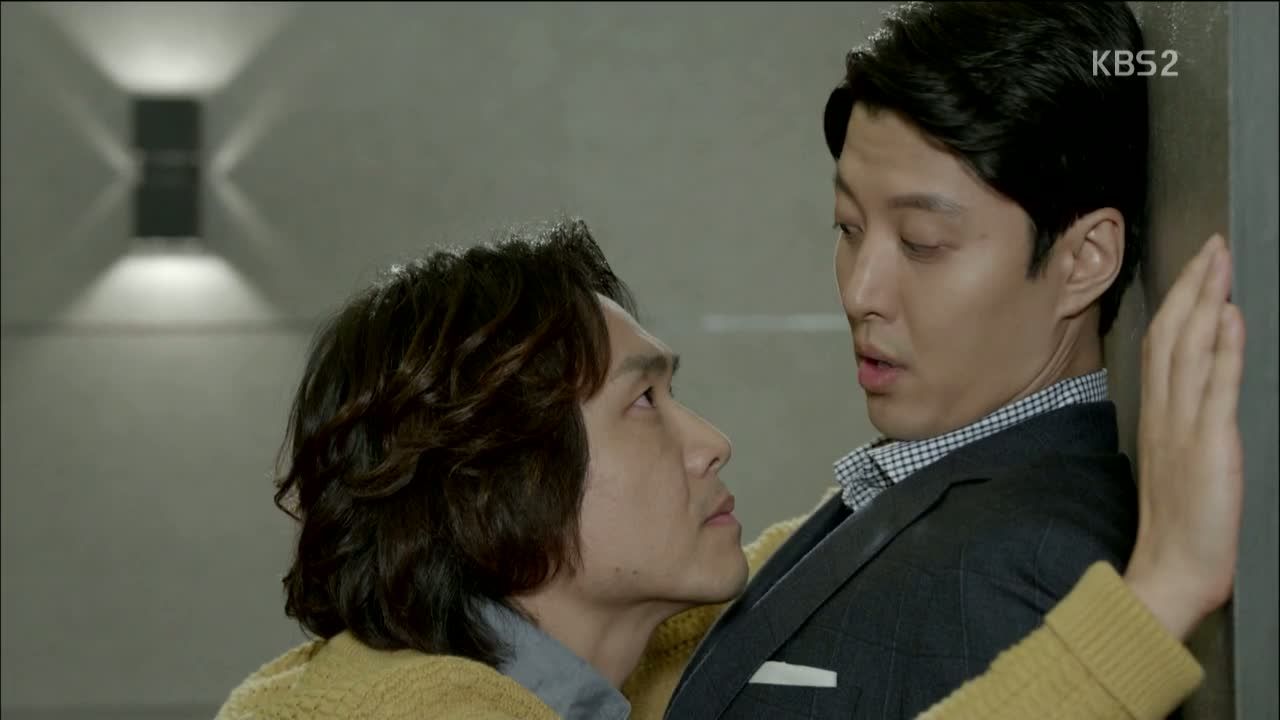 The entire team is saddened at the news of Shin's impending departure as he assures them that he'll be back soon. Oppa pulls him aside and pins him against the wall, and in alarm, Shin cries, "I'm a guy!" Ha.
Oppa asks if Shin likes Mi-rae, to which Shin blusters no, and turns the question back on him if he likes Mi-rae too. When Oppa asks who else likes her, Shin thinks fast and blurts out Se-joo's name.
But it's more bad news bears as Chairman Lee interrupts the airwaves with a special broadcast to announce that the morning show will be canceled and its entire team will be reassigned, naming Shin as the responsible party for that decision. Er, I don't think Shin's declaration on air quite equates to ushering in a new regime, but you sure threw Shin under a bus.
His team turns on him on a dime, complaining about their financial woes, and when Shin says that he'll handle it since they still have a few weeks left, but Jokey PD yells that another outburst could get them fired. Meanwhile Se-joo beelines to see Grandma at the news, but is denied entry.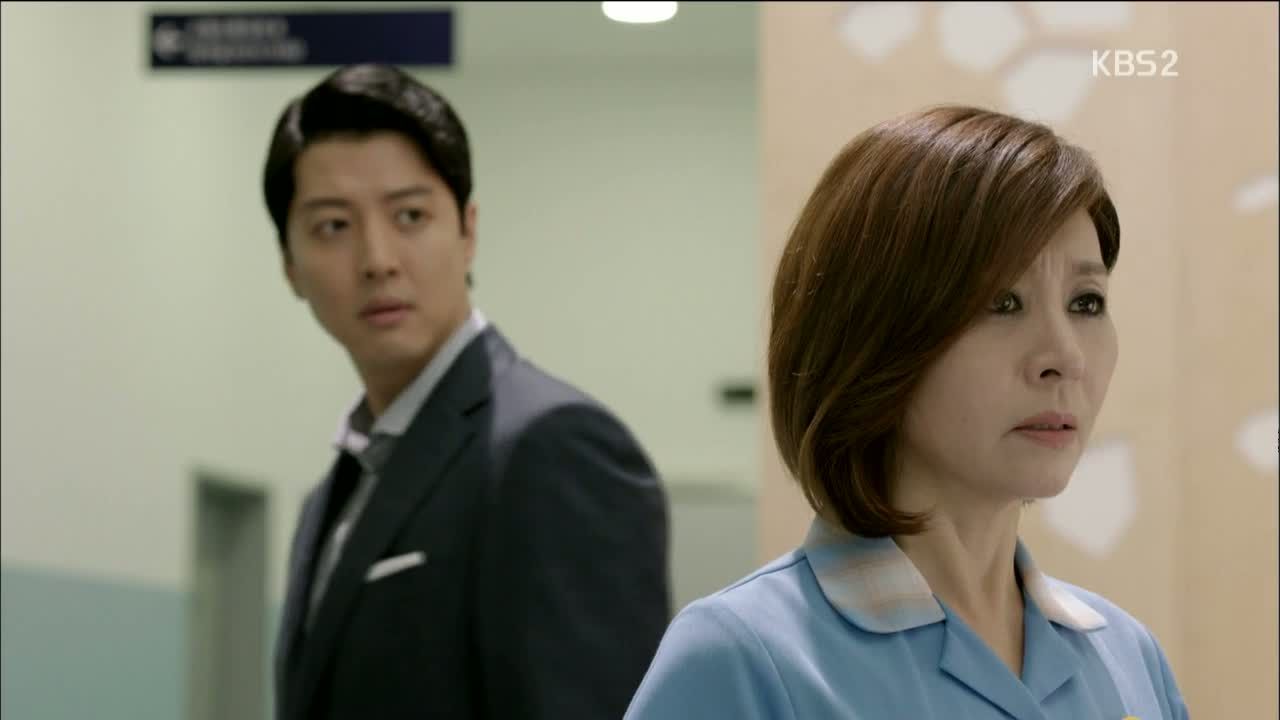 Shin finds Ajumma Mi-rae in awe at the announcement, and she advises that he beg for forgiveness. They live in an unfair society where those who stand by their principles are punished, and she suggests that he let the chairman think that she's won the round.
He asks what happens afterward, when he'll return and still be powerless to do any real journalism. Chairman Lee has her hand in everything, and points out that he would have lost a third of his team if he did nothing that day. Plus he's used to the constant backlash by now.
Then Ajumma calls him out on that statement, saying that he never got used to the scrutiny and being an outcast. Realizing her mistake, she backtracks, and he half-jokes whether Ajumma knows any big upcoming scoops, and concludes resignedly, "Looks like you only know my future pretty well."
Se-joo calls Mi-rae to apologize about losing her job when she's just joined the team. She assures him that it isn't his fault, unaware that he's indirectly involved through family ties.
Ajumma Mi-rae is grocery shopping when she gains some unwanted attention from her fellow shoppers who recognize her from the show. After contemplating what to do next, she consults her trusty diary (her own copy from the future) and heads out.
At home, Mi-rae wonders if they'll be recruiting writers within Shin's new team. Oppa kicks her in the shins to focus on getting married instead.
It turns out that Ajumma Mi-rae has headed outside to talk to Shin, who says that it's past his bedtime. She asks why he's giving up so easily—what happened to the Kim Shin who vowed to return as a main anchorman?
She offers to help him, and hands him an umbrella just as a thunderstorm brews. At the same time, Mi-rae drags Oppa outside into the rain, having received a text from her future self. And Chairman Lee opens her window, reminded of the words that something eventful will happen.
Then they all see it: Namsan Tower gets struck by lightning, and the spindle cracks, tumbling to the ground.
COMMENTS
Now that's a story worth covering. I do like how the lightning strike emphasizes that major events that are out of one's control will come to pass despite meddling with someone's personal future. I hope that it's significant enough to keep Shin in Seoul, though believe you me, I would have loved to see Shin trying to commentate on a live chicken fight.
I admit that I felt the story slow down for me despite the show's shorter airtime, which should usually force your story to be a little snappier and zippier. Perhaps it was because our heroine is still waffling over our two suitors, saying she doesn't know the first thing about seduction or that we continue to see Ajumma's health deteriorate. And for a Time Cop (as I'll call him until his identity is revealed), he sure is taking a helluva long time to track down one person. Just sayin'.
Still, there were a few things I did like even if the story has started to recycle its other plot points. Chairman Lee is a sharp woman whose suspicion makes for an interesting conflict. I like how she sees straight through the excuses, and just when you think that she's taken the bait, she turns that question on a dime. I'm not all that interested in the YBS politics at large, since workplace political battles usually come and go as convenient, and I assume that the morning team will be kept on a short leash as the series progresses. But I do like the interesting dynamics we get with her and our other characters. She rules with an iron fist, and just when you think you've won the battle, she ambushes you with another attack. Even if that attack is inspired by a quack fortune-teller from the future.
I also enjoyed watching Ajumma's deep-seated grudge towards Shin start to unfurl in this episode, since we've seen her filled with such hate. And I'm sure in her future timeline and her not-a-happily-ever-after with the man of her dreams, rightfully so. However, it intrigues me how she's still drawn to him anyway, and how it bothers her to see him so defeated and powerless. Her sympathy towards the present Shin is something unprecedented thus far, and I can't be completely certain whether Ajumma Mi-rae let him in on one of the major stories of the year to send him abroad or to help him find that drive to succeed again. Whatever the motive is, the heart can only stay hidden for so long before it's found out.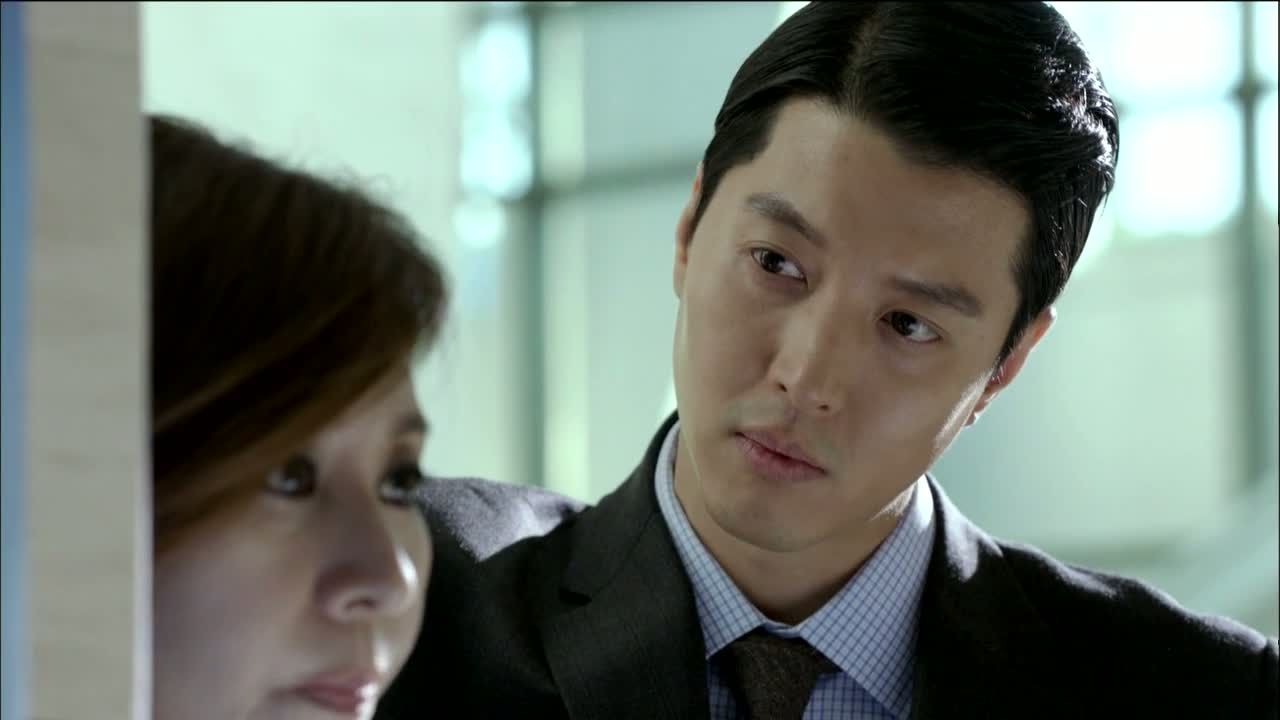 RELATED POSTS
Tags: featured, Han Chae-ah, Jung Yong-hwa, Lee Dong-gun, Mi-rae's Choice, Yoon Eun-hye