Running Man: Episode 165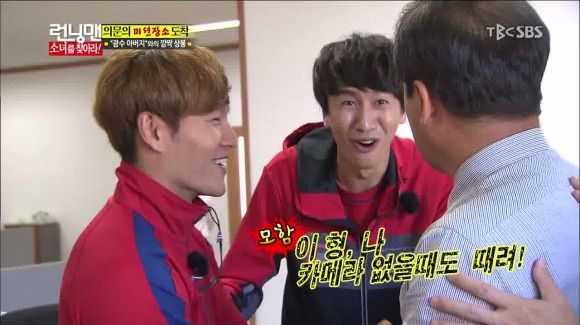 For one lucky fangirl, this episode is the ultimate dream. With just a few photos from a scrapbook, the cast searches the town for clues to help make one girl's wish come true. Not only that, we get to learn a bit more about our resident giraffe Kwang-soo, who earns some new stripes in this hour to show us that there's a lovable character beneath that betrayal icon persona.
EPISODE 165. Broadcast on September 29, 2013.
We start off with a mini-intro of a mysterious fangirl who drops off a letter to Jo PD. As for our cast, they're bombarded with an autograph challenge mission first thing in the morning. The task: sit hidden behind a sticker booth as random passersby choose one member for an autograph. The first one to get thirty wins.
Dumbfounded, Haha gapes, "What [is the staff] going to come up with next?" He then points out the Betrayal Trio, saying they'll likely take the longest. And then, of course, Kwang-soo claims he's got this mission in the bag. Hahaha.
Ji-hyo jokingly tries to enlist the help of her own staff, but that's a no-go.
Ha, I forgot that the staff usually sticks the cast in the middle of nowhere, which means there's a lot of downtime. Jong-kook sighs that he should be at an elementary school with his devoted kiddo fans. Awww.
It turns out we're in Kwang-soo's hometown of Namyangju today as our giraffe tries to rally his townspeople to support him, only to sigh in defeat. Even with such random locations, all it takes it one person to get the ball rolling… right? Or maybe they'll just be stuck there all morning.
And then, someone turns up at Jong-kook's booth, takes a gander, and… leaves. Ack, so close! Poor Spartakooks ends up falling asleep at his station.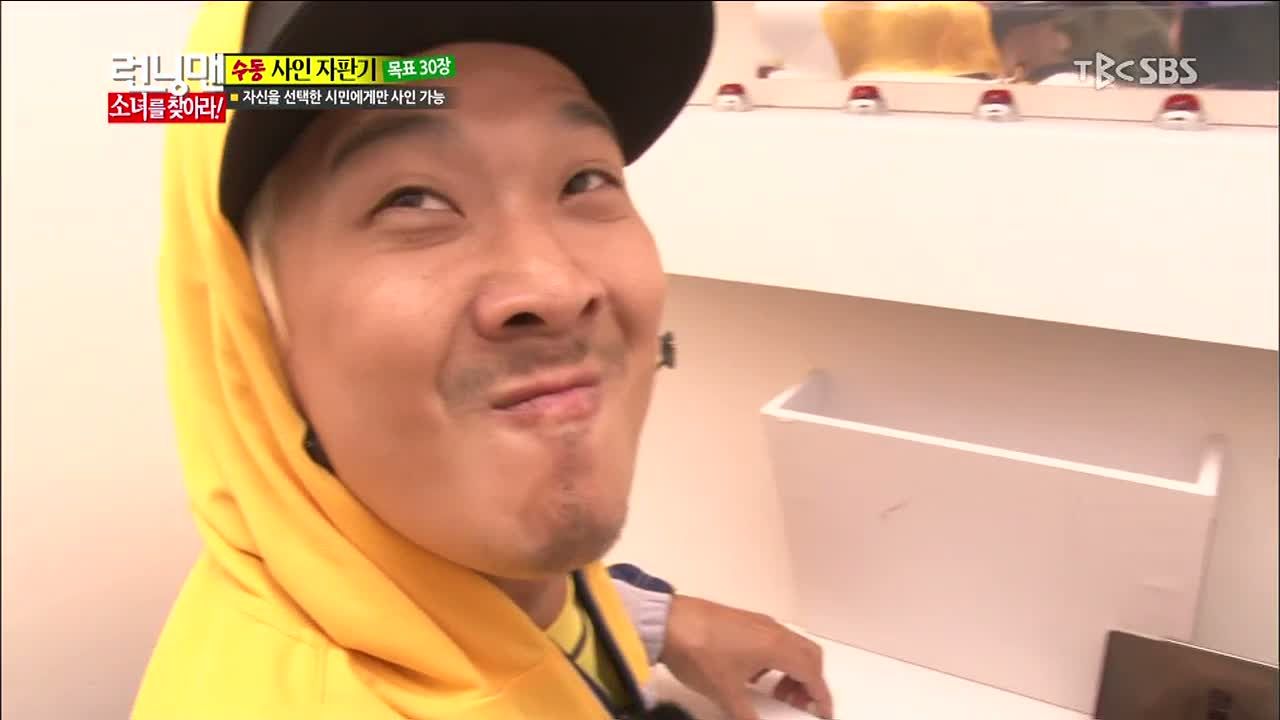 Elsewhere, Gary is busy jotting down a few lines about his unrequited love (Ji-hyo, naturally) when someone arrives. Unfortunately, the stranger chooses Ji-hyo and walks away too early, letting the "Out of Stock" card fall to the ground.
Haha jumps up when he hears voices, only to scowl silently when the passersby selects another cast member instead. Thrice. Lol. That's got to be a hit to his pride.
The staff eventually brings the count down to five, perhaps having realized what an awful idea this turned out to be in practice. And it's true, since both parties end up quickly frustrated after their second or third try.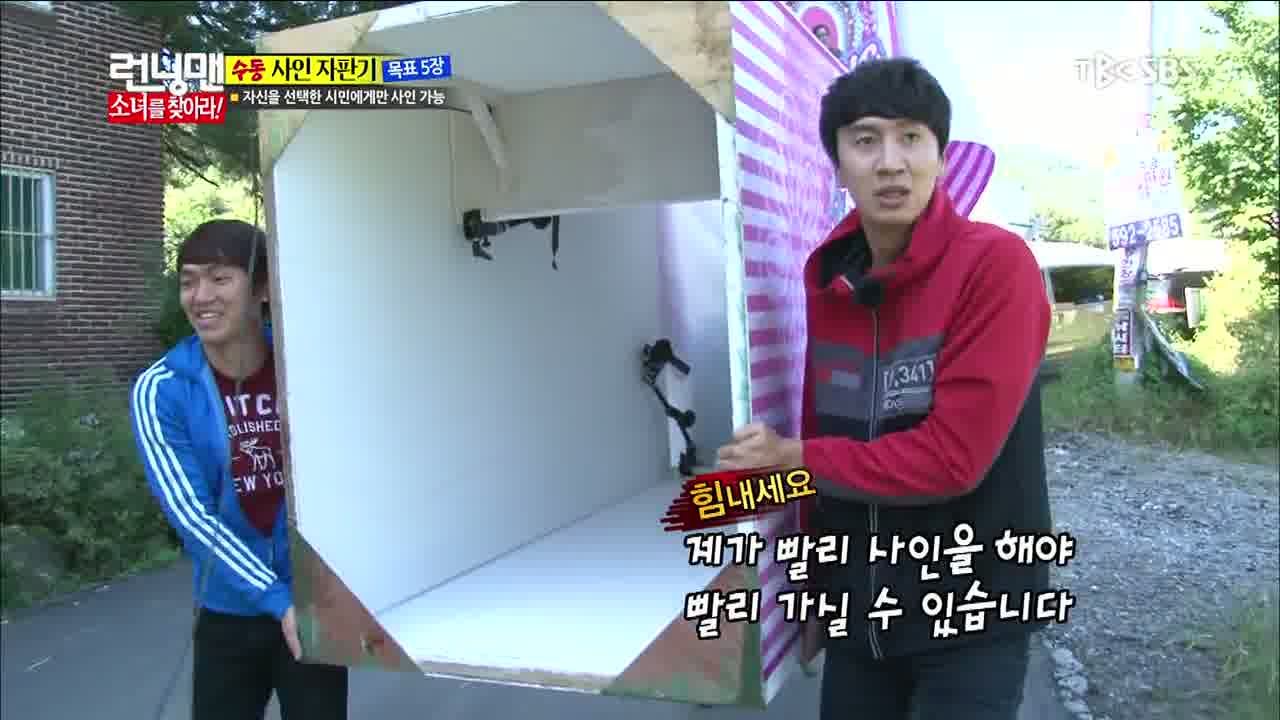 So five it is, not that it really helps any as Kwang-soo grows desperate in his booth, yelling, "Is that Running Man?!" "Where?!" to a completely deserted country road. Caption: … you're okay, right?
Kwang-soo moves his booth next to a mart, where he totally asks the shop ajumma to help him out, all, "Don't mind me! Pretend that NO ONE is in here!!" Ha, then she takes him at his word and chooses Ji-hyo instead, much to his dismay.
When Kwon-ryul VJ asks Jae-suk to clap for the end of the tape, Jae-suk asks, "What footage have you got [to change tapes]?" That's when a male student walks up… to select Ji-hyo's name. D'oh!
The Ace is popular by a landslide, though, everybody we've seen swing by thus far have been men. One man is puzzled to find her autograph out of stock, to which Gary jokingly whispers, "Because she's mine!" Hahaha.
I love how everyone has thought of the same idea to draw on the other cast members' faces in order to manipulate strangers into choosing them. Ji-hyo is in luck as a group of excited teen girls select her name, and she squees in glee.
Then we check in with the others who light up with the same animated expression as if they're giving out autographs for the first time. It's plain adorable.
It's down to either Ji-hyo or Jae-suk with four autographs each as one more visitor drops by their booths. They both reach five at about the same time, and hop into a taxi to head to their first mission location.
Jae-suk can't help but pull Suk-jin's leg when he spots the mat-hyung's booth. Suk-jin has no idea of course as he drops off (what he thinks is) his first autograph, surprised when it gets returned. Jae-suk sneaks up from behind to reveal himself, to Suk-jin's annoyance. Heh.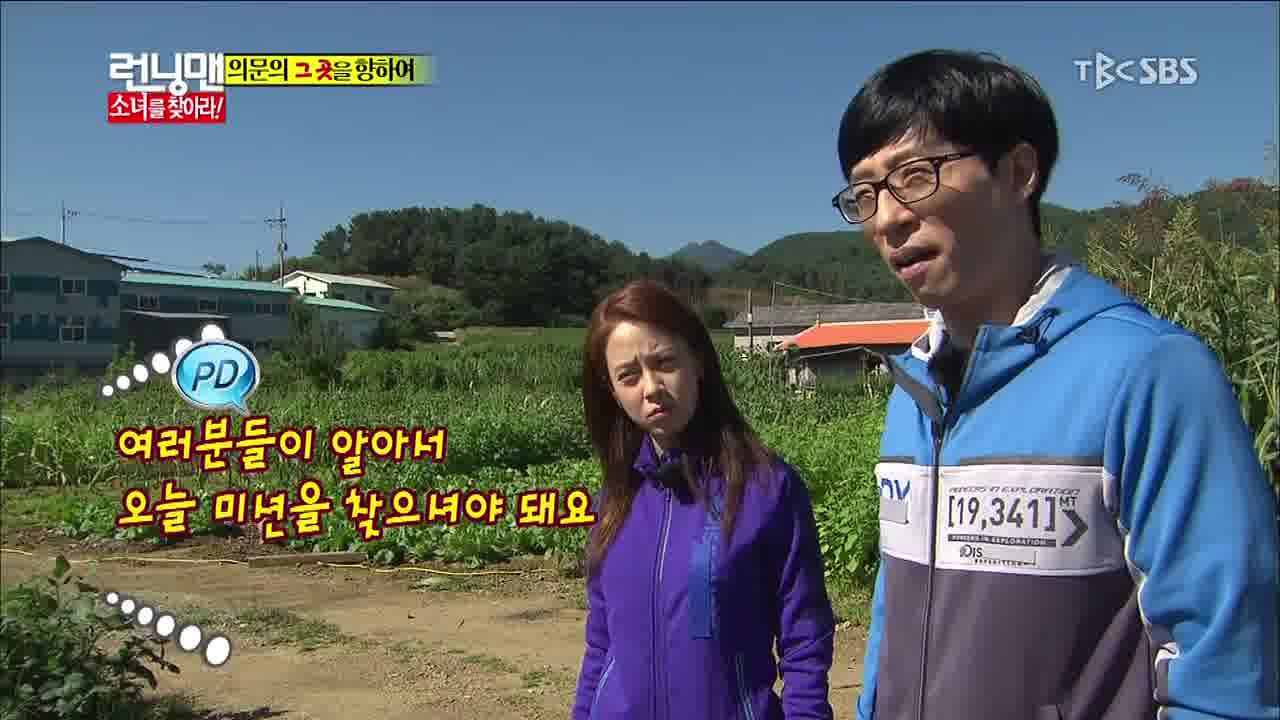 Thanks to his little detour, Jae-suk arrives at the furniture factory to see Ji-hyo already there waiting for him. They're confused when they're told to figure out today's mission on their own instead of the usual rundown with just an address as their first clue.
So they roam the premises, asking the workers for a hint. Unfortunately, they haven't the slightest idea, either.
Jae-suk jokes that the Monday Couple should go shopping, so the two run with the joke. When Ji-hyo picks something out, Gary says it's no good: "You can just sit on my lap!"
In the taxi, Kwang-soo calls up Jae-suk, who replies, "I can't talk! I'm filming right now!" But then Kwang-soo's mouth drops when he arrives at the mission location: "I… know this place…"
In awe, he asks the others if they know where they are right now. They don't and scrunch their faces in confusion as Kwang-soo asks the staff, "Am I on candid camera right now?"
Then he tells them: "We're at my father's company!" Ji-hyo can hardly believe it, and she hits Kwang-soo upside the head. They soon realize that he's telling the search, which prompts a mad search for Kwang-soo's father, the owner.
Kwang-soo belatedly realizes who they're looking for, and he puts in a panicked call to his father NOT to let anyone but himself in. Hahaha.
But Jae-suk is two steps ahead of him and runs into Kwang-soo's father just as he exclaims, "[My son] told me to close the door!"
Awww, they've got the same smile! And like any father, Dad shows off his son's baby picture. Omg, so cute!
The cast greets Dad as they arrive (and Gary takes off his hat), and when Jong-kook walks in, Kwang-soo runs behind his father, yelling, "Dad! He's the hyung who picks on me all the time! He hits me when the cameras aren't rolling!"
Omg, I'm dying; Kwang-soo tattletaling on Spartakooks is doubly hilarious since the two have such an awesome hyung-dongsaeng relationship off-screen. Even Dad gets in on the fun, saying he saw his son get hit a few times in a recent episode.
Jae-suk starts to tease Kwang-soo about his bachelor pad life, which gets him all flustered: "Don't say stuff like that! [This man] isn't an actor. He's my real dad!" Hahaha.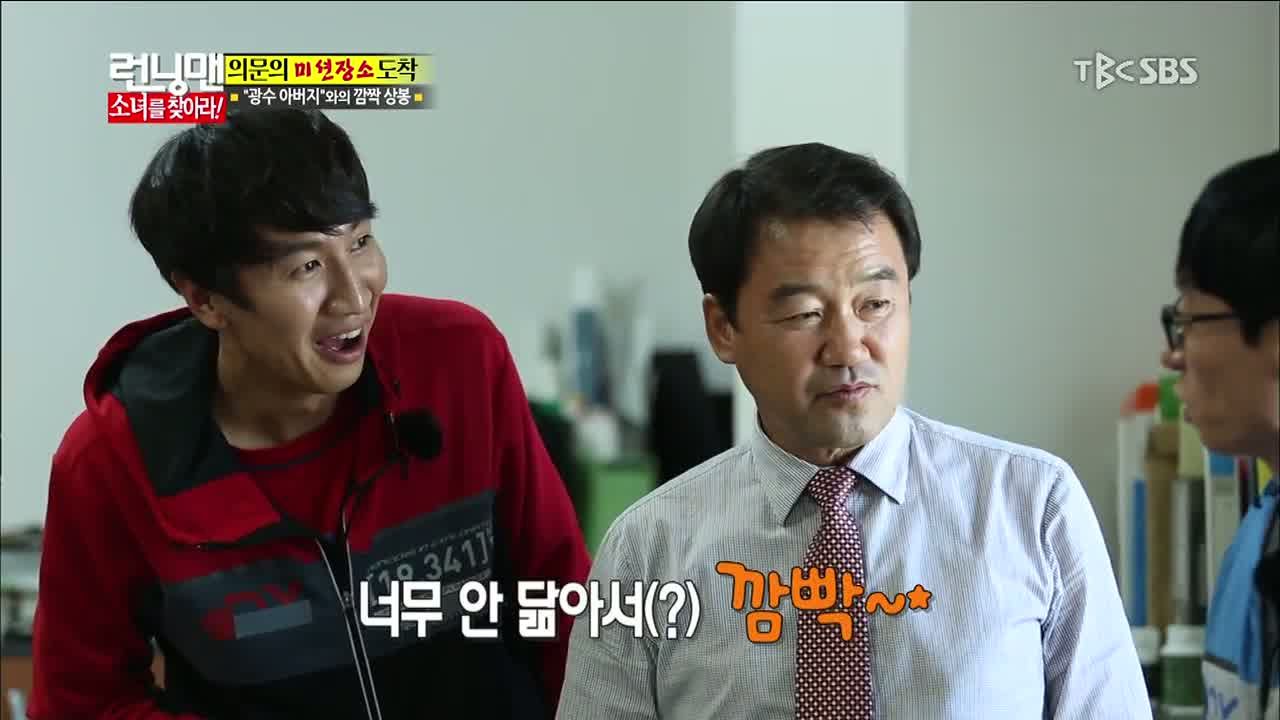 A minute later, Dad receives a call and then relays the mission to the cast, who immediately runs downstairs. Ack, give your dad a hug before you go, Kwang-soo! But Dad sends his son off in good spirits. They're just adorable.
They search the floor, and Ji-hyo discovers the scrapbook first. She tries to run off with it, but the boys flag her down soon enough and grab a seat on the couch to read the mission.
Our mysterious fangirl writes that she's been a longtime viewer. After she found out Namyangju is also Kwang-soo's hometown, she'd like to introduce the place to the cast. It's a scavenger hunt across the city, and the person to place a photo taken with said fangirl first in the scrapbook, wins.
Aww, it turns out this fan compiled the scrapbook herself, researched all the places on her own, and brought it to the broadcast station. Touched, the staff had decided to make her dream come true. That's… just so awesome.
Then Jae-suk quips, "So even though we met Kwang-soo's father, we can assume that Kwang-soo won't win, right?" Ha, way to bring it back to reality. At that moment, Haha whispers that Dad is watching, and Jae-suk does a 180: "So what I meant was, he's the hero today!" LOL.
The cast pick up their necessary supplies for what might be the greatest surprise ever since the fangirl has no idea the staff has gone ahead with this plan. Kwang-soo wonders, "Can we use my dad's car then?" Hehe.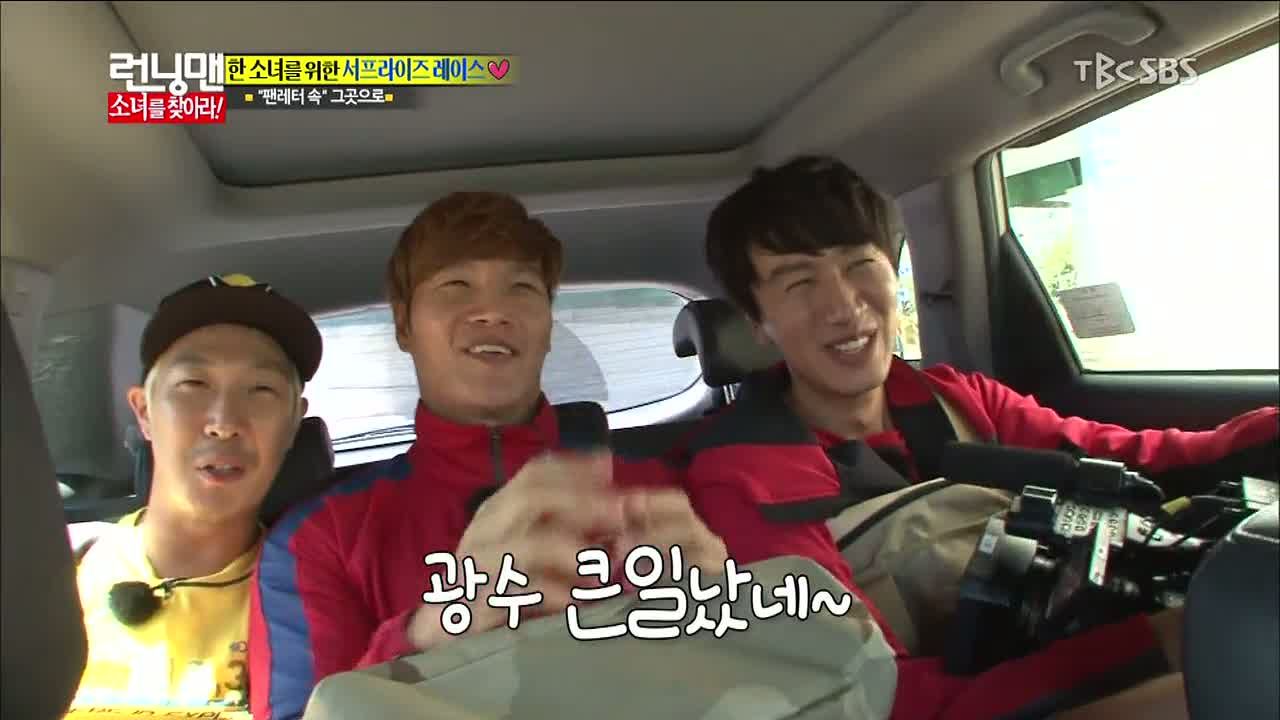 In the car, Haha sings Kwang-soo's praises to Dad, saying that his son has been rolling in the dough lately. In fact, he's even bought Dad a new car and luxury brand bags for Mom. Ha, you can't back out now 'cause it's on camera!
Kwang-soo gets on that bandwagon, and addresses Haha's wife: "Haha hyung just signed for a house! You're moving next month!"
Meanwhile, the Monday Couple arrives at a park by the Han River where they see a plethora of kites floating in the sky. They wonder if the necessary photo they need is on one of the flying kites.
The mat hyungs search the library for R-stickered books, only to be told to study up on them since they'll be quizzed on the content. Jae-suk complains that Suk-jin's is much shorter than his (The Little Prince, hee), and they both start muttering their stories under their breaths.
Suk-jin seems pretty confident about his picture book when time is up. Then Mr. PD asks how many butterflies were depicted on the cover. Hahahaha, it's a nonsense quiz! Love. It.
Not that Jae-suk's is any better, as his question is about how many stars were drawn on a random page. Jae-suk gets close, but it's still wrong. I honestly don't know why I'm so amused, but… I'm so amused.
Kwang-soo, Jong-kook, and Haha face off a "stapler master," and to true betrayal character, Kwang-soo switches the master's stapler with an empty one. But that doesn't stop her from stealing Jong-kook's on the sly. Pfft.
Then at the library, the mat hyungs slowly peruse their book. At one point, they note one character's short hair, and Suk-jin comments, "It doesn't say what salon she got it cut, right?" Puhahaha.
They spend so much time studying the pictures that I wouldn't be surprised if the staff asked them about the actual story this time. 'Cause you know that would be evil… and more entertaining for us.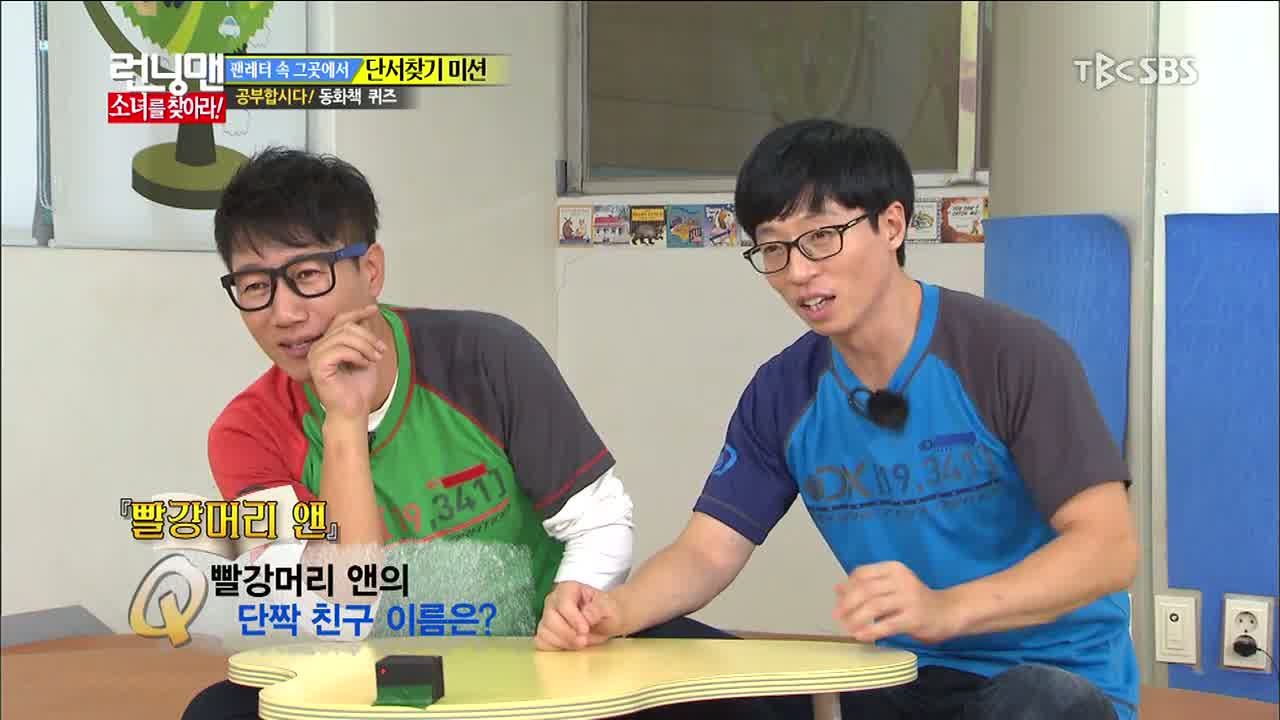 And whaddayaknow, Mr. PD does just that and asks for the name of the heroine's friend. They both spout back in disbelief: "You have to ask us about the flowers! There are four of them!"
Mr. PD: "There are only six characters in the book!" Why yes, that makes me feel so much better! Hahaha.
Round and round they go, until Jae-suk finally gets the correct answer. He obtains the picture for their next mission location just as the others try to figure out their clue as well.
The photo takes them to an outdoor rock climbing wall, and Ji-hyo sighs that Kwang-soo sure has the advantage seeing as this is his hometown. Little does she know that he's busy trying to wrestle himself out of Jong-kook's grasp half-naked.
Here, the cast will have to literally climb their way up the wall to procure their next hint; the higher up they go, the better the clue.
Suffice it to say, it's a daunting task and all I can say is: Don't look down! They climb the wall, and Jae-suk is the first to grab his hint. But then the scaredycat is told to let go which only amps up his fear of heights.
As expected, Ji-hyo floats to the ground with a big smile on her face whereas Suk-jin has now entered Panic Mode. Down below, Jae-suk asks, "Why did you choose the highest one then?!"
Aw, Ji-hyo offers up her mid-level hint in exchange for a go at the highest one. Problem is, Suk-jin is too afraid to just let go. Suk-jin: "Are you nuts?!"
So Ji-hyo braces herself before climbing up the wall again as Haha whines a few feet below her. She does it, to everyone's amazement. Unable to figure out the location with his clue, Jae-suk instructs his driver to follow Gary's taxi. Smart!
Only Kwang-soo and Jong-kook remain to climb the wall. Is Kwang-soo… spitting on Jong-kook from above? Then karma comes back to bite him as his hint falls in front of him and then to the ground where Jong-kook scoops it. Hahaha.
While Suk-jin and Jae-suk follow the Monday Couple to the fangirl's neighborhood, Jong-kook heads… towards Seoul? Ha, he's never going to make it back in time.
Both Gary and Ji-hyo run to find the right apartment building, completely unaware that the mat hyungs have followed them here. At the topmost floor, they ring apartment after apartment to find their fan.
They finally gain entry to their fangirl's apartment, whose little sister says her unni is at school. When they ask which school, she's like, "Middle school!" over and over again. Heh.
Aw, it turns out that our fangirl (Hye-mi) is Kwang-soo's fan, and her room is adorned in giraffes. Jae-suk and Kwang-soo arrive shortly afterwards despite Gary's attempts to shoo them away.
Kwang-soo's jaw drops, speechless, when he sees Hye-mi's room, touched by how dedicated of a fan she is. It is nice to see him swell up with pride to know how loved he is.
The cast hurries over to the middle school to search for Hye-mi's real scrapbook. Gary slips in and out with the book in hand, and sets off to find Hye-mi. A little later, Kwang-soo realizes that Gary is missing and tracks his hyung down, claiming that he knows what Hye-mi looks like.
Now it's just a matter of finding Hye-mi herself… and it's Kwang-soo who spots her first. Eee, it's the ultimate fangirl dream!
Jae-suk and Jong-kook (hey, when did you get here?) follow close behind and are just about to leave when they recognize her too. Kwang-soo yells, "Hye-mi, run!"
At Oppa's word, Hye-mi runs like the wind past several cast members. Then she stops short when she runs right into Jong-kook. Gulp.
She loses him, but then it's pure chaos as the others run towards her with their cameras, all trying to get a selca with her. Then Gary runs after he takes a picture, and Hye-mi asks the cameras how Kwang-soo might win. Aw, said like a true fangirl.
At the same time, Kwang-soo tries to wrestle the scrapbook from Gary, but it ends up in Haha's hands. Gary scoops it up when Haha drops it, but then Suk-jin grabs part of the book and slaps his picture on the last page, securing his first solo win in the show's run.
The cast asks Hye-mi (who looks like she's about to cry, aw) why she likes Kwang-soo so much. Her answer: "I saw him at a movie premiere and when he appeared, it looked like there were flower petals swirling around him." Awwww.
They joke that she's free to like someone else later on down the road, and Kwang-soo warns her: "You're deadmeat if you do!" Never let your love for Oppa die!
RELATED POSTS
Tags: featured, Haha, Ji Suk-jin, Kang Gary, Kim Jong-kook, Lee Kwang-soo, Running Man, Song Ji-hyo, Yoo Jae-suk