Running Man: Episode 167
This week our giraffe goes undercover to doll up and blend in with the other kids to find one backpack. A dangerous mission if you think about it when you're up against a tiger, an amateur boxer, a jiu-jitsu master, a grasshopper, and an Ace. Those obstacle courses in training don't even compare to the volley of physical attacks that prove difficult to wrestle out of. And you thought graduating police academy was hard.
EPISODE 167. Broadcast on October 13, 2013.
At the RM Police Agency, Officer Lee Kwang-ja reports for duty. Ha, it's Kwang-soo! ("-ja" is ordinarily seen in feminine names.) The mission: go undercover and acquire confidential documents hidden in a legendary backpack.
But s/he isn't the only one trying to track it down—there are eight other students who have got their eyes on the bag. Officer Kwang-ja points to Jong-kook's picture: "This student has hit me before!"
It's to Officer Kwang-ja's advantage to procure as many hints as possible without drawing attention to herself. Should her identity be compromised, she'll be disavowed from the police force. With a final salute, Officer Kwang-ja heads out.
Donned in her school uniform, Kwang-ja skips towards her Betrayal Trio brethren, who call her "that crazy girl who keeps growing taller." I love the character descriptions we get, like how Suk-jin is in his 26th year in high school. Ji-hyo is basically her school's jjang aka best fighter. LOL.
Gary likes a female student in a neighboring school, and when Kwang-ja sidles over to her "boyfriend" Jong-kook, he pushes her aside. Ha, and is Ji-hyo jealous of Jong-kook's chest?
Turns out these captions prove useful to learn about today's guests: Chun Jung-myung and Kim Min-jung, co-stars of the recent movie Queen of the Night.
Ha, I love how Jung-myung uses Haha's trademark ankle trip move against him as a greeting. Jung-myung then gets teased for his overly courteous nature which is just too polite for variety. But don't let that sweet smile fool you—the man knows jiu-jitsu and is a beast (as evidenced by clips from his previous appearance on the show).
Our team breakdown: Red (Jong-kook, Gary, and Min-jung); Navy (Jae-suk, Jung-myung, and Ji-hyo); and Gray (Suk-jin, Haha, and Kwang-ja). Kwang-ja is here as the token "female" student from her school. Heh.
As the biggest slackers and goof-offs from their respective schools, they read a message from Legendary Go sunbae (Maknae FD) in regards to his Legendary Backpack. The teams will obtain hints about the bag's whereabouts in today's game. The team who finds the bag in the end, wins.
Jae-suk jokes about how Ji-hyo's actual high school graduation photo hints at her former party girl days, which she firmly denies. Then they head out to their first mission location.
In the car, Jae-suk is piqued when he hears they're headed to a rice paddy which means two things: mud and water. Being teamed up with Jung-myung gives him some reassurance, with his competitiveness and all.
The teams race to climb onto the platform once they arrive. How funny is it that Kwang-ja stops to get her pigtails done first? "This is a given for girls!"
In a relay race, the boys will traverse between two platforms placing boards to build a makeshift walkway for the girls. Messing with the girls is off-limits for the guys, so Kwang-ja asks, "Then it is okay for girls?" Jo PD grants it, ha.
They start, and it looks like Kwang-ja's long legs are an advantage at first, but the wobbly ropes prove difficult to balance on, causing her to fall into the water repeatedly.
At the same time, Min-jung takes it slow and steady, and he's nearly at the end… until Kwang-ja pulls her into the water. D'aww Kwang-ja, just because you can doesn't always mean you should!
Min-jung starts over, and once she gets her center of balance, she speedily walks across in just a few steps. Attagirl!
Jae-suk's taunts are met with disbelief, and Kwang-ja adds that Jung-myung is already in strategizing mode.
Then Kwang-ja lifts her legs to drain her boots of the excess water. When Jae-suk draws near, she places her hands over her skirt, all, What are you doing to a lady! Hahaha.
Before their second match, the Betrayal Trio sing a personalized theme song for Min-jung. And aw, she likes it, though their enthusiasm makes her jump.
Even though Kwang-ja's first step looks rather far, she remarkably makes the jump. Min-jung tries to interfere by flicking water at her, but there's no need since Kwang-ja falls face-flat into the water. HA.
Though Kwang-ja slides into the other bridge to force Min-jung to retrace her steps, Min-jung still manages to pull ahead for the win. Granted, Kwang-ja only had two boards to walk on, and when Suk-jin asks if those weren't enough, she raises a hand, annoyed.
But with a valuable hint on the line, Officer Kwang-ja attempts to make those jumps across… and crashes into the water.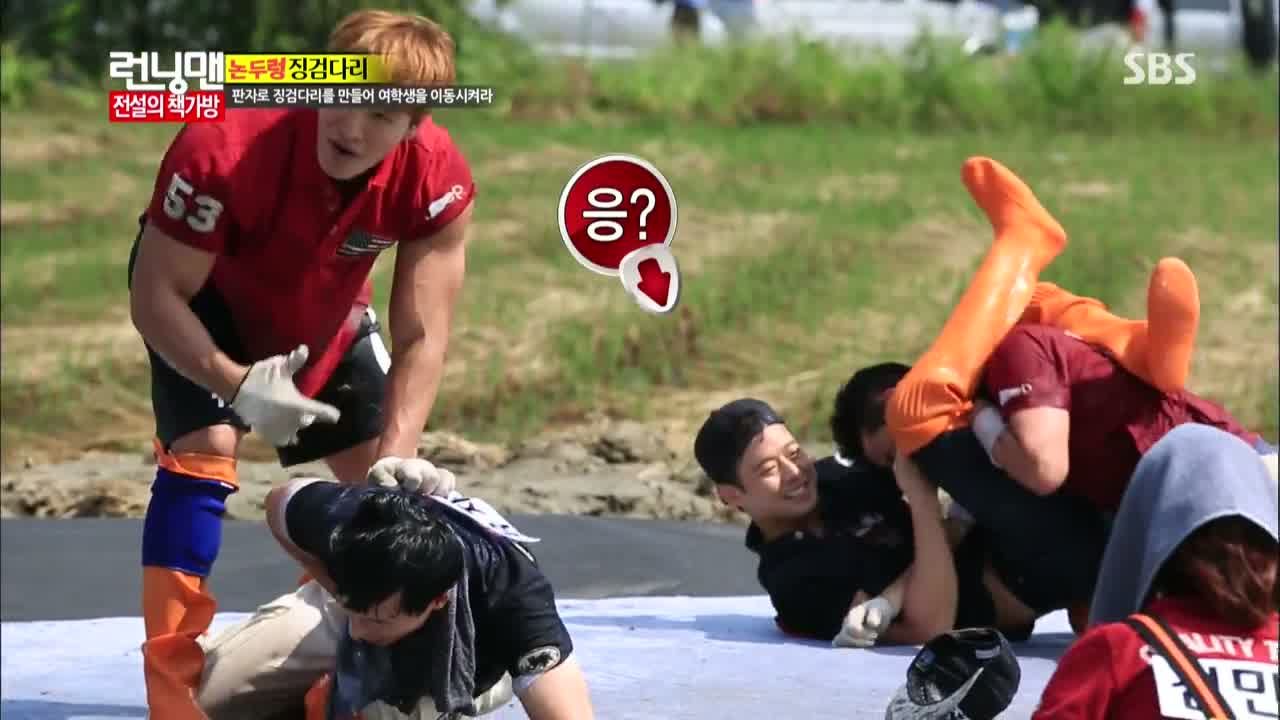 HA—is Jung-myung… stretching like this is a real competition versus a game? He's going to take this super seriously, isn't he? Sure enough, it turns into a wrestling match from the start with torn shirts, and at one point, Jung-myung locks both Jong-kook and Gary in place.
They continue to push and shove each other (and lay boards down when they can) as the girls yell at them to hurry up. Jung-myung locks Gary in a leglock with a wide smile on his face that's both funny and maybe a little scary.
Realizing that Ji-hyo is about to win, Min-jung leaps forward for her team. Exhausted, the boys exclaim: "Why didn't you do that sooner?!"
When Jong-kook complains about Jung-myung's use of jiu-jitsu, Jae-suk points out that the gym king is just as bad. Jong-kook argues that he doesn't even weigh that much (78 kg), and Jae-suk yells, "That's not counting your muscles!" Haha.
The second battle is just as brutal as the first. Then Jung-myung grabs Jong-kook in a headlock… and Jae-suk literally bites his head. TWICE. Owww.
Somehow the Navy Team finishes their bridge, and Min-jung latches on to Ji-hyo desperately. Both sides are wrestling with each other by now (Caption: Just a reminder, this picture isn't UFC…) and I have to ask: What game has this turned into?!
Jae-suk is on a biting streak and he bites down on what he thinks is Jong-kook's foot, only for Jung-myung to cry, "That's my foot!" Hahaha.
Eventually Ji-hyo breaks loose and calmly walks across to tie up the score. Jong-kook brings up the biting, and Jae-suk warns, "I'm going to bite your armpit next." Enraged, Min-jung tells Jong-kook to hold nothing back ("Tear [their shirts]!" "Scratch them!")
It's almost old hat to say that the third match starts off with another stand-off. Did… Jung-myung just hit Jong-kook over the head with a board?! That has got to hurt; today is just not his day.
At least this round goes quicker than the others, and Ji-hyo walks across for the win. Min-jung gets a little revenge of her own and grabs her co-star in a headlock. And don't worry—Jung-myung wraps Jong-kook in a loving(?) headlock.
The top two teams choose their hints, and as for the last one, Mr. PD rips it into pieces. At the lost opportunity, Kwang-ja cries: "Nooo!!!"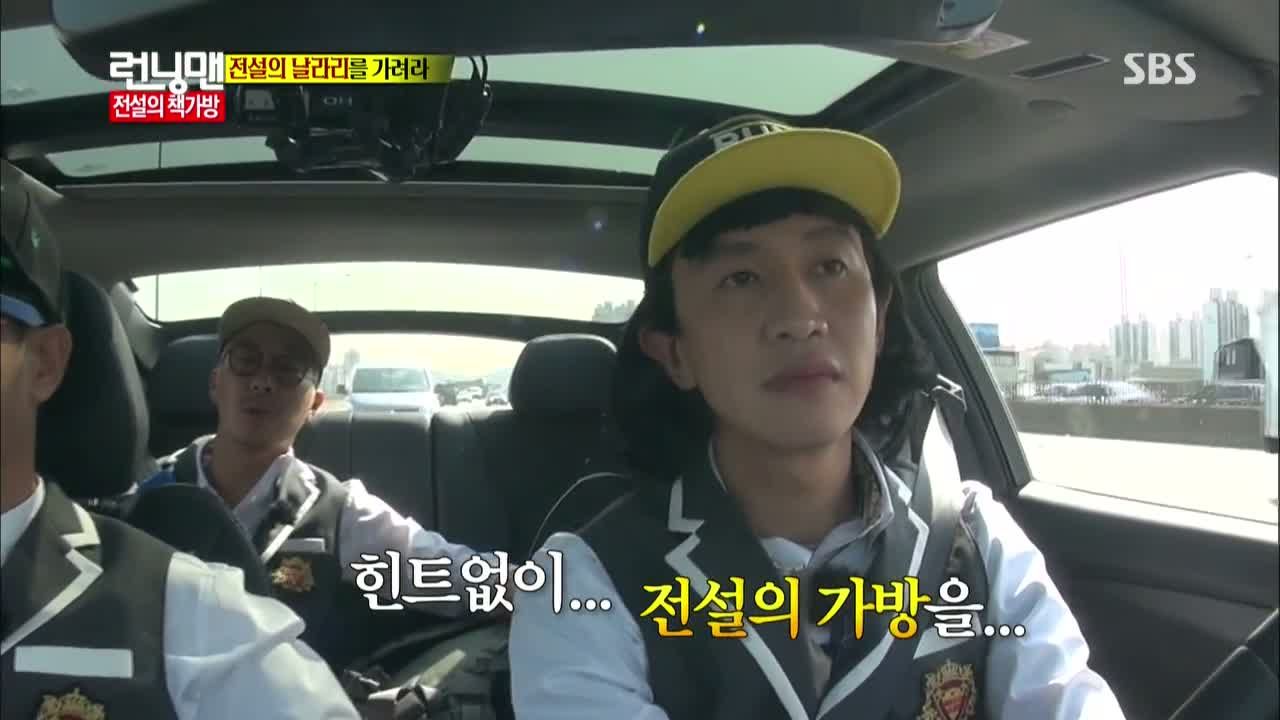 In their cars, Jung-myung shares their hint (World Cup), and actually breaks into a smile just thinking about how much FUN he had during the first game. Fun for you, painful for others. Potato, pohtayto.
Gary, meanwhile, notes how surprised he was to see Min-jung's temper firsthand. And elsewhere, Kwang-ja's face grows progressively darker at the mention that they may not receive a single hint today.
It's a multi-step relay race for their second mission where they'll have to do the following: (a) choose five snacks written on ping-pong balls; (b) buy the snacks; (3) roll down the hill (d) eat the snacks, and; (e) whistle to complete. Phew, got it.
So the runners dash up the hill to trade off with their partners, who run into the mart in search for their snacks. It's Gary who speeds out first with Jung-myung running out a minute later. And Jung-myung's evil cackle/giggle is adorable.
The final runners roll down the hill, and Kwang-ja rolls… and keeps going. She's still dizzy as the teams stuff their mouths with food, but no matter—once she starts eating, it's like watching a human garbage compactor at work.
I love how Min-jung offers some chocolate to Jong-kook (who hands it off to Gary 'cause he's a health nut), and then she offers him some more. Ha. Thankfully they finish first, giving them a chance to relax.
Which means the Navy and Gray Teams face off, and Jung-myung bursts laughing at his choices of hot foods and ice cream. It's going to take them forever, innit?
Thankfully we skip ahead to the rolling, and omo—Gary helps (and hugs) Ji-hyo as she tumbles down. And this time, the Gray Team pull ahead to grab second place.
Everyone arrives at the boxing ring for their next mission where the teams will be told their mission once the bell rings.
Between Spartakooks, a Jiu-jitsu master (Jung-myung), and a former amateur boxer (Gary), there isn't a lot of hope of victory for Kwang-ja. The cast is even told to take off their glasses, which eep, is this going to be a real boxing match?
Gary shows off a bit of his impressive boxing skills, and is that… admiration I see in your eyes, Ji-hyo? Jae-suk: "You sure you want to ruin your face more than it already is?" Gary: "I've got nothing to lose!"
Gary actually hits Suk-jin, who reels in pain and accidentally hits Jae-suk in the groin. Ouch. But that's when they're told of their mission: pick up the gourd and smash it over your opponent's head.
Grabbing it with boxing gloves is no simple matter, but Suk-jin manages to get ahold of it. Wielding it, he attacks his opponents, but it doesn't crack. Gary eventually gains possession of the gourd, and it takes a few more attempts before it cracks.
Haha steps up with the two fighter powerhouses, and tosses out cirticism in their warm-up. Haha's skills are of the Hollywood movie variety, punching air while running around the ring. Cornered, he hints at the staff to start: "I'm all warmed-up now!" Lol.
Puhahaha, these missions are going to be damn near difficult, aren't they? The boys struggle to pick up the coin off of the floor with their gloves, and after Jong-kook gets knocked aside, Jung-myung swoops in and completes the task.
Jong-kook gripes about being body-checked once again, and Jae-suk counters, "That's what WE go through every week!" Jong-kook: "I'm human, too!" Caption reads : Ah.. is that right?…
The third round is for the "girls," and Ji-hyo looks rather excited to be in the ring. Her explanation? "I learned a little boxing a while ago." Kwang-ja's shocked reaction is priceless. Then Haha asks, "And were all of those matches knockouts?"
Kwang-ja runs into Min-jung for a pseudo hug in an effort to avoid Ji-hyo's punches ("We're all girls here!' ha), but that's when the bell rings and they lunge for the mallet.
Kwang-ja punches into Ji-hyo's knee, but that does her no good as Ji-hyo sends her flying back. With the mallet in hand, Ji-hyo send Kwang-ja to the ground once more, but the struggle continues for another minute as Jung-myung is called out on interference.
Min-jung finally swoops in for the win, and when Kwang-ja takes up the issue with the staff, Im PD dryly responds that pro-wrestling rules also apply, i.e. not a foul. The fact that Jo PD is rolling in laughter next to him is what makes the moment.
Oh man, the best way I can describe the match between Ji-hyo vs. Haha is: EPIC. Ji-hyo grabs him in a body lock after a few punches, leaving Haha immobilized for a few seconds. He pleads, "Go easy on me. My mother-in-law is a fan…" Aww.
And then Ji-hyo punches him in the side and bites him. I'll take that as a no. But then Haha musters all his strength and stands up, lifting the pen high above his head. Aww, Haroro!
Haha drinks in the glory of his victory… and then smacks his head against the camera. A humorous way to finish off a proud moment.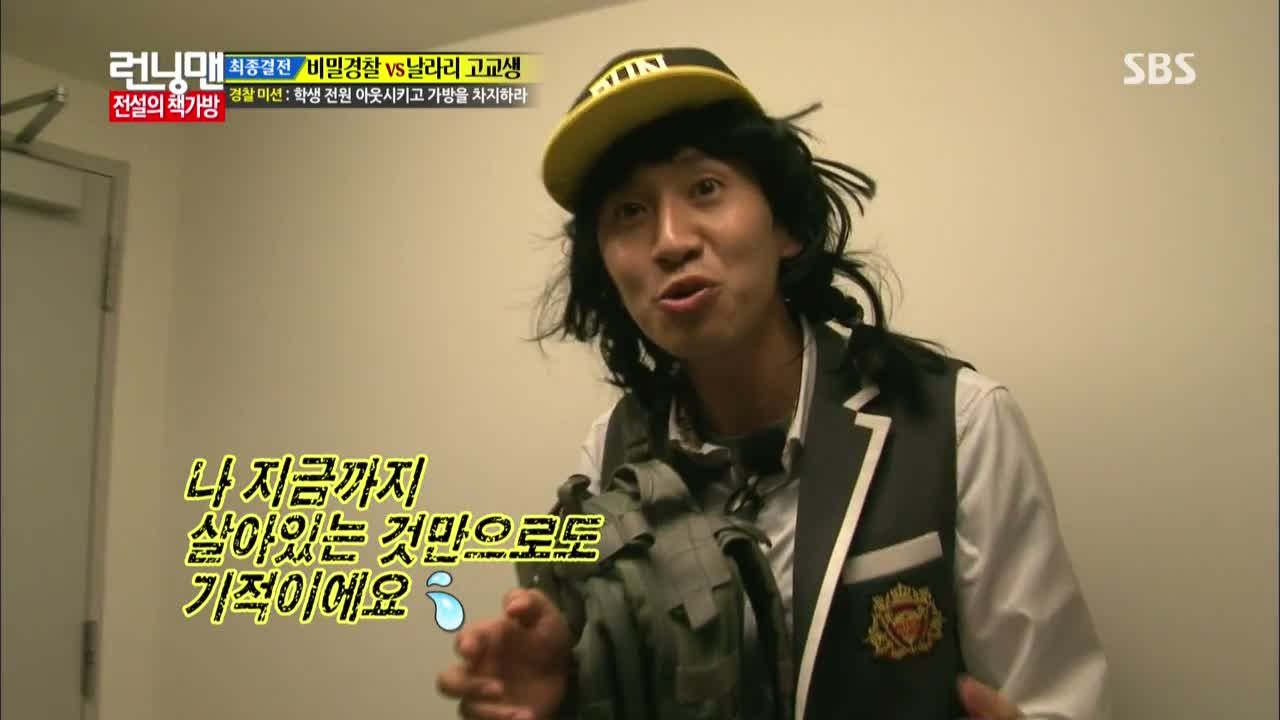 The teams arrive at their final mission location, a history museum. Jae-suk worries about their one vague hint, unaware that the Gray Team is in the same predicament since both envelopes contained the same hint.
Kwang-ja, meanwhile, tries to play cool until she can safely slip away without notice to receive her mission: retrieve the documents from the Legendary Backpack and arrest the others. Ah, so one of them is carrying said backpack and they don't even know it.
Eliminating everyone is a tall task for anyone, especially Kwang-soo. He gapes: "The fact that I'm still in the game is a miracle!"
While the others roam the halls in search, Min-jung slips away to check her phone as well. Wait, you're on this secret mission too?!
Then we roll the clocks back to show that yes, Min-jung is also an undercover cop, thanks to her exceptional performance in Thailand over two years ago. That certainly explains why she worked so hard to acquire the hints today.
When Jo PD doesn't give her a straight answer whether she has an accomplice, Min-jung guesses that she does. So this means both Min-jung and Kwang-ja are on the same side, and neither knows about the other's identities. Ooh.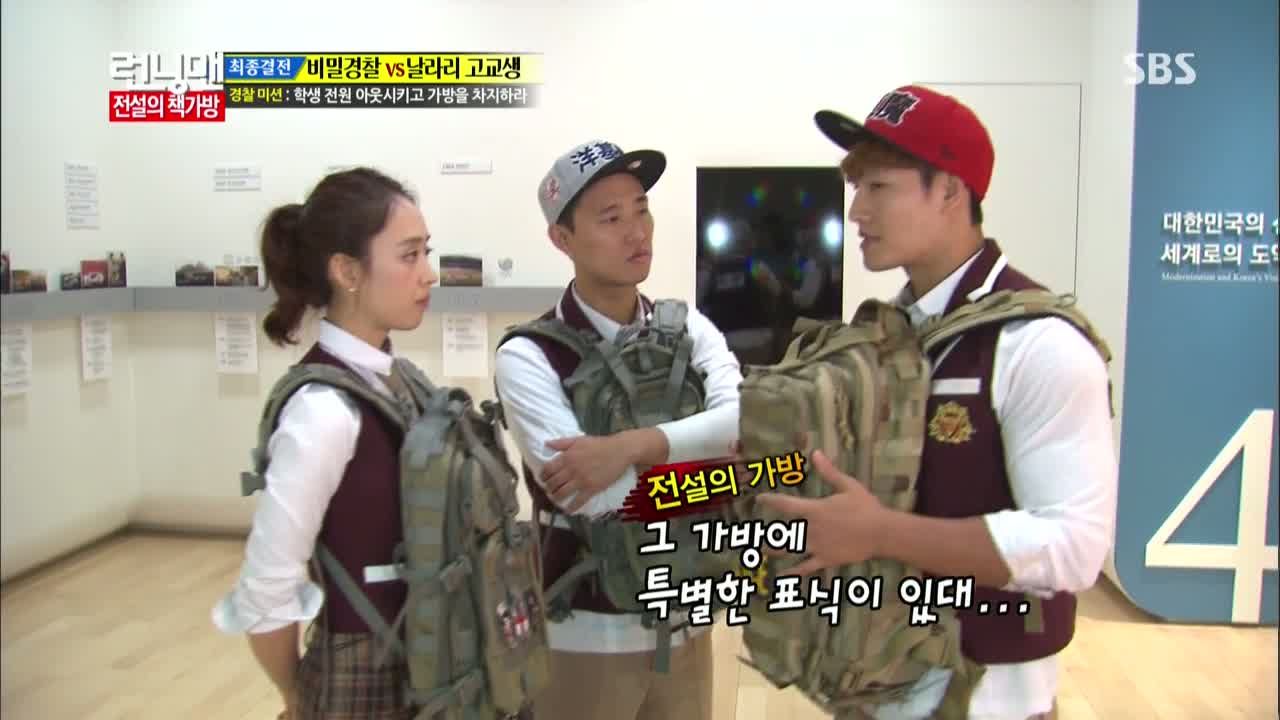 Whaddayaknow—Jong-kook is the one who finds the Legendary Backpack first. He calls for backup, and his team reads the mission to learn that they must eliminate the other teams to find out who has the true backpack. And to make sure no one else knows, Min-jung tears up the mission note.
Jong-kook suggests that they check their own bags for good measure, an idea that pings Min-jung's suspicion radar. Given Jong-kook's oddly keen deduction skills, I can see where she may get that idea.
They put Gary on lookout, and I love how Min-jung keeps snapping at him to keep watch even though he's dying of curiosity. Hehehe.
The Red Team calls Kwang-ja over, and when she plays dumb about the mission, they enlist her to take out Jung-myung. The other teams grow suspicious to see them chatting, then makes guesses of their own—perhaps there's something IN the backpack.
Realizing that they're getting warmer, Kwang-ja quickly dispels those thoughts, saying it has nothing to do with their nametags. So Jae-suk volunteers himself… and the speakers announce his elimination. Whoops.
They immediately suspect Kwang-ja, who sticks to her lie. The others admit that they do feel a little bad about it, and Myuk PD pipes in: "Don't make that mistake starting next week." HA.
After the allied teams (Navy and Gray) send Kwang-ja over to spy on the Red Team, Haha says that they can use their ignorance to their advantage. They head over to join the others, and Jung-myung summarizes, "All we have to do is rip off nametags, right?" Gulp.
It leads to a tussle, and in the chaos, Kwang-ja rips off Jung-myung's nametag. And once you rip off the first, the others come in quick succession. That's how both Haha and Gary are eliminated (by Ji-hyo), and the latter whimpers, "But… it's me." Aw.
Huh, it just occurred to me that Kwang-ja barely has to lift a finger if everyone is doing the heavy lifting. Min-jung still hasn't found her accomplice, but Ji-hyo is still a large threat, so she eliminates the Ace.
Now it's Jong-kook and Min-jung versus the Easy Brothers, and then Jong-kook flings an arm around Kwang-ja's back… and eliminates her. Her undercover cop status is now known to the world, and no one is as surprised as Min-jung.
She and Jong-kook take on Suk-jin together, and after they high-five their "victory," Jong-kook wonders about the undercover cop tag. Then Min-jung shows him… by ripping off his nametag.
Min-jung searches through the backpacks to find a tiny mark on Jae-suk's bag. Then she takes out the confidential documents, fulfilling her mission and duty to the police force.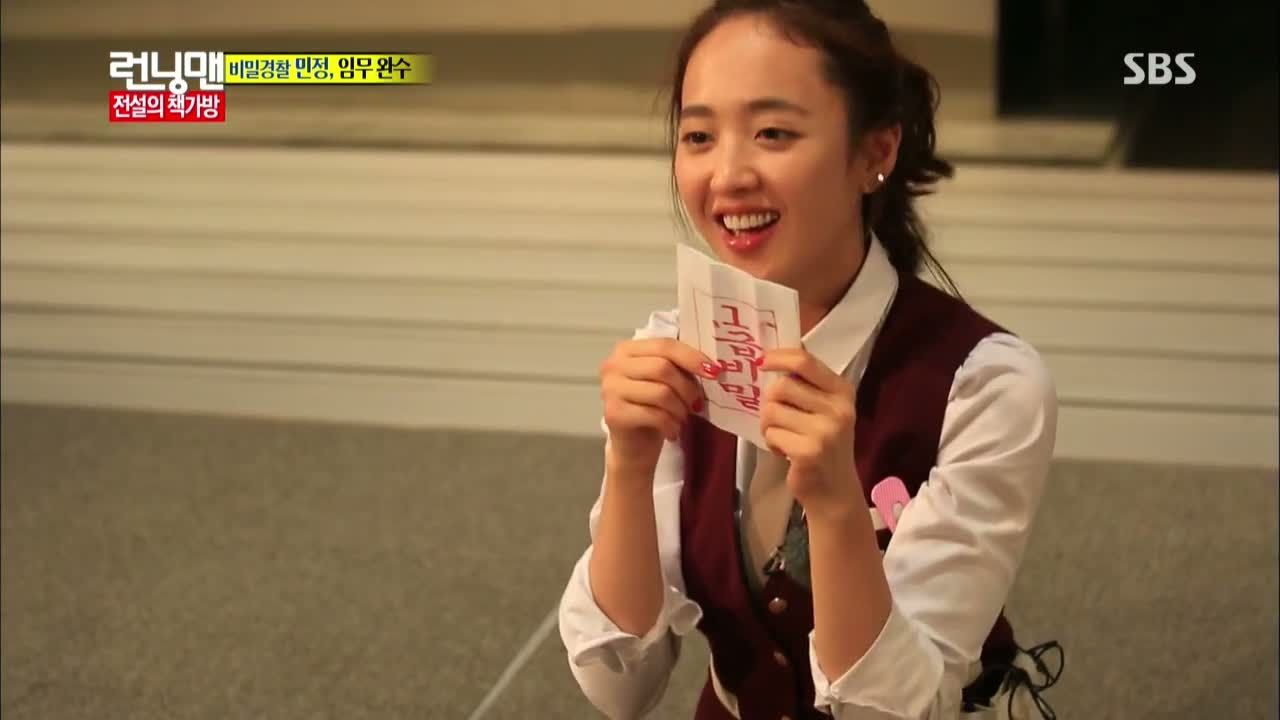 RELATED POSTS
Tags: featured, Haha, Ji Suk-jin, Kang Gary, Kim Jong-kook, Lee Kwang-soo, Running Man, Song Ji-hyo, Yoo Jae-suk