Running Man: Episode 168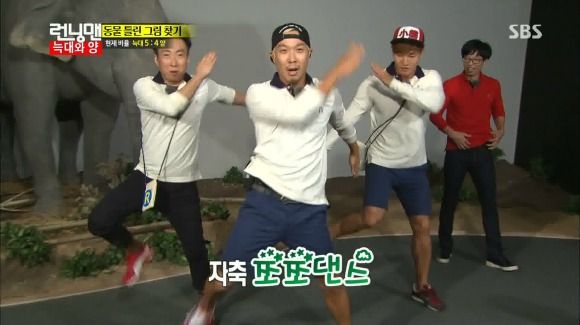 It's a classic battle of the fittest in this showdown between Wolf versus Sheep. This isn't your classic brainteaser where that head of lettuce is a deciding factor between sticking with the herd or going rogue. No, this game involves gold and where gold lies, greedy eyes are sure to follow. Are you ready to take a dunk in the pool or throw yourself into this ring of varietyland?
EPISODE 168. Broadcast on October 20, 2013.
Our cast gathers in front of the Road of Longevity, which seems just the sort of health-conscious thing Jong-kook would love. Sure enough, Jae-suk jokes that while Jong-kook may live a long, healthy life, it's those around him who will die early of secondhand stress.
Time to meet our two "musician" guests today: returning guest IU (You're the Best, Lee Soon-shin) is a familiar face on this show, and on cue, the boys praise and tease her for her mature and lady-like mannerisms.
Jae-suk says that our other guest has been hinting at his appearance for days now. He's easily recognized by the cast and crowd, but this is MC and occasional singer Park Myung-soo. As a fellow co-host on Infinity Challenge and Happy Together, Jae-suk exclaims exasperatedly, "I see him three times a week!" Ha.
Has it really been almost ten years since Ha-Myung-Kook? (The nickname dates back to the X-man days of yore, and composed of Haha, Myung-soo, and Jong-kook.) This reunited trio (White) will compete against IU, Jae-suk, and Kwang-soo (Red). Aw, and poor Suk-jin is the Monday Couple's third wheel (Blue).
In today's "Wolf and Sheep" race, the teams will stick together until their final mission, where it'll be every man or woman for themselves. They separate into individual booths where they're given a choice to choose to be either wolf or sheep.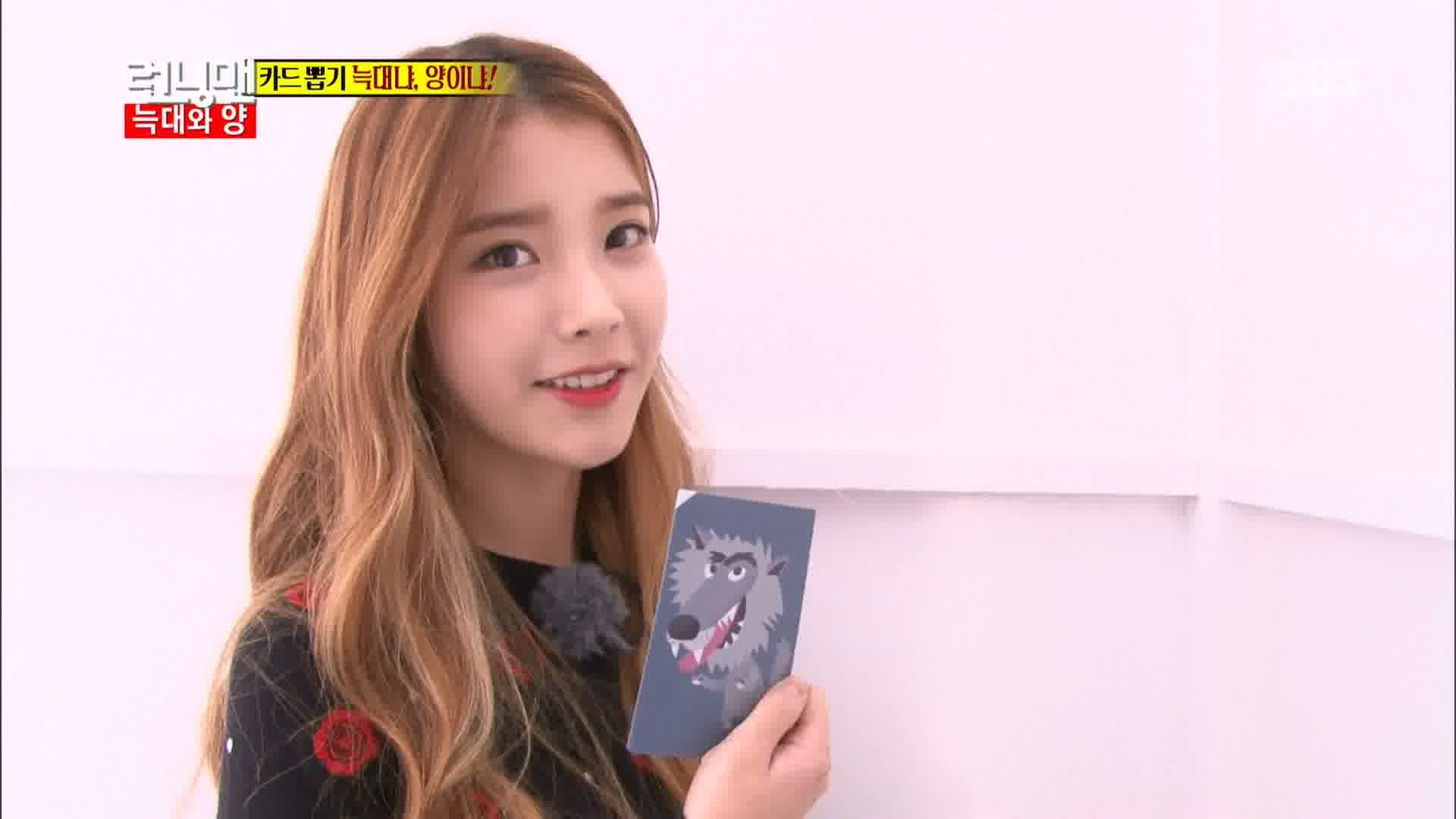 The decision process is pretty entertaining since nearly everyone assumes that the others will choose to be a big, bad wolf (I couldn't help it!). Except for Suk-jin, who thinks everyone would rather be a sheep.
On top of that, they're also told to guess who chose what (either wolf or sheep). Then to make this even more complicated, the winning team in each game also has a chance to switch their cards. With… the other teams or among themselves? My brain hurts already.
Today's prize grabs everyone's attention: gold. From the looks of it, it seems that tiny 'R' square is the only part that's 24k. Regardless, it's still a sizeable prize that's enough to put a smile on both of our guests' faces.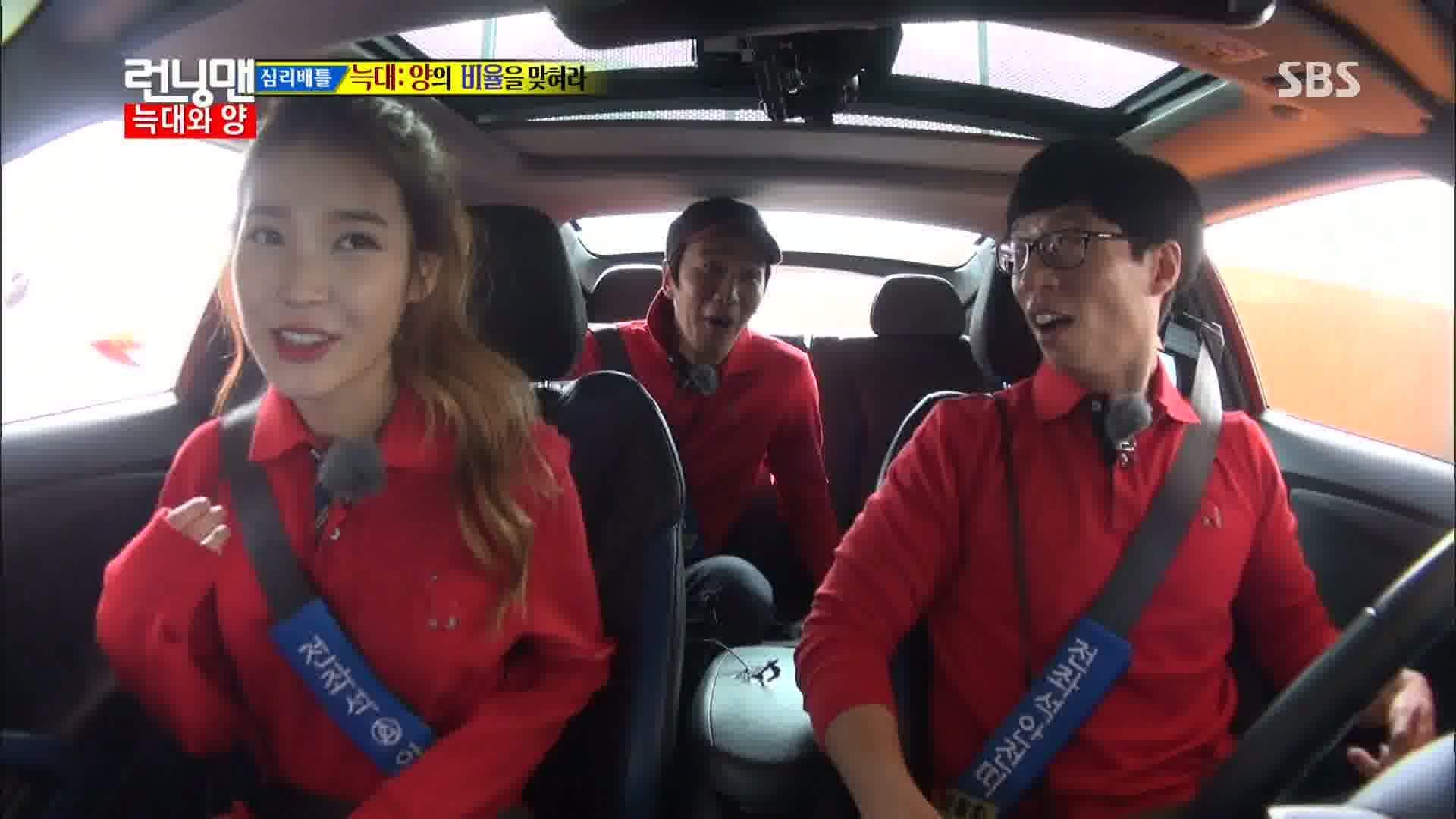 In the car, Jae-suk says he looks forward to Kwang-soo acting as their errand boy, even if he's not the maknae 'cause well, we know there's no way he'd order the pretty guest around. Ha, it's cute how they change their usual "UEE, we miss you!" to fit IU's name instead.
Before they're off, the cast learns that one or a possible few (it isn't specific in Korean) have guessed the correct ratio of wolf to sheep as 5:4. The lucky guessers of the hour: the Monday Couple.
It's a conversation starter as the teams suggest that they reveal their choices to each other now. Kwang-soo insists he chose wolf, but we all know better than to take his words at face value.
The Red Team is pretty suspicious of each other, and when Kwang-soo points out that they're in his neighborhood, the others joke that he can go home early today then. Aw.
The Blue Team, however, is honest about their choices, and they agree to split the winning among themselves. But is there such a thing as true loyalty in the face of treasure?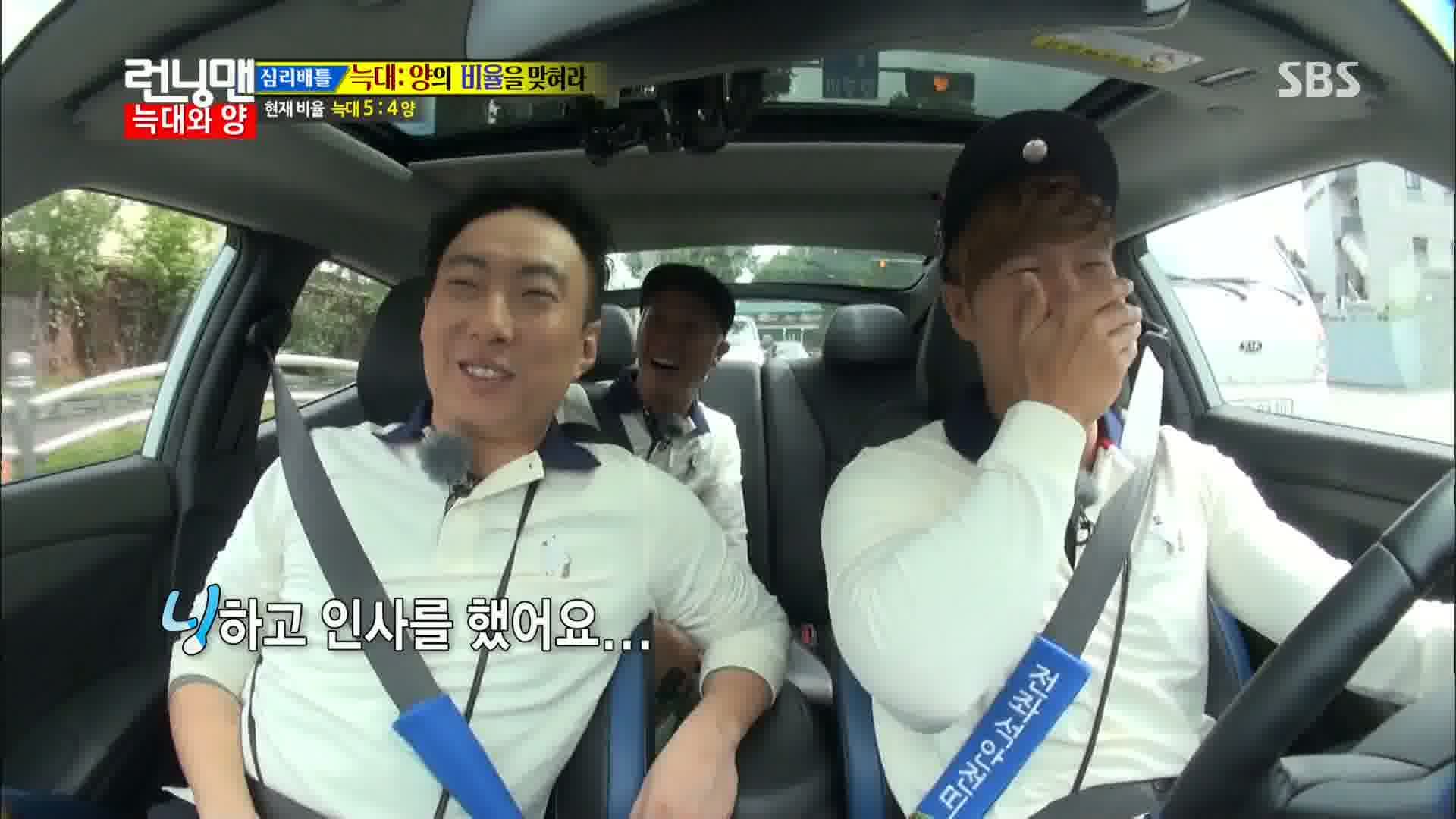 Our Ha-Myung-Kook Trio is having a grand ol' time together as Myung-soo jokes that he doesn't want a 2013 SBS variety award lest he be met with scorn. He takes a crack at an acronym-like poem with the show's title, and ha, I totally laughed when he ended the first line with "Good mor-" just to start off with "-ning."
Then he does it again with the next line: "… mother father gentle…" (hint: lyrics from PSY's "Gentleman," but you already knew that) HAHA, I can't even; it's just so corny.
Their first stop is at a memorabilia center where the teams awe at the delicately preserved animal. Jae-suk: "Does that mean Kwang-soo is a preserved [giraffe]?"
I've always found Myung-soo's brand of blunt yet dry wit and humor to be a hit or miss, but it's all in the delivery. When he's told the Blue Team is running late, he ribs on Suk-jin and his poor navigation skills. His reasoning: "The lion always chooses the weakest prey."
Thankfully, Suk-jin can stand his own against the permed king of the jungle, leading into an impromptu "Of Course" or Dangyunhaji game where Impala Suk-jin is called out as the weakest link. Boo, the game only lasts about 30 seconds.
Their first game is a literal race to return with a marked envelope stuck to various animal exhibits in the center. They return quick enough to find out their real mission: basically, What Doesn't Belong?
Myung-soo takes a stab at it ("A human mannequin?"), but he gets it wrong. They run out for another quick scan of the place, and it's IU who spots something off first. She runs back and jumps to grab the mic… but she's too short. Aw.
She grabs it eventually, but gets confused on whether it was a beaver or an otter. She's not the only one confused, and after much pushing and shoving, it's Jong-kook who gets it right (a beaver with a bamboo stick). Ha, poor Myung-soo's still wandering around.
By the third round, IU is first to spot the oddity again, but the others are close behind her. Gary gets it nearly right, but it's IU who swoops in to identify the animal as a zebra, not a pony. Eh, potato potahto.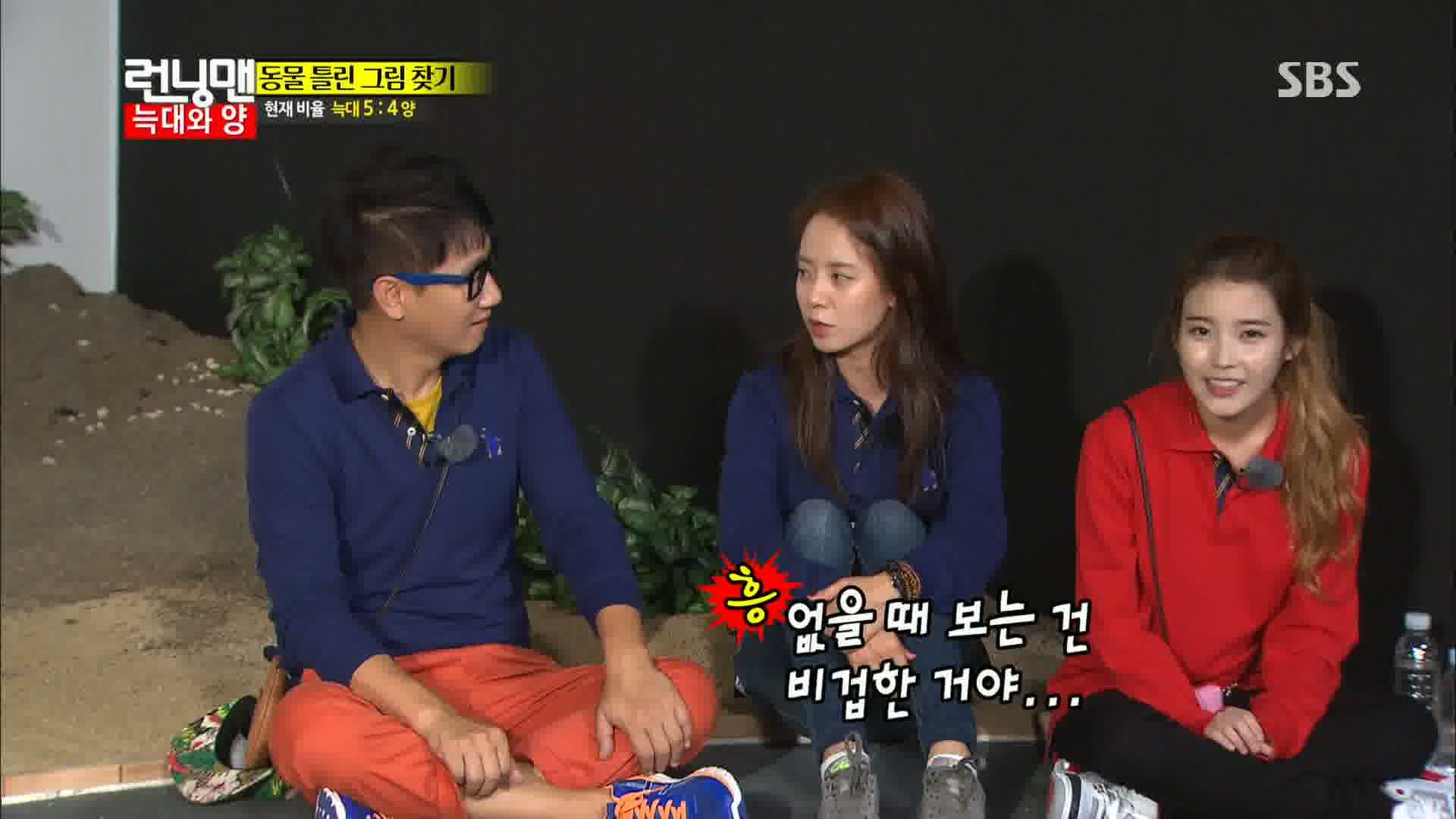 When Gary hands off his card to Ji-hyo for safe-keeping, the staff warns that Ji-hyo could sneak a peek. He replies in a relaxed voice: "I've got nuthin' to hide [from her]."
Suk-jin tries to persuade his way to look at Gary's card once he's gone, and he gets all huffy when Ji-hyo tells him no. Is that their Monday Couple love talking? No, it's because sneaking a peek is just cowardly, she says. Heh.
Kwang-soo whispers that he saw nearly everyone's cards already, and it's only now that Suk-jin realizes that everyone was able to see his card.
Oh right, the game. Myung-soo is completely out of breath when he returns, but he manages to get it right. Then in the last round, the remaining three zoom back and jump at the mic, and it's Haha who gets the final answer for Ha-Myung-Kook.
Oh, how I've missed that dance of theirs. Out of the three members, only Haha changes his card to wolf, bringing our ratio to 6:3. Aha, this also changes our correct guesser(s), but that will change as the day progresses.
The Red Team take guesses on the ratio, and Kwang-soo puts forth a pretty convincing argument that it's sheep-heavy. Ha, you're trying to argue that Jong-kook chose sheep? Not. Likely.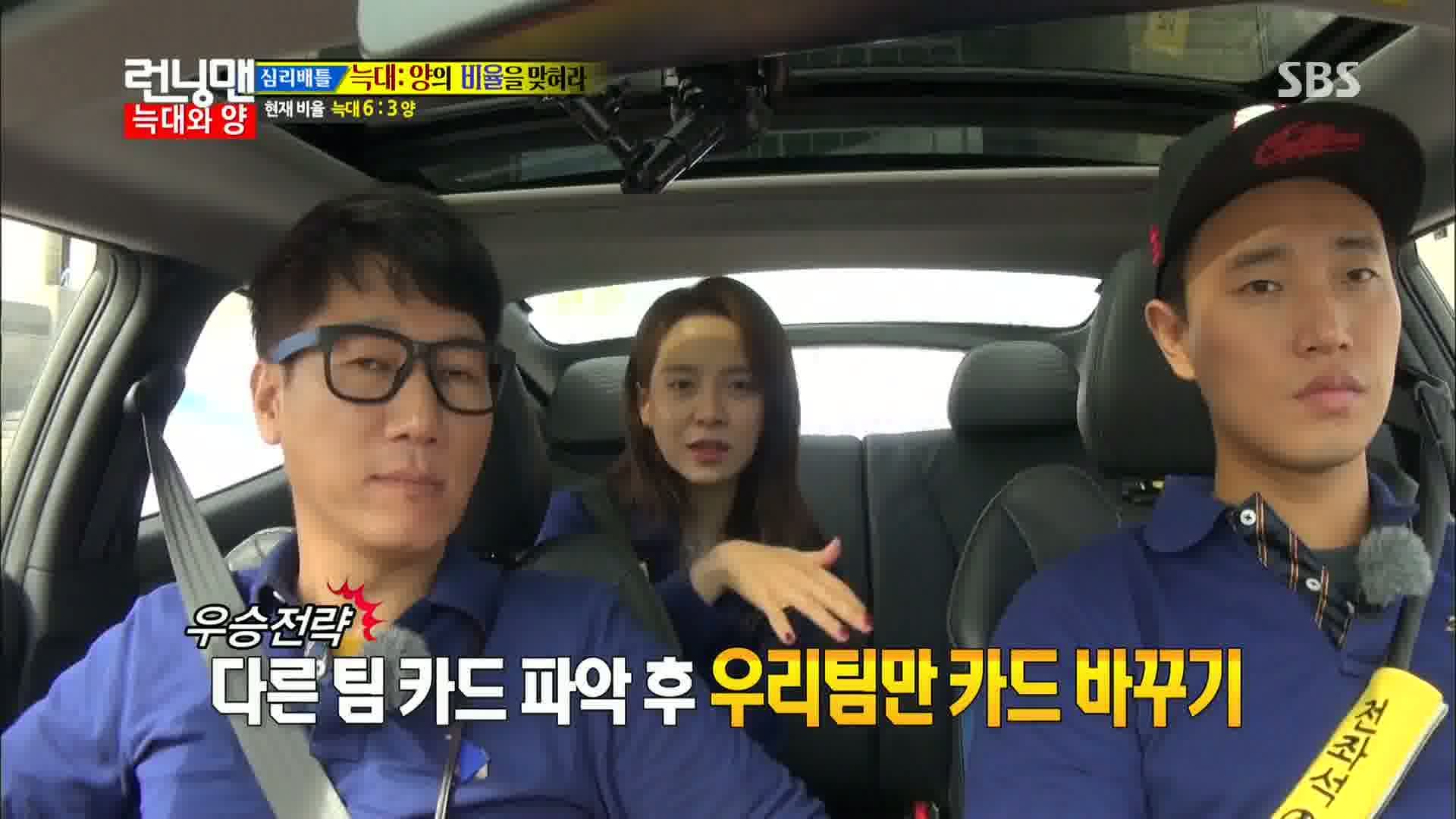 Ji-hyo, on the other hand, deduces that they should change their cards once they find out everyone else's to tip the scales in their favor. That means they need to win the games first. Smart.
Looks like there's another advantage to coming in first: the winning team from each game is updated on the current ratio. That should help them to gauge the ratio somewhat as the day continues; although that means math, which means… zzz…
At least it all sounds fun to Myung-soo, who says he really wants to become a fixed castmate. You're definitely not the only one…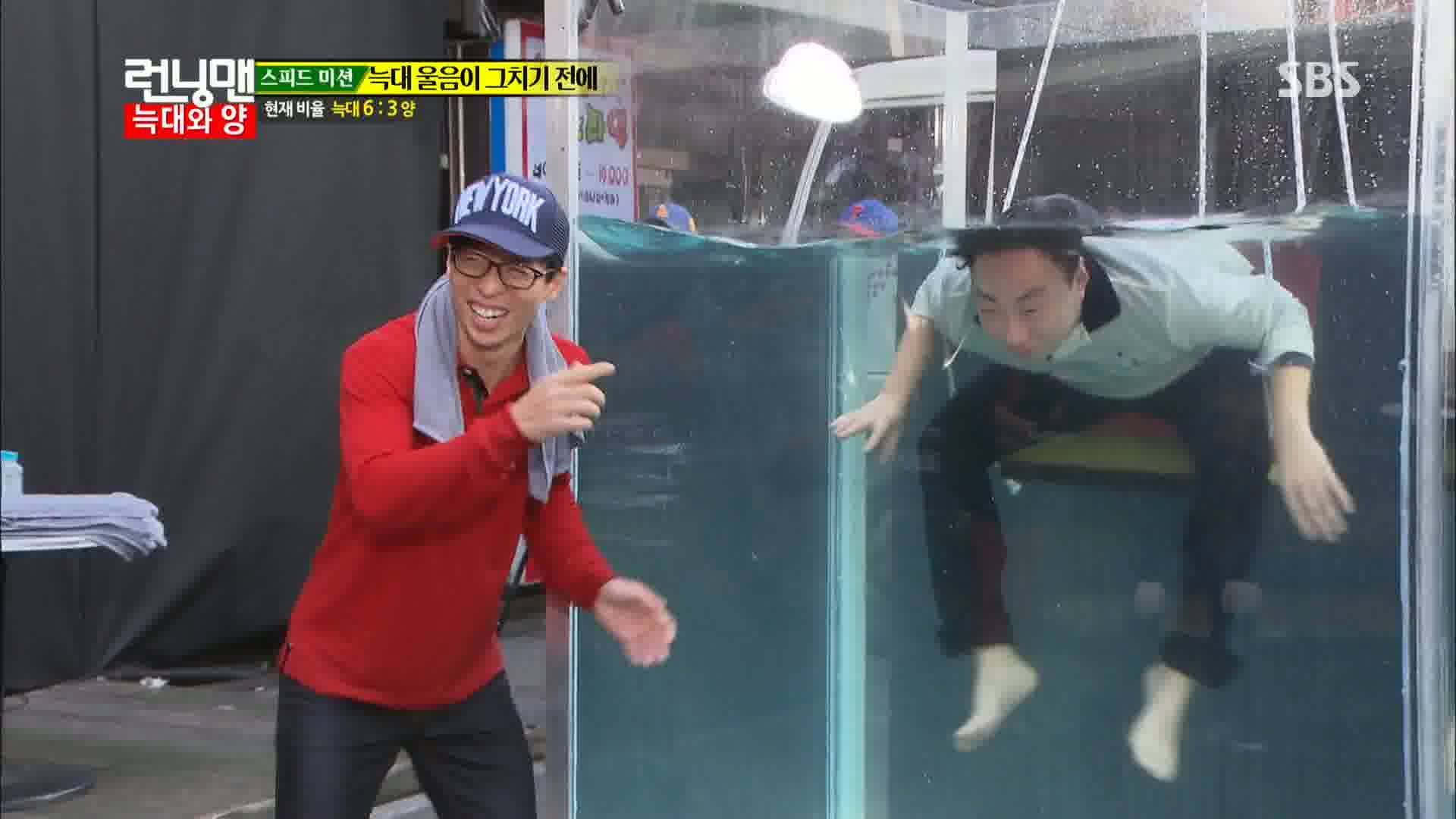 Is that a dunk tank in our next mission? Here they'll have to stack the restaurant's chairs in the time one (unlucky) teammate finishes calling out a sound. If they don't, well, yunno.
Myung-soo is tasked as the dunkee along with the encouragement that he needs to get that Daesang SBS Entertainment Award this year. "Even though it's my first time on this show?" Hehe, he's totally game.
His teammates rush to stack the chairs as Myung-soo is slowly and ominously submerged into the water. Ha, gives new meaning to Prince of the Sea, doesn't it? And I love after all of that, he asks if it's enough for a Daesang. LOL.
Thanks to Kwang-soo tall height, the Red Team gets close but no cigar on their turn. Jae-suk doesn't seem too torn up about it since IU had already agreed to go into the dunk tank next if they failed.
Myung-soo gets called out on a penalty for staying silent after the round starts. No amount of arguing will get him out of it, and when Jong-kook yells at him, Myung-soo retorts: "I'd move out if I ever met a mother-in-law like you!"
Suk-jin: "Why would you ever meet a mother-in-law?" Ha, so the word "mother-in-law" is gender-specific in Korean. Thus shi-eo-muh-ni, used in the aforementioned conversation, would be used when a woman addresses her husband's mother. The appropriate address for a man to his wife's mother would be jang-mo-nim, hence the confusion.
IU steps up to the dunking chair next, and the cast jokes that she should do her trademark three note high notes (from her song "Good Day"). But those singing pipes do help her carry a note, and her team finishes first.
It's sort of weird for me to see Jong-kook order Myung-soo around since I recall that dynamic going the other way back in the X-man days (my memory could be fuzzy). Needless to say, Myung-soo ends up in the chair yet again.
Thankfully his teammates work at top speed, and they finish before his head ends up below the water. The Red Team is filled in on the ratio before making their switches. 7:2 now.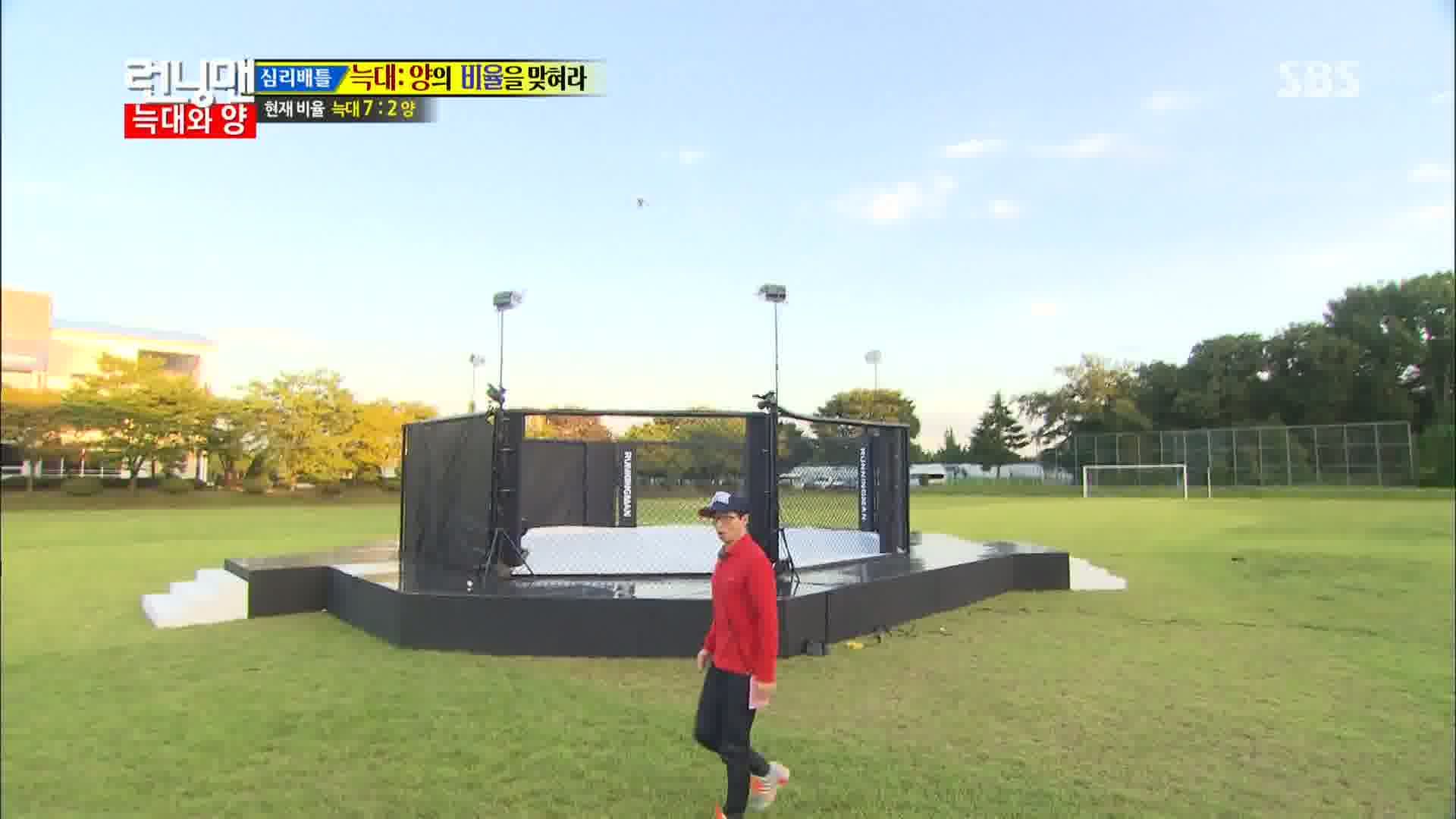 Jae-suk knows better than to trust Kwang-soo in the car as the Red Team is still suspicious of each other than ever. IU gapes to learn that they're really allowed to take the gold prize for themselves (Jae-suk: "[If you win] take it and run."), and Kwang-soo warns her: "Stay far away from me [if I win]."
Our third mission takes place in a ready-made UFC ring, which can only mean one thing: more wrestling and painnn. Sigh, didn't we get that out of our systems last week?
I do hope the staff will call it off before someone actually gets hurt, even accidentally. Think of my poor nails!
The teams will fight in an 1:1:1 nametag rippin' match against each other. Furthermore, they're prevented to see the other teams strategize who to send in next to keep the suspense.
Still, the strategy sessions are pretty funny as Jae-suk points out Jong-kook's weakness to women. IU says she can at least take on Suk-jin. Hahaha.
We start off with Myung-soo vs. Kwang-soo vs. Gary. Kwang-soo becomes the immediate target, but these past three years evading capture definitely show up in the ring. Which means it's Myung-soo who goes out first.
Then Kwang-soo and Gary grab each other simultaneously, but Gary's quicker by mere seconds. He climbs the wall in victory as Ji-hyo cheers. Eee!
In the second round Spartakooks has arrived. And who better than to take out the mat-hyungs, who quiver in fear. To save his strength, Jong-kook tells the hyungs to battle it out first.
Figuring that he doesn't have to win, Suk-jin teams up with Jong-kook instead, leaving the grasshopper helpless. But he flips sides soon enough, and then both hyungs attack each other.
Jae-suk eventually gets tossed out the ring, and his teammates laugh over his tightly-knotted sleeves, courtesy of Spartakooks, who does Suk-jin the same favor.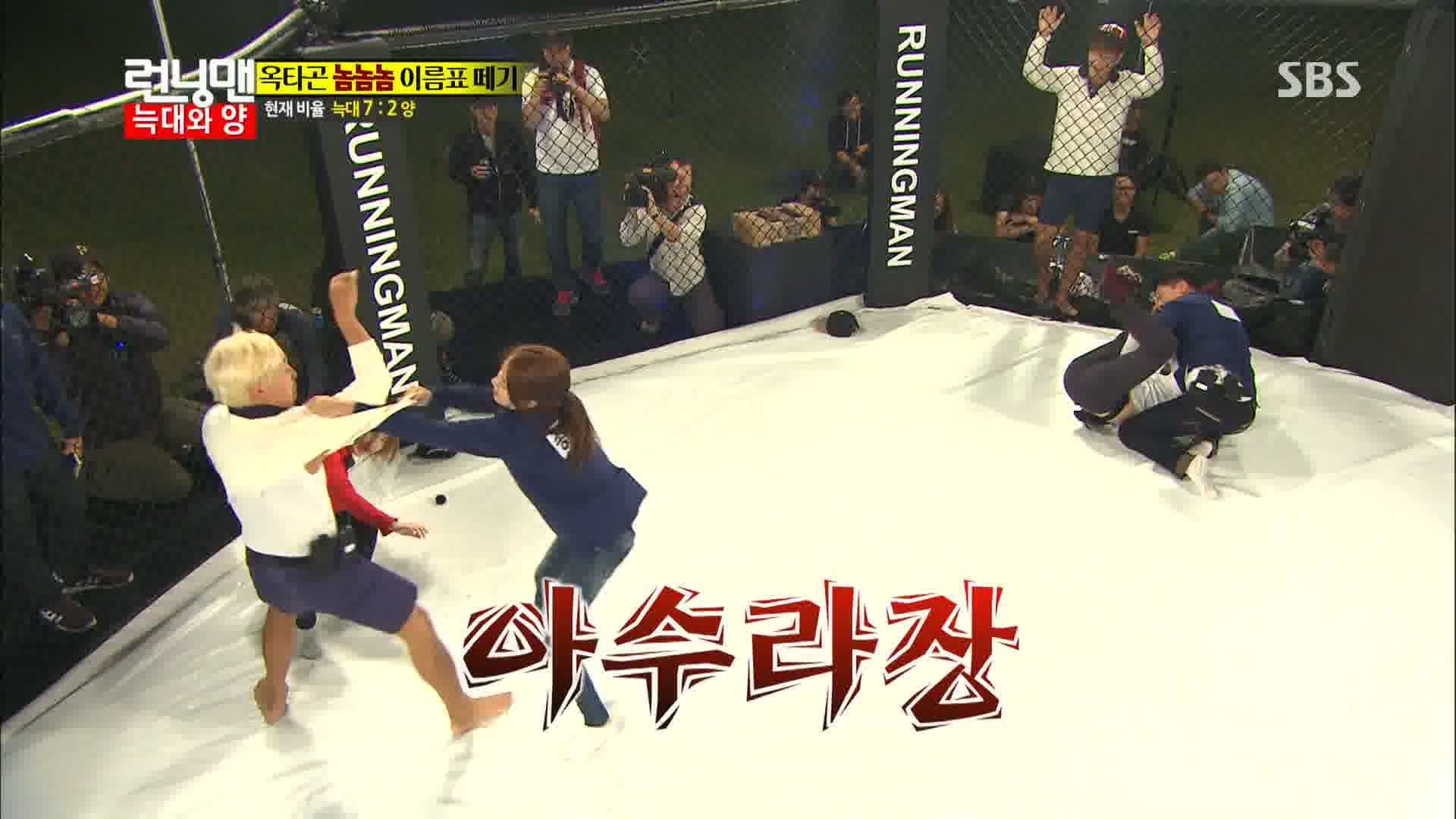 It's Haha vs. the ladies in the third round, and it's no surprise that Haha fights all show but no go. I'm pretty sure he's going to run out of energy before actually doing anything with all that running around.
The ladies eventually pin him down, and Myung-soo briefly rushes in and out to interfere. Hahaha, and then it's like a mini-fight that breaks out between Myung-soo and Suk-jin in a corner.
Ji-hyo gets a few knee kicks in (ow!) but Haha's got a free hand. After much more struggling, they eventually eliminate Haha. And the ladies' fight is quick and nearly painless as Ji-hyo rips off IU's nametag.
What an odd turn-up for the last(?) round: Suk-jin vs. Myung-soo vs. IU. Suk-jin becomes the first target, but he's still an experience nametag ripper, and eliminates Myung-soo.
Now it's down to IU to eliminate Suk-jin (or else the Blue team will win). Kwang-soo offers some outside interference… and it works? Yay for IU, but is this still within the
rules? (They allow it because of the "pro-wrestling" loophole.)
It's Haha, Ji-hyo, and Kwang-soo for the last round (we hope), and it's still pretty brutal with these three. Haha gets eliminated first, and Ji-hyo wrestles Kwang-soo to the ground.
Helpless, Kwang-soo sends a cry for help: "[Dad] This noona hurts me too!"
Kwang-soo manages to roll away, but not for long. She ends it a few sad seconds later. Aww, I think it's worth mentioning that Ji-hyo gives Kwang-soo a hug once it's over.
How is this UFC mission still not over yet? I'm starting to get UFC fatigue. Jong-kook and Jae-suk go for another round along with Gary. Kwang-soo gets ready for more outside interference, and when Jong-kook checks in with the rules…
… Jae-suk strikes and misses. Ack! So close! Then Jong-kook starts pulling Kwang-soo into the ring, and gives him what can only be best described as a jostle to his family jewels. Owwwwwwwww.
For a minute there, Jae-suk and Jong-kook look pretty evenly-matched as they grab each other's backs simultaneously. And Jae-suk goes down.
It's off to the final mission location after the Blue Team makes their choices. One can only hope that they chose to stick together to the end…
Whoa, those diving boards sure look unnerving. They're no problem for Ji-hyo, who steps forward without hesitation, and Myuk PD tells the men to follow suit.
One by one, each of the cast members announce their cards for the final count. By IU's turn it's 3:1 in favor of the wolf. And with Jae-suk's wolf card, we say goodbye to Myung-soo and Suk-jin.
Then Jae-suk is out of the running too when Kwang-soo cries, "Wolf!" But it's Ji-hyo's card we're interested in since it can start to shake up the ratio. And so it does, as she reveals her original sheep card.
Gary shows his sheep card, bringing the count to three sheep. Given the count, only four of them have a shot at winning, and it comes down to whether Suk-jin betrayed his teammates or not. Suk-jin: "Sheep!"
And just like that, everyone but the Monday Couple fall in. Gary smiles at his good luck charm, and maybe we need to start calling them the Golden Monday Couple.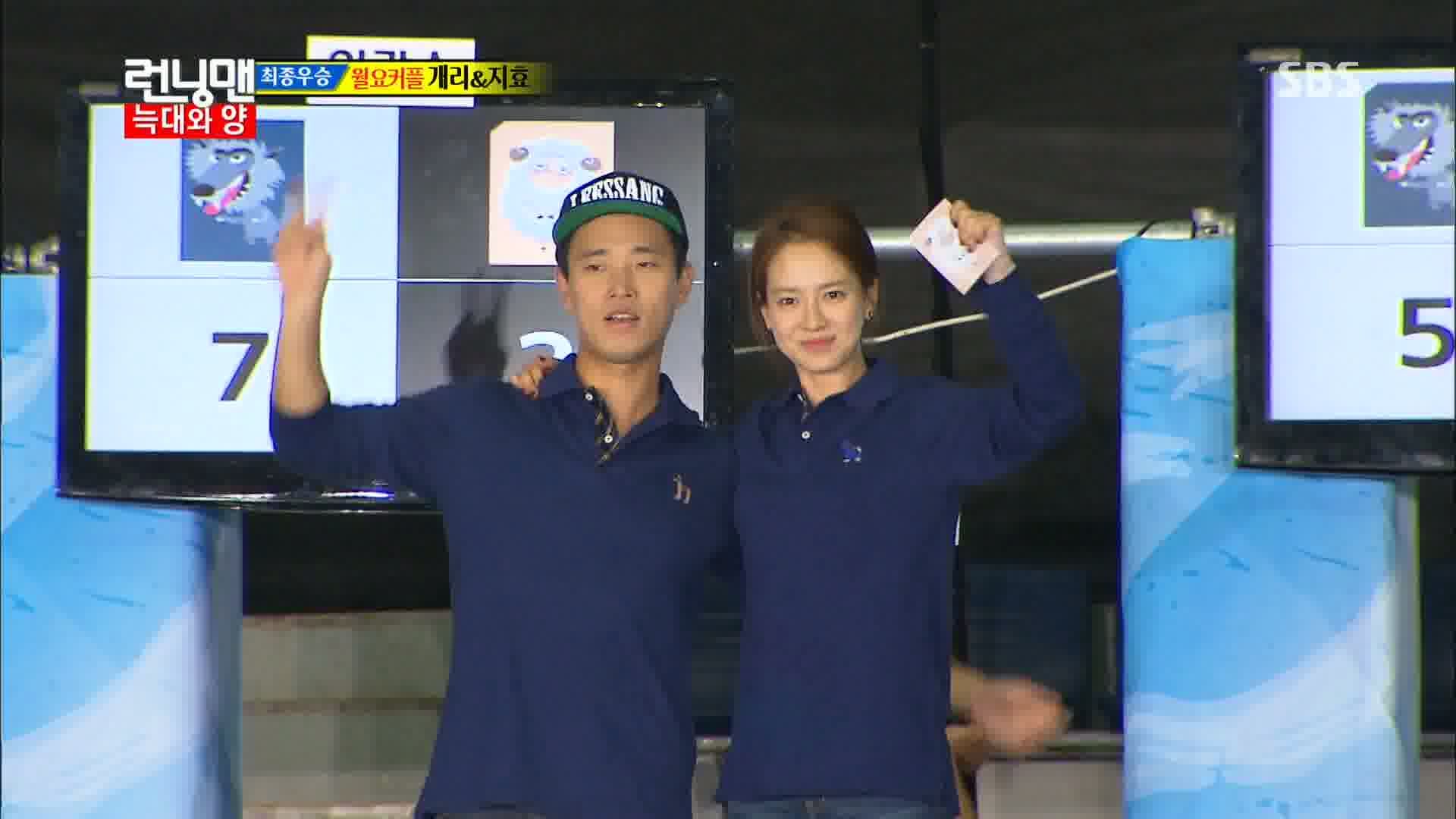 RELATED POSTS
Tags: featured, Haha, Ji Suk-jin, Kang Gary, Kim Jong-kook, Lee Kwang-soo, Running Man, Song Ji-hyo, Yoo Jae-suk