50th Grand Bell Awards
Ack, is it that time of year already? WHERE DID THE YEAR GO.
The 50th Grand Bell Awards (aka Daejong Film Awards) were held on November 1, and kicks off the season of red-carpet awards ceremonies. There were a few big films that carried off the lion's share of prizes, but it was a far cry from last year, when no films not named Gwanghae needed to show up. At least the winners were spread out amongst several big titles, most notably two of the year's most-acclaimed and most successful at the box office: sageuk blockbuster The Face Reader and heart-tugging dramedy Miracle in Cell No. 7.

WINNERS LIST
Best Picture: The Face Reader
Director Award: Han Jae-rim (The Face Reader)
Screenplay: Lee Hwan-kyung (Miracle in Cell No. 7)
Actor Award: Ryu Seung-ryong (Miracle in Cell No. 7), Song Kang-ho (The Face Reader)
Actress Award: Uhm Jung-hwa (Montage)
Supporting Actor: Jo Jung-seok (The Face Reader)
Supporting Actress: Jang Young-nam (Werewolf Boy)
New Actor: Kim Soo-hyun (Covertly, Grandly)
New Actress: Seo Eun-ah (Act)
New Director: Jung Byung-gil (I Am a Murderer)
Cinematography: Choi Young-hwan (Berlin)
Lighting: Kim Sung-kwan (Berlin)
Editing: Choi Min-young, Kim Chang-joo (Snowpiercer)
Music: Jo Young-wook (New World)
Costuming: Shim Hyun-sub (The Face Reader)
Art Direction: Ondrej Nekvasil (Snowpiercer)
Technical Award: Digital Idea (Tower)
Planning: Miracle in Cell No. 7
Special Judges Award: Kal So-won (Miracle in Cell No. 7)
Film Advancement Achievement Award: Hwang Jung-soon, Jung Il-sung
Popularity Award: Lee Jung-jae (The Face Reader)
Ze red carpet…

Ryu Seung-ryong, like a BOSS. I'm always thrilled when he wins an award, which is pretty frequently since he's awesome, but for some reason I feel like he's still underappreciated. What's particularly wonderful about Ryu is that he has incredible range; he's equally at home playing badass dirtbags, sad sacks, dignified professionals, and goofy comic relief types (and more). He won the top acting award of the night for Miracle in Cell No. 7, and while it's no surprise to say that he was fantastic in it, he was that and more and broke my heart.

But we can't talk of Ryu's performance in that movie without including Kal So-won, his pint-sized co-star who was the heart of the story. She was so good she was nominated in the Best Leading Actress category as well as Newcomer. And how much do I love that she's missing her two front teefs? Adorable.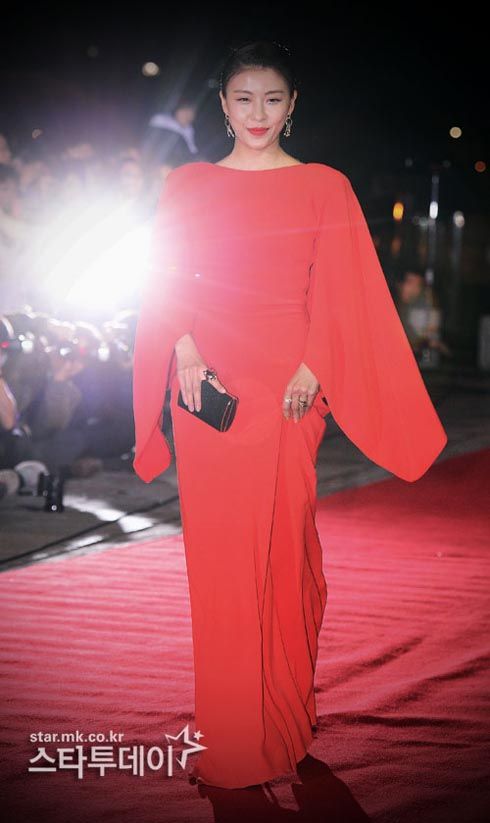 Here's the thing: I don't think this is a great dress. The cut is funky and it looks like she's wearing wings, and from a certain angle it looks like she took a giant's jacket and turned it around.
That said, Ha Ji-won looks amazing. She may be wearing a flappy orange straitjacket, but she finds a way to make it work.

Hwang Jung-min was up for the best actor award, but I wonder if he split the vote with himself; he was nominated for both gritty crime movie New World and action drama Fist of Legend. But it's okay, because I'm sure he'll be back next year; he's one of those actors, like Ha Jung-woo, who seems like he's always on the award circuit for everything he does. In the last photo he's with Park Jung-min of The Flu (though I know him better as the moody high school outcast in Bleak Night).

Aw, Kim Soo-hyun. It's amazing how quickly he shot to such heights of fame within such a short period of time, and here he is picking up a New Actor award. I know Covertly, Grandly gets a little backlash for being a slick blockbuster, but I saw it recently and absolutely loved it, and thought Kim Soo-hyun was really strong in it. It's not the movie I thought it would be (all jokey and full of hijinks), but what I got left a much deeper impression.

Not gonna lie, I took a good long while to decide how I felt about Lee Jung-jae and his pumpkin brocade formal jacket. While I can't say I love it on its own, I think I'm coming 'round to acceptance, mostly because of how confidently he wears it. And he's got a lot to be confident about—with The Face Reader, Lee now has two films in the Top 10 of all-time box office hits (the other being last year's crime caper The Thieves). I still miss him from dramaland, but given that his movies on the whole are much better than his dramas, I suppose I'll have to live with it.

Go Ah-sung reteamed with director Bong Joon-ho for Snowpiercer (the first time being in The Host), and netted a nomination in the Supporting Actress category. It kinda looks like she's being attacked by a mass of hairballs… and yet, the effect is chic and put-together. Classy hairballs?

There was a LOT of black and white on the red carpet, and individually I think most of the looks were well-done, if definitely safe. But you put 'em all together and they just blur into each other. Here's Choi Jung-won (Her Legend) wearing a giant bow on her chest…

…while Chun Min-hee has a two-in-one deal going on with a short, shiny underskirt that adds contrast. She was nominated in the New Actress category for the movie Gangster Shaman.

Seo Eun-ah was also nominated for New Actress for the romance-melo Act, whose title is a bit difficult to convey the nuance of; it's "act" with a pejorative connotation, like the kind of word used when saying, "What the hell do you think you're doing?"

Jang Young-nam won for her supporting turn in Werewolf Boy, and if you're wondering why she's cradling her stomach in the photos, she's four months pregnant. Aw, yay for her. She's another actress who always delivers, and was in fact also nominated in the Best Actress category for Azooma, a thriller where she plays a single mother who takes the law into her own hands when the system fails her and her daughter.

There is a lot goin' on with Jo Min-soo, who won last year for Pieta, but I don't dislike it on her. She tends to favor shiny, glittery numbers, and always pulls it together.

Are we out of the black zone yet? …no? Sigh. Okay, here's Clara, who's on SNL: Korea but whom I know better as the actress who's always in the headlines apologizing for saying something stupid or other. I barely know her and I want to hire her a better handler, so that the thing she becomes famous for isn't shooting off her mouth. (Too late?)

Moon Jung-hee, nominated for Hide and Seek, also wears black but at least has some patterning and detail/trim work to set her apart from the sea of black gowns. Although it does make her seem like she's nekkid underneath the sheer overlayer, with the nude lining.

Uhm Jung-hwa won the Best Actress prize for the thriller Montage, which was something of a sleeper hit. This fitted, sophisticated style is very familiar for her, but the lady knows what she likes.

Yay for color, and double yay for bright red! I love everything about Eom Ji-won in this; it's perfect, every detail. (Okay, maybe the manicure I'd redo.) She was nominated for supporting actress for Gangster Shaman, though she lost out to Jang Young-nam.

Choi Jin-hyuk! Drool. Yes, he's being a little bit wasted in Heirs right now, but I have hope his character will have bigger and better things in his future (otherwise it's just too sad to think about). It's definitely his breakout year, and he's looking amazing.
Oh wait, just one more! Yeah, that's the stuff.

Yang Dong-geun (Hero), what is that thing that died, and why did you stick it on your face?

Haven't heard much about Han Eun-jung (Gumiho: Tale of the Fox's Child) lately, but she popped up at the awards looking statuesque and goddess-like. Love that color, and she's wearing the heck out of that gown.

Shin Hyun-joon (Oohlala Couple) emceed the event, and walks the red carpet like an old pro.

Seo In-gook (Master's Sun) looks adorable in his tux. There's something about him that reminds me of early-days Kim Soo-hyun (y'know, since Kim Soo-hyun's such a veteran now, ha).

Okay, admittedly when I first saw pics of Park Doo-shik, I was trying to figure out where I'd seen him, thinking, "You know, he was that bumbling idiot." And yes, he was kinda dim (but sweetly loyal) as Choong-ki in I Hear Your Voice, though he was here at the Grand Bells as a nominee in the New Actor category for Fist of Legend.

To me, Shin So-yool is still the best friend from Answer Me 1997, though she's moving on and up with roles like the one that garnered her a nomination here, My P.S. Partner. She sorta looks like she's been attacked by killer pink algae, but she looks so happy and bright.

This peachy evening gown is a decidedly more glamorous getup for Shim Yi-young than her current role playing the klutzy aunt in Suspicious Housekeeper. I half-expect her to trip here, taking down some velvet rope, camera equipment, and a half-dozen actors with her, capping it off with a sheepish "Did I do that?" The dress seems prettily safe to me, but it's fitted perfectly.

More peachy-pink on Min Ji-hyun, a New Actress nominee for Plaything. It's my least favorite of the pinks, washing her out and looking loose and bland.

Fist of Legend is showing up quite a bit in these lists, so maybe I'll have to put it on my to-watch list. Yoo Joon-sang (also recently of weekend drama Birth Secret) was nominated for his supporting role.

Seems like MBLAQ idol Lee Joon is ramping up his acting goals, with his recently released movie Rough Play and his upcoming romance with Park Jin-hee in Botox.

Lee Kyun (Wish Upon a Star) looks like an adorable boy (not a grown-up 31-year-old!). I guess I haven't seen him being amazing yet, but I have a soft spot for him and keep waiting for him to pick a breakout project…

Does it not seem that Ahn Sung-ki (Rough Play, Top Star) has stopped aging? He is at ever single red carpet ever, and he always looks exactly the same.

Lee Se-young (Goddess of Marriage) looks a bit like a deer in headlights in some of these photos, but that aside, I think she looks happy and pretty in that lilac color (no surprise, I'm just glad when we get any pop of color, since these red carpets so often give us a bevy of black and white). I'm fairly sure I've seen her dress on some other red carpet before, but it suits her youthful freshness.

Along with Hwang Jung-min, Park Sung-woong was nominated for New World. His candidacy was for supporting actor, which was a pretty crowded category with lots of strong contenders like Baek Yoon-shik, Oh Dal-soo, and of course our winner, Jo Jung-seok.

Speaking of whom… Jo Jung-seok! How thrilled am I for him? It wasn't his year in dramaland—You're the Best, Lee Soon-shin got its 30% ratings but he was wasted in it, honestly—but at least his supporting comic turn in Face Reader got him noticed. Luff. Him. So. Much.

So that means it wasn't Oh Dal-soo's turn for the prize, though he was funny and solid in Miracle in Cell No. 7 (though really, how did they decide which of the cellmate buddies got nominated and which ones didn't? They were all so good).

Han Go-eun (Goddess of Fire Jung-yi) looks like a goddess. A badass, confident goddess with nary a hair out of place.

And now it's time for the parade of white: Here's Hye Park, a model whose dress I'm not quite sure whether I like or not. The beading detail and the plunging back is a definite plus, though I think it looks a little shapeless from the front.

Jin Ji-hee is growing up nicely, transitioning from child star to… slightly older child star (she's 14). Her nomination was for the family comedy Boomerang Family, and she wears a short, sweet dress that suits her bubbly personality.

Just six years old, Park Min-ha was nominated as supporting actress for epidemic thriller The Flu. I love the poofy skirt that's twice her size.

I… don't know what to make of Sun-woo's dress. Doesn't it look like she was wearing a sheath minidress, then decided at the last minute that it was too plain and cut a hole out of the lace table runner and stuck it over her head? Sometimes I just don't get fashion.

Although I don't think you have to "get" fashion to have a reaction to this number on Oh Yoon-ah (Incarnation of Money), which is part Dynasty and '80s shoulder pads, part saloon madam bride.
RELATED POSTS
Tags: Ahn Sung-ki, awards, Choi Jung-won, Eom Ji-won, Go Ah-sung, Ha Ji-won, Han Eun-jung, Han Go-eun, Hwang Jung-min, Jang Young-nam, Ji Jin-hee, Jo Jung-seok, Jo Min-soo, Kim Soo-hyun, Lee Joon, Lee Jung-jae, Lee Kyun, Lee Se-young, Moon Jung-hee, Oh Dal-soo, Ryu Seung-ryong, Seo In-gook, Shin Hyun-joon, Shin So-yool, Uhm Jung-hwa, Yang Dong-geun, Yoo Joon-sang