Answer Me 1994: Episode 11
Here we go. We knew the pendulum was bound to swing back this way, because, well, that's what pendulums do, and also Oppa is Oppa. We finally corner Garbage long enough to ask him some questions, and in true Answer Me style, what we find out only opens up countless more questions. It's a doozy of an episode, perhaps to make up for the fact that we only get one installment this week.
Ratings continue to inch upward with this episode clocking in at 9.3%, with a 10.6% high during the hour friggin' hour-and-a-half.

SONG OF THE DAY
Kim Gun-mo – "혼자만의 사랑 (Alone in Love)" [ Download ]
Audio clip: Adobe Flash Player (version 9 or above) is required to play this audio clip. Download the latest version here. You also need to have JavaScript enabled in your browser.

EPISODE 11: "The only way to end a one-sided love"
It's February in 1995, and we open on a public notice for changes in proper garbage disposal, hur. Dad rushes the local grocery ajumma to hurry it up before he's late for the opening. He cries as he runs off that it's her fault if he misses it, and dashes home to the family waiting in the living room for snacks. They're glued to the television, and soon we see why: the title card for Sandglass's finale comes on the screen.
The men all swoon at Choi Min-soo, who is now the ideal of every man in Korea, and Dad asks stupidly whether Mom thinks Choi Min-soo or Dad is more handsome. Mom: "Lee Jung-jae!" HAHA. This lady knows what's up.
Na-jung agrees wholeheartedly, swooning at Lee Jung-jae's brand of silent, loving-from-afar stalwart bodyguard hotness: "That's my ideal man!" LOL at Chilbongie side-eyeing her as she says this, practically harrumphing out loud with his eyes. It's priceless.
Binggeure points out that in the end it's still a one-sided love, and Dad agrees that the man Go Hyun-jung will remember is Choi Min-soo, not the silent bodyguard who loved her from afar. It deflates Na-jung, and Chilbongie most of all.
We fast-forward to the spring of 1995, and Na-jung sits with her head on Haitai's shoulder as they look at pictures of Brad Pitt with his Legends of the Fall/Interview With a Vampire hair. Haitai wonders if it's time to change up his hairdo (Yes, yes it is, Haitai) but Na-jung tells him not everyone can pull off his look. One might even argue not anyone.
Binggeure joins them, noting that they're always together at school and now they're joined at the hip at home too.
Na-jung finds an article about the signs that you're in love, and the group stops at a weird one, that says a woman will show the nape of her neck to someone she likes. Na-jung tests it out, and Binggeure decides the writer must be a pervert.
Cut to: Dad getting all hot and bothered by Mom showing off her neck. Heh.
Yoon-jin holds up breakfast, and when she finally comes downstairs, everyone's jaws drop in unison. She's no longer hiding behind a wall of hair, and she's got it curled and up, out of her face.
Everyone takes turns oohing at how pretty she looks, nobody catching on to the fact that she's wearing a couple shirt identical to Samcheonpo's. Garbage strains some brain muscles and declares that something's different about her, and asks if she's dating someone.
And to everyone's double shock, she nods shyly. The trio who read the magazine article about nape-baring all turn to each other with wide-eyed wonder. The group starts to ask who the boyfriend is, wondering how she could've dated someone when they were always together in a group.
It's pretty hilarious that they wore the couple shirts expressly for this purpose, but no one even thinks to mention Samcheonpo as a contender, and then he finally bites the bullet and throws his arm around Yoon-jin.
Chilbongie actually covers his eyes in horror, and Na-jung outright asks, "Why?" Ha. Garbage asks Yoon-jin if she needs money or something, and offers to save her from this obvious arranged contract relationship.
Dad leads the group in cheering for Shincheon Boardinghouse's first official couple, and Haitai accidentally lets it slip that he always assumed Na-jung would be the first to date in the house. That gets Dad's future son-in-law radar up, and he looks around the table asking which of the guys it is. Dad, don't play that game if you don't have to. Trust us.
Dad's sweet on Chilbongie of course, while Mom likes Binggeure, and Haitai pouts in a bit of meta that no one is putting him in the race. Mom points out that girls don't like boys like their father, and Haitai is pretty much Dad the Second.
Haitai keeps blathering on about Na-jung's love life until she finally has to run over and clamp a hand over his mouth to shut him up, and she ushers him away to school before he does any more damage.
Samcheonpo and Yoon-jin are off in their own world of adorableness, and I love that Garbage smiles sweetly when they're not looking, but scowls whenever Samcheonpo looks over at him, as if to say Oppa Is Watching. It's very cute.
The whole discussion about Na-jung's future husband has Chilbongie in a funk, and he looks over at Garbage, who's equally ill at ease.
Chilbongie lets his mood get to him during baseball practice that day, mixing up signals and arguing with the catcher (who responds with the middle finger, heh), eventually giving up hits to the other side.
Elsewhere on campus, Haitai runs alongside Na-jung, apologizing profusely for his blabbermouth and swearing that Mom and Dad have no idea that she has a crush on Garbage. He asks if she confessed, and she tells him that she did, but she hasn't been technically rejected yet because Oppa said nothing.
Haitai is a good friend, and tells her the harsh truth that no response probably means she's been rejected. He follows it up with an offer to buy her drinks, and she sighs that maybe he's right, and maybe she'll let him buy conciliatory drinks after all, ready to face the truth. Haitai: "Just don't bite me after."
He tells her that he might be a little late because he has a chance to see his latest crush this afternoon, and Na-jung sighs at his constant stream of one-sided loves that go nowhere. Aw, is this why you two are such good friends?
Na-jung guesses that this one's got a killer body as per usual, while Haitai insists vehemently that she's pure and lovable and kind-hearted… and then drools openly at the dance instructor's pure, kind-hearted chest.
Na-jung heads to her movie club meeting, where she's told to bring a date to the club's fundraiser this Friday, or pay a fine instead. Her friend asks her to bring an extra guy from her boardinghouse for her, and Na-jung heads to the payphone.
She pages Garbage, deleting the first message where she accidentally says her sunbae ordered them to bring boyfriends, and then asks if he'll come. She sits watching her pager until it rings, and lights up to hear Oppa say he can make it. And then he adds that he has something to say to her tonight. Uh-oh.
At home, he's already delivering the news to the rest of the kids: He's moving out. He explains that his hyung is due out of army, and that's where he lived before coming to the house. Apparently his hyung is even more garbagey than he is, and needs Little Bro around to keep him from living like an animal.
Na-jung comes home and the group tells her that Garbage is moving out, and she goes running to her room. Oppa goes after her, and Chilbongie grows stone-faced.
Oppa swears this has nothing to do with her, and says Mom and Dad already knew he was only staying at the house for a year until his hyung was discharged. Na-jung cries, convinced he's running away because she's making him uncomfortable, and he promises that it's not because of that.
She throws her arms around his waist and buries her face in his chest, asking for reassurance that it's true. He pets her sweetly and swears it over and over, until she finally believes him.
They come back up to join the party, and it's no time before Na-jung starts winking at Samcheonpo. Yoon-jin starts doing the same thing, and the boys wonder when she picked up a new drunk habit. It sure is less destructive than her other one.
But just as they say it, she launches into her real drunk habit, and tells the whole group that Binggeure got scammed by a producer who told him he'd make a demo if he handed over cash, and Binggeure blew months of part-time pay for nothing. Garbage looks alarmed and asks why he didn't say anything, and Binggeure swears it was months ago and he already took care of it, more embarrassed than anything.
And then she tells the group that Haitai still hasn't used his condom, and it's still tucked away in his room, past its expiration date. Oh noes, don't jeopardize the roommie bromance!
Samcheonpo starts to drag her away before she ruins anyone else's night, but she gets one last one in, and it's the biggie. She yells at Oppa for letting Na-jung's confession just hang there, and tells him he's a terrible bastard for not telling her yes or no. Yikes. Chilbongie leaves the room, and Haitai asks Garbage if he wants to grab another drink.
At the local market, Haitai is a godsend and asks Garbage straight-up what his deal is, and if he doesn't see Na-jung as a woman, or if he has a girlfriend, or if he sold his soul to the devil to get into med school and is therefore wary of forming any lasting attachments (okay, so he didn't ask that last one, but this is what happens when you make us wonder for eleven freaking episodes).
Garbage asks Haitai if he's Na-jung's friend, and Haitai suspiciously takes a beat before answering yes. Garbage sighs that he wishes he had met Na-jung as just a friend and classmate. He explains that their two fathers are closer than brothers, and that when his own father went bankrupt or had heart surgery, it was Na-jung's father who was always by his side.
The same goes for Dad being there for him and his brothers. In other words, they are irrevocably linked as family and family first. (I wonder if that's the whole story, but at least it's a start.)
He sighs that his head is swimming these days. Na-jung keeps coming closer, "And I can't accept her feelings, but I can't NOT accept them either." What… the fuck does that mean, Oppa?
Haitai presses for an answer, which I love him for, and asks again if Na-jung were just a friend he met at school, would he like her and date her then? Oppa thinks on it, and for now we don't hear his answer.
He pops in to check on Na-jung, who pretends to be sleeping while he lingers in her doorway. He heads out to his balcony lost in thought, and above him on the second floor is Chilbongie, doing the very same thing.
On Friday, Na-jung gets all dolled up for her fundraiser, and totally forgets her friend's request to bring an extra date for her. She quickly covers it up with lies and then runs to the phone to call Haitai, then Binggeure, and even Yoon-jin (to borrow Samcheonpo for a night, ha). She gets turned down by all.
I'm cringing at the thought that she's about to call Chilbongie, but she doesn't, thank goodness. And then to top off her bad day, Garbage calls to say he'll be late because of class. She rips her stockings on the way out, and then leaves her wallet at the payphone. What a day.
Haitai, meanwhile, is finally getting somewhere with his crush, who flirts openly with him while getting drunker and drunker. He piggybacks her home happily, convinced he's getting lucky tonight.
Na-jung only realizes she lost her wallet when she gets to the convenience store to buy new stockings, but just then Chilbongie and his friend (the catcher) happen to pass by after dinner.
He pays for her stuff and his friend introduces himself as Chilbongie's wife. Hee, I can't be the only one who heard their pitcher-catcher husband-wife explanation and went to a dirty place, right?
Na-jung perks up and asks the catcher if he happens to be free tonight, and scores him as her friend's plus-one. Chilbongie asks if she's not going too, and then realizes from her awkward silence that she must be going with Garbage.
She says Garbage will be late, so she's planning to just hang out here with snacks until he shows. Chilbongie jumps on that and says he hasn't eaten either (even though he literally just walked out of a restaurant not five minutes ago), and offers to wait with her. Kid, you're killing me.
He eats some ramyun while Na-jung settles on eggs, and she cracks one on his forehead without warning… and it's totally raw. Eww. She drips runny egg everywhere, but it does the trick of breaking the ice between them, and they giggle and laugh like the old days.
Na-jung eventually goes to her party and sits at the bar alone, looking up expectantly every time someone walks through the door. Her one beer turns into two beers, and then three, and with each new guy that isn't Garbage, her shoulders sink a little more.
Garbage sits in his lecture hall dying of impatience and checking his watch every other minute. The delay grows longer and longer until he finally can't take it anymore and gets up and walks out of class.
He rushes to the bar, and finally the sound of that damned bell is followed by Oppa's arrival… but by the time he gets there, Na-jung is gone. Oh no.
He stands there in the doorway and thinks back to the question that Haitai asked him. If he were just friends with Na-jung, would he accept her feelings? He waits for what seems like forever before answering…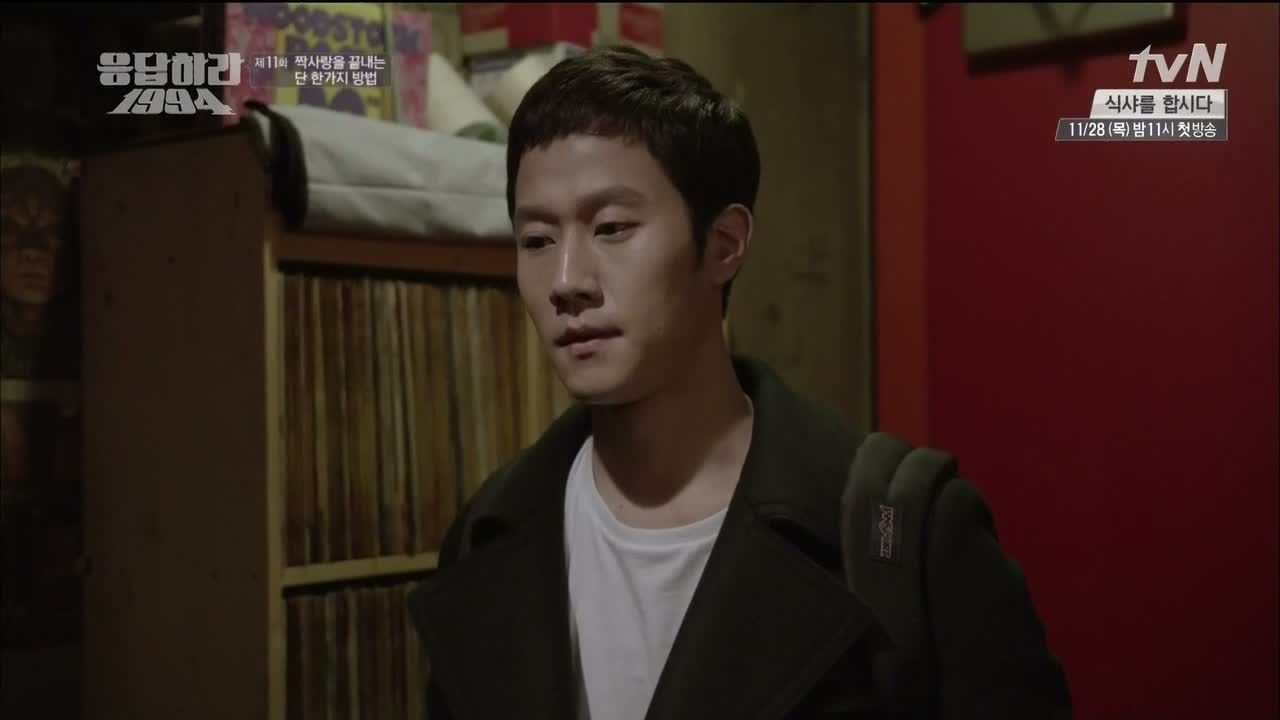 Garbage: "Yes." Eeeeeeee! He continues, "If I had met her as a friend, I would've confessed first." Dagnabbit, Oppa, then what the hell is holding you back? He admits that he has feelings too, because otherwise he wouldn't be torn about it in the first place.
Haitai's date takes forever and a half to open her door, and he's nearly undressed by the time they finally make it inside. He throws his arms around her saying that he can't wait any longer, and he looks up to see her entire family gaping back at them. Ack.
She slurs that they can have a drink with her whole family, and then his pants drop down to his ankles. Hahahahahaha. Poor Haitai. I literally don't know what's worse—standing there with your pants down, or wiggling them back on in front of everyone.
Garbage sits in his car outside the house that night, when Chilbongie comes out and knocks on his windshield, wondering what he's doing home when he's supposed to be out on a date. Garbage doesn't explain, and asks to tag along to the park to throw the ball around.
He asks Chilbongie to teach him a few signals between catcher and pitcher, and he shows him a few, including the one for "frontal attack." They toss the ball back and forth, and Chilbongie shows him how to pitch.
After a few rounds, Chilbongie works up the nerve to tell Garbage that he confessed to Na-jung, knowing that she likes Oppa. He says that just having a one-sided love was so pathetic that he figured even if he gets rejected, it was better to confess.
Chilbongie: "But honestly, it's your feelings that I'm most curious about. Whether Na-jung really likes you on her own, and if you really don't have feelings for her—that's what I'm most curious about. Because the way I see it, that's not the case." Omo.
Garbage lets out a breath, and Chilbongie asks, "Na-jungie isn't in a one-sided love, is she?" Garbage: "And if you're right? What will you do then?"
Garbage admits that he didn't think he was allowed to like Na-jung. There were their parents, and her oppa who died. And he thought that maybe he was just confused and it would pass, so he ignored it thinking time would change things. "But then I see her having a hard time on her own…" He knocks the baseball against his chest: "And it hurts my heart."
"If what hurts Na-jung's heart hurts mine…then that means I like her, right?" He lifts his head and looks Chilbongie in the eye: "You're right. Na-jungie isn't in a one-sided love." Oof.
Even Garbage admits that it's Chilbongie who made him wake up, and says he's going to accept her feelings and confess his own, before he loses her to someone else like a fool. He muses that this will probably be the last time they play catch, and Chilbongie just answers with a fastball that knocks the wind out of him.
Chilbongie: "The game isn't over. I won't give up. You could still lose her, like a fool."
Dad breaks up the tense moment when he arrives swinging a bat, and laughs at Garbage trying to pitch properly. He tells him to pitch one, and tells Chilbongie to play catcher. So Garbage takes the ball and looks up at the catcher, as taught.
And there it is: the signal for frontal attack, with Chilbongie looking straight at him, prepared to go to war for Na-jung's heart. Garbage says in voiceover:
Garbage: Love and life are a lot like baseball. No matter what dangerous situation lies ahead, no matter how you try to avoid it, you have to win against someone else in the end to have victory. One-sided love hurts the heart, but you do it alone so there's no other way—whether you win love or get rejected indifferently, the only way to end a one-sided love is to confess it. Only when you choose a frontal attack will you know the outcome. Maybe love is a lot like baseball.
He winds up for the pitch, and we fade into Chilbongie's scrimmage game earlier. It's the bottom of the 9th, and Chilbongie's side is technically winning by two runs despite his earlier missteps. This time when his catcher signals him to walk the batter who scored on him earlier, he complies without arguing.
With the bases loaded, he finally gets the signal to go for it, so he lets one rip… and the last batter hits it into the outfield, and they score four runs on him, winning the game. Aw.
As the runners circle him in the field and Chilbongie watches dejectedly, Garbage continues in voiceover: "And the world is wide and the rivals are many. Maybe love is a lot like baseball." Wait… are you trying to say that there could be a surprise batter who wins the whole game that you didn't anticipate? You're just saying that to mess with us, right?
At home, Na-jung consoles poor Haitai over beers, thinking it a good thing he didn't end up in jail tonight. He sighs that he'll never understand girls, swearing them off forever. Na-jung tells him he'll never get to use his condom that way, and he grumbles that she's poking a sore spot.
He asks if it's any better doing it her way, but that just leaves her sighing, and she asks if maybe she's just not that appealing as a woman—maybe the problem isn't Garbage, but her?
Haitai turns to her: "If it were me, I'd have dated you. Long ago. If only you and I hadn't become such good friends… I would have." Awwwww.
The air gets awkward for just a split-second, until they both laugh it off as a joke. Haitai chides Garbage for not seeing what a great girl she is, and then tells her that Garbage has feelings for her, and would have readily dated her if she weren't his almost-sister.
But Na-jung laughs in his face, thinking Haitai is just saying it to be nice to her, and no matter how many times he swears it's true, she gets madder that he's messing with her and grabs him in a headlock and gnaws on his arm. Haitai's voiceover adds another layer to the unrequited love cake:
Haitai: But of course there are many more one-sided loves in the world that never get confessed at all. The idiots who know how to get out of one but can't do it. That's why one-sided loves pain the heart.
It's moving day for Garbage, and Mom and Dad send him off like their own son, with a box full of rice and nagging reminders to check the expiration dates on things before eating them, and to stop wearing unmatchy socks.
Dad wonders why Na-jung isn't showing her face, and Oppa lies that he saw her this morning, and leaves (with a kiss for Dad, hee). Na-jung sits in her room listening to Kim Gun-mo's "Alone in Love" (posted above), refusing to come out. Garbage gets into the moving truck and smiles down at the massive box of individually wrapped rice from Mom, and the truck pulls away.
We go back to the world's longest wedding in 2002, and Na-jung's little brother interrupts Mom and Dad for a bathroom break during the ceremony. Dad sneaks out to help the tyke, who turns out to be Sung Dong-il's real-life son Joonie, playing his fictional son Joonie. Oh, the meta.
On their way back in, Joonie sees a group photo of the boys and says that his brother-in-law is the handsomest, while Dad thinks he's the worst-looking. Dad leads Joon away by the hand and he asks, "Dad! Where are we going?" Pfft. I luff that kid.
Back in 1995, Na-jung comes home from a week-long MT with her movie club, and is disappointed that her parents aren't more enthused at her return. They just tell her that they've been waiting for her so they can eat, and add that they already have a new boarder living with them. She asks the group which department he's in and gets a wall of blank stares back from every last one of them.
And then… out of Oppa's room… comes Chilbongie. Eeeeeeee!

COMMENTS
These boys. They won't stop making me swoon one right after the other. Okay, so Oppa. Yay for answers, for starters. Thank goodness the people around him finally got fed up and asked him what the heck his deal is, though I still resent the fact that the other boys had to poke and prod for some real answers. I mean, would it kill you to fess up on your own? I feel like the writers took a misstep with his character in waiting too long for this reveal. At this point the expectation has been built up (because we wanted to trust that he'd have a valid reason for playing ostrich) such that him saying that their sibling/family relationship is his main deterrent feels like a weaksauce answer. That's a thing you maybe wait five or six episodes to sort out, not eleven. In being made to wait this long, we've gone down the path of assuming grandiose theories for why Oppa is so elusive, and when you give us the obvious answer, it's a little disappointing.
Granted, there's still lots of time for a twist on the family angst, but today I sort of shook my fist in Oppa's face, even as I was phew-ing that he wasn't dead inside and did return Na-jung's feelings. It was refreshing to hear what he really thought (for once), but it did nothing to make me stop being frustrated at him for the past ten episodes' worth of denials. I still love Oppa, because how can you not, but he's also equally infuriating. I want his reason for being so cagey, for letting Na-jung hurt on her own, for making all of these one-sided loves hang in the balance for all this time—to just be better. Why can't you be better, Oppa? I think if he had just answered Na-jung back when she confessed, even with the denial version of this, I'd be more onboard.
Sigh, I know it's not all his fault, and Garbage is still the lovable perfect oppa. But I'm not gonna lie about the fact that while he was sitting around sorting out his feelings, Chilbongie won me over with his brand of un-hedgy romance. And now that Oppa has fiiiiiinally stepped up to the plate, I find myself reacting as if he's encroaching on Chilbongie's loveline. I know that's not the order of how things happened, especially not from Na-jung's point of view, but that's the result of taking the long way around with Oppa's feelings—I somehow end up all turned around. And okay, in the interest of full disclosure, I loved Lee Jung-jae over Choi Min-soo, so I might just be hardwired that way.
It's not like I don't understand that his dating Na-jung would upset the family order of two households. But to deny feelings that you feel for over a year? There's denial, and then there's futility. At least we know the important answers—that he does like her back, and that he feels a responsibility to be an oppa to her and a son to her parents. It's almost enough to resent Mom and Dad for being so good to him, except of course you can't resent Mom and Dad for being so good to him. I think overall the bigger reveal will be his confession to Na-jung, and how timing figures into it. Will he be perennially one step too late, or will he finally figure out how to be there at the right time and place to win her heart? Clearly we're being told that love is not a game where you can declare a winner until you reach the bottom of the 9th with two outs and the last batter has his turn. And based on Chilbongie's I-will-not-back-down attitude and Haitai's late-addition regrets at being friend-zoned (sooooo cuuuuute), it's just the beginning of the fight. Batter up!

RELATED POSTS
Tags: Answer Me 1994, featured, Go Ara, Jung Woo, Yoo Yeon-seok