Answer Me 1994: Episode 9
Un-confessed confessions still hang in the air, making it thick with unrequited feelings that nobody wants to put a name to. If that doesn't work out for y'all, we could always get Yoon-jin drunk again. Just sayin'. Today's episode is all about optical illusions—how nothing is what it looks like on the surface, and how much energy we pour into protecting the truth when all we really want is to properly confess it.
Episode 9 hit a new ratings high with an average 8.1% (with a 9.8% peak), beating out Answer Me 1997's high for the first time.

SONG OF THE DAY
Boohwal (with Kim Jae-gi) – "사랑할수록 (The More I Love You)" [ Download ]
Audio clip: Adobe Flash Player (version 9 or above) is required to play this audio clip. Download the latest version here. You also need to have JavaScript enabled in your browser.

EPISODE 9: "So, the thing I want to say is…"
By the fall of 1994, the big story in pop culture news is whether or not Seo Taiji tapes played backwards contains a message from the devil. You laugh, but for those of us who were forced to start hiding cassette tapes from reactive mothers, it was no joke.
Samcheonpo makes the deadly mistake of getting into an argument about it with Yoon-jin, and gets strangled for it, naturally.
She orders them to shut their traps and turn off the TV, and Haitai complies instantly, not wanting to be the second victim. The two boys sit at attention on the couch, muttering to each other about how much they pity the poor sap who'll marry Yoon-jin. Hee.
In 2013, Samcheonpo is of course the sap in question, currently rooting around in Na-jung's fridge for some chocolate milk. Yoon-jin sighs that her hubby is still a child, since he is two years younger after all. He demonstrates with a burst of aegyo, and Chilbongie grabs the nearest empty beer can to chuck at his face. Ha.
That starts the group debating which of the boys has the youngest face, and they determine that the wedding video will be the deciding factor on who has aged the best. The groom enters on the screen, but we only see him from behind.
Back in 1994, Chilbongie sits on the roof of the boardinghouse, looking intently at something down below. We follow his gaze down to the yard, where Na-jung sits deep in thought, staring off in a different direction: oppa's window. Oof, Chilbongie looking at Na-jung looking at Oppa gets me every time.
Inside his room, Garbage sits at his desk studying, but we see that what he's really looking at is a picture of him with Na-jung. I wish we knew what you were thinking, oppa.
In the morning, we find the gang huddled together and looking cross-eyed, as Haitai, Samcheonpo, and Chilbongie surround Na-jung on all sides and shout out what they see.
Lol, it's a Magic Eye book. She stares and stares, growing more cross-eyed by the second, but she can't figure out how to see what they see. The more the boys insist that she'll never be able to see the 3-D images hidden inside, Na-jung digs her heels in stubbornly.
They get called to breakfast, but her competitive drive is all fired up, and she refuses to take her eyes off the book until she figures it out. Chilbongie chooses to stay behind too, not caring about having to miss breakfast to get some alone time with Na-jung.
It cracks me up that Haitai is still cross-eyed at the breakfast table because he's fixated on Mom's patterned dress like it's another Magic Eye, except it just looks like he's staring at her chest. Dad reads a headline in the newspaper that Seo Taiji is Satan, and the air at the table turns cold.
Samcheonpo and Haitai scurry away before Yoon-jin explodes, and Samcheonpo runs back to steal Dad's newspaper for his own good.
Upstairs, Chilbongie tries to teach Na-jung how to see the Magic Eye ("Look with the back of your eyeballs!") to no avail. He's only in it for the snuggles of course, and adorably lights up when she sits close to look at the book with him. He complains that he's getting hungry, but she offers to buy lunch, and he's instantly back to smiles.
He sticks to the prevailing adage: "If you can't see it right away, you won't ever see it," but that just fans the flames and she makes a bet that she'll figure it out by the weekend. He picks an image for her to find the answer to, and they agree that she has three days to make good on her promise.
Binggeure gets an unexpected call from his little brother Dong-woo (Yeon Joon-seok, Shark), who shows up in Seoul without notice. He's a high-schooler who's ditched class and run away from home on top of it. It's not the first time, and Binggeure sighs, wondering what kind of fight he had with Dad this time.
Na-jung eats breakfast late, and Mom tells her to wake oppa. She dreads opening his door, and sighs in relief when he isn't there. Except he's right behind her when she turns around in the hallway, scaring her half to death and making her embarrassed at the slightest sign that she's letting her feelings show.
They continue to be awkward at the breakfast table, and when Garbage accidently splatters food on her shirt, he hurriedly tries to clean up the mess he made, not really noticing that the stain is basically on her chest. She freaks out and gets angry to cover up her embarrassment, and runs to the bathroom.
Garbage is so frazzled that he tries to make amends by following her and offering to wash her shirt… only he opens the bathroom door without thinking and walks right in on her in nothing but a bra on top, trying to wash her shirt in the sink. Eep. He realizes his mistake and awkwardly stammers an apology before closing the door, and Na-jung basically shrivels up from mortification.
Binggeure buys his brother lunch and asks why he ran away this time. They're clearly both afraid of their father, but while Binggeure is the quiet, patient, studious son, Dong-woo has a shorter fuse and a proclivity for outright rebellion—he'd rather get hit and do what he wants.
It's pretty adorable to see Binggeure being such a hyung, when he's usually the little brother type in the group of friends. But he slaps his dongseng upside the head for drinking and smoking, and sighs to hear that his grades have dropped even further.
Dong-woo doesn't think school is all that important when he has a dream to pursue, though he doesn't want to tell hyung what it is quite yet. Binggeure gets quiet at the mention of dreams and goals.
Na-jung buys Chilbongie lunch as promised, and he asks her to come to his game tomorrow, and makes up the lie that he's got a jinx and can only win games when a girl comes to cheer him on. Pfft.
She points out that he's got lots of girls always coming to his games, so she needn't really be present. D'oh. She agrees to go if he gives her a hint about the Magic Eye, so he tells her it's a picture and not words, and makes her promise to come to the game.
She belatedly realizes she had plans tomorrow, and asks if she can't go to the next game the day after. Aw, don't crush his heart. He totally pouts: "If I lose tomorrow, it'll be all your fault!"
She drops food on her shirt during this meal too, and Chilbongie worries that she won't have time to change before class. She runs home to change anyway, and gets caught out in the rain without an umbrella.
She takes a spill in the street and hobbles over to the nearest payphone to call Mom, but it's Garbage who answers on the other end and runs over to fetch her at the market. Aw. And not that anyone doubted, but he piggybacks her home in the rain like a good oppa.
Chilbongie gets the good news that his game has been pushed a day due to rain. (The manager girl we met earlier delivers the news along with a pat on the butt, grumble grumble, though she seems immune to walking in on him changing.) He runs to the phone to leave Na-jung a message that he expects her to be there now that it doesn't conflict with her schedule.
At home, Garbage ices Na-jung's ankle and fixes up her scrapes, and the whole time she's tugging at her wet shirt self-consciously to keep it from being see-through. She's so obsessed with it that he finally taps her on the forehead and jokes that no one's looking. That's worse than saying nothing.
He carries her over to the bathroom and she buries her face in his shoulder for the ride, missing the message that Chilbongie leaves on her pager.
Chilbongie goes to meet Binggeure at one of his many jobs, and runs into his little cousin Dong-woo on his way out to run an errand. I love that nobody is surprised that this kid ran away from home.
Haitai, Samcheonpo, the baseball manager, and a teammate all come by for a drink, and it turns into another Seoul vs. The Country debate. Mostly Dong-woo ends up embarrassing the whole group with his enthusiasm for all things Seoul, since he really is a small-town boy who's excited to be here.
Na-jung sits cross-eyed in front of her Magic Eye book again, with Chilbongie on the phone. He tells her about the postponed game and she promises to go this time.
Garbage sees her struggling to see the picture and needles, "Are there still people in the world who can't see those things?" and insists on helping.
She refuses to bend the rules and says this is homework that Chilbongie gave her, dead-set on winning the bet fair and square. Oppa is dying of curiosity and yanks it out of her hands anyway, and she covers her ears and yells at him not to tell her what it is.
He takes one look and his face freezes. "Who gave this to you? Chilbongie?" Eeee, WHAT IS IT?
Binggeure closes up the bar and calls his mom to let her know that Dong-woo is staying with him. She sighs at her sons' constant strife with their father and tells Binggeure not to live a constricted life like her, urging him to do whatever he wants and chase his dreams.
He heads out into the pouring rain and runs right back for cover to wait it out, when Garbage shows up with an umbrella just to pick him up. Aw. Why do you keep making people swoon with your umbrella in the rain today?
He chides Binggeure for not calling home, and pulls him in close so they can share the umbrella. Garbage wants to buy him a drink, so they stop outside the market on the way home to share a bottle of soju.
Garbage reminds him that he's supposed to stop calling him sunbaenim, but Binggeure feels more comfortable with formality and can't break his habit no matter how many times Garbage tells him to call him hyung. Garbage asks about the song playing on his Walkman and leans his head on Binggeure's shoulder as they share headphones.
He recognizes the Boohwal song, and Binggeure is super impressed that he can tell it's a different vocalist. Binggeure says it's Kim Jae-gi's "The More I Love You" (posted above), which was recorded just once before he died in a car accident.
Garbage asks why he calls him Kim Jae-gi-sshi like he knows the person, and Binggeure thinks it weirder not to show respect to people older than him, even if he doesn't know them personally.
Garbage rubs his cute chipmunk cheeks and laughs, but then he picks up on Binggeure's sincerity when he's talking about music and asks why he isn't pursuing that as a dream. He's too afraid of failure to try, though Garbage tries to encourage him anyway.
Binggeure admits that his father is really scary and is so set in his ways that he refuses to listen to other people. He'd already have been hauled away if his parents knew about him taking the semester off, and worries about little brother Dong-woo, who's more fearless than he is, but that much more inclined to cause trouble. He still doesn't know the real reason why he ran away from home this time.
He sighs that his little brother is the braver one, and that Dong-woo thinks of his hyung as dad's little puppy because he's scared enough to listen to him. Garbage: "Come to think of it, you do look like a dog." He scritches his chin and Binggeure puppy-glares.
Binggeure comes home to find Dong-woo in his room, frozen in shock after discovering his application to take a semester break. Dong-woo can't believe hyung would do something so crazy, and now it's his turn to wonder how Binggeure could be so brave as to risk his life knowing their dad's temper. Binggeure snaps at him that it's none of his business, and heads downstairs to shower.
He runs into Samcheonpo getting strangled yet again, this time for winding one of Yoon-jin's Seo Taiji tapes backwards. HAHAHA. Samcheonpo refuses to be ordered around and says he'll do whatever he pleases, and Yoon-jin knocks him to the ground with a knee to the groin.
Na-jung sits staring at Magic Eye again, as Chilbongie coaches her over the phone not to lose focus. He reminds her again about the game, and it's making me nervous that she keeps absently answering that she'll be there.
Garbage comes home a little later and calls Binggeure into his room (calling him Puppy now) and hands him a poster for the campus song festival that's coming up. Did you go out in the rain just to get that?? I might cry. Binggeure says there's no way he could participate, and says he'll do it sometime in the future when he's ready.
I just love the way Garbage sits there in silence, waiting for him to stop making excuses and realize what he's doing. Garbage points out that he's turning into the father he dislikes so much, refusing to listen to other people.
He barks at Binggeure to look at the other person and think about their heart—why they're saying the things they're saying and where they're coming from.
He says that he's the maknae of three brothers back home and he swore that if he ever had a little brother to help out in life, he would. He promises to keep the song festival a secret from the rest of the house, and urges Puppy to try it.
Dong-woo waits up for his hyung to come back to the room, and admits he's a little impressed at Binggeure's big act of rebellion. He finally tells him that he's been going to cooking class because he didn't know what he was good at, plus Mom likes bread so much and it made him so happy to bake her bread.
Dong-woo talks about being a chef someday, and Binggeure tells him he's better off than hyung, who still doesn't have a dream. As the brothers talk openly for the first time in a long time, Binggeure narrates:
Binggeure: Sincerity can so often be hidden away. It's so shy and delicate that the closer you draw near, the more you bully it, it hides deeper down. There's just one way: make eye contact and open your ears until sincerity raises its own head. If you hold your words and thoughts and wait, sincerity will suddenly pop up and show itself. No advice or well-intentioned warning can serve as real comfort. True comfort is just the moment when sincerity is shared.
As he opens up the poster for the song festival with a smile, Binggeure finishes his narration: "Thankfully I have someone in my life who could read my sincerity when I didn't even know it. A hyung who comforts me just by existing."
But by morning, the entire house already knows about the song festival, and Garbage scurries out while Binggeure shoots him eye daggers. Ha. (I love the throwaway discovery that Samcheonpo and Dong-woo are the same age.)
When Binggeure says he's nervous about the audition, Haitai swears he has a genius songwriting sunbae and offers to secure him a winning song to perform. Uh-oh, I have a bad feeling about this.
It's time for Chilbongie's big game, and I swear I craned my neck to look a thousand times, but his uniform only says "Joon" and the front of his name is missing. Anyway, he scans the crowd but Na-jung is nowhere to be found.
It's because Mom had a pregnancy scare, and they sit in the doctor's office to wait and find out if anything's wrong. Dad rushes over in the middle of a game and dotes on Mom and Baby in a worried frenzy.
Everything with Mom and Baby turns out to be okay, and after Dad arrives Na-jung finally rushes off to Chilbongie's game. His jinx turns out to be a self-fulfilling prophecy, and he starts pitching badly, letting Na-jung's absence get into his head.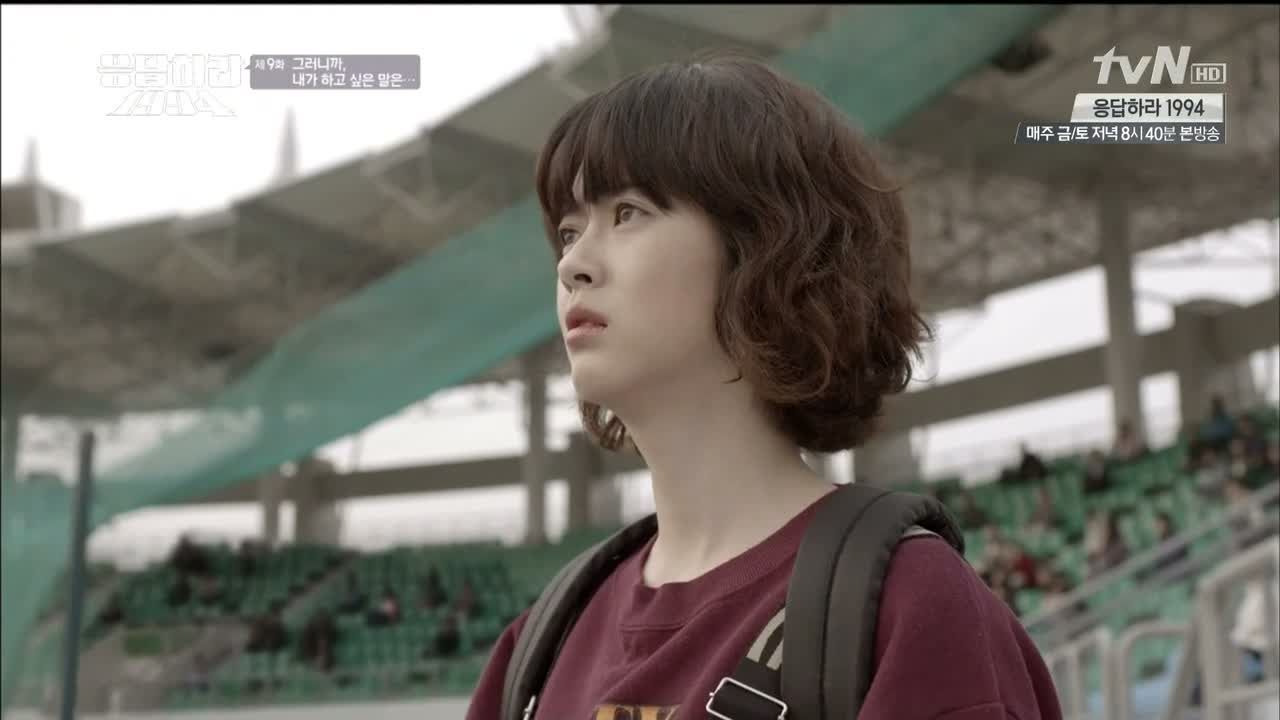 At the same time, Binggeure goes in for his big audition, and Haitai and Samcheonpo wait nervously out in the hallway. After what seems like forever he finally comes back out with a dazed look on his face, and they ask what happened. Did he make it? Did he get cut?
Na-jung takes a cab to the stadium and runs to the stands, her face stricken with worry that Chilbongie's losing the game without her. When she finally gets there, she's shocked at what she sees: the scoreboard, with zero runs for the opposing team. Ha. What a great reversal.
She's actually deflated to realize that it didn't matter at all that she wasn't there, and he's winning anyway, like he always does. The game ends soon afterwards, and she heads back out, regretting the cab fare. But! He has to know you came in the end!
As his teammates cheer and celebrate the big win, Chilbongie is subdued in the locker room. He changes out of uniform and puts his hat back on, and pauses to smile at it. Tucked inside the brim is a picture of Na-jung, who was his good-luck charm after all. GAH. Why so cute?
Binggeure finally tells them the verdict: he got cut, because the song was plagiarized. Oh noes. Haitai freaks out, having trusted his genius sunbae to deliver, and leads the charge to give him a piece of his mind. Samcheonpo in the background: "I knew the chorus was strangely catchy!"
The genius songwriter is obviously a hack (cameo by gagman Jung Sung-ho, SNL Korea) and offers to remedy the situation by giving the boys a new song, which is just another set of famous songs cut and pasted together.
Poor Haitai is so sorry that he erupts and vows to kill the guy, and Binggeure and Samcheonpo have to hold him back from his murderous rage.
Na-jung is back at home staring at the Magic Eye again when Chilbongie calls, disappointed that she didn't show up today. She points out that he won anyway, not bothering to tell him that she did go at the end. (But he'll never know! And it might kill me!)
He admits that it's skill over jinxes, and she in turn admits defeat in the Magic Eye bet. (I love that she's calling him Bongie now.) She promises to come bring him his winnings tomorrow, and stops to ask what the hidden picture is. He tells her to go ask someone else and hangs up.
She tries one last time… and throws the book in frustration and pitches a fit.
Dad comes by to call her to the kitchen, and then gets sucked into the Magic Eye, though it must be genetic because he can't see a single thing either.
Meanwhile Chilbongie hangs up the phone and berates himself for not being able to say it. He sits next to the phone booth going over it in his head, and narrates:
Chilbongie: When I get ready to really say it, my head fills with tens of thousands of thoughts, and my mouth shuts closed. When that happens, I just need to take a deep breath and catch those floating thoughts one by one. In doing that, I discovered that what I really want to say boils down to just two or three simple words. I just need to start it like this: So, the thing I really want to say is…
Dad tries everything to see the Magic Eye picture, and declares it impossible. And then it's finally our turn. Eeeeeeeeeeeeee. It's a big gaping heart.
It's Wedding Day 2002 and Mystery Groom makes his entrance with strategically placed decorations to hide his face. Dad walks Na-jung down the aisle and she smiles at her husband-to-be.

COMMENTS
I don't even know why they bother baiting us with wedding footage when it's a stand-in anyway. Tease. Ridiculous unnecessary length aside (An hour and 27 minutes, really tvN, REALLY??) we did get some nice developments in this episode, and a chance for Binggeure to step into his own after hanging back for so long. It fits his character, of course, that his storyline took a backseat to all the others, and that it takes Garbage actively chasing him down and forcing him to engage with the world before he even begins to ask himself what he wants and who he is. It's so sweet how much Binggeure looks up to him, and how Garbage doesn't fail to live up to the hero worship.
My only question is why Garbage can't take his own advice, and be a little more understanding about Na-jung's heart, or just a little more transparent about his own. For someone so thoughtful, you sure do like to bury your head in the sand when it comes to your own truth. I know that the A loves B loves C setup is cause for lots of heartbreak, but I love it—it's unabashed romantic angst and it gives us such great parallels for Chilbongie and Na-jung, both hemming and hawing over their feelings and dying to hide and dying to be found out in equal measure.
Everything from the three-way looks of longing, to Chilbongie's excitement that the rain postponed his game, to Na-jung missing the entire point of that because she's so busy looking at oppa, are all woven in with such equal force. I like that Na-jung's angst rivals Chilbongie's, so that her crush is actually his biggest opposition, and the further they go down the same path, they get no closer to each other. I hope for Chilbongie's sake that his Magic Eye metaphor isn't true of love, and that just because Na-jung hasn't seen Chilbongie yet, he's doomed to remain invisible to her forever. There's a loophole in that logic, right? I refuse to believe otherwise. I do expect the one-directional love triangle to do an about-face at some point, because someone has to turn around and start running towards someone else around here.
The Magic Eye attempt killed me, not only because I knew she'd never see it, but because it's such an adorably pathetic way to confess, like trying to hail a cab by raising a pinky finger. Now the unintended side effect—Garbage intercepting the message and seeing the heart that Na-jung can't see—is a different story entirely, since it gives Garbage even more proof of Chilbongie's affections for Na-jung. I so enjoy that he learns these things first, since it should give him a kick in the pants to react in some way. Though it would be nice to know ANYTHING about said feelings that you'd be acting on, because right now I don't know anything about you other than the fact that you enjoy riding to the rescue with your umbrella and making everyone swoon with your perfect oppa/hyung-ness, and then you retreat behind your cryptic wall of jokey defenses. And you like dogs. And you probably smell perfect. But I'm still mad at you, oppa.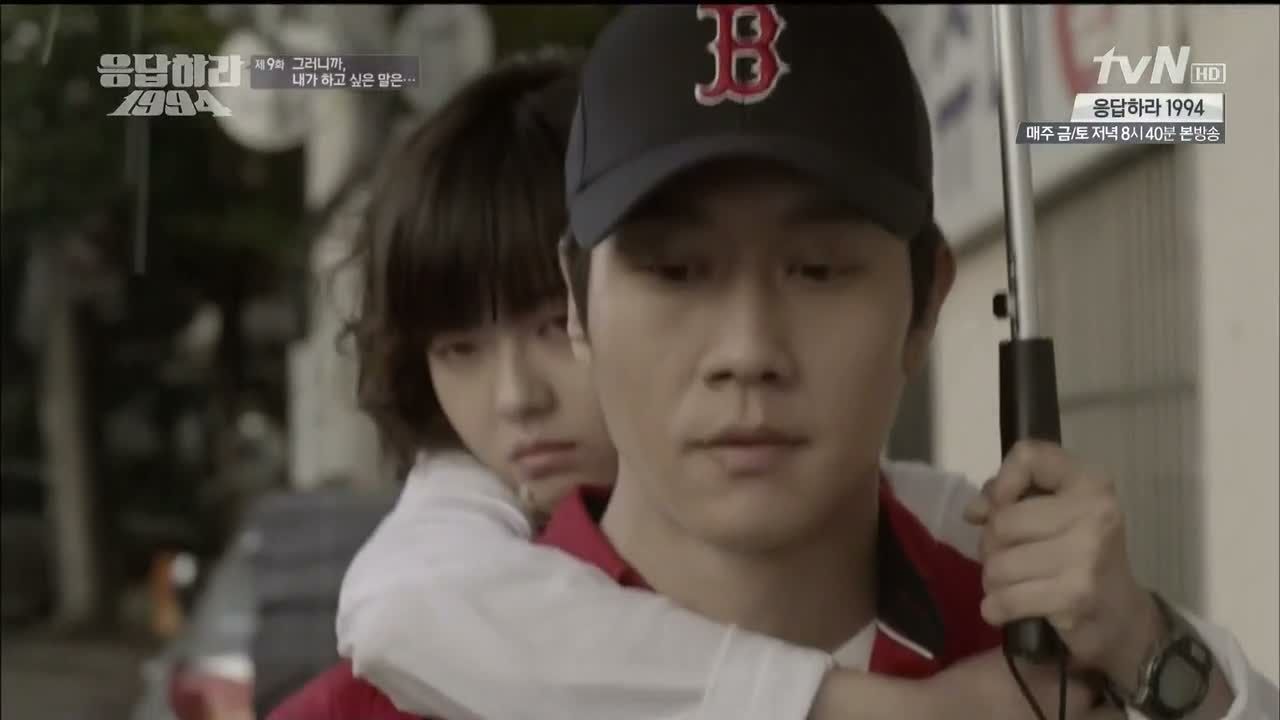 RELATED POSTS
Tags: Answer Me 1994, featured, Go Ara, Jung Woo, Yoo Yeon-seok