Basketball: Episode 11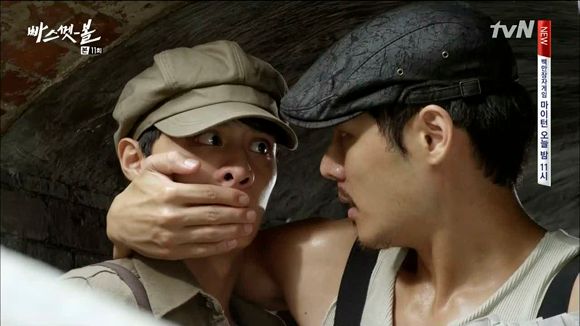 The unthinkable happens as San's abuse streak continues, though at least we can count one episode where no one gets tortured or killed. (But does getting maimed count?) Now that San has yet another obstacle between him and his dream of playing basketball, the question remains whether he'll give up and give in, or persevere and win. It better be the latter, or else we'll be the ones getting tortured.
SONG OF THE DAY
Taru – "Rainy" [ Download ]
Audio clip: Adobe Flash Player (version 9 or above) is required to play this audio clip. Download the latest version here. You also need to have JavaScript enabled in your browser.

EPISODE 11 RECAP
Before Bookie Gong shoots San's hand (because yes, it happens), he claims that no matter what, he'll help San play basketball again and that this is the only way for them to survive.
San wakes up in a hospital minus one thumb. He immediately jumps on Bookie Gong with a vengeance, but because Bookie Gong suddenly found his heart an episode back he seems to actually mean it when he defends his actions. No one's ever returned from a labor camp alive, so San had to lose his opposable and very important thumb (couldn't he have shot off his pinky or something?) to avoid suspicion.
And while San cries over his hand, Bookie Gong offers moral support.
Bookie Gong then reports his doings to Daddy Choi, assuring him that San will never play basketball again now that he's lost such a vital finger. Daddy Choi is pleased with this and gives Gong the money he promised, but warns him to tell no one that San has returned yet.
Ajumma cries about Bookie Gong being gone, then rejoices when he comes back. After they make promises never to leave each other again, a somber San joins them, much to Mi-sook's joy.
Bookie Gong claims that he pulled some strings to get San out, which has Ajumma patting him on the back for a job well done as she tells San, "No matter what, there isn't anyone like him, is there?" San looks like he might punch somebody. Probably Bookie Gong.
San is set up so that he'll stay at Ajumma's restaurant for the time being, and Bookie Gong swears up and down that with practice, he'll help San become the superstar he once was. Not as a fake this time, but as the real San.
"I'll do whatever I can to help you," Bookie Gong promises. "You trust me, right?" San: "No. I don't trust you." Why is it that Gong looks so offended? Dude, you shot off his thumb. Your right to have hurt feelings no longer exists here.
San knows that there was something more sinister at play in his prison break, and wants to know who was behind Bookie Gong. I'm sure he already knows that answer, but Gong avoids saying as he switches the subject to the news of Shin-young's engagement. San runs out as soon as he hears it.
Chi-ho and Friends attend In-soo's modest funeral, where Chi-ho holds back from shedding any tears. Shin-young reaches out for his hand, just to let him know she's there for him.
Meanwhile, San waits outside Shin-young's home until she returns, but can't work up the courage to talk to her. He can only look down at his severed thumb and hold his head as tears come.
Bookie Gong plies San's #1 Fan, Chef, into letting them take over his modest outdoor court by promising him a stake in San's big comeback and a spot on the team Gong is cooking up. Chef is more than willing to comply as the president of the Kang San International Fan Club, but has to go ask his boss for permission… which throws Bookie Gong for a loop since he thought Chef was the boss.
And that boss turns out to be none other than Hong-ki's mom, who swiftly shoots down the idea.
Chi-ho finds the interrogator who killed In-soo and confronts him over torturing an innocent man just because the government told him to. "Don't you feel any shame?!" Chi-ho demands to know with tears streaming down his face.
"I'll make sure you're punished!" Chi-ho cries out as he's hauled off the man. "The sins you committed… I'll make damn sure you pay for them!"
Bookie Gong gives San a suit as he excitedly announces that they were invited to meet with the Inspector General, while San can only muster a depressed sigh. I can't tell if he knows something's fishy when Gong warns him to claim his missing thumb as being a work-related injury, so that the Inspector General will think his dismissal was due to that and not a prison break.
We then see San attending said dinner with the Inspector General and his wife, who's still looking to thank him for saving her life at that party. Daddy Choi is in attendance too, so he's the one who's most perturbed when San turns down the wife's offer to model some new uniform the colonial government wants all Korean people to wear.
Instead, he tells her that he didn't volunteer for the labor camp, but was forcefully dragged there. Many other men, he says, were also taken against their will to work as slaves. If she'd like to repay him, San asks that she instead help him find out who sent him there.
And the general's wife, appalled that such a thing happened to her savior, promises her husband's aid in nabbing the man responsible. Daddy Choi looks nervous.
But the Inspector General, as it turns out, has no plans on helping San since he seemed well aware that Daddy Choi sent him off in the first place. He knows that San is useless now without his thumb, while his wife holds San's injured hand and promises to cheer him on no matter what. Newsman Sung-won watches this all from a distance.
Politics time: Count Byun tells Vice Chairman Yoon that Daddy Choi (confused yet?) has been meeting the Inspector General on the sly. They have a reason to be worried about him now that he's joined hands with Mr. Min, and vow to take him down in anyway they can.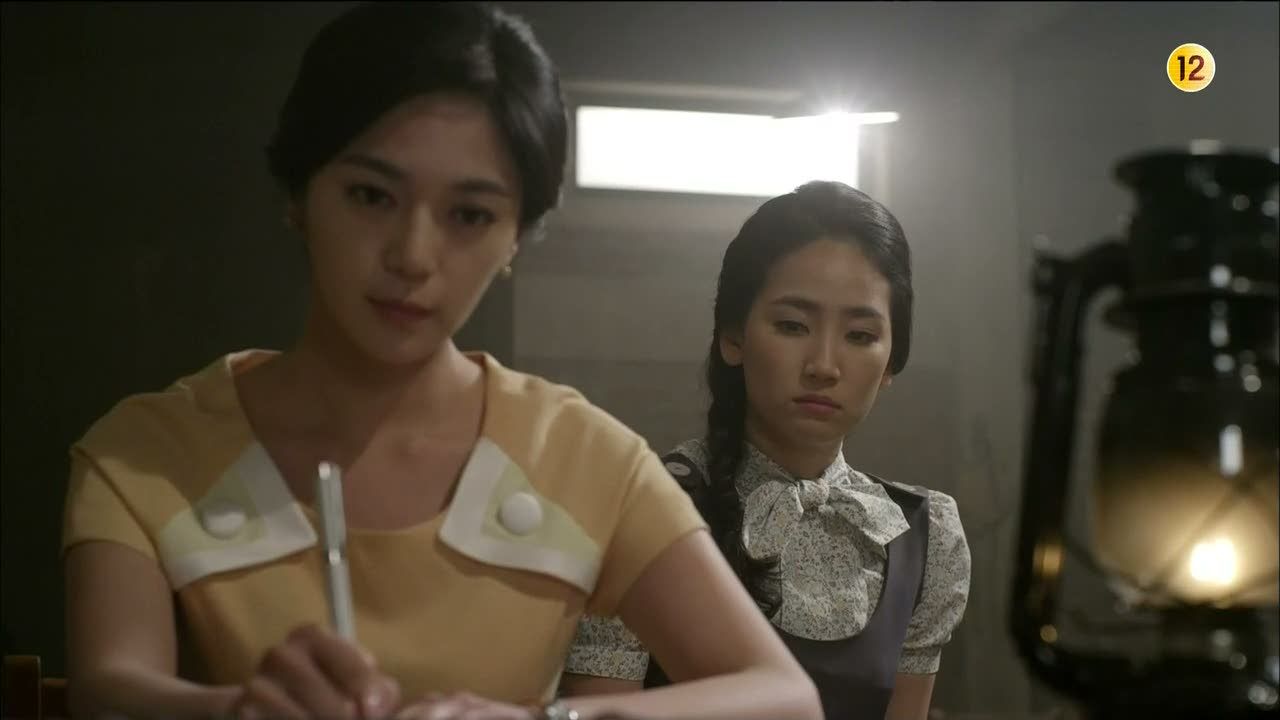 Meanwhile at the underground newspaper, Shin-young writes an article detailing the injustices done to In-soo, which Bong-soon points out as being useless—the government won't care about one simple article.
Shin-young knows this, but insists on writing it anyway: "I'll feel less guilty to those who died if I write this."
Bong-soon is a little over eager to help Sung-won disseminate the papers, causing Shin-young to pick up on the fact that she's crushing on him. Bong-soon claims that he's not her type even when Shin-young says looks don't matter (I love that Bong-soon's all, Coming from the girl who dated two very handsome men, right), because "Men are like children after they get married. They have to be good looking to at least make it feel worthwhile to raise them." Ha! Bong-soon wins yet again.
Since Sung-won saw San with Daddy Choi, he asks Shin-young if San will be rejoining her dad's team. She had no idea San was back in the capital until now, and the shock hits her hard.
While Bookie Gong chastises San for saying he was forced into the labor camp in front of the Inspector General himself, one of Gong's minions mutters something negative about San's crippled hand.
San launches himself at him, daring him to say it again. "I can play basketball!" San yells. "I can do it!" Once he's dragged off, he warns Bookie Gong that if he doesn't get this basketball business up and running and tricks him one more time, he's a dead man.
Meanwhile, Bong-soon has to remind Shin-young that nothing's changed now that San is back in town—she's still engaged to another man. Shin-young sighs deeply, "I know. I know that, too."
Sung-won follows San into Shin-young's former office as he tries to get the press to report on the forced labor camps. They refuse to get their hands dirty with such a story and have San dragged out just as some shady-looking police officers (who were already following San) come in to ask questions.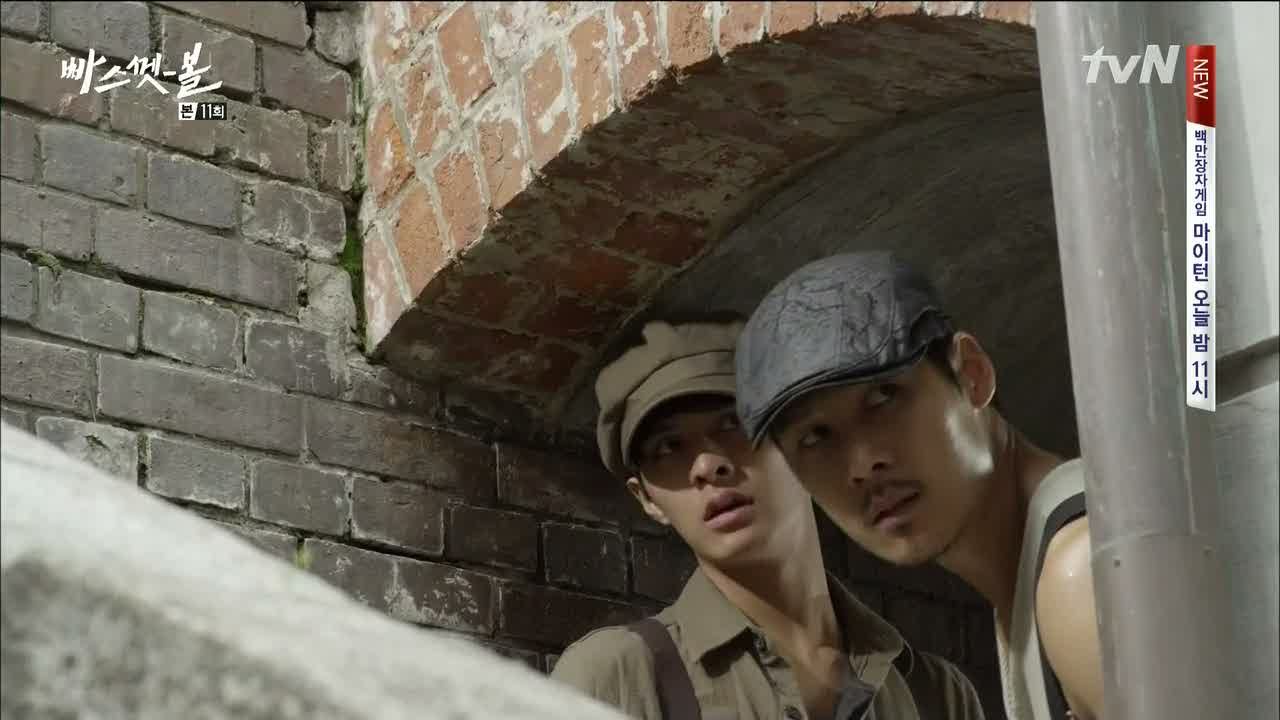 Sung-won ends up saving San when the police go running after him, and offers him a hearty welcome back to the capital before showing him to his modest quarters. He tells San he can stay with him for now, since it's safer.
He's curious to know how San escaped the labor camp even as he warns him that now isn't the time to try and take his story to print since no one will print it. What he's more curious to know is just how San performed his double jump at the last game (the one he took from Chi-ho), and his basketball fervor takes San by surprise.
San struggles to put into words exactly how he did it, explaining it more like a frame of mind—he didn't think of himself as being in midair, but as part of the air.
Sung-won eats up his words like Socrates himself is imparting them, and decides to exposit the lessons San was supposed to have learned: that he's trying to reveal the truth behind the labor camps because he realized from living through it that he's no different from all the other Koreans there.
Only Sung-won seems to think that San went there of his own free will just to expose the truth, and offers to join hands with him in order to help. Together they'll reveal the truth behind the labor camps and liberate the Korean people.
Hong-ki has become the new San/Chi-ho in the public eye, and now has all the money and fame he ever wanted. Bookie Gong talks like a salesman as he pitches his big basketball event to Hong-ki and appeals to his vanity by saying that he'd be the big star, now that San is missing a finger and all.
The only thing they'd need is a court, which Hong-ki's mom just so happens to own. So Hong-ki tries to talk his reluctant mom into it, even though she doesn't believe him when he says that San is no longer a match for him… until Bookie Gong brings San so that she can see his hand.
Hong-ki acts all sorry that San was taken away, but does a bad job hiding his envious excitement when he spies San's missing finger. His mom doesn't even try to hide her happiness, until San assures her that he can still play basketball. And not only that, he will.
San picks up a ball to try and show them, and while he manages to dribble, he can't actually sink a basket. Hong-ki's mom smiles while San looks like his soul has just been stolen from him.
Bookie Gong gets San checked out by a doctor, and the doctor all but scoffs when he's asked if San will be able to play basketball again. "How can he play basketball with that hand?" the doctor asks.
Universe: 176,892, San: -100.
Bookie Gong claims that the doctor's a crook—after all, it's not like San lost his whole hand, why shouldn't he be able to play minus one stupid finger? He promises a dead-inside San that he'll do anything it takes to help San play basketball again.
San can't even seek Mom out for support when she works in Takeshi's home, and ends up crying alone outside. Poor guy.
Meanwhile, Bookie Gong talks out his sorrows with Ajumma, feeling guilty that San won't ever be able to play basketball again. "How was I to know that he couldn't play basketball if he loses one finger?" Gong asks helplessly. Gee, I dunno. Do basketball players usually use their fingers to play basketball?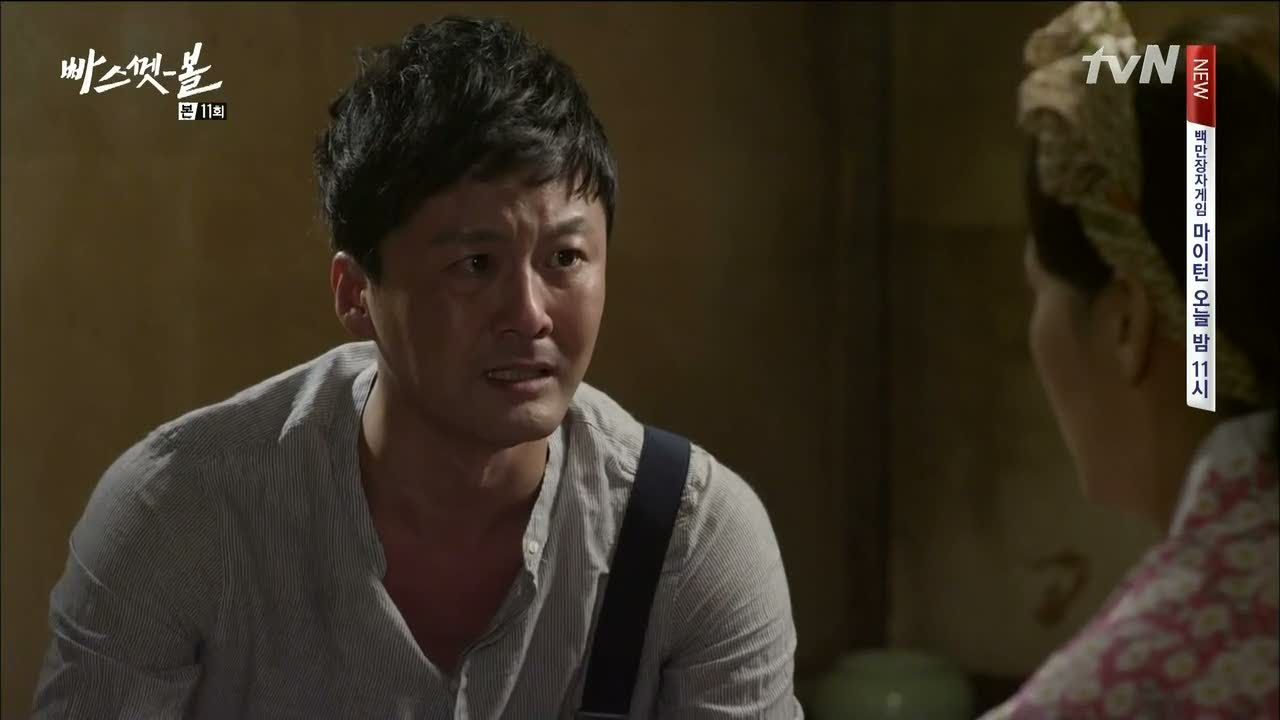 He doesn't know San is within listening distance as he bemoans the fact that his business is all but lost if San isn't able to play. The fact that Bookie Gong is responsible for San's finger comes as news to Ajumma, but Gong explains that he had to do it—Daddy Choi threatened him with death if he didn't cripple San somehow.
So Gong only wanted to shoot off his pinky and claims that everything he did was for San, only instead of showing his gratitude, San insists on moping around instead. How dare he, right? I mean, the nerve.
That's when San bursts into the room, having heard everything but wanting to hear it again. He grabs a kitchen knife to threaten Bookie Gong with, demanding that he tell him who ordered him around.
"What I did was wrong," Gong stutters out, now with a knife to his throat. "Forgive me. I… just did what President Choi told me to do. I just did what President Choi told me to do because he didn't want you to date Shin-young again. I'm sorry, San." For what it's worth (and it's worth very little), Gong means it.
San puts all the pieces together now—from Daddy Choi outing him in front of everyone, to him telling San to remember his place and stay away from his daughter. Now that he knows Daddy Choi had him sent away, he finds himself trembling with rage outside of Shin-young's house, knife in hand.
He's shaken out of his vengeance quest when he sees Shin-young leaving, as though he had forgotten that it's her dad he wants to kill. Only then does he remember Sung-won's promise to help him shed light on the labor camp situation, because neither of them can do it alone.
He pays Sung-won a visit filled with a new sense of purpose: "I don't know anything about rebellion or liberation, but I know my own suffering very well. I want to fight for myself."
San asks if he's not qualified to do so, and Sung-won assures him that he needs no qualifications to fight for liberation. Determination and the will to fight are what really matters, something San now has in spades.
Sung-won then tells him of his plan to infiltrate Daddy Choi's company posing as an employee, while San will remain his contact on the outside. Before they let the world know of their plan, Sung-won has some comrades at "The Dawn" (the underground newspaper) for San to meet.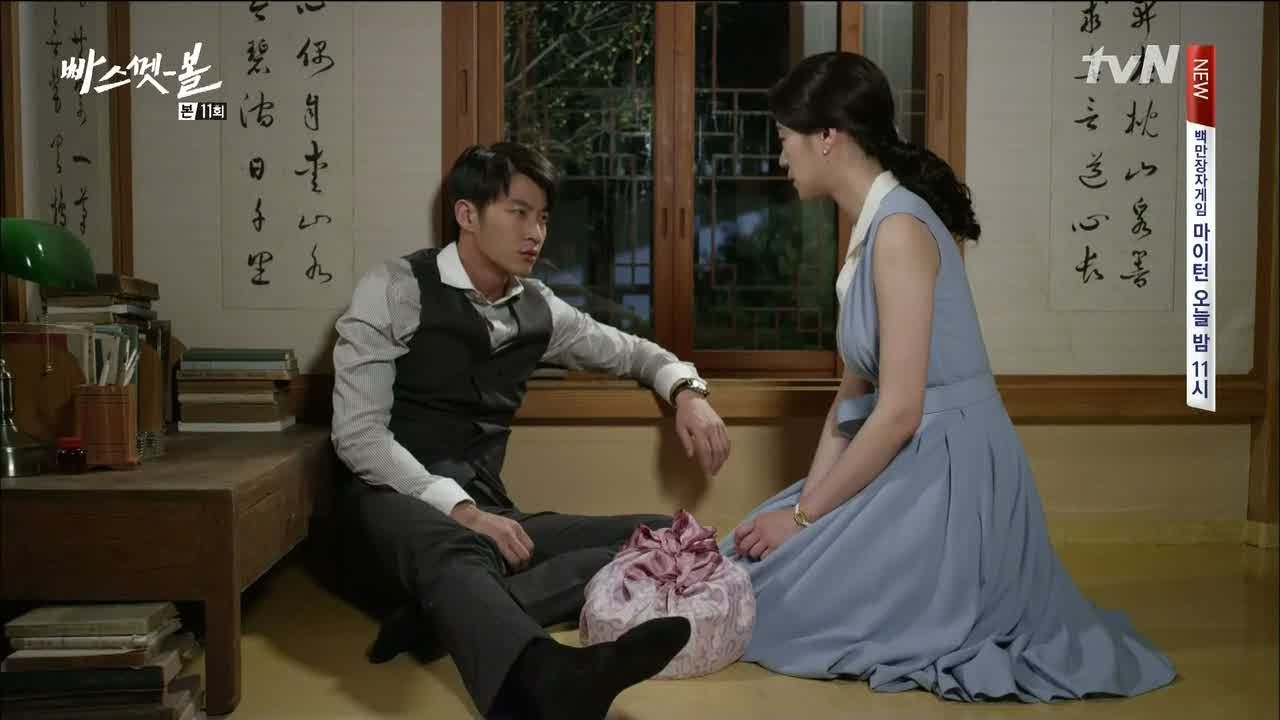 Shin-young knows Chi-ho has been wallowing in depression, and finds him sitting in the dark at In-soo's old desk as she goes to deliver him food. He can't even bring himself to stand because he's been eating so poorly, but Shin-young is there to offer him decidedly bland support. "Stay strong, Chi-ho."
She finds Byeo-ri clutching the Hamlet book In-soo read to her and offers her a free shoulder, whereupon Byeo-ri asks if it's true that In-soo died without doing anything wrong.
Shin-young says yes, because "The people who killed In-soo are cowards. Because they're cowardly, they fear brave people. In-soo was a very brave man because he protected Chi-ho with his life."
Now Byeo-ri remembers In-soo's last words, and realizes that he asked her to become Chi-ho's Horatio in his place. Aww, In-soo. We all miss you.
The same police interrogator behind In-soo's death is stalking Chi-ho with Shin-young's article in hand, sure that Chi-ho was involved in writing it because of its accuracy. But when he sees Shin-young leaving Chi-ho's house his suspicions are aroused, and he follows her instead.
But of course Shin-young, being the master of derp that she is, leads them right to the underground newspaper's secret hideout. The policeman calls for backup.
Shin-young arrives just as San is being introduced to the rest of the staff, both of them completely taken aback to see the other. As fate would have it, they're coworkers now. Y…ay?
Meanwhile, Byeo-ri serves Chi-ho dinner under Shin-young's instructions, no matter how reluctant he is to eat. She reminds him that he's not keeping the promise he made to In-soo—that he'd keep being the cool cat he is—because he's not acting the least bit cool right now. And Chi-ho knows it.
San tries explaining why he hasn't yet gone to see Shin-young once they get a chance to talk, but she's not interested in hearing his excuses: "Because you always put yourself first." She actually makes a few good points in her long-winded (and nigh inaudible) monologue about how San would never consult her during the decision-making process and would only tell her once he'd already made the decision, and how he never cared to see how she felt.
He can't really fight back when she mentions how he's tried to break up with her twice, and how he kept on saying he wanted to become a man worthy of her when all she really wanted was his sincere heart. Shin-young: "From the beginning, that was the only thing I wanted. But you never tried to listen to me." (Did anyone catch someone on the production team prompting her for her line when she clearly forgot it? *cringe*)
She goes on to say that she would've snapped up any explanation he could've given for his lies had he bothered to give one, so desperate was she to understand him. "But you never offered me any explanation. You… never loved me."
San's answer to all of these valid points is to sweep in for a kiss, which Shin-young fights against briefly before she seemingly gives in, only to push him off in the end. Good. Because that was not an acceptable answer.
With tears in her eyes, she reminds him that she's not the same girl she used to be—and that she's engaged to someone else. "I'm no longer your woman!"
Their interlude is broken up when the newspaper is raided by the police. Sung-won leads the two (and Bong-soon) out through a secret door, and San has to fight off a Japanese soldier waiting for them outside.
But when he grabs Shin-young's hand to run, she reacts in shock to the bandage covering his would-be thumb. "Your… your hand…" she stutters, as she searches his face for answers.

COMMENTS
For as much as I'm not a fan of Shin-young taking up screen time that could be better served with anyone else, I'm compelled to agree with her on the all but itemized list she presented as to why San makes for a bad boyfriend. The problem is that the show hasn't really tried to convince us otherwise, so when she was saying all of the above to San… I couldn't really think of any instance where his past words or actions could prove her statements untrue.
So while I think it's true that San does love her and probably just isn't emotionally equipped enough to show it, I still found the forced kiss really disappointing from a character growth standpoint. There she is, talking sense about how San never considered her feelings or thoughts, and he listened to every single word without a single protest. In a normal situation I'd take that to mean he realizes he doesn't have a good defense and that maybe he realizes he hasn't been taking her feelings into account—but then he did exactly what she was accusing him of doing by throwing that kiss at her. Which makes me think that he was hearing her without actually listening—and if so, then I'm kind of on her side when it comes to this breakup. (Also because there's just zero chemistry between them.)
And if San had just one chance to prove her wrong, he completely blew it. It's kind of exasperating really, because while you could say that he doesn't have the upbringing she does to be able to articulate his feelings quite like her, surely he could've come up with something a little less stereotypical of him, even just one hint that he's changing his ways. But no, it's still the same "You're my girlfriend, you'll do what I want!" version of San that I can understand without bringing myself to love completely.
He's still very fixated on himself, which is fair enough, because not every hero need be a philanthropist. Like he said, there's no one as aware of his suffering as he is, but interestingly enough his desire to fight against the powers that be isn't based on care for his fellow man—he seems to just want to right the injustices done to him, which again, is fair enough. I'm not going to fault him for being a reluctant freedom fighter, but I am going to fault him for being terrible at being proactive. Yes, the world has wronged him, and yes it's unfair, and yes, he needed that thumb. But when he spends an episode grabbing everyone and their mother by the lapels to angrily declare his determination to keep playing basketball only to try once, fail, swiftly give up and still expect to get the girl? It's just not enough.
If San's not going to undergo any big changes, fine. But if the show wants me to root for him, then I need to see him do more than just react to the world around him. I need him to show, not tell, that he's willing to go the distance for his dream. I don't want to just hear thunder; I want to see it rain.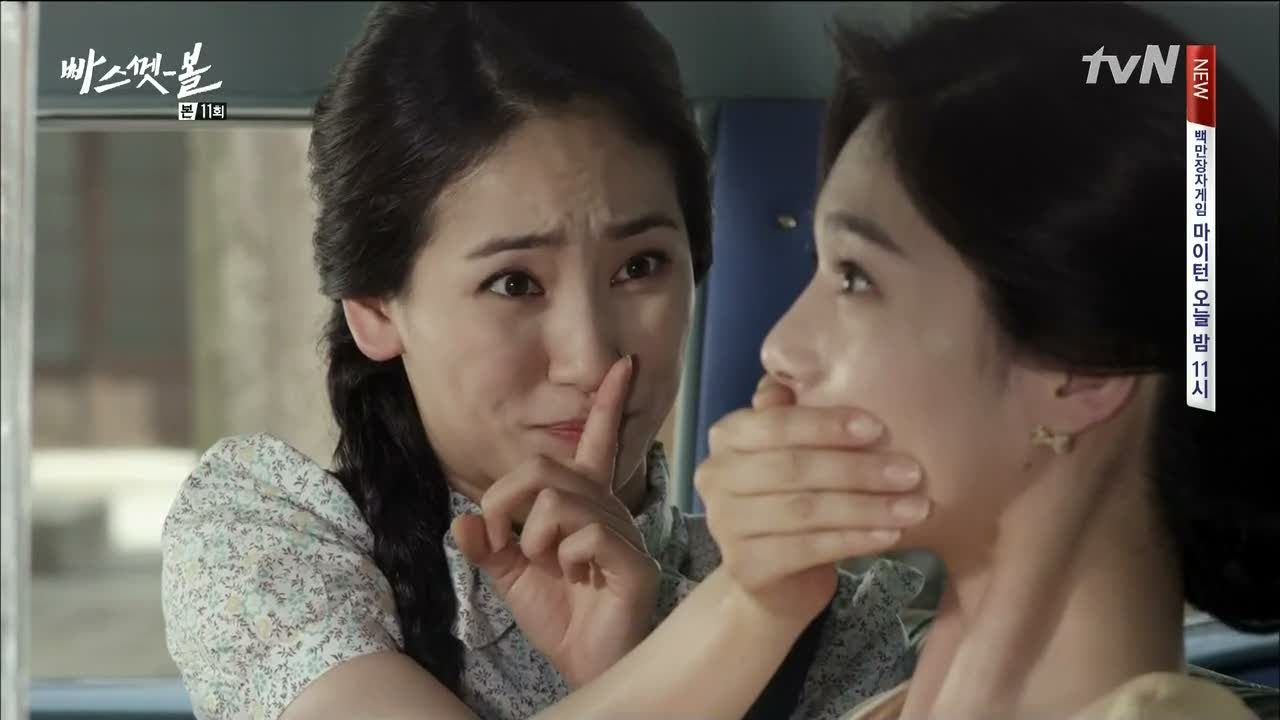 RELATED POSTS
Tags: Basketball, Do Ji-han, featured, Jung Dong-hyun, Lee Elijah