Basketball: Episode 6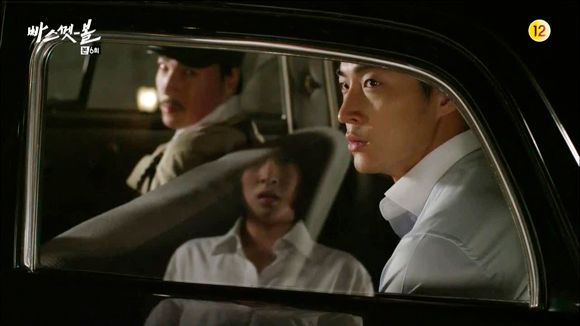 It's kind of funny to have a show where I love just about everything except for the main romance, so I'm happy to report that there are some interesting shake-ups to the previously humdrum lovelines this hour—and that's not something I thought I'd say even as of last episode. I'd be stupid to complain though, even if the pairing I'm most excited about makes me regret ever having been born.
I swear, I really thought everyone was being figurative when calling Byeo-ri a kid because of her small stature… when it turns out they were definitely being completely literal. I guess this means we're back to Shin-young being the only available bachelorette in all of Kore-…zzzzzzz.
SONG OF THE DAY
Yoo Sung-eun – "Healing" [ Download ]
Audio clip: Adobe Flash Player (version 9 or above) is required to play this audio clip. Download the latest version here. You also need to have JavaScript enabled in your browser.

EPISODE 6 RECAP
After Chi-ho confesses his feelings to Shin-young right in front of San, San attempts to guard his territory by telling Chi-ho that he'll pretend he never heard anything. Chi-ho: "It wasn't said for you to hear." Meooow.
San holds his and Shin-young's interlocked hands up for Chi-ho to see. "This woman is in a relationship with me," he all but growls. Chi-ho knows this well, but replies that San isn't a suitable man for Shin-young, and San's downcast eyes shows that he knows this well.
Shin-young stops Chi-ho from making a cool exit by slapping him across the face, chastising him for judging San so harshly, "That man is the best man I know!"
But Chi-ho has an admittedly fair retort: "When it comes to judging people wrongly, you're the same in the way you judge me. At least I haven't kept anything hidden from you." Oh, burn. She doesn't know what he means, but San does.
Before he leaves, Chi-ho adds that he has no intention of forcing her to love him through the engagement, but he hopes, at the very least, that she'll look at him clearly and properly. "I'm going to try my best until that happens… and then try some more."
Once alone, Shin-young apologizes to San for the engagement announcement, swearing that it was all against her will. San believes her, and when she asks if he missed her he swoops her into an embrace and utters a promise: "I'll be good to you from now on."
Chi-ho broods at home in the meantime, considering Shin-young's perception of him as well as Byeo-ri's, in that both think he's a puppet for the Japanese. This causes him to look unwell for the next day's spring basketball league opening ceremony, where about six different teams (including San's) are assembled.
Before he goes inside he gives his hyung an ominous request: "If something bad happens to me, I want you to go get Byeo-ri on my behalf." In-soo Hyung doesn't understand where this request is coming from, and neither do I. Don't do anything stupid, Chi-ho!
The ceremony is, of course, emceed by Jo Hee-bong, and he's the one to order everyone in the court to perform the ritual bow toward the Japanese flag. Chi-ho is the only one who stands tall. Ohhh. OHHH! This just got real.
After the flag, Hee-bong directs everyone to bow to the east in honor of the Japanese Emperor. While everyone but In-soo missed Chi-ho's defiant stand the first round, now everyone faces him as they all bow… only, he doesn't. He even refuses to face east. Wow.
Shin-young stares at Chi-ho in shock and he stares right back, thinking of how her colleague demeaned her for going out with him, a Japanese puppet.
He continues to stare straight at her as if daring her to watch him, even when he ignores the third ritual (of reciting a sort of pledge of allegiance to the Emperor). Everyone notices, causing the crowd and his teammates to grow uneasy. You just didn't DO that.
Finally, Chi-ho leaves the court in the middle of the pledge as an ultimate act of defiance as he flashes back to telling Shin-young how he would right all the wrongs he did. This is how he's doing it.
Suddenly, a man in the crowd cries, "Min Chi-ho refused the vow pledging loyalty to the Emperor! Min Chi-ho is Korea's hero!" The crowd starts chanting his name in support, and they're all quickly removed by a flustered Councilman Yoon.
In-soo confronts Chi-ho outside the arena, confused as to why Chi-ho suddenly refused to say a pledge he'd said without problems countless times before. "No, it has been a problem," Chi-ho corrects him. "My name… I'm going to take responsibility for it. I won't let it be used any longer."
Then he adds that he's nowhere near finished with his defiance, but first he's going to get Byeo-ri. One by one, he's going to right every wrong committed in his name.
In-soo escapes with Chi-ho right before policemen come after him, and Shin-young deliberately points them in the wrong direction to protect Chi-ho. Good for her.
Councilman Yoon throws a fit inside the arena about the ineptitude of pretty much everyone, but he focuses especially on Daddy Choi, with his derelict daughter and future son-in-law.
Shin-young seems to realize that Chi-ho might've made his stand to keep his promise to her when Bong-soon reveals how she thought Chi-ho was just so dashing and courageous, "He seemed like a proper man."
Which is exactly what Chi-ho wanted of Shin-young: "I want you to look at me properly." But by the time Shin-young realizes it, bedlam breaks out around her, with policemen set on destroying anything promoted with Chi-ho's face. Secretary Kim swoops in to get her and her maid out before any harm can come to them.
Chi-ho's act of defiance is on everyone's lips, and the citizens speak of him proudly even as Japanese storeowners take down every picture advertisement with Chi-ho in it.
Byeo-ri feeds her and her friend with the rice she had to sign for (with the Neighborhood Patriotic Association), and Jo Hee-bong comes to collect on those signatures.
She tries to hide when her name is called but is forcefully hauled to a truck for "volunteer labor," which she and everyone else knows is just forced labor.
My heart sinks as she flashes back to when her father left on one of these same trucks, and she's just so frightened because she knows. Oh god oh god, someone help her. Someone help her! Where's Gaksital when you need him?!
Byeo-ri's friend goes searching for help, and has the good fortune of stopping Chi-ho's car. Chi-ho follows her back to Byeo-ri and grabs her away from the men trying to shove her into the truck, "What are you doing to a child?!"
Hee-bong lies that they're just trying to help her by taking her to a farm where she can run around with all the other little girls and boys, but Byeo-ri instantly calls him out for his lie—he'd just told her he'd send her to Manchuria to work, not some fun camp for impoverished Koreans.
At first, even Chi-ho's famous name isn't enough to get Hee-bong to stand down. It's only when he's told that Chi-ho is Daddy Choi's future son-in-law that he suddenly changes his tune and lets Byeo-ri go.
She's startled by Chi-ho's generosity, and he kneels before her so he can meet her at eye level: "Whenever something difficult happens to you, I can't always come and help. So what I want to say is, I don't want you to ever have to go through such things again. Do you want to come with me? Until you meet your father again, I will stay by your side."
Swoon. San better get his head in the game, because Chi-ho is stealing all his thunder.
Speaking of, we find San playing the first game of the spring basketball season. The crowd wildly cheering his name are also all waving Japanese flags, causing San to re-evaluate his complacency in the face of Chi-ho's stand.
He channels that anger and resentment toward himself into the game, and sinks the winning basket for his team. On the bus ride home, teammate Hong-ki tries to get the rest of his team to make a stand like Chi-ho—not because he believes in Chi-ho's cause, but because they'll get more publicity that way. Bam, bam, BAM!
One of his sunbaes tells him to just act like the sportsman he is, and San finally speaks up. What's it mean to be a proper sportsman, anyway? "What Min Chi-ho did today… at the very least, he wasn't being cowardly."
Bong-soon shows a newspaper article about Chi-ho's womanizing ways to Shin-young, thinking she did a good deed by telling her before they got married.
Shin-young seems overly insistent when she retorts, "Who said I would marry him? He has nothing to do with me." The lady doth protest too much, methinks.
What ends up shocking both of them more than Chi-ho's casanova story is how not one word about his act of defiance was printed.
Meanwhile, Daddy Choi is incensed that there are stories about him at all and vows to divert the public's attention. San pays him a visit per his request and he pretty much tells San that he'll get him anything he wants as long as he focuses on basketball and doesn't do anything foolish like Chi-ho.
And Daddy is much nicer to Shin-young now that he needs her for something, since he's not even mad that she's been searching for new employment with other newspapers.
In fact, he's got a job right up her alley—he wants her to work for his company and write a sensational article about San, since he's going to become Daddy's new company mascot.
In-soo is more concerned for Chi-ho than he is for himself, if only because Chi-ho's chief concern is finding clothes that'll fit Byeo-ri. I guess that means she took him up on his offer, which gives me so many warm fuzzies.
He talks to her from outside of the bathroom where she's (finally!) taking a bath, and laughs when she firmly denies his offer to scrub her back: "Even though you're as little as a bean, are you saying you're still a woman? Do you know how many sisters I've helped raise?"
But he's taken aback when she emerges from the bathroom wearing just his shirt, finally looking like a girl. He talks to her just like a little sister, and I just wish she was legally old enough for me to ship their completely adorable pairing without feeling like I should dunk myself in acid. I can't help it, they're awesome on screen… as oppa/dongsaeng. I have to keep reminding myself of that for the good of my soul. (Also, it really blows that every other female character in this show is cooler than Shin-young.)
Even if Chi-ho doesn't feel the same way, Byeo-ri catches herself daydreaming about his chivalry and smiling when she catches his scent on the shirt she's wearing. D'awww.
The police come for Chi-ho, and he eases Byeo-ri's worries by acting like everything's okay while assuring her that In-soo will be a good orabeoni (an older word for oppa) to her while he's gone. Gah. I love them. I just love them.
"Don't go," Byeo-ri tells Chi-ho, right before the police drive off with him. "Don't go!" she yells again as she runs after the car, eventually breaking down into sobs. She's worried he'll never come back, just like her father.
San is chosen to take Chi-ho's place when it comes to having his picture taken for advertisements, only he's not as natural as Chi-ho in front of the camera and gets yelled at by that angry-and-racist French photographer. She's a real treat.
Shin-young arrives on set and playfully introduces herself formally as the reporter who'll be writing an article on San. The city-wide siren to pledge allegiance to the Japanese Emperor interrupts her praise, and a few students take their cue from Chi-ho and refuse to bow: "Korea is not your Emperor's country! We are not subjects of the Empire of Japan!"
Even with the police crackdown, other Koreans join in the revolt. San leads Shin-young away from the chaos and shares a Moment with her as he pulls her close to hide from the authorities.
But the romance swiftly ends when they hear some breaking news: Chi-ho's been arrested.
In prison, Chi-ho is beaten bloody when he refuses to retract what he did. The arrival of Count Byun stops the violence momentarily, but something tells me he's going to make things worse.
Chi-ho's father and uncles try to think of a way to help free him, while In-soo apologizes to Chi-ho's mom for being unable to protect him. She doesn't blame In-soo, and is very sweet when he nudges Byeo-ri to introduce herself, enough to offer to take care of Byeo-ri for him.
But Byeo-ri grabs onto In-soo and all but hides behind him because she doesn't want to leave. In-soo's nice enough to place a comforting hand over Byeo-ri's as he tells Mom that he made a promise to Chi-ho that he'd take care of her, and he intends to keep it.
San tries visiting his mom at the house where she works, but ends up just watching from the threshold as she's abused by her racist mistress.
He stops himself from helping her because of Daddy Choi's warning about staying out of trouble—because if he does, the world is open to him. So San is forsaking his mother for basketball? Innnteresting.
Bookie Gong makes a return as he sees San's face on every advertisement and in every newspaper, and hearing San's name on the lips of every citizen just makes him angrier.
The crowd is already chanting San's name before the season's next basketball game even begins, much to teammate Hong-ki's chagrin.
But their opposing team doesn't show up and sends a representative instead to announce that they won't be playing as long as Chi-ho is in prison and his team is suspended. They're boycotting the basketball league.
Everyone starts to cheer for that team's act of defiance, and it's cute how Jo Hee-bong (playing Announcer again) wants nothing more than to join in his countrymen's cheers. Hong-ki just sees the events as a roadmap for what he and San need to do to become famous—they just have to fight the system!
Shin-young visits Chi-ho's house to see if he's been released, only to be told by In-soo that they're transferring him to a real prison, which means he won't be out anytime soon. At least she knows that Byeo-ri is being taken care of.
She feels guilty/sorry for Chi-ho's state, enough to where she imagines Chi-ho driving a car behind her with his trademark smile, only to be let down when it's just a creeped-out ajusshi behind the wheel.
Coach warns San and his teammates that they'll be kicked out if they show any support for Chi-ho, but that doesn't stop Hong-ki from trying to rally the team to join the other basketball players protesting Chi-ho's incarceration outside the prison. He's just in it for the glory, not the cause.
His teammates are universally opposed—what if they got arrested too?—and even San isn't on Hong-ki's side. He's just trying to keep his head down.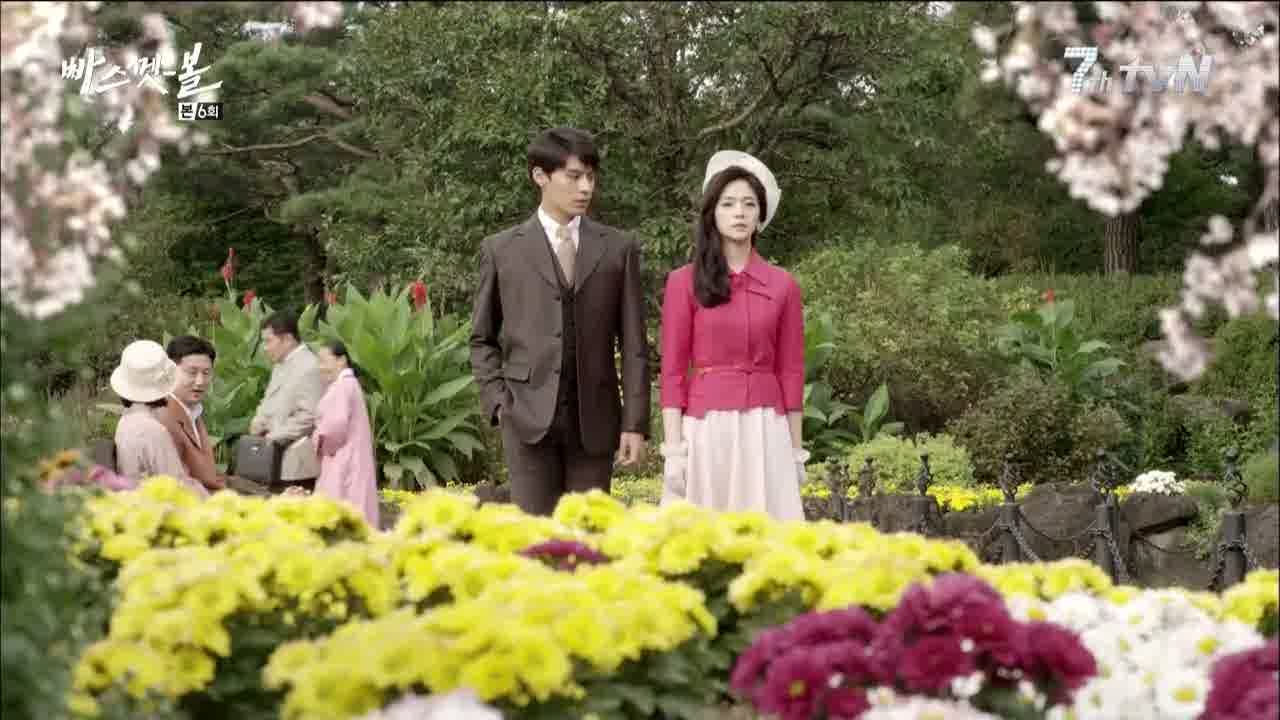 Shin-young is distracted from interviewing San when she asks him if he's going to join the demonstration for Chi-ho's release, and San's insistent "no" comes off a little strong. "I'm a basketball player. I don't know anything about politics and I don't care to know either. Above all, tomorrow I have my game to play. I really hope that you'll come."
But her answer isn't the one he was expecting as she declines his invitation in order to join the rally. Her words are like a punch to San's stomach even though she explains that she feels responsible for his behavior because she initially misjudged him. "I'm obligated to try and see him for who he really is."
Even though San is surrounded by reminders as to why he should join her in the fight against colonial oppression (a big reminder: His Mom), he makes a pointed decision to ignore his conscience.
"No, you don't have that obligation," San argues. "The only obligation you have is to take my side. I'm not going to think of anything else—only that I will become a man who's suitable for you. That's all I'm going to think about. So you of all people… have to be on my side."
It's rally/game day, and San makes the decision to go to the court even though Hong-ki and a few of his other teammates have ditched the game for the rally. Aww, San. I get you, but still.
When it's time to do all the ritual bowing before the game, everyone participates. San is overjoyed when he spots Shin-young in the audience because it means she chose him over Chi-ho, and his happiness overflows into the pledge of allegiance.
Shin-young feels uneasy watching San's gusto during the pledge, and she finally decides that this isn't where she should be. "I think I have to go to Min Chi-ho."
San's smile fades as he watches her leave, helpless to pursue her since it'd be seen as an act of defiance.
A huge crowd of both citizens and basketball players alike has amassed outside the prison to try and stop Chi-ho as he's transferred in, chanting for their hero's release. Among the crowd is Hong-ki (who is just there for publicity after all), Chi-ho's teammates, In-soo, and Byeo-ri.
But it's only when Shin-young shows up that Chi-ho falters just a little. Then he offers her the saddest smile, the kind that says "It's all going to be okay" in times when you know it ISN'T going to be okay. (I also spot a new character from the character chart, but I'll wait till he gets more of an introduction.)
This scene of defiance and solidarity is juxtaposed by San reciting the pledge of allegiance, unaware that Bookie Gong is watching him from the bleachers, and probably unaware that his squeeze and Chi-ho are sharing a moment.

COMMENTS
Chi-ho's really been stealing the show lately, hasn't he? He's been interesting from day one, and I was actually pretty sure that he wouldn't get this kind of red carpet treatment with regards to character exploration when he's not the first lead. Watching him these past few episodes almost serves as a reminder that in giving a second lead hero so much depth and screen time, you run the risk of outshining the hero—and I wonder if that's not what's happening here.
Luckily I'm all for breaking tired traditions, so I welcome all the time we're spending with Chi-ho. What's nice is how his change is inversely mirrored by San, who started out as the righteous-to-a-fault character only to willingly ignore injustice just so he can fulfill his own dreams. Of course, I say "just" when it's so much more complicated than that, and I really do understand San even if I don't love all of his choices as of late. He's spent his whole life wanting to be like Chi-ho and has had to claw his way just to get a chance, and when he tried things the honest way, nothing worked out. So his newfound sense of purpose makes sense.
But then he tells one little lie about being a university student and suddenly the world notices he exists—and on top of that, it earns him the love(?) of a woman who wouldn't have even looked in his direction before. That love got him a second chance to play basketball, where his skills are most definitely not a lie, and he knows more than anyone just how impossible it would be to get that same chance again. His desperation to keep his head down and just do what he does best is well-motivated even if it makes him seem a little more tool-ish, but that added color to his trajectory is interesting because of its uniqueness and all the more tragic because he has to suffer alone. San doesn't even have his mother to confide in, not only because he's lying about his student status but also because he'll have to carry the guilt of ignoring her suffering, because doing otherwise would harm his career when he's finally, finally, become the person he's always wanted to be.
Chi-ho started out in a much different place by comparison, and while he was never a bad guy, he never had the kind of impetus Shin-young and Byeo-ri have given him to better himself before now. Like In-soo said, Chi-ho recited that pledge of allegiance countless times before, though I think Chi-ho was telling the honest truth when he confessed that he never once wanted to say it. In fact, I'd rather believe that Chi-ho finally got to a point where he couldn't take lying to himself any longer and decided to do right by himself, rather than doing it just because he likes Shin-young and wanted to impress her. (Though I will say that she made some huge leaps this episode as a character, not so much as an actress.)
So while Chi-ho's journey is paved with painful honesty, San's is paved with equally painful dishonesty. I just hope that San isn't headed for total isolation while Chi-ho gets all the friends, followers, and maybe even the girl, because then San will have nothing left. Oh well, there's always my new favorite pairing to cheer me up and/or depress me. I'm still trying to figure out which.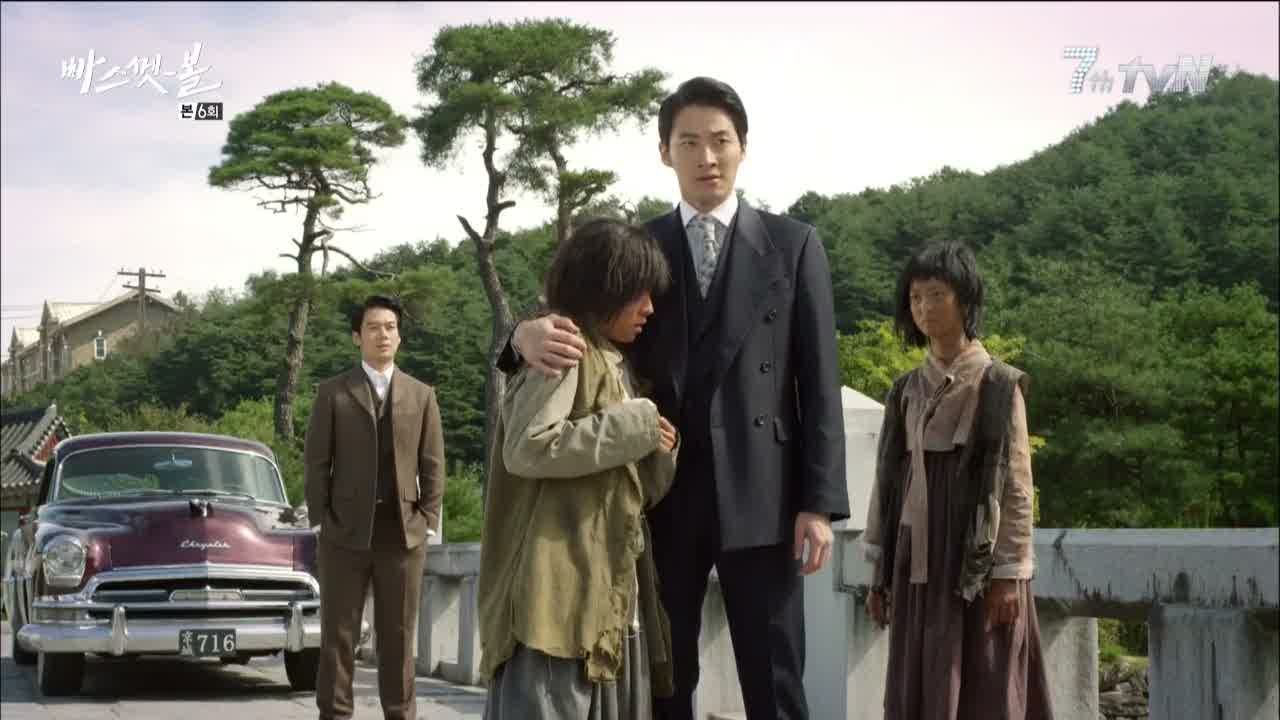 RELATED POSTS
Tags: Basketball, Do Ji-han, featured, Jung Dong-hyun, Lee Elijah