Basketball: Episode 8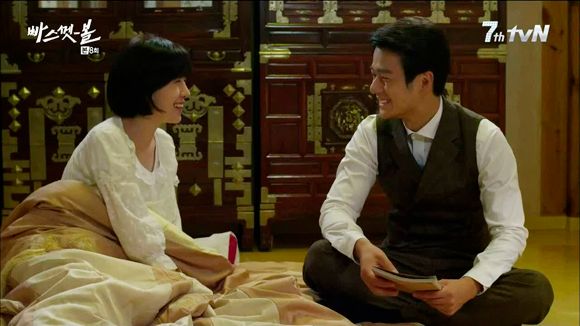 Engagements are broken, dreams are shattered, and secrets become common knowledge in an episode that definitely ups the ante from its predecessors, even if that means taking a step in the bleakest of directions. For its part, Basketball doesn't set out to be the most uplifting hour of television you'll see this week (or even the best hour), but at least it's not without some winning characters that you can't help but love, enough to feel robbed and emotionally unprepared when they're suddenly torn away.
SONG OF THE DAY
Park Se-byul – "Still 20 (아직 스무 살)" [ Download ]
Audio clip: Adobe Flash Player (version 9 or above) is required to play this audio clip. Download the latest version here. You also need to have JavaScript enabled in your browser.

EPISODE 8 RECAP
After their stiff kiss (what else did you expect?), Chi-ho tells Shin-young that while he has no intention of forcing his feelings on her, he's going to keep showing her how he feels. Should we care that she doesn't slap him like she did San?
Daddy Choi congratulates San on a job well done with the whole inauguration ceremony and offers San anything he wants in return. San hesitatingly asks for an advance so he can buy a house for him and his mother to live in, so Daddy Choi bypasses the money and sets his secretary to finding a suitable house for San.
Thanks to Bookie Gong's bright idea, Bok-joo's leprotic little brother is dragged off by men wearing medical masks. He's being taken to a well-known slave labor camp where Koreans were worked until they died and Bok-joo knows it, even if Gong tries to convince him that it's a suuuper fun medical camp where his bro's leprosy will be cured.
The most crushing blow to Bok-joo is dealt when Bookie Gong lies that he's acting under San's orders… which, in Bok-joo's eyes, means that San signed his little bro's death warrant.
Shin-young can't sleep thinking about her kiss with Chi-ho versus her kind-of-sort-of-relationship with San, while Bong-soon sleeps soundly and dreams of Sung-won whispering her name in her ear, when it's really Shin-young waking her up. Haha.
She confesses about the kiss, which hilariously makes Bong-soon start praying for her lady's soul. She describes the difference between kissing San and Chi-ho—kissing San made her feel all fluttery and weak, while kissing Chi-ho felt comfortable, "Like I was kissing my brother." Uh.
Bong-soon is on Team San, so she urges Shin-young to apologize to him and stick with the guy who feels like a man and not like a brother. Wise words.
But Chi-ho's mother arrives suddenly and puts an unknowing stop to Shin-young's meeting with San in order to take her future daughter-in-law ring shopping.
Shin-young is a bit taken aback by the unexpectedly quick wedding preparations, and is thrown for an even bigger loop when her future mother-in-law is all, "You didn't know? Your father wants you married before your brother goes off to war!" (Side note: She has a brother?)
Meanwhile, Chi-ho confronts his dad about volunteering him for a name-change when he absolutely refuses. Mr. Min isn't any more enthused than his son, though apparently the deal to get him out of prison included the promise to change all his family members' names.
But Chi-ho tells his father that his efforts weren't necessary—he's Min Chi-ho, son of Min Tae-shin, and he's going to protect his name at any cost.
San isn't at the practice court when Shin-young goes to find him (it is funny when she asks what San is always doing, because it's clearly not basketball), but a vengeance-seeking Bok-joo overhears San's location when it's given to Shin-young.
We find San and his teammates cleaning up after the Junchuwon inauguration event, with Bookie Gong having to do some impromptu damage control when Hong-ki comes this close to spilling San's secrets in front of everyone.
One of San's teammates seems to catch on to the weird vibe going on between Bookie Gong and Hong-ki, with the former claiming they've met before and the latter completely disagreeing.
This doesn't gel with San's story of growing up in Hong-ki's hometown, and Bookie Gong worrying about Hong-ki now that he knows that Hong-ki knows that everyone doesn't know who San really is.
Coach tells the team that they'll be in the Inspector General's detail today for a military ceremony and gives San the very special task of escorting the general's wife. Hong-ki is, of course, jealous.
The ceremony is to honor Korean soldiers fighting for the Imperial Army, with Daddy Choi escorting the Inspector General as he greets Daddy's son, Shin-young's brother, and commends him for his service.
As part of the Inspector General's greeting line, San also has to pay his respects to Daddy Choi's son, which has Hong-ki all but sputtering in jealousy. Bookie Gong holds him back by stroking his ego, all, You should be standing up there instead of San. But the world's so unfair, isn't it? Um. How is this supposed to work again?
Bok-joo has also made his way into the ceremony hall carrying a sickle and a serious grudge against San, and just as the Inspector General's pro-colonial/pro-war speech reaches a crescendo, he cries out, "Kang San, bring me back my brother!" before attacking.
San throws himself in front of the Inspector General's wife and gets stabbed in the back. Bok-joo is eventually wrestled off him and tries telling everyone San's fraudulent identity (he didn't graduate from high school so he physically can't be a university student) before he's dragged out.
Even though Bookie Gong tries covering for San by claiming that Bok-joo was lying out of jealousy, it's clear that Bok-joo's accusations against San have been well-heard by Daddy Choi. He looks at San as if he no longer believes him.
Shin-young calls Chi-ho out to tell him that she doesn't want to go forward with their marriage, and Chi-ho just says okay in order to respect her wishes. She thanks him for always considering her opinion, and I guess that's it. Go Chi-ho?
Meanwhile, the Inspector General tells Daddy Choi that he's in San's debt for saving his wife today, and will pay him back for his good deed. Nevermind that Bok-joo wasn't aiming for the general's wife anyway.
Just when you think Bookie Gong can't sink any lower, he finds a way to surprise us: While San is recovering in the hospital, he lies that he totally gave Bok-joo the money San entrusted him to give and that Bok-joo totally used it to take his leprotic brother to the hospital.
San still hasn't learned his lesson yet and trusts Bookie Gong's words even if it means Bok-joo's attack makes little sense. C'mon, San. You really gave this guy money and expected him to not keep it?
Daddy Choi pays San a visit just to tell him that he's going to pretend like he didn't hear anything Bok-joo said, which means that while he probably knows it's true, he's willing to overlook it because of San's skill in basketball. He even tasks Secretary Kim with quelling any rumors from the event so that San's secret stays secure.
Shin-young gives her brother a warm welcome when he returns home, but her heart sinks when he tells her that one of their dad's basketball players got hurt during the ceremony. She's worried it was San.
Her Oppa doesn't get a chance to say since Dad calls him into the study. Dad makes sure to ask Shin-young about wedding rings first, which means that her marriage is never far from his mind. Good luck breaking the news to that guy.
The relationship between Daddy Choi and Oppa is strained, since it seems like Oppa went to the army just because Dad wanted him to. Dad also expects him to take over his company, even though Oppa insists that he'll do things differently than his father.
It's good to see that he's on his sister's side when it comes to Dad, even if the the two have made a promise of some sort seeming to do with Oppa's enlistment and future within the company.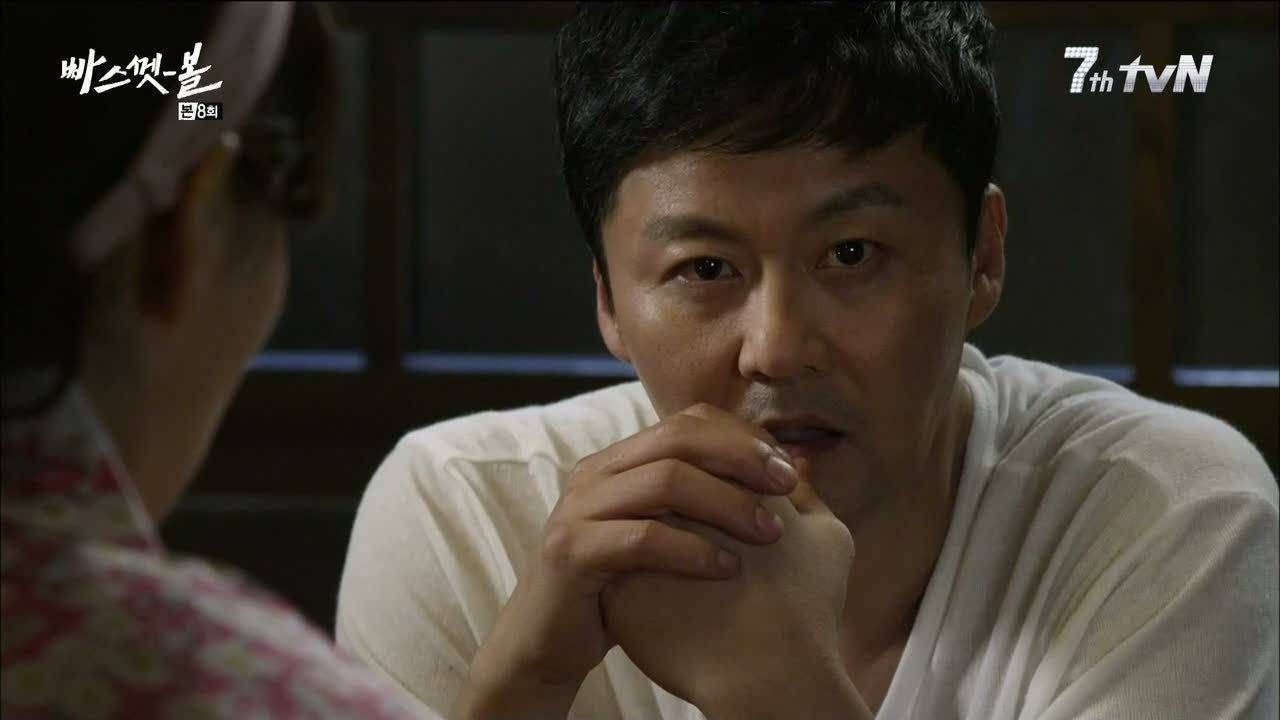 Cue Ajumma Interlude: Daughter Mi-sook sports some fashionably trendy pants from Japan (which apparently decided whether you got to ride public transportation or not), while Bookie Gong comes to a decision about his servitude to San, in that he's done with it.
He knows San won't need him much longer, so he'll have to make San need him. Of course, he's going to further his own interests as a promising businessman at the same time in order to put his skills to better use.
San and Mom (wearing the hanbok her son got her, aw) tour a huge prospective house and fall in love with it. Everything aside, Mom is most impressed by the thick, sturdy walls.
Tears fill her eyes as she tells San that she had to line her thin walls with paper for warmth when he was born, causing San to reassure her with gratitude for everything she's done for him, all, I'll take it from here.
Now that they've got a house, the only thing Mom thinks is left is for San to find a nice girl and get married. San grins as he confesses, "I have someone. I'm in love with someone."
But when it comes time to sign the deed to the home, the realtor is shocked when San uses his Korean name… because he can't buy a house without a Japanese name. (Even though you wouldn't be outright persecuted if you didn't adopt a Japanese name, the name-change law was such that life would become very difficult for you if you didn't.)
San tells Daddy Choi that he got rejected because of his name, and Daddy Choi's overeager response is a little suspicious. He's insistent that San not change his name because he's a story of hope for the people—an underdog who beat the slums he was born in to become a university student. Who doesn't like that?
As for the house, Daddy Choi tells him to just wait until the name-change deadline passes in a couple of months. I can't tell if this is solid advice, or if he's just trying to get out of buying San a house.
Next up is a private dinner with Shin-young and Chi-ho's families, though Chi-ho's side seems awkwardly silent whenever Daddy Choi turns the conversation to the upcoming wedding.
Chi-ho shares a knowing look with Shin-young and gently interrupts the dinner to say something important to Daddy Choi. Mr. Min knows what his son is about to say and looks so crestfallen so fast, like he'd dared to hope that maybe this wouldn't happen while accepting it all the same.
San's basketball practice turns aggressive when he hears talk of Shin-young's impending marriage, while at the dinner table Chi-ho kneels to Daddy Choi as he calls off the wedding.
When Daddy Choi tries pinning the blame on his wayward daughter, Chi-ho covers for her as he claims that the decision was all his doing. His dad sighs even harder because he must know his son well enough to know what Chi-ho's doing. Chi-ho justifies the breakup by claiming that he doesn't want to put Shin-young through the rough future in store for him now that he's decided to keep his name. Daddy Choi finds no ally in Mr. Min, and the wedding is called off.
So Daddy Choi tears Shin-young a new one once they get home by berating her for being too stupid to hold onto a man. Oppa tries to intervene on Shin-young's behalf and is of no help, causing Shin-young to finally speak up when Dad starts ranting about the mess they'll have since news of the wedding has already spread far and wide.
"You took it upon yourself to choose my future husband for me, and you took it upon yourself to announce the marriage to the whole crowd. You never once asked what I wanted," she argues.
Daddy Choi's response to her opinion is to raise his hand against her, but he's stopped when San suddenly materializes out of nowhere. Not only does he stop her from getting beaten, he also takes Shin-young's hand as he declares to Dad: "Shin-young and I love each other."
Then he kneels as he promises to become the best man Korea has to offer, even better than Chi-ho, and asks Daddy Choi for his permission to date his daughter. Surprisingly, San isn't murdered on the spot, which I assume means that Daddy Choi will think about it.
Once they're alone, Shin-young angrily tells San that he crossed the line. (Really?) He defends his actions by claiming that Daddy Choi will give them their blessing, because if he had no plans on doing so he wouldn't have let them have this moment alone.
But Shin-young just shakes her head, "You don't know my father." San doesn't think he needs to because he just plans on trying his best to become someone worthy of her and someone her father can approve of. His can-do attitude has a strange effect in that it makes Shin-young angry with him, since he's gone off and disrespected her feelings and personhood again.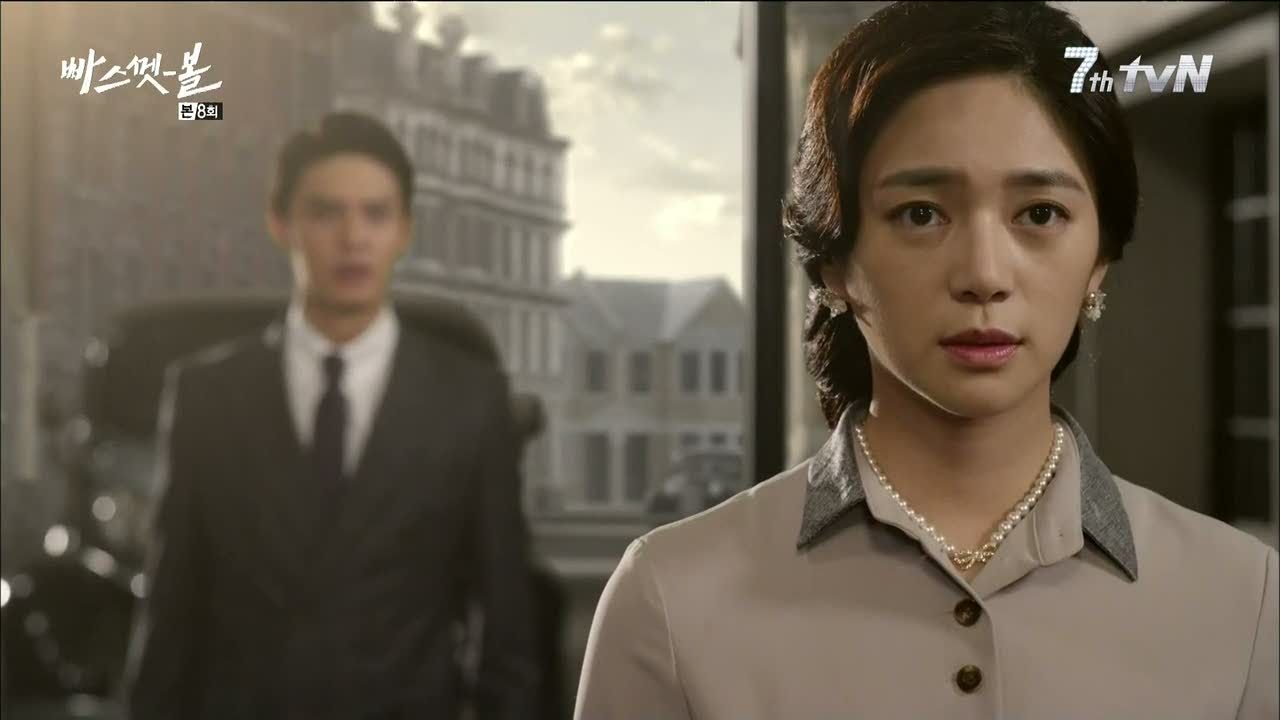 San tries asking her to just believe in him, but both of these people might as well be talking to a brick wall for all it's worth. Everyone's talking but no one's listening, so we end at the same place where we began: San thinks he can make it right by winning the playoffs and proving himself, and Shin-young just doesn't think much at all.
Daddy Choi makes it a point to tell Chi-ho that San asked for Shin-young, making it clear that he hasn't given up on Chi-ho as her future husband yet. Chi-ho seems weak to Daddy Choi's promise that he'll never let San have her as long as Chi-ho changes his name.
Finally we get back to Byeo-ri as In-soo Hyung adorably acts out Hamlet for her like a bedtime story, but it has the opposite effect of putting her to sleep by having her cower under the covers as she hangs on his every word. Gah. These two (plus Chi-ho makes three) win everything.
Byeo-ri is surprised when In-soo reveals that his favorite character isn't Hamlet, the lead, but his friend Horatio, explaining how Hamlet/Chi-ho (c'mon, we know what this is) may put on a front but is really lonely on the inside, and endures so much scorn only to die in the end. This BETTER NOT be a hint about Chi-ho's fate, or so help me.
But In-soo looks at Horatio like an extension of himself when he adds that Horatio's role was to stay by Hamlet's side and protect him, and was eventually tasked with keeping his memory alive. In-soo likes being the Horatio to Chi-ho's Hamlet, basically, and it's heartwarming to see his loyalty.
There's a noise at the door, and Byeo-ri bolts up out of bed: "It's Chi-ho Oppa!" Gah, how is he not having a heart attack with her calling him that? Even cuter is the reveal that In-soo read Hamlet to her to help her stay awake, since she promised to wait for Chi-ho to come home. D'aww.
Byeo-ri has no intention to listen to Chi-ho when he tells her that staying up late will stunt her growth, until Chi-ho tells her that she won't get married if she keeps up with the habit. Even In-soo gets in on the joke: "Chi-ho, didn't you tell me you like tall women?" Chi-ho: "Do you even need to ask? Of course I do!"
Byeo-ri's eyes go wide as saucers as she contemplates being too short for Chi-ho Oppa in the future, and immediately rushes off to bed. HA.
She's able to overhear Chi-ho and In-soo's conversation though, and points out the whole Hamlet/Horatio dynamic in case we missed it. But when Chi-ho asks his hyung for advice regarding whether he should change his name, In-soo proves to be the sage friend we all wish we had when he tells Chi-ho to follow his heart in keeping his name. He'll support him no matter what.
The press can't wait to snap a picture of Chi-ho's new name on his uniform when he finally returns to practice, only to be sorely disappointed when he shows up with that same ol' boring name. They eat up Chi-ho's declaration that he won't change his name now or ever, though.
And that declaration makes Daddy Choi angry. Daddy Choi smash.
Believe it or not, we actually cut to a basketball game (I know!) between San's team and… Not Chi-ho's. That wound from getting sickle'd-in-the-back seems to be acting up a little.
Bong-soon tries to convince Shin-young to go to San's basketball game—you know, the one he said he'd win so that he could marry her. Because that's a thing for him.
San's mother pays a visit to Shin-young, wanting to see the girl who melted her son's heart. Either Mom knows that they've been having problems or she just has impeccable timing, because she ends up explaining what could be misconstrued as cold behavior by her son by saying that he just doesn't know how to properly express himself.
What matters more for Mom is that his heart is good, and even if he's not the chummiest guy to be around, she assures Shin-young that she can put her faith in him. "Thank you… for caring for my San."
A simple fall hurts San way more than it should because of the gaping stab wound he's sporting, but one look at the scoreboard with the teams neck and neck has him gritting his teeth to work through the pain. Go San!
San takes some hits that almost cost him the ball, but once it's just down to one guy standing between him and the net he thinks of how Chi-ho defeated him in the practice game with that one, perfect leap.
With that in mind, San leaps like a gazelle over his opponent to sink the basket and win the game for his team.
Chi-ho chooses not to plan ahead (in going to the party for San's win) when he's sure he's on borrowed time anyway, since any minute the police will come to collect him now that he reneged on the deal his father made to get him out of jail.
Meanwhile, Takeshi gets the same party invite he has zero interest in… until he remembers that there's evil fun to be had when the San's mother is his maid.
Chi-ho is more than ready to face arrest all over again, only the police don't come to arrest him—they're there to arrest In-soo Hyung. Suddenly Chi-ho's bravery ceases to matter when he's helpless to stop his best friend from being taken away.
San and his team attend the gala thrown in their honor, with San being the most sought-after of the boys for autographs. Takeshi, fresh from the bling bin at his local magician-pimp suit emporium, crashes the party with Mom in tow.
He deliberately humiliates Mom in front of everyone in order to get a reaction out of San, who recognizes Mom but doesn't budge. So Takeshi tries to lead Mom into admitting that San is her son through some pointed (and public) question, and even if he knows who San really is, he can't get either of them to admit it to everyone else yet.
Shin-young goes running off to the party after a revelation shows her that San isn't so bad after all, while Jo Hee-bong, as MC, announces the team's new MVP—surprise, it's San!
Aww, but San is so happy. Mom starts crying as San addresses the crowd with his trophy in hand: "Today has been the most amazing day of my life thus far. This honor… I dedicate to my mother." He bows to her.
Takeshi calls Mom out in front of everyone for crying, determined as hell to get her to admit that San is her son, becoming increasingly infuriated when Mom doesn't say what he wants. She just apologizes instead.
Cut to: Everyone just… watching? Y'all are a real class act. (Et tu, San?) Which means that out of all people, Shin-young has to be the one to step up and defend Mom from Takeshi.
But it's Daddy Choi who takes to the mic to tell everyone the truth about San—he's not a university student because he was expelled from high school, and the team is going to take action against San for fraud. Mom starts sobbing as Shin-young and San absorb the shock.

COMMENTS
My mind tells me that I should care about the impact this reveal will have on San's future (and I do, I promise), but my heart is still with Chi-ho and In-soo. If this show can make a few side characters more endearing than most of the cast, it makes me wonder whether our issue with everything else is an acting one or just schizophrenia on the part of the production—either In-soo and Byeo-ri are made all the more endearing by the acting talent behind them, or the writer only had enough love to sprinkle over a few characters. We might never find out.
Like Chi-ho, I wasn't expecting a twist where In-soo was suddenly arrested instead of/because of him. Daddy Choi meant it when he said revenge, but this act seems the most vile out of all his tantrums—not just because In-soo is just that awesome, but because Dad knew he couldn't touch Chi-ho with that protective layer of Conviction on him and went for the next best (and probably way more effective) option.
Now comes the true test of Chi-ho's resolve—will he sacrifice his name for his friend, or sacrifice his friend for his name? I'm more interested to know what Chi-ho will do more than anything going into next week, especially when San thinks that it's just a matter of means separating him and Chi-ho, and that somehow it's easier for Chi-ho to put everything on the line because he's got less to lose. Now that Chi-ho has something real and immediate at stake, will he be like himself or San? That I wanna see.
As always, I try to wish the romance out of this show every episode even if the tactic hasn't worked yet. Even so, Shin-young managed to surprise me this hour by being more confusing than ever before, and actually lost me completely in a character warp the likes of which I haven't seen since Yunho's expressions were so at war with his words in Poseidon. That is to say, Shin-young says things, though I'm not sure how I should feel about them when extra narrative information isn't being conveyed through that time-honored art of facial expressions. I'm not hoping for a revelatory performance from her at this point, but it'd be swell if her feelings and motivations came off just a mite clearer, even if she's still completely confused as to how it is she really feels. I'd even be happy if we could just get her to blink once if she likes San, twice if she doesn't.

RELATED POSTS
Tags: Basketball, Do Ji-han, featured, Jung Dong-hyun, Lee Elijah