Basketball: Episode 9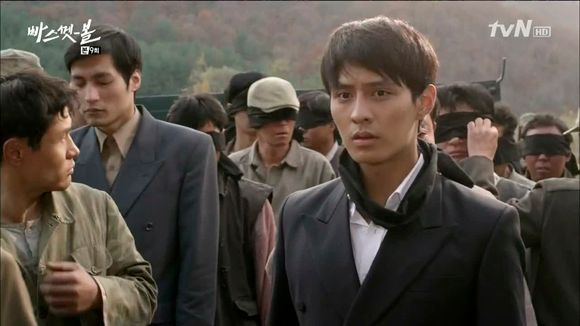 If after last week you somehow found yourself wondering how much more suffering our hero could bear, then take heart—this episode heaps suffering on San like whipped cream on a cake made of sadness and despair. In fact, this show takes it one step further by offering the casual sadist a side of Abandon All Hope and a refreshingly cool taste of Misery. What, is that not what you ordered? That makes two of us.
SONG OF THE DAY
Lee Juck – "The Meaning of Solitude (고독의 의미)" [ Download ]
Audio clip: Adobe Flash Player (version 9 or above) is required to play this audio clip. Download the latest version here. You also need to have JavaScript enabled in your browser.

EPISODE 9 RECAP
Daddy Choi spills San's secret past to everyone at the party, leaving Mom crying and San reeling in the face of all the hungry journalists crowding him with questions.
San chases after Daddy Choi to ask him why, and Choi turns on him menacingly: "Did you really think you were good enough for my daughter? You should know your place." But in front of the press, Choi sings a different and more righteous tune.
The media hound San at the party so much that he can't even get out with Mom, who's fallen unconscious. Hong-ki seems to have a moment of conscience for his old pseudo-friend and helps clear the way for San, while San can only offer Shin-young a rushed apology with the promise of an explanation later.
Shin-young is sure that her father was lying until he presents her with the irrefutable evidence that San never graduated.
"He didn't love you," Dad lies. "He just wanted to use you." And in her current state, Shin-young might end up believing him.
There's a protest outside the clinic where Mom's staying, with the people even demanding that San leave Korea as penance for his lies. San tries fighting to let Mom stay, but she's the one who volunteers to go and through her tears claims that all of this is her fault for not raising San properly.
She cries as she remembers telling him to just keep his head down and live within his means, but since he didn't, all this has happened. Poor San just can't win.
Chi-ho goes to Daddy Choi for help, because he's exhausted all possible methods to try and get In-soo out of prison. They won't even let him see his friend, or use a lawyer. I don't think he knows Daddy Choi was behind In-soo's arrest when he asks him to use his connections, though.
Daddy Choi is more than willing to help Chi-ho (give the sickness, then the cure) but there are a few conditions: How about that name change and that marriage he called off?
Coach throws San's uniform at him as a way of telling him to get lost. Even though San mentions that Coach knew his background from the beginning, Coach blusters and claims he was only following orders. Either way, San will find no help from him.
Homeless, San walks with his mother to Ajumma's restaurant, sure that she'll take him back in. But inside are only men who are resentful of San's lies, meaning that he really has no one left.
Mom tries to be optimistic despite the circumstances and tells San that they might have better luck getting help from strangers. (Aww, sad.)
Shin-young is so weak from shock she can barely stand, so she has to be all but carried to meet Chi-ho. She tells him that even though her father said San used her, she refuses to believe it and will wait until she hears an explanation from him in person.
Chi-ho is more than supportive, and even tells her that she can always come to him if she needs a shoulder to cry on or a sympathetic ear. Neither of them are looking too good right now.
Mom has no choice but to go back to working for Takeshi's household, and San is torn up that he has to leave her there no matter how she tries to make everything seem all right.
"You're still young, you can start over," she advises her son. The important thing now is that he stops lying and lives within her means, just like her.
Takeshi's evil mother has no intention of taking Mom back, but Takeshi hones in on Mom's offer that she'll do anything they ask if she gets her job back. Great. How are you going to torture Mom today, Takeshi?
Meanwhile, San goes to Daddy Choi with the promise that he'll let Shin-young go, forever, if he'll just be allowed to play basketball again.
Daddy Choi takes him up on that and calls a meeting with San and Shin-young just so San can say in front of both of them that he won't see Shin-young ever again and will henceforth devote his life to basketball. (I know this moment is serious, but is it serious enough to merit something-like-but-not-necessarily the Dies Irae?)
Shin-young follows San outside for further explanation, and he's completely honest with her when he says, "I did like you, Shin-young. I tried my best to be good enough for you… but I realized I can't have you. We were never meant to be together."
She counters that she never asked him to be "good enough" for her and that she just liked him, too. He asks her if she likes him even knowing he wasn't a university graduate, something she takes offense to by slapping him.
"Did you really think so little of me?" she asks accusingly. "You really… don't know me at all."
San stands in the ruins of his former neighborhood, the one he unknowingly helped demolish. "Shin-young," he thinks to himself. "I don't want to go back. I don't want to go back to the past. I'm sorry."
Bookie Gong's former minions piss a sensitive chef off and have to pay penance on the basketball court, where Chef kicks their butts. Then he explains that he hired the two of them to be his basketball opponents, and not because of their terrible cooking skills.
But when Bookie Gong comes to save his minions from Chef's frying pan, Chef immediately recognizes him as San's agent. Why? Because the bulky Chef turns out to be San's number one fan and the president of his fan club. Hahaha.
His San fanaticism rivals modern day fandoms, which I suppose is the joke, and Bookie Gong uses San as an excuse to steal his minions back for a job stealing the basketball player's registration list from Daddy Choi's factory. He needs players if he wants to get into the basketball business, after all.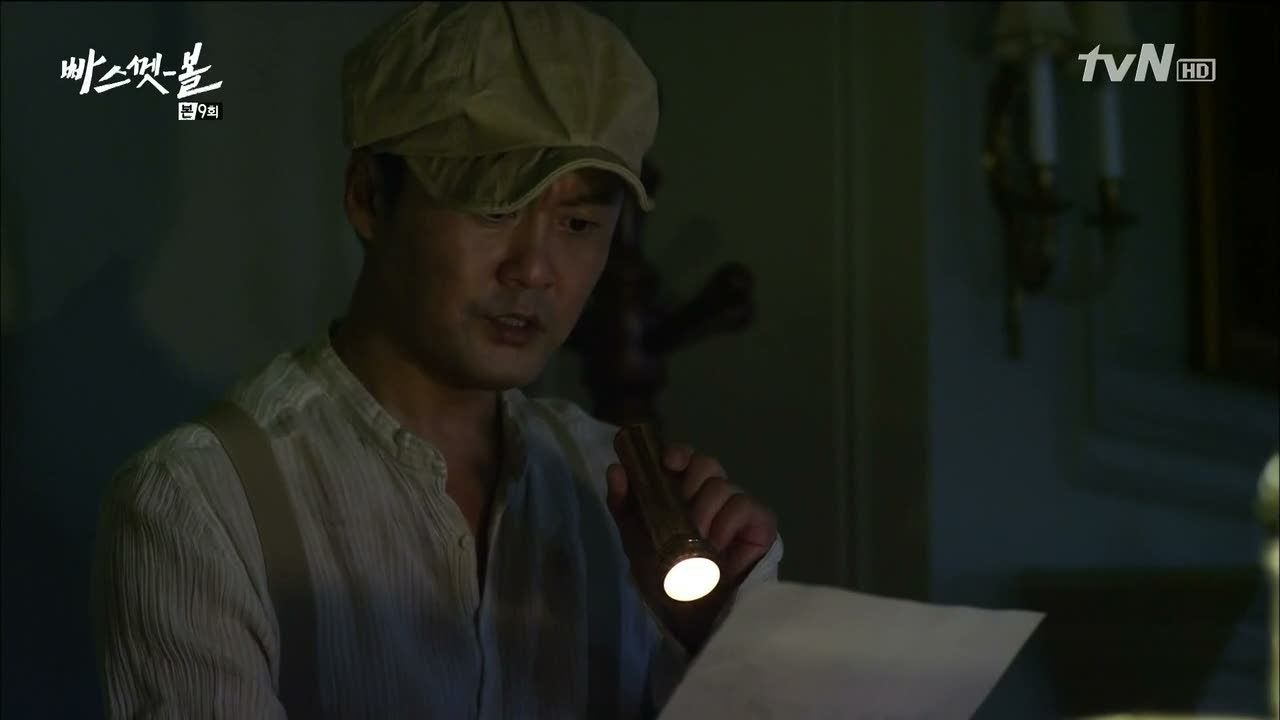 During his unnecessarily long search for the registration list, Bookie Gong comes upon something much more sinister: an application in San's name for a Japanese labor camp in Manchura. Daddy Choi must've filled it out in secure to send San away, but still, yikes.
San returns to basketball practice claiming he received Daddy Choi's permission, despite everyone else's shock and disdain. Bookie Gong pulls him out to confront him over the labor camp application, something San is seeing for the first time. He never signed it.
Bookie Gong thinks San was just trying to run away and doesn't understand San's shock, even when the friendly neighborhood labor camp officials come to forcefully take San away thanks to his "voluntary" application.
Shin-young has been bedridden since her confrontation with San, and even when Oppa's urgings don't get her up, news that Bookie Gong has come to visit finally does the trick.
He's had some sort of lobotomy that's turned him nice and kind, since he apologizes sincerely for extorting money from Shin-young in the past, promising that that life is now behind him, before explaining that he's there for San and entreats Shin-young for help in saving him.
Oppa drives them to the train station as the Radio Voice (aka Jo Hee-bong) talks about how San volunteered to go to a labor camp to repent for his sins. Bookie Gong insists up and down that it's all lies—he saw San get kidnapped with his own two eyes.
San is forcefully dragged onto the train by Japanese soldiers who aren't keen on hearing his protests that he never volunteered while Mom screams from outside, having no idea what's happening to her son.
Shin-young arrives outside in the meantime, and San screams that he didn't volunteer as he tries to get off the train. Soldiers drag him back and away from Mom's embrace while Shin-young just cries, completely helpless.
The train takes off, only with San still inside. San hangs out the window to catch one last glimpse of Shin-young and his mother, unable to do anything when Mom is so overcome by the shock that she faints. At least Shin-young is there to catch her.
Meanwhile, Chi-ho is keeping the truth of In-soo's arrest from Byeo-ri, who insists on waiting at the doorway until he comes home. He has to lie that In-soo is away on business just to get a reluctant Byeo-ri to eat, even though her feelings are hurt that In-soo didn't tell her he was leaving. Aw.
Shin-young pays Chi-ho a visit, needing someone to talk to. She mentions how no one has come back alive from the labor camp in Manchuria, but… she still thinks San tricked her and everyone else and can't quite get over that. (Did she miss the part where San was kidnapped?)
She knows now that Chi-ho knew San's secret background this whole time without telling her. "Is there anything else I don't know about San?"
Chi-ho says he wouldn't know—she's the one who knows San best. (Debatable.) She cries as she admits that she didn't know anything about San when she thought she knew everything, and Chi-ho holds her hand in support.
He advises her to trust her feelings, that even if she didn't know how San really felt, her love for him was genuine. Above all else, she should trust in that.
Shin-young meets with Reporter Kang to take him up on his offer (that if she ever wanted to write a "quality" article, she'd go to him). She's taken back to his gambling den which she'd previously snubbed her nose at, only to be led through a secret corridor to a basement that's been turned into a secret journalist hub. Ah, so the gambling den was just a front.
She's welcomed to the home of "The Dawn," the only operating newspaper made by Korean people, for Korean people. Because of the crackdown by the colonial government, they're having to work in secret.
And who else should work there but the burly Sung-won (and I do love that Bong-soon can't help her hiccuping fits as soon as she sees him). At least now they're properly introduced, since Shin-young is meeting all the other important players at the newspaper.
San is driven, blindfolded, to the labor camp with his fellow "volunteers." The head soldier in charge is none other than Jo Hee-bong, sporting some impressive muttonchops as part of his disguise this time.
The laborers there are frozen, starving, and treated like animals. As San is beaten as a welcoming present, Shin-young writes an article about his kidnapping that's soon spread throughout town. Public sympathy is back on his side.
Shin-young takes to the streets (in the same outfit she's been wearing for days—how long did it take San to get to Manchura?) to get signatures for her petition to save San.
As San is led through a dark tunnel soon to be his workplace/tomb, a chyron tells us the facts about forced labor camps: Over seven million Koreans were sent to them yearly with hundreds of Japanese companies participating, some still around today (like Panasonic and Toyota). The workers were never compensated thanks to that 1965 treaty mentioned a few episodes back.
Shin-young submits her signed petition for San's safe return at the Government-General Building, and waits. And waits. And waits. All she gets in return is an officer telling her that the volunteer form checked out, so there's nothing they can do.
She all but begs him to consider the petition, filled with thousands of signatures of people who want San back. Is the crabby officer moved?
Bookie Gong is bursting at the seams to tell Shin-young that she's going to the wrong people—the colonial government didn't organize this. It was her father.
He broaches it a little more carefully than that and asks her to just talk to her dad about it, but Shin-young shuts him down with a firm, "This has nothing to do with my father."
So then he tells her to try and gain Chi-ho's support instead, since it would bring more public attention to their cause. If they can organize a demonstration like Chi-ho had when he was imprisoned, the pressure would be enough to free San.
Chi-ho feels sorry to In-soo's dad because he hasn't been able to help his closest hyung get out of prison. But then he gets a call that has him smiling with elation. Is In-soo free?
Shin-young arrives at Chi-ho's house just as he's leaving with In-soo's dad. Unfortunately, In-soo hasn't been freed, but they'll finally be allowed to release him. Shin-young offers to drive the pair when she sees that Chi-ho is in no shape to handle heavy machinery.
In-soo is brought to them crippled and unable to walk on his own, his face bloody and bruised. The officer is an asshat about the whole thing and makes it clear that Chi-ho need only change his name to free his friend. What'll it be?
They get a bit of time with In-soo though they're separated by bars, and poor In-soo's face is worse than I thought. Father and son hold each other as best they can, both of them totally helpless.
Outside, Shin-young apologizes for only talking about herself this whole time, completely oblivious to what Chi-ho was going through. That's when In-soo's father drops to his knees to beg Chi-ho to save his son. Gah.
Daddy Choi trembles before an angry Inspector General, since he owed San for saving his wife and has now lost his chance to repay him. He knows it's Daddy Choi's fault, which makes Daddy Choi seriously consider the idea of bringing San back. He wasn't expecting backlash like this.
Just then, Shin-young arrives to ask her father's help with Chi-ho and San—if he does, she'll do anything he wants. She knows it's an offer he won't refuse because he's wanted her unquestioning compliance for a long time now.
San is beaten for not working fast enough in the tunnels, and some of the other men recognize his name… because they were from the group San talked to on behalf of the labor camps, when he'd told them it was an opportunity to make money. Crap.
They all blame him for deceiving them, and suddenly I recognize one of the ajusshis working there—it's Byeo-ri's father, isn't it?
The argument in progress is stalled when the mine shaft begins to collapse, threatening to bury the lot of them alive. Because they had to make this worse somehow.
As Chi-ho reconsiders his public announcement that he would never change his name, a hesitant Shin-young arrives to ask him a very important question: "Chi-ho… will you… marry me?"
It's chaos as the workers try to escape from the collapsing mine, with many falling behind, trapped by the rain of debris. When faced with the choice of running for freedom or helping those left behind, San goes back to help.
But when he asks for help from his fellow man, they all run away, leaving San holding Byeo-ri's injured father as all hell breaks loose behind and above him.
Then shaft explodes, threatening to engulf San.

COMMENTS
I'm beginning to wonder where the line is that some shows pass when it comes to pain and suffering for the sake of pain and suffering, and when it all becomes too much. Granted, what's happening on screen here is fully supported by story logic and the precedent set by its characters, and it's definitely true that the Occupation era was a dark, dark time. So while the bleak happenings don't come off as manipulative in a give-us-your-teeeears way, they do have the side effect of obscuring what the point of all this really is.
What's tragic about San is that he can't take one step in literally any direction without the universe punching him in the face for ever having been born, a tactic that's starting to wear a little thin. He's being punished for his previous blind obedience to the colonial government by being betrayed and thrown into a labor camp filled with products of the propaganda he spewed, and while you could say San was aware of the consequences at the time, he also made a valid case for why he didn't have much of a choice. If they made it a point to show how honest living didn't benefit San, then they're also showing how dishonest living didn't benefit San either, even if he was just trying to escape the vicious cycle brought about by poverty and his own helplessness. It doesn't excuse his actions, but it makes them understandable—he was just trying to find his place in the world.
And for episode after episode after episode, the message seems to be that the world just doesn't have a place for him. Whatever San does, he's punished for it with crashing mines, suffering, and pain. What separates this show's hopelessness from the usual dark and dreary drama experience for me is that I don't see a light at the end of this tunnel, even if one is just around the corner.
It's mostly that nothing is being done in the here and now to make us hopeful for the future, or to even let us imagine what San's life will be like if only he can overcome his obstacles, many of which I'm not too sure of. (Is it his poverty? Daddy Choi? His status in life? Public opinion?) So slim of an idea of the overarching story do I have that this episode felt more like a series of tragic moments piled atop one another rather than a tense and cohesive hour—even though I do understand the order of events perfectly, and the plot as it was happening in this episode. As for the whole series? Who knows. I'd sure love to, if only the show would throw us a ball once in a while.

RELATED POSTS
Tags: Basketball, Do Ji-han, featured, Jung Dong-hyun, Lee Elijah