Foreigner cast stars in tvN variety show Island Village Teachers
Cable station tvN premiered a new variety program this week called Island Village Teachers, and it's noteworthy for featuring entirely foreigners as the main cast, some of whom are probably already familiar to fans of Korean entertainment. Described by some as a mix of travel-reality programs Dad! Where Are We Going? and 1 Night 2 Days, the show places the four members on an island village for a five-day stay, living with locals and teaching grade-school children.
It was met with positive reviews, though not terribly high ratings; 0.49% is on the low side, though perhaps excusable for a cable debut with no big stars. And it's true that we've been spoiled with tvN hits raising the bar and expectations (e.g., Grandpas Over Flowers' 7.4% peak, or the Answer Me franchise's ever-climbing ratings), although those are the outliers, not the norm.
The cast:
Sam Hammington, a 36-year-old from Australia, is already known and well-liked for his appearance on army-themed variety-docu show Real Men.
Brad (aka Bradley Ray Moore), is a 29-year-old American who's one-third of the chart-topping rock band Busker Busker.
Abigail Alderete, 26, is from Paraguay and came to Korea in 2005 to study abroad. She was a panelist on 2007's foreigner variety program Global Talk Show (aka Chat with Beauties, aka Misuda).
Sam Ochiri Okyere is a 24-year-old from Ghana.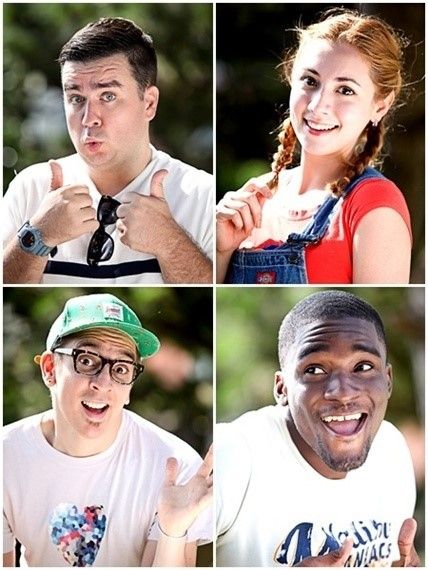 Clockwise from top left: Sam H., Abigail, Sam O., Brad
Island Village Teachers was initially tested as a pilot in September, and earned a place as a regular program due to its warm reception. The show features some variety mainstays (fish out of water, overnight trips), but is presented more as a fun, heartwarming program than a "Muahaha, suffer for my enjoyment" kind. (Not that there's anything wrong with the latter. Noonas Over Flowers, here we come!)
Its PD, Kim Jong-hoon, even admitted to finding the shift tricky: "As a variety producer, the very attempt at making a 'nice program' is awkward. But this program gave me a chance to reflect, and I thought it wouldn't be bad to try doing things backwards once." He added that it was the first time he worked on a show with such a lack of negative comments and feedback, and hopes it'll have lasting power.
On the show's conception: "At first, our initial intention was to feature foreigners traveling the country in a simple foodie program. But then I thought of what foreigners are the best at doing in Korea, and it was teaching their native language. Then I thought of where in Korea those educational resources are most lacking, and came upon island villages."
As the mat-hyung of the group, Sam Hammington admitted to feeling the burden of being eldest, when he's previously been among the youngest. "Because I had great variety sunbaes who were skilled in leading the way, I could follow along. So I felt some pressure this time about screentime or directing the situations—would that bit make it to air, and would that situation be set up properly? I worried a lot whether I would be able to draw out those things. But I worried unduly. Sam O. really has an excellent variety sense—he's a friend who could step on and overtake me at any moment. [Laughs]." He added, "Initially I was going to go for the big eater [personality], but because of Sam Okyere I lost that title."
Brad said that his Korean is still clumsy so he speaks in English, which at least is helpful in teaching English. Sam H. said of Brad, "His Korean language skills are still a bit lacking, but he's an extremely funny guy."
Abigail explained how the island felt completely different to the competitive spirit of living in a city. "The people here live in nature, living with what they have, as it is. They seem innocent and comfortable. There must be difficulties in living on an island without certain culture or facilities, but it was nice to see that there was a freedom to that. We went there to work, but it feels like we were taking a break."
There is apparently a Sam O.–Abigail loveline in the mix, and Abigail said, "At first, he seemed like just a cute, kind of offbeat younger brother. But looking at him more, it was cool to see a man eating a lot, and he tells funny stories. Sam keeps asking me to marry him, but once shooting finishes he doesn't say that to me personally. I suspect it may just be a concept. I don't know if I believe him." Apparently Sam smiled to hear that, and PD Kim added, "To my eyes, I think Sam's a bad boy."
Island Village Teachers premiered on November 19 and airs on Tuesday nights.
Via Mk.co.kr
RELATED POSTS
Tags: cable programs