Kim Jong-min and Cha Tae-hyun stick with 1 Night 2 Days
girlfriday: The verdict is in: Sunday night variety show 1 Night 2 Days will be going ahead with Season 3 and members Kim Jong-min and Cha Tae-hyun will be staying on. Buh-bye, Yoo Hae-jin, Lee Su-geun, Uhm Tae-woong, and Sung Shi-kyung.
javabeans: I'm surprised anybody's staying behind. After the last announcement about the projected departures, the two who had decided to stay were Tae-hyun and Tae-woong, and they both started thinking about leaving too, apparently. So I was pretty much expecting a clean slate with everyone leaving.
girlfriday: That might've been the better transition, though honestly I'm not sure that keeping 1N2D going in its third shadow of its former self is doing anyone any favors. I guess KBS just won't let go.
javabeans: It's been a dead horse for a while, and now they're just dragging around its carcass. Kick, kick.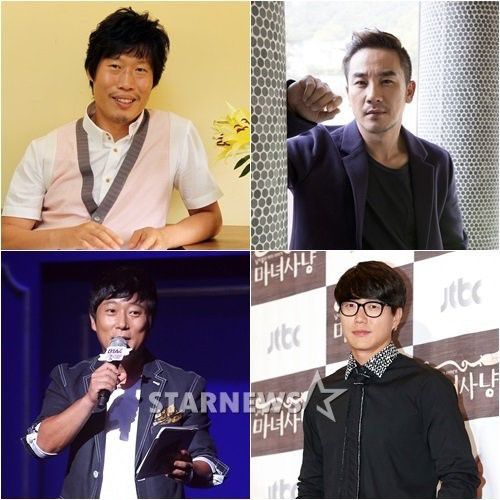 girlfriday: The more surprising news was that Lee Su-geun jumped ship early because he knew he was being investigated for illegal gambling.
javabeans: Not that I condone illegal behavior, but the dude was betting on soccer games online. That seems… like not a thing you should lose a career over. Though maybe he should have kept that stuff off the internet and to himself? It's just a stupid way to go, is what I'm saying. (At least he'll have company; also being investigated are Tony An, Andy from Shinhwa, Boom, and Tak Jae-hoon.)
girlfriday: What I want to know is, which one of them found the site and invited the other boys to join? When I saw the headlines I was picturing those seedy dens in noir movies, but then it turned out to be like fantasy football with money, and then I laughed out loud.
javabeans: It's sad, but funny.
girlfriday: In any case, Su-geun is taking a leave from all his variety shows (Our Neighborhood Variety Sports and Millionaire Game My Turn) for a while.
javabeans: The current lineup of six just filmed their last trip together, and the last episode featuring them will air on November 24.
RELATED POSTS
Tags: 1N2D, Cha Tae-hyun, conversation post, Kim Jong-min, Lee Su-geun, Sung Shi-kyung, Uhm Tae-woong, Yoo Hae-jin