Mi-rae's Choice: Episode 10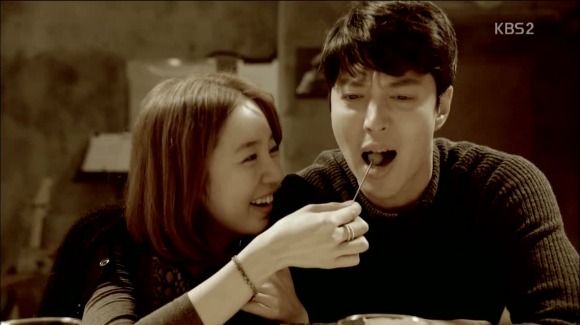 These two are just adorable together, aren't they? Just when I was about to chuck some darts at my frustration board, the show reels me back in with earnest feelings. We finally get a peek into Ajumma Mi-rae's life, which of course, adds more questions than it solves. Then the reminder to follow your heart solidifies why I love our heroine in the first place with yes, a long overdue haircut.
The ratings report: Mi-rae's Choice is still pulling in single-digit ratings with a 5.9% and a 5.4% this week.
SONG OF THE DAY
Park Hyo-shin – "It's You" [ Download]
Audio clip: Adobe Flash Player (version 9 or above) is required to play this audio clip. Download the latest version here. You also need to have JavaScript enabled in your browser.
EPISODE 10 RECAP
Shin is shocked to see Mi-rae dine at the same table as Chairman Lee and whom he now knows to be her grandson, Se-joo, who returns a tiny smirk.
He's still trying to piece it all together when Se-joo calls to confirm his family lineage and apologize for keeping him in the dark. Shin asks if Mi-rae knows this truth as well, to which Se-joo smiles, amused to hear Shin suddenly speak to him in jondaemal. He asks that Shin keep it under wraps for now.
Shin tears into Ajumma Mi-rae afterward—is his future demise due to being fired by Se-joo and therefore blacklisted from the industry? He accuses her of working with Se-joo to orchestrate this scenario tonight, saying she could have just told him, but why did she let him be humiliated like this?
"Would you have believed me if I told you?" Ajumma retorts. She cries that Shin always took her for a crazy lady and that she didn't want to have to go this far, but Shin has no sympathy for her tears as a victim of circumstance.
He asks point-blank what he did wrong to her in particular and what else he doesn't know about.
Meanwhile the dinner continues inside as Chairman Lee makes small talk, casually tossing in that someone of her age might want to marry into a rich family where money gives her a freedom to do whatever she likes.
But that isn't what Mi-rae wants, and she surprises the Chairman Lee by asking if she is content with her life, adding politely that becoming rich doesn't seem like the chairman's original dream and not every girl dreams of being wealthy. And that's why we love you, Mi-rae.
Shin keeps pinning the blame on Ajumma until she tells him that there are many things that Shin doesn't remember. He of course has no idea what those are, but thankfully a series of flashbacks enlightens us: Shin rebuffing Mi-rae's attempts to cheer him up; Mi-rae coming home to see Shin sitting on the couch.
The last one in particular provides a bit more insight: A sound of a car crash, Shin running towards it, and Mi-rae falling to the ground in shock. Whoa. All I can safely gather from that is that neither Shin nor Mi-rae were injured in the aforementioned car accident.
Ajumma Mi-rae blinks back tears at the memories as Shin sighs, saying that there must be something Ajumma hopes to gain through all this. She'll soon be met with the consequences for her actions, and Shin begs her to leave him alone.
But Ajumma calls out to him before he leaves, asking what he plans to do now. She urges him to keep his head down this time because he won't be able to win this fight against Se-joo. He tells her that he'll decide whether to back down or not for himself.
Seeing their friendly rapport together, Chairman Lee takes the opportunity to gauge Mi-rae's interest in Se-joo. She casts a suspicious eye at her grandson when Mi-rae says they're just friends.
So she asks if Mi-rae likes someone else, but Mi-rae hem and haws at the question before changing the subject. But that's enough reason for Grandma Lee to give her grandson what-for afterwards, lecturing him for liking someone who clearly has feelings for someone else.
But she's caught off guard when Se-joo asks her what her childhood dream was, and she barks back that she did want to become rich, so what? Ha, their bickering relationship is hilarious and adorable.
Yoo-kyung is still reading the diary when she hears footsteps approaching. She tears out a page and stuff it into her pocket before getting caught red-handed by Ajumma Mi-rae with the diary in hand.
She's oddly confident about the details written inside and notes that the supposedly new diary looks rather worn. After reading its contents, it almost feels like her future spouse is being taken away from her, Yoo-kyung adds.
Ajumma insists that it's just a work of fiction, but Yoo-kyung says they'll find out soon enough.
Mi-rae cheerily tells her brother about her dinner with Se-joo and his patron Chairman Lee, but gets caught in the lie that she was told to stay on the team because she was doing such a great job. Heh, it was worth a shot.
She promises to work hard and build her experience to become a writer her brother is proud of. But Oppa asks what specific area she plans to pursue: variety, documentary, current events, or something else? She doesn't have an answer to that, and Oppa sighs.
So Mi-rae spends the evening pondering that very question. She was so sure that she wanted to work in variety, but covering the subway incident had changed all of that, and now she doesn't know.
Yoo-kyung finds herself alone in the office at work, so she takes the opportunity to search Mi-rae's desk where lo and behold, Mi-rae's diary lies, looking new.
She flips through the pages and immediately notes the discrepancies between the two diaries, like how Mi-rae narrowly escaped a car accident on the same day as hers… with Shin.
The following entries only further her confusion, so she sends a photo to a professor to compare the handwriting between the two entries along with how old the torn paper is. Ooh, that's smart thinking.
As for Mi-rae, she's busy researching new topics for their show Pandora's Box, and comes across a headline about the sale and production of fake liquor.
Her informant points to a nightclub in an affluent neighborhood, and she sets off to acquire spy gear and phone and presents herself to work at said bar (which looks likes it's run by the mafia) in her disguise, complete with a country accent. Oy, I'm not getting a good feeling about this.
She pitches the idea during their team meeting, volunteering to document the scandal via hidden camera. Then she pulls off her cap to reveal her new short haircut, to everyone's surprise. Oh thank goodness, the new look is super cute.
The hot issue is a good pitch, but both Oppa and Se-joo worry for her safety—what if she gets caught? Oppa drags his sister outside to give her a talking-to, asking if she's figured out what writer she wants to be and how she'll achieve the show's aim to instill hope through the feature.
It's actually pretty funny how Jokey PD shakes in fear to learn that the two are siblings, but Shin needs only two seconds to hear about Mi-rae's involvement before turning on his heel.
Mi-rae's tendency to act before she thinks is the issue here, Oppa tells her. Being ambitious is a good thing, but she needs a plan. That's when Se-joo joins in to suggest that they also showcase respectable establishments, and he'll work there too to keep an eye out on her.
Oppa is still reluctant, but he warms to the idea once he hears about Se-joo's totally awesome fighting skills in taekwondo, kendo, and the like. He swings an arm around Se-joo, impressed, a sight that Shin sees at a distance, having arrived just a tad too late.
It's a good thing that Mi-rae has Se-joo to help her, because he asks whether she knows how to properly film with a hidden camera and she has no idea. They practice somewhere nearby, but Mi-rae's attempt comes out too shaky to edit properly, so Se-joo teaches her how.
She sends off Se-joo with a smile at her house later, and then lingers outside, wondering why she hasn't heard a peep from Shin. Then the camera turns to reveal Shin sitting in his car parked nearby. Eep!
The camera continuously pans over their one-sided conversation with each other, as Mi-rae curses Shin while Shin sighs that at least Se-joo is there to look after her. Aw.
Chairman Lee seeks Ajumma Mi-rae out for more information, and when Ajumma asks if she can stop working for her now, she replies that her work has just begun. She offers to set up a space where Ajumma can comfortably "dream" to find out who Mi-rae likes and more about the future of the company. HA.
But Ajumma says she can't readily see into the future and is busy enough as it is, but the chairman dangles the threatening carrot in her eyes that if she doesn't, she'll be responsible for her own expensive medical treatment.
It makes me wonder if it's really an effective tactic if we assume that Ajumma Mi-rae could return to the future and technically not be responsible for the sum. But it works, and Ajumma leaves with a heavy heart. As she drives off, Yoo-kyung gapes in awe, wondering how Ajumma knows the chairman and follows.
Ajumma asks the driver to drop her off by the street, and literally takes a walk down memory lane as her happy memories with Shin come alive before her (and our) eyes. She follows her imagined manifestations to a bar they once frequented, listening to classical music. It's both wonderful and sad at how adorable they look together.
Tears well up in Ajumma's eyes as she sits alone, thinking back to Shin and Mi-rae's words. She buries her face in her arms… as the Black Man look on by the doorway, pouting. Aww, do you feel sorry for your target?
Yoo-kyung comes walking down the stairs just then, wondering who this random ajusshi is. Hilariously, she pokes him to ask and the Black Man freaks out and runs. Puhahaha.
She chases him down the streets as the Black Man runs to avoid confrontation. I especially love how he throws leaves at her, telling her to stay away. Hee.
He eventually loses her in a restaurant and puts in a frantic call to his boss, whining that the people in "this generation" are too scary. Aww, there, there.
Yoo-kyung overhears the last bit of the conversation, but before she can dwell on it, she gets a call from the professor confirming that the handwriting belongs to the same person. And it looks like Oppa made good on those hairs, asking his friend why the DNA test results haven't come out yet.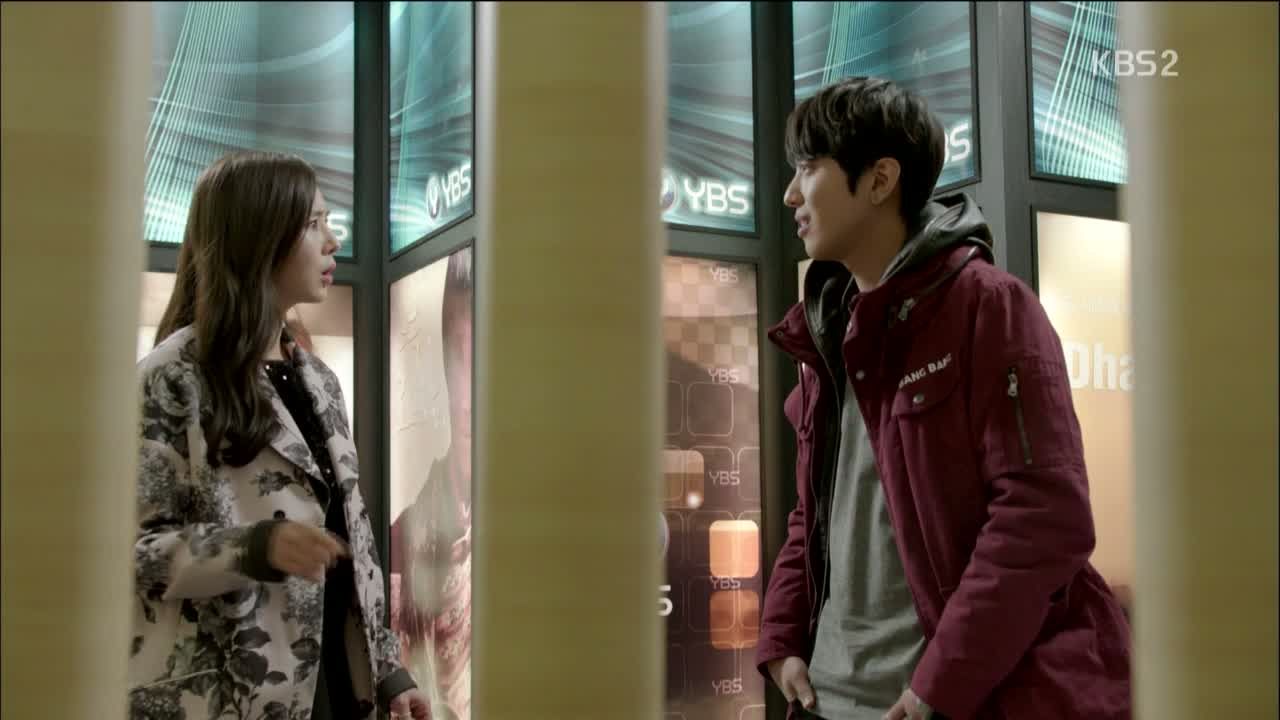 Yoo-kyung immediately goes to Se-joo to parse the information, adding that the torn diary page is twenty-five years old. What's strange is that the two diaries' contents diverge starting from the day of the Fated Accident, and even Mi-rae wrote that the crazy ajumma from the future is carrying the same diary as hers.
She insists it makes sense if they buy the bit that Ajumma Mi-rae is from the future. Se-joo laughs at that and asks what else was written there. Yoo-kyung answers hesitantly, "That… you and I… would get married."
He laughs again in disbelief, which oof—that's got to hurt. He attributes everything to a series of coincidences, and says that he's working with Ajumma Mi-rae because they both want the same thing.
That's when they're interrupted to the sound of cheers—their team has just won an award for the subway arson incident.
Shin and the rest of the team is presented with an award for journalism, and they celebrate with cake. Then Writer Bae accidentally kills the mood to ask why only the full-timers also received a monetary award.
Oppa decides that they'll use the funds to go on a trip, but it's not enough to go overseas, so they settle for a MT (an overnight retreat to play games and be merry).
The team play games in the bus, all except for Shin, who follows behind in his car, grumbling that they really did take him seriously when he said he'd come alone. Heh.
Shin peers out of his solo room at the sounds of laughter and enjoyment from the team playing games outside. He remains his usual prickly self when Oppa asks if he's playing or not a bit later, choosing to sit it out.
But their current game requires the team members to break into groups of whatever number is called, and Shin immediately gets up with a lame excuse to join in. Hee, you just don't want to see Mi-rae get too close to Se-joo.
He misses his chance to pair up with Mi-rae in the next round, and then we see Jokey PD dramatically run into his arms. Shin motions at him to get lost. HA.
Oppa smiles to see Mi-rae and Se-joo washing veggies together. Se-joo sends her off to rest once they're done, citing that she'll lose a lot of sleep when she starts her assignment.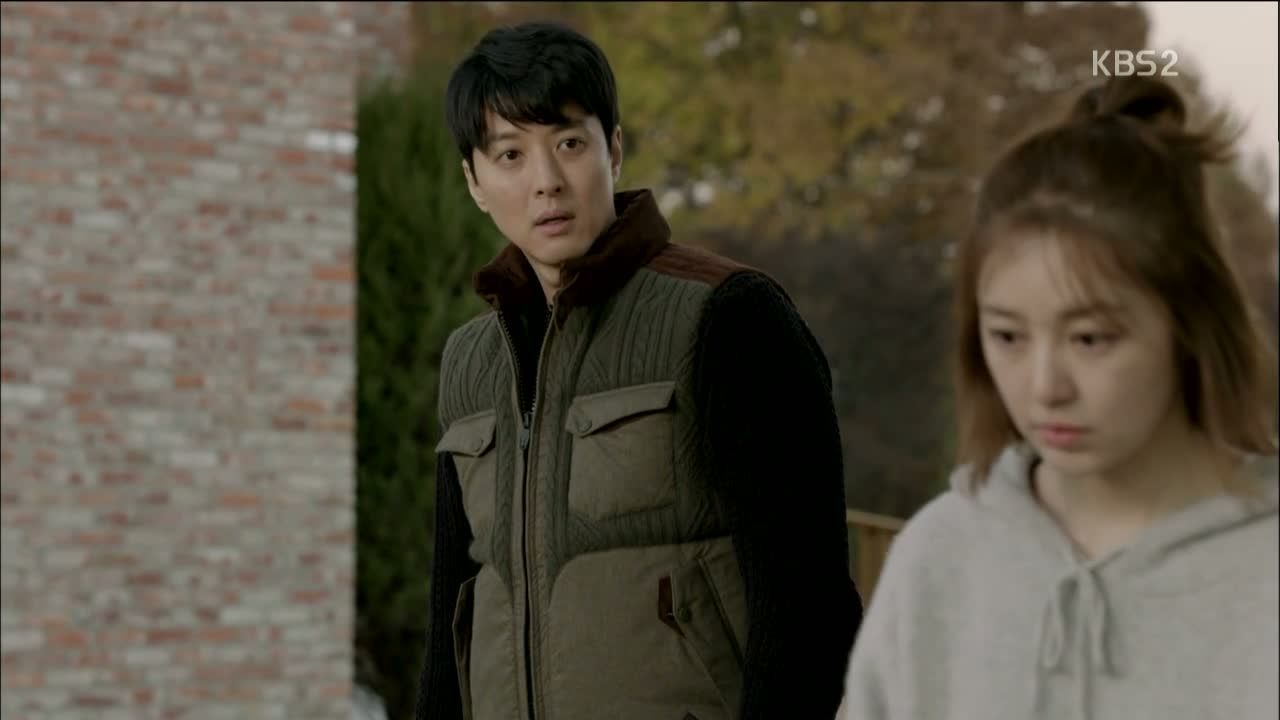 She heads out to fetch some more wood, where Shin is hilariously failing at chopping and kicks the pile. Shin says he's heard about her undercover mission and tells her to give it up because it's too dangerous.
Mi-rae tells him that she's learned a lot through working on the pilot, even though most of her work was never aired. She asks what might have happened if she never pushed to write the narration, and he says she'd do what she's always done before that.
But she means what might have happened if she never became a television writer. He asks if she's wondering if she's destined to become a writer, but Mi-rae answers no—she doesn't believe in destiny.
She believes that there are a lot of Mi-raes in this world: one who works at a dead-end call center, one who gets married because her brother told her to, and one who never tried anything and gave up. But she's proud of herself because she at least got to choose her career.
"So I plan to keep living this way," she explains. "Whatever I want, whatever I want to do, whoever I like…" Mi-rae cuts herself off, then continues, "To choose whatever my heart tells me to do."
She hopes that Shin will do the same. She doesn't know the reason why Shin is keeping her at a distance, but if it's not because he hates her, then she hopes he'll be bolder than he is now.
As Yoo-kyung helps Se-joo out in the bus, she teases that Mi-rae doesn't help him out at a time like this. But she frowns at the mention that Chairman Lee has met Mi-rae, since that means Grandma knows about her grandson's feelings towards Mi-rae.
So when Se-joo asks her to put in a good word about Mi-rae to Grandma, Yoo-kyung agrees to do so like a good wingwoman, although she's clearly hurt.
But then Se-joo pushes her last button when he also asks her to call Mi-rae over for him, which dude—couldn't you just call her? Regardless of whether there is a signal, Yoo-kyung does an about-face, having had enough of playing messenger. Does he consider her a pushover?
Se-joo answers that he's never thought of her as one: "Because you're a really good friend." Well that certainly drives the final nail into the friendzoned coffin.
He says there's no one else he can talk to about Mi-rae, and Yoo-kyung finally bursts to ask why she should have to listen to his woes when they're coming from her crush. Omo.
On the brink of tears, Yoo-kyung asks if he even knows how miserable she's been feeling all this time and leaves. Good for you, girl.
We get a merry-go-round montage of saddened looks in our love square during dinner and the bonfire as they reflect on the words spoken to them from each other.
Shin in particular thinks of Mi-rae's encouragement for him to be bolder. So when Oppa asks for each team member for a few words, Shin volunteers to go first.
He confesses, "I… like Mi-rae." OMO. Then he looks directly at Mi-rae: "How do you feel?"
COMMENTS
Eeeeee! *indiscernible high-pitched noises* That's how I feel! But since I need some more coherent words from this point on, here they are: A great, awesome cliffhanger for Shin, who's finally truthy to his feelings about Mi-rae to everyone and himself. What I love most about this confession is that there was a quick turnaround from the encouragement to be bold about his feelings and to follow his heart and actually say the words. And then directly ask how Mi-rae feels.
As for Mi-rae, she really has been coming into her own since the onset of the series, hasn't she? This isn't to say she hasn't had her own bumps in the road, but we're seeing how she handles her struggles differently now, facing them head-on instead of wallowing in self-pity. Sure, she still doesn't know what kind of writer she wants to be, but she knows that she got the chance to decide her career for herself. Her current situation in life is a culmination of all of those small decisions, and that in order to be happy, she needs to choose her own destiny and make her own dream come true.
Not only that, I love how she doesn't shy away from Shin because he's placed an invisible barrier between them, and though I still adore her interactions with Se-joo, it becomes increasingly apparent what will drive a wedge between them for romance. Se-joo's worry that Mi-rae will run away because of his wealthy background has become almost a fixation, and even though Mi-rae already knows (but may not believe) it, the longer he puts it off, the more elaborate the scheme is to keep her in the dark.
Thank goodness for Grandma Lee to knock a little sense into Se-joo for liking someone who already has feelings for someone else. But this is dramaland, where the second lead will continue to fight for the heroine's heart regardless of what anyone says. And to Mi-rae's credit, she's a girl worth fighting for.
Yoo-kyung really drives the conflict and episode forward this hour with her discovery of the two diaries. I love that she dares to question the strangeness about it all, and is legitimately confused about the clues before her because the truth sounds so far-fetched. She also earns a bucketful of brownie points when it comes to Se-joo, refusing to play Cupid anymore to his feelings. I'm still interested in what she'll actually do with all of this information, which leaves a question mark for her character. Yet at this point, I still appreciate how she isn't your typical, malicious second lead, and can sympathize with the hurtful feelings of rejection from a crush.
This episode also gave us a peek into Ajumma Mi-rae's memories, to which I can only say finally. These flashforwards of the future triggered reactions I expected: a sense of aww with a longing for what seems like a lost dream. We see that things unfurled just as Ajumma Mi-rae had previously said, and the big question of the hour is who was in that car crash. I could sit here and pick apart the pieces to bits, but what overwhelms me is just how happy Shin and Mi-rae actually were. Because goddamnit, they're plain adorable together. Then I wish that we had gotten these glimpses sooner because it's as if the show is hoping to strike some sympathy heartstrings for a victim of circumstance far too late. But with six episodes to go, who knows what the show will throw at us next and I can only hope that things will continue to look up.
RELATED POSTS
Tags: featured, Han Chae-ah, Jung Yong-hwa, Lee Dong-gun, Mi-rae's Choice, Yoon Eun-hye