Mi-rae's Choice: Episode 12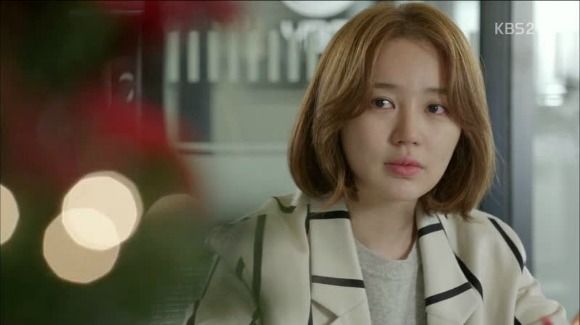 What a doozy of an episode. 'Tis the season for our characters to get in the holiday spirit as they wish for a Christmas miracle, hoping that this year will be better than the last. But with everyone hoping for happiness, it isn't just the naughty who end up with a lump of coal, and there's nothing like an extra serving of noble idiocy to dampen that holiday cheer.
And then there's the ratings, which looks even bleaker than before as Episode 12 logged in at 4.7%.
SONG OF THE DAY
Urban Zakapa – "니가 싫어 (I Hate You)" [ Download]
Audio clip: Adobe Flash Player (version 9 or above) is required to play this audio clip. Download the latest version here. You also need to have JavaScript enabled in your browser.
EPISODE 12 RECAP
Shin's eyes grow wide at the DNA results confirming both Mi-raes are the one and the same. Even more surprising is the revelation that Ajumma is from the future and that they were married.
Ajumma Mi-rae recounts how Shin had transferred to another broadcasting network with the prospect of more money and an anchorman position. But Shin's stubbornness had led him to quit his job and they were left with a mountain of debt.
Shin asks if that's what she meant when she once said that he'd be ruined. Ajumma nods. "But… we were still happy."
A series of flashforwards show us that they indeed were a happy family with their son Geon, who learned his first words fairly quickly because he took after his father. But later on, their unhappiness had led to an estranged relationship with Oppa and she had hated how her once successful husband was now reduced to hosting local neighborhood gigs.
The occasional spat had eventually evolved into frequent quarrels, and they were also arguing that night of the accident. Shin had seen their toddler son wander away from them but did nothing.
"But… I did, too." Ajumma tearfully admits, becoming increasingly distraught as she says she had so wanted to blame everything on Shin. But she had also seen Geon walk away and thought nothing of it, letting their argument trump their concern for their child.
Ajumma breaks down in sobs, still wondering how she also let that happen. Shin starts to raise a hand to comfort her but stops himself, blown away by the gravity of her confession.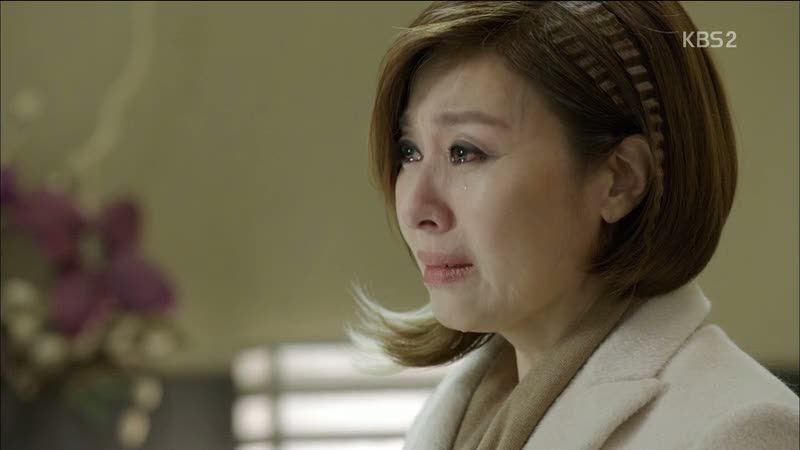 Elsewhere, Se-joo apologizes for eavesdropping, but he heard everything. To that, he delivers the classic second-lead speech: "Don't you see me? I'm standing right next to you, but why isn't it me?"
He knows it was silly to act like friends again, but he was afraid she'd push him away otherwise. Mi-rae apologizes in turn, saying she must have ignored his feelings for her because she found his friendship both comfortable and pleasant.
Se-joo asks why Mi-rae likes Shin, and if what Ajumma told her had anything to do with it. Mi-rae denies it, but Se-joo asserts that he was the one who met and fell for Mi-rae first. "If there really is such a thing as destiny in this world," he says. "The fact that I knew and liked you… that's destiny."
Mi-rae asks Se-joo to stop liking her, and he replies that although he can accept it if his feelings aren't returned, he won't stop liking her. What's hard for him is to see Mi-rae unhappy—only when it's certain that Shin considers her precious, when he's the one to make her happy, will Se-joo let go of his feelings.
He offers her the wine he brought to congratulate her narration, but Mi-rae hesitates to take it, so he sets it down on the bench before leaving.
Mi-rae waits outside until Oppa and Ajumma return, and they gently help an exhausted Ajumma inside. Then Oppa wraps his sister in a hug and tells her that she has to be happy, words that puzzle her.
The production team brainstorms ideas for the Christmas special at work, tossing around the possibly to subvert the idea of spending the holiday alone. Writer Bae hints that there may be romance brewing in this very room, and when Jokey PD asks if Shin has someone special, he answers no.
Mi-rae invites Shin out to lunch, where she prattles on about how Shin has yet to congratulate her for her first writing feature. He does, though his words sound empty and distanced, and she grumbles that Shin always expresses himself with words, whether it's praise or his feelings.
He asks her what she wants as a present then, and she teases that in these cases, he should surprise her with a thoughtful gift. That gets him to laugh, and he promises to do so. And Se-joo sees the two together as he passes by outside.
Mi-rae apologizes for being angry with him at their MT, and tells him that she's going to follow her heart from now on. Though Oppa may disapprove of her choice of Shin now, she's certain things will get better in time. Or not, if things pan out the same way again.
She laughs thinking about how they met and thanks him for giving her a chance at work. She knows Shin was always looking out for her even though he doesn't say it. Shin remains silent through all of this, as she wonders how all those small decisions led up to this moment together.
She asks to spend Christmas together, but before Shin can answer, a child trips near their table and Mi-rae immediately tends to him. Her motherly behavior reminds Shin of how Ajumma cried in front of him.
Then he receives a call from another broadcasting network asking to meet him. Aha, now it's up to Shin to determine his future. Shin looks back at Mi-rae, but we don't get to hear his answer.
Writer Bae practically tears her hair out over the mountain of work for the holidays, yet relieved that everything is pre-recorded. She tosses a possible throwaway line that something big will happen for the year's end. Then Mi-rae asks for restaurant recommendations and makes a reservation for two.
It's a little sad to watch Yoo-kyung doll herself up to see Se-joo, but the reason she's smiling is because he's called her out first. They meet at the bar, where Se-joo mentions that he'll make his return as the head of YBS soon, having postponed it before because of Mi-rae.
He plans to spend some time at his Jeju resort like he did in the summer. Yoo-kyung sighs that she almost went too back then, and that gets her cogs turning at how the Fated Accident changed everything afterward.
She asks Se-joo if he met anyone while he was down there, and he simply smiles in return. He reminds her that she'll always be a good friend to him no matter what (sigh), but his sincere praise earns him a couple of points. Yoo-kyung slaps on a smile, and teases him that she's told him that she doesn't want to stay friends.
Mi-rae finds Ajumma Mi-rae sleeping in her bed and lies down next to her, worried that her older self might actually be sick. Mi-rae apologizes to her and promises to work hard at her own happiness, so that her future self doesn't have to go back in time again.
Shin ignores a call from the recruiter at the other broadcasting network, and then calls them back.
At work, the way Oppa reels in pain makes me uneasy. Both Se-joo and Shin call in absent today, and we see that Shin has decided to meet with the recruiter after all who repeats the same job offer that Ajumma had warned him of, word for word. Eek Shin, don't do it!
Yoo-kyung heads up to see Chairman Lee and tell her the entire truth about Ajumma Mi-rae. As expected, the chairman find the story absurd, but she's not at all interested in whether it's true—all she wants to know is if this information is useful or not.
She's sharp enough to pinpoint Yoo-kyung's intention for telling her all this, and reminds her that even if Mi-rae was out of the picture, Yoo-kyung wouldn't be able to take that place next to Se-joo. Ooh.
Yoo-kyung laughs and insists they're just friends, but the chairman just smiles back at her. Meanwhile, Se-joo takes his trip and walks along the seashore, thinking of his memories with Mi-rae.
Mi-rae texts Shin, whom we see sitting with Ajumma Mi-rae, and he confirms that a recruiter came to him like she said. He's not looking for advice, and now that he's had some time to think, he'd like to ask her one more thing: "Why didn't you go back [in time] to the day of the accident?"
He points out that she could have saved their son then, and guesses that something much bigger must have happened than that. Ajumma nods. But of course, we don't learn what it is.
Mi-rae meets up with a former co-worker at the call center, and gets worked up at the comment that Shin must be playboy. The lady doth protest too much, methinks. That's when Shin appears, but he brushes past them after a few words.
Mi-rae and Se-joo miss each other in the office hallways by just a few moments later that evening. Se-joo sits at her desk and texts her a reminder about tomorrow's recording before setting down his resignation letter.
They both arrive to work tomorrow (and that yellow angora sweater reminds me that I'm still subject to this curse) and Se-joo walks towards her with his head hanging until he looks up and smiles at her.
They film the Christmas special that aims to show how singles can enjoy spending the holiday alone, and Mi-rae is adorably awkward in front of the camera. They spend their not-a-date together from the movies to the amusement park to shopping and Mi-rae loosens up as she enjoys herself.
They wrap up filming later that evening by the Han River, and Se-joo stops walking to say that there's one thing he hasn't said yet. Mi-rae braces herself, and he smiles, "Merry Christmas."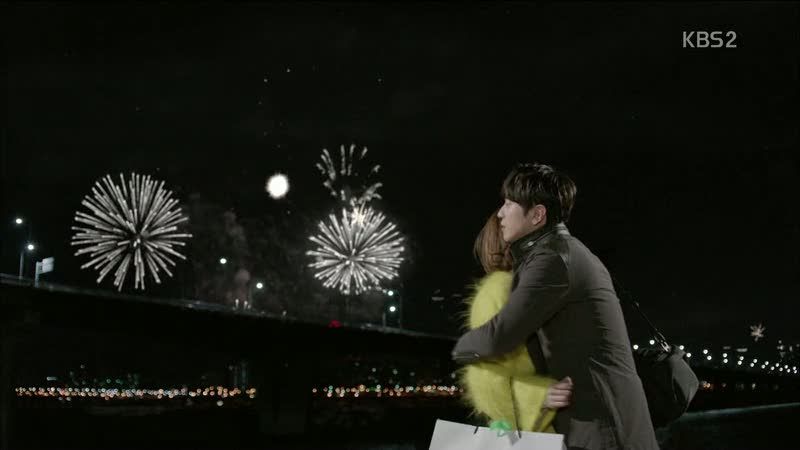 She sighs in relief at that, and Se-joo tells her that he's saying it early because he may not be around to say it when the time comes. Then he steps forward to hug her just as fireworks burst in the sky around them.
He pulls away and tells her to take care. He then walks away so that she doesn't see him well up with tears as Mi-rae continues to watch the bright lights display.
The entire team is in a gloomy mood at the news of Se-joo's resignation. Not only that, Shin is still on personal leave, and Mi-rae texts him a reminder about their dinner reservation on Christmas Eve.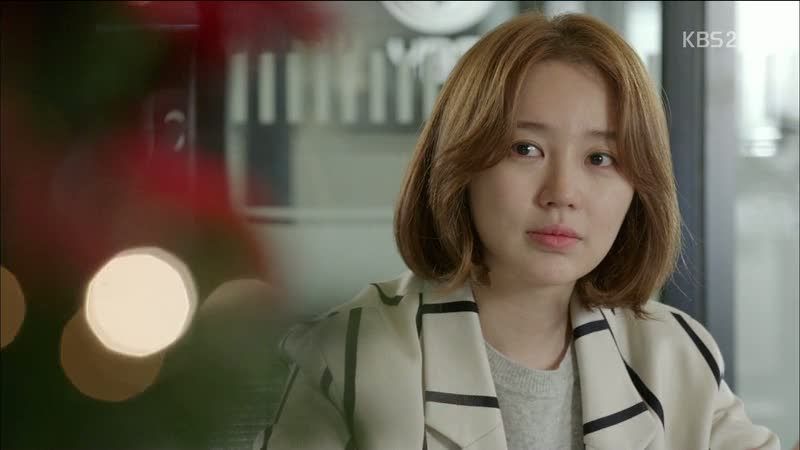 It's officially Christmas time, and Mi-rae narrates that 'tis the season for people to dream of a miracle: that past friends will return or lovers who will call in after a long while. "A feeling that all miracles will come true that day. To hope that this year's Christmas will be the happiest one yet."
Writer Bae smiles in approval, and then carefully mentions that Shin is taking an extended leave. He'll return soon enough, and tells Mi-rae to work things out with him then.
Moments later, Mi-rae receives her small miracle in the form of Shin's text to meet for dinner as planned.
So Mi-rae dresses up for her big date, only to arrive at the restaurant and see Shin accompanied by another woman. Oof. That better be for work or we're going to have words, Shin.
Elsewhere Yoo-kyung spends her evening alone when one of her bosses calls her over to join his party and hangs up before she can decline. Ugh, it's one of those ajusshi parties callin' over a pretty lady, isn't it?
Sure enough it is. Thankfully Yoo-kyung turns her heel, having changed her mind, when she runs into Se-joo at the same club (his chaebol buddies called him out to play). Appalled, he asks, "Are you still going around to meet chaebols?" Dude.
Offended, Yoo-kyung stalks off a few steps before whipping around to retort that yes, she does. "Am I not allowed to come to places like this?"
That's when her boss comes to collect her, and Se-joo watches her with a stern look on his face as she sits down and accepts drinks from the businessmen. He joins his blue blood buddies for drinks all the while distracted.
Yoo-kyung on the other hand, entertains her party in song and dance, and I'm relieved that the ajusshis aren't excessively drunkenly handsy with her. Se-joo walks out to catch the last few minutes of her performance before she brushes past him.
Se-joo follows Yoo-kyung out and finds her crying in the sidewalk. She asks if he doesn't find her laughable for entertaining a bunch of older men with her fake smiles.
Se-joo apologizes for misreading the situation back there, and tells her that he's never thought of her as a girl like that. Still crying, Yoo-kyung says that he's free to misunderstand, because it doesn't matter to her whether he thinks of her like that or not anymore.
Mi-rae sits alone at the restaurant just a few tables away from where Shin is sitting with his own attractive company. She tries calling him and watches as Shin checks his phone… and ignores it. Gah! Shin! You better have a good explanation for this!
That's enough of an answer for Mi-rae, and Shin looks up as she leaves. Now his not-a-date tells him to relax—she's here as a fan, not as a broadcasting vice-president. Then they clink their wine glasses for the umpeenth time in two minutes. You're not trying to crack those poor things on purpose, right?
Mi-rae walks back home in a daze and sees two glasses on the table. But Ajumma Mi-rae is nowhere to be found, and her phone buzzes next to Mi-rae when she calls it. Man, what a lonely Christmas after all.
That's because Ajumma is at the hospital with Oppa, who had collapsed earlier from pain. She asks why he didn't say anything earlier and suggests they get him checked out. But Oppa tells Ajumma not to mention anything to Mi-rae.
So Mi-rae spends the rest of her evening at home watching her own segment on TV. Shin sends off the broadcasting exec and finds himself in the midst of a light snowfall.
Then we get a montage of our characters holding out their hands to catch the snowflakes, which gives us some really nice shots.
Mi-rae confronts Shin on his way to work outside when she sees him next. She asks him what happened last night and mentions that she saw him eating with someone else.
Shin curtly answers that he was busy and says that she's slow on the uptake—he sent enough signals her way for her to pick up on what's going on. Those were mixed signals!
He says Mi-rae was able to see it for herself, but Mi-rae doesn't understand his sudden cold attitude. She brings up his confession, and he dismisses those words as a careless thought.
It's actually heartbreaking as Mi-rae asks if she was the only one who's had all these feelings then. Shin answers: "That's right."
Mi-rae blinks back tears as she asks if something happened, but Shin tells her that when a man truly likes a woman, he'll chase after her. But that isn't the case here.
It takes all of her composure not to break down in tears then and there, and Mi-rae walks off, stupefied.
As for Shin, he walks back into the building to a meeting of broadcasting bigwigs, including the chairman. He's here to introduce the new face and director of YBS. Which is when Se-joo walks in, suited up for his grand entrance.
COMMENTS
Oh, Shin. This isn't the kind of Christmas surprise I was looking forward to. *grumble grumble* At this point of the show, I should have been prepared for this turn of angst, but let's be honest—no one actually welcomes noble idiocy when it comes to crash the party. And yet, I'd still say that it's a good thing that the show evokes such strong emotion in me because that means I'm invested.
The saving grace in this situation points to whatever Shin learned from Ajumma Mi-rae about what else happened in the future that spurred Ajumma to time-travel. And this is the twist that I like: that we were led to think that a death and resentment was the primary motivation, only to find out there was something else. It wasn't something I necessarily anticipated, and puts me back on the intrigue train with Ajumma Mi-rae.
Speaking of revelations with added depth, Ajumma's admission came as heartbreaking and pleasant surprise for a character I've had trouble connecting with for most of the series. For myself, it was the moment that she also admitted responsibility for their son's death, the regret of letting something else distract her that she lost what was most precious to her. It would be easier to shift the blame to someone else than admit fault, to resent someone else while trying to keep the self loathing away. It's a beat that I can sympathize with and acknowledge that she still has a long way to go.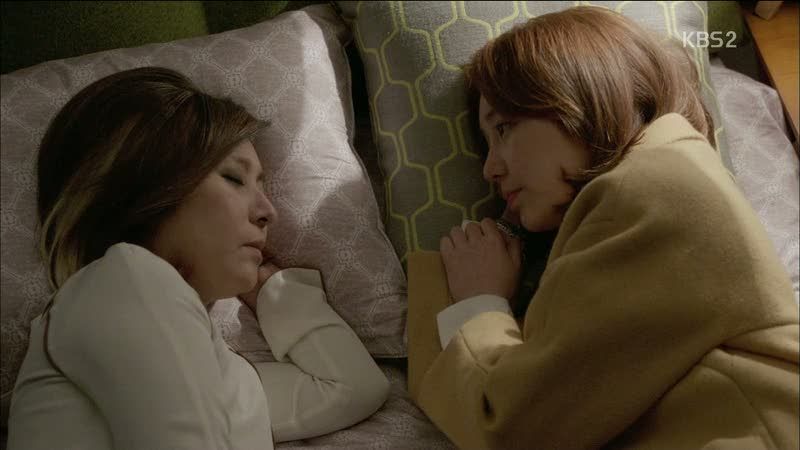 But to Ajumma's credit, I love her interactions with Oppa, which could have been shunted aside. Rather, it gives the siblings a chance to reconcile from their once-estranged relationship, and I think it's fair to say that Ajumma is dealing with a changed brother, perhaps due to her changed present self. I don't know what's ailing Oppa at the moment, but all I know is that his own health makes me nervous.
Se-joo's return as the head of YBS should be making me excited since it also means some power conflicts I've been looking forward to… only that we've been hearing him take up his power suit for eons now. There isn't much I can say with his conflict with Yoo-kyung aside from his friendship with her oddly reflects his with Mi-rae. And while I did another fistpump for Yoo-kyung when she walked away from Se-joo again, a part of me wonders if she'll come running if he calls (though I imagine it'll be difficult now with the social and professional divide between them).
At this point, I'm going to light my optimism candle and hope for a good explanation as to why Shin is giving the Mi-rae cold shoulder. And maybe put Shin in a corner until then.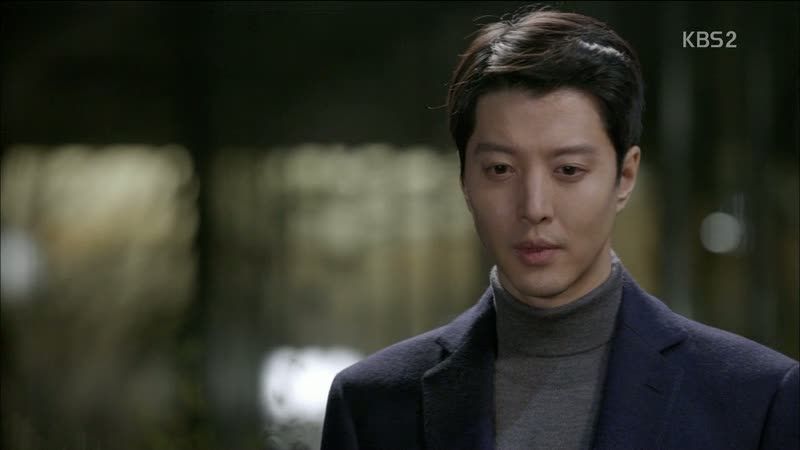 RELATED POSTS
Tags: featured, Han Chae-ah, Jung Yong-hwa, Lee Dong-gun, Mi-rae's Choice, Yoon Eun-hye