Mi-rae's Choice: Episode 8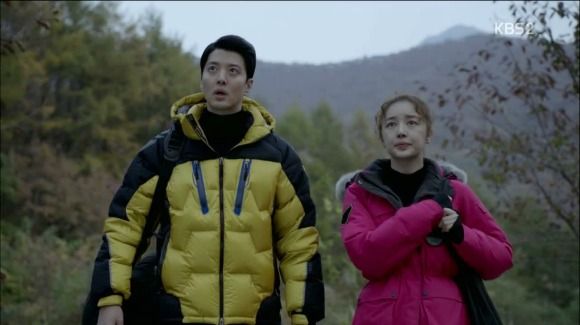 Another strong episode for Mi-rae's Choice as the women take the lead in this hour, giving the men an important lesson about their stubbornness and pride. Picking up the pieces of a broken heart is never easy, but our workaholic characters don't let that stand in the way of doing their jobs.
In fact, they're so dedicated to their careers that I wish I could tell them to stop working just long enough to sort out their feelings properly. They say that time heals all wounds, but I'd bet there's one ajumma out there who would refute that argument to the end.
The numbers keep falling this week as Episodes 7 and 8 hit 6.5% and 5.4%, respectively.
SONG OF THE DAY
Trouble Maker – "Time" [ Download ]
Audio clip: Adobe Flash Player (version 9 or above) is required to play this audio clip. Download the latest version here. You also need to have JavaScript enabled in your browser.
EPISODE 8 RECAP
Se-joo poses a hypothetical scenario (which we know to be the truth) to Shin: what if he was the head of YBS? Amused by Shin's answer that he would beg on his knees for forgiveness, he scornfully remarks that this must be Shin's true nature: to stomp on the weak and cower to the powerful.
Shin suggests that he seek professional help for his delusion, but Se-joo says he's seen plenty of self-deception among the employees: those who think themselves celebrities when they're not, others who believe they'll always receive paychecks. Now he sees that there are times when he must prune the branches away. Se-joo leaves and puts in a call to move up his plans.
Back at the cafe, Yoo-kyung lets out a sigh. While it's Mi-rae's choice to accept someone's feelings or not, she shouldn't have asked someone else to apologize on her behalf. She hopes that Mi-rae will draw clear boundaries with Se-joo from now on.
Shin is still bothered by Se-joo's words when he arrives home, where he runs into Ajumma Mi-rae, who just happened to be in the area. She asks how things went tonight, and clucks in disapproval of Mi-rae's supposed wily womanly ways. When asked why Ajumma speaks so harshly of Mi-rae, she answers, "Because I know her best."
But Shin sees right past the lies—he believes Mi-rae is too innocent to lie like that yet. Ajumma hangs on the word "yet," thinking out loud that that means her own track record is spotty.
She tells Shin to believe whatever he likes, but reminds him that people change with time, including Mi-rae. If Shin wants to be happy, then he won't meet Mi-rae anymore.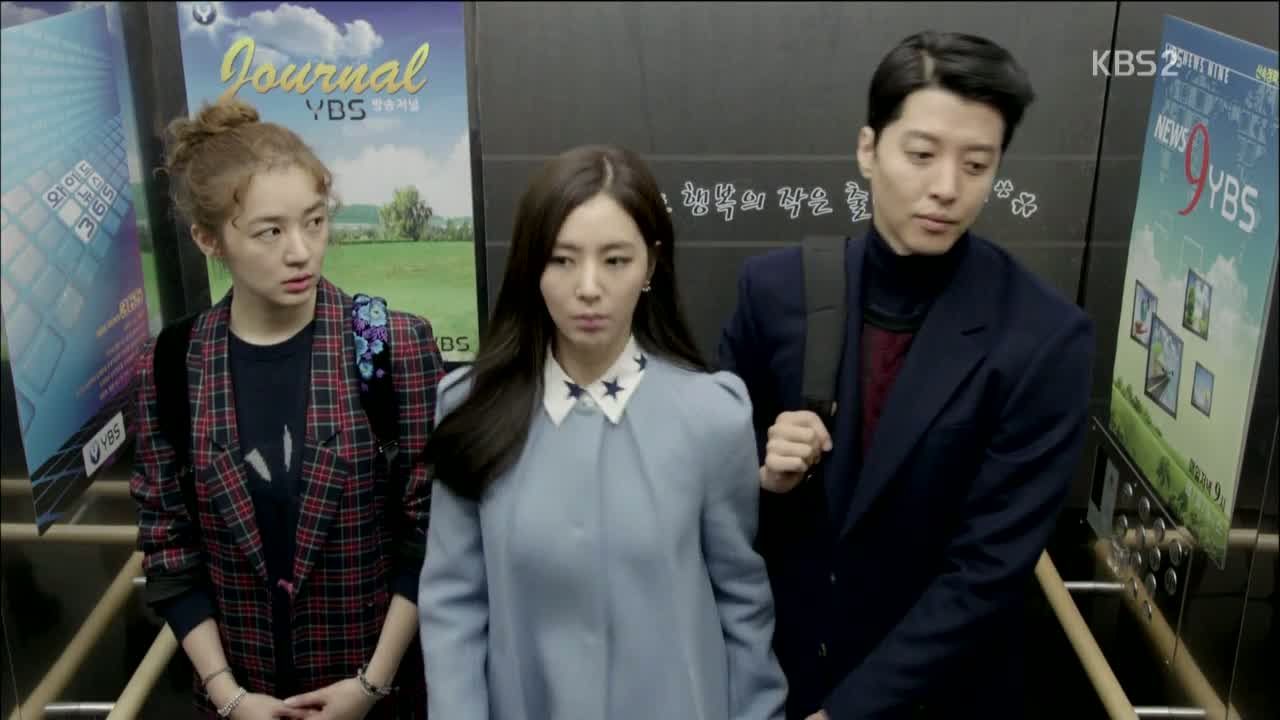 It's an awkward morning commute the next day as Mi-rae gets to the elevator to see Shin already inside. He presses the button to close the door, but she steps right on inside. Hm, I like that she's not actively avoiding him.
Yoo-kyung comes flying to catch the same elevator moments later, and despite her reluctance, Shin pulls her in with them. Inside, she asks Shin how he knew about last night, to which he says that some girl named Mi-rae invited him as a spectator. Mi-rae scoffs at the schoolyard comeback before getting off.
Realizing that their feud won't help her cause, Yoo-kyung tries to clarify the situation with Shin, who says he already knew it wasn't Mi-rae's fault. That was a bit of petty revenge, he explains. Ha, so childish.
The production crew's brainstorming session for the pilot quickly snowballs into a shouting match until Writer Bae finally bursts to yell at them why none of their ideas will work. Then she recalls an idea they sidelined ages ago: Pandora's Box.
She recounts the myth to the team of all the horrible things Pandora discovered inside, save for the last wonderful thing: hope. Building upon that idea to connect with their viewers, they decide to look into feature houses for their premiere.
The team gets to work researching their new concept, interviewing architects, realtors, and construction workers for information. Writer Bae learns that one mansion won an architectural award and it belongs to Chairman Lee.
Which is where Ajumma Mi-rae is staying as she talks with her younger self on the phone. Mi-rae is tired of hearing about the Master Plan, but Ajumma says it's her who should give it a rest. Little does she know that she's being watched at that very moment through a hidden camera.
At the mention of Mi-rae, Chairman Lee wonders if Ajumma is talking to herself, only to learn that she's probably conversing with the maknae writer from the morning team. She's also told that the younger Mi-rae also happens to be on friendly terms on with her grandson.
So Chairman Lee takes it up with Ajumma to ask if her grandson likes Mi-rae. Then she gets Se-joo on the phone to confirm, driving him into a corner until he admits yes, he does. I'm oddly amused at how refreshingly frank Grandma is about all of this.
All it takes is one glance at Mi-rae's resume for Chairman Lee to launch into a rant about why her grandson would like an older woman without any esteemed lineage or education. Ajumma Mi-rae agrees, but what was it about her distant niece Mi-rae that caught his eye?
It doesn't matter to her whether those two young'uns end up together, but she suggests that the chairman at least meet Mi-rae first. Never one to hesitate, Chairman Lee heads out to go see Mi-rae this instant, leaving Ajumma alone on the golf course.
Ajumma hurries back to warn Mi-rae, and sends a panicked text when she doesn't pick up. But Mi-rae doesn't see her phone ringing until the very last second at the bus stop, which is when Chairman Lee walks up to her disguised in shades to ask about the bus schedule.
Mi-rae is happy to help, and Chairman Lee gives her the judgmental once-over when she isn't looking. But before she can ask Mi-rae any pressing questions, Mi-rae helps her board a crowded bus to send her on her way. Ha.
Chairman Lee comes out of the rough and tumble experience pretty unscathed, save for her nerves. Interestingly, she tells Ajumma that she found Mi-rae to be a pleasant girl and will consider whether the two should date.
Ajumma is delighted to hear it, but Yoo-kyung storms towards her a moment later, accusing her of having a deliberate hand in ruining Se-joo's confession. Ajumma retorts that it should be no concern to Yoo-kyung, but she's surprised to see that Yoo-kyung does care and asks, "Do you like Se-joo?"
It makes me think that Ajumma thought Yoo-kyung was just a golddigger in her timeline, but she simply answers that Yoo-kyung probably won't end up with Se-joo. But then again, things might not work out with Shin either, since he doesn't like shrewd women.
Yoo-kyung is better off dating anybody else, Ajumma tells her, as long as it isn't Se-joo.
Meanwhile, Mi-rae brainstorms as she eats in a restaurant, whose owner happens to be a former television writer. Her realistic, yet bleak outlook on the broadcasting industry does little to encourage Mi-rae, telling her that the usual cut-off point is around age 40 without a big break, given the high turnover rate and grueling work hours.
At work, Writer Bae is about two seconds away from ripping her hair out when Mi-rae presents her idea to her. She's intrigued by the haunted house concept, but surprised when Mi-rae asks if she can write the narration for the pilot herself.
Naturally, Oppa is against the idea, citing that Mi-rae doesn't have enough experience to handle such a large project. Writer Bae acknowledges Mi-rae's talent however, and adds that the concept was Mi-rae's idea.
She asks why Oppa feels so uncomfortable working with his sister, offering up mock sympathy for his worries of how exposed and embarrassed he'd feel if she ever made a grave mistake. Fed up with his complaints, Writer Bae offers to send Mi-rae to another team instead, to which Oppa argues that they don't even pay their writers.
Mi-rae continues to plead with Oppa for the spot that evening. He shrugs her off as usual, and she follows him into a store, promising him that she'll do a good job, really.
Handing over a winter coat, he quizzes her on where the coldest place in the world is. She answers that it's filming day, and he tells her that she could freeze to death if they're stuck in the mountains.
He gruffly tells her that the cost of the coat is coming out of her paycheck, and Mi-rae realizes that this means she's got the job. She hugs her brother excitedly, and Oppa breaks into a smile. Aw, you two are adorable.
Elsewhere, Shin is surprised to see that Se-joo has spent so much time overseas according to his resume. Then he cross-checks the Young Group family tree with Se-joo's parents' names listed on his resume… and they match.
Oppa pulls him aside just then to ask for Shin's help to give Mi-rae some guidance on the project. Shin is reluctant at first, but he agrees.
So Mi-rae and Shin are briefed about the haunted house they'll be staying at overnight to confirm any presence of paranormal activity. I love how Shin's all, "Who's staying there? Us?" Ha, are you afraid of ghosts?
They're going for the self-documentary Blair Witch style approach to filming, which means it'll be just Shin and Mi-rae at the site. Shin asks why a more experienced cameraman can't join him instead of Mi-rae, to which she defends that she filmed the subway arson incident last time.
He's told that Mi-rae's amateur skills will offer more realism, and Mi-rae assures him that she'll just learn how to handle the bulky camera then. That's when Se-joo walks past and is assigned to teach Mi-rae the basics. At that, Shin says he'll teach her himself, but Jokey PD is all, Yeah, right. Heh.
Se-joo masks his hurt about the rejection well enough as he teaches her outside. It's Mi-rae who broaches the topic first, and they take turns apologizing to each other about the other night.
Recalling Yoo-kyung's words about not leaving Se-joo any hope, Mi-rae mentions Shin's name, but Se-joo cuts her off to ask why she likes Shin. Does she like prickly bad boy characters like him? Or did she fall in love with him at first sight?
Mi-rae says that it's because Shin helped her a great deal when she first started working here. And though he may not believe it, Ajumma Mi-rae told her that Shin is her future husband. Se-joo can only let out an empty laugh at that. He then asks Mi-rae if she's ever thought about how her feelings for Shin could be a self-fulfilling prophecy.
He turns back to teaching, and when Mi-rae starts to speak again, he cuts her off: "I believe that love comes in different shapes and forms. But an emotion that began because of what someone said… could that really be love?"
The team heads out to interview the townsfolk about the alleged ghost of a woman dressed in a wedding gown who appears at the full moon.
Afterward, Mi-rae returns a borrowed wheelbarrow to a local grandma, but then accidentally falls down a hill, rolling over a small fire, and her shoe catches fire. Eek, you do know Stop, Drop, and Roll, right?
She ends up with some burns and a sprained ankle, and wraps it up before she heads back. Shin immediately notices her limping, but she dismisses it as nothing. Then they say goodbye to the others before setting off to the haunted house.
Shin braces himself for what could be a long night ahead when they arrive. He tells Mi-rae that he's totally not afraid of ghosts (though his expression suggests otherwise) and Mi-rae grits through the pain, thinking about her narration.
Yoo-kyung marvels at the renovated home, only to be met with troubled faces from the crew. So it seems their show also provides home makeovers for those who can't afford the renovations. Problem is, their guests are too well-dressed for the occasion, and Se-joo is sent out to talk to them.
But Yoo-kyung stops him, demanding to know what he'll ask of them. Change into their most shabby-looking clothes and play dumb so that their show has a shot at decent ratings?
Se-joo reminds her that their guests have already decided to put their pride aside in exchange for a revamped home. Dude. And to that, Yoo-kyung calls him a businessman i.e., he only cares about business, not the people.
Despite her disappointment with him, Yoo-kyung decides to film anyway, and keeps her professional demeanor as she genuinely compliments the family for dressing up for the camera. Se-joo looks on, impressed.
Back at the haunted house, Shin and Mi-rae venture inside and they both jump at the slightest noise. Shin points to something in the corner (it's a camera, snerk) and he plays it off, all, "I was just kidding around. Couldn't you have played along?" Pffft, okay.
Then he turns around and stops frozen in his tracks. Mi-rae wonders if he's seen a ghost… and he asks her to move the spider hanging in front of him. Hahaha, how do you expect to make it through the night?
Mi-rae receives a text from Se-joo asking if she's confirmed her feelings for Shin yet. She answers no, and Se-joo smiles to read that she thinks he might be right. Yoo-kyung finds Se-joo sitting outside and they playfully tease each other, the failed romantic overture now forgotten.
They relocate to a restaurant, and Se-joo tells her that thanks to her, he learned an important lesson between ratings and people today, and that he doesn't have to forsake one for the other.
Yoo-kyung asks about Mi-rae and brightens to hear that Mi-rae likes Shin instead. She starts to give him the ol' "there are plenty of fish in the sea" speech when Shin interrupts her to ask if she remembers those claw machines you play to win a toy.
He recalls how one of his classmates won a car keychain through one of those machines once. At the time, he had a fancy remote toy car, and though it wasn't much, the way the shiny silver sticker sparkled in the sunlight had made him want one of his own.
Yoo-kyung swallows hard before asking if he won one, and Se-joo takes out his keychain, the toy car dangling there. He won't give up now, Se-joo tells her, and asks for her help. Yoo-kyung slaps on a smile and agrees.
Ajumma Mi-rae swings by the office looking for Oppa, only to find him gone. She picks up one of his calls—it's Yoo-kyung, and the next thing we know, Ajumma is sending her off in a taxi.
Oh my god, drunken Yoo-kyung is highly amusing as she aegyo-demands to see Se-joo, referring to herself as the toy car. Of course Ajumma doesn't have the slightest idea what she's talking about, and Yoo-kyung lets a tear fall from her eyes once she's alone.
But there are bigger things to worry about than Yoo-kyung, as Ajumma gasps at her graying hair. She quickly hides it when Oppa comes to meet her outside.
Her eyes grow wide to hear that Shin and Mi-rae are off on their own. Overnight. We see a quick flashback to Ajumma's own past when she was caught in the rain with Shin herself. Neither of them seemed to be too upset about it, and Ajumma Mi-rae gave him a kiss on the cheek. D'aww.
As for our present Shin and Mi-rae, they slowly venture upstairs, but Shin calls cut after another scare. Concerned, he asks if she's really okay, and sets her down to examine her wrapped ankle, which is bleeding by now.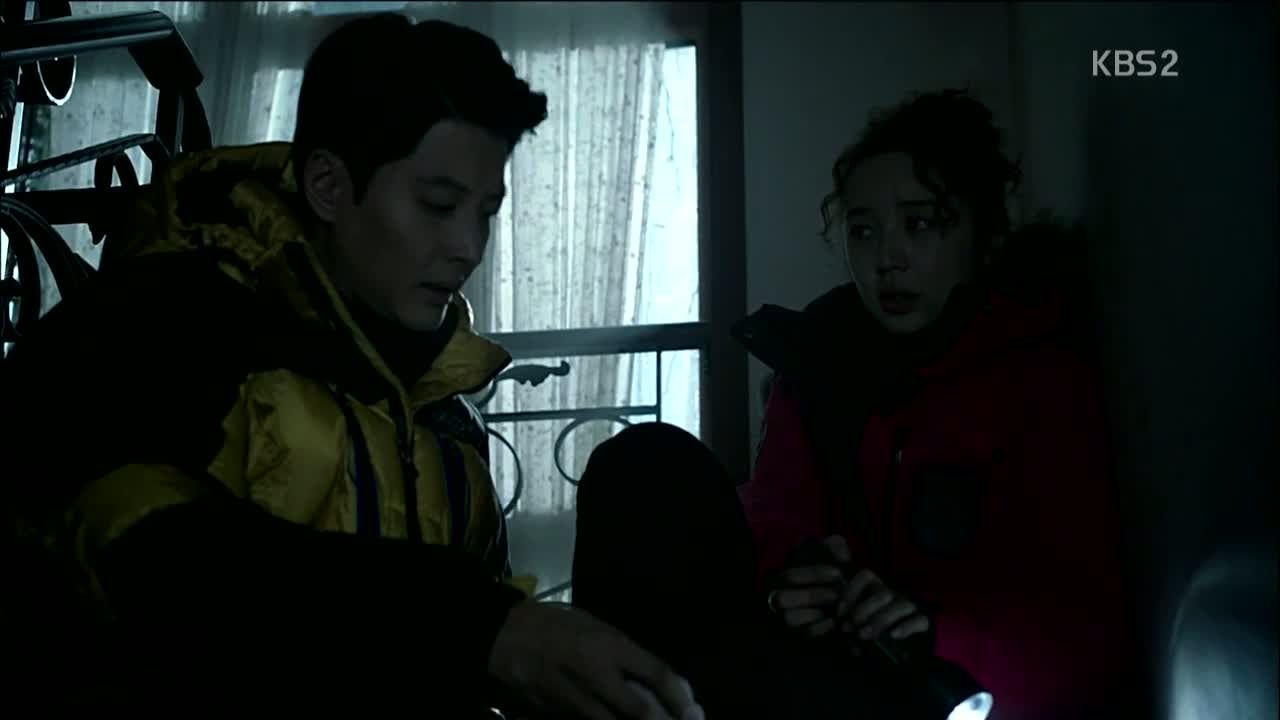 Mi-rae insists that she's fine—she can't afford to give up this project, not at her age. Shin softens at that, but scolds her for lying about how severe her burns were, saying that's why he can't trust her.
She repeats that she wasn't the one who invited him that night. Shin replies that he knows, admitting that he was just angry to see her and Se-joo together.
Se-joo heads home to talk to Grandma, who tells him that she likes Mi-rae well enough. Then he tells her about his plans to out himself as the YBS heir soon.
Oppa asks why Ajumma is so upset to hear that Shin and Mi-rae are alone together—it's not like anything will happen between them. But Ajumma shouts back that something will happen.
Near tears, she decides to tell him the truth about everything: "I'm Mi-rae," she reveals. "I'm your dongsaeng, Mi-rae… from the future."
At the same time, Shin helps Mi-rae up to her feet. There's a charged moment between them, and Shin slowly leans in…
COMMENTS
Oh, you would end there, wouldn't you? What a tease. Now I have to wait a week. *grumpity grumpity* Time-travel is a tricky thing to parse when you're dealing with alternate realities and figuring out what minor events could ripple into major changes and vice versa. It's enough to give anyone a splitting headache on this end of the wormhole. So instead of trying to juggle the story logic of what moment belongs where on any given timeline (oh god, the migraines are coming again), I've found it slightly easier, if you could call it that, to start from the present characters' reactions to the events and Ajumma's predictions of the future. Well, her future.
That being said, I like how more things continue to stack up against Ajumma despite her interference to counteract her younger self from walking in her footsteps. I forget if I'd mentioned this before, but I think it's safe to say that we entered a different reality filled with a plethora of choices and possibilities for our heroine from the moment Mi-rae initially avoided the Fated Accident. Thus as the story develops and Mi-rae asserts herself to carve out her own identity, Ajumma's argument to stick to the Master Plan continues to chip away. What I find interesting about Ajumma's interactions with our other characters is that for someone who's from the future, she remains stuck in her past whereas those around her continue to move forward and look ahead.
Already we're seeing how present Mi-rae differs from her future self, and this is where I wish on a character level that Ajumma would acknowledge that change. I'd like to think that Ajumma already knows it on a deeper level, and the idea that Mi-rae has perhaps changed for the better while she remains bitter might even scare her. I still can't imagine what her deal is for telling Oppa the truth, but here's to hoping that she has a damn good reason for doing so.
Se-joo poses an interesting question this episode about the origin of Mi-rae's feelings towards Shin: are they of her own volition or influenced by the words of someone else? Although that raises a few other questions, what I want to examine at this point is if it really is a self-fulfilling prophecy or not. Emotion is a complicated concept in of itself, but if something like love can be easily swayed, then we could even entertain the possibility that Ajumma Mi-rae was influenced by her own future advisor to end up with Shin (or not. I don't know enough about what happened with her back then). I don't think it can be as clear-cut as that, but it does suggest how much of Mi-rae's decisions are her own or circumstantial.
We could even go so far to extend that to Yoo-kyung and her developing romantic feelings for Se-joo. I can only speak for myself when I say this, but if someone tells me that I should avoid something or can't have something, well, the more I'm going to want it because (1) I'm curious and (2) I'm rebellious like that. I'm not entirely sure as to whether that would add to Yoo-kyung's feelings, which seems separate and solid from Ajumma Mi-rae's predictions.
Like I said above, the women really take the cake in this hour starting from Writer Bae calling Oppa out on his fear of embarrassment of his sister and that she might see failure, to Yoo-kyung confronting Se-joo about whether ratings mean more to him than people, to Mi-rae facing Shin at work despite his petty revenge. Even Chairman Lee is refreshingly frank, wasting no time to confirm feelings and telling her grandson to spit it out, already. It's a nice reversal I've been enjoying so far in this series, and I can't wait to see more.
I like that we got the chance to see snippets of Ajumma's happy relationship with Shin, to which I cry for MOAR. These moments help tie in the two timelines we're dealing with, and I love how they're used to illustrate that no matter what Ajumma tries to do, Fate will still get her way to set the stage and let the character's emotions naturally take its course. Because some things will still happen because they were at the right place at the right time.
RELATED POSTS
Tags: featured, Han Chae-ah, Jung Yong-hwa, Lee Dong-gun, Mi-rae's Choice, Yoon Eun-hye